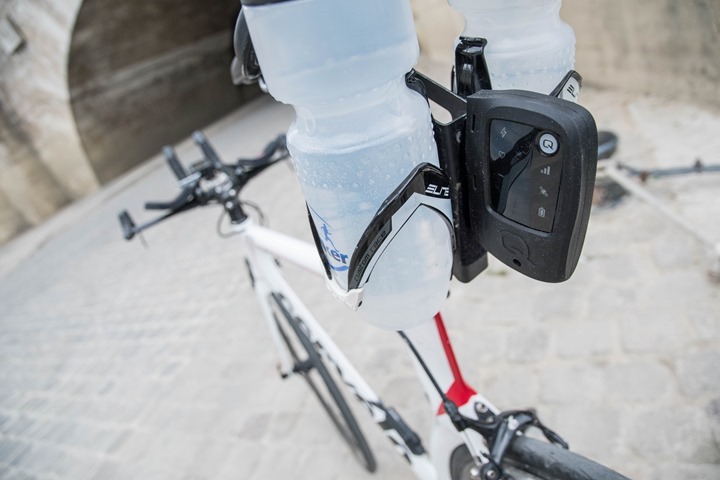 Today Quarq introduced their first consumer product that isn't a power meter, the Qollector.  Long-time sports tech followers may remember when Quarq first tossed around the idea of something named Qollector years ago.  That device was aimed at simply sucking up any data around it and storing it for later use.  And in many ways, what Qollector is today has roots in that concept.
But today's device is a real product, and more importantly – a saleable product.  There simply wasn't enough of a market for an ANT+ sport data-sucker-upper.  But there is a market for athlete tracking.  And that's what Qollector is today: A GPS and cellular enabled live tracking device, complete with ANT+ data collection and transmission.
You've likely seen it in various high-profile events over the past 15-18 months or so, including Ironman Hawaii (Kona) last year, as well as numerous other sporting events as part of Quarq Race Intelligence.  The Qollector has a 3G cellular chip within it, and broadcasts your position and power/heart rate/elevation/etc data to friends, family, or the entire world.  It does this with a 24+ hour battery life, and in a form factor that can be taken on a swim, bike, or run.
I've been using the device for about a month now, testing it out all around the world:  France, Belgium, Canada, and the United States.  In forests, cities, and deserts.  Thus, it's definitely in-depth review time.  If you want a bit of an overview without having to read a bunch of text, checkout the video below for my overall summary.
With that – onwards and into the review!
(Time-sensitive side note: If you happen to be competing in Ironman World Championships (Kona) next week, Quarq will be loaning out 60 of these units each day for athletes to use during the race, free of charge. It's first come, first served at the Quarq expo booth, 2pm on Tuesday and then 10am on Wednesday and Thursday. I only call this out here, since it might easily be overlooked later on. Oh, and good luck!)
Unboxing: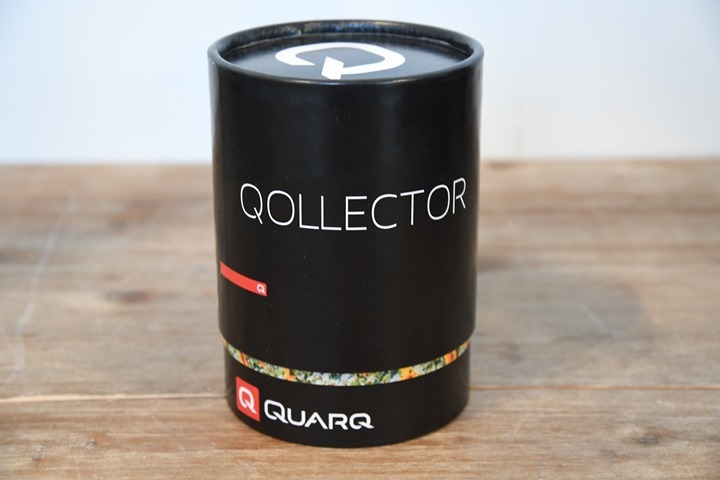 As with virtually all my in-depth reviews, this too starts with an unboxing of the product.  And while this is technically a box, it's the most unboxly shape I've seen in a while.  It actually reminds me a lot of the now-defunct Bia GPS unit.  Since I have to unbox many square boxes, I'm always tickled a little bit by something…you know…not square.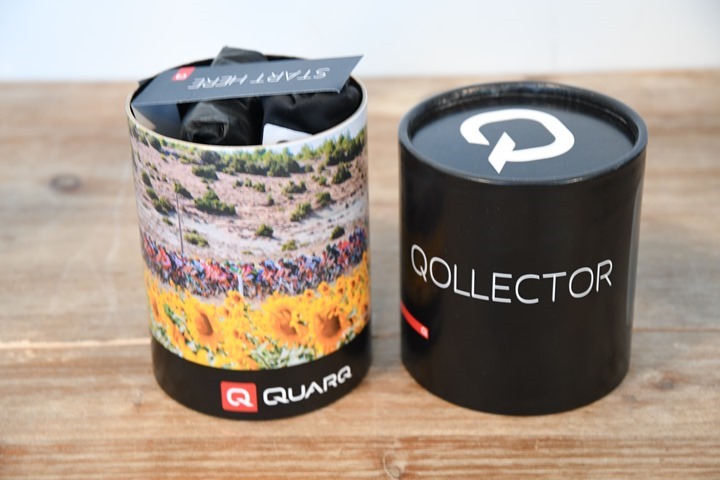 If we remove everything from the tube, we'll find all these parts: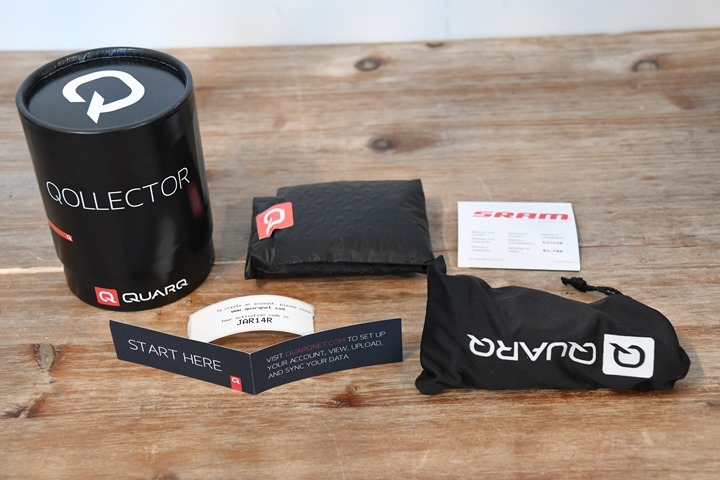 Inside that leaves us with: The Qollector itself, a micro-USB charging cable, a nifty carrying case for general transport, a strap to tie it onto something, and some paperwork.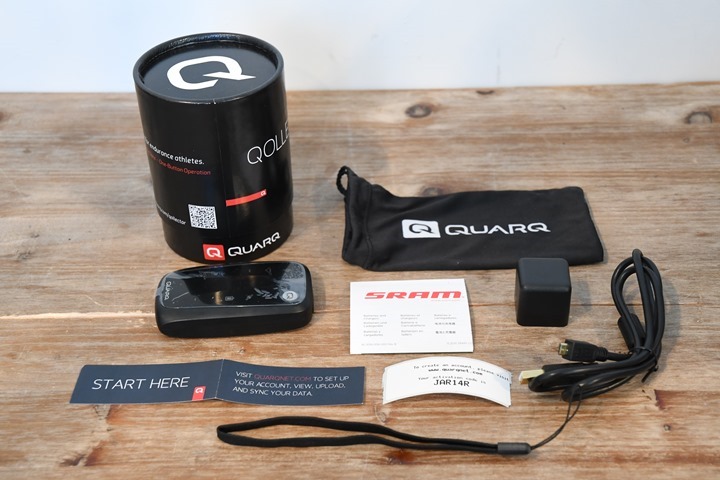 Here's a closer look at that exciting micro-USB charging cable: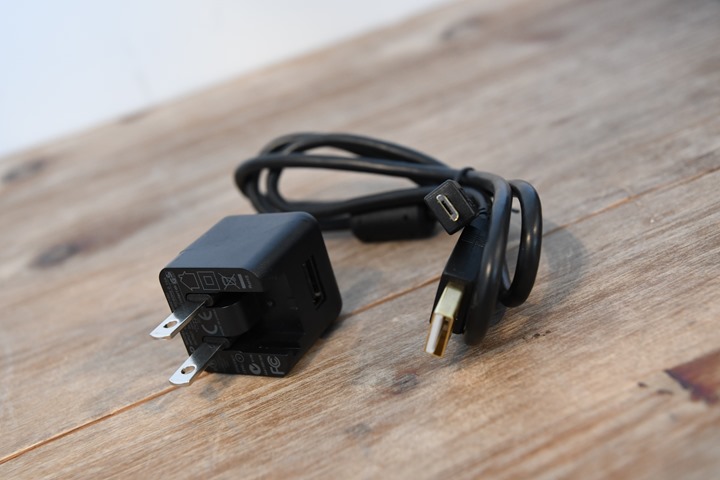 Plus the paperwork: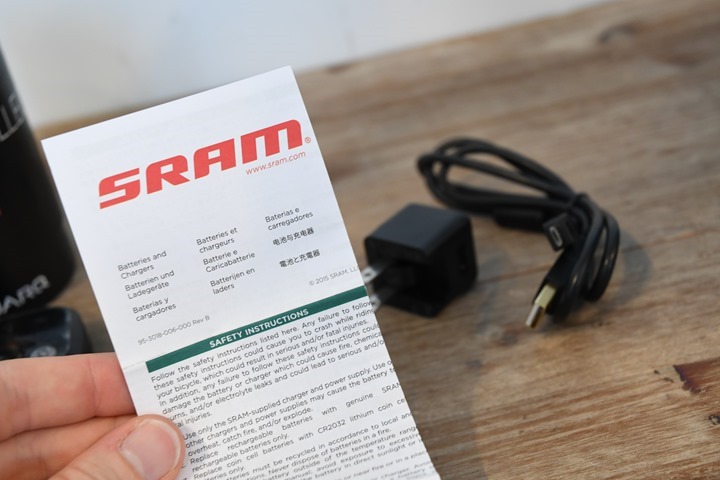 And finally, the unit itself: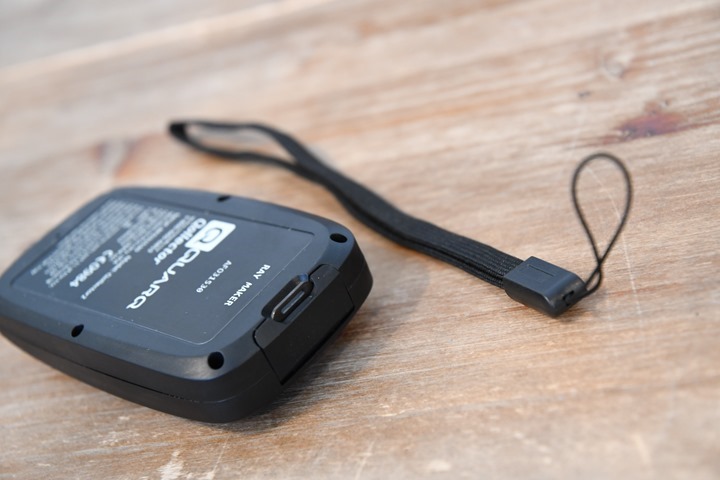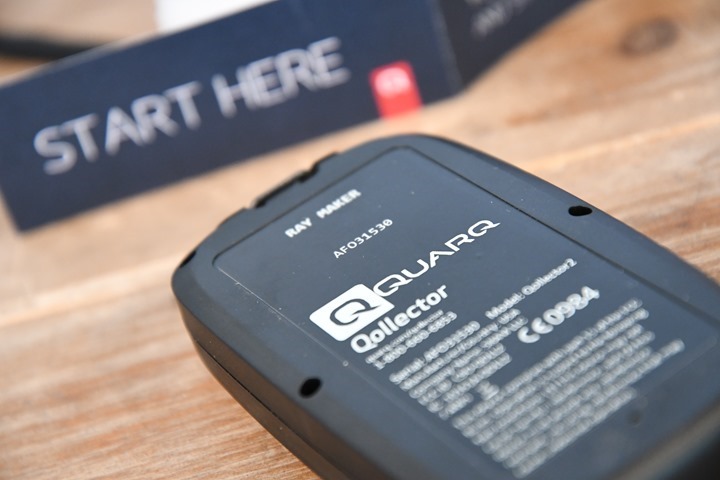 Oh, and the unit weighs 113g: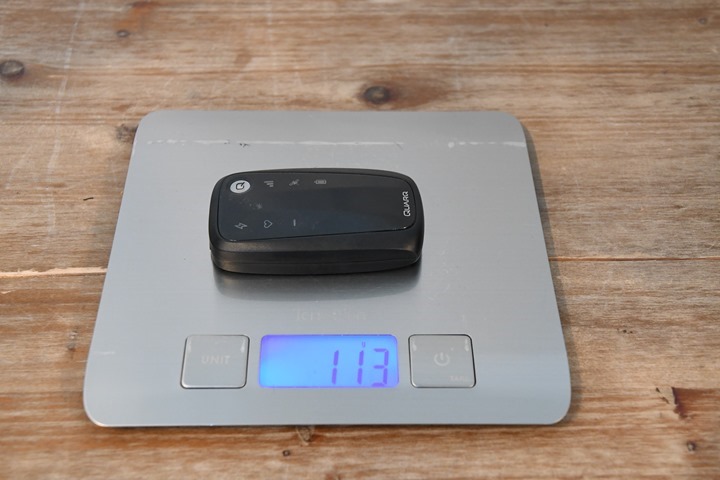 Now there are a few mounting options you can pick up too.  These include a bike mount and a tri belt, complete with gel holders and a bib holder.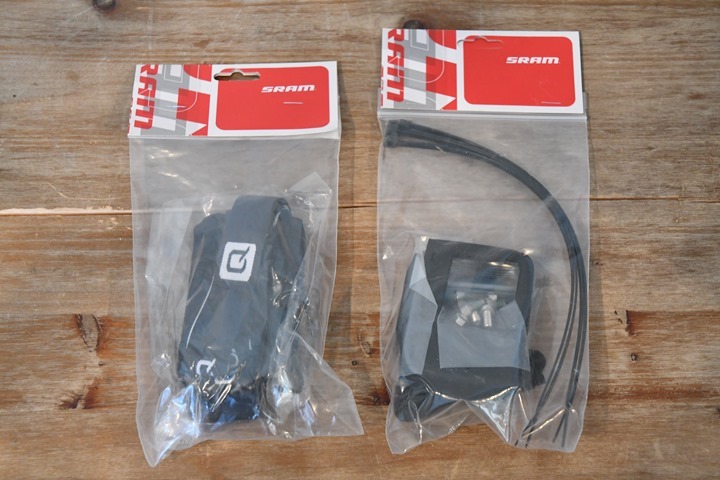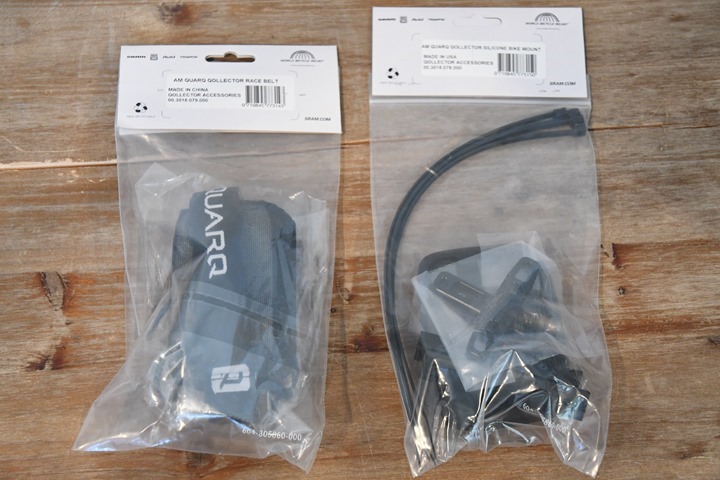 The bike mount can be used on an aero-seat post, as well as a rear bottle cage setup on a triathlon bike: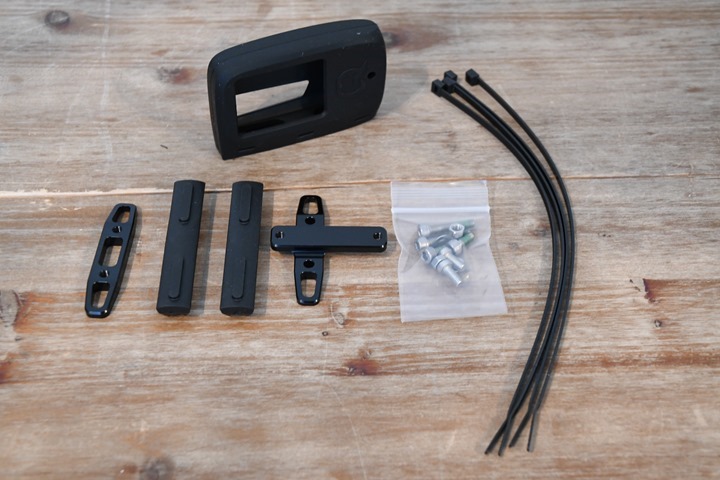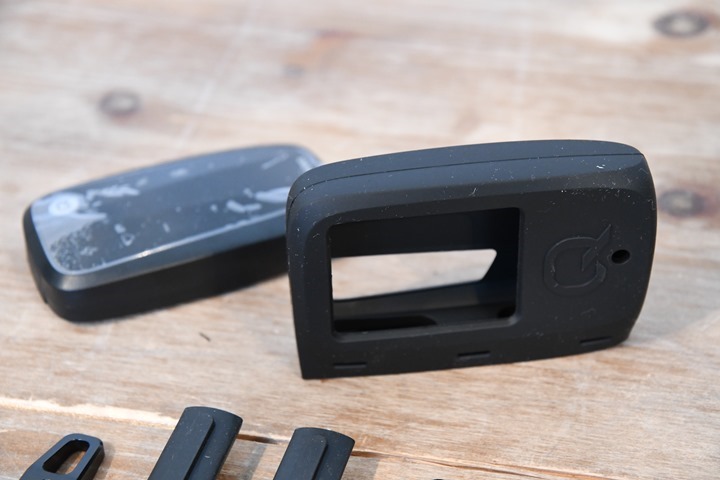 While the tri belt holds the unit easily (plus room for keys or a credit card if need be):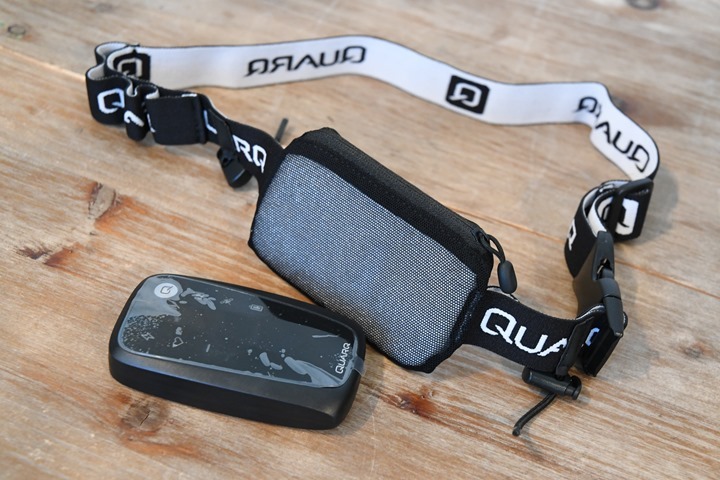 You can get pretty creative with the bike mount and a bit of cycling parts know-how.  Plus, you can always just stash it in your back pocket too.  I did that on a handful of rides where I didn't have the mounts on this specific bike.
Setup & Config:
So there's two parts to setup and config.  The first is setting up the software piece, and the second is the hardware piece.  The software piece involves the platform – QuarqNet – which is where all the tracking and data collection happens.  While the second is the more mundane attachment to bike pieces.
Starting with the software piece, you can do it from a desktop or mobile phone.  You'll head over to QuarqNet and use the little slip of registration paper found inside the box to create an account and get the unit registered on that account.  Because I was feeling lazy on this day, I did this on my mobile phone.  Here's creation of the account:
Then you'll go ahead and activate the unit:
Oh, and it'll also give you a quick 2-second tutorial on how to use it.  It's not brain surgery.
Once that's complete, you can set up data partnerships.  This will automatically sync your data to these additional platforms.  As of this writing, that's:
– Strava
– Today's Plan
– Training Peaks
– Dropbox
Just like setting up other data partnerships, it's a simple authorization/validation prompt.  Quick and easy.  Don't worry, I'll explain more about that in a minute or ten.
Finally, you'll also enter your phone number in, which serves as validation for the unit.  I skipped showing that part, so I don't get texts from y'all.  Or maybe I just forgot to get a screenshot.  Either way…
Ok, now at this point you can add in friends.  These are folks that will receive a tracking alert text every time you turn on the device.  Every…single…time.  So think carefully about how much these people love you.
You'll simply enter in their phone number, and then immediately after that you'll enter in a friendly name for that person.  They'll then receive a confirmation text which they have to respond to, to start tracking on the platform.  They can opt-out at any time.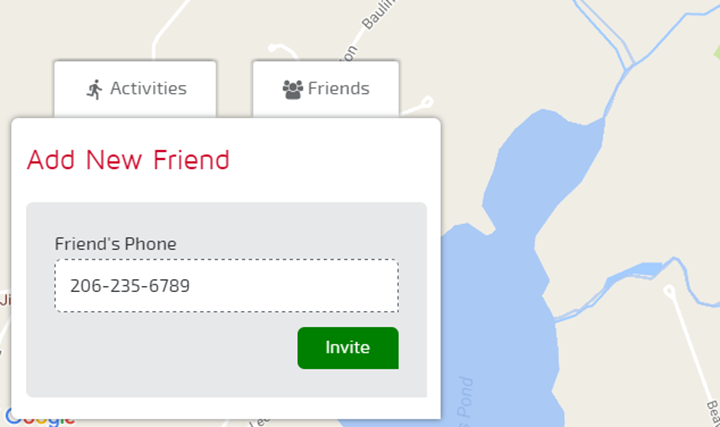 As of present you can't enter in an e-mail address instead.  For me, that's a bit of a bummer.  For example, The Girl was in both Canada and the US recently.  But she normally has a French phone number (since we live in France), so when she's travelling outside the country she usually just uses WiFi hotspots, so this won't work for her.  The same goes for anyone that happens to travel to a destination race.
In talking with Quarq, they seem to understand the challenge here – and honestly, it's likely cheaper for them to add in e-mail tracking than phone text alerts anyway.  Hopefully we'll see that soon.  Also, while it accepts her French number, it doesn't seem to accept a name tied to a French number. Quarq's looking into that and it sounds like that should be resolved shortly as well.
Ok, with everything ready to roll on the software side – let's focus on the hardware setup.
In my case I went with the tri-bike setup first, so I attached it to the back of my triathlon/TT bike, with a rear cage.  I'm using the Hydrotail (it's a bit older now), but it bolted right in.
You can also put it on a seat post, or water bottle cage areas with the included mounting options.  Of course, you can also always just wear it on yourself using the belt – which I did as well (mostly while running).
Workout Usage:
Now that everything is setup, it's time to head outside and start working out.  First, we'll power on the unit by holding down the button for three seconds. It's got a nice firm press requirement, so it doesn't accidentally get pressed.  When you turn it on, each of three lights below it will turn on: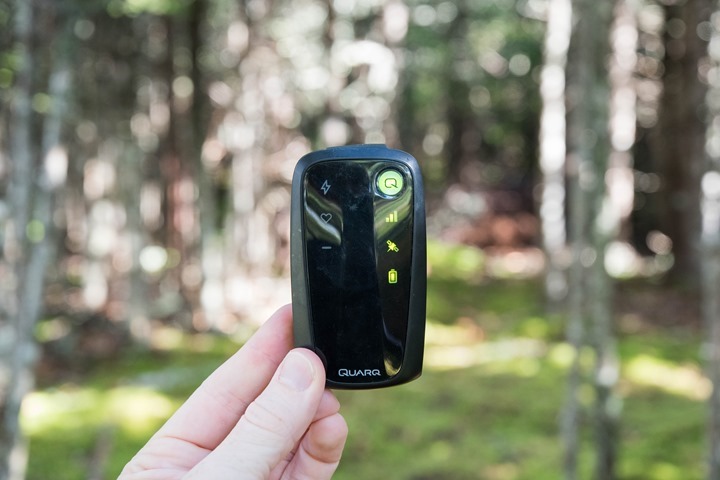 These lights are for:
– Cellular signal status
– GPS signal status
– Battery status
The unit has a 24hr battery life at 1-second recording rates, but they're also looking at options for reducing the recording rate for longer events (such as something like the UTMB events that may span 30-40hrs).  This includes updating cellular data points every 60 seconds, by backfilling in the previous 60 seconds worth of data.
The cellular icon lets you know the status of the cell signal, and will even tell you if it's catching up data (in queue).  The unit will queue all data, so even if you go hours without signal, it'll eventually catch-up and update online.  Note that this is not satellite communication based (like SPOT), but does indeed rely on cellular coverage.  It does of course use GPS which is satellite based for determining position.  The unit contains GLONASS as well as WAAS functionality.
Also, the unit primarily uses the AT&T Wireless network in the US and their roaming partners overseas.  At launch (for October), it'll only work within the US without additional configuration, however international roaming will start pretty quickly in November.  I've obviously been using it for the vast majority of my workouts internationally, it's just that the roaming into a given country isn't automatic at this time – so I have to manually set it up for each country.  The upcoming update will make that automatic.
Now one of the major features here is the ability to capture and transmit ANT+ data types.  This includes common data types as well as more specialized types.  You'll see the left side of the device will show you icons for heart rate and power meter data.  To pair it, you just double-tap that button once powered on, and place it next to your sensor.  It'll use proximity pairing and remember that sensor for future use: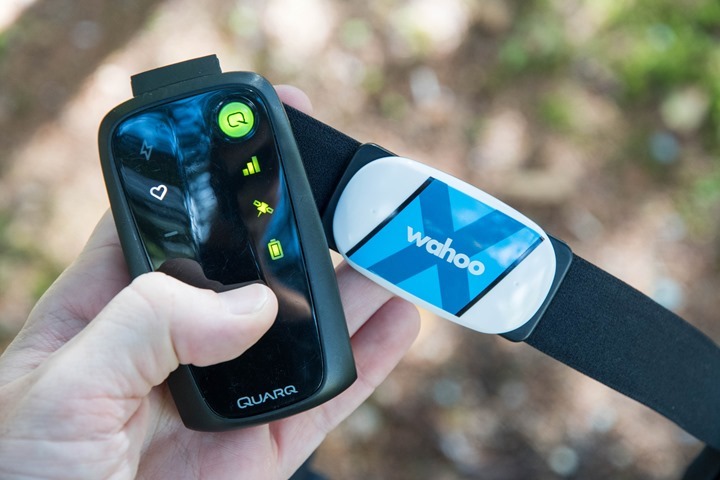 Once each sensor type is found, that light will stay illuminated (though, all lights turn off after a few seconds to save battery).  Just tap a button to see status again.  Also, each time a sensor is found during pairing the unit will vibrate.
You'll also notice above that there's a third icon along the left side – which is a dashed line.  This is the 'catch-all' sensor type.  Of which the following ANT+ sensors are currently supported:
ANT+ Heart Rate
ANT+ Speed/Cadence
ANT+ Footpod
ANT+ Power Meter
ANT+ Gear Shifting (SRAM RED eTAP, Campy EPS or FSA's WE, but Shimano Di2 is not ANT+)
ANT+ Remote Control
ANT+ Muscle Oxygen
The Qollector can connect up to 7 concurrent ANT+ sensors at once.  It cannot connect to Bluetooth Smart sensors.
Note that Quarq is actively talking with developers about supporting other data types (for example, aerodynamic data would be a good candidate).  It's relatively trivial for them to do so (even for private-ANT), and they seem to be pretty open about adding in other ANT data types if folks have unique/custom applications.  In any case, we're getting sidetracked.  We'll talk data details in the next section.
Oh, and it also captures barometric altimeter data as well.
With everything all lit up, you're ready to swim/bike/run.  The unit is fully waterproofed, and people have indeed used them during races within the swim section (countless pros in countless events over the past year).  In my case, my usage was limited to running and cycling, simply because that's what I had on the docket near where I was travelling.  The unit is IPX7 waterproof, and the company says that "it features a military-spec, waterproof and corrosion proof USB port."
Note that with Qollector the unit doesn't really know exactly what sport you're doing unless it has an ANT+ footpod or ANT+ bike sensor with it.  So if it's just HR, you could be running or swimming or doing some sort of crazy planking.  It'll all show up the same on the site.
Speaking of that site, as soon as you gained cellular coverage the unit sent out a text notification to your friends and family on your short-list.  It contained a link to look at for that workout:
(Tip: The Quarq folks had a good suggestion of having your friends/family use a unique message tone for the Quarq number shown above, that way your friends/family instantly know it's a tracking message vs something else.)
You can also add yourself to the list of course, and then Tweet/Facebook/etc that link out.  It's a one-time usage link, which is unique each time you start a workout.  It'll stay active for 24-hours afterwards.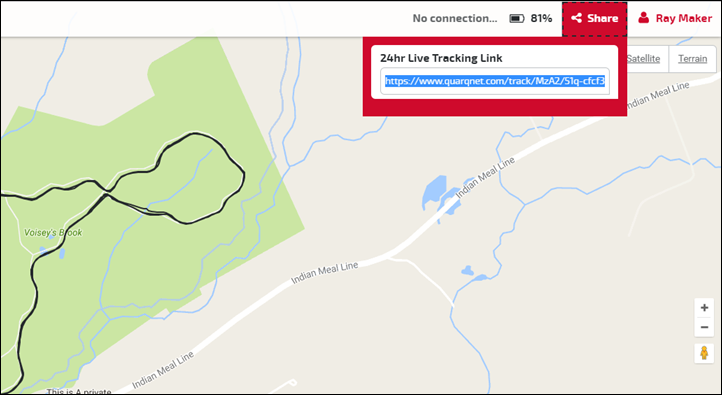 On that screen they'll be able to look at your position, as well as where you've been.  They'll also be able to look at your average/current metrics in the square at the bottom left: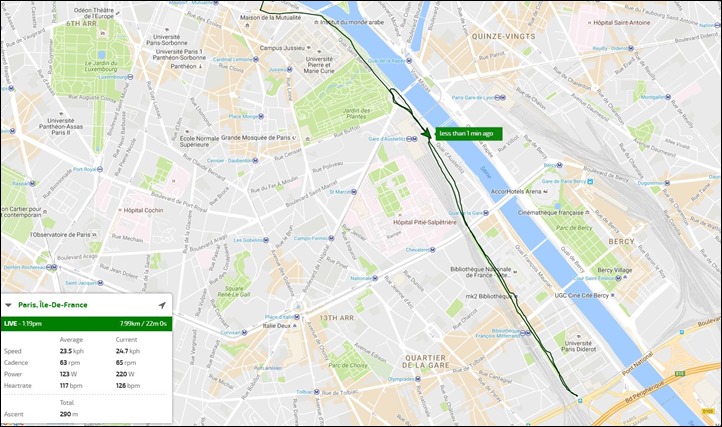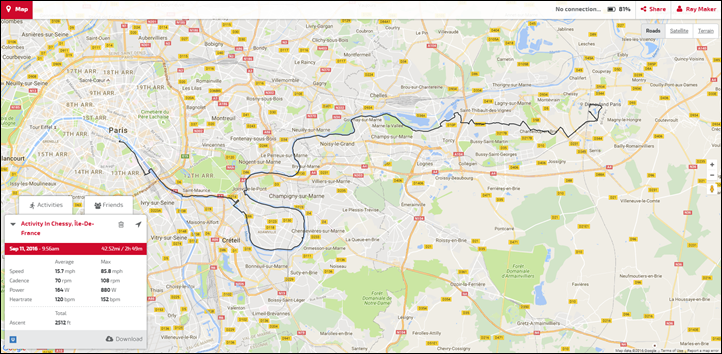 But the problem here is there is no graph of those metrics.  So you don't have context of whether or not that person is riding up a gigantic hill (thus slower speed), or if they're just dying.  I'd *really* like to see a simple graph that can pop-out along the bottom to show any of the data metrics collected (i.e. power, speed, HR, elevation, etc…) – just like Garmin's been doing for years on their rarely-updated Live Tracking platform (seen below in a slightly older screenshot that I had handy):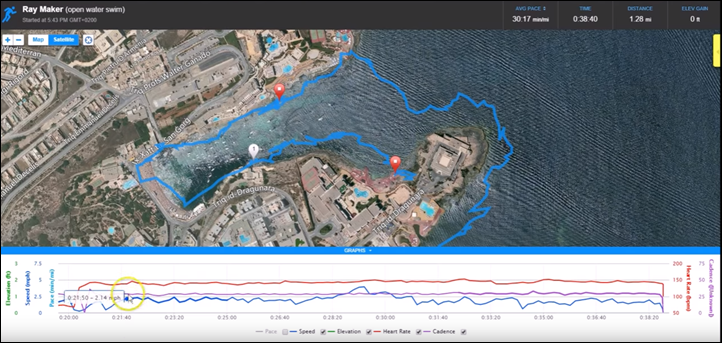 Having those graphs gives coaches (and friends/family) far more insight into how your training or racing day is going than just a simple dot of where you are and an average value for the whole ride/run/etc…
There's a 'Friends' feature; that allows you at a glance to look at anyone who is a friend of yours who is training at this very moment and has a Qollector.  That could be super useful for teams or coaches.  Unfortunately, I lack any friends with Qollectors – so I can't quite show you that.  But here's the button: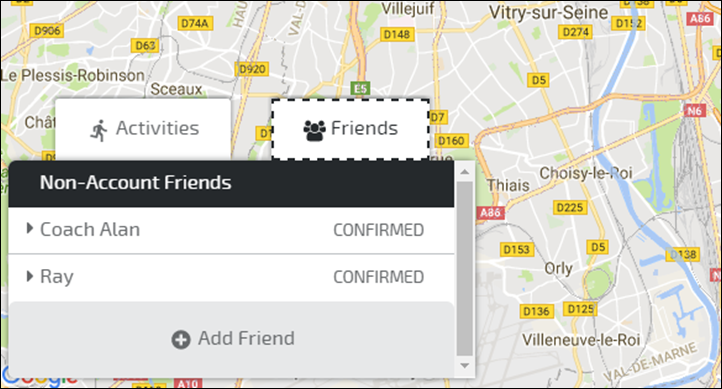 Once you're done with the workout, simply power the unit off. I've kinda made a bit of a habit of ensuring the status light on the data/cellular side is green, simply so I know that it's finished uploading that last 60-second chunk.  I'll talk about what happens with that data in the next section.
So why use this over something like Garmin's Live Tracking or Strava's Beacon, or other similar services? One major reason: Battery life.  Your cellular phone certainly won't last 24 hours with GPS and cellular data streaming, nor even most Ironman races without a secondary battery pack.  Plus, most of us don't have waterproof cell phones designed for an hour or longer swim.
And the second major reason? It's permitted in most major events, unlike most cellular phones.  That's because it's not a cell-phone per se, and specifically isn't a "two-way communication device", which is the specific language that most triathlon federations use to ban cellular phones.  It's also permitted by WTC (which owns the Ironman brand).
Data Collection Options: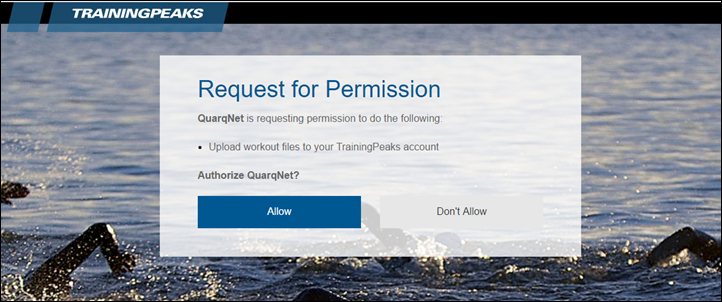 (Warning: Some geekness ahead)
Ok, so you completed your workout and now your data is floating around somewhere.  Let's talk about how it works.  First off, Quarq is saving all of the data from the paired sensors and GPS track data in a custom file format called 'FUZE'.  Within that FUZE format is data recorded for the last minute, but at a rate of 1/128th of a second.  Meaning, it records data 128 times a second from sensors.
Now – that doesn't mean it's recording high speed data.  Rather, it's just capturing every single ANT+ message transmitted. Most ANT+ devices transmit 1-4 times a second.  Sometimes it's the same data repeated, and sometimes it's new data.  For example, some power meters will transmit once per crank revolution.  It differs slightly by device types.
The point of using this FUZE format though is that it allows Quarq to be highly flexible internally in terms of how they collect data and at whatever rates they want.  But they do this by recording the RAW ANT+ data.  These FUZE files are then transmitted every 60 seconds to QuarqNet, where they are stored.  Over the course of an activity these FUZE files are merged together, and upon completion of an activity they'll export out the industry standard .FIT file with all the appropriate data.
These .FIT files are then sync'd automatically to 3rd party platforms.  As noted above, these are as follows.  I do expect to see this expand. At the same time, since there isn't a way to slice off extra data before/after you truly finish your workout, I expect most of us will continue to use the main devices we have and treat this as a secondary data backup.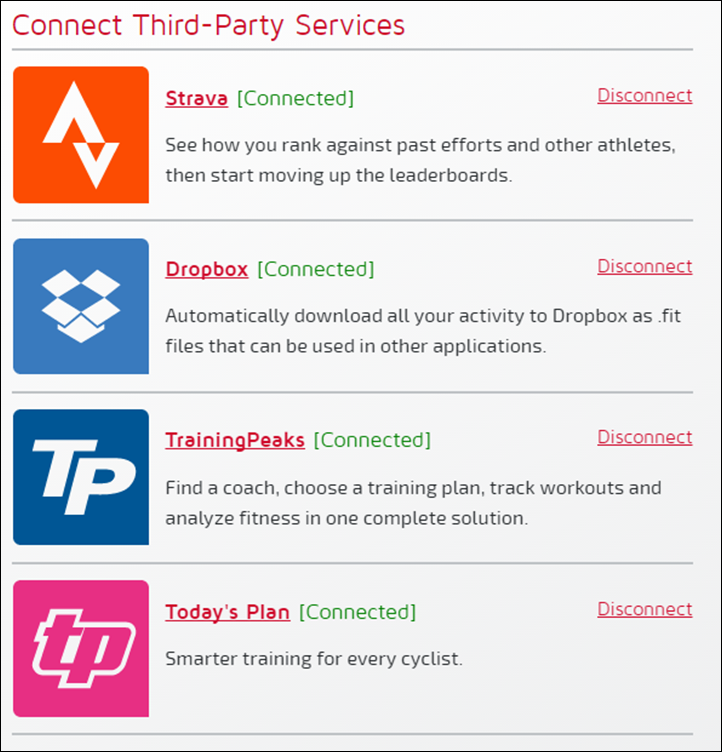 Except there's a catch (in a good way).  For platforms that support it, the unit will actually wait 4 hours after your workout for you to provide annotations. So when you finish your workout and Qollector is powered off, the four hour clock starts.  At the exact same time you'll receive an annotation text that allows you to edit comments about the workout.
Once you've annotated the workout, these comments and the standard .FIT file format are automatically transferred to the partner apps (immediately).  If you don't do this, they'll be sent as normal some four hours later.  This is actually something a number of folks have asked for with respect to things like Garmin to Strava sync – the ability to edit details prior to sync.  Here's a workout sync'd to Today's Plan from the Qollector: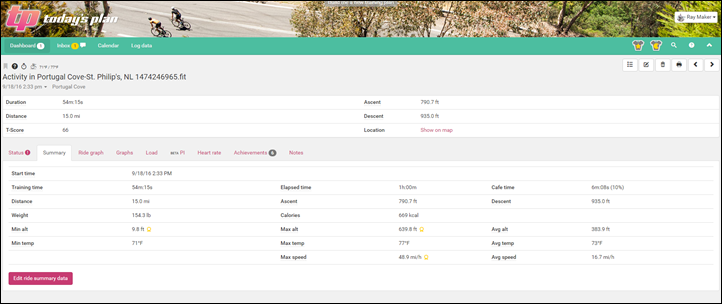 And here's my little Dropbox share full of the original .FIT files: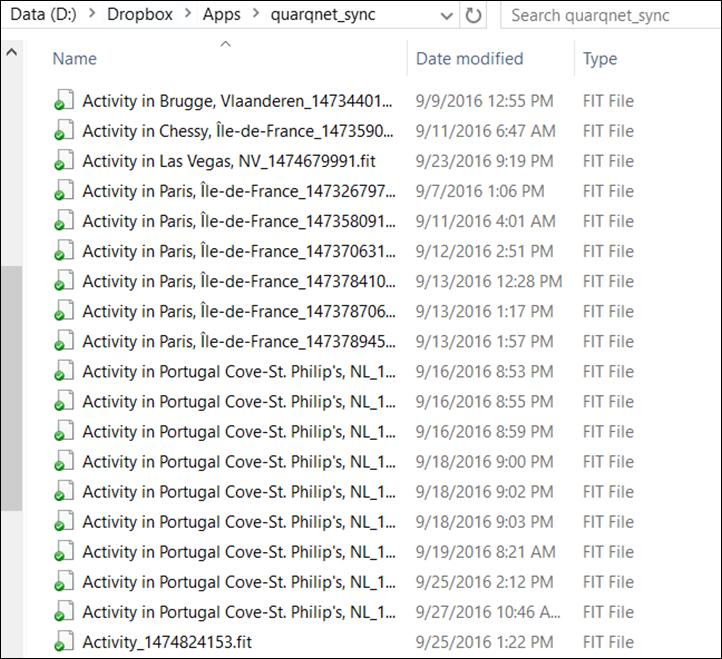 Now Quarq has made an interesting little note in their page describing the unit:
"High definition data does not mean high-speed data. It means every unique ANT+ message is captured and when you review the data no message from any of your sensors is missing. When the ANT+ Bike Power profile grows to include high-speed data Qollector is ready."
They're 100% right here.  And they're also poking at ANT+ a bit on the topic as well (as they should).  The power meter technical working group (TWG) has been sitting on the high-speed data topic for years.  Meanwhile, Stages, Pioneer and other companies have manually implemented high-speed data workarounds due to lack of standard here.  Heck, both Stages and Pioneer have literally made entire head units which are largely based around supporting higher definition data.
Perhaps with the TWG meeting next week at the annual ANT+ Symposium, they'll agree to something in this area and make some forward progress.  If they do, it's clear that Quarq appears ready to support it in Qollector.
Qollector vs Quarq Race Intelligence:
So some of you may be asking: "How does this differ from Quarq Race Intelligence?".  The rest of you are asking: "What the heck is Quarq Race Intelligence?"
First off, Quarq Race Intelligence (which I'm officially abbreviating as QRI) is the platform that Quarq uses for monitoring races with numerous athletes competing in that race.  It's what they've been showing over the last 15 or so months in numerous major events.  Typically the event has placed Qollector units on all the pros in a race, or more recently, they did every athlete at the Norseman Triathlon.  I wrote about about QRI more generally here.
With Quarq Race Intelligence it's a full event system.  Specifically Quarq works with the event organizers to overlay the race course (swim/bike/run) and set up advanced geofences.  This allows the system to know when a competitor is on the swim vs the run vs the bike.  It can even know what loop of a multi-loop course, and also differentiate whether someone is running on a second parallel path to the bike course.  Basically the company does a bunch of prep work with race organizers so that once the starting gun goes off, the system accurately tracks people through each stage of that event.  In other words, it's not just a simple geofence in the traditional thinking.
Shifting to Qollector, this is something that you as an individual buy and use.  It doesn't have 'event knowledge' loaded into it.  Meaning, if you go and compete in Ironman Florida as an individual in November, it's just going to look like one giant track over the course of the day. It won't be fancifully divided up into swim/bike/run, nor show the course overlay.  But it will show your friends and family exactly where you are at all times.
So the key difference is that QRI is a race platform targeted at races, whereas Qollector is targeted at individuals.  They use the exact same hardware, but it's just a lot more 'gel' wrapped around QRI usage in an event.
Ideally Quarq wants to get to the point where you can take your Qollector to most major events and essentially register to that event, allowing your unit to act more intelligently than it would all solo-cup.  The same goes for being able to load in a pre-planned route for training.  For example, The Girl would have no idea what my specific route is on any given day.  I may give her a region I'm riding to, but not an exact route.  I'd love to be able to upload a route and have her be able to tell at a glance that I'm either off course, or stuck somewhere off the side of the road.
Hopefully Quarq is able to cook on these types of features over the course of the winter, making the system far wider reaching by spring as athletes start to get back into the racing season and ride further on training rides.
Update Oct 21st: Quarq has posted an initial list of all races for 2017 that a consumer Qollector can opt-in for Quarq Race Intelligence for that race.  Sweetness, it's a massive list!
Pricing and Availability: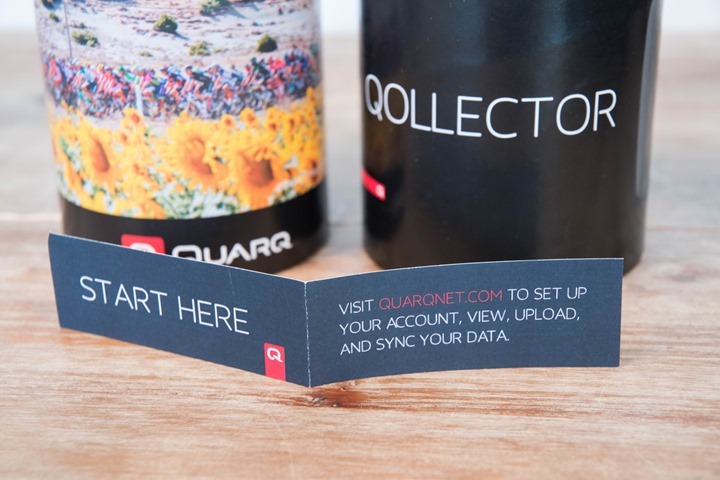 The unit will cost you $349USD, which includes the first 6 months of cellular data (it uses 3G networks).  After that, it'll cost $99USD per year for cellular service.  You can't add it to your existing cellular plan, as everything is baked into the device including international roaming.  To put that price in perspective, that $99USD costs $8.25 per month, or basically about 5-7 gel packets.
Given the target market for this device is folks that sign-up for $700+ Ironman and $300 Ironman 70.3 events, I think the pricing is roughly in the right ballpark (perhaps a tiny bit high on the device itself, but it does include 6 months of usage).
The plan right now is that Qollector will be sold completely on Quarq.com – that's largely because they're trying to work out things like device cellular provisioning and such.  Aspects that get more complex if 3rd party retailers are in the mix.  It doesn't sound like those are ruled out, but rather, just not what they're focusing on upon launch.  Fair enough.  The unit will be available on October 11th, though, you can also try it out at the Ironman World Championships next weekend in Kona .
Also, it won't be available for worldwide (non-US) purchase until 2017 (no specific month yet).  However, you will be able to use your device internationally starting in November 2016.  As I noted above, I use mine internationally already with some minor/temporary workarounds until the automated international functionality is in place.
Summary: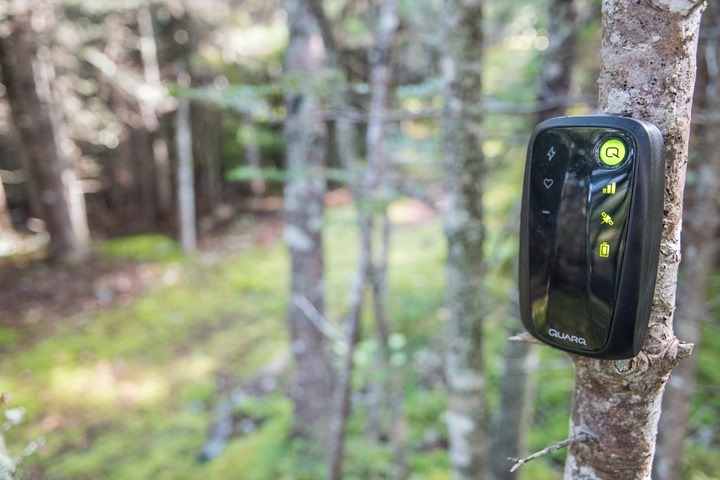 Overall, Qollector is a device that has a lot of potential, even if the audience at this time may be somewhat niche.  It's not going to appeal to everyone.  Quite frankly, if you're focused on running 10K road races, then this makes no sense compared to a phone with Strava Beacon.  However, as any endurance athlete can attest to – when you've got a 6-8 hour long training day out in the mountains or desert or other less populated area, having something that can give friends and family (or coaches) piece of mind can be incredibly valuable.  Especially once you start talking ultra marathoners and other ultra endurance events.  These areas are the target market for this device.
Perhaps more interesting may be the secondary data applications that I suspect will soon converge on using the device, be it pro-type usage from various national federations or elite teams trying to collect as much of their team data as possible in a converged platform and transmitting it to their team cars.  Or industry types trying to gather data for comparing products.
I've covered a few minor nits I have with the device throughout the review (e.g. inability for basic graphs for live tracking) – ones I suspect (or at least hope) Quarq can quickly remedy.  But I also think there's opportunity for them to establish a specific list of events that they're going to build out course support for, even if the race isn't officially involved.  For example, I'd love to see them publish an event list in October or November 2016, of 2017 events – be it 20 or 200 events big – that they'd have courses for.  And then to allow Qollector to understand those courses like it does in Quarq Race Intelligence.  Today, that doesn't exist for regular Qollector users.
And similarly, today, there's nothing like this device on the market.  Sure, there are various GPS and satellite trackers, but nothing truly aimed at the endurance sports world, and nothing that collects data and understands how to talk data to 3rd party platforms as well (such as Strava, DropBox and Training Peaks).  And it's for those reasons I'm pretty excited about the device, and where it's going.
With that – thanks for reading!  Feel free to drop any questions below!
(Preemptive 'Where is the Annual Power Meter Buyers Guide Post that I said would be next?" answer: In a few hours.  Just making sure I didn't write too much crazy-talk while on the redeye last night back across the pond.)