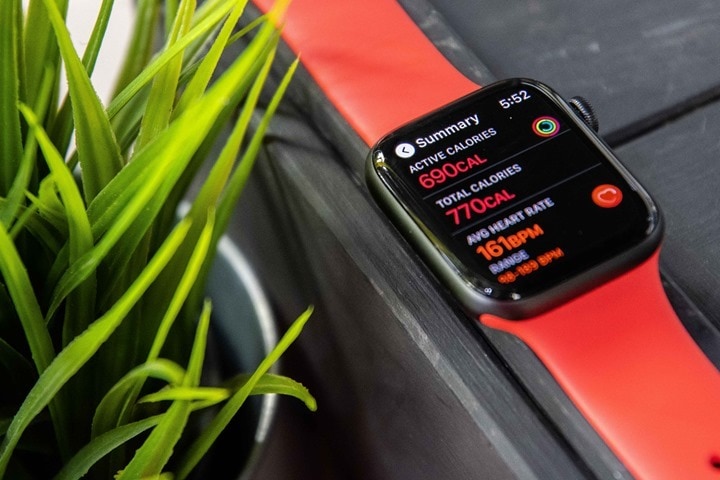 At first glance, the Apple Watch SE seems like a straightforward Apple Release with SE branding: Take a roughly year-old model, cheapen out some materials, and call it the SE. But in reality, it's far more complex than that, and puts together what Engadget accurately called the Frankenwatch. And unfortunately, as I discovered, that's most visible in the sports and fitness realm.
Now, I've been using this device for a few days worth of workouts and I figured I'd dive into some of that initial workout data, primarily from an accuracy standpoint. This isn't a full review, but rather a look at what's different about the SE and where it slots in to the Apple lineup, all from a fitness standpoint. I'm not going to go into the nuances of the processor (because frankly, you'll never notice), nor Apple watchOS7 (since I did that here). From a software standpoint, all three watches are identical, and all features unless hardware-dependent are identical.
Now if you want to jump right into it, here's a video I put together diving through all these tweaks. Plus, a bit of a tour of my running route in Amsterdam.
And again, I'll likely dive into a full review down the road. But for now, my initial thoughts.
What's Different: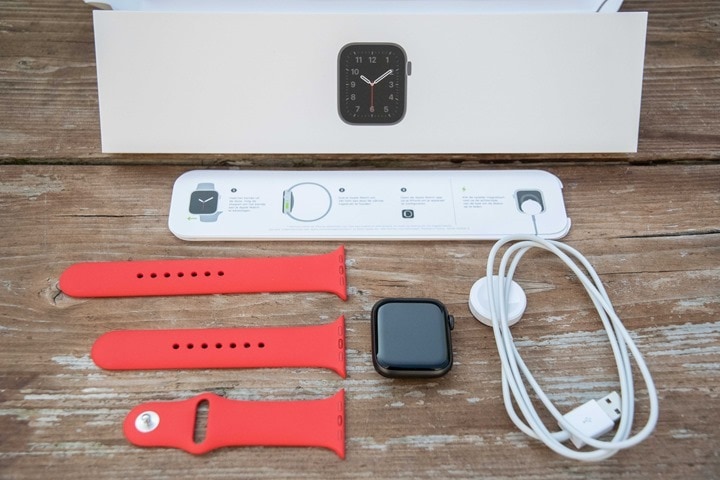 Thus, to begin, let's set the stage for what Apple has slated as their lineup for the next year:
Budget: Apple Watch Series 3 – from $169 (officially from $199, but it's already been at $169 for months)
Mid-range: This new Apple Watch SE – from $279
High-end: The new Apple Watch Series 6 – from $399
And then there's the cellular variants of all these as well. But that doesn't really change the fitness paradigm, so we'll ignore that. All of these have GPS, all of them have two size options, and all of them support the latest watchOS7 operating system that just released last week. But that's kinda where it seems to end from a fitness standpoint. The Series 3, SE, and Series 6 all use different optical HR sensor designs, and all have differences when it comes to battery life for GPS workouts. The functional level of their heart rate sensors is notably different too, as you'll see in my tests.
From the front, the three units look near identical. Of course, the Series 3 has a smaller display within that shell, but beyond that, between the SE and Series 6 they're basically indistinguishable from a glance.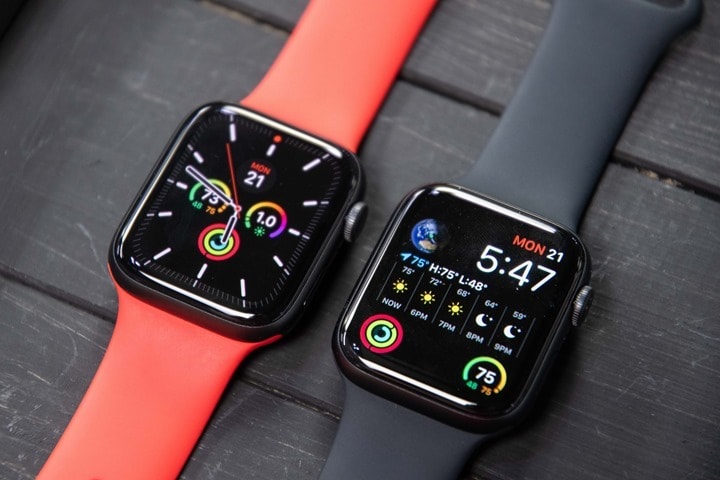 But when we flip it over to the back of the three watches side by side, you can see the optical sensor layouts are all different. At left, Series 3, then SE, then Series 6.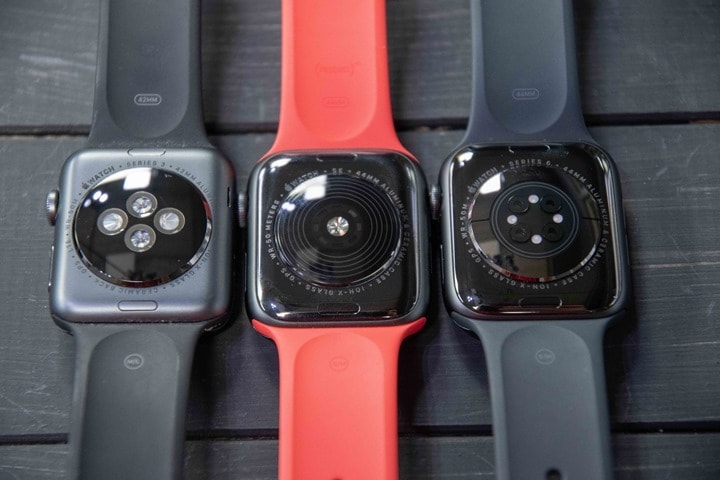 What's funny here, is that Apple's own page on this is incorrect, where it states the SE has a second 2nd gen optical HR sensors:

Except, that's quite clearly incorrect. This claim is repeated numerous places on the site in numerous articles. Here's the full sensor arrangements of all Apple Watches. Also, I know it's tough to see with reflections. There's no 'good' angle to take a picture of multiple Apple Watch sensors due to the highly reflective nature of them and that they have a slight crown to them.

(Left to right: Original/Series 2/Series 3/Series 4/Series 5/SE/Series 6)
They've actually had three optical HR sensor generations:
Apple Watch 1/2/3: This is a 2xLED, and 2xPhotodiode arrangement
Apple Watch 4/5/SE: This is a center LED (which technically has 4xLED's in it), 8xPhotodiode arrangement
Apple Watch 6: This is a 4x LED (with each LED also having two colors in it, green for HR, red for SpO2), 4xPhotodiode
Anyone can simply look at the back of an Apple Watch and see these are different. This isn't some secret here. And in fact, in the keynote for the Series 4 they touted the new optical HR sensor, just like they touched on its increased capabilities in the Series 6 keynote.
I asked Apple why they claim otherwise on their site. I'll circle back when I hear why.
In any case, that of course has impacts on accuracy. In most cases it'll be negligible, but if there wasn't changes to accuracy (or power draw), then Apple wouldn't have made changes. Companies generally change these things to eke out that last 1-2% in accuracy increases. It's a slow and iterative process.
Practically speaking though, this manifests itself more simply in terms of features as:
Apple Watch 1/2/3/SE: Heart rate measurement
Apple Watch 4/5: Heart rate measurement + ECG
Apple Watch 6: Heart rate measurement + ECG + SpO2
And then more fully if we look at the core features people care about related to fitness, the following:
Apple Watch Fitness Comparison
| Feature | Apple Watch Series 3 | Apple Watch Series 4 | Apple Watch Series 5 | Apple Watch SE | Apple Watch Series 6 |
| --- | --- | --- | --- | --- | --- |
| Display | Raise to wake | Raise to wake | Always on | Raise to wake | Always on |
| Battery Standby | 18 hours | 18 hours | 18 hours | 18 hours | 18 hours |
| Battery GPS Workout | 5 Hours GPS | 6 Hours GPS | 6 Hours GPS | 6 Hours GPS | 7 Hours GPS |
| Fast charging | 1.5hr to 80% | 1.5hr to 80% | 1.5hr to 80% | 1.5hr to 80% | 1hr to 80% |
| Optical HR Sensor | Gen 1 (AWS1-3) | Gen 2 (AW4/5/SE) | Gen 2 (AW4/5/SE) | Gen 2 (AW4/5/SE) | Gen 3 (AW6) |
| ECG | No | Yes | Yes | No | Yes |
| SpO2 | No | No | No | No | Yes |
| Heart Rate Notifications | Yes | Yes | Yes | Yes | Yes |
| Display Brightness | 1000 nits | 1000 nits | 1000 nits | 1000 nits | 1000 nits |
| Water Resistance | 50m | 50m | 50m | 50m | 50m |
| Altimeter | Yes | Yes | Yes | Yes Plus | Yes Plus |
| Compass | No | No | Yes | Yes | Yes |
| Processor | S3 SiP Chipset | S4 SiP Chipset | S5 SiP Chipset | S5 SiP Chipset | S6 Chipset |
| Storage (music/apps) | 8GB | 16GB | 32GB | 32GB | 32GB |
There's also some other nuanced things like the Series 6 includes 5Ghz WiFi support, the U1 broadband chip, and both the SE/6 include the W3 Apple Wireless chip versus the W2 on the Series 3.
In terms of sleep data, the SE acts just like all the other watches. You'll set up sleep tracking through the 98-step sleep tracking wizard, at the end of which the watch will track sleep as long as a sleep schedule is enabled. You can then see the sleep data the following morning on your watch or on the app. Here's the data from last night, tracked on the SE: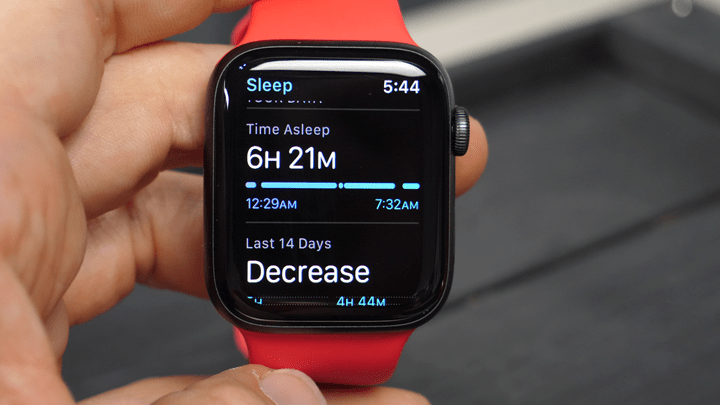 The start/end times are mostly correct, as are the brief moments awake. Here's the slightly more detailed data from the Apple Health app:
Ok, with that – let's get on with the run.
Test Run Data:
I detail much of the accuracy bits in the video, but I figured I'd quickly go through the main aspects. I had multiple devices with me, including the Apple Watch SE, the Fitbit Sense, the Garmin FR745, a chest strap (Garmin HRM-PRO), the Polar OH1 Plus, and the Whoop strap, all properly spaced and not-conflicting with each other. Albeit, it didn't help that I apparently forgot to start the Polar OH1. And then the Whoop strap didn't properly sync to Strava (the easiest way to export the data). Still, I could look at the core elements on Whoop's site and manually compare where required.
Starting with the heart rate. This run was mostly evenly paced, but I threw in some solid sprints to check out responsiveness, and unfortunately, the SE failed on one of them – spiking the heart rate considerably higher than my viable max HR (and certainly higher than my effort) – nearly 190BPM:

Even the Whoop strap got this sprint correct – topping out at 177 like the chest strap: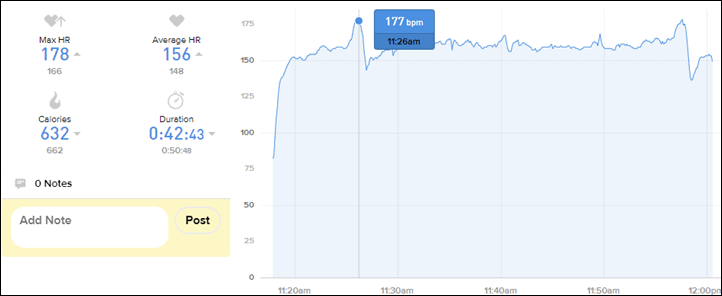 I mean, c'mon, when's the last time from an accuracy standpoint the Whoop strap beat anyone? You know you're up crap-creek when that happens.
In any case, the rest of the workout was actually fine heart-rate wise.
It's GPS that's where the problems are. And in some ways, it's easiest to just show Apple's own app here, because it so easily makes things clear. With the Apple Watch Series 6, gone was what I'd dubbed 'Mario Karting' (or 'Whooshing') around the corners, where basically it ignores the laws of physics for GPS track beauty. It'd cut many corners, even when water/bridges/buildings/trees/rocks/statutes/angry geese, and others were involved. It's been a stable of Apple Watch GPS tracks since the beginning, but the Series 6 unquestionably got rid of it. The SE though? Oh, it's still here in force. For example, these on this run and my run from Sunday too:
But, to show how other watches handled these points, we go to the data. For example, look below at how it both ignored the bridge on the left, and then ignored the turn of the tip of the island.

Or the loop around the stadium, where it was mostly in the bleachers, and the Garmin was correctly on the road where I ran:

On the running track, the Apple Watch undercut each loop, being inside on the field. The Garmin wasn't in the new Track Mode, but still got on the track properly. Also, when exiting the track, the Apple Watch cut everything (I actually show a live side by side of this in my video with footage of it ignoring it).

In the woods it was mostly OK, though it did still short almost every corner. The one exception being one corner in the lower left, in which case the Garmin very slightly undercut that one:

The challenge here (which it was before), isn't that it's always short or always long. It's that it's inconsistent with what it does. Sometimes it overshoots when it smooths because it goes wide coming out of a corner (like Mario Kart), and sometimes it undershoots because it cuts corners. Thus the distance in the end might be similar, but it also very much might not be.
I guess after testing the Series 6, I had hoped 2020 would have been a turning point for Apple and GPS accuracy. Either via hardware updates in the Series 6 & SE, or via software updates in watchOS7. Unfortunately, whatever magic is in the Series 6 simply isn't in the SE.
(Note: All of the charts in these accuracy portions were created using the DCR Analyzer tool.  It allows you to compare power meters/trainers, heart rate, cadence, speed/pace, GPS tracks and plenty more. You can use it as well for your own gadget comparisons, more details here.)
Wrap-Up: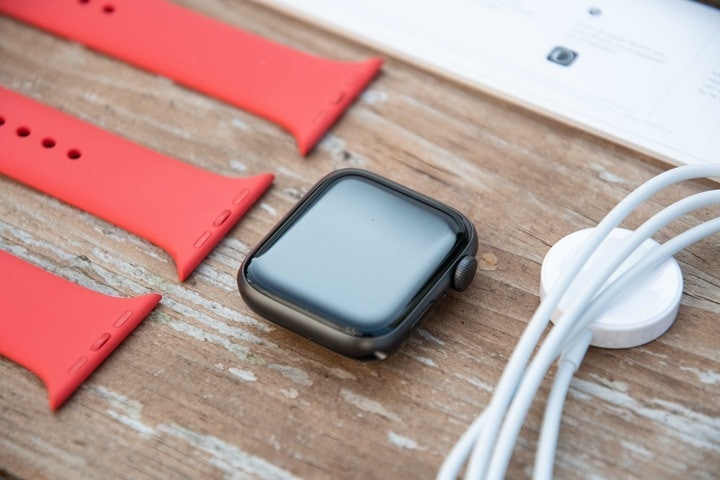 So, I guess I'm ultimately left a little bit confused at this point. Undoubtedly the Apple Watch SE will sell well, because…Apple. But I'm here at this point thinking that the real purpose of the SE is to actually drive Series 6 sales. Or, perhaps solidify Series 3 sales from people on the fence of Apple at all. Sure, there will be a handful of people that get the SE over a Series 3 because it has more storage (or a larger screen), or is marketed as faster. But in general, it feels a bit like a watch designed to underperform. And I very rarely say such a thing.
Whatever choice they made in software or hardware around GPS is very clearly a sub-par experience compared to the Series 6. On the same route in multiple places is performed like the older Apple Watches, cutting corners Mario-Kart style as it bumbled along. Same goes for a second run as well.
And on the optical heart rate, the Series 4/5 sensor wasn't bad per se (after initial bugs were sorted out), but the SE using the same sensor showed issues that definitely weren't seen on the Series 6 in my tests. Obviously, Apple changed the Series 6 sensor for a reason, and undoubtedly accuracy was a piece of that puzzle.
But the lack of always-on screen is sorta the biggest puzzler for me. After all, always-on screens became the defacto norm for high-end AMOLED watches in 2019 (even sooner for some companies). So to revert back on this watch to raise to wake isn't super ideal.
Anyway, I'm sure there will be folks the SE works for. For example, if you don't care about sport/fitness, then getting more storage for music, a faster processor, and of course the bigger screen are all worthy additions. But if those features don't matter to you and fitness does? The initial data isn't looking super compelling.
With that – thanks for reading!