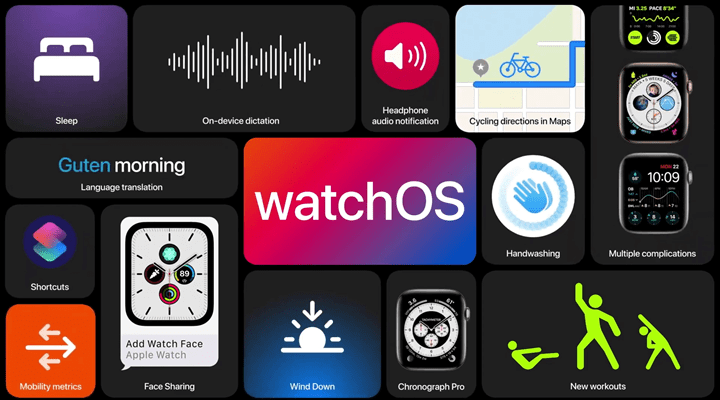 As part of Apple's annual Worldwide Developer Conference (WWDC), held each June – though this year totally virtual, the company has outlined numerous aspects of their platforms (iOS, iPad OS, watchOS, and tvOS). However, for this post I'm going to purely focus on the wearables side of the house.
Now while today's event outlined new software, they didn't announce any new Apple Watch hardware. But that's normal. Historically that comes instead in September (usually). Whether or not that happens this year of course remains to be seen, but Apple has largely shifted to a yearly refresh cycle for their Apple Watch series. Last year they launched the Apple Watch Series 5.
But WWDC is all about developers, and specifically about how those developers will use Apple's various platforms. It's similar to Garmin's Connect IQ conference, or Microsoft's Build conference. Sure, sometimes new hardware comes out. But it's more about software capabilities. And more importantly sometimes you see hints at what's coming hardware-wise via the software features that are discussed but not yet possible to take advantage of.
Note that Apple states that watchOS 7 will *only* be available to Apple Watch Series 3 and higher. So as of today that means Apple Watch Series 3 (Sept 2017), Series 4 (Sept 2018), and Series 5 (Sept 2019) units. Original Apple Watch (2015), Series 1 (2016), and Series 2 (2016) units are outta luck here.
With that, let's dive into the details.
(Note: You can watch the full developer conference keynote presentation here, the watchOS pieces start around the 47-minute marker)
What's coming: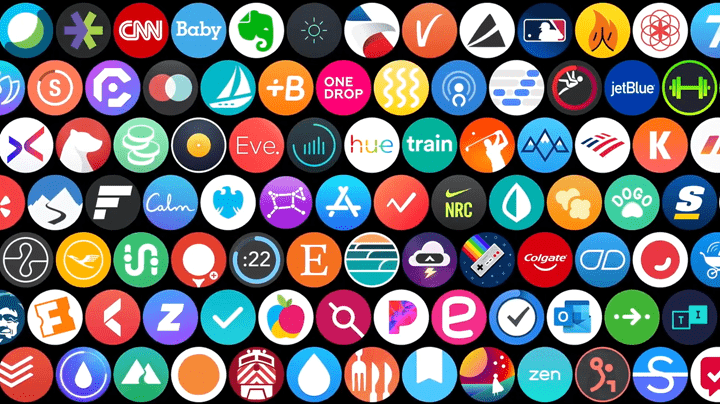 As usual, Apple started the presentation with big numbers, specifically that there are now 20,000 watchOS apps in the app store today. That's no surprise, but one has to keep in mind that many of these apps are more minor additives to existing iOS apps. There are many incredible apps that offer specific and unique features on the watch, but there's countless more that simply usher slightly different notifications. Wearable apps are hard, and app developers across all platforms, from Garmin to Samsung to WearOS (Google) struggle with finding balance between usefulness and simply duplicating notifications.
Apple did note at *both* the start and the finish of the roughly 9 minute long Apple Watch section that this was only a slice of the total watch-focused updates they'll be sharing "this year".
Now we're going to work backwards in the new features from how Apple presented them, with instead starting with the most important: Sleep tracking.
Up until now, no Apple Watch could natively track sleep. Sure, 3rd party apps could (and some were quite good), but it wasn't a native Apple Watch experience. And ultimately when you're talking tens of millions of users, that matters.
The first part of the sleep 'suite' is a new bedtime routine and platform function called 'Wind Down'. This aims to minimize distractions by displaying a wind-down screen on your phone, it also includes shortcuts for certain things like playing music.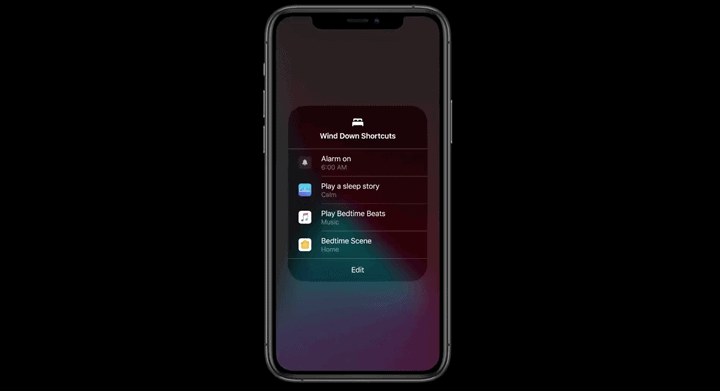 As you hit bedtime your phone dims the screen and turns on do not disturb mode: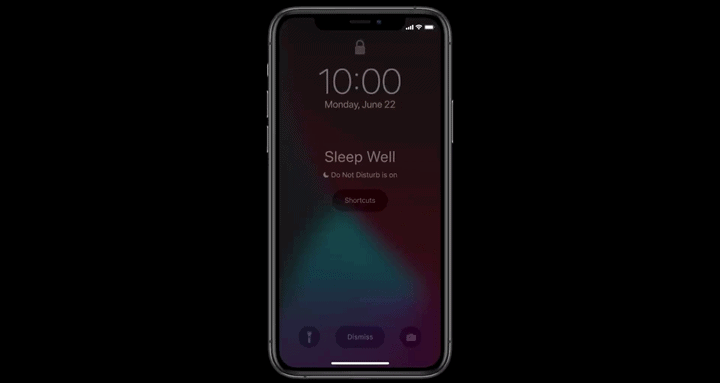 And your watch will go into sleep mode. This will turn off the screen, but it can be tapped to see the time and scheduled alarm.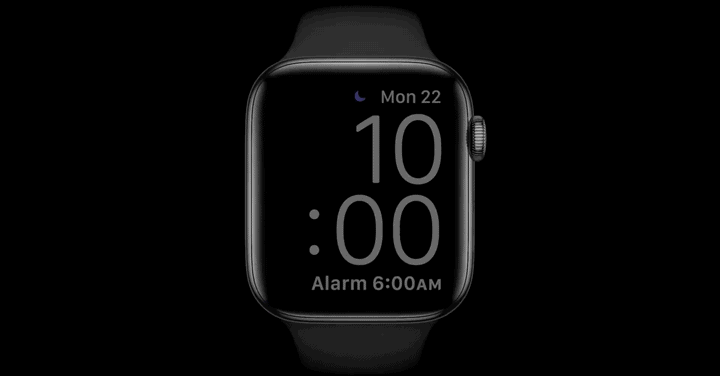 When it's time to wake up, you'll get a silent wake-up alarm or audible one: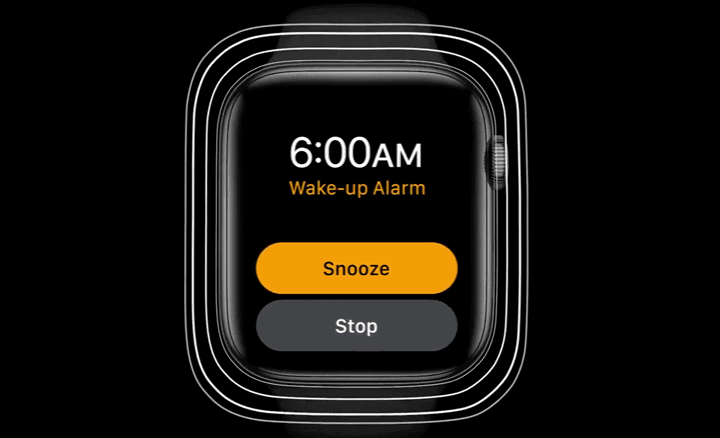 You'll first see a wake-up screen with battery life of the watch: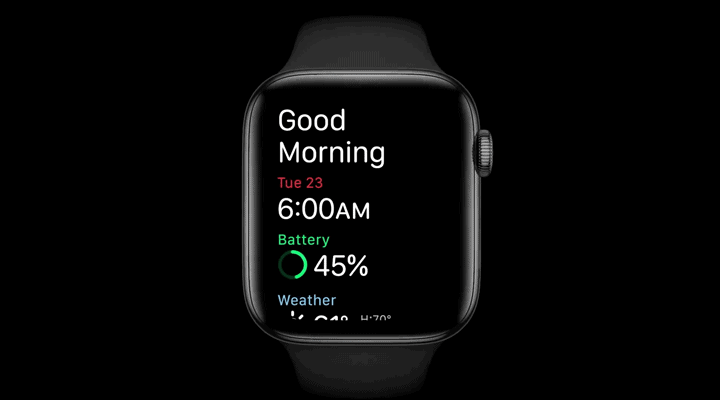 You'll also see the time asleep, and the trending direction over the last 14 days.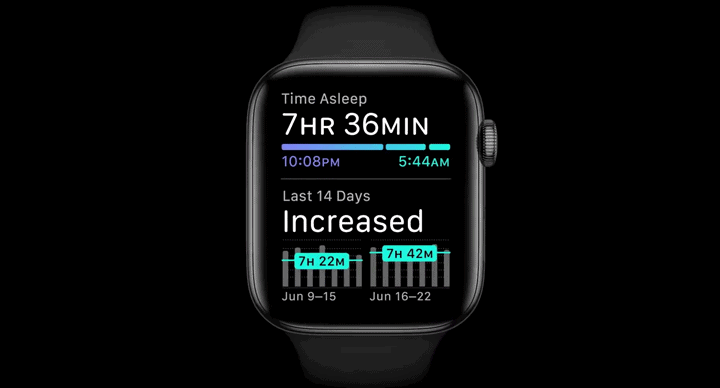 Meanwhile, on iOS on your phone, you'll see more detailed sleep tracking information. This info is stored in Apple Health (just as other sleep tracking from other devices was):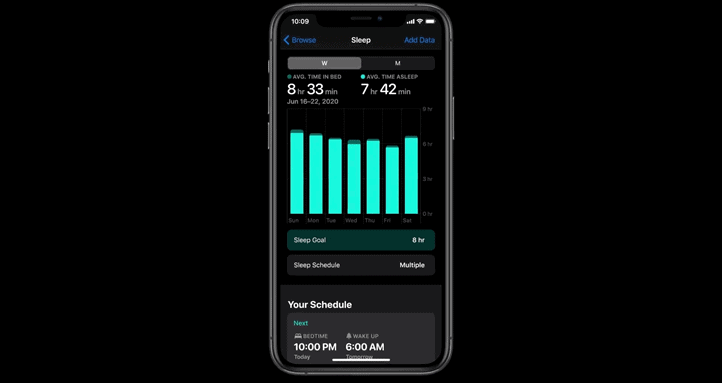 You'll also be able to customize sleep schedules down below, and again see the trending stats: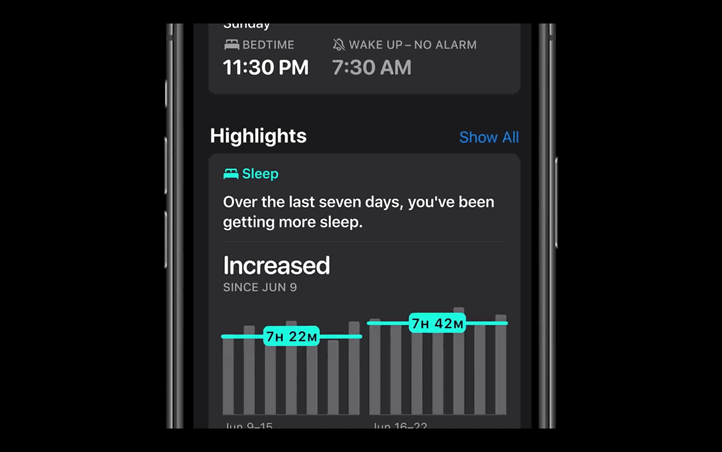 Finally on sleep, Apple says they're using machine learning here to determine your exact sleep times. They didn't specify what other metrics they might be capturing in the background, or the detail of that. My guess is we'll see specific WWDC sessions on aspects of this later this week.
Note that Apple has also added additional Mobility Metrics in the Health app: Low-range cardio fitness, walking speed, stair-descent speed, stair-ascent speed, six-minute walk distance, double support time, step length, and asymmetry.
Next, Apple has made some pretty big expansions with watch faces and so-called complications (the bits of data on your watch face). To begin, they've added more complications to more watch faces, and are now allowing apps to have multiple complications per watch face. They gave an example of a customizable Nike Run Club watch face that can be customized in multiple spots specifically from that app.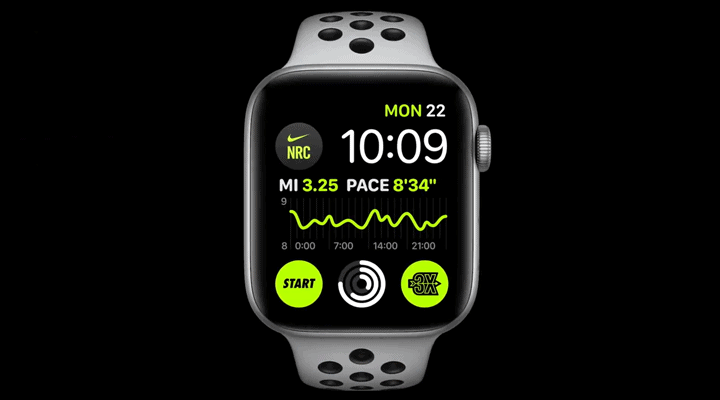 However, the far bigger news here is that watch faces can now be shared via either 3rd parties (like apps or sites), but also between friends/family directly in the same way you'd message someone. This new feature is called 'Face Sharing'.
They used an example of a cycling site that created a shareable watch face: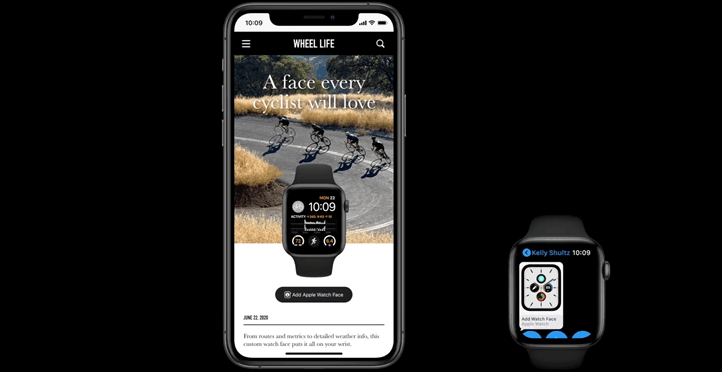 However, that watch face depends on the Bikemap app to get the complication data within the watch face. You can see below exactly which component requires that app. So iOS will prompt you to get that app as part of the watch face sharing routine: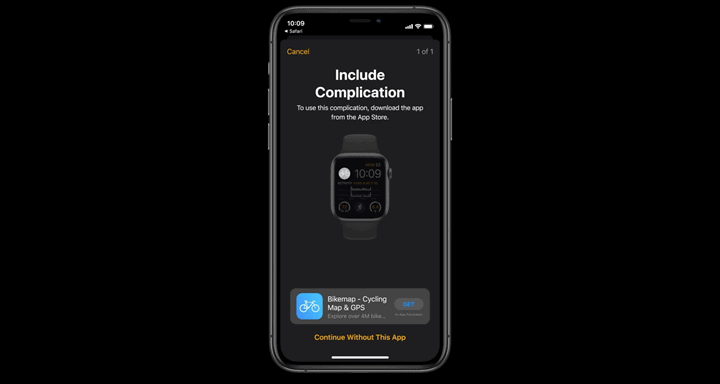 You can also share watch faces via social media or directly: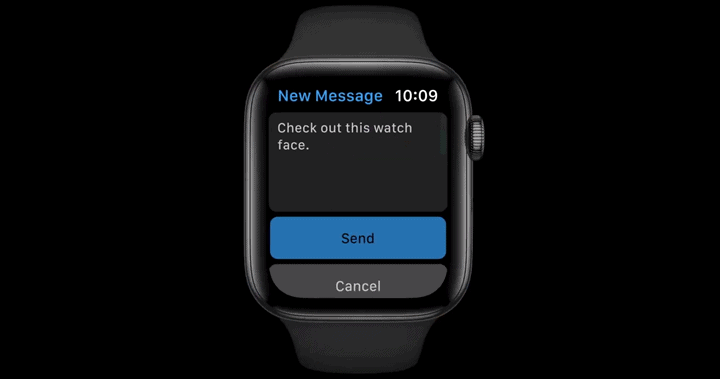 However, what appears to be missing in this entire thing is actually being able to *create* your own watch face (either as a developer or a user). Every example Apple gave was merely the *customization* of watch faces, and sharing thereof. Thus, unless there's something they didn't hint at or include on screen, this isn't quite as big a deal as Apple might make it out to be. After all, virtually all other wearable platforms include the ability for developers to create watch faces.
Next, there's cycling directions on the wrist via Apple Maps. This is also timed with iOS14 getting cycling directions in Apple Maps. watchOS will now give you cycling directions on the wrist between two points.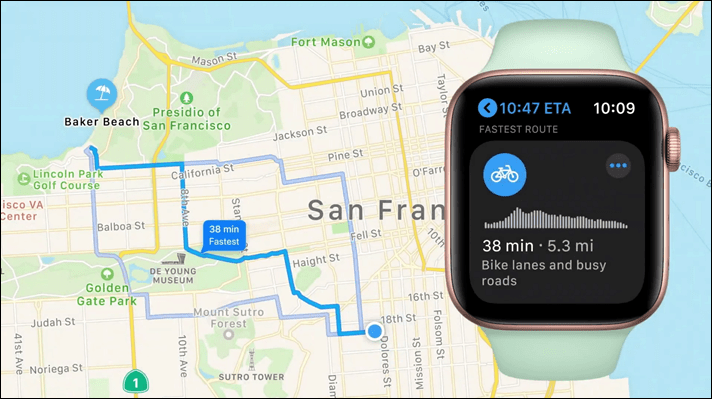 This includes showing details such as bike lanes, elevation graphs/preference, and turn by turn directions. It'll even show dismount/etc details for stairs.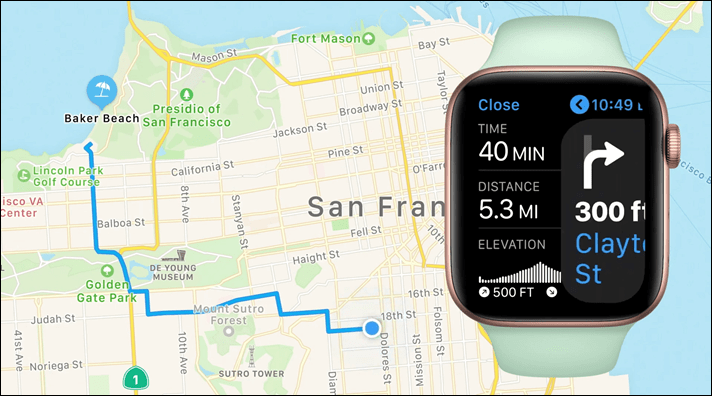 However, this seems highly limited right now to only a handful of major cities in the US and China. Roughly 7 in total were shown earlier in the iOS 14 section. So I wouldn't really consider this a major feature for most people out there.
Next, Apple noted that they added a few new workout types to watchOS 7, specifically: Dance, Core Training, Functional Strength Training, Cooldown. However, these types are already in watchOS6, so it's a bit unclear what they were trying to say here…but didn't land correctly.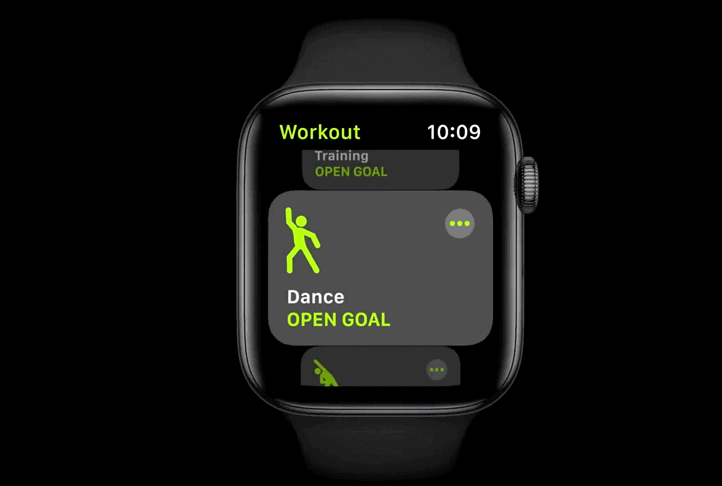 And over on iOS 14, the 'Activity' app has been renamed to 'Fitness', which frankly makes a ton of sense. And as part of that they've redesigned the Activity Fitness app, which creates a much more clear dashboard of your fitness details on a single page: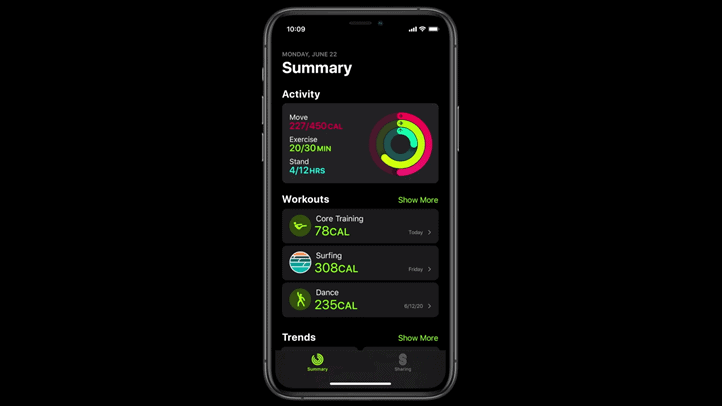 Finally, Apple has added a new hand-washing detection algorithm. This will use both motion tracking as well as the microphone to hear the sound of running water: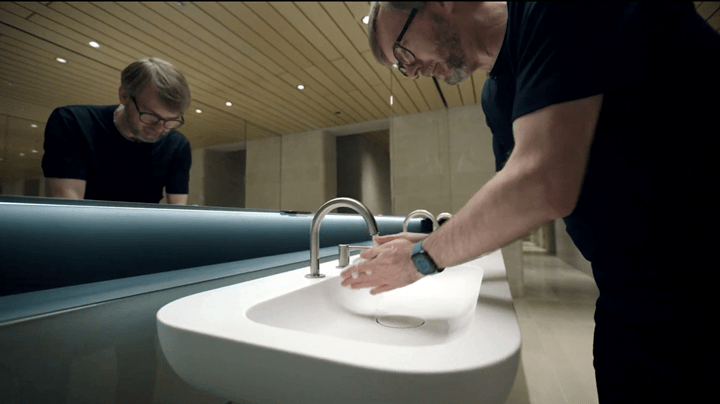 It'll then start giving you a 20-second countdown. If you prematurely end your hand-washing routine, it'll "gently" remind you to do better.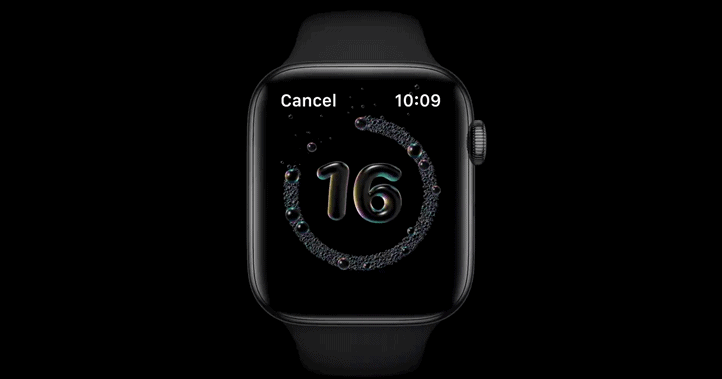 And there ya go, a complete round-up of watchOS 7 features.
And again, they ended the Apple Watch section saying that they were showing you just "some of what's coming this year in watchOS 7". Whether or not we get more details of that later in the week via specific developer sessions, or later in the year as part of additional product launches remains to be seen.
Wrap-Up: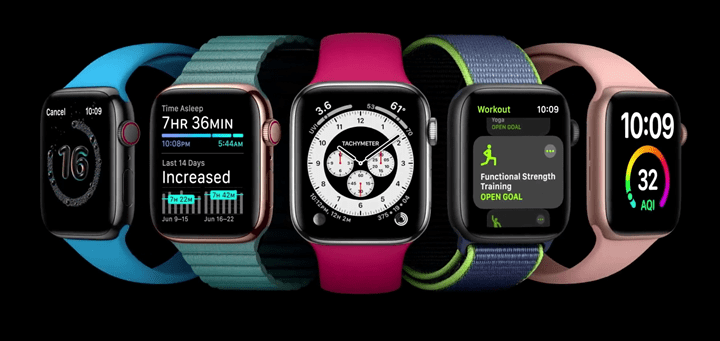 While at first glance sleep tracking is a big deal, I don't think the aim here is really about current Apple Watch users. It's about future ones, namely from September 2020 onwards. Having sleep tracking in today's Apple Watch isn't going to be an awesome solution. Functional, yes…but awesome, no. That's because of the simple fact that an Apple Watch Series 5 unit will only get about 24 hours of battery life (sometimes less, sometimes more, but that's the ballpark). As such, people will still need to charge it daily, so that means now shifting that charging timeframe from overnight to some other point in the day. Perhaps sitting at the office (home or otherwise), or while you eat breakfast.
Either way, it's still gonna have to happen.
But realistically I doubt Apple would roll out this feature without better hardware to support it. And by 'better', I'm specifically talking battery life – I'd think they'd ideally want to get to 2-3 days sustained use between charges in order to make this feature make sense for most people.
Of course, as Apple themselves carefully worded twice: This is just a part of what's coming in WatchOS 7, so we'll all have to wait till September to see what else might be there beyond what's announced this week in developer presentations.
Thanks for reading!