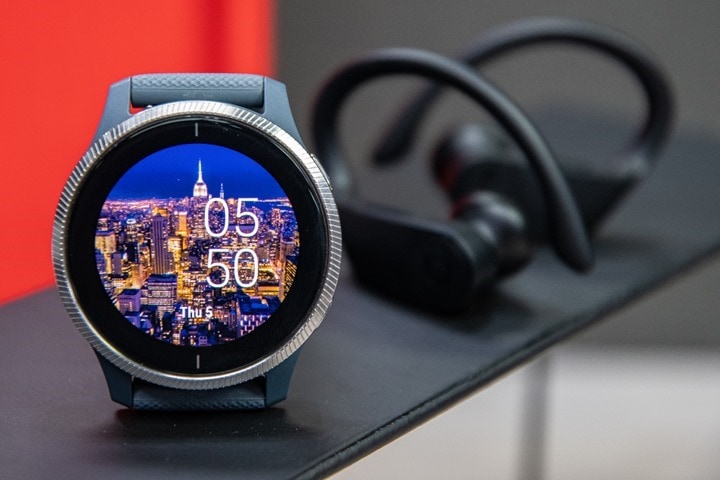 It's been a bit over three months since the Garmin Venu came out, and since even before the announcement day it's been on my left wrist – day in and day out. It's definitely been one heck of a long review cycle, largely elongated due to it being in the middle of indoor trainer review season. So these last few weeks I've been circling back to getting some of these leftover wearables reviews knocked out, as seen with the Apple Watch Series 5 last week.
The watch is notable because it's Garmin's first wearable with an AMOLED display, aka: A pretty screen. Beyond that it mirrors all the same new features as the Vivoactive 4, with music capabilities coming standard now (including both Spotify and Amazon Music offline access), as well as a pile of new features related to other workout types like yoga & Pilates with animated step by step workout move instructions, 24×7 respiration rate tracking, estimated sweat loss, and finally hydration tracking.
Within this review I'll cover all the good, the bad, and the little bits of ugly (spoiler: there's really not much ugly). Just as I always do. Also, this media loaner unit will finally get shipped back to Garmin, as I've already got my own unit I ordered. Just the way I roll. If you find this review useful go forth and hit up some of the links at the end of the post. With that, let's get cookin'.
What's New: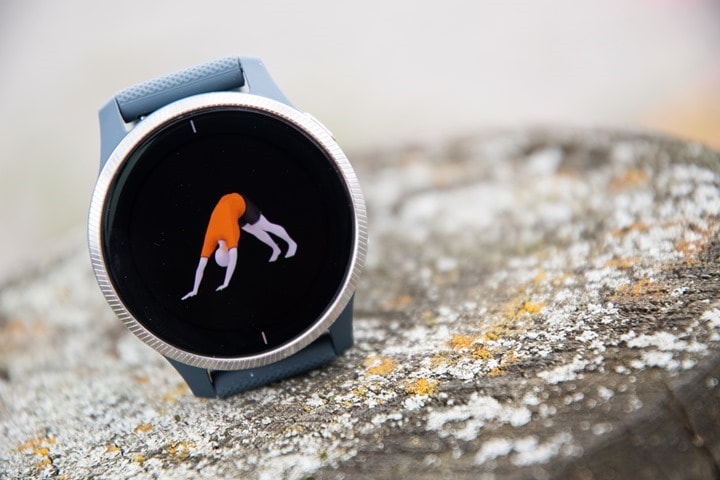 The Venu is a progression of the Vivoactive lineup. It and the Vivoactive 4 share virtually every feature, with the only differentiating aspects of the Venu being those that are specifically display driven. So such things like higher quality animations and better quality watch faces. In discussing the features with Garmin, there are no non-display associated features that are in Venu that aren't in Vivoactive 4, or vice versa.
The other thing to note is that previously there were separate editions of the Vivoactive lineup – one for music (e.g. Vivoactive 3 Music), and one for non-music (Vivoactive 3); now that's all under a single umbrella with music – whether you have Venu or Vivoactive 4. On the flip-side, you now have two different sized units, and things cost more. The pricing is as follows:
US Pricing:
Venu: $399
Vivoactive 4/4S US Pricing: $349
EU Pricing:
Venu: €349 & €379 depending on bezels/buttons
Vivoactive 4S: €279 & €299 depending on bezels/buttons
Vivoactive 4: €299 & €329 depending on bezels/buttons
With that, let's talk all the new offerings in relation to the past model – the Vivoactive 3:
– Music now standard: Including Spotify, Amazon Music, Deezer, and iHeartRadio
– Venu features 1.2" AMOLED display: Super vibrant, lots of colors
– Venu also adds 'always-on' mode despite AMOLED display
– Added ambient light sensor tied to new display
– Added new 'Live' Watch faces with small animations
– Added secondary button to side: Used for lap, back, menu access
– Added hydration tracking to manually track liquid intake with widget and app
– Added Estimated Sweat Loss post-workout
– Added Respiration Rate for all-day and sleep metrics (and certain workout types)
– Added Breathwork Exercises (way different than simple breathing stress features)
– Added Workout Animation functionality: For Strength, Cardio, Yoga, Pilates
– Added new Yoga and Pilates Built-in workouts: Includes step by step animations
– Added ability to design Yoga workouts in Garmin Connect: Complete with step by step pose animations
– Added ability to design Pilates workouts in Garmin Connect: Complete with step by step animations
– Added PulseOx for 24×7 blood oxygen tracking
– Revamped health stat widget akin to latest Fenix/Forerunner models
– Switched to Sony GPS chipset like remainder of Garmin 2019 unit lineup
– Switched to Garmin Elevate V3 optical HR sensor
– Connect IQ Developers will have access to create live watch faces
– Battery life at 5 days standby, and 6 hours of GPS+Music
As you can see, the vast majority of new features on the watch are far less focused on the swim/bike/run athlete that's more common in Garmin's Forerunner and Fenix lineup, and instead focused on a bit more of the lifestyle athlete that may be more varied in their day to day activity – which to be fair, was always the strength/target of the Vivoactive lineup, as this is within that family.
For those not familiar with the Vivoactive lineup, here's all the baseline features found on both the Venu & Vivoactive 4:
– GPS tracking of activities (no reliance on phone)
– Workout tracking of range of sports including running, cycling, pool swimming, skiing, golf, gym and many more (full list down below)
– Structured workout support via downloadable workouts
– Quick on the fly intervals
– Training calendar support
– Optical heart rate sensor in watch
– 24×7 tracking of steps, stairs, calories, and distance
– Smartphone notifications from iOS/Android
– Garmin Pay for contactless payments
Since release, many of these new features have also worked their way into the Fenix 6 lineup, and some also the FR945 and FR245 (as recently as an update today in fact – for respiration rate). As is common with the Garmin ecosystem, I would not expect any of these new features to make their way back to the Vivoactive 3. Of course, bits like the screen are hardware driven. I would, however, expect that the Venu and Vivoactive 4 will stay largely lock-step in their firmware updates/features.
The Basics: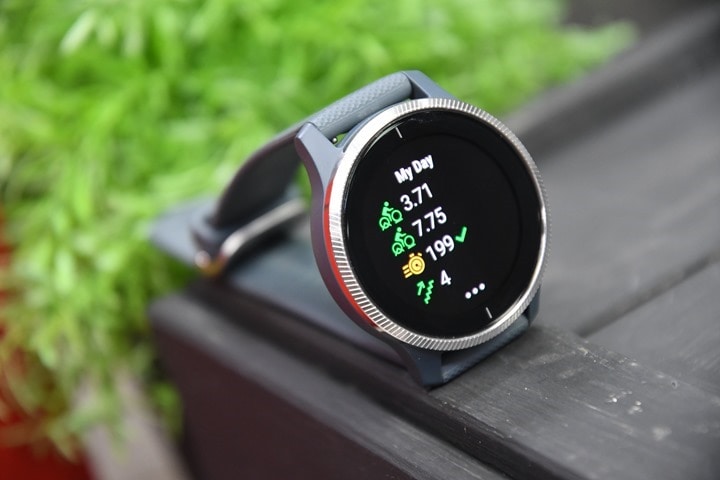 If you're looking for a complete user interface overview, simply hit the Play button below. I go through everything from the basics of activity tracking to guided yoga workouts to music and payments. Plus much more.
There's no better place to start than the display. After all, it's why you're paying $50 more than the Garmin Vivoactive 4. The Venu's AMOLED display means that it now at least looks the part of a higher-end smartwatch. Sure, Garmin has had color displays of varying levels for years, but this is similar to what you'd see with a Fitbit Versa or Samsung watch. The Apple Watch displays appear a bit higher quality (and certainly a higher refresh rate), but without detailed specs of all of them that may be more perception than reality.
The key change we've seen in 2019 though from almost all watchmakers is shifting to always-on AMOLED displays. Previously, most AMOLED displays were on-demand, which means they turned off when not looking at them. But this year we saw Fitbit, Apple, and Garmin – join Samsung in that department.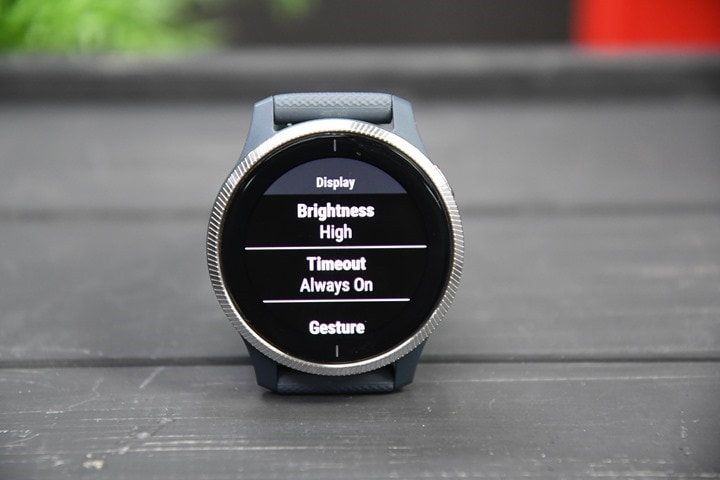 Still, atop paying more cash for this display you're also paying a battery life price. Garmin claims 2-3 days in always-on mode, and upwards of 5-7 days without the always-on display.  In three months of usage I'd agree with those numbers – they nail it. I'd routinely make it about 2.5-2.8 days (inclusive of usually 1-2 workouts) before Venu would die, when in always-on mode. While with the always-on option turned off I'd be pretty close to covering a week.
As part of the higher-end display they have new 'live watch faces', which are mostly shortly animations that iterate each time you raise your wrist, just like below:
And then, after the animation is complete, when in always-on mode it'll continue to show the time atop blackness: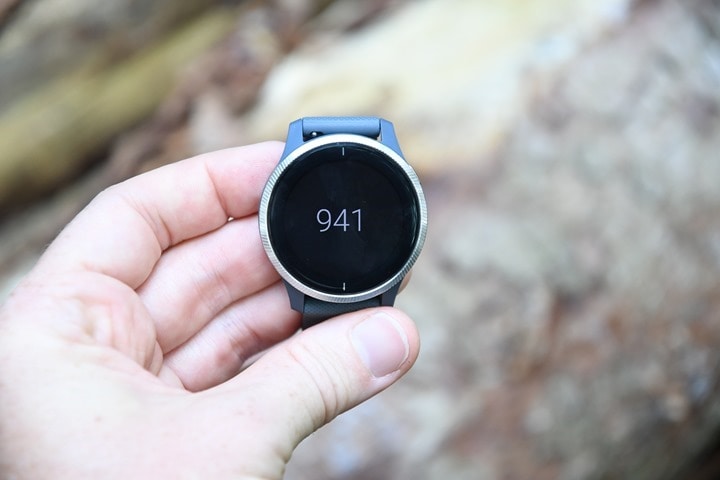 However, where Garmin is way behind here is the number of live/active watch faces they have: A whopping four in total. Of course, unlike Apple, Garmin allows 3rd party developers to create watch faces. And there are hundreds – if not thousands, available all for free within Garmin's Connect IQ App store:
Still, I'd really like to see Garmin make more live watch faces. The NYC short time-lapses watch face I've been using is nice, but there's zero reason Garmin can't go to some stock libraries and get time-lapses for any of the major cities around the world and release a new one each month.
Now while Garmin leverages the term 'Always-on', they do cheat a little bit if you use the default settings. When you hit your evening 'Do not disturb' settings (such as midnight to 7AM), it'll actually turn off the display entirely. Note, this is optional – but it is the default. That's fine though, as it saves a bit of battery life at a time I don't really need it. I can simply tap a button to see the time at 4AM when the baby wakes up again (as was the case this morning).
Now – another change here compared to the Vivoactive 3 is that the Venu has two buttons. Previously it just had one. This is of course in addition to the touchscreen. I find the two button shifts a huge upgrade. I was never a fan of the singular button design. But the two buttons are spot-on for their purpose, especially in sports (to have a dedicated lap vs start/stop button).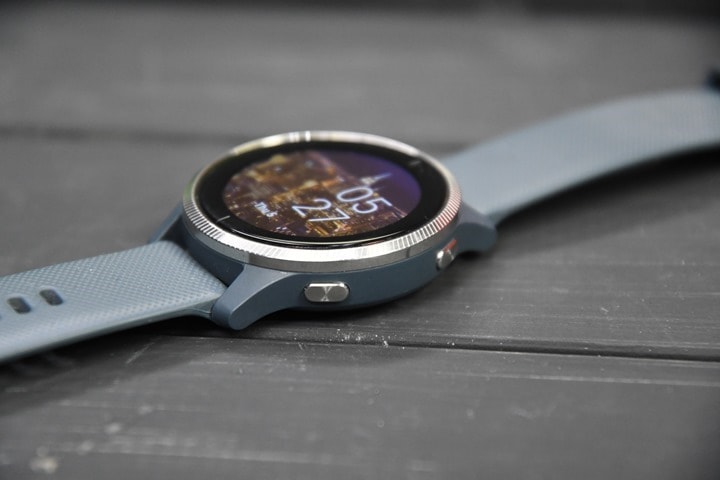 Moving along, like most other Garmin wearables you've got various widgets for displaying various stats (and these can be extended too with 3rd party apps).  For example here's the Garmin Health Stats one, which allows you to see things like heart rate, stress, body battery, and breathing rate in one quick glance: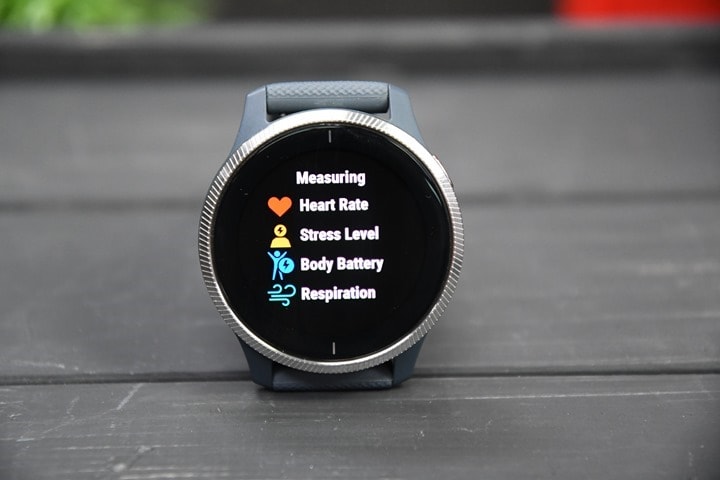 Or the 'My Day' widget, which summaries most of your basic fitness metrics:
You can dive into a pile of these down below in my little mini gallery of them:
Anyway, back to the basics and new features. There's the new hydration tracker widget. The way this works is that you define three 'vessels' (or cups, as you see them), and each of these are basically custom containers. So Cup #1 could be an 18oz bottle, cup #2 could be an 8oz cup, and cup #3 could be whatever else you want. Anytime you tap on that cup it automatically adds the appropriate amount of tracked liquid. Presumably it's water, but perhaps you're going for an extensive bar hopping adventure in Ireland and really want to know how many pints you've drunk.
All of this can be customized to metric instead of cups, by the way. And you can add water within Garmin Connect Mobile and it should merge together (right now that's not working for me). The whole point of this is largely water tracking. For those trying to lose weight, one of the best ways to support that is drinking lots of water (for a variety of reasons that Google can help on). You'll see your goal progress (as defined in settings on the app) around the outside, and a little animation when you achieve it.
If configured, the Venu will remind you every 2 hours (10AM, 12PM, 2PM, etc…) to log how much you've drank. For me, I've become an expert dismisser of this notification. I could just disable it, but I'm lazy.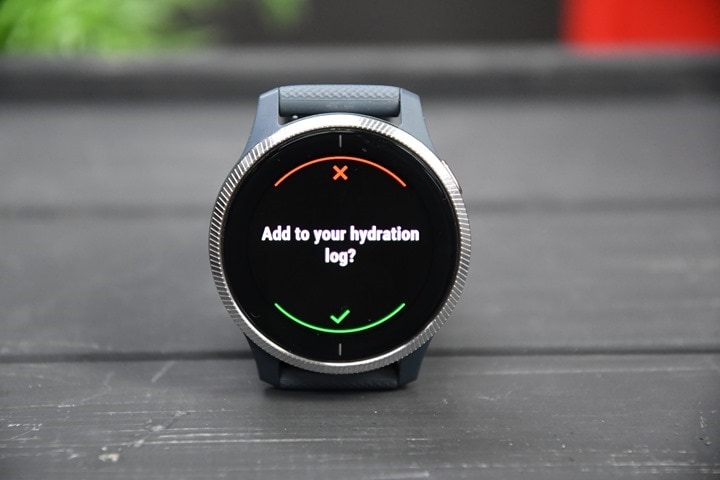 Garmin is approaching this feature much like the female menstrual tracking functionality they added this past spring in that it's technically a Connect IQ widget that's pre-loaded onto the Venu/Vivoactive 4 watches, but expect to see it expanded quickly.
Next, there's the new breathwork features. Now, unlike typical "slowly breath in and out" features we've seen on various watches, this is at an entirely different level of breathwork, often called mindful breathing. For you endurance athletes, think of this like the mother of all structured workouts. And in fact, you'll find it under the workouts section: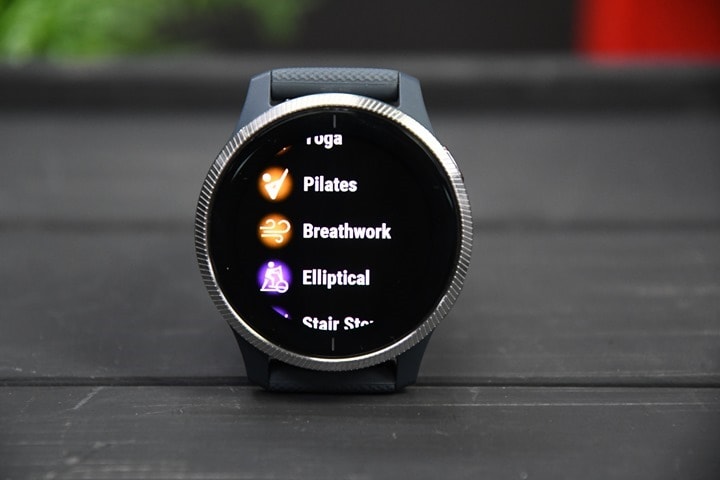 It's here you can choose a specific breathing technique: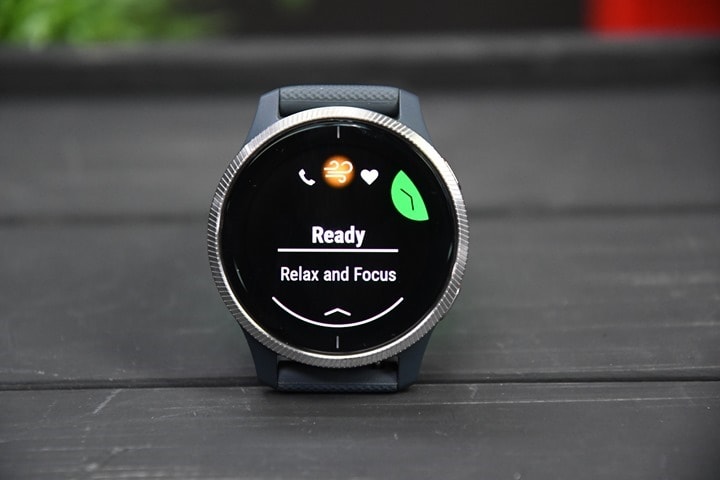 Once you've done that, it has all the steps listed. Seriously, some of these have repeats that list '35x'. Imagine if you had a track workout that said 'Repeat 35 times'. Yikes. And then it'll guide you through those steps, with the count-down timer around the edge.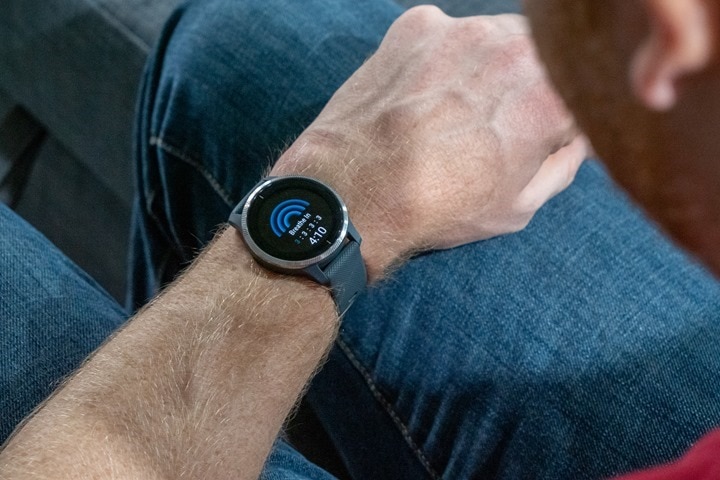 Now in certain activities you'll also get the new respiration rate data. The new respiration rate feature does not require a heart rate strap, and is working constantly behind the scenes within the optical HR sensor to measure respiration rate (basically, breathing rate). You can see it on a dedicated widget on the watch – inclusive of trending over the last 7 days:
And here's the data from within Garmin Connect Mobile:
The Venu and Vivoactive 4 also have PulseOx measurement as well, joining the growing list of Garmin watches that have the capability. You can toggle it to automatically measure 24×7, just at sleep, or only on demand: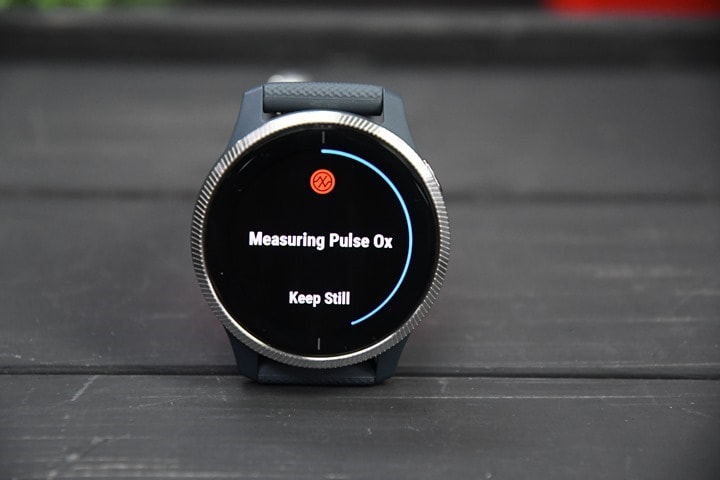 As with my past experiences with this, I'd take this with a grain of salt. However, if you do take measurements you should roughly follow exactly as would be done in a medical setting: Keeping it snug, while seated, and not moving.
Beyond these features, you've got smart notifications just like on past Garmin watches. You can see some emoji displayed here: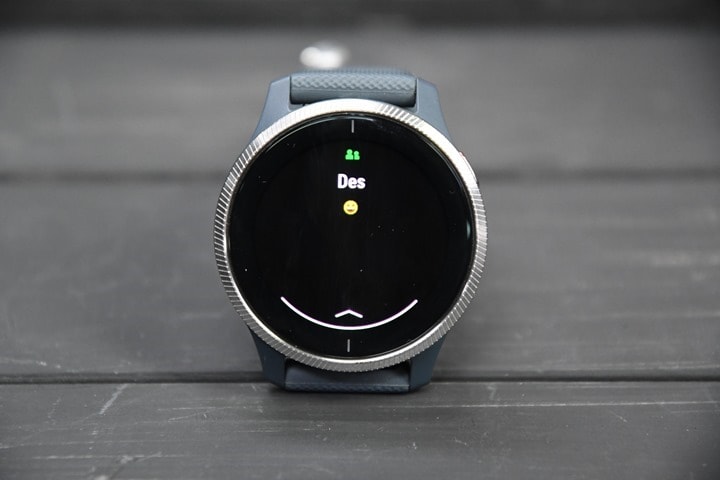 But not all; for example on this next text message, both the plate and pot of food emoji failed to show up, leaving me with just a box of blocks: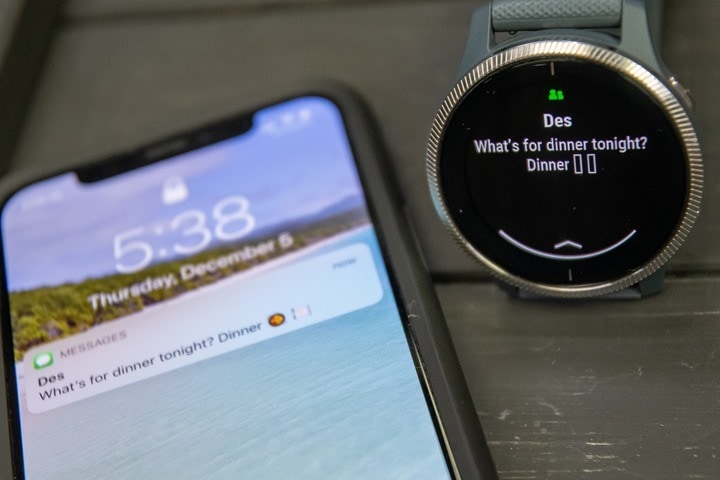 Note that the watch isn't just limited to text messages. You'll get anything you've configured on your smartphone for notifications. You can see a Strava notification here as well as some YouTube ones: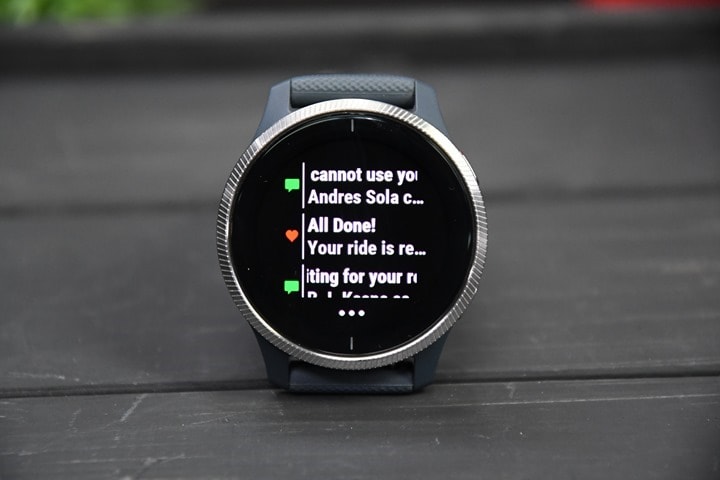 Finally, there's also calendar sync too – which automatically syncs to the watch from whatever calendars you've got setup. As does weather too. All of which are up in the widgets gallery a bit earlier.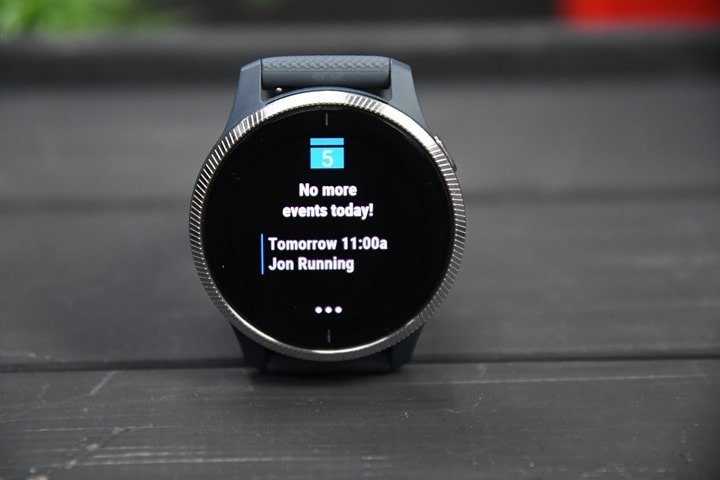 With that – let's get onto the sports bits.
Sports Usage: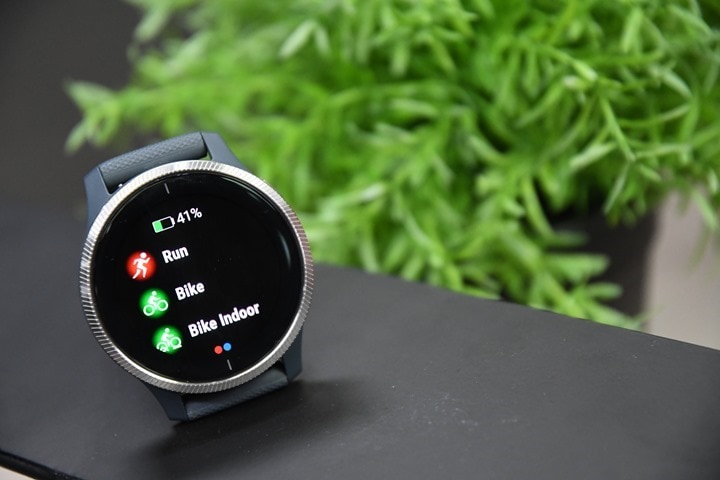 While many of the new features are within the general aspects of the watch (like hydration), a huge pile of them are technically under sports (including some of the breathing features I talked about in the previous section). We'll first look at these new features, and then from there dive into more traditional sports like running and data field configurations.
But first we've gotta talk animations. No, not like Dory and Nemo, but rather workout animations. Other watches, most notably Fitbit, have been doing this for years in the strength and core workout realm. But there have been plenty of others including Adidas and Polar that have tackled this as well. In Garmin's case there are four workout types (Strength, Cardio, Yoga, Pilates) with some 41 different structured workouts between them. Within that, there are small little animated peoples that you can see the exact steps of the workout.
Here, let me show you. Let's pick a yoga workout, first by going to the sport menu and choosing Yoga: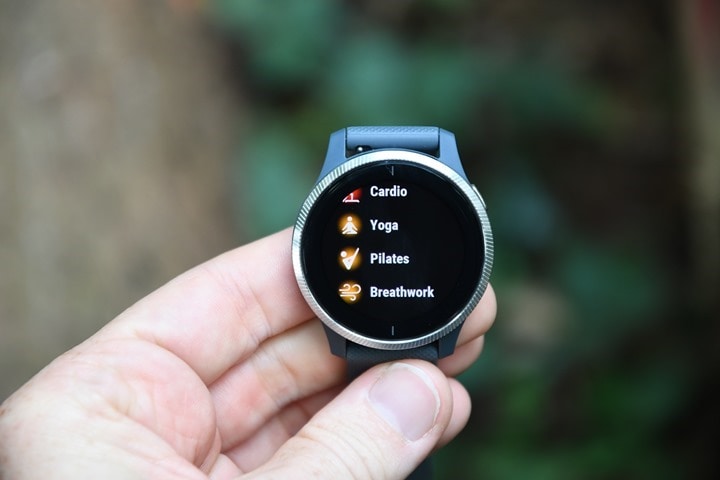 And then by swiping up to 'Workouts'. It's here that you've got a handful to choose from: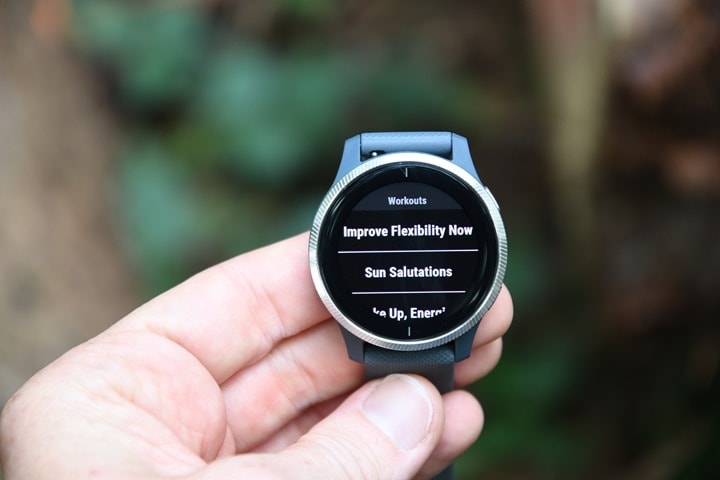 Pick one of them, Sun Salutations in our case because it's early morning right now and the sun is rising, and then press to view the 53 steps of the workout: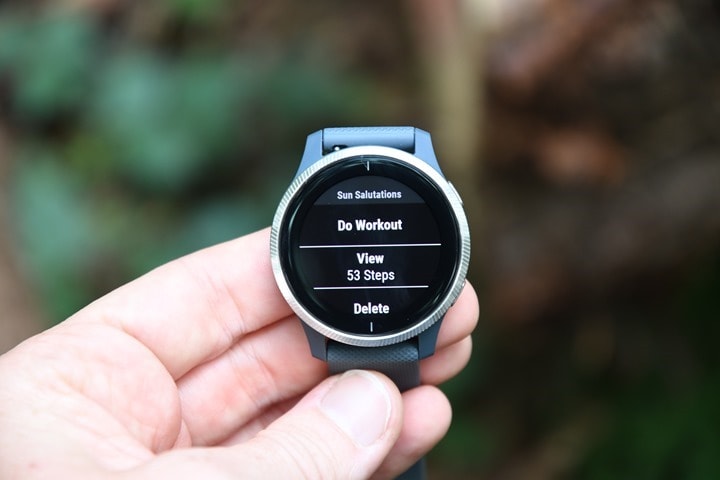 You'll see each step listed with the number of seconds next to it: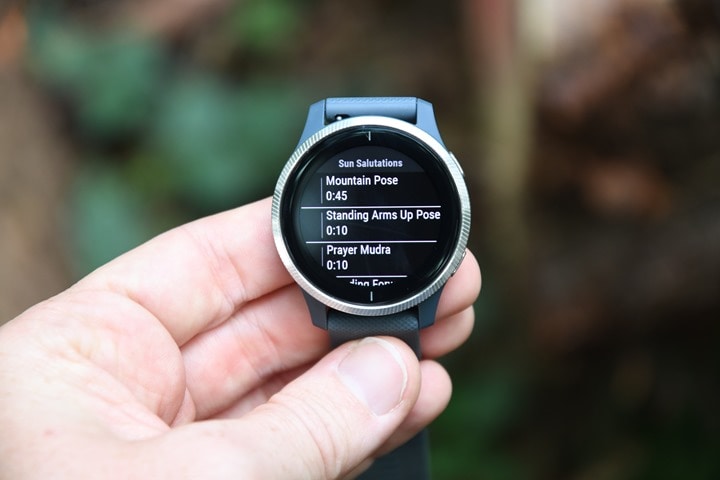 If you tap on a given item, it'll go ahead and show you a short animation of that action: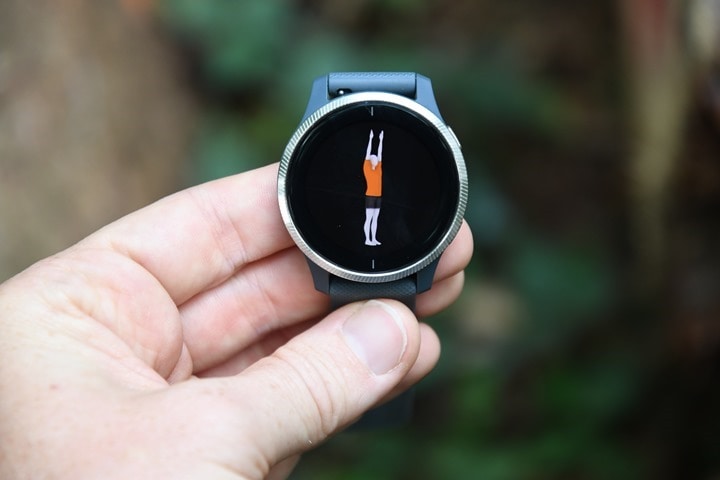 But let's go ahead and actually start the workout. When you do that it'll walk you through each step, with a timer around the outer edge of the step, and the inside for the pose itself: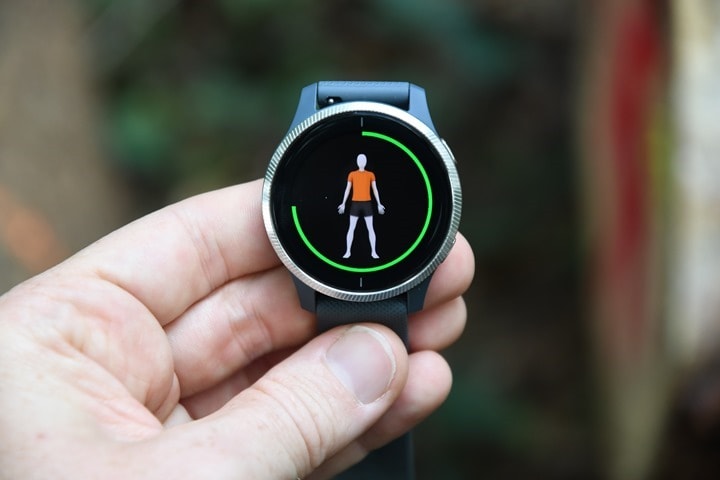 You can swipe down for a timer that'll show you a count-down, or just wait for it to buzz for the next step instruction, with it giving the name of the pose, and a pie-chart style countdown clock: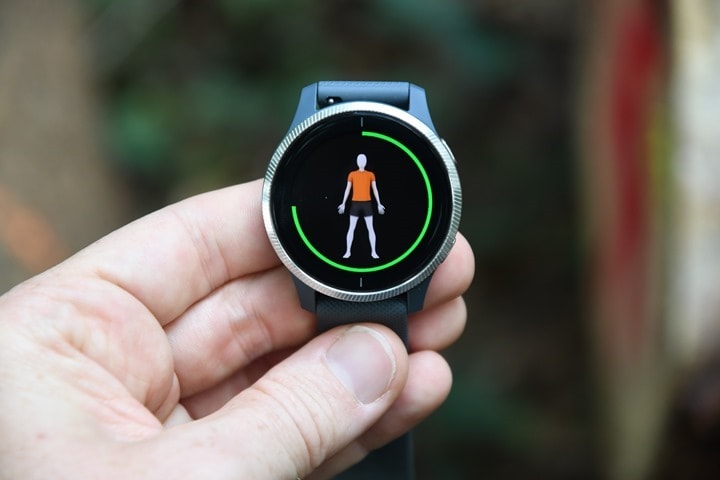 You can see your heart rate on that clock page above, but also within a regular data field you can set up on a data page: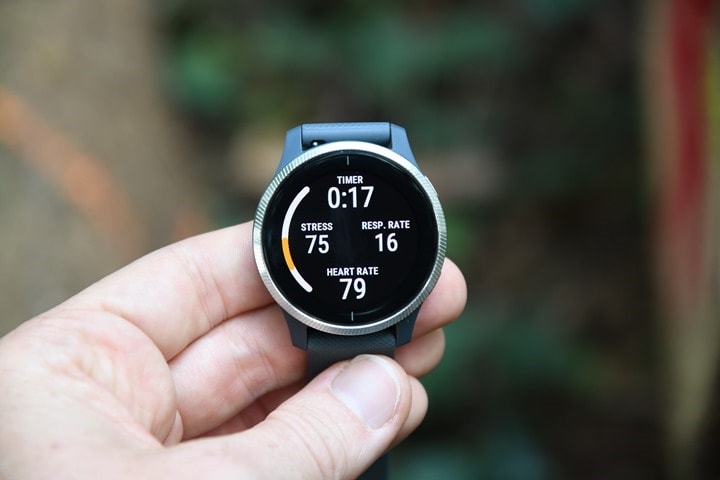 In fact, you'll notice both the stress and respiration rate data fields are actually available there – something new on Garmin wearables and is specific to Yoga. After you've finished the workout the summary screen will even list the poses, as well as your breathing rates.  Now the overall poses/animations concepts are essentially the same whether you're in yoga, Pilates, cardio, or strength. Obviously the specifics for each workout are different, but the way the Garmin unit works is the same. With strength training, you're also getting rep-specific information too.
However, where it really starts to get interesting is that you can create your own workout  from Garmin Connect/Garmin Connect Mobile:
Though, at present you don't see the animations on the device – hopefully things get there.
Let's switch gears now back to more traditional sport features. The Venu has piles of sports you can choose from. Many of these are customized to the specifics of the sport. For example, running is pretty straightforward, but something like downhill skiing/snowboarding will actually automatically count your runs and vertical, pausing correctly each time you take the lift back up.
To start any sport you'll simply tap the upper right button once and select your sport, such as Run, from the list: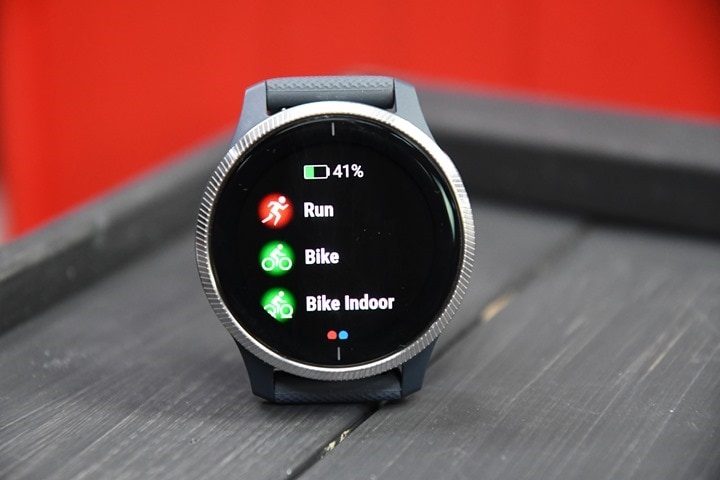 The GPS status and heart rate lock will also show up top; if you've got any sensors paired, it'll show that too.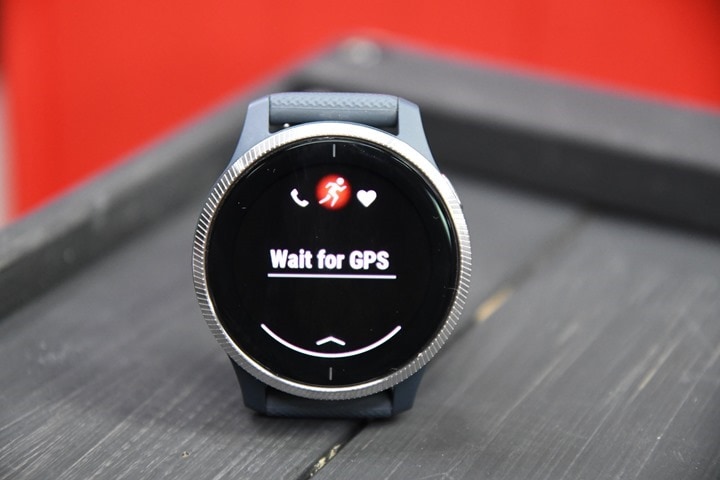 Oh, and sensor-wise it supports: heart rate, headphones, cycling speed/cadence, running footpod, Tempe (temperature sensor), ANT+ cycling lights, ANT+ cycling radar, as well as golfing club sensors. Note for most of those above it'll support both the Bluetooth Smart & ANT+ variants of them.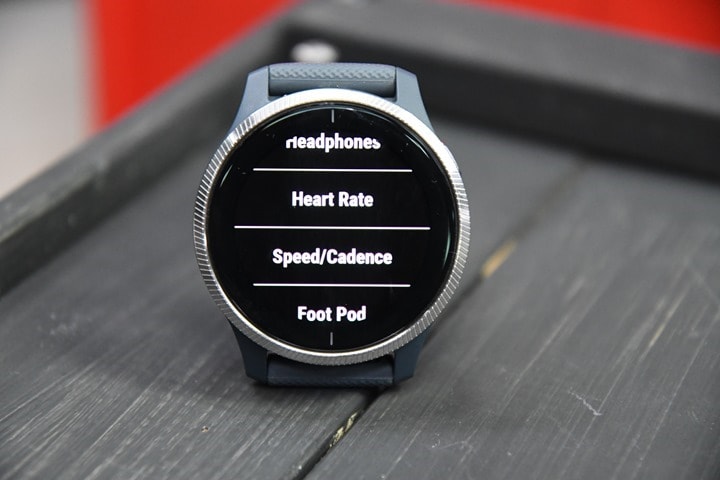 Back on the starting screen if you wanted to execute a custom workout you'd just swipe from the bottom to access the workouts section:
And if you want to customize any of your sport screens you can do so within the settings on the watch itself (still not on phone app). You get three customizable screens, each with up to 4 data fields on them. You'll also get a heart rate gauge screen too.
You can further configure bits like auto lap (distance based), auto pause, auto scroll, and the GPS type (GPS/GPS+GLONASS/GPS+GALILEO):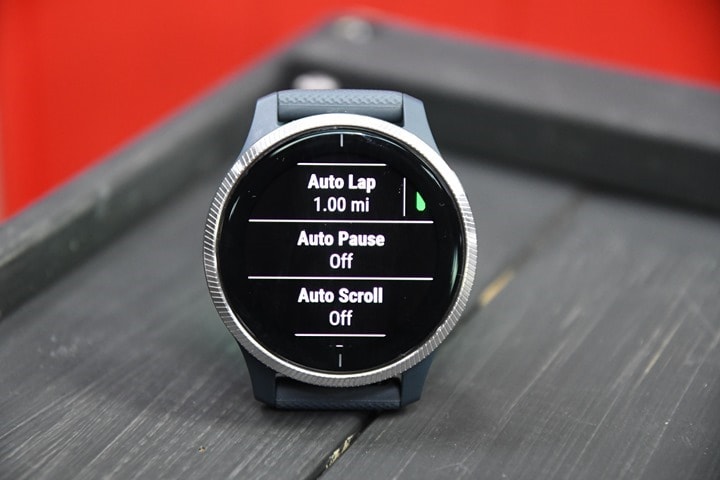 The Venu uses the same Sony chipset as every other Garmin watch released in 2019 (and every other watch released in the last year+ from Suunto, Polar, and COROS). We'll get to GPS accuracy later.
Once you're ready to run, you'll just press the upper right button again. It works just like any other Garmin watch in terms of showing you your running stats such as time, distance, pace, and anything else you've added.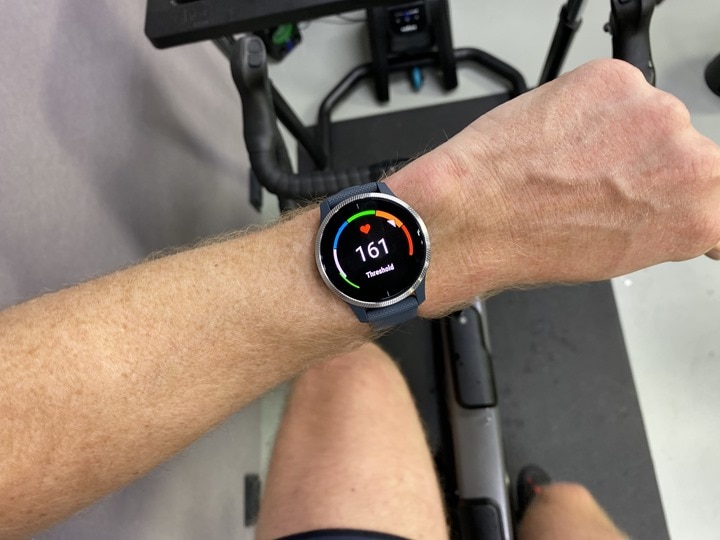 While there is auto-lap, there's also manual laps, which can be done by simply pressing the lower right button to trigger a new lap. To start/stop your workout you'll press the upper right button. After which you're given the option to save or discard.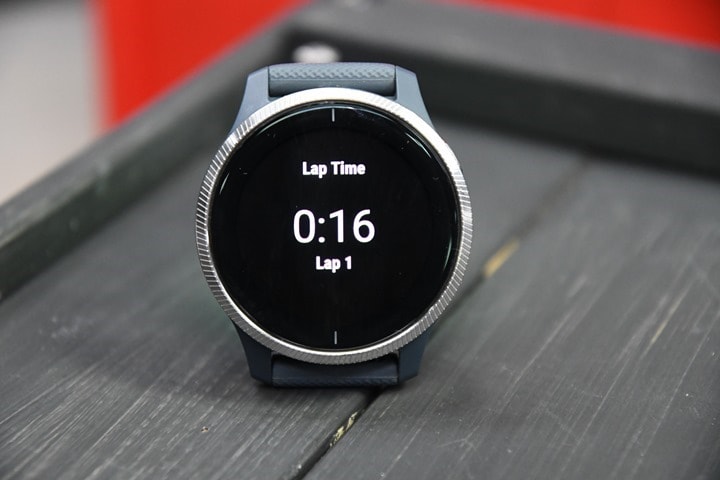 Once saved, your workout summary stats are shown – though it's disappointingly super basic. There's so much Garmin could do here with this screen.
However, it's also transmitted to Garmin Connect/Garmin Connect Mobile using Bluetooth or WiFi (depending on where you are). This allows you to pull up piles more stats there:
And if you've got your account setup to sync with Strava, TrainingPeaks, MyFitnessPal or any of numerous other sites  – it'll show up immediately there as well.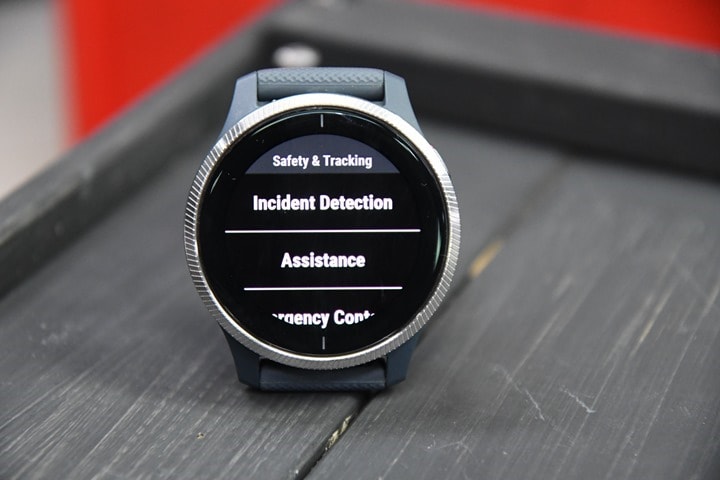 Finally, it's worthwhile noting that the Venu contains Garmin newish Safety & Tracking features. These are roughly in two buckets:
– Incident Detection: If you crash your bike, or fall while running and walking (you can configure individually)
– Assistance Alerts: Will send an emergency alert to predefined contacts with your live GPS location
The assistance alerts are loosely based atop Garmin's LiveTracking features, which are also available as well (so you can share your live location with friends/family each time you start a workout). Again, the main goal of assistance alerts is if you're somewhere you feel unsafe and want to semi-discretely let someone know you may be in trouble – holding that upper right button for three seconds will start the alerting process. However, all of these require your cell phone be within range (since it uses that for cellular connectivity).
For the crash/incident detection, I've only had it false trigger once in three months – when I stopped quickly on a road bike after a small drop off a curb, just this past week actually. The algorithm is looking for a high-g impact event followed by no movement (I was waiting for friends to catch-up). Still, you can simply cancel it within 20 seconds. For safety assistance alerts, you've only got 5 seconds though (those require holding it for 3 seconds though).
So about now you may be wondering how the Venu/Vivoactive 4 differs from a sports standpoint compared to something like the Forerunner 245/245 Music. The main thing is around the physiological tracking – so bits like training load or recovery, which aren't tracked on the Vivoactive/Venu series. Additionally, there's also course following (so the ability to follow a specific route navigationally).
However, inversely, the Venu/Vivoactive 4 actually has a barometric altimeter, while the FR245 doesn't. A slightly odd quirk in Garmin's watch hierarchy. In addition, the FR245 doesn't have the advanced yoga, Pilates, or related animations either. In other words, it's still a bit of a confusing mess to figure out which watch has which features.
Music: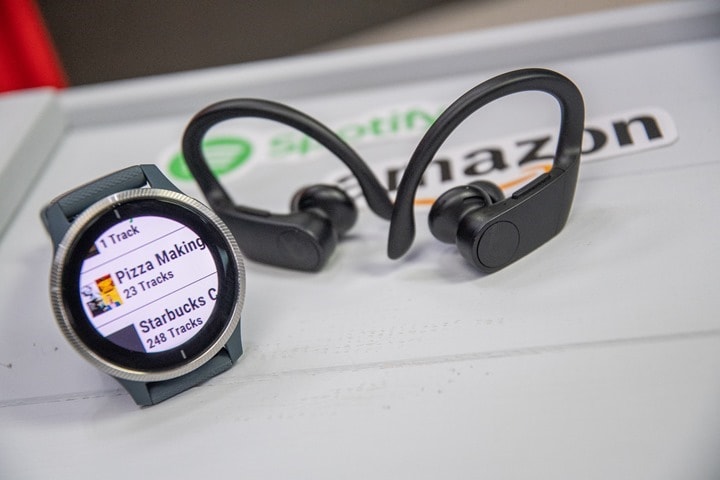 The Venu joins Garmin's other recent wearables in having music support built-in. This means you can pair it up to Bluetooth headphones (or even a Bluetooth speaker) and play back music or podcasts anywhere without a phone nearby. The Venu has 4GB of music storage on it (though slightly less usable space), and supports the following music streaming services for offline playback:
– Amazon Music
– Deezer
– Spotify
– iHeartRadio
In addition, you can of course drag your own music files on there, as well as configure podcasts to download. Though, the podcasts bit is mostly a mess – since it requires you to connect to your computer. Instead, if you want podcasts, it's better to do so within Spotify – which is what I do.
Everything else works great though. And the Venu is leagues ahead of the Vivoactive 3 in terms of music connectivity. Dropouts are exceedingly rare here, even with AirPods or PowerBeats Pro.
From a music standpoint I'll show Spotify, but all the streaming services work pretty similarly within the Garmin framework. First, you'll get your account authorized. This is basically pairing your watch to Spotify. It only takes a second. After which you'll be able to add new music from the watch. You'll see you can choose from playlists, albums, podcasts, and playlists that were made for you or predefined by Spotify (such as workouts):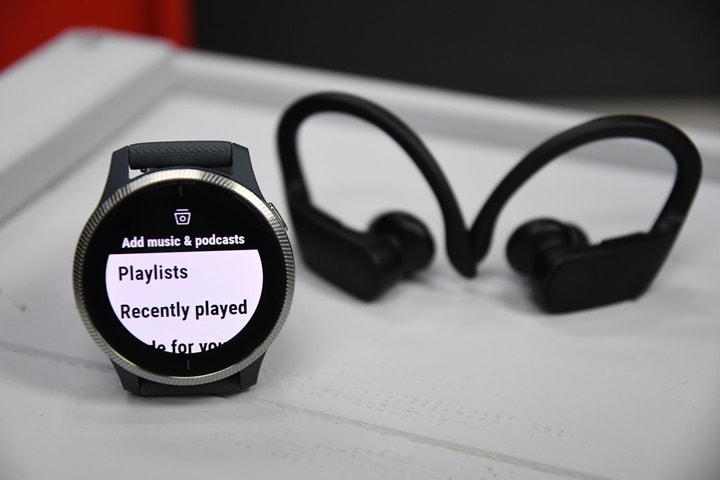 Once you've selected something to download it'll ask to sync the music via WiFi. This takes a bit of battery, so it'll ask you to plug in your watch.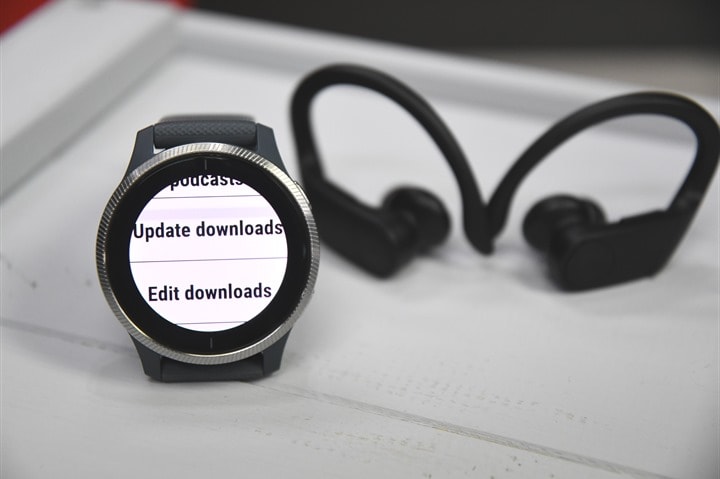 After which the music is available for you to play back with headphones. You can connect just about any Bluetooth headphones. In my case I largely just used the Beats PowerBeats Pro: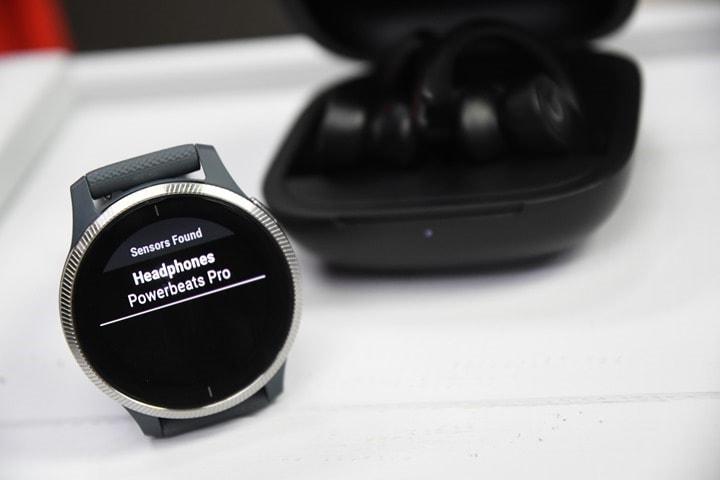 You can pair multiple pairs of headphones as well if you'd like, which is kinda handy.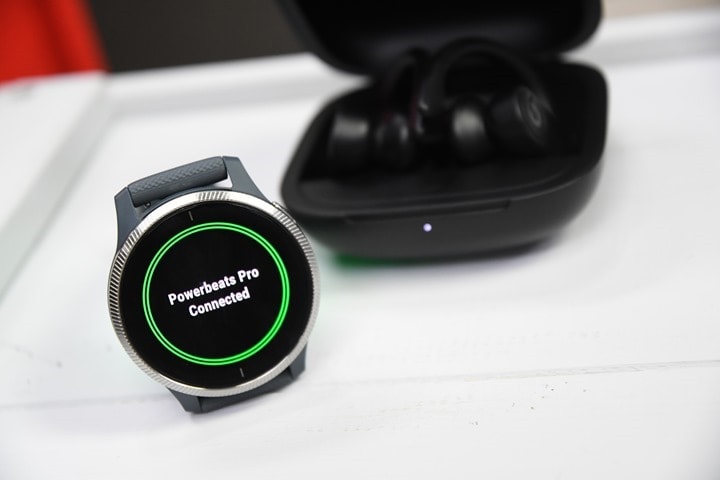 From there you've got simple music controls on the watch, as well as from certain headphones that use standardized controls like volume up/down or skip track.
I didn't run into any frequent droppage issues either in the studio or out on runs with the Venu, which seems to be the general theme with Garmin's 2019 watches, after first introducing music connectivity in 2018. During that time period they've noted how much forward progress they've made around connectivity and compatibility, and it seems to show.
GPS Accuracy: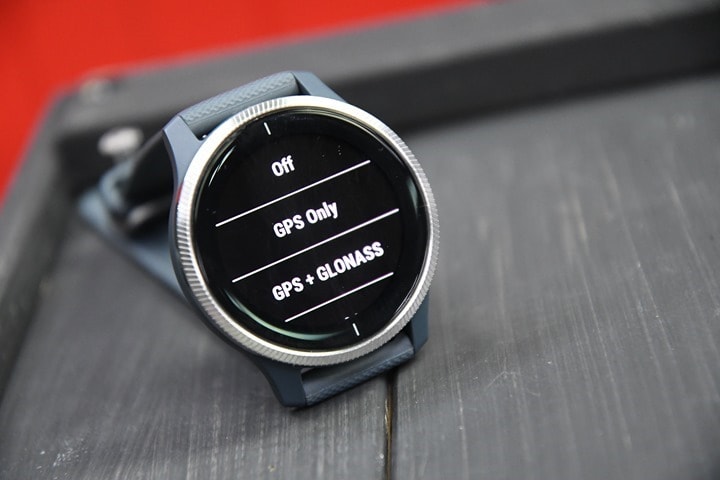 There's likely no topic that stirs as much discussion and passion as GPS accuracy.  A watch could fall apart and give you dire electrical shocks while doing so, but if it shows you on the wrong side of the road?  Oh hell no, bring on the fury of the internet!
GPS accuracy can be looked at in a number of different ways, but I prefer to look at it using a number of devices in real-world scenarios across a vast number of activities.  I use 2-6 other devices at once, trying to get a clear picture of how a given set of devices handles conditions on a certain day.  Conditions include everything from tree/building cover to weather.
Over the years, I've continued to tweak my GPS testing methodology.  For example, I try to not place two units next to each other on my wrists, as that can impact signal. If I do so, I'll put a thin fabric spacer of about 1"/3cm between them (I didn't do that on any of my Apple Watch Series 5 activities however, all workouts only had a single device per wrist).  But often I'll simply carry other units by the straps, or attach them to the shoulder straps of my hydration backpack.  Plus, wearing multiple watches on the same wrist is well known to impact optical HR accuracy.
Next, as noted, I use just my daily training routes.  Using a single route over and over again isn't really indicative of real-world conditions, it's just indicative of one trail.  The workouts you see here are just my normal daily workouts.
I've had quite a bit of variety of terrain within the time period of my Garmin Venu testing.  This has included runs in: Amsterdam (Netherlands), French, Italian, and Swiss Alps, and Mallorca (Spain).  Cities and mountains, trees and open-air, plus waterways and seas. It's hit them all.
First up we'll start with something relatively easy, a run south from Amsterdam. On this initial test I've got a mere five GPS devices, three of which are attached to a running stroller, and the remaining two (including the Garmin Venu and Apple Watch Series 5) are on my wrist. Here's that data set: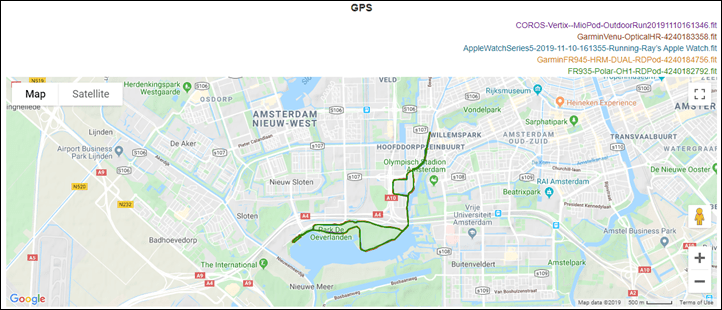 At a high level, things look mostly fine. But let's dig into the weeds. No, really, the actual weeds. To the right of these tracks is a pasture where horses hang out. In the below case, the Garmin FR945 is almost perfectly atop the running path. You'll see the Garmin Venu is off to the right, while the Apple Watch is off to the left. The Garmin Venu is slightly more offset than Apple, but Apple cuts more corners.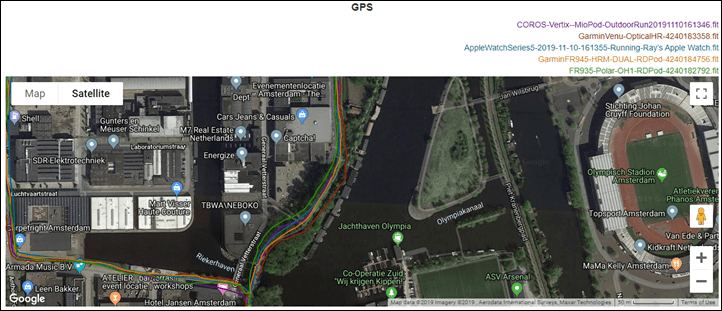 If we got a bit further in the run, you can see this play out again. That white line is the actual path I ran on (and if I toggle to satellite view, it matches there, it just makes this picture harder to see due to the trees). You see that the Venu is super close here, whereas the Apple Watch cuts the corners nonchalantly. Which isn't as bad as the COROS Vertix and FR945 being offset entirely (way into the woods).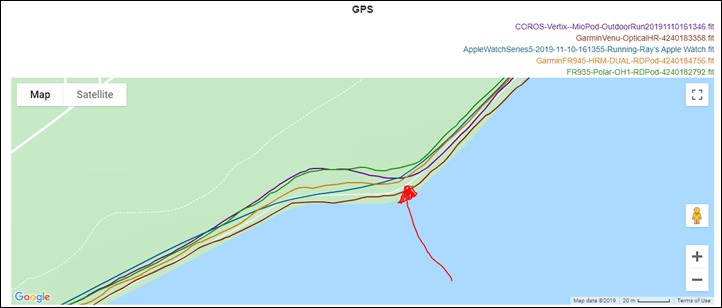 You'll see below that the FR945, COROS Vertix, and Garmin Venue all substantially cut the corner (all on Sony chipset) The Apple Watch Series 5 and Garmin FR935 (not on Sony GPS chipset) didn't cut the corner.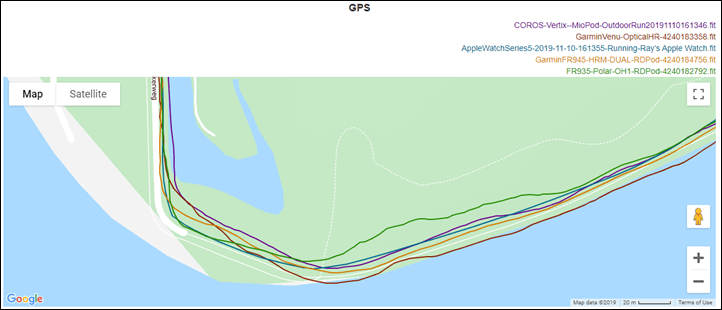 And again this mess of a loop here. Apple cuts the corners, and Garmin Venu is off in the drink. Equally bad, just bad in different ways.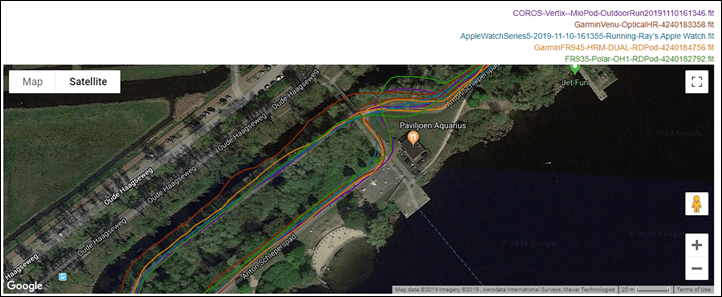 Now…some of this is nitpicking. No doubt about it. And at first glimpse it might not seem so bad. But then you look at the total distance you can see how the variations can add up for the different units. In this case the Apple Watch was way over, while Venu was about in the middle of the pack.

Note that I normally hate showing total distances, because you can be wrong 100% of the time and still get distance right (via enough corners/overages). But generally once we get this many units at once, there's definitely something to patterns.
Next, let's look at something a bit simpler: A track workout.
Technically it's both a track workout and testing the ability of this watch to draw a straight line. The path I ran down is precisely straight. Crazy straight in fact. I take it every single day to and from work. It's great…and goes under a gigantic ring highway that loops around the city – perfect for testing GPS re-acquisition. Here's the high-level overview, and data set from just a few days ago.

Let's zoom in first to that massive bridge set. This includes two railroad bridges along one of the busiest rail corridors in Europe. Plus two highway overpasses. It's hundreds of meters wide. And, for the most part all three units handled it just fine. The Venu did stumble very slightly coming back out one direction, but not significantly.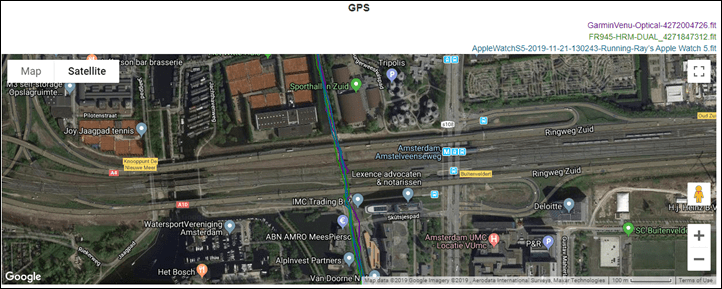 As for the straight section? Hmm…not so hot for both Venu and the Apple Watch. At least not initially. From the outside they were a bit rough, but as they returned an hour later, they were much closer. This path is technically tree-lined on both sides, so that probably wasn't helping matters.

So the big moment – the track itself? For this, I stayed exactly in Lane 1 (there was nobody else there), and round and round I went. About 10KM of round and round worth. I want to point out three things. Actually, four things, but with three arrows.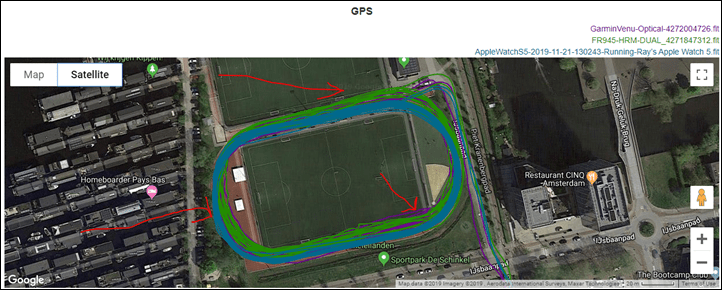 First off, before I do that – note that no matter how good your GPS is, in 2019, I still recommend doing track workouts by just counting distance. At least for the specific sets. Meaning, you should be looking at the markings on the track to know when you've run 400 meters, 800m, and so on. I merely use my watch for historical data purposes on a track, as well as managing heart rate and time. I don't generally use it for pacing via GPS (or footpod). I just do mental math.
That said, these three arrows show us four things:
1) All units were pretty darn close. Nobody was off out of the property or anything weird.
2) The Garmin Venu took a few brief dips into the lower right infield of the pitch
3) The Apple Watch was slightly offset to the left, you see that left-most arrow in the woods pointing at the Apple track.
4) The FR945 seemed to favor being slightly on the upper outer edge, meaning it was slightly offset a touch bit north
All in though, these results from a GPS track (as in, the line itself) are perfectly acceptable to me for historical record keeping for running.
In addition, I have dug through my GPS tracks from outdoor bike rides as well (including some mountain areas), and found it pretty much fine.  For example, here's this ride in Mallorca (Spanish island) through very rocky/mountainous terrain. Here's that file.

Even in one spot where the Apple Watch/iPhone combo struggled, the Garmin Venu mostly nailed this track through the mountains and cliffsides: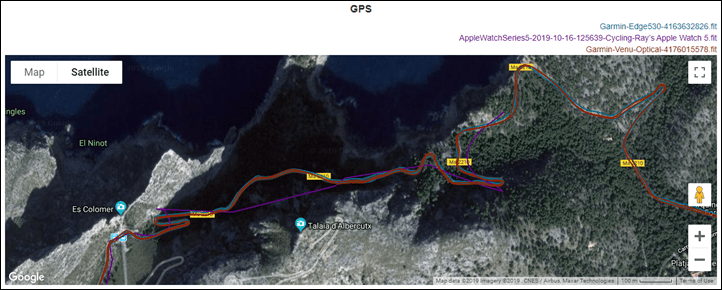 Now – as I look back on months of GPS data, there's roughly a pattern that emerges: The Venu GPS is mostly good – and largely acceptable for the vast majority of people. You'll likely be able to pace your training or racing efforts just fine with it (as I have these last few months). However, there are still GPS quirks likely related to the Sony chipset that keep popping up.
Just this past weekend for example while running a loop around the outside of a stadium for the DCR Open House, I had one portion of the track cut through the side of the stadium. Sure, it's a stadium – a big honking thing that blocks GPS quite well. But at the same time, to the side there was nothing but air for hundreds of meters.
On the flip side, as you can see just above, it handled exceptionally well in the mountainous terrain above. So, sometimes it's just hit or miss when it has an issue. Though I've never seen massive jaw-dropping issues. They've always been little things that make you kinda scratch your head. Still, as I said – my job is to nitpick this stuff, and most of my concerns are nitpicks.
(Note: All of the charts in these accuracy sections were created using the DCR Analyzer tool.  It allows you to compare power meters/trainers, heart rate, cadence, speed/pace, GPS tracks and plenty more. You can use it as well for your own gadget comparisons, more details here.)
Heart Rate Accuracy: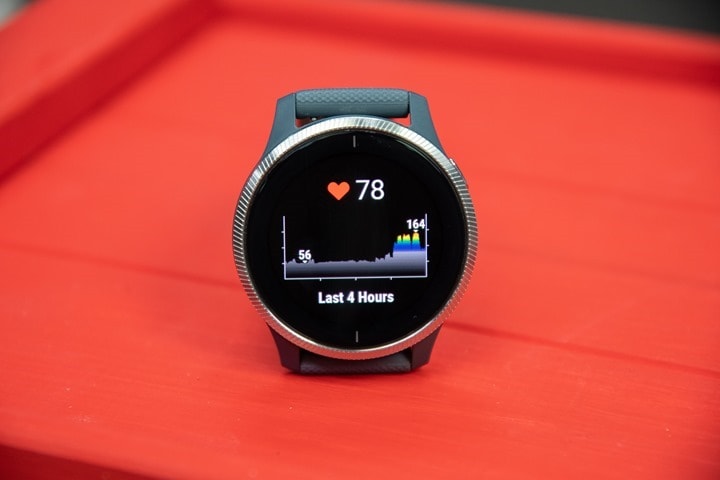 Next up we've got heart rate accuracy.  This roughly falls into two buckets: 24×7 HR, and workout HR.  As is usually the case with most devices these days, I see no tangible issues with 24×7 HR.  It works well across both normal daily routines as well as things like sleep.  Speaking of which, I talk about RHR values and 24×7 monitoring here and why it's interesting.
Before we move on to the test results, note that optical HR sensor accuracy is rather varied from individual to individual.  Aspects such as skin color, hair density, and position can impact accuracy.  Position, and how the band is worn, are *the most important* pieces.  A unit with an optical HR sensor should be snug.  It doesn't need to leave marks, but you shouldn't be able to slide a finger under the band (at least during workouts).  You can wear it a tiny bit looser the rest of the day.
Ok, so in my testing, I simply use the watch throughout my normal workouts.  Those workouts include a wide variety of intensities and conditions, making them great for accuracy testing.  I've got steady runs, interval workouts on both bike and running, as well as swimming – though, I didn't focus on optical HR accuracy there.
For each test, I'm wearing additional devices, usually 3-4 in total, which capture data from other sensors.  Typically I'd wear a chest strap (usually the Garmin HRM-DUAL or Wahoo TICKR X) as well as another optical HR sensor watch on the other wrist (lately the Polar OH1 Plus, as well as the new Mio Pod lately).  Note that the numbers you see in the upper right corner are *not* the averages, but rather just the exact point my mouse is sitting over.  Note all this data is analyzed using the DCR Analyzer, details here.
In any case, first up is a nice run south out of Amsterdam. Nothing too tricky here to begin with – relatively stable, except also pushing a stroller (which can be challenging for optical HR). Here's data against the Apple Watch Series 5 (optical HR sensor on other wrist), the Garmin HRM-DUAL chest strap, and the Mio Pod strap on my upper arm (data set here).

The Garmin Venu is the red one. Though of course, you can't really see that – because they're all virtually identical.
We do however see a bit of variance briefly from the Garmin Venu where it stumbles a bit within a 60-second span at the 6-minute marker. This could be due to the pressures from pushing the stroller, or could be anything else. Either way, all three are very similar.

So…let's kick it up a notch.
Interval time!
Here's a track workout I did, a bunch of 800's and then a bunch of 200's. Plus a warm-up and cool-down. Here's that data set, Garmin Venu optical HR is in purple:

Let's zoom right into those first few minutes, where you see a bunch of interesting things. First, the Garmin Venu seems to roughly get the trajectory right as I build up. In fact, it gets it more right than the chest strap in green – which spikes to 180bpm during a slow moving and casual warm-up. That's common for dry fall days. Once I run enough a few minutes I get some sweat, probably adjusted it slightly, and life is fine.
So in this realm the Venu was most correct, right alongside the Polar OH-1 (and eventually the Apple Watch Series 5 after it finishes flat-lining, which I highlighted below).
So, into the 800's we go:

Frankly, these are pretty darn good.
I can nitpick that the Apple Watch seems a bit too high at times, and might be doing some occasional cadence-lock in some cases. And the Garmin Venu appears to be a bit slow on the recovery in some intervals. The Polar OH1 also seems a bit latent in a couple of them too. But again, by and large – any of these would be more than accurate enough to pace/train by.
So, the 200 sprints?

A bit rougher on the first one, it's like it caught everyone by surprise. Which, is fair. It's how I felt too. The Venu missed the boat, the chest strap nailed it, and the Polar OH1 was slow. And the Apple Watch skipped around a ton missing lots of time here.

Aside from the HRM-DUAL, none of them were really acceptable for the first interval.But after that the remaining intervals were just fine. And realistically it wouldn't materially impact most people during training, since nobody doing hard short 200m sprints is actually checking their heart rate during the sprint.
Next, let's shift to some indoor cycling. This was actually a pretty intense indoor trainer workout. For context, here's what the power output looked like:

And then here's the matching heart rate data:

What you can (boringly) see is that all these sensors were virtually identical. The Garmin Venu struggled during the first 60 seconds or so, and then everyone settled in nicely. There were a few seconds here or there that different units briefly disagreed, but even during the sprints, the HR plots were very very close.
Finally – what about cycling? Well…that's less optimal, and is roughly what I often see from wrist-based optical HR sensors. In general these work better in summer months than cooler winter months. Here's a ride a few weeks ago. Look at this ride in three parts: Outbound, middle chunk, return. The middle chunk is throw-away, I was filming some drone stuff (and doing lots with my hands). But the outbound and return are normal riding.

So let's zoom in on that first main riding chunk:

What we see here is that while things are mostly close – the Venu seems to be a bit spikey compared to the chest strap and the Apple Watch Series 5. It's not massively overshooting in most cases, but is about 2-4BPM high quite often. There are a handful of times when it's more than that, but that's the general trend. I'd recommend that for winter riding where you want really accurate HR data on the Venu, to just use a paired chest strap.
Garmin's ELEVATE optical HR sensor tech has come a long ways over the years. And it's getting closer and closer to the point where it seems to mostly work for the majority of people. Just as with chest HR straps – there are always outliers. Be it individual people, or individual scenarios (such as cool dry days) – but I think we're getting closer and closer to the point where things are mostly working for the vast majority of workouts and people.
Still, as noted, it's not perfect. But the fact that on a cool dry fall day it can handle a hard track workout just fine is a good indication of the progress they've made.
Product Comparison:
I've added the Garmin Venu into the product comparison database, allowing you to compare it against other products that I've reviewed in the past.
For the purposes of below I've compared it against the Apple Watch Series 5, Fitbit Ionic, and Samsung Galaxy Active Watch 2 –  which are the ones most people will be comparing it against from a sports/fitness standpoint.
Note that with all these watches – but especially the Apple Watch, there are many cases below where "with 3rd party apps" can be used.  The same is largely true of Garmin, Samsung, and somewhat with Fitbit.  But the Apple Watch tends to offload more core fitness functionality to 3rd party apps than the others. I've tried to thread the needle of apps that I roughly know exist where I've listed that.  But it's not perfection in terms of knowing every app on earth.  Ultimately, I don't think any consumer does (or should). Plus, we've actually seen a pulling back of wearable apps from companies over the last year (basically, they stop updating them). Making it even harder to know an up to date app from a dysfunctional one dying on the vine.
Function/Feature

Garmin Venu
Apple Watch Series 5
Samsung Galaxy Active
Fitbit Ionic
Copyright DC Rainmaker - Updated December 1st, 2020 @ 5:23 am New Window
Price
$299
$399/$499 (cellular)
$199
$229
Product Announcement Date
Sept 5th, 2019
Sept 10th, 2019
Feb 20th, 2019
Aug 28th, 2017
Actual Availability/Shipping Date
Sept 5th, 2019
Sept 20st, 2019
Mar 9th, 2019
Oct 1st, 2017
GPS Recording Functionality
Yes
Yes
Yes
Yes
Data Transfer
USB, BLUETOOTH SMART, WiFi
Bluetooth Smart
Bluetooth Smart
Bluetooth Smart
Waterproofing
50 meters
50m
50 meters
50m
Battery Life (GPS)
20 hrs (just GPS), up to 6hrs GPS+Music
6hrs GPS on time (18hrs standby)
Undeclared (claims 45hrs non-GPS)
10 hours
Recording Interval
1s or Smart Recording
Varies
1-second for GPS, 1-minute for HR
1-second
Quick Satellite Reception
Great
Most times
Yes
Great
Alerts
Vibrate/Visual
Vibration/Audio/Visual
Vibrate/Visual
Visual/Vibrate
Backlight Greatness
Great
Great
Great
Great
Ability to download custom apps to unit/device
Yes
Yes
Yes
Yes
Acts as daily activity monitor (steps, etc...)
Yes
Yes
YEs
Yes

Music

Garmin Venu
Apple Watch Series 5
Samsung Galaxy Active
Fitbit Ionic
Can control phone music
Yes
Yes
Yes
Yes
Has music storage and playback
Yes
Yes
Yes
Yes
Streaming Services
Spotify, Amazon Music, Deezer
Apple Music
Spotify
Pandora, Deezer

Payments

Garmin Venu
Apple Watch Series 5
Samsung Galaxy Active
Fitbit Ionic
Contactless-NFC Payments
Yes
Yes
Yes (but only with Samsung phone)
Yes

Connectivity

Garmin Venu
Apple Watch Series 5
Samsung Galaxy Active
Fitbit Ionic
Bluetooth Smart to Phone Uploading
Yes
Yes
Yes
Yes
Phone Notifications to unit (i.e. texts/calls/etc...)
Yes
Yes
Yes
Yes
Live Tracking (streaming location to website)
Yes
With 3rd party apps
No
No
Group tracking
No
No
No
No
Emergency/SOS Message Notification (from watch to contacts)
Yes
Yes
No
No
Built-in cellular chip (no phone required)
No
Yes (with cellular version)
No
No

Cycling

Garmin Venu
Apple Watch Series 5
Samsung Galaxy Active
Fitbit Ionic
Designed for cycling
Yes
Yes
Yes
Yes
Power Meter Capable
With some Connect IQ apps
No
No
No
Speed/Cadence Sensor Capable
Yes
No
No
No
Strava segments live on device
No
No
No
No
Crash detection
Yes
Yes via 'Fall Detection'
No
No

Running

Garmin Venu
Apple Watch Series 5
Samsung Galaxy Active
Fitbit Ionic
Designed for running
Yes
Yes
Yes
Yes
Footpod Capable (For treadmills)
Yes
With 3rd party apps
With 3rd party apps
No (but has treadmill functionality)
Running Dynamics (vertical oscillation, ground contact time, etc...)
No
No
No
No
Running Power
No
With 3rd party apps
No
No
VO2Max Estimation
Yes
Yes
No
Yes via app
Race Predictor
No
No
No
No
Recovery Advisor
No
No
No
No
Run/Walk Mode
Yes
With 3rd party apps
With 3rd party apps
No

Swimming

Garmin Venu
Apple Watch Series 5
Samsung Galaxy Active
Fitbit Ionic
Designed for swimming
Yes
Yes
Yes
Yes
Openwater swimming mode
No
YEs
Yes
No
Lap/Indoor Distance Tracking
Yes
Yes
Yes
Yes
Record HR underwater
Yes
Yes
Yes
No
Openwater Metrics (Stroke/etc.)
No
Basic stroke type only
No
No
Indoor Metrics (Stroke/etc.)
Yes
Basic stroke type only
Yes
Yes
Indoor Drill Mode
No
No
No
No
Indoor auto-pause feature
No
Yes
No
No
Change pool size
Yes
Yes
Yes
Yes
Indoor Min/Max Pool Lengths
13M/15Y TO 150Y/M
1y/m to 1,500y/m+
10m/y-100m/y
Ability to customize data fields
Yes
Very limited
Yes
Can change yards to meters
Yes
Yes
Yes
Yes
Captures per length data - indoors
Yes
Yes
Yes
Indoor Alerts
Yes
Yes (goals)
No
Yes (distance)

Triathlon

Garmin Venu
Apple Watch Series 5
Samsung Galaxy Active
Fitbit Ionic
Designed for triathlon
No
Not really
No
No
Multisport mode
No
Yes
Sorta (can combine sports manually)
No

Workouts

Garmin Venu
Apple Watch Series 5
Samsung Galaxy Active
Fitbit Ionic
Create/Follow custom workouts
Yes
With 3rd party apps
No
No (Premium Coached only)
On-unit interval Feature
Sorta (Pre-loaded)
With 3rd party apps
No
No
Training Calendar Functionality
Yes
With 3rd party apps
No
No

Functions

Garmin Venu
Apple Watch Series 5
Samsung Galaxy Active
Fitbit Ionic
Auto Start/Stop
Yes
Yes
Yes
Yes
Virtual Partner Feature
No
Sorta (Pacing feature)
Pace guidance only
No
Virtual Racer Feature
No
No
No
No
Records PR's - Personal Records (diff than history)
Yes
No
No
No
Day to day watch ability
Yes
Yes
Yes
Yes
Hunting/Fishing/Ocean Data
No
No
No
No
Tidal Tables (Tide Information)
No
No
No
No
Jumpmaster mode (Parachuting)
No
No
No
No
Geocaching
No
No
No
No
Weather Display (live data)
Yes
Yes
Yes
Yes

Navigate

Garmin Venu
Apple Watch Series 5
Samsung Galaxy Active
Fitbit Ionic
Follow GPS Track (Courses/Waypoints)
No (but some 3rd party apps can)
With 3rd party apps
No
No
Markers/Waypoint Direction
No
With 3rd party apps
No
No
Routable/Visual Maps (like car GPS)
No
With 3rd party apps
No
No
Back to start
YEs
With 3rd party apps
No
No
Impromptu Round Trip Route Creation
No
With 3rd party apps
No
No
Download courses/routes from phone to unit
NO
With 3rd party apps
3rd party apps
No

Sensors

Garmin Venu
Apple Watch Series 5
Samsung Galaxy Active
Fitbit Ionic
Altimeter Type
Barometric
Barometric
Barometric
Barometric
Compass Type
Magnetic
Magnetic
N/A
N/A
Optical Heart Rate Sensor internally
Yes
Yes
Yes
Yes
SpO2 (aka Pulse Oximetry)
Yes
No
No
Heart Rate Strap Compatible
Yes
Yes
3rd Party Apps only
No
ANT+ Heart Rate Strap Capable
YEs
No
No
No
ANT+ Speed/Cadence Capable
Yes
no
No
No
ANT+ Footpod Capable
Yes
No
No
No
ANT+ Power Meter Capable
No
No
no
No
ANT+ Weight Scale Capable
No
No
nO
No
ANT+ Fitness Equipment (Gym)
No
No
no
No
ANT+ Lighting Control
Yes
No
no
No
ANT+ Bike Radar Integration
Yes
No
No
No
ANT+ Trainer Control (FE-C)
No
No
No
No
ANT+ Remote Control
No (Yes for VIRB camera control)
No
No
No
ANT+ eBike Compatibility
No
No
No
No
ANT+ Muscle Oxygen (i.e. Moxy/BSX)
no
No
No
No
ANT+ Gear Shifting (i.e. SRAM ETAP)
No
No
nO
No
Shimano Di2 Shifting
No
No
No
No
Bluetooth Smart HR Strap Capable
YEs
Yes
3rd party apps only
No
Bluetooth Smart Speed/Cadence Capable
Yes
No
No
No
Bluetooth Smart Footpod Capable
Yes
No
3rd party apps only
No
Bluetooth Smart Power Meter Capable
No
No
No
No
Temp Recording (internal sensor)
No
No
Yes
No
Temp Recording (external sensor)
Yes
No
No
No

Software

Garmin Venu
Apple Watch Series 5
Samsung Galaxy Active
Fitbit Ionic
PC Application
Garmin Express
None
No
PC/Mac
Web Application
Garmin Connect
None
No
Yes
Phone App
iOS/Android/Windows
iOS only
iOS/Android (iOS is limited though)
iOS/Android/Windows
Ability to Export Settings
No
No
No
No

Purchase

Garmin Venu
Apple Watch Series 5
Samsung Galaxy Active
Fitbit Ionic
Amazon
Link
Link
Link
Link
REI
Link
N/A

DCRainmaker

Garmin Venu
Apple Watch Series 5
Samsung Galaxy Active
Fitbit Ionic
Review Link
Link
Link
Link
Link
And again – don't forget you can make your own product comparison charts comparing any products using the product comparison database.
Summary: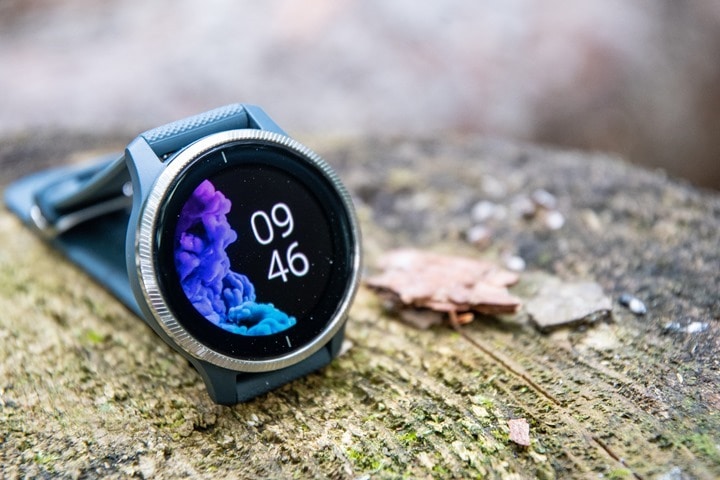 After three months of usage, I have little question that this display type is the future of Garmin wearables. Not all wearables, not immediately anyway – but certainly the future for sure. Battery tech and display tech moves so fast. The display we see today in the Venu would have been spec'd out and determined well over a year ago. Same goes for the batteries used, as well as all the other components relying on that battery that are also getting more and more efficient.
I could easily see a scenario where Garmin looks to offer a AMOLED variant of the next Fenix version (note: I have no insider information here). The market is clearly there, and while many readers of this site may skew towards wanting to eke out every last hour on an ultra race, the reality is that probably 98% of Fenix purchasers will never need that type of battery life – likely close to 99%. Garmin will easily sell a million units of each Fenix series they produce – and having a higher-end display continues to be a major request. I don't think they're far off here.
However, as for the Venu – I don't think they're leveraging that screen enough. Things like the lack of watch faces is a prime example. I'd have hoped that by three months on we'd see more options there. I'd have hoped they'd use that screen to better enumerate emojis (which I'm still finding missing ones on a daily basis that just show up as empty squares). And I'd hoped that maybe some of the minor GPS quirks would be sorted.
I continue to think the mark was missed on pricing. And I suspect Garmin is learning that as we speak, with the price reduced to $299 from the usual $399 for the holiday period (and it selling quite strongly). I don't think $399 is competitive. However, I think $299 for Venu is very competitive, and $249 for the Vivoactive 4 is equally strong. Like it or not, Garmin has to compete with Apple Watch Series 3 at $199 (and lower). While Garmin can point to Apple Watch Series 5 at $399 all they want, they'll almost always lose that battle in the minds of most of the general public.
Still despite the above two paragraphs – I think it's probably the best all-arounder watch that Garmin has ever made. While it's not the most accurate GPS-wise, it seems to find the balance between having the features that hardcore sports folks want (like structured workouts, skiing/snowboard run tracking, and others), as well as more general lifestyle or health bits (such as offline Spotify and Amazon music, as well as detailed Yoga/Pilates support). It's the most well rounded competitor to an Apple Watch Series 5, but with a clearly sport/fitness slant.

Found This Post Useful? Support The Site!
Hopefully you found this review useful. At the end of the day, I'm an athlete just like you looking for the most detail possible on a new purchase – so my review is written from the standpoint of how I used the device. The reviews generally take a lot of hours to put together, so it's a fair bit of work (and labor of love). As you probably noticed by looking below, I also take time to answer all the questions posted in the comments – and there's quite a bit of detail in there as well.
If you're shopping for the Garmin Venu or any other accessory items, please consider using the affiliate links below! As an Amazon Associate I earn from qualifying purchases. It doesn't cost you anything extra, but your purchases help support this website a lot. Even more, if you use Backcountry.com or Competitive Cyclist with coupon code DCRAINMAKER, first time users save 15% on applicable products!
And finally, here's a handy list of accessories that work well with this unit (and some that I showed in the review). Given the unit pairs with ANT+ & Bluetooth Smart sensors, you can use just about anything though.
And of course – you can always sign-up to be a DCR Supporter! That gets you an ad-free DCR, access to the DCR Quarantine Corner video series packed with behind the scenes tidbits...and it also makes you awesome. And being awesome is what it's all about!
Thanks for reading! And as always, feel free to post comments or questions in the comments section below, I'll be happy to try and answer them as quickly as possible. And lastly, if you felt this review was useful – I always appreciate feedback in the comments below. Thanks!