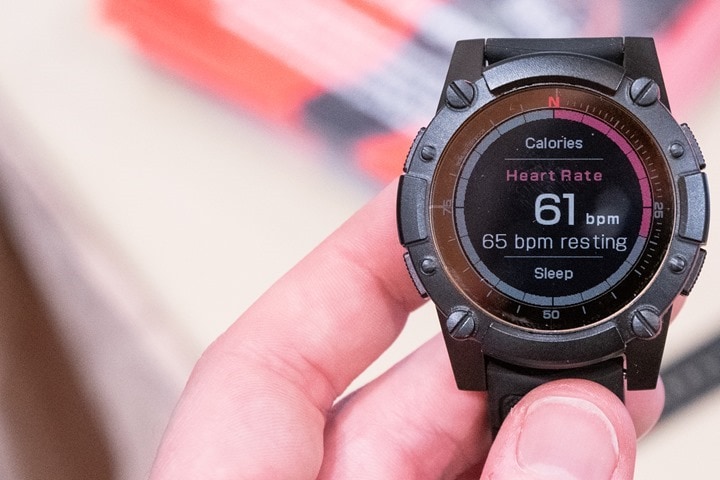 Each year at CES people invariably ask me what's the most interesting thing I've seen on the show floor. Some years, there's many options to choose from. This year? Not so much. Still, my answer this year oscillates between this crazy bread machine, and the PowerWatch 2 GPS.
Which isn't to say that civilization needs either, or that either will be successful as products (actually, pretty sure the bread machine will succeed). But they both represent interesting tech to me. And thus, I'm going to talk about one of them (sadly, not the bread machine).
The PowerWatch 2 is the second generation smartwatch device from Matrix, the first being a much more slimmed down (feature-wise) variant back a year or two ago. These devices rely on taking your body heat (from your wrist), combining it with a side dish of solar power, and then running forever.  There are a number of differences between PowerWatch 1 and 2, the main being the addition of GPS. It's also got a far more powerful backlight.
I had a chance to play with a unit indoors the other night at a CES media event, and put together a quick video of it here:
Or, you can read on for my slightly deeper thoughts on it.
The Tech Details: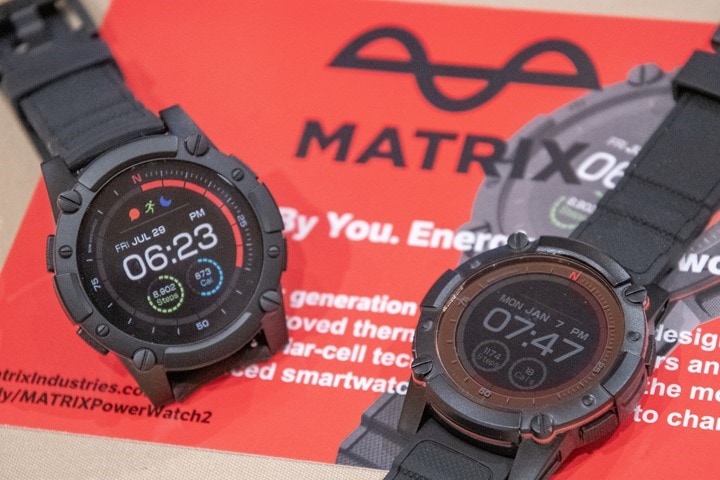 Make no mistake, the PowerWatch 2 isn't a Garmin Fenix 5 or Suunto 9 killer. At least not today.
But, that's also the end-state goal of the company. They were crystal clear that their hopes are to bring the technology to the point where ultra runners are their target audience. They want a person to effectively be able to go all Forrest Gump – and run forever.
Today though, the reality is a bit more harsh. The current prototypes get about 60-90 minutes of GPS-on time, before you've gotta stop and let it 'refill'. As you might expect, turning on GPS is like turning on a gigantic fuel burning blowtorch. As with virtually any wearable on the market, it's the #1 battery killer out there (aside from crazy brilliant displays on something like an Apple Watch).  So the balance Matrix has is to find a way to ensure that the charging (your body heat and solar) just barely outweighs what's being spent by the watch for the display, GPS, accelerometers, and other processing.
First though, let's start at the back of the watch. That's where the "thermoelectric generator", or effectively, a heat sink that takes your body heat and converts it into energy. This technology isn't new, nor mysterious. Companies have been doing this for years in a variety of industries.
Here' a nifty diagram from their Indiegogo page on what's going on just below the surface.  Now, since I'm not some sort of thermoelectric engineer, I'm just going to have to leave this here: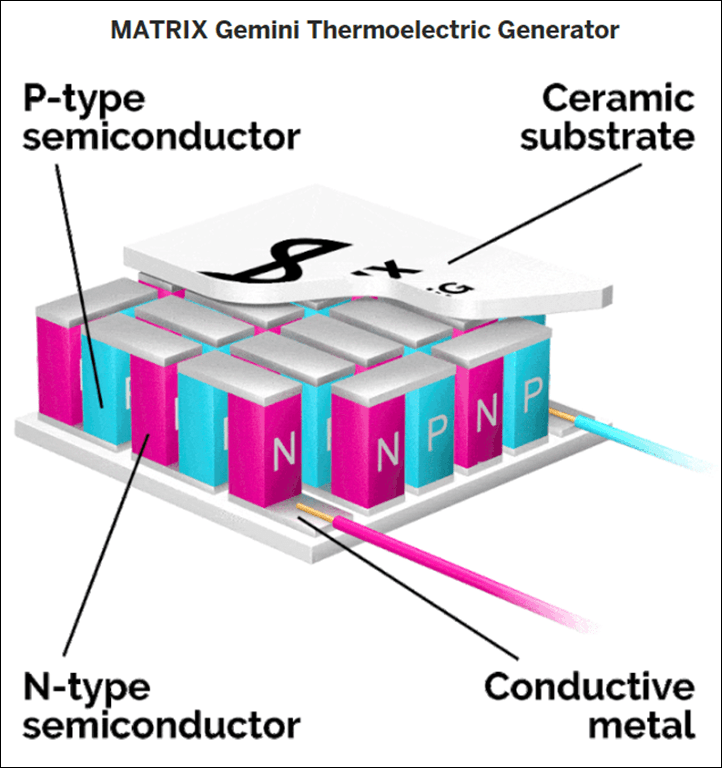 Ultimately, from a sports tech standpoint, I don't much care what the precise underlying energy conversation tech is – as long as it meets the requirements. Just like I don't really care whether a trainer uses an actual power meter or not, as long as it's ultimately accurate when I test it.
Of course, as I noted a few paragraphs ago, right now the energy conversion tech appears to be a bit short on that equation. Whether or not the company can bridge those shortfalls to achieve longer GPS-on time is the question (more on that in a minute).
Now, that's just the body heat portion of the equation. Atop the face of the watch there's also solar panels. If you look at the two units below, one is a current prototype (functional), where the other is the goal end-state device (non-functional).  You can clearly see the panels in the current prototype (to the right), whereas the goal device has these hidden under the display edges a bit more (to the left):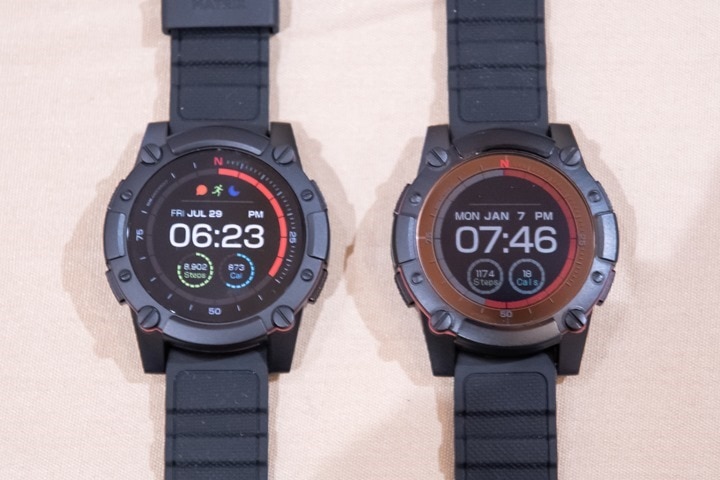 I asked what the breakdown of power 'revenue' was. Meaning, did body heat or solar charge it faster/more? The answer? Solar – by a long shot. They noted that the stats they looked at shows the average American spends only a single hour outdoors (if that), and the remainder indoors. In that scenario, 50% of the daily energy of the watch would come from that single hour outdoors, whereas the other 50% from body heat.
Whereas if you were on a semi-sunny winter day as it was today in Las Vegas, and spent most of the day outdoors, that the power source would be overwhelmingly solar-generated.
Meanwhile, in the middle of all that is the display itself. The watch will show all the activity tracking basics you'd expect like steps, calories, distance, and even current resting HR. In fact, you could see that HR sensor on the back in the photos up above. And on the unit I tried, the HR sensor was indeed detecting resting HR at a believable reading.
This is a good time to point out that the HR sensor design they have doesn't lend itself well to being accurate for workouts. With only a single LED on a heavy device, it's likely to be mostly trash. Sure, I could be wrong – but in doing this whole optical HR testing thing for a few years, that's like bringing a butter knife to a tank fight.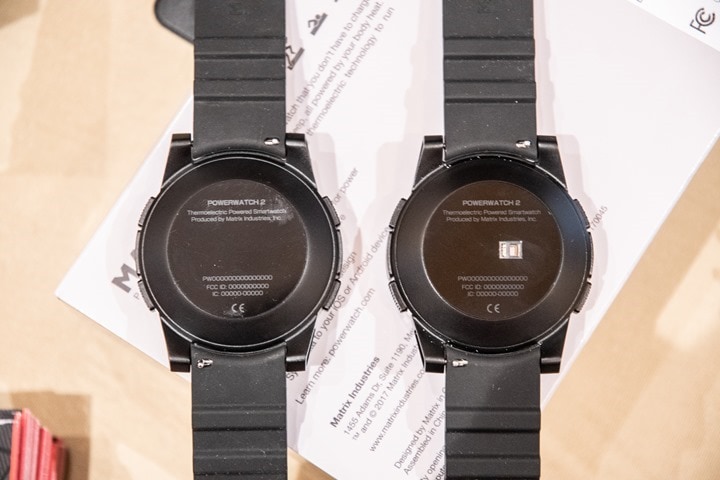 At present the unit doesn't support connecting to any ANT+ or Bluetooth Smart sensors, so things are a bit limited there too. Nor does it have aspects like following a course or structured training. It's mostly just about recording your overall GPS track. It does have a backlight though that illuminates when pressed (and immediately turns off when you release the button). And that backlight as seen in the video is basically just as bright as any other smartwatch I've tried. I didn't get a chance to test vibration alerts or smartphone notifications, though both are specified as included. Additionally, it's waterproof to 200 meters.
Note that the display of the prototype didn't have the colors seen in either their photos or the final production unit models. Though I didn't ask when the switch-over will occur.
From a sport mode standpoint, their goal for launch is running and cycling modes, followed shortly thereafter by swimming modes.  Said differently, this watch seemed more aimed towards casual GPS trackers than super-athletic types. At least at this point or for the near future.
Once you've completed your activity the watch will produce a GPS track file in their app: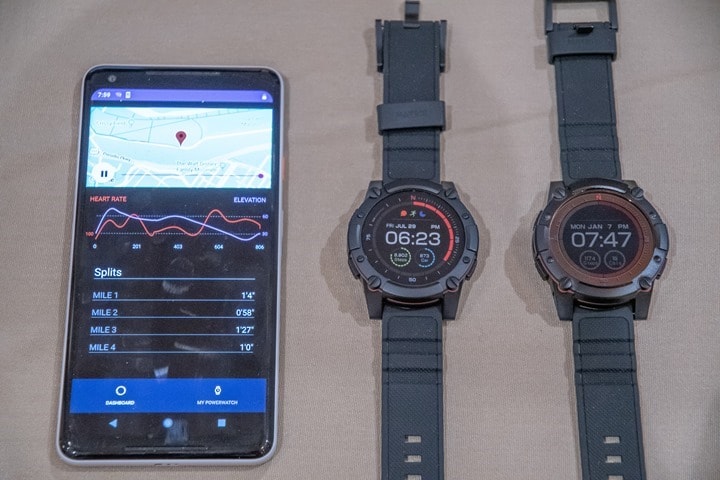 The company is using u-blox GPS chipsets within the watch, the same chipset used in a wide variety of wearables over the years, including from Polar and TomTom. The company says that by leveraging their accelerometers and gyro's, they can reduce the GPS sampling rates and extend battery life (without impacting GPS track accuracy significantly). Essentially the same technique Suunto has employed on their Suunto 9 watch with the ultra-focused modes.
Once a workout is complete their plan is to enable uploads to a variety of platforms, including specifically noting Strava. The current recording rate is once every 1-2 seconds, which is probably more than acceptable for 98% of the people out there. Heck, Garmin still unexplainably defaults to 'Smart Recording' (once every 4-7 seconds usually) for all their watches.
I'd like to have been able to show more or say more, but honestly, that's all there is to show. Which isn't necessarily wrong in terms of their delivery schedule, but just a reality of the current prototype devices they had on-hand.
Going forward: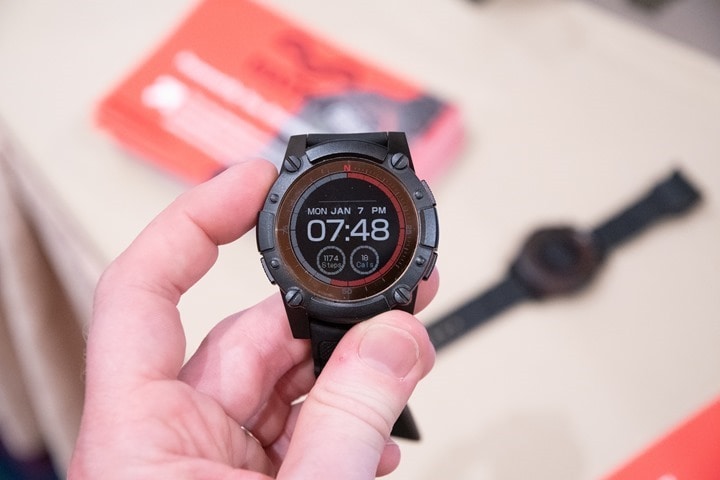 At the Indiegogo price of $199, it's a compelling offering, if they can pull it off. At the planned retail price of $499, it's mostly a non-starter. Still, crowdfunded projects rarely end up selling for as much as these companies hope by the time the dust settles.
The bigger part for a company like Matrix is actually licensing deals for their technology. The company touted in a CNET article that they had landed a big name wearable for later in 2019. Whether that is true remains to be seen. I've talked to a few in the industry over the last few days, and I remain skeptical it'll be licensed by any major fitness devices immediately. Most of the bigger fitness companies have far larger power need footprints than the PowerWatch (1 or 2).  Thus, instead I suspect we'll see it licensed by a fringe fitness player. Perhaps a company that is a well-known name, but not in the fitness/sport game.
All of which may sound like I'm being negative – I'm not. As I started this post out, it's one of the most interesting wearables things I've seen at CES. But I'm not convinced it'll be practical yet for the majority of the market. However, if the company can get their battery life closer to 4-5 hours of constant GPS-on coverage, and do so while maintaining good GPS tracks, it'll be super compelling. Even more, if they can get closer to 8-12 hours of GPS-on time, which would make it very interesting for those doing week-long hikes without having to recharge (since it would re-charge easily during GPS-off time).
So while I won't be a backer this time around, I'll certainly be watching how things progress.
–
Obligatory reminder: This is a crowdfunded project. As such, the success rates for tech products tend to be pretty low (defined as either delivering on time, delivering at all, or delivering what you expected or were promised). I've written extensively about the failures of crowdfunded projects over the years, as well as standalone posts on identifying worrisome items in crowdfunded projects. Still, every once in a while you get something cool out of one. I don't know if this will be that project. Still, treat crowdfunded projects exactly like money in a Las Vegas slot machine: Assume you'll get nothing back, and celebrate if you break even. If you do that, you'll be just fine.