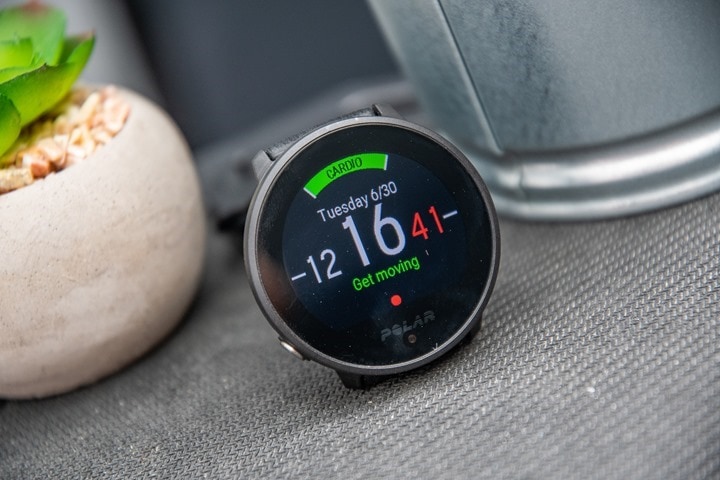 Almost exactly a year after announcing the Polar Ignite GPS watch, the company is back with another wearable – the similarly named Unite, which takes all the Polar Ignite features, slashes the internal GPS, and drops the price by $50. Oh, and they've changed the sensors, bands, screen, and thickness. But wait – while it lacks internal GPS, it can still leverage your phone's GPS if that's nearby.
And thus, I've explained the Polar Unite in a single paragraph. Sure, I could end this non-review, but I've still got 6 hours till this watch launches, so I might as well fill up this page with all sorts of hands-on details on how it works and whether it makes sense for ya. Also, for those playing Branding Bingo at home, drink for every time I manage to mistype Unite as Ignite. And two drinks for when I mistype Unite as Unit or United.
The Polar Unite is theoretically aimed at the same audience as the Fitbit Charge 4, also priced at $149. Except, that one has GPS, but is a band wearable as opposed to a full watch. And while the Fitbit Charge 4 undeniably has fitness features, Polar's Unite is in an entirely different league. It's got the same automatic workout coach (called FitSpark) as the higher-priced Polar Ignite, and the same sleep and 24×7 tracking as Polar's $400+ GPS watches. The question is, how does that fit into a scheme where the Apple Watch Series 3 is at $169 these days? Well, that's trickier and will really depend on what you want out of it. For that, I'll first have to explain the nuances (and pitfalls) of this watch.
Or, you can simply hit the play button below to get all the details:
Also, just a quick note that Polar sent over this media loaner to toy with. Once I'm done I'll get it back to them (along with this Grit X I'm finally done with). Just the way I work – leave no tracks and all that. If you found this post useful, simply hit up links at the side, or consider becoming a DCR Supporter.
With that – let's dive in!
High-Level Explainer: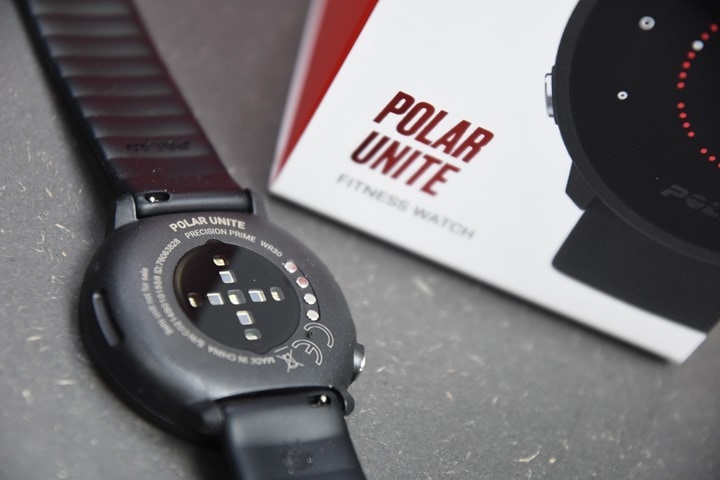 Now, as I stated earlier, the Polar Unite is essentially a Polar Ignite without built-in GPS. But there are a handful more differences beyond that which make it…maybe…better?
First though, let's quickly cover the main features it has in it. Starting with the hardware side of life – here's the specs:
– Claimed daily battery time of 4 days, workout battery time of 50hrs with connected GPS (if your phone can last that long)
– Color touchscreen display, single side button
– Waterproofed to 30 meters
– Display is not always-on, only turns on when raising wrist, like Apple Watch (pre-Series 5) or most Fitbits, workout mode *does* have always-on option though
– Polar Precision Prime optical heart rate sensor on back (same as new Grit X series)
– Strap design is new to Unite, a blended fabric and silicone strap
– Swappable wristbands
– Bluetooth Smart HR sensor support (though not power meters/cycling/footpod sensors)
– No music/storage on watch, nor NFC/contactless payments
Virtually everything above mirrors that of the Polar Ignite series. Polar doesn't have an app store, so you won't see that. And the only real downside here is the lack of GPS internally and the fact that the display turns off to save battery after a few seconds.
From a major software features standpoint, it mirrors all those functions from the Polar Ignite. Here's the run-down:
– Includes 'FitSpark' feature which gives you daily workout options based specifically on history + Nightly Recharge
– Includes 'Nightly Recharge' feature that looks at breathing rate/heart rate/heart rate variability (ANS data) to figure out if you're recovering at night
– Includes 'Sleep Plus Stages' which adds in REM/Light/Deep sleep tracking, and sleep score
– Includes 'Serene', which are guided breathing exercises (like what Fitbit and others have)
– Includes structured workout support, so you can create workouts online with specific steps to follow
– Includes 'Training Benefit' feature
Next, just for completeness, here's a quick list of all the 'things you expect' on a wearable (especially a Polar one), but I figured I'd list them here just in case:
– Tracks general activity metrics (e.g. steps, distance, calories, etc) 24×7
– Tracks heart rate 24×7
– Tracks sleep (see new sleep features though)
– Includes VO2Max score (aka 'Running Index')
– Includes 'Fitness Test' feature (VO2Max test while lying down)
– Includes timers (countdown timers & stopwatch)
– Maximum of 20 sport profiles on the watch itself (far more than Apple, Garmin, Fitbit, or Suunto allow at this price point), some 100 sports on platform to add to watch
– Can apply both heart rate zones and speed zones (no power zones/nor power meter support)
– Accelerometer-based speed/distance when no connected GPS is available (or inside on treadmill)
– Does *NOT* have multisport (aka triathlon) mode
So, about now you're asking yourself how's it different than the Polar Ignite? Easy-peasy, here's the quick and dirty list:
– No built-in GPS on Polar Unite (it will leverage your phone's GPS though)
– Band design is different, similar to Apple Watch – better in some ways, less so in others
– Unite has color-themed watch face customization, Ignite does not
– This is 32g, versus the Ignite is 35g, so you can now eat one extra bit of ice cream
– Unite daily battery life is 4 days versus 5 days for Ignite
– Unite workout with GPS battery life & optical HR sensor enabled is 50 hours versus 17 hours for Ignite (and internal GPS)
– Unite uses the new Polar Grit X optical HR sensor with different LED colors
– Unite optical HR sensor is flush with the back of watch, Ignite has a sensor bump/pop-out
– Unite has a slightly brighter display than Ignite
– Unite is $149, while Ignite is $199
– Unite is usually impossible to type right 30 times in a row, Ignite is easier
And with that, we've wrapped up all the differences between them. Plus, I'm out of bullet points – I definitely used them all by now. Ok, let's walk through the main features.
The Basics:
Once you crack open the box you'll find the watch inside. Also of note – Polar changed their box design to this swanky new one. It's kinda clever.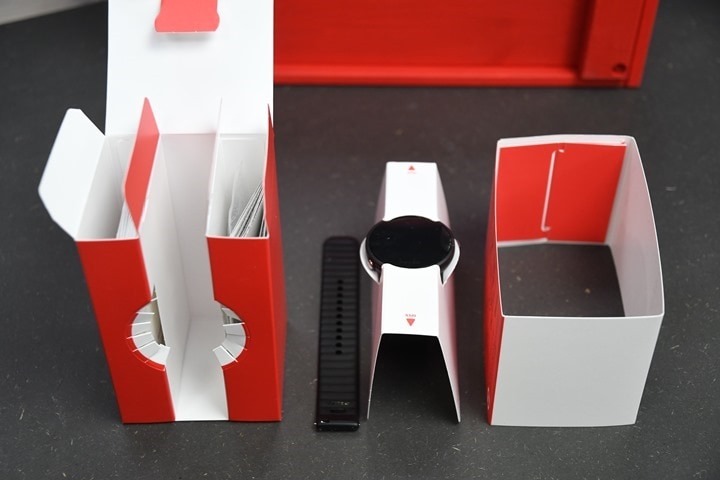 Also of note is that Polar changed their charging clip here (unfortunately) to this cable-less variant.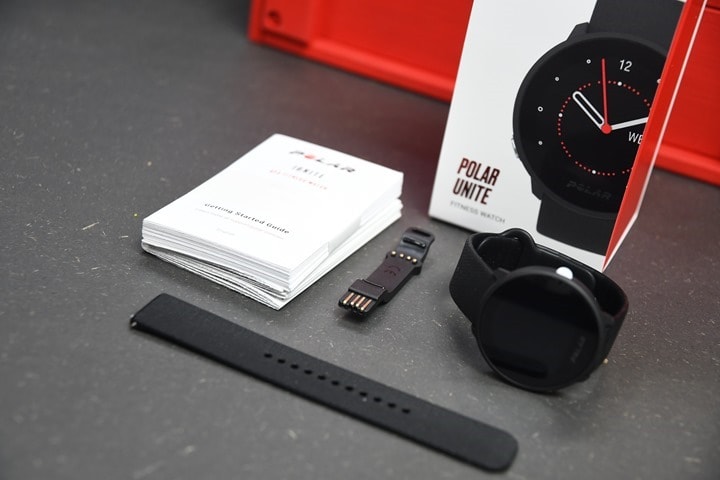 They're a pain in the butt in most cases to use with laptops/desktops/anywhere without a weird USB port spot.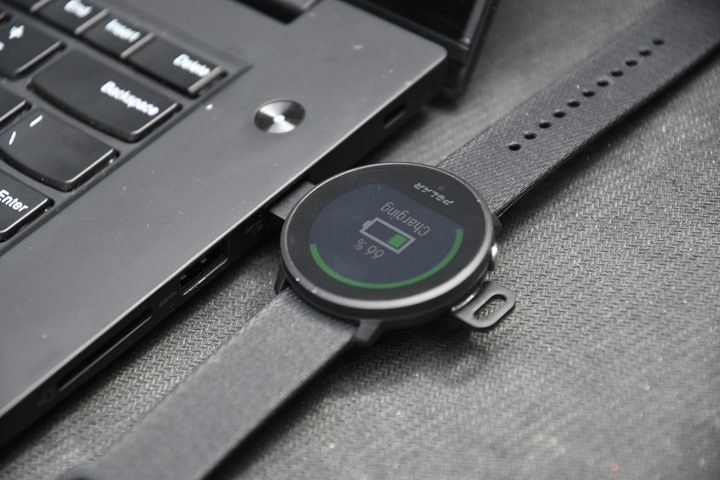 The first thing you'll probably notice on the Unite is the removable band. It looks like this mysterious blend of fabric and silicone. Seriously, it's kinda cool. But in reality, it's just laser-etched into the band. Still, it feels nice.
It is however also a direct softer duplication of the Apple Watch band design where the strap inserts back into itself. The only problem is that Polar's manufacturing design or tolerances isn't quite good enough to pull it off. So for first-time usage I've found getting the pole into the hole is really challenging. It's just a super tight fit and requires a substantial amount of force and fiddling around.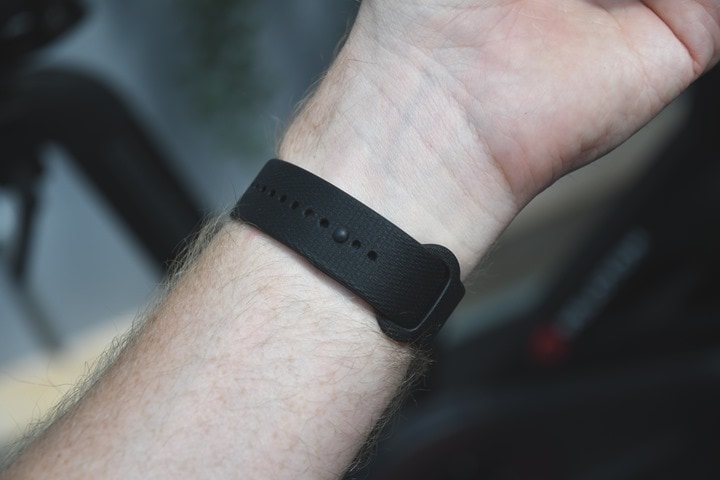 Polar says over time and with more practice/usage it'll loosen up a bit and be easier to get in.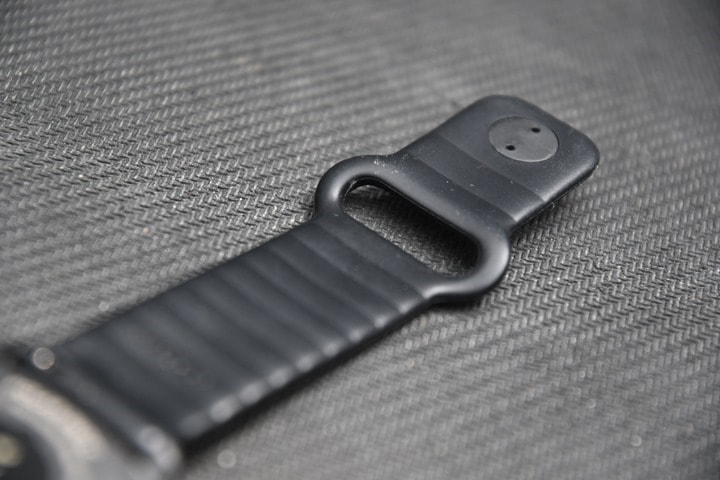 I'll have to take their word on that at this point and will circle back later after a few weeks. Still, I do really like the fabric/silicone blend. It's mysteriously alluring.
Next, there's the touchscreen display and single button. The screen appears slightly brighter than the Ignite, and Polar says it is actually very slightly brighter than the Polar Ignite. As noted, you'll largely interact with the screen via touch, though there's also a dedicated button on the left. I've found the touch control so-so. For swipes left to right it's fine, but I find that either I or the watch have often missed on up/down swipes (like in some of the menus). It's not a big deal, and I suspect over time I'd get better at the nuances of it.
On the back of the unit you'll find the new optical HR sensor. This is the same sensor as the Polar Grit X which came out back in April. That sensor is slightly different than the Polar Ignite or Vantage series in that it changes the LED coloring. This sensor will monitor your heart rate 24×7, as well as during workouts: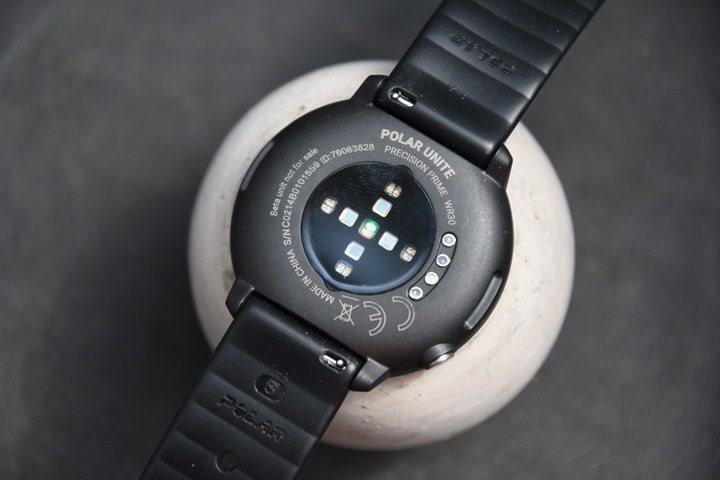 Flipping the unit back over let's dive into menus. First up is the watch face, showing me the time. There's only two watch faces, digital or analog. And then within that, you can pick from half a dozen or so colors to accent them (to match the wrist straps available):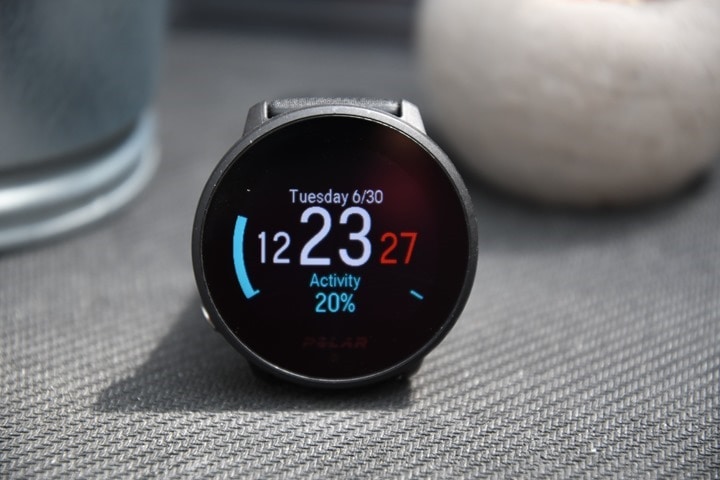 I can swipe left or right to iterate through the other widget screens. In fact, above it actually shows my steps atop the time (using the blue band around the edge). When tapping that, I can get more details about steps: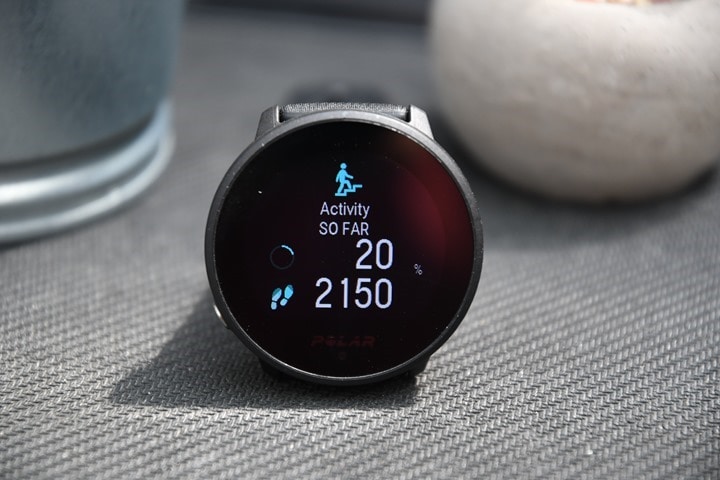 Same is true for heart rate:
There's also one for sleep. While it takes 3 consecutive days of wearing the Unite to get more advanced sleep information, you'll get preliminary information immediately.
From a sports standpoint, the widget will show your last workout, and then you can tap it to get more details about that workout or previous ones:
There's also a FitSpark widget screen, which will give you a workout suggestion for the day. But more on that in the next section: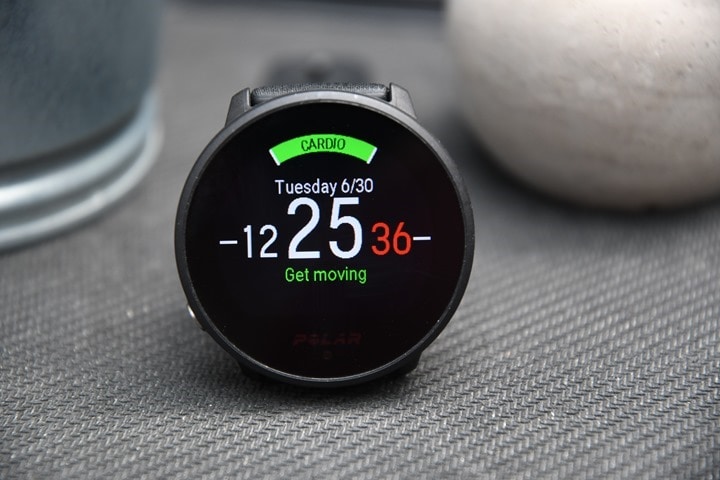 If you press the lower left button you'll be able to access the menu to start training, but it's also where you can swipe down once to access Serene: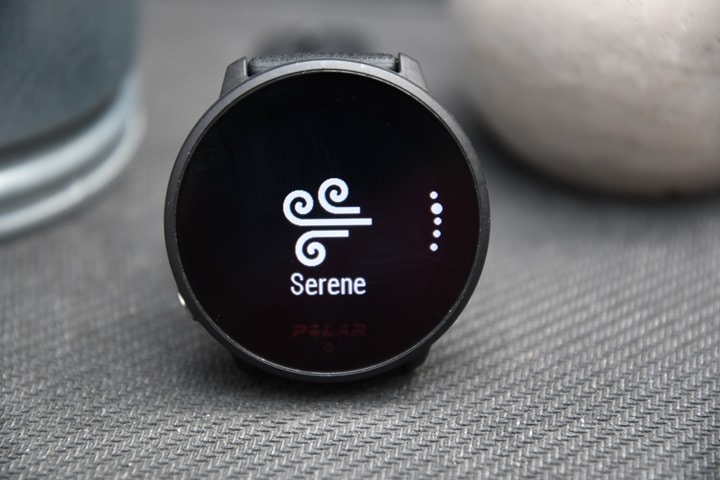 Serene is where it'll walk you through guided breathing exercises: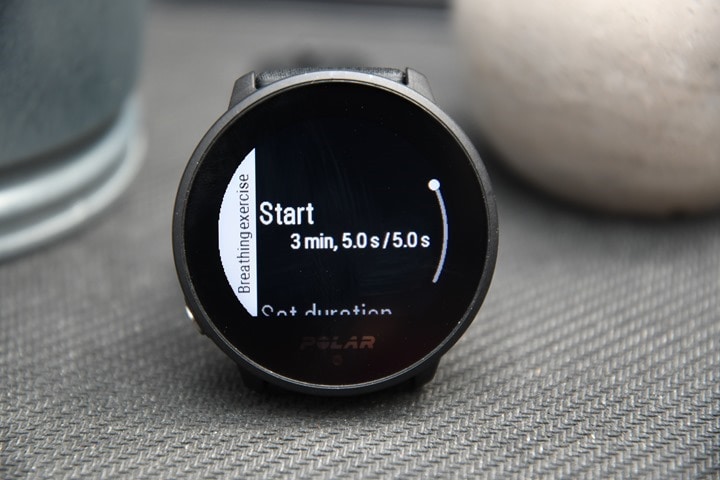 In this same area is where you'll find timers (stopwatch and such), as well as the Fitness test:
It's also where you can dive into the settings and pair your phone, sensors, and change things like how it displays certain details such as distance or the time of day.
Finally, you can swipe up from the bottom of the screen to access smartphone notifications. Like with the Polar Grit X a few months ago, I'm having problems here as well on timeliness of these notifications. My other devices get them instantly, but in some cases I'm seeing delays of up to 30 minutes before a notification appears. It's unclear to me if this is just a 'DCR Issue', or something wider.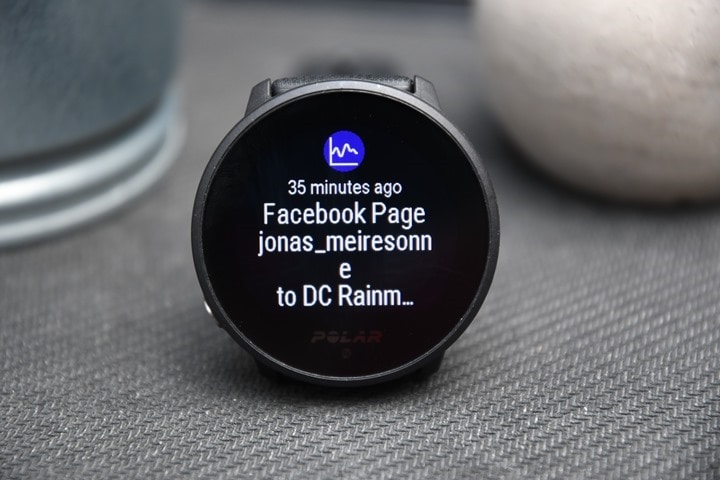 And then you can swipe down from the top to access the screen lock, do not disturb mode, and alarms.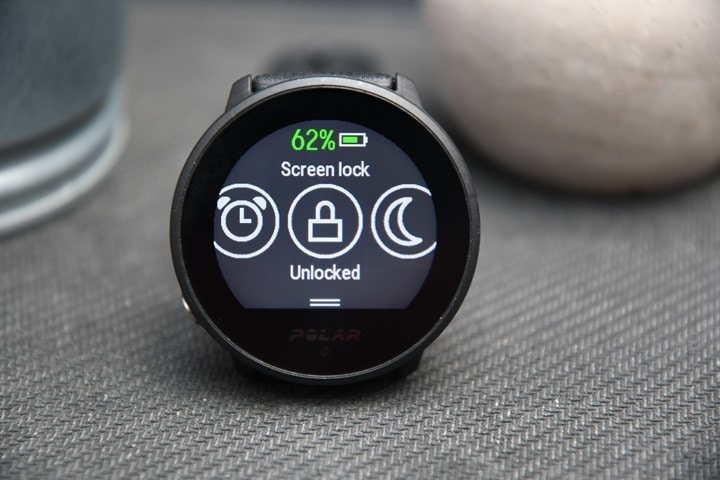 With that, let's talk sports.
Sport Details: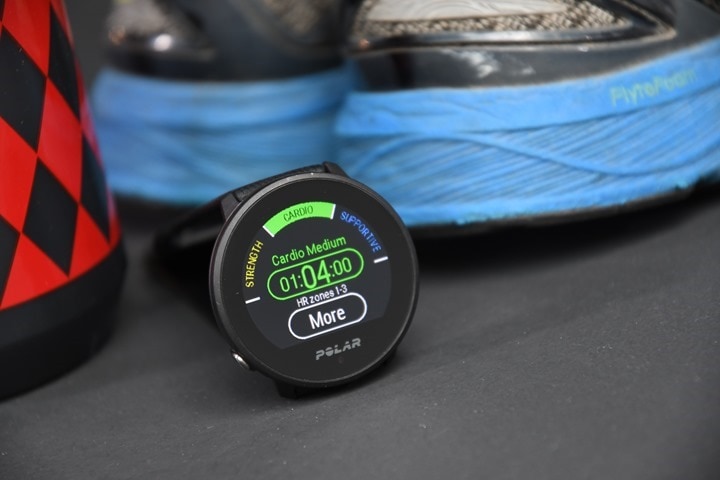 If you're buying the Polar Unite, it's likely for sport or fitness usage. And in that realm, it does quite a bit. As I noted earlier, it's not much different than the Polar Vantage or Grit X series in terms of the main sports features. Where it differs is lacking some of the more advanced aspects. For example, you won't find Recovery Pro or Training Load Pro here, nor will you find the new Hillsplitter feature.
But it does have FitSpark for automated workout suggestions, as well as the ability to download structured workouts to it. And of course, while it lacks internal GPS, you can still leverage your phone – which probably works for many people.
We'll start with FitSpark, since that's one of the big features of the Unite. From the main widget page you'll see this screen. It's telling me that my workout for today should be a cardio one: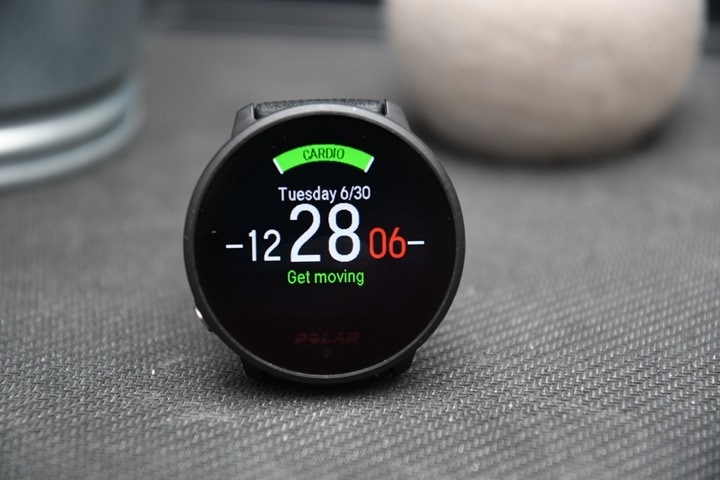 And when I tap it, it gives a bit more details. First, it should be a 'Cardio Medium' effort of 1 hour and 4 minutes, staying in heart rate zones 1-3. Which is oddly perfect, since that's exactly what I planned for today (60 minutes technically, but close enough). On the upper edge you see it also says 'Strength' and 'Supportive', which are the other two workout types it'll recommend.
When I hit that 'More' button, it'll give me other workout options, in this case doing a 'Core Regular' workout for 25 minutes, or a 'Mobility Dynamic' workout for 23 minutes. There's also a flyer of an option for 'Cardio Long', at 1hr 48mins.
If I tap that 'Core Regular' workout, it gives you a bunch of explainer text, but lower down you'll see the exact core moves it wants you to do, complete with little moving animated peoples: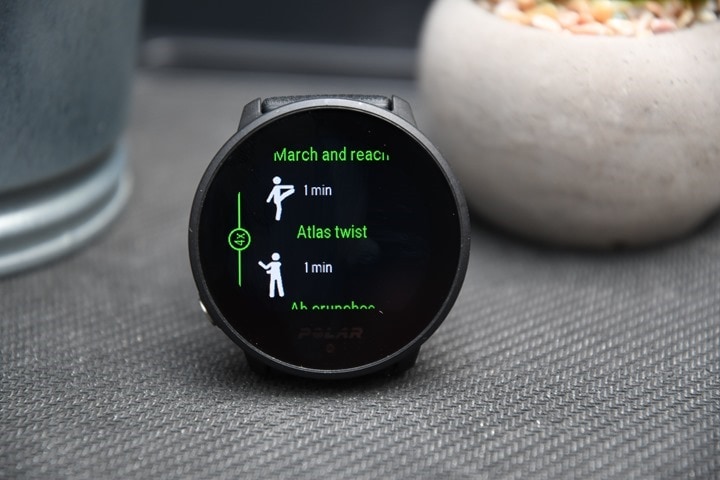 It also shows the set numbers next to it. The same is true for the 'Mobility Dynamic' workout: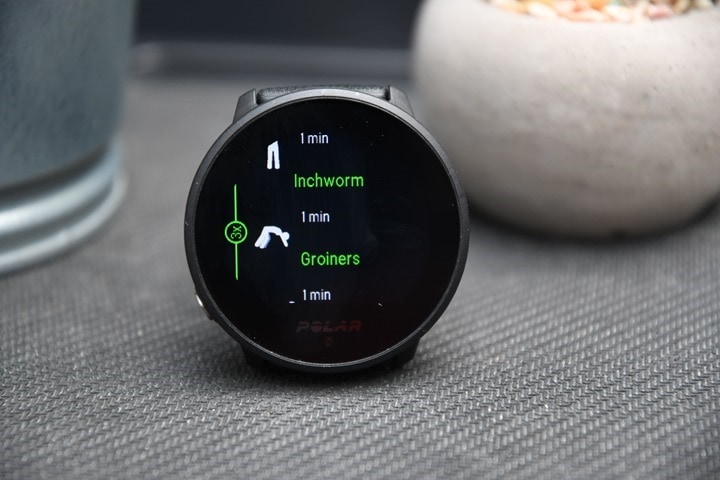 Going back to my actual Cardio Medium workout for today, it shows some intensity phases to stay within. However, these blocks of time don't match the actual lengths. For example, in reality this workout would have me do 10 minutes warmup (blue below), then 49 mins 'work' (green below), and then 5 mins cool-down (blue below). Obviously, that's not three equal parts like represented below.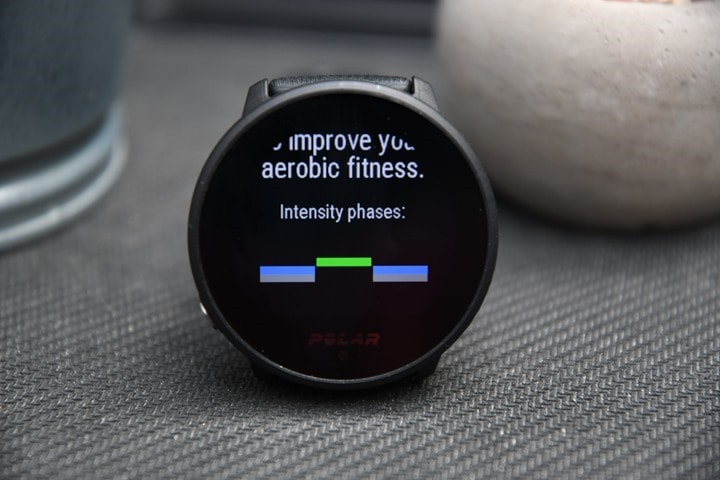 Once I'm ready, I'll tap the 'Start' button, which then brings me to choose the exact sport.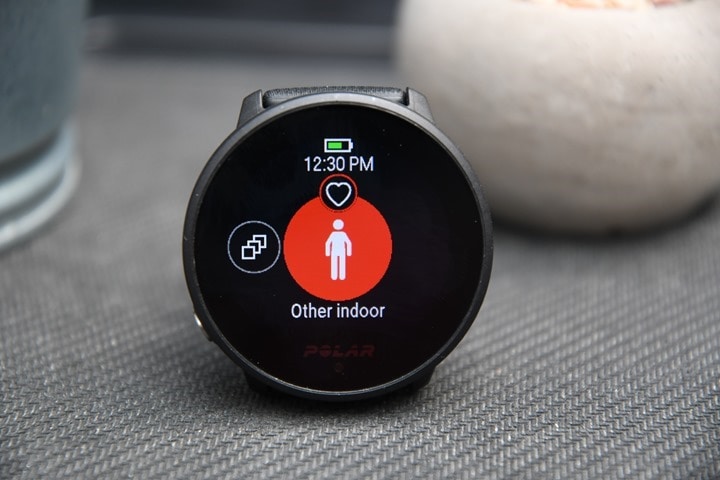 See, for Polar FitSpark it doesn't care or specify about sports for these cardio workouts. Instead, it's focused on your heart rate. So in this case, it's an indoor ride. So I'll select that – and also get on my bike.: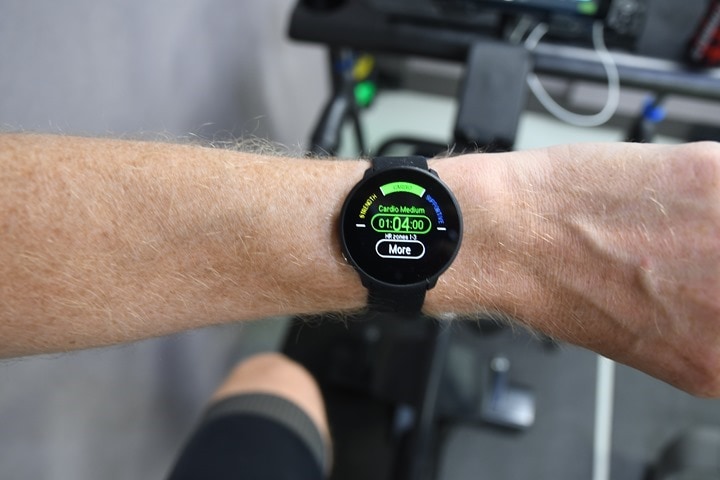 After that, I simply press start and get to it. It'll show me a banner as I start each section with the heart rate zone and duration, and then show me a gauge at the top with the target and my current spot in zone, as well as time remaining.
The coloring changes based on the zones, for example my cool-down: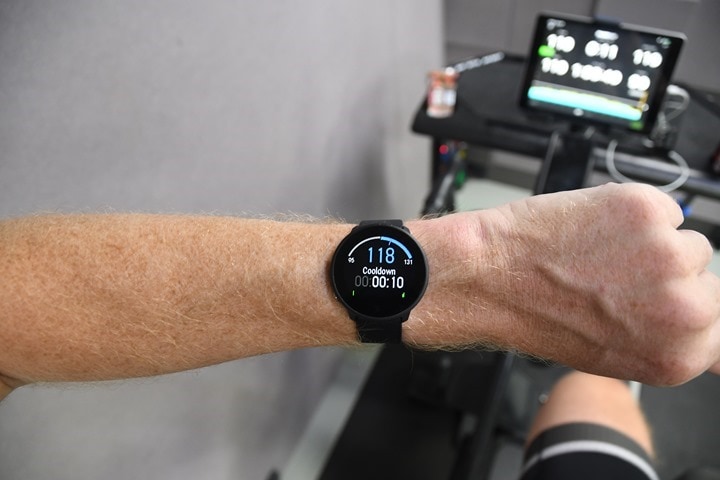 Afterwards, I'll get a summary (more details on those in a moment):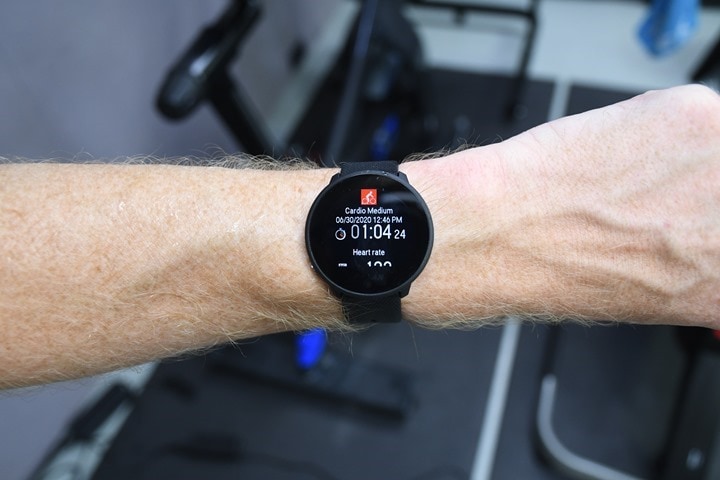 Now, what about GPS workouts? Fear not – let's talk there based on a workout last night. Now all but one of Polar's other wearables have built-in GPS, whereas the Polar Unite will depend on your phone for that. However, this isn't Polar's first BBQ when it comes to leveraging your phone for GPS. In fact, the band-based Polar A360 and A370 had the same technology as well.
When you first set up the Polar Flow app on your smartphone, it'll prompt you to confirm the GPS permissions (and just after that, permissions for smartphone notifications):
Then, you'll go into the sport menu like normal to start a workout. To do that simply tap the lower left button, and choose to 'Start Training'. It'll give you a swippable list of workout types, just like with FitSpark. You can customize all these, including the exact data screens and data fields you've got configured:
If you select an outdoor workout type that leverages GPS (like Road Running), you'll then see an icon for phone connectivity. This shows whether it's connected to the phone or not, then if it has GPS lock. At first it'll be red: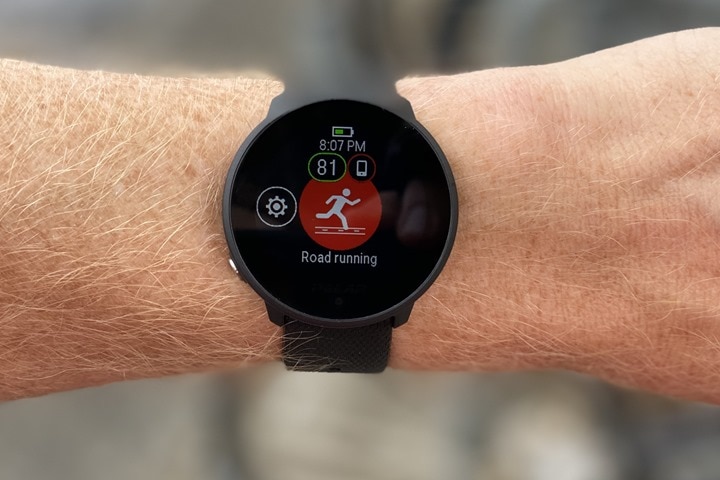 Then once connected to the phone it turns orange: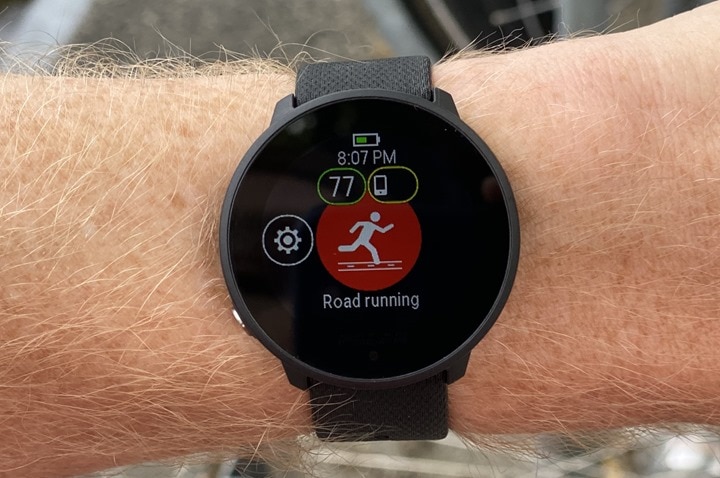 And then finally green once it's got GPS lock: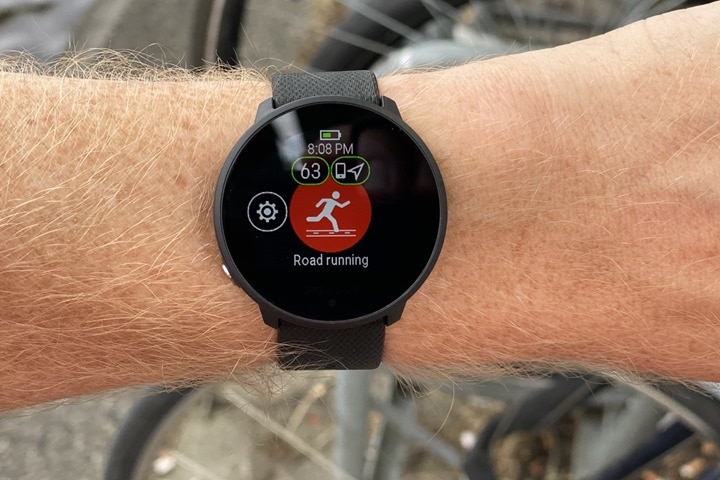 Meanwhile, on the heart rate side, it'll show optical HR lock once ready. Or, if you've got a Bluetooth Smart chest strap paired, it'll show that too.
With that, you're ready to run. Now since it depends on your phone's GPS for the GPS track and distance, you'll obviously need to carry that with you. The most ideal spot for GPS signal is an armband. But I didn't have one of those that actually fits my phone, so I just tossed it in my running shorts pocket and off I went: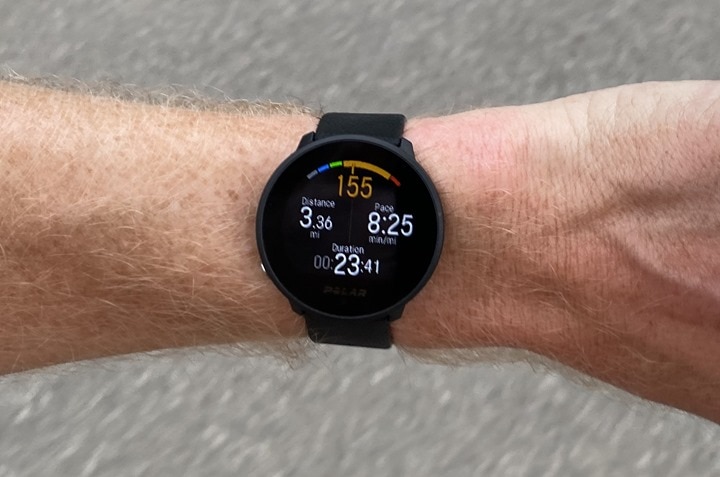 Of course, exact placement of the phone will impact accuracy, so I'll dive into that later.
In workout mode I'd strongly recommend turning on the always-on display, otherwise it'll constantly turn-off on you. To do so, simply swipe down from the top and tap the light bulb:
When it comes to seeing your workout data, the watch screen is off unless you raise your wrist. When you do so it'll turn on. It seems to take about 1.5-2.5 seconds to turn on, which is so-so. However, the slightly more challenging issue is that I found the update-rate for pace was all over the place. I ran a super consistent pace last night, yet the watch (in open sky conditions) would sometimes show me running 7:50/mile, sometimes 99:00/mile, sometimes 13:30/mile, and sometimes 9:30/mile. Here's it compared to the Garmin Forerunner 935: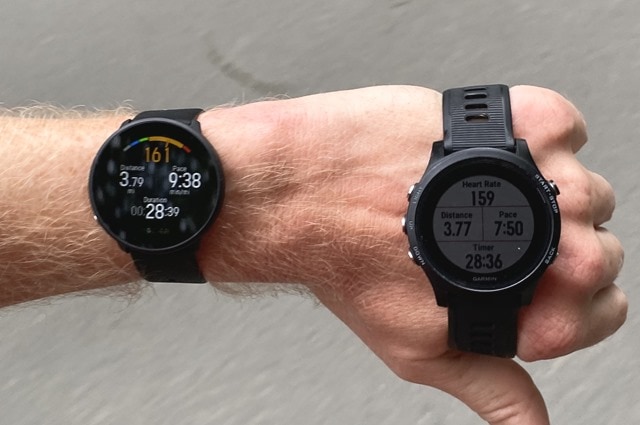 And then sometimes it'd take a few more seconds and it'd adjust correctly. And sometimes not. It was mostly a gamble.
I found that taking my phone out of my pocket and holding it out in front of me did seem to vaguely help in some, but definitely not all, cases. I'd have expected/hoped that Polar would use blended accelerometer-based speed with GPS speed to smooth that out, but that didn't seem to be the case here. It was just pretty inconsistent. Hopefully Polar can tune this a bit more in future software updates.
However, the rest of the metrics were fine. You can swipe left/right to see the other data pages and metrics you've configured, such as heart rate: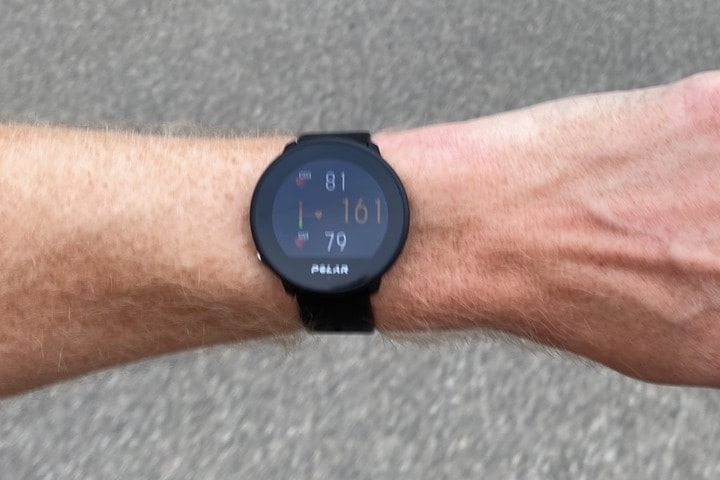 Once you're done with your workout you'll press the button to pause it. Then you'll long-hold to end the workout.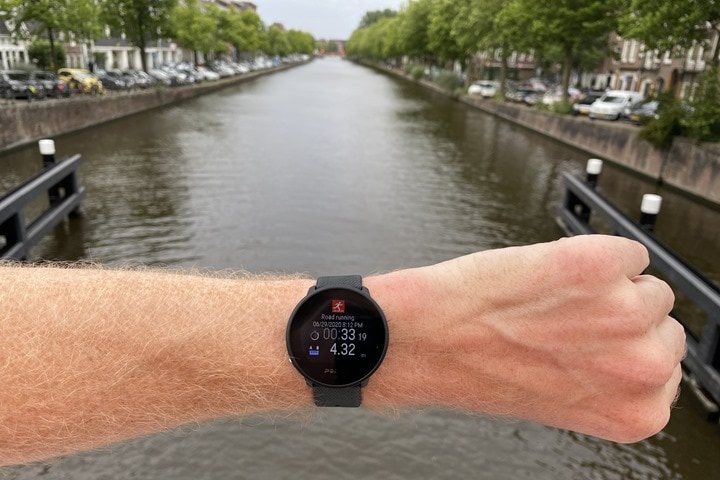 After that, you'll get a pile of summary information on the watch to look at, such as heart rate zones, pace, calories, and so on.
All of this is also available up on Polar Flow (the website), or the Polar Flow smartphone app too. However, you can see where it lost connectivity with the phone's GPS… shown on the map below, ultimately cutting corners. It's unclear why it lost connectivity with a phone a mere half a meter away.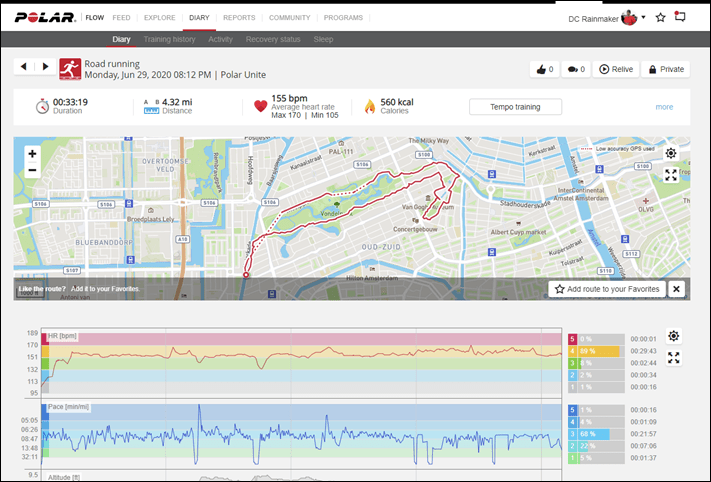 And finally, what's notable is that if you remember back to my indoor workout from earlier in this section where I followed the FitSpark guide? Well, now that I've completed that, it shows me a new workout suggestion of the day, now a 'Supportive' workout, which in this case basically meant stretching.
Quite a logical suggestion.
Finally, as noted earlier you can also download structured workouts to the watch by creating them on Polar Flow and then favoriting them, so they show up on the watch under 'Favorites'. You'll access this from the Sports settings menu before you start a sport.
Ok, with that, we've covered all the sport-related tidbits in the Polar Unite watch. As I noted earlier, it's got quite a comprehensive set of details. Sure, it lacks the fancy apps of the Apple Watch, but in terms of sport-specific features, it's far more detailed, far deeper in capabilities natively, and better tuned to workouts. Looking at the Series 3 specifically (given it's only $20 more), both lack always-on displays for regular use, so that's a wash. But more comparisons a bit later in the post on the other aspects.
Ultimately you'll find it's got significant sport and fitness features that capture the bulk of what most folks are looking to use in a higher-end Polar sports watch. Where you'd find gaps is simply with more of the endurance training load and recovery pieces, as well as the ability to have no navigation in the Unite/Ignite series.
GPS & HR Accuracy: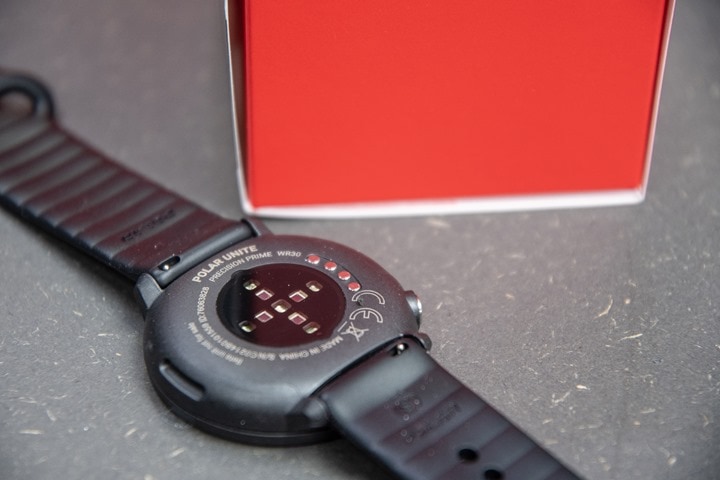 For this post I'm only going to be looking at my initial workouts – down the road I'll update it with more data. Also, while I'll be briefly evaluating GPS accuracy, keep in mind that's dependent on your specific phone (since it uses your phone's GPS). Still, I think it's a valid thing to evaluate, because ultimately it's a feature of the watch (or a caveat, depending on how you look at it).
And while Polar does depend on your specific phone for GPS, all wearable companies and standalone apps that leverage phones for GPS tend to do some level of GPS smoothing/tweaking. So to see how each individual company does that is notable. How they deal with bad GPS data or wonky situations is just as important as having clean data.
Meanwhile, on the optical HR side, I've compared it to other sensors, straps, and watches worn at the same time.
We'll quickly tap-out the GPS side of the house with a run I did last night. In this case, I had my phone in my running shorts pocket. Surely, having it in an arm-band might get better GPS reception, but honestly for phones these days I rarely see much of a difference. Along on this run I had a Garmin Fenix 6 Pro, a Casio HBD-1000 watch, and a Garmin Forerunner 935. Unfortunately, the Casio still doesn't allow data to properly export, so we'll skip that one. In any case, here's the data set: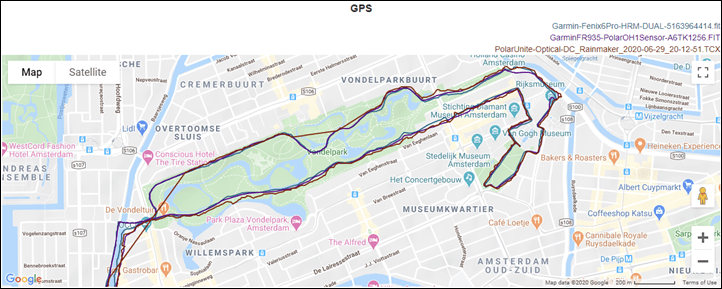 The dark maroon is the Polar Unite, via my iPhone 11 Pro. At a high level it looks fine…until it's not. Then it entirely loses the plot. We'll start with the bottom half first, the outbound: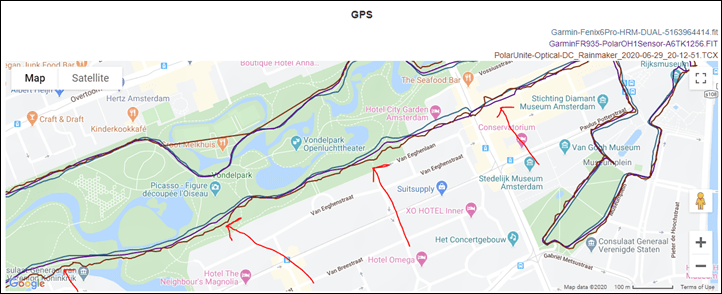 As you can see, it's definitely wobbly. Of course, that could be my phone in my pocket. Likely is. But that's the reality of relying on a phone-based GPS.
On the flip-side, it handles far better going through (under) the massive Rijksmuseum. The FR935 struggled here. The Fenix 6 Pro was fine.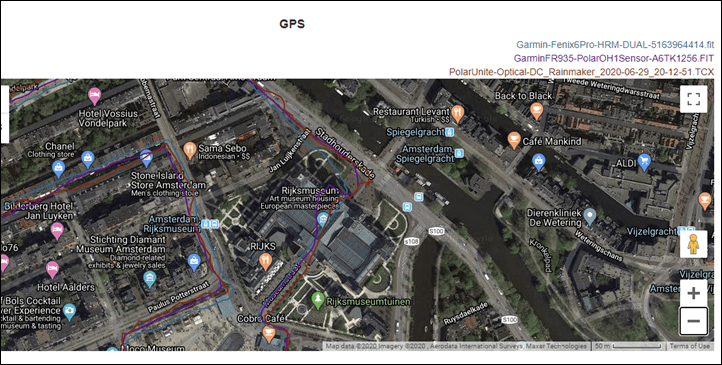 But on the way back, things started to fall apart. Check out these two sections. It appears to entirely drop GPS connectivity. And unlike what Fitbit now does, which is backfill missing GPS data from the phone if the Bluetooth connection drops, Polar doesn't.  So, you get these straight lines connecting the dots. And unfortunately for Polar, in these two exact situations I created giant arcs here, so basically – it missed a huge chunk of track.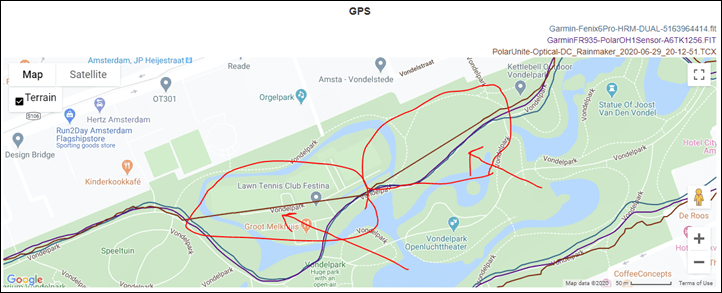 And then while it gained it back for a few hundred meters, it lost the connection again apparently and cut off another giant chunk of my run: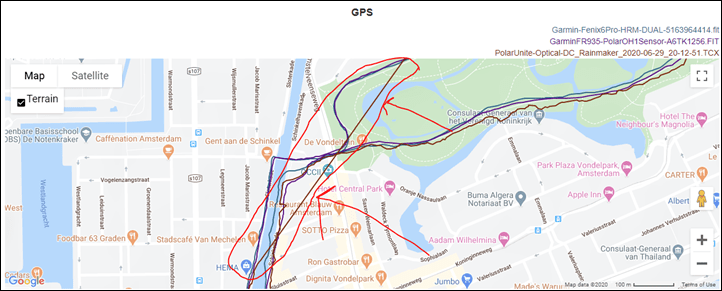 At no point during this timeframe did the watch tell me it lost connection. And in fact, the phone wasn't even in my pocket at this point – it was in my other hand – super close-by ready to take any photos. Note that didn't cause any issues elsewhere.
Look, I get that phone Bluetooth connectivity is hard to deal with, and often the blame lies on the phone and not the connected watch. But there's no reason Polar couldn't have backfilled that GPS track data. None.
Meanwhile, on total distance accuracy, it's somewhat close – that's because it keeps using the accelerometer here to cover the gapped distance. – So it's only short by 70 meters, when it should in reality by far shorter.

Next, let's look at the heart rate track from that run:

At a high level it's pretty darn close. That's compared to a Garmin HRM-DUAL and a Polar OH1 Plus. You can see the Unite starts off a bit higher than the Garmin HRM-DUAL and Polar OH1 Plus. I'm more inclined to believe the OH1 & HRM-DUAL than the Unite on this initial minute. Only because I was literally standing around waiting forever for the darn Casio's GPS to connect, so my HR would have been 70's to 80's – not 110bpm.
But after that point it's pretty close. There are though these random spikes/drops – which look a heck of a lot like the spikes/drops I saw with the Grit X two months ago. That shares the same new optical HR sensor as the Polar Unite.

This wasn't a hard workout, so it's hard to say until I do an interval workout how well it'll track that. Given it's the same sensor as the Grit X, I'd expect the results mostly the same there.
Next, looking at today's mostly easy indoor trainer workout – there's not a lot to see. Except the spikes again on the Polar Unite. All the other sensors (Fenix 6 Pro, Mio Pod, and Wahoo Fitness TICKR X) – were all virtually identical. Except the Unite spikes.

So, overall within the bounds of preliminary testing, I'd say that the GPS dependency aspects needs to be re-thought a bit, primarily when the connection is lost.
On the heart rate accuracy – it's fine, save the minor spikes that I also saw on the Polar Grit X. Given we're 2.5 months since the release of that watch, I'm wondering if it's a more systematic thing in this sensor than not. I'd have somewhat expected by now it'd be solved. However, I suspect most people won't notice them. It's only having so many other reliable sensors (including ones from Polar) that you see them.
(Note: All of the charts in these accuracy portions were created using the DCR Analyzer tool.  It allows you to compare power meters/trainers, heart rate, cadence, speed/pace, GPS tracks and plenty more. You can use it as well for your own gadget comparisons, more details here.)
Product & Pricing Comparison:
I've added the Polar Unite into the product comparison tool, which allows you to compare it against any watches I've reviewed to date.
There's a myriad of watches I could have added to compare this too. But I think the most obvious ones are the Polar Ignite (with GPS), the Apple Watch Series 3 (with GPS), and the Samsung Galaxy Active 2 (with GPS). But there's also plenty of Garmin options like the Forerunner 45 ($199 with GPS, $149 on sale), and so on.
You can easily mix and match against any other products within the database here, by creating your own product comparison tables.  Note that in some cases nuanced features (like having ANS data), don't really fit well into product comparison tools designed to host hundreds of watches (when only a single watch has it).
Function/Feature

Polar Unite
Polar Ignite GPS
Apple Watch Series 3
Samsung Galaxy Active
Copyright DC Rainmaker - Updated October 11th, 2022 @ 10:40 am New Window
Price
$149
$229
$169-$179
$199
Product Announcement Date
June 30th, 2020
June 26th, 2019
Sept 12th, 2017
Feb 20th, 2019
Actual Availability/Shipping Date
July 2020
July 2019
Sept 22nd, 2017
Mar 9th, 2019
GPS Recording Functionality
Only via Phone Connected GPS
Yes
Yes
Yes
Data Transfer
USB, BLUETOOTH SMART
USB, BLUETOOTH SMART
Bluetooth Smart
Bluetooth Smart
Waterproofing
Yes - 30m
Yes - 30m
50m
50 meters
Battery Life (GPS)
Up to 50hrs with phone GPS (4 days standby)
Up to 17 hours
5hrs GPS on time (24-48hrs standby)
Undeclared (claims 45hrs non-GPS)
Recording Interval
1s
1s
Varies
1-second for GPS, 1-minute for HR
Alerts
Vibrate/Visual
Vibrate/Visual
Vibration/Audio/Visual
Vibrate/Visual
Backlight Greatness
Great
Great
Great
Great
Ability to download custom apps to unit/device
No
No
Yes
Yes
Acts as daily activity monitor (steps, etc...)
Yes
Yes
Yes
YEs

Music

Polar Unite
Polar Ignite GPS
Apple Watch Series 3
Samsung Galaxy Active
Can control phone music
No
No
Yes
Yes
Has music storage and playback
No
No
Yes
Yes
Streaming Services
No
No
Apple Music, Spotify (but not offline yet)
Spotify

Payments

Polar Unite
Polar Ignite GPS
Apple Watch Series 3
Samsung Galaxy Active
Contactless-NFC Payments
No
No
Yes
Yes (but only with Samsung phone)

Connectivity

Polar Unite
Polar Ignite GPS
Apple Watch Series 3
Samsung Galaxy Active
Bluetooth Smart to Phone Uploading
Yes
Yes
Yes
Yes
Phone Notifications to unit (i.e. texts/calls/etc...)
Yes
Yes
Yes
Yes
Live Tracking (streaming location to website)
No
No
With 3rd party apps
No
Group tracking
No
No
No
No
Emergency/SOS Message Notification (from watch to contacts)
No
No
Yes
No
Built-in cellular chip (no phone required)
No
No
Yes (with cellular version)
No

Cycling

Polar Unite
Polar Ignite GPS
Apple Watch Series 3
Samsung Galaxy Active
Designed for cycling
Yes
Yes
Yes
Yes
Power Meter Capable
No
No
No
No
Speed/Cadence Sensor Capable
No
No
No
No
Strava segments live on device
No
No
No
No
Crash detection
No
No
No
No

Running

Polar Unite
Polar Ignite GPS
Apple Watch Series 3
Samsung Galaxy Active
Designed for running
Yes
Yes
Yes
Yes
Footpod Capable (For treadmills)
No (but has accelerometer for indoor running)
No
With 3rd party apps
With 3rd party apps
Running Dynamics (vertical oscillation, ground contact time, etc...)
No
No
No
No
Running Power
No
No
No
VO2Max Estimation
Yes
Yes
Yes
No
Race Predictor
No
No
No
No
Recovery Advisor
No
No
No
No
Run/Walk Mode
No
No
With 3rd party apps
With 3rd party apps

Swimming

Polar Unite
Polar Ignite GPS
Apple Watch Series 3
Samsung Galaxy Active
Designed for swimming
Sorta (waterproof but HR only tracking)
Yes
Yes
Yes
Openwater swimming mode
No
Yes
YEs
Yes
Lap/Indoor Distance Tracking
No
Yes
Yes
Yes
Record HR underwater
Yes
Yes
Yes
Yes
Openwater Metrics (Stroke/etc.)
No
Yes
Basic stroke type only
No
Indoor Metrics (Stroke/etc.)
No
Yes
Basic stroke type only
Yes
Indoor Drill Mode
No
No
No
No
Indoor auto-pause feature
No
Yes
Yes
No
Change pool size
No
Yes
Yes
Yes
Indoor Min/Max Pool Lengths
N/A
20M/Y to 250 m/y
1y/m to 1,500y/m+
Ability to customize data fields
Yes
Yes
Very limited
Captures per length data - indoors
No
Yes
Yes
Yes
Indoor Alerts
N/A
N/A
Yes (goals)
No

Triathlon

Polar Unite
Polar Ignite GPS
Apple Watch Series 3
Samsung Galaxy Active
Designed for triathlon
No
No
Not really
No
Multisport mode
No
No
Yes
Sorta (can combine sports manually)

Workouts

Polar Unite
Polar Ignite GPS
Apple Watch Series 3
Samsung Galaxy Active
Create/Follow custom workouts
Yes
Yes
With 3rd party apps
No
On-unit interval Feature
Sorta (offers structured workouts)
Sorta (offers structured workouts)
With 3rd party apps
No
Training Calendar Functionality
Sorta (offers daily workouts)
Sorta (offers daily workouts
With 3rd party apps
No

Functions

Polar Unite
Polar Ignite GPS
Apple Watch Series 3
Samsung Galaxy Active
Auto Start/Stop
Yes
Yes
Virtual Partner Feature
No (but can give out of zone information)
No (but can give out of zone information)
No
Pace guidance only
Virtual Racer Feature
No
No
No
No
Records PR's - Personal Records (diff than history)
No
No
No
No
Tidal Tables (Tide Information)
No
No
No
No
Weather Display (live data)
No
No
Yes
Yes

Navigate

Polar Unite
Polar Ignite GPS
Apple Watch Series 3
Samsung Galaxy Active
Follow GPS Track (Courses/Waypoints)
No
No
With 3rd party apps
No
Markers/Waypoint Direction
No
No
With 3rd party apps
No
Routable/Visual Maps (like car GPS)
No
No
With 3rd party apps
No
Back to start
No
No
With 3rd party apps
No
Impromptu Round Trip Route Creation
No
No
With 3rd party apps
No
Download courses/routes from phone to unit
No
No
With 3rd party apps
3rd party apps

Sensors

Polar Unite
Polar Ignite GPS
Apple Watch Series 3
Samsung Galaxy Active
Altimeter Type
None
GPS
Barometric
Barometric
Optical Heart Rate Sensor internally
Yes
Yes
Yes
Yes
SpO2 (aka Pulse Oximetry)
No
No
No
No
Heart Rate Strap Compatible
Yes
Yes
Yes
3rd Party Apps only
ANT+ Heart Rate Strap Capable
No
No
No
No
ANT+ Speed/Cadence Capable
No
No
no
No
ANT+ Footpod Capable
No
No
No
No
ANT+ Power Meter Capable
No
No
No
no
ANT+ Lighting Control
No
No
No
no
ANT+ Bike Radar Integration
No
No
No
No
ANT+ Trainer Control (FE-C)
No
No
No
No
ANT+ Remote Control
No
No
No
No
ANT+ eBike Compatibility
No
No
No
No
ANT+ Gear Shifting (i.e. SRAM ETAP)
No
No
No
nO
Shimano Di2 Shifting
No
No
No
No
Bluetooth Smart HR Strap Capable
Yes
Yes
Yes
3rd party apps only
Bluetooth Smart Speed/Cadence Capable
No
No
No
No
Bluetooth Smart Footpod Capable
No
No
No
3rd party apps only
Bluetooth Smart Power Meter Capable
No
No
No
No
Temp Recording (internal sensor)
No
No
No
Yes
Temp Recording (external sensor)
No
No
No
No

Software

Polar Unite
Polar Ignite GPS
Apple Watch Series 3
Samsung Galaxy Active
PC Application
Polar Flowsync - Windows/Mac
Polar Flowsync - Windows/Mac
None
No
Web Application
Polar Flow
Polar Flow
None
No
Phone App
iOS/Android
iOS/Android
iOS only
iOS/Android (iOS is limited though)
Ability to Export Settings
No
No
No
No

Purchase

Polar Unite
Polar Ignite GPS
Apple Watch Series 3
Samsung Galaxy Active
Amazon
Link
Link
Link
Link
REI
Link
Wiggle
Link
Link

DCRainmaker

Polar Unite
Polar Ignite GPS
Apple Watch Series 3
Samsung Galaxy Active
Review Link
Link
Link
Link
Link
Remember, you can mix and match and create your own product comparison tables here, for watches not seen above.
Summary: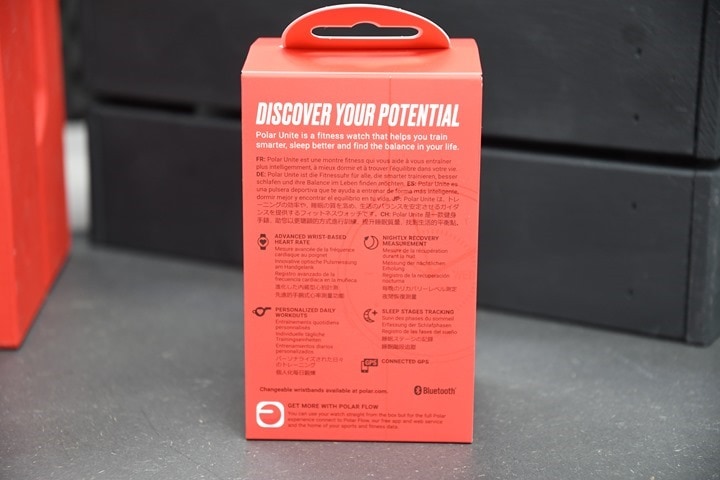 The Polar Unite watch is probably a bit of a gamble for Polar. A low cost gamble though in that they essentially just took a Polar Ignite watch, yanked the GPS chip out of it, and swapped the optical HR sensor for the Grit X one. And a year or two ago – this would have been a sure-fire winner of a watch in terms of features to price. After all, I don't see any substantial early problems (save some of the phone connection issues, which could just be a Day 1 thing). It's loaded with fitness/sports features that easily eclipse that of the Apple Watch, and are on par or exceeding Garmin's offerings in this price ballpark. And they easily beat out Fitbit's sports offerings at just about any price range.
The challenge I think Polar really has though is that once you start talking sports (which is what Polar is really about), then it quickly gets to whether or not you want GPS in the unit. Depending on a phone is fine, but depending on the connection to the phone is an entirely different matter (as I've already seen). And thus, I'm not certain there's enough demand at this price point for something that's this sporty but not sporty enough. Meaning, I suspect most buyers at this price point would choose an Apple Watch Series 3 for $20 more. That includes GPS and it includes music. This has neither. Plus, that'll get sleep tracking this September. Or, they might choose the Fitbit Versa 2 which also has music and contactless payments.
I know some companies think I'm always pressing for lower prices – and that's true. But it's also a very simple game consumers play. As good as this watch is in terms of features and functions, I simply think it's going to be a hard sell for all but the most particular of use cases and individuals. If Polar had said they were coming out at $129, and dropping the price of GPS-equipped Ignite to $179 – then I'd be like: Boom – nailed it.
Still, if you're looking for a sports-focused watch which is all about fitness, tracking, and doesn't require you to go out and buy and download a bunch of apps, then this certainly seems to fit the initial impressions bill.

Found This Post Useful? Support The Site!
Hopefully you found this review useful. At the end of the day, I'm an athlete just like you looking for the most detail possible on a new purchase – so my review is written from the standpoint of how I used the device. The reviews generally take a lot of hours to put together, so it's a fair bit of work (and labor of love). As you probably noticed by looking below, I also take time to answer all the questions posted in the comments – and there's quite a bit of detail in there as well.
If you're shopping for the Polar Unite or any other accessory items, please consider using the affiliate links below! As an Amazon Associate I earn from qualifying purchases. It doesn't cost you anything extra, but your purchases help support this website a lot. Even more, if you shop with TPC (The Pro's Closet), you'll save $40 on purchases over $200 with coupon code DCRAIN40! The Pro's Closet has been a long-time partner of the site here - including sponsoring videos like my cargo bike race, as well as just being an awesome Colorado-based company full of good humans. Check them out with the links below and the DCRAIN40 coupon!
And finally, here's a handy list of accessories that work well with this unit (and some that I showed in the review). Given the unit pairs with just about any Bluetooth Smart sport sensors, you can use just about anything though.
And of course – you can always sign-up to be a DCR Supporter! That gets you an ad-free DCR, access to the DCR Quarantine Corner video series packed with behind the scenes tidbits...and it also makes you awesome. And being awesome is what it's all about!
Thanks for reading! And as always, feel free to post comments or questions in the comments section below, I'll be happy to try and answer them as quickly as possible. And lastly, if you felt this review was useful – I always appreciate feedback in the comments below. Thanks!