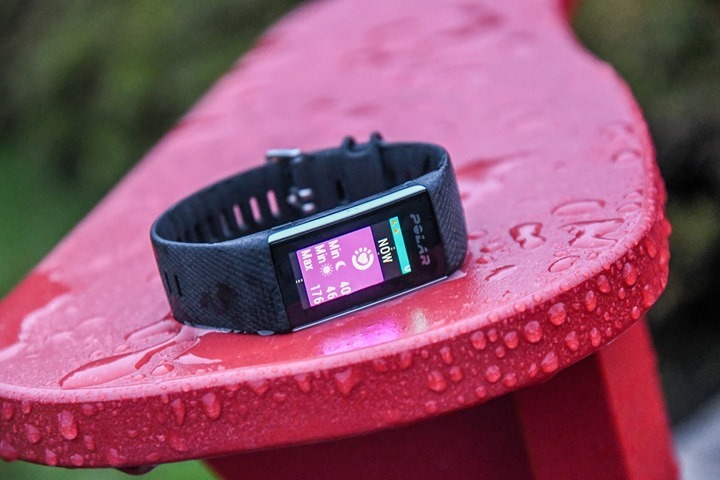 Just over a week ago Polar announced their latest wearable – the Polar A370.  This new unit took the hardware of the Polar A360 that was released about 18 months ago and plopped in a few new features like continuous heart rate (the first Polar unit to offer such) and rebroadcasting over standard Bluetooth Smart HR protocols (also the first Polar unit to do so).  Not to mention more advanced sleep metrics.  Well, and that's actually about it.  But those features are definitely notable, and ones I'll dive into in more detail in this review.
While the unit just starts shipping this week, I've spent time with it and have gotten in a pile of workouts and a bunch of sleep and 24×7 data – including on the final firmware version.  Polar sent over a loaner A370 for me to test, and as always I'll send it back to them once I wrap up this review.  If you found the review useful, you can hit up the links at the bottom of the post to help support the site.
In case you're looking for the sub-15 minute version of this entire review, here's a video I whipped up that walks through all the features and how everything works from A to Z:
With that – let's dive into the review!
What's in the box:
Sometimes I get the box, and sometimes when things come in at the last moment, I'm box-less.  Which, would be the case with the A370.  I've got the box contents, but no actual box.  No worries, I'll add one in down the road.  But in the meantime, here's what's actually in the box that you care about: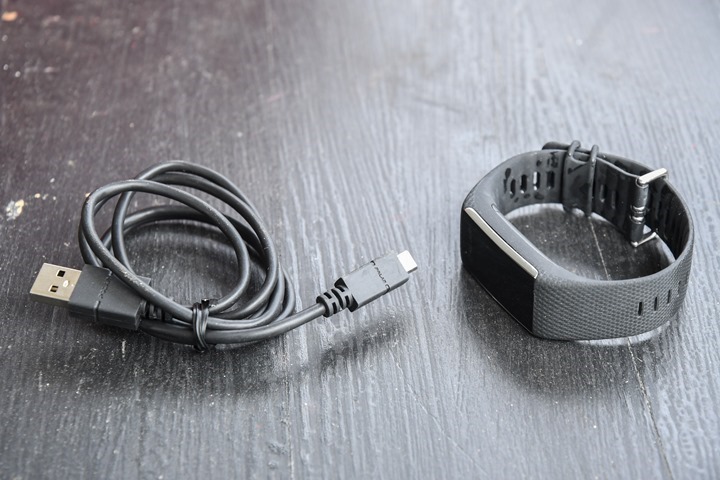 Yes, just two things that matter.  First up is that nifty micro-USB charging cable: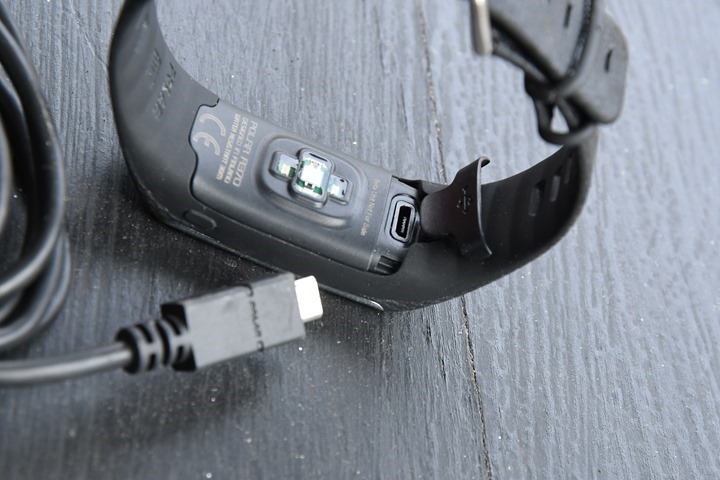 Same cable as any other micro-USB cable.  Nothing fancy there.
Then you've got the Polar A370 itself.  As you can probably tell, it's identical from the exterior to the Polar A360 that was released last winter.  Like that one, you can swap out the pod and place it into different colored bands that Polar sells.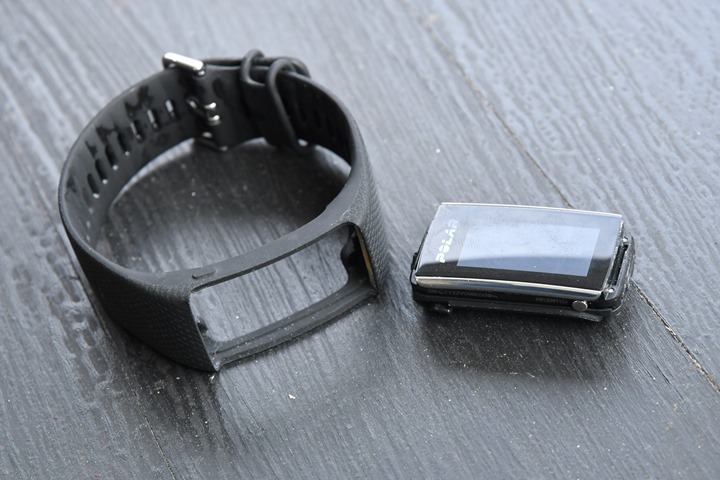 Of course, in the official fancy box you'll also get a quick start guide of sorts and some legal paperwork begging you not to get yourself killed doing some sort of athletic activity.  But for everything else, this post should cover you.
The Basics: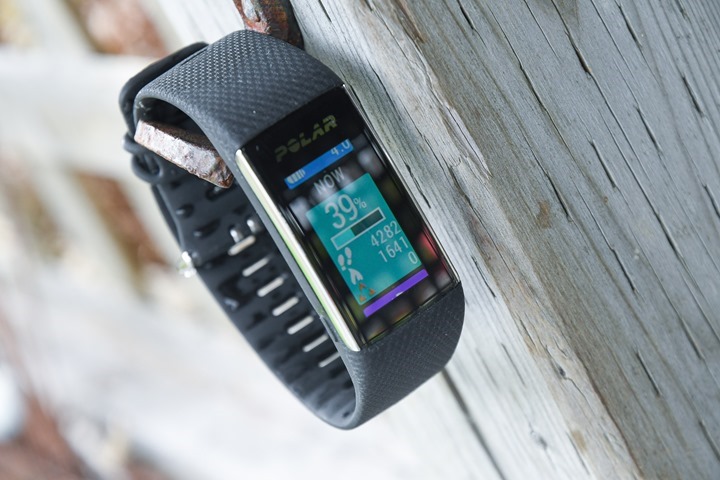 The Polar A370 is a pretty easy and straightforward device to use.  There aren't really that many options to configure (in a good way), so you're not likely to get lost in the menus.
The unit's display is turned off unless you raise your wrist, or tap the button on the left side.  From there you'll swipe and tap the screen to navigate things.  The default screen is the clock, which shows the current time as well as your progress towards your step goal (it'll change the text color like filling up a bucket of water).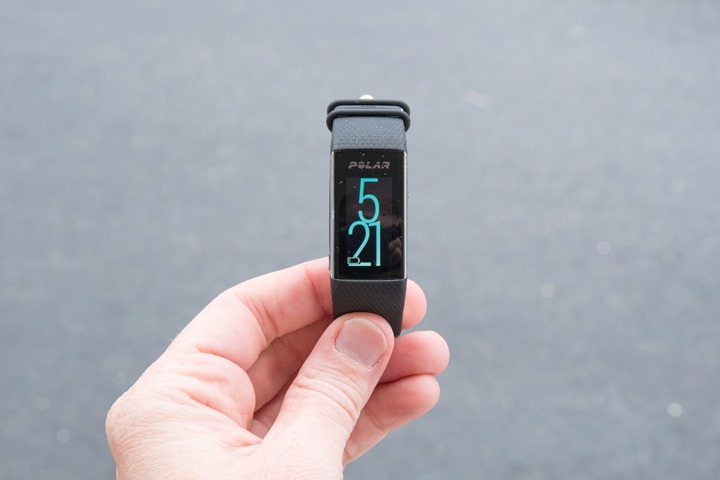 You can also change this to other clock/watch faces within a small gallery of ones Polar has provided.
Next, if you swipe down, you'll get to the main 'dashboard' of sorts.  These include 'My Day', Training, Favorites, My Heart Rate, and Settings.
Within the My Day function you'll see a timeline of your day, starting with your sleep from the night before.  This will show you what time you woke up, as well as the total sleep for the night.  Additionally, it'll display how much of that sleep time you actually spent sleeping (versus being awake/interrupted), as well as a sleep quality score.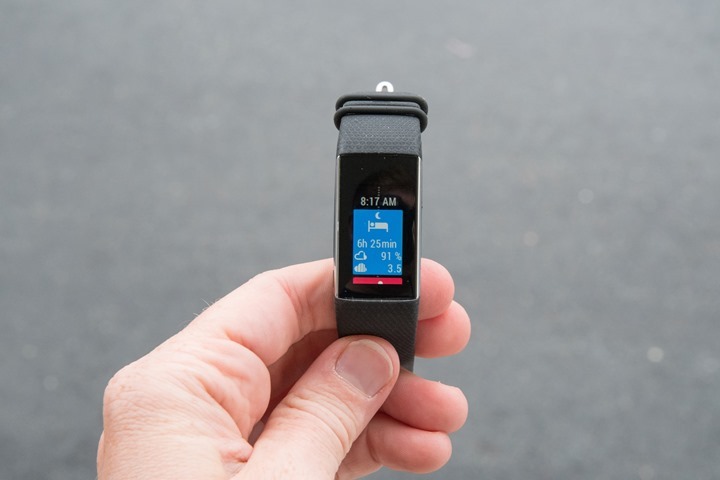 You can further tap on this to see more stats about your night in bed, though it doesn't include any romantic activity stats.
One area to discuss here that is of note is Polar's new sleep tracking feature. This is something they're rolling out starting on the A370, but will eventually expand to other new wearables of theirs.  This offers far more detail than past Polar devices, including expanding out details on your mobile app.
In general I found it did pretty well in terms of sleep tracking the times I went to sleep, as well as the quality scores it'd give it.  I did see one night though where it didn't capture that I went back to sleep for 2-3 hours after getting back back to sleep at 5:30AM.  But other nights it handled that interruption just fine.  So that seemed to be a one-off.
The sleep tracking is pretty good, and somehow feels a bit more complete than others.  I think it may be the more clear delineation between "bed time" and actual slept time.  Some other companies do this as well, but it's often not quite as clear.  In this case they just do a better job making that separation more obvious.
Next, on the My Day timeline, you'd get any workouts you've completed to date.  Each one will be listed by their time in the day.  It'll give you top-line stats, but you can tap that as well to get the full summary of that workout.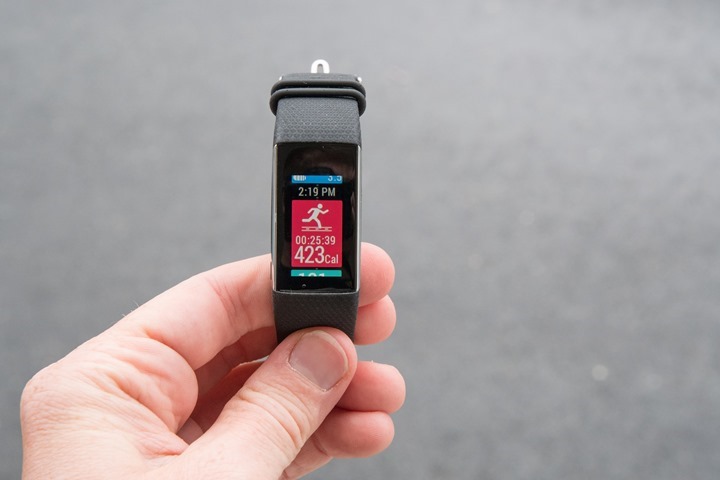 Then there are the current step/activity totals for the day.  This includes total steps taken, progress towards goal, calories burned, and any inactivity stamps.  These inactivity stamps are for when you're excessively lazy.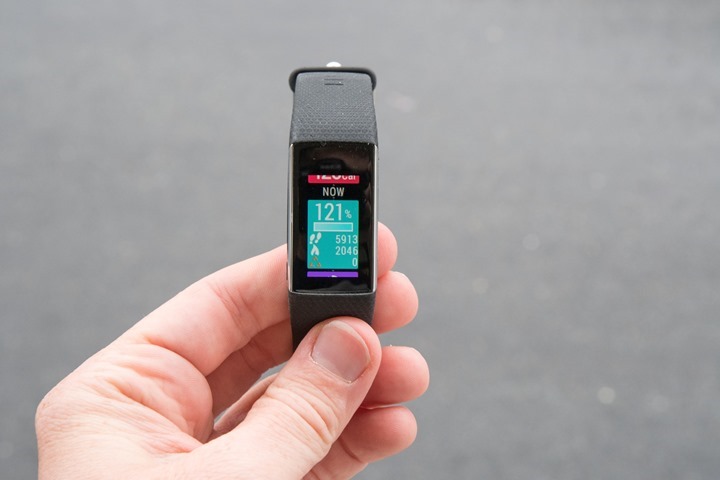 Finally, on the My Day journey, you've got continuous heart rate monitor stats.  This will show your resting heart rate for *both* night and day heart rate minimums.  This is great, as it completely sidesteps the endlessly silly arguments that some companies and organizations make about what a true 'resting heart rate' is.  Does it include sleeping or not?  Well, Polar's now giving you both numbers – so you can decide which you prefer to track.  Nobody else does this.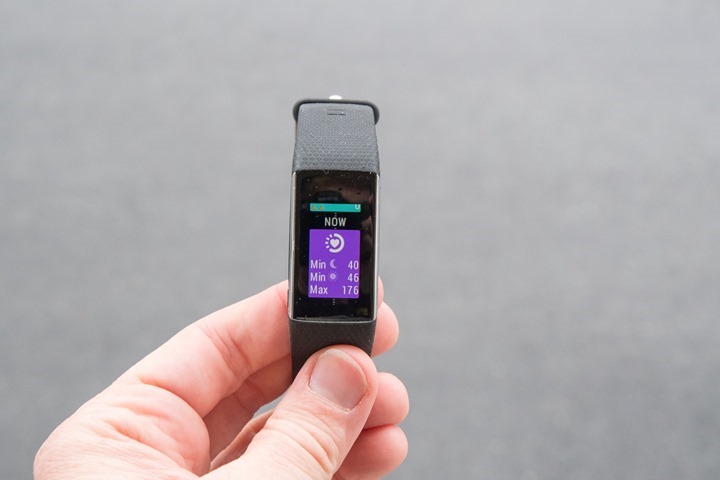 You'll also see your maximum HR value for the day, typically within a workout.
This is a good time to note what's obvious at this point: The Polar A370 is Polar's first product to include continuous heart rate stats.  Later this year in Q3/2017, the also recently announced M430 watch will also get the same functionality.  With the A370, it samples your heart rate every 5 minutes.  It'll increase that sampling rate if it believes you're doing some sort of sporting activity.  During an actual workout though (where you press start), it'll up that rate to once per second.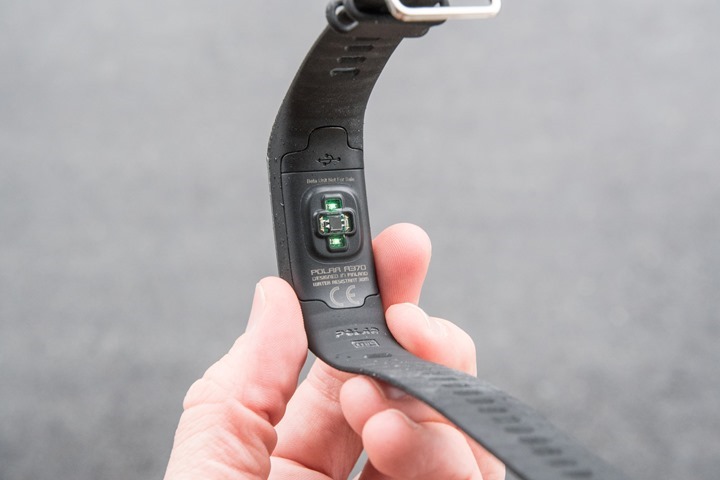 All of this data is then displayed within the smartphone app, allowing you to easily see your RHR values as well as max values by day or week or month.  You can simply slide your finger across the chart to check any points in time.
It all works really well, and I like that I can slide the graphs to the left and right and have it be a near continuous timeline (see my video up top for how that works).  Note that when you reach the critical low-battery warning, the 24×7 HR will turn off automatically to save battery and try to prolong life.  Also, when charging the sensor is turned off as well (since it'd be impossible to wear the unit while charging).  You can grab a HR reading at any time you'd like by launching the 'My Heart Rate' function from the A370's dashboard:
Returning back to the A370's dashboard, we've got the option to start a workout, within 'Training'.  But I'll come back to that in the next section: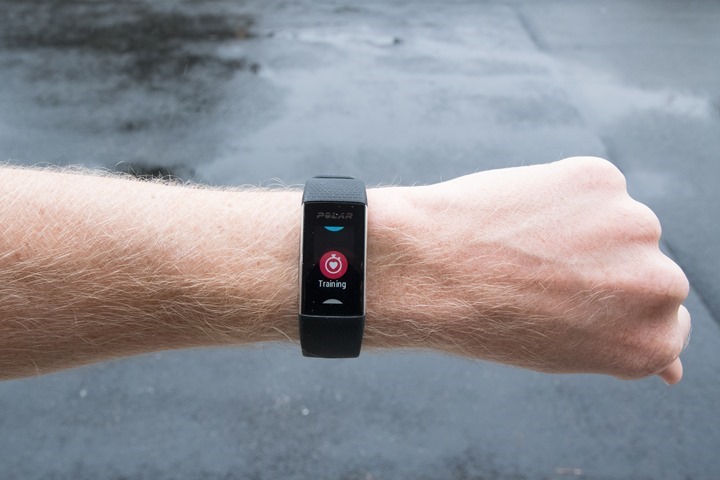 Similarly, there's also the 'Favorites' option, which allows you to load up structured workouts you created online.  That too I'll cover in the next section in more detail.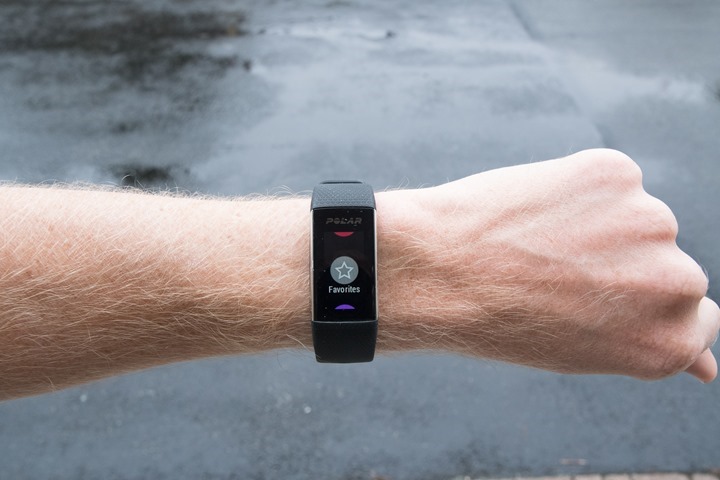 Last but not least there's Settings.  It's within here that you can enable/disable the continuous HR, turn on airplane mode, do not disturb mode (it automatically turns on each night per your settings), heart rate re-broadcasting (I cover that in the Workout section next), Bluetooth pairing, and general system information (like firmware settings).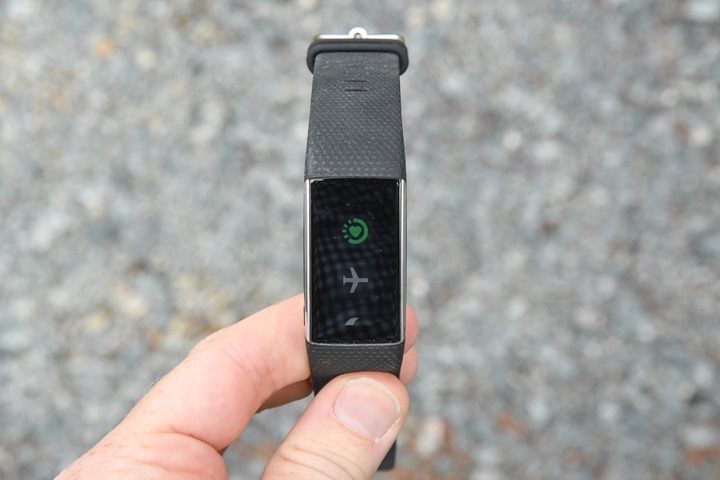 Before we go onto workouts modes, note that like most activity trackers, it'll sync your steps and daily activity to your mobile phone.  In this case to the Polar Flow mobile app on iOS or Android.  It's here that you can dive into status around steps and distance walked.
Note though that the Polar A370 does not count flights of stairs, which is a bit of a gap compared to the rest of the market (most of which at this price point do).  Though for many people, that may not matter too much.
Finally – the unit does have smartphone notifications.  Unlike most of Fitbit's units, this will show any app's notifications that you want.  From Twitter to texts to Snapchat.  Whatever floats your boat per your phone's notification control center.
The only thing I dislike about the notifications on the A370 is the little icon that pops up with each one.  Aside from being somewhat hard to read because of how it splits the notifications, the little red 'X' icon drives me crazy.  Mentally I associate a red X with something bad.  Like 'Your band has failed life, it's now restarting'.  Not just 'go away'.  I would think a simple black X wouldn't be so alarming.  But that's just a nitpicking thing (albeit something that happens a gazillion times a day).
On unrelated functions, note that you can create a single alarm for the device, though it's configured on your Polar Flow phone app, and then pushed to the A370.  This is a vibrating alert, as the A370 has no audible features.
In any case – with all the basics all covered – let's talk workouts and sports.
Workout/Sport Modes: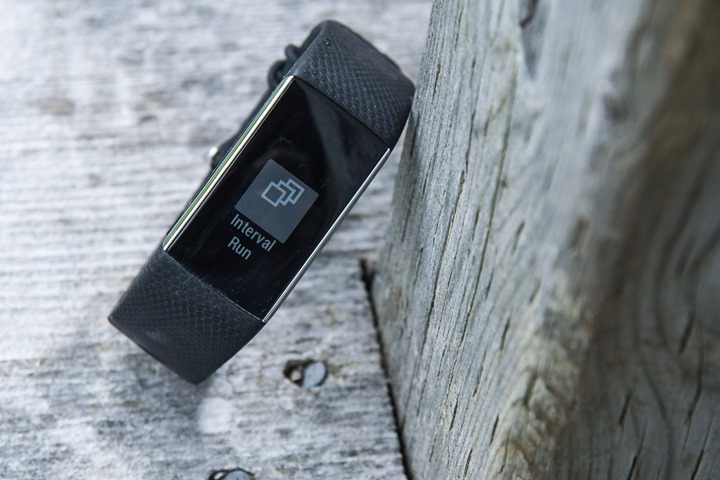 Next, let's talk about the workout functionality.  The A370 offers a gazillion more sport types than any of their competitors do.  The list is pretty large on the unit itself, encompassing just about every sport I can think of.
What's unique about the Polar A370 compared to the A360 (and many competitors) is that it'll use the GPS signal from your phone to provide distance and track information afterwards.  Sure, with activities like walking or running, you can use the accelerometer to get pace or distance information, but when you cross-over to cycling – you'd be out of luck.  Plus, in most cases, GPS will give better accuracy on distance in walking/running activities than wrist-based accelerometer will.
Within each sport profile you add to the device you can control whether or not it will query your phone for GPS signal.  So for things like outdoor running you'd enable that, but not things like treadmill running.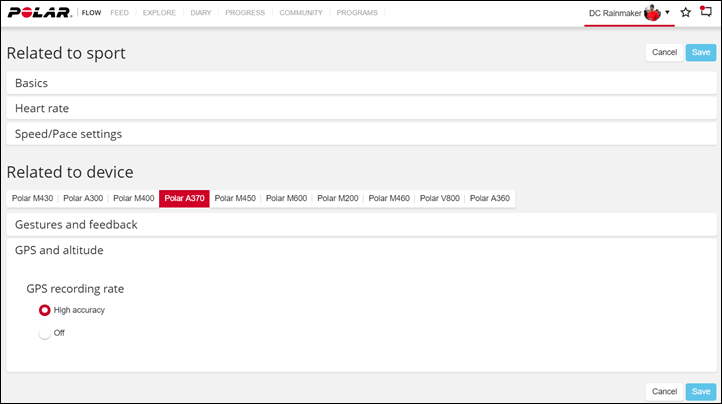 Now as regular Polar folks might note above, you can't actually do a whole lot when it comes to customizing the data fields of your Polar A370.  You get what you get.  About the only thing you can customize in this arena for the A370 is your heart rate zones and whether or not you want vibration feedback.  Burger King this is not.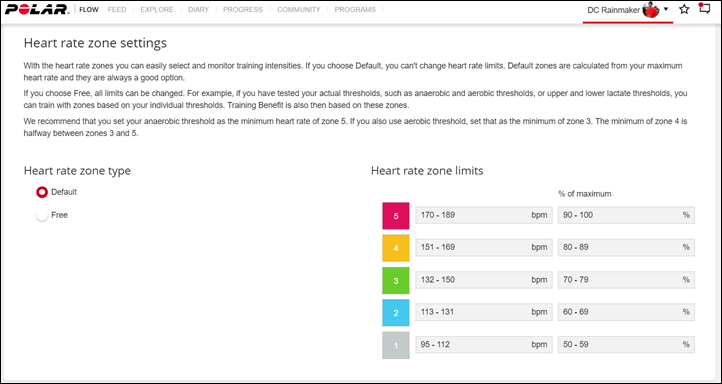 Still, keep in mind that most other companies at this price point for a band-like device don't allow much customization either.  Usually, it's a minimal set of sports you can toggle on/off, and that's about it.  So in a lot of ways Polar is a bit ahead here in terms of sports you can enable.
Speaking of sport features, the Polar A370 can connect to Bluetooth Smart heart rate straps (external ones), if you have one.  It cannot connect to either ANT+ or analog HR straps.  Of course, it also has that optical HR sensor on the back of it – which enables you to get your heart rate directly from the wrist during sport activities.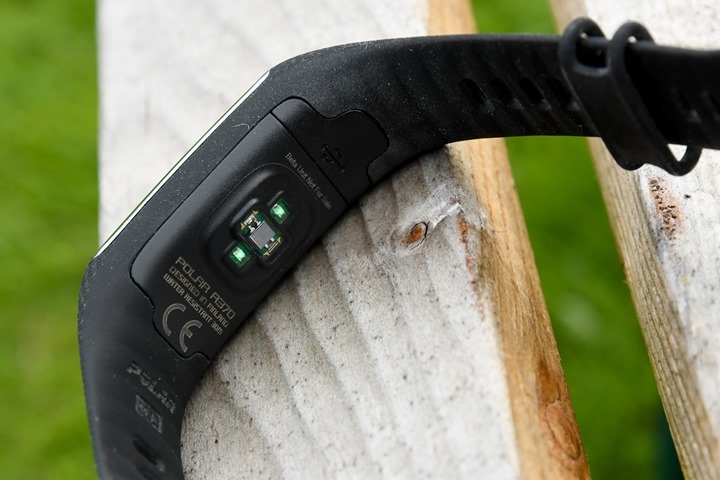 Another unique feature of the A370 over any of Polar's other wearables is the ability to broadcast that wrist HR to other apps/devices.  Now you may be saying "Wait, Polar already had that on their V800?".  Nope, they had the ability to relay your HR strap data to other Polar devices.  Meaning if your Polar V800 connected to a Bluetooth Smart strap, it could then relay that onto your Polar bike computer or Polar group/class system.  But the V800 didn't have optical HR, and none of Polar's other optical-enabled units actually broadcast the HR from your wrist.
Now with the A370 the unit broadcasts your wrist HR as a standard Bluetooth Smart signal.  For example, here it is within the Wahoo Fitness app, seen by the app using standard Bluetooth Smart.
To enable this, you'll dive into the settings and select the HR rebroadcast icon, which then confirms with you that's what you want to do:
It'll then start broadcasting that signal and show you the status of that:
Note that this isn't compatible with any given sport mode though.  So it's one or the other.  Thus that's kinda a bummer for those hoping to perhaps use this to broadcast to something like the Polar M460 or V650 bike computers while at the same time recording your workout on the A370.  On the bright side – Polar does correctly recombine all the data from these devices back to your A370.
One last item to note before we get too far into things is that the Polar A370 allows you to execute custom structured workouts.  You can create these workouts on Polar Flow ahead of time, with things like heart rate targets: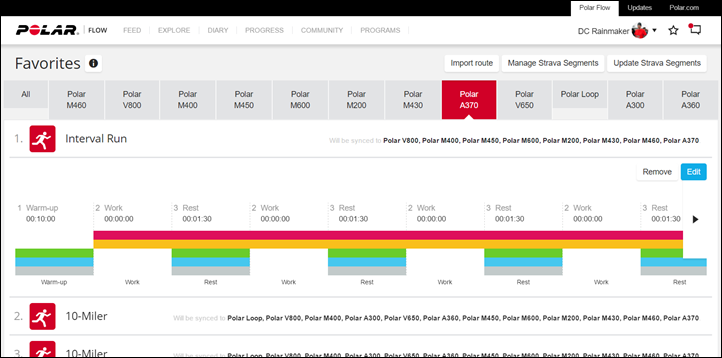 Then, on the A370 itself, you'll tap 'Favorites' and select from any of the custom workouts you've pre-created.  These can then be applied to any sport modes that we'll talk about in two seconds.  Note that no other activity tracker band on the market from any major manufacturer has this functionality (I show this a bit in the video up above).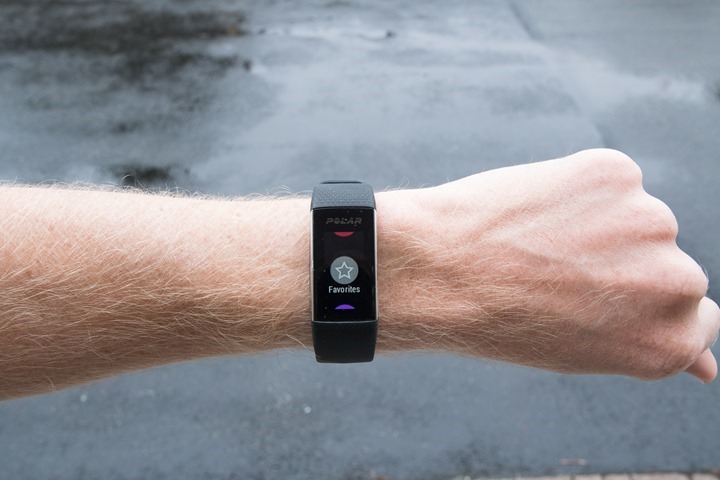 With all that background out of the way, let's talk details on using it in a workout.  To do so, you'll scroll down to the 'Training' icon on the watch.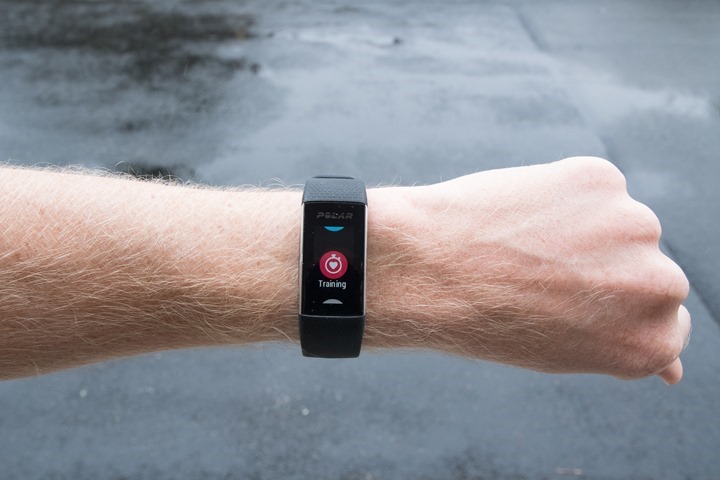 This will then present all of the sport modes you've added to the unit.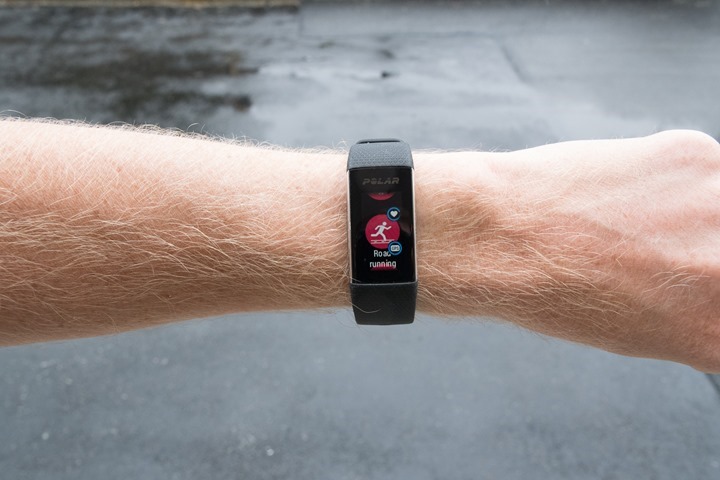 You'll see above that it'll begin to find your heart rate automatically, and usually locks onto that in 3-10 seconds.  At the same time, if an outdoors workout, it'll use Bluetooth Smart to connect to your phone for GPS signal.  Once solid blue, it'll be ready to roll.  Since your phone is usually able to provide GPS quickly, this often happens in just a second or two.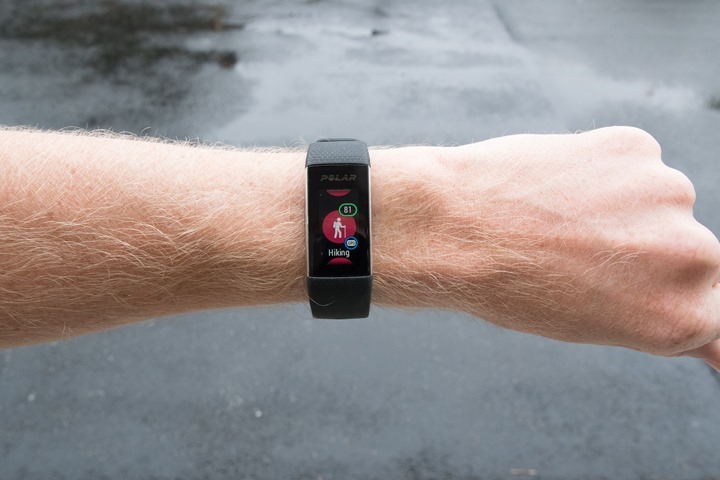 I've found if it takes any longer than 5-7 seconds, then something is up with the Bluetooth Smart connection to my phone.  My iPhone's communications chip is wonky though and occasionally gives up on life until I reset everything – so this is more of a me issue than a general one.
In any event, once ready go ahead and tap the icon to start the workout, which begins the counter: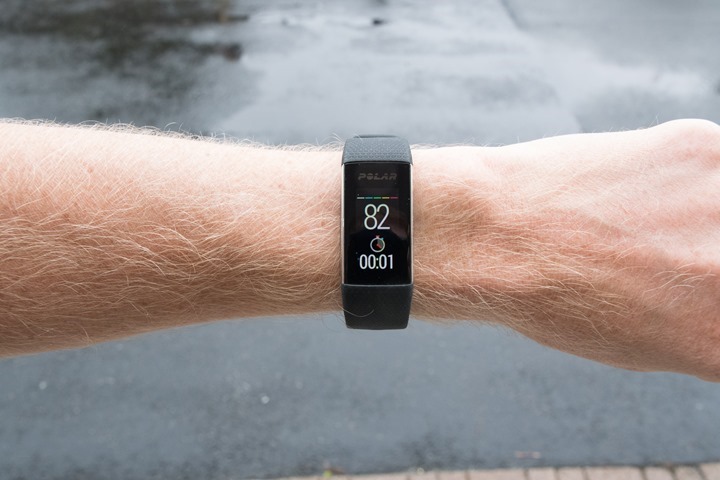 At this point, you'll get a pile of data pages you can scroll through by swiping up and down.  Here's a small gallery while out during workouts:
I'm happy to report I haven't had any issues with either gloves or rain on the screen during workouts.  Thank you to the miserable weather in Newfoundland for allowing me to test this during the summer.  I will say that using gloves for getting to things like settings and such is a bit trickier since the icons are kinda small.  But swiping during workouts is easy.
Next note that the display is turned off at all times unless you either press the button or raise your wrist.  This is similar to many other wearables with higher-quality displays (that in turn burn more battery).  I found that the wrist-raise detection is OK, but not great.  In general it works good during most workouts, but sometimes you need to slightly lower and then re-raise your wrist while running, to get it to trigger.  When it does trigger, there's still about an extra second delay.  Some might find this annoying, I found it 'annoying but not horribly annoying'.  If that makes sense.  In general the best wrist detection I see out there is on the Apple Watch (either generation), but of course that's a heck of a lot more expensive.
(Update: If you long-press the screen during a workout, it'll actually keep the screen on permanently. Woot.)
Once you're done with your activity you'll go ahead and get summary information you can scroll through on the unit.
Meanwhile, it'll sync that data to the smartphone app – allowing you to get a map of where you went (if a GPS activity), as well as other summary information.
Online you can also get more detail as well as flip over into satellite views too (again, if you brought your phone with you).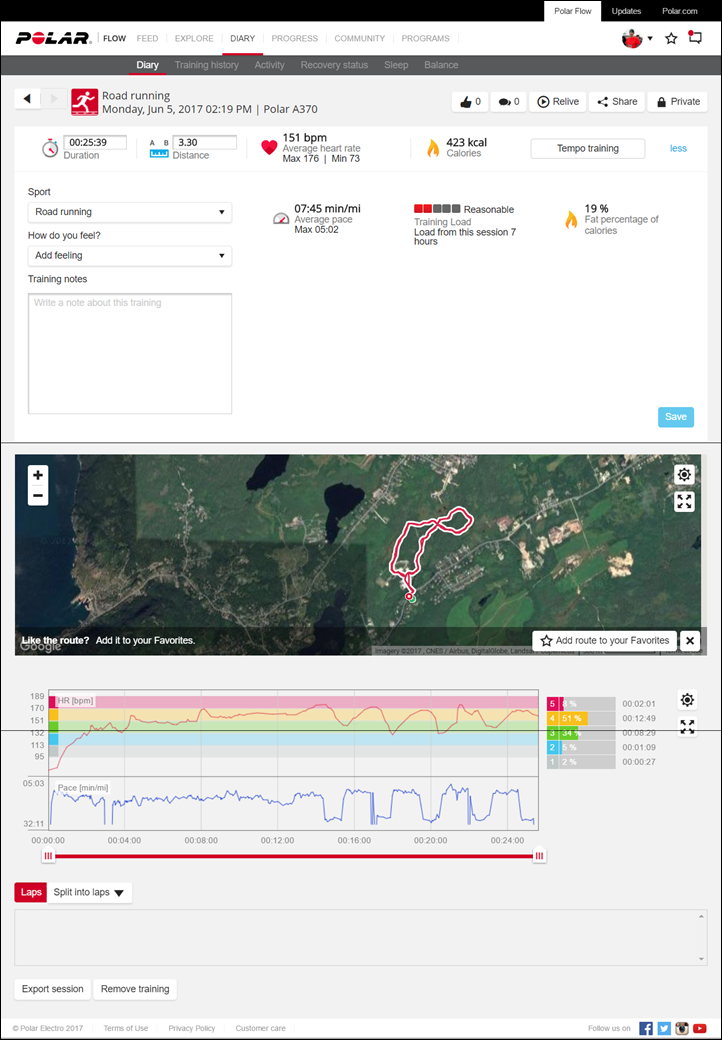 Note that the recording rates for both GPS and HR data is 1-second rate, once again showing some competitors how it's done to properly record such data.
Heart Rate Accuracy:
So what about optical HR accuracy?  Well, there's two pieces to that.  First is the 24×7 HR component.  How well does it record heart rate when not in a workout?  The first thing to understand is how frequent it does it.  In Polar's case, it samples every 5 minutes.  That's not horrible, but it's not great either.  It does strike a reasonable balance though in that it will usually pick up your correct resting heart rate (which is largely the goal of 24×7 HR data capture).
The unit will escalate the recording rate in two scenarios: A manually or automatically triggered workout.  With a manual workout (the entire previous section of this review), it'll record at 1-second rates.  And for an activity that it detects that is higher intensity, it'll do the same to the 24×7 HR graph.  Note that unlike Fitbit, Garmin, Misfit, and others though – it won't actually automatically record a unique activity in your daily chart for these non-manual workouts.
In any event, for 24×7 HR data I'm seeing good correlation with both a HR strap as well as other devices being worn at the same time from Fitbit and Garmin (in different instances).  So I'm pretty happy there.  Even more so, I'm really happy to see accurate and separated results for both sleeping resting HR, and daytime resting HR.  All my RHR numbers are very valid appearing here (oftentimes companies inflate these numbers for reasons they can never really justify).
So let's talk about accuracy of optical HR sensor during sport usage.  In this case, I'm comparing it against both a chest strap and another optical HR watch (concurrently).  One one per wrist.  This allows me to validate against two other heart rate sensors at once to attempt to determine which is correct.  We'll look at a few activities.
The first we'll look at is a relatively steady state (but higher intensity) run I did.  Nothing to long, but it wasn't super warm this day – so it's a good look at how the sensor responds to cooler temperatures (many optical HR sensors at the wrist have trouble in cold temperatures as the blood-flow isn't as easy to read in your wrists as the temperature cools).  In this case I've got a Wahoo TICKR HR strap, a Fenix 5 optical HR sensor, and the Polar A370.  You can look at the actual data here in this link.  Here's the high level overview.

In general – that's actually pretty good.  You see at the start where the TICKR X was having some sort of connectivity issue – and thus the wonky blocks there.  I licked it a few times at about the 60 seconds marker and then it was happy from there on out.  Otherwise – all three sensors agreed almost the entire time.
There is however that one section for about 2 minutes where the A370 dropped over 20bpm lower for no logical reason.  It did it on and off in three brief sets, and then was happy again.

I looked deeper to try and figure out why – but I can't quite come up with anything.  The cadence in that area was very stable (identical to that before/after), and the terrain in that case was just around the backside of a football field.  So again – nothing but perfectly flat grounds.  At least it was brief.
Let's now take a look at a much harder workout to track (and execute), which his an interval workout.  For this day the weather was @#$# miserable.  Just barely above freezing with sideways rain at 30-50KPH.  Such is testing I suppose.  In any case, here's the data sets.  And here's the overview:

So starting off at the beginning both the A370 and TICKR-X are incorrect.  Despite wetting the TICKR-X strap prior to start, it struggles for the first 2-3 minutes.  It's somewhat funny, but a lot of people have forgotten the not so recent past with chest straps and getting accurate data in the first few minutes on colder days.
In any event, the A370 missed the boat too – as it doesn't take me 4-5 minutes to get up to my normal HR's for that intensity.  So the Fenix 5 actually got this one correct.  Then from about the 4-5 minute marker they start to converge.  Some differences here and there, with the A370 a bit more offset than I'd prefer in some sections before the intervals.  Not horribly so, but a bit off.
Then, let's look at these intervals:
You see here that on the first one, all three units nail it together.  Though both optical HR sensors are a bit slow to capture the recovery accurately.  Onto the second one and things are pretty good too.
It's the third and fourth ones where we see the A370 start to lag a bit in terms of catching the interval.  Though these are only 90-second long intervals, so it doesn't have very long to figure it out.  My guess is that in warmer weather it'd probably pick it up more quickly.  But in this case I was wearing a t-shirt in chilly weather with a high wind-chill factor.
Next, we'll take a crack at a bike ride.  Now typically I find most wrist-based optical HR sensors have serious troubles with cycling, at least if there's any variation in effort.  For longer steady-state efforts (as some triathletes might do), many sensors tend to track better.  Here's the data link, which contains data from a Garmin Edge 520 and Polar M460 (paired to a Wahoo TICKR X), then a Fenix 5 (optical HR) on one wrist and the Polar A370 (optical) on the other wrist.

Well that looks like a turd.
The TICKR-X on both the Edge 520 and Polar M460 match (as expected, overlapping each other as a purple/teal line.  But then we've got wildly different opinions on the matter from the Fenix 5 and Polar A370.
They both suck, albeit to different degrees.
In this case I'd say in the beginning that the Fenix 5 was most sucky, and the Polar A370 much closer.  They then traded being less sucky for about 45 minutes, but I'd accept neither of these values.  The last 20 or so minutes they started to all agree though, and generally were pretty close. In some cases the Fenix 5 was closer in those last 20-30 minutes.  But again, I'd accept neither of them as a valid HR record.
Let's take a look at another ride, just for craps and giggles.  This one uses the same set of device (Polar A370/Polar M460/Garmin Fenix5/Edge 520), and here's the data link for those that want to dive into the data sets.

Well, that sorta looks a bit better.
The beginning they start off kinda close, then the Garmin Fenix 5 and Polar A370 differ again briefly, before consolidating again.  Around the 35 minute marker though they actually agree fairly well for a little while.  You'll notice that's a point where my effort was very steady state – and thus it's easier to track.
But as soon as my effort starts to become more variable, so does accuracy.  Towards the end of the ride (as seen two screenshots above), it becomes more variable again, and neither wrist-based sensor does that well until the last 10 minutes or so.  At that point it's uphill and pretty steady – so again…happy times.
So as you can see, for running things are mostly good (which is the trend I see across the industry), however for cycling it's pretty much useless.  Keep in mind that the A370 likely got the slightly shorter end of the stick because my training grounds the last 10 or so days have been in colder Newfoundland – which is known to impact optical HR sensor accuracy.  Sometimes that's just the way the cookie crumbles when it comes to testing.  Still though, as I pointed out in the Fenix 5 review (for comparison) – I wouldn't much use the optical HR sensor in that for cycling either.
Note that I'm not going to compare GPS accuracy in this review.  Why?  Well, GPS accuracy comes down to phone GPS accuracy.  And that's going to differ by models.  So if I were to show you GPS accuracy – it'd really only be relevant on my iPhone 6.  Not your iPhone 6s, or perhaps your Samsung S5.  Or maybe you've got an HTC phone.  All of which may or may not produce similar results.
I will however note that I'm not seeing anything of concern in my GPS tracks (in any drastic way).  I did see a few cases where pacing isn't as smooth as I get from GPS-based watches.  For example on my run today I raised my wrist at one point to see a pace of 0:00/mile, and then a second later a pace of 20:00/mile.  I was merely going up a hill, at a pace of about 8:00/mile in light trees.  All of which is more the result of my phone than anything else.
All that said – each of the dataset links above for HR accuracy also will show you GPS accuracy, so you're welcome to dive into that and see how my iPhone 6 handles compared to the Polar M460, Garmin Fenix 5, and Edge 520.
(Note: All of the charts in these accuracy sections were created using the DCR Analyzer tool.  It allows you to compare power meters/trainers, heart rate, cadence, speed/pace, GPS tracks and plenty more. You can use it as well, more details here.)
Product Comparisons:
You'll find I've added the Polar A370 within the product comparison tool for activity trackers.  It's not currently in the GPS-based product comparison portion, since it lacks a GPS chipset.  In any case, you can mix and match it against various activity trackers in the database.  For the purposes of comparison below, I've compared it against the Garmin Vivosmart HR+ (has GPS), Polar A360 (original) and the Fitbit Charge 2.  It's an imperfect comparison – since each unit offers slightly different price/feature points.  But again, you can create your own comparison charts here.
And don't forget, you can create your own comparison charts here within the product comparison tool.
Summary: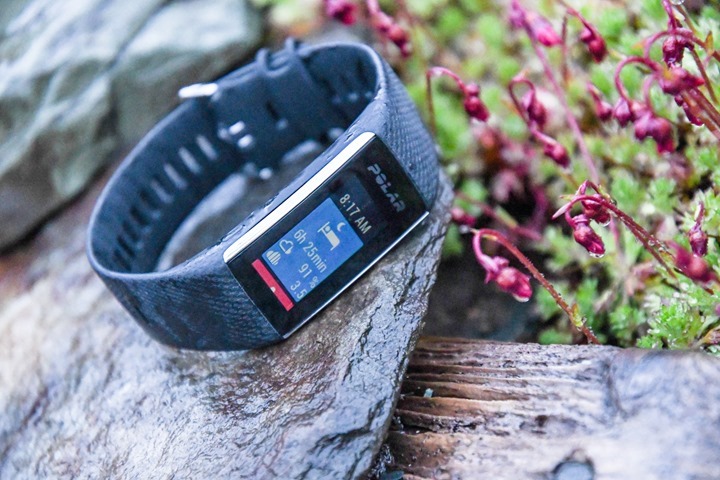 At first glance, one might think that the A370 is just a modest update, potentially uncompetitive.  But in reality it's actually more than might meet the eye.  By adding in the 24×7 HR tracking, the HR rebroadcasting, and connected GPS functionality, they both catch-up to competitors, but actually edge ahead of certain ones.  For example, none of Garmin's non-GPS units allow you to connect to a phone for GPS.  And none of Fitbit's allow you to rebroadcast your heart rate.  And nobody else offers both night and daytime resting HR values.  And all of that ignores the far greater sport workout support that Polar has on the A370.
Of course, there are downsides.  First is the size – larger than most of the other major competitors.  Next, we've got battery life – again limited at 3-4 days, compared to 1-2 weeks for most other competitors.  Of course, that's because the Polar screen is more brilliant and clear (and bigger) than everyone else.  So there's certainly trade-offs to be made.  Just depends on what you're looking for.
Looking at the accuracy of the unit, I see mostly good things with running (minus some slight oddities here and there – somewhat typical of some optical HR sensors), whereas in cycling I see mostly non-ideal things (also typical).
Overall though I'm actually more impressed than I thought I would be.  At first glance, I was kinda like 'shrug', but the more I used the device the more I realized these 3-4 feature updates were really the gas that the A360 originally needed to make it very competitive.  Well done Polar, well done.
Wanna Save 10%? Or found this review useful? Read on!
Hopefully you found this review useful.  At the end of the day, I'm an athlete just like you looking for the most detail possible on a new purchase – so my review is written from the standpoint of how I used the device.  The reviews generally take a lot of hours to put together, so it's a fair bit of work (and labor of love).  As you probably noticed by looking below, I also take time to answer all the questions posted in the comments – and there's quite a bit of detail in there as well.
I've partnered with Clever Training to offer all DC Rainmaker readers an exclusive 10% discount across the board on all products (except clearance items).  You can pickup the Polar A370 (or any other Polar A370 bands) from Clever Training. Then receive 10% off of everything in your cart by adding code DCR10BTF at checkout.  By doing so, you not only support the site (and all the work I do here) – but you also get a sweet discount. And, since this item is more than $49, you get free US shipping as well.
Polar A370 (select dropdown for sizing/colors)
Polar A370 alternate bands (more dropdown action)
Additionally, you can also use Amazon to purchase the unit (all colors shown after clicking through to the left) or accessories (though, no discount on Amazon).  Or, anything else you pickup on Amazon helps support the site as well (socks, laundry detergent, cowbells).  If you're outside the US, I've got links to all of the major individual country Amazon stores on the sidebar towards the top.  Though, Clever Training also ships there too and you get the 10% discount.
Thanks for reading!