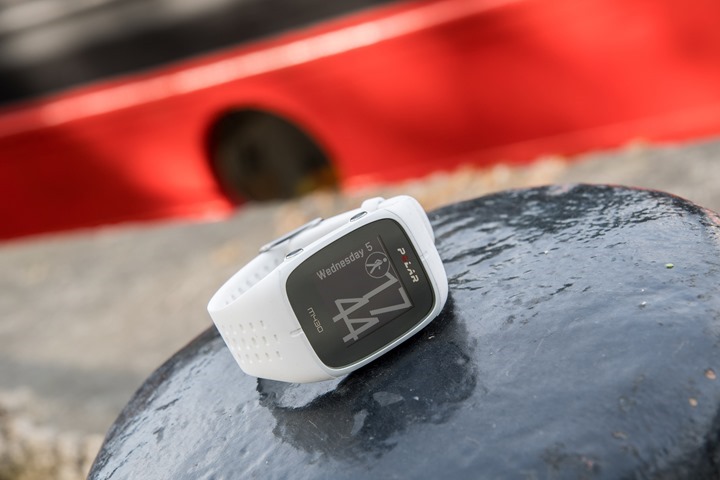 Update: My full Polar M430 in-depth review is now available here!  Go over to check out how it fared after months of usage!
Today Polar announced their latest wearable, the M430.  This unit follows in the footsteps of the popular M400 by adding in an optical heart rate sensor as well as a handful of other small (but desired) features.  While this watch lineage has previously been somewhat running focused, it actually supports a number of sports – and is one of the few watches out there to enable the optical HR sensor while doing swimming.
I've had a beta unit for a short period of time, so just enough to get in a workout and play with some of the features to see how it handles.  First though, I'll talk about the specifics of what's new (there are some interesting tidbits in there), and then we'll head out for a run to see what the accuracy of both the GPS and optical HR looks like.
Note that the unboxing ceremony will have to wait till a final release in May, since this just came in a plain mini Ziploc bag that said 'DC Rainmaker" on it. Would have made for a short unboxing video.
But fear not – there is still a video to be had! I put together this overview video, which includes everything you need to know about the M430, along with some first run details:
Didn't want to watch the video? No worries, we'll continue on with text and photos.
The Tech Details: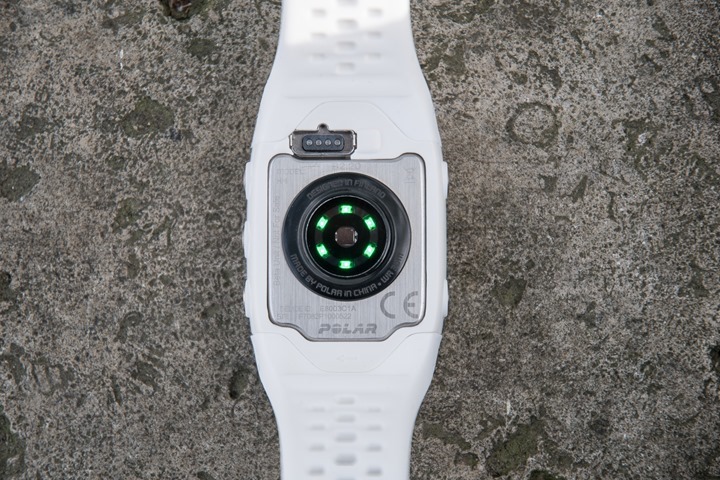 As noted at the start, the goal of the M430 was to take the M400 and slightly modernize it.  Part of that was, of course, adding the optical HR sensor, but there's also a lot of smaller tweaks that have been made based on feedback to the M400.  And in fairness to the M400, it's received a boatload of firmware updates and new features since it was launched.  For example things like smartphone notifications, better activity/sleep tracking, and so on.  It definitely wasn't an ignored product since its launch three years ago this summer.
Still, there are differences, many of them hardware focused.  Here's the line-up of changes compared to the M400:
Added optical HR sensor: Polar believes this 6-LED sensor is their most accurate to date
Added vibration capability (alerts): This does however replace audio alerts, which go away
Slightly increased battery: Mostly to maintain battery life with added optical HR sensor
Added new low-power GPS modes: These enable the unit to get up to 30 hours of GPS-on battery time
– High Accuracy Mode: 1-Second Recording Mode: Plots a GPS point every second, HR is every second too
– Medium Accuracy Recording Mode: Plots a GPS point every 30 seconds, HR is every second still
– Low Power Recording Mode: Plots a GPS point every 60 seconds, HR is every second still
Changed the wrist strap design: This was to improve optical HR accuracy by reducing weight and increasing tightness.
Added new watch faces: These can be changed in the menus to float your boat
Enabled Fitness Test with optical HR sensor: This is pretty rare in the industry
Added new sleep algorithms: This will give additional data in the Polar Flow app
Firmware Updates Available via Bluetooth Smart: This unit needs no desktop computer at all.
Added Stopwatch functionality: Pretty straightforward I think.
New connector: This new connector replaces the micro-USB used previously that was a support nightmare
Phew…there ya go!  Now as you can kinda see, I've skipped over all the basics of most GPS smart watches these days.  So yes, it does smartphone notifications (from any app, not just limited to texts), and yet it does activity and sleep tracking too.  You'll get all these details on the mobile app after syncing wirelessly:
I want to dive into a few things in a little more depth though, starting with the optical HR sensor.  The sensor is used during workouts to capture your heart rate.  Like many watches out there, it'll enable the sensor once you select a sport mode and usually takes just a few seconds to 'lock' onto your heart rate: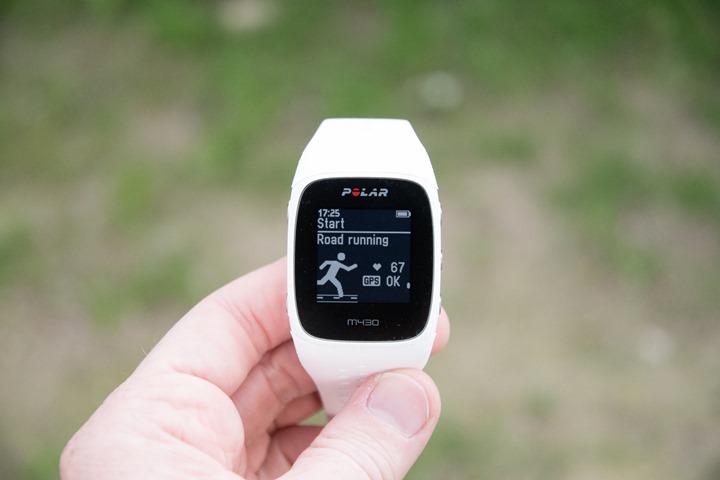 Once in sport mode it'll track and record your heart rate throughout the activity.  However, outside of sport mode there isn't any form of 24×7 HR recording like many other products in the marketplace today.  This is definitely a bit of a gap compared to all of the competitive offerings, though Polar says it's coming in Q3.
Polar does however have the option to go into a 'My Heart Rate' menu and check your heart rate.  But this data isn't recorded anywhere within the platform (app or web).  It's just a fart in the wind thing – it goes away as soon as you close the option.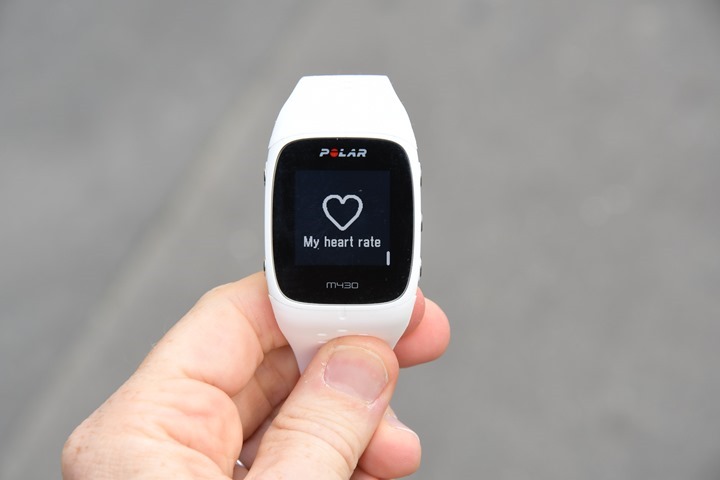 You'll have noticed that new wrist band.  It's got some slight tweaks for two reasons.  First is that by introducing the holes in it, they've reduced the weight over the previous band, which was kinda heavy.  That helps with optical HR sensor accuracy since less weight means less bounce of the watch.  And second, the band material is much more 'stretchy' than previous, allowing you to get a snugger fit – which also increases accuracy by minimizing outside light getting into the sensor.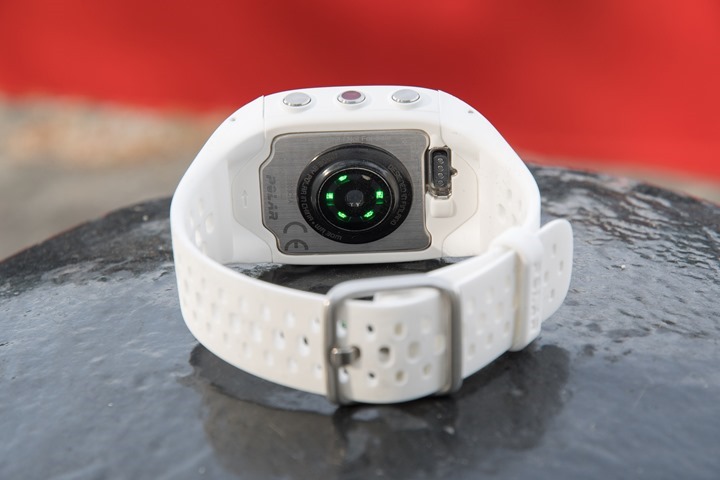 The next notable feature is that new lower-power GPS mode, which can extend the GPS-on battery life to 30 hours.  This is pretty unusual to see in a mid-range or budget GPS watch, with these sorts of modes generally saved for much more expensive units (i.e. $400+).  Albeit, we did see one with TomTom's new Adventurer watch last year.
And just to be clear, when we say 'GPS-on battery life to 30 hours', that's very different than the standby regular watch mode which is weeks (20 days to be precise).  The way this new extended GPS mode works is by selecting one of three GPS options within any given sport.  Since it's sport-specific, it allows you to potentially have something like hiking have a much reduced GPS recording interval.  Polar notes that there isn't a huge difference in battery life between the every 30-second and every 60-second option.  Also, in all options the optical HR sensor is recording constantly.
A much needed change was to swap out that charging/sync port on the back.  Polar certainly had good intentions with the standard micro-USB connector on the M400, but it became the bane of their existence.  Over time corrosion occurred, as did other failures.  Polar redesigned the port situation at least twice, and even settled on removing the port cap altogether.  While companies have used internally waterproof micro and mini-USB ports for years in sport devices, most of the time that was something like a bike computer which rarely went fully underwater (or more importantly in salt water or with lots of sweat in the port).  Whereas the M400 was subject to all of that.  So that's all been resolved on the M430 with this new port design, which is waterproof to 30-meters: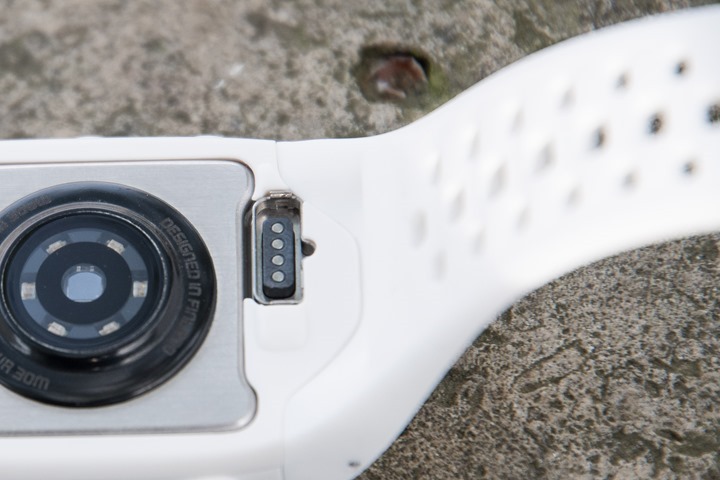 The design looks very similar to that of the Fitbit Surge GPS.  And remember I'm the last person to want a proprietary port in anything, but watches are really the best place for non-standardization to occur.  No matter how many promises USB port component companies/manufacturers try to make when selling these pieces to watch makers, they all end up sucking.  The micro-USB/mini-USB/etc port just wasn't designed to deal with water getting in there and sitting there causing corrosion.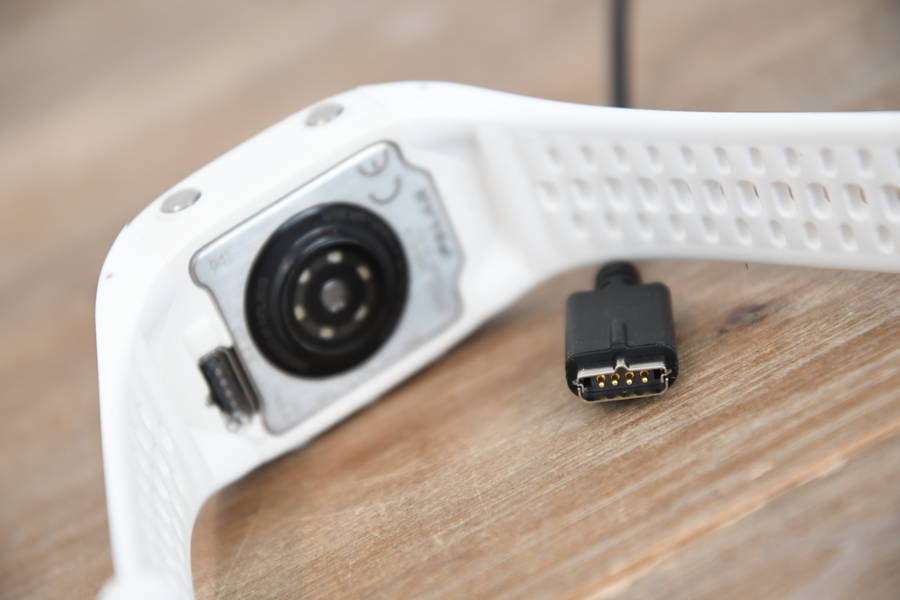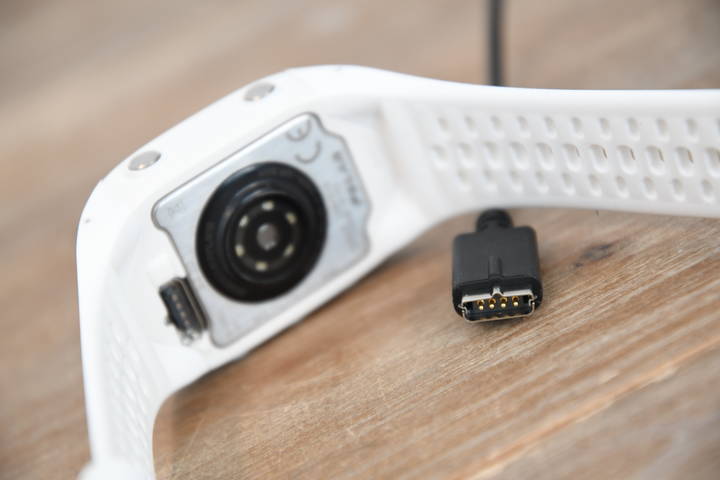 Speaking of water activities and swimming, as noted earlier the optical HR on the M430 can indeed be enabled during a pool or ocean swim.  Keep in mind though that neither will give swim distance.  Instead, it's just your heart rate and time during that activity.  Just like the M430 doesn't have a multisport mode either, so it's not a triathlon watch nor a replacement for the V800 (which does have that mode).

And while you can use the new Polar H10 HR strap with it, it doesn't have support for the analog heart rate signal from a strap underwater, nor the ability to transfer stored/recorded activities from the Polar H10.  For that, you'd need to use the Polar Beat app on your mobile phone.
As noted earlier this unit can do all firmware updates via Bluetooth Smart.  Previously with the M400 you had to connect to your computer to get those updates.  The only thing that you'd ever need a desktop browser for is if you wanted to setup training plans.  The web-page for that is a bit wonky on a mobile app, so you'd want to do that on a desktop computer (anywhere), and then you can use the Polar Flow mobile app to sync those as normal.  So if one lacked a desktop computer at home but had a desktop browser at work, that's more than sufficient to choose the training plan you want.
And training plans is a big differentiator when it comes to the Polar M400/M430 compared to other watches in this price range.  Most other sub-$250 watches don't have structured workouts and training plans on them.  Whereas the Polar M430 does.  That means that you can not only find a structured training plan leading up to a certain event, but you can then download all of the workouts to your watch where it'll guide you through each workout step by step.
Most other sub-$250 watches simply have a basic interval mode (if that), and that's it.  Additionally, most other sub-$250 watches don't enable a lot of customization of the data fields, whereas the M430 gives significant customization of data pages and fields, allowing you to tweak it however you'd like via either mobile app or desktop app: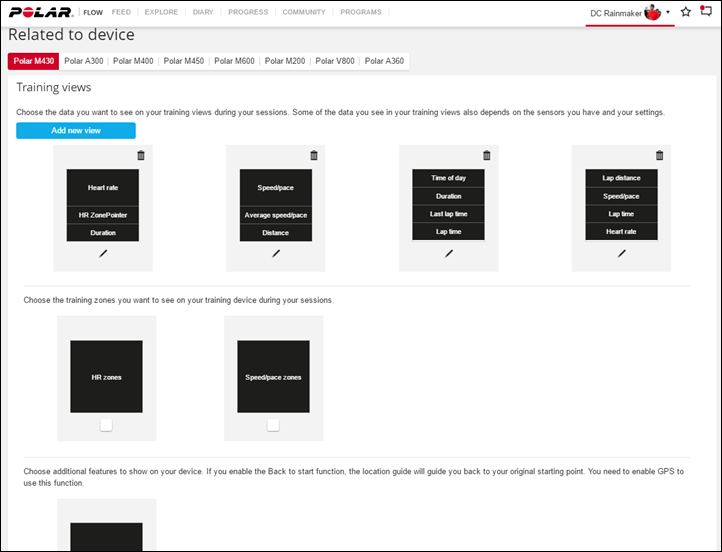 And finally, most other sub-$250 watches don't give much feedback to you when it comes to the post-workout summaries.  Most will just give you the stats (i.e. distance/time/etc…), whereas the M430 will actually give you a fair bit more related to how that specific workout benefited you.  That's something that's always been a bit of Polar's focus area, and it continues here as well: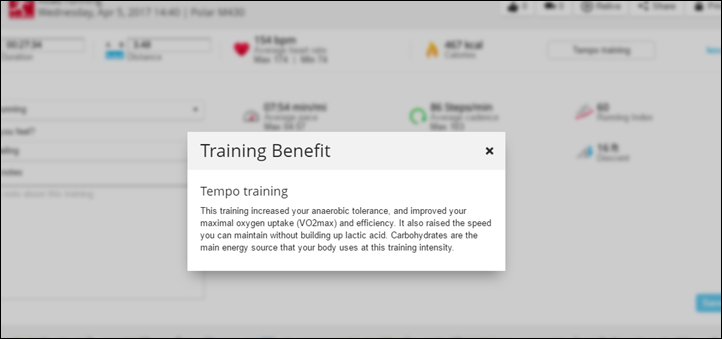 With all that background, let's head out for a bit of a run.
A First Run:
Ok, with everything all covered I decided to knock out a short 5K run.  I often use this particular route for initial runs with watches, since it's got a bit of everything.  Some open areas, some tree coverage, some taller buildings, a lot of weaving, a few bridges…all good things to spot GPS accuracy on.  Also, I tend to vary the pace a fair bit to see how the optical HR responds.
Getting the run started up was pretty quick and easy.  Despite being in beta and not yet having assisted GPS enabled, it found GPS signal in a few seconds.  And about 10-15 seconds later it locked onto my heart rate.
Oh, and sorry for the fuzzy photos – I sometimes forget the focal length on the action cams isn't quite as close as I want it to be.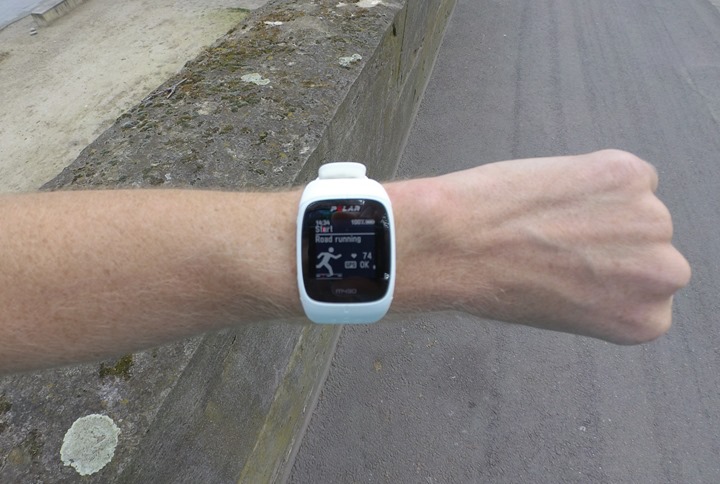 Next, I headed out for a short warm-up before eventually doing a couple of harder sprints.  The HR and instant pace appeared to track pretty well.  I was comparing it against three other HR sensors and GPS units.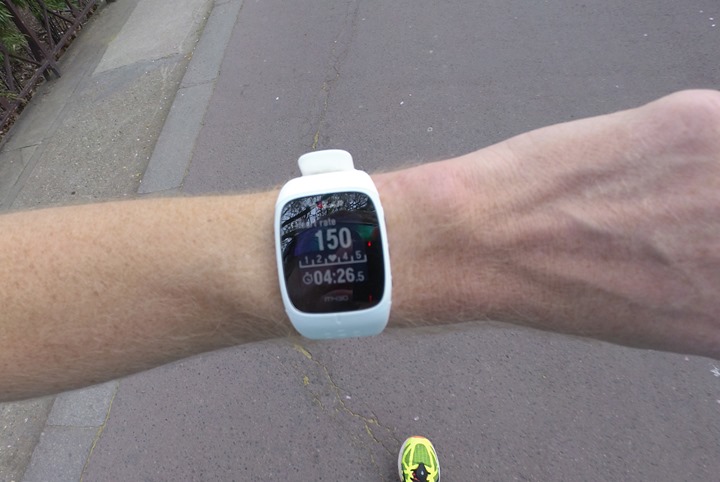 On the pace side, I recorded some video that you'll see within the hour as well – so check back for that!
I could change data fields as expected by pressing the up/down buttons, which iterates through my data fields. For example, in the above photo I've got my HR shown with the HR zone (and time of run).  While below I've got my instant pace up top, average pace in the middle, and distance down below.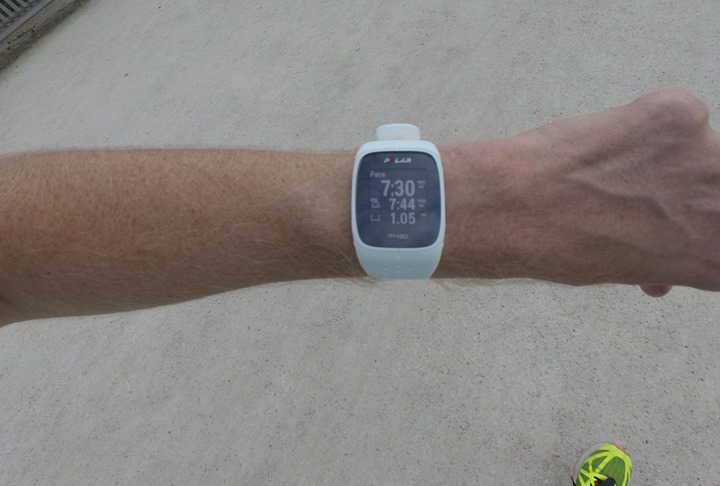 After wrapping up the run, I gathered up the data from all four units and plopped it into the DCR Analyzer to see how things looked.  You can look at the link here. First up is the GPS side of things. The M430 uses a SIRF GPS chipset, which is a bit different than the M400.  Though, it doesn't have GLONASS.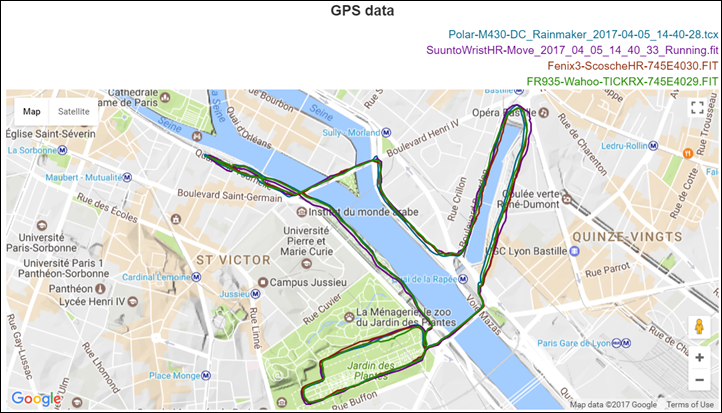 At a high level, things did quite well.  Note that at times I had placed both the Fenix3 and FR935 on my Spibelt (a waist belt), since I was primarily using them to capture HR data from straps, not GPS data. Thus things could be slightly impacted on GPS for those units.
If we zoom in on some of the corners, all the units track very closely – which is solid.
In particular this bridge section, where the Polar M430 was actually the most correct (in the upper right corner) on where I went: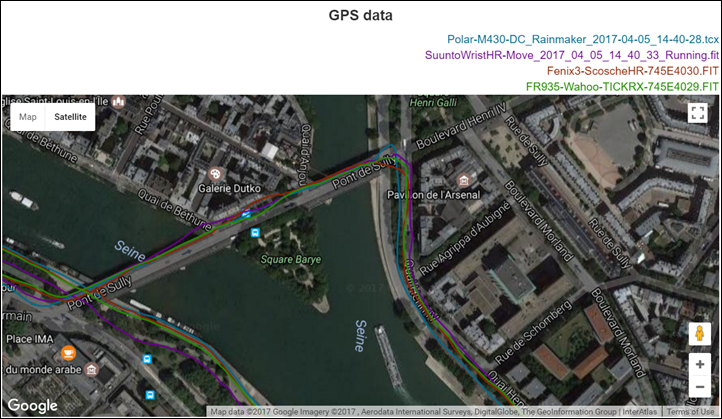 So nothing sticks out at first on a basic GPS run.  But again, this is just one run, and a fairly short one at that. Still, it's a good starting point.
Next, we've got the HR side of things.  In this case, I had some wonkiness on both the TICKR HR strap and the Scosche in the first few minutes. I ended up licking the HR strap and that immediately solved that, and then I moved the Scosche a tiny bit and that solved that.  Not sure what was up there.

In any event, beyond that, all the units actually matched really well for the remainder of the run for the most part.  I see one oddity again later on during a bit of a harder interval I did with the Scosche when I was filming (which can impact things), but nothing significant.  And the Polar M430 tracked well across the stops and starts too – something I did a few times within the run for exactly this purpose.  Actually, all the units tracked those starts and stops well.  And note, the above data is *not* smoothed, it's straight 1-second recording.
Oh – and while the above charts are from the DCR Analyzer, you can certainly view the run on Polar Flow as well:
The run will automatically sync via Bluetooth Smart when you open the app up, or you can just plug it in via USB to your computer.
And finally – keep in mind that the above GPS/HR data is beta data on the M430.  Thus, you might see some things they're still working on (especially around HR).  But for being a month out, it's not too shabby.
(Note: All of the accuracy related charts were created using the DCR Analyzer tool.  It allows you to compare power meters/trainers, heart rate, cadence, speed/pace, GPS tracks and plenty more. You can use it as well for your own gadget comparisons, more details here.)
Wrap-Up:
Overall this is a nice, but fully expected, upgrade of the M400.  It modernizes it in terms of baseline specs, though doesn't really push the boundaries in any major way.  The added long-battery life modes for GPS activities are pretty cool however, and definitely unique in the segment.
As always, we'll have to see on both the optical HR sensor and GPS performance as it gets closer to final production firmware and hardware.  And that's fine; there's plenty of time to do that.  The current shipping timeframe for the M430 is in May, and I don't see any reason that won't be hit.  Things are pretty close as it stands today for the beta unit I tried.
The only concern I have is really the pricing.  At $229/€229, it's in a bit of an odd spot.  When Polar first released the M400 – they did so at a price that significantly undercut Garmin's price for a mid-range watch.  That's the sole reason the M400 did as well as it did: It was incredible value for the money.  It was originally priced at $179USD, but floats around $125 these days.  At launch that was $80 less than Garmin's competitor FR220 at the time. But now with the M430, they're only $20 less than the Vivoactive HR, which has far more features (albeit not structured workouts), plus apps.  That's a tougher sell.
I think had they gone with $199, they'd be in a fairly solid position.  That'd match the less-featured Garmin FR35 when not on sale, as well as the mixed-featured Fitbit Blaze.  Not to mention upcoming Android Wear options like the Misfit Vapor priced at $200, or the very competitively priced TomTom Spark 3.  I fear Polar may have forgotten what made the M400 popular: Its price.
Still – if you're looking at mid-range running watches, and especially ones with structured training plans – there's no better value in the ballpark than the M430 (or the M400 if you don't care about optical).  And Polar did do a good job at making precisely the updates that folks wanted to see in an M400 successor.
With that – stay tuned for a full in-depth review down the road.  Thanks for reading!
—
Update: You can now pre-order the M430 from Clever Training.  DCR readers get 10% off using DCR coupon code DCR10BTF.  That helps support the site and makes you awesome (or more awesome, if you were already awesome).