(**Update: The Tacx NEO has been superseded by the Tacx Neo 2T. Check out that link for the latest In-Depth Review on the Smart Trainer**)
Over the past few weeks Tacx has released two new trainers, the Tacx NEO and the Tacx Genius Smart.  While both of these trainers have similar technical capabilities, the actual hardware aspects of them are dramatically different.  One (the Genius Smart) looks like most traditional trainers that Tacx has built prior, and has similar specs.  Meanwhile, the Tacx NEO is unlike anything that Tacx has previously done.  It goes in the direction of direct drive (versus a rear wheel), while also claiming to be virtually silent.
But is it really silent?  And at $1,599/€1,399 is it worth the substantial premium over other trainers on the market, including offerings from Tacx themselves?  This post is a first look at everything you might need to know to make that decision.  It's not a full in-depth review, as I just haven't had enough time yet on the final production unit to make that determination and to be able to have really dug into every last detail – so do keep that in mind.
The Executive Overview:
Short on time? No problem – here's the low-down…with a tiny bit of relevant history.  Tacx has effectively gone for gold over the last year when it comes to trainers.  They started their train last year at Eurobike (one year ago) with the release of the Smart Trainer series.  This was really their first attempt at getting away from locked in software and hardware.  That line-up included broadcasting on both open ANT+ and Bluetooth Smart channels of power, speed, and cadence.  They did this not just at the higher end products, but rather starting at the cheaper Satori Smart unit, costing $469.
Next, fast forward to this June when Tacx became the first to announce and (in the same day) implement the ANT+ FE-C trainer control protocol.  This allowed 3rd party apps to fully control the Tacx line using ANT+.  Within days the vast majority of ANT+ capable trainer apps announced adoption too.  Then, followed the rest of the higher end trainer industry – now with Bkool, Elite, and Wahoo.
Where we get to now is the Tacx NEO.  Previous to this Tacx had higher end trainers, but they never really felt higher end.  They just felt…cumbersome.  They relied upon software from the company that had a history of being buggy (albeit has improved over the last 12-18 months).  With the NEO though, they've made something that's anything but cumbersome.  A beast perhaps, but a really pretty looking beast.  And one that feels more like the road than any past Tacx trainers.
The NEO weighs in at 48lbs/21kg, the heaviest trainer that I'm aware of to date.  With that weight also comes features; it's ANT+ FE-C capable and then also broadcasts on ANT+ and Bluetooth Smart for Speed, Power, and Cadence.  This means it'll work with any apps or devices that are compliant with those standards.
What differentiates the NEO though from something like the Wahoo KICKR are two main aspects: Downhill drive, and noise. Or rather, lack thereof.  First, the noise from the unit is pretty close to silent.  At least the NEO itself – your bike is still going to make some noise, namely the chain.
Then you've got downhill drive – this means the unit will actually simulate downhill sections more accurately than a trainer that will just coast to a stop when you stop pedaling going 'downhill'.  This same functionality is also found on their new Tacx Genius Smart.  Of course, it's not quite perfect – but it's better than instantly stopping.
Now, all of this goodness does come at a price. Literally – some $1,600USD (or €1,400).  That's super pricey for a trainer, and about $500 more than the Wahoo KICKR is today (depending on cassette version that's included).  And the Tacx NEO doesn't even include a cassette, so that'll set you back another $50-70USD (for a basic Ultegra variant).
There are also some short-term app compatibility differences, where the KICKR has the edge in most cases (though not all), that I discuss later in the post.  I think the road feel is largely the same, though some with more refined trainer palates might have different opinions.  So really, the main thing you're going to want to weigh is how valuable the noise aspect is to you.  Do you need silence?  Or is your standard trainer noise levels acceptable?
Availability for the NEO will be roughly mid to late September for the European markets, and the US following about 4-6 weeks later in mid-late October.  The reason for the difference is simple: The trainer is made in the Netherlands (Europe) and thus it takes about a month for the shipping containers to make it to the US via boat.
Inside the Box: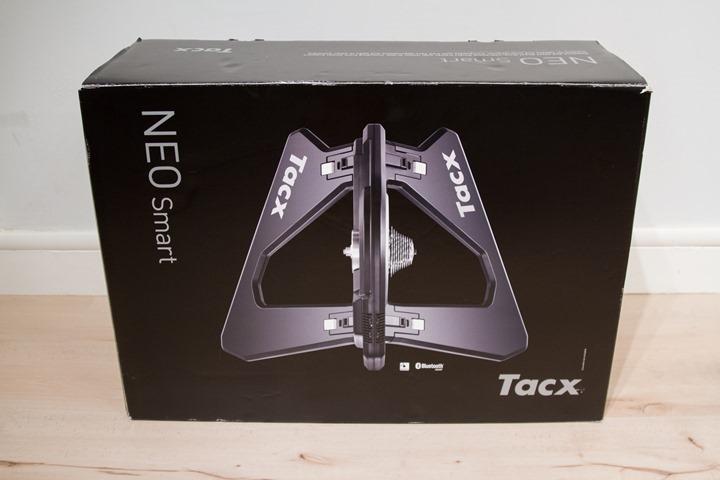 I picked up one of the first production units from the Tacx folks while at Eurobike last week.  Actually, production unit #6 to be precise.  Like any other product I test, it'll eventually go back to them.  I ended up unboxing it at the DCR Eurobike RV, simply because that's what I had available.  But since it had silly-few parts, I actually put it back together nicely and unboxed it again in the DCR Cave – so I'll give you those pictures since they a little less redneck.
Thus, this unit comes in this well structured box.  I found it travels reasonably well.  First, I had to drag the thing across the massive Eurobike show floor.  Then, we actually chucked it over an 8' tall fence (seriously, we looked highly sketchy) since it was less work than going all the way around the perimeter.  Then I hauled it across down the road a few hundred more meters.  Then it bumped around the RV for a long weekend, before I did another fiasco of a dance getting it a thousand more kilometers on the train/uber/etc back home. And yet, it still looks pretty.
Once you remove the box you'll see the unit folded up just like one of those space movie fighter jets: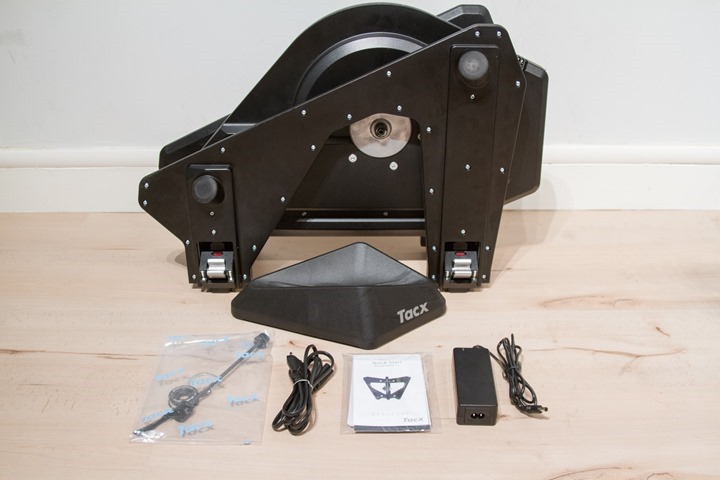 There's also a small pile of boxed parts, which include the power adapter, manual, trainer skewer, and then some cassette end caps.
The power supply is dual voltage, so you can use it anywhere in the world.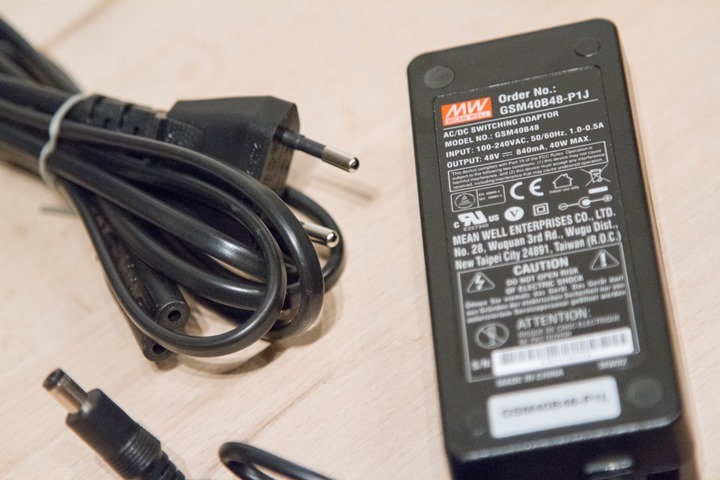 To complete your install, you'll first just unfold the wings down.  As you do so you'll see it'll change from red to blue, indicating they're locked in place.  Little buttons on the backside allow you to fold it back up.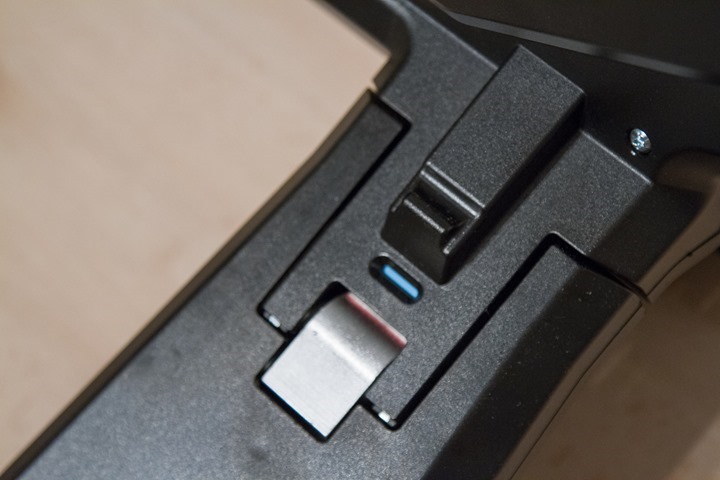 Then, you'll go find a cassette for the unit and install it like installing any other bike cassette.  This piece is a bit of a pain in the ass, because most consumers won't have the right tools to do this.  And because it's yet one more thing you need to buy.  I'd really like to see Tacx offer models with the cassettes included for a tiny bit more.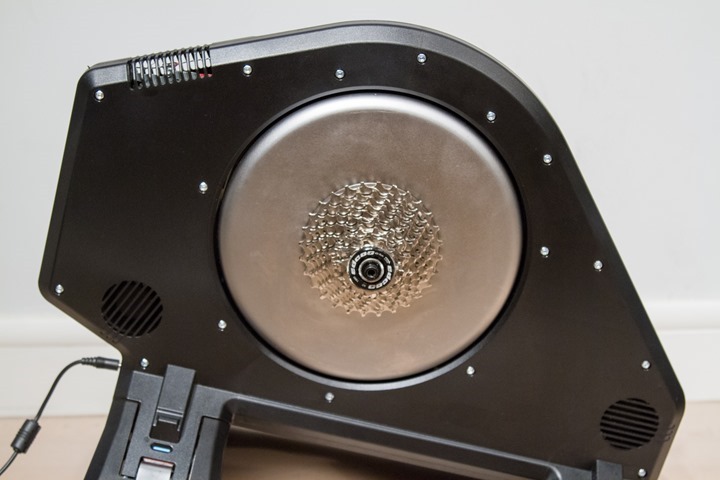 Once the cassette is installed you'll slide through the included skewer.  Then, you'll go ahead and plug it into a wall: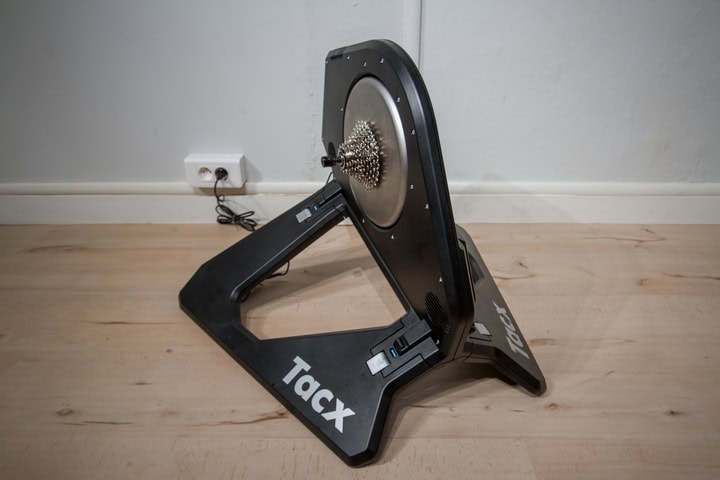 With that, you're ready to ride.
Features & Functionality:
With setup complete we'll walk through some basic features, first on the hardware side and then on the software side.  You'll have noticed that the unit sits up off the ground in the center.  It's kinda neat – and feels like it's built like a tank.  So despite effectively 'hovering' in the middle, I've got no concerns of breakage.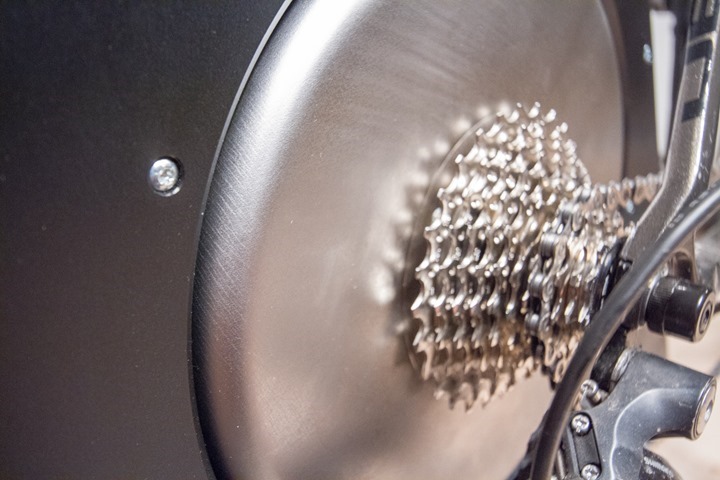 As you'll have noticed, there's no rear wheel here.  This is a direct drive trainer, which means that you remove your rear wheel on your bike to attach to the trainer.  This reduces wear and tear on your bike's wheel, as well as virtually eliminates slippage issues that can sometimes happen at steep grades on conventional trainers.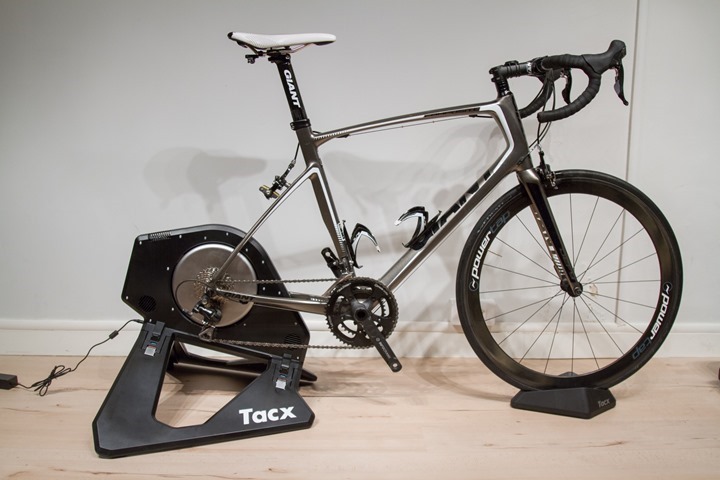 However the downside to this is that it can be a bit finicky to connect the bike to the trainer, especially if you have a bike (such as my triathlon bike) that has rear-facing dropouts.  Hardly impossible or difficult, but like the KICKR it can be a bit cumbersome at times.  In general though, most folks would agree that direct drive trainers are usually preferred, but especially for harder efforts.
Next, at the front of the trainer there's actually a light system that illuminates below the bike.  This changes based on the intensity that you're putting out.
Blue for less intensity, red for lots of power (and purple somewhere in the middle).  It's perhaps a bit cheesy, but it's also kinda sorta really geeky cool.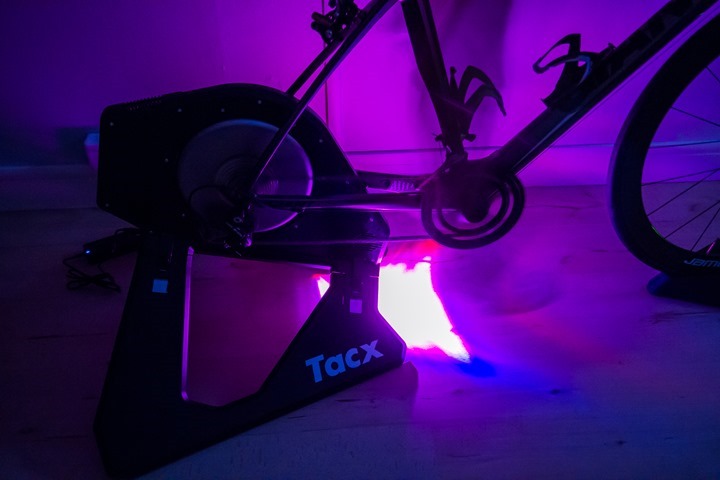 Next, on the side of the trainer it has three lights showing you the state of three different features: ANT+, Bluetooth Smart, and whether it's got power.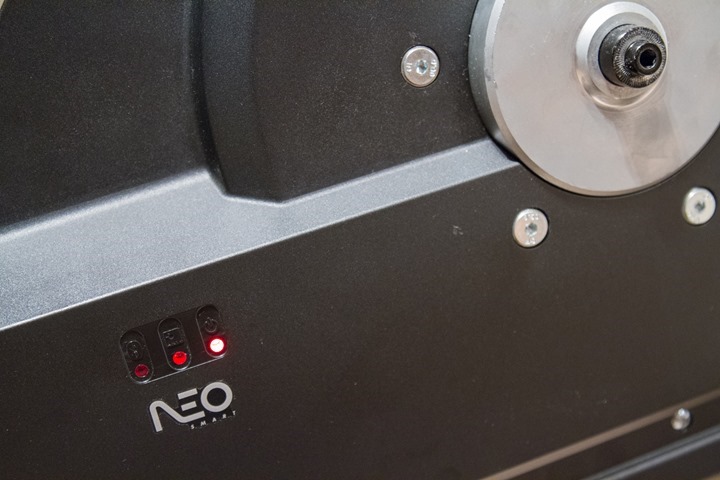 When you establish a Bluetooth Smart connection, the BLE light should illuminate.  Whereas ANT+ is always broadcasting, so that's sorta always on.  And of course, if you don't have power connected, you won't get that turned on.  You can actually use the trainer without power.
Now you'll notice there's no level or other way to manually control resistance – that all requires software and an app of some sort.  That app could be a phone app, a desktop app, or even a bike computer like the Garmin Edge 520.
The Tacx NEO supports trainer control in one of three ways:
ANT+ FE-C: This is the ANT+ Fitness Equipment Control protocol, and is the new standard for the way ANT+ devices can control fitness equipment, namely trainers.  Read up on that here.  This is mainly for 3rd party apps and devices to control the trainer.  You'll see this mostly leveraged in desktop apps, some Android apps, and then some hardware devices like the Garmin Edge lineup.

Bluetooth Smart: This enables the trainer to be controlled using Bluetooth Smart.  Today this isn't yet open to 3rd parties widely, so most of this is to allow the native Tacx applications to talk to the trainer directly, mainly from iOS and Android mobile devices.  Down the road, 3rd parties will start having access to this too (but there isn't an open/agreed upon standard yet there for trainer control).

Tacx Existing Private-ANT Control: This is for existing Tacx applications to control the device, such as their Tacx Training Suite (TTS).  That suite costs extra money though, so it's not really something I'm going to focus on here.
All of the above methods are actually supported on all Tacx 'Smart' series trainers (except the Satori, since it doesn't allow electronic control).  Now when it comes broadcasting your information, that's also accomplished via a few different methods:
ANT+ Speed, Power, and Cadence: The unit will broadcast your speed, power, and cadence as both a combined and separate channel for compatible devices to read and record.  Devices include the entire Garmin lineup, PowerTap products, Suunto Ambit2 series, and many other ANT+ compatible devices.  The appeal here is that you can record data onto devices you already have.

Bluetooth Smart Speed, Power, and Cadence: Just like ANT+, but with Bluetooth Smart instead.  This makes it easy to connect devices from Polar, Suunto (Ambit3), and many iOS & Android apps that support Bluetooth Smart connectivity.  Note that there can be some kinks still here due to the industry still settling a bit – especially with BLE power meters, but thus far things look pretty good on the Tacx front.

Tacx Existing Private-ANT: Like before, Tacx also broadcasts to its desktop apps using a different channel.  This is mostly because those apps aren't yet fully converted to ANT+ FE-C, but I suspect in time you'll see that.  If you aren't using these Tacx desktop apps, this won't really matter.
Again, the appeal to the above three options is that it basically completely covers you for any modern app/device you'll use to connect to the Tacx Smart Trainers (i.e. the NEO).  Plus, they're totally open and easy for 3rd parties to support.
At this point you may wonder how this differs from something like the Wahoo KICKR.  In short, it's not much different.  The one item of note is that the KICKR doesn't communicate yet on ANT+ FE-C, but rather a fairly similar version that they've had for years (before ANT+ FE-C was released).  It doesn't matter yet much for 3rd party apps because virtually all of them support the KICKR using the Wahoo ANT variant, but it does matter for products like the Garmin Edge 520/1000, which only supports ANT+ FE-C and not the Wahoo variant.
Speaking of control, let's talk about some of the basics.  First is controlling the unit.  By default you can just use some of the basic (free) Tacx apps, available on iOS or Android.  For example, here's their phone iOS app, which allows you basic power and resistance control, by setting the slope and power levels.  While their iPad app expands that and allows purchasing videos at a reasonable price (about $10 per video), as well as a deeper interval/workout creator.  Not too shabby.
But I really think the strength of the Tacx Smart trainer lineup (and any other trainers that embrace openness) is the 3rd party app compatibility.  Out of the box it works with Zwift.  It works with TrainerRoad, and it works with the Edge 520.  And for that matter, any other app that's implemented the ANT+ FE-C.
Astute followers will remember last week when I did a live Zwift session on Periscope for about 20 minutes at night during Eurobike from the DCR RV.  In fact, you can even do this without any power at all to the trainer.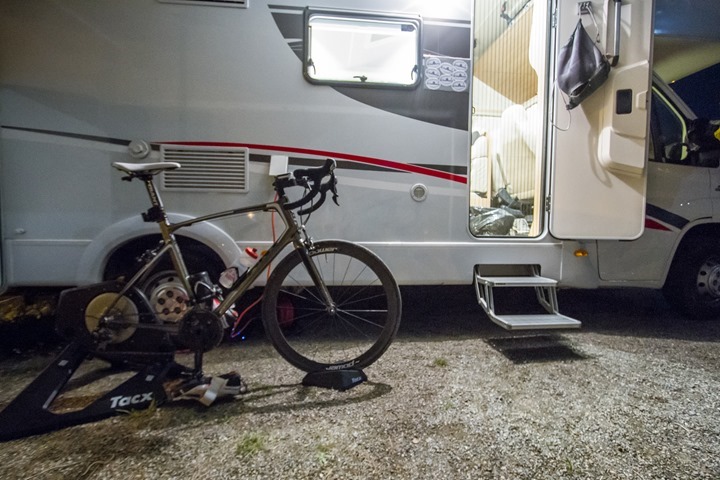 But I needn't be in a parking lot to do that, Zwift connects right up instantly as long as you have an ANT+ USB stick plugged into your computer: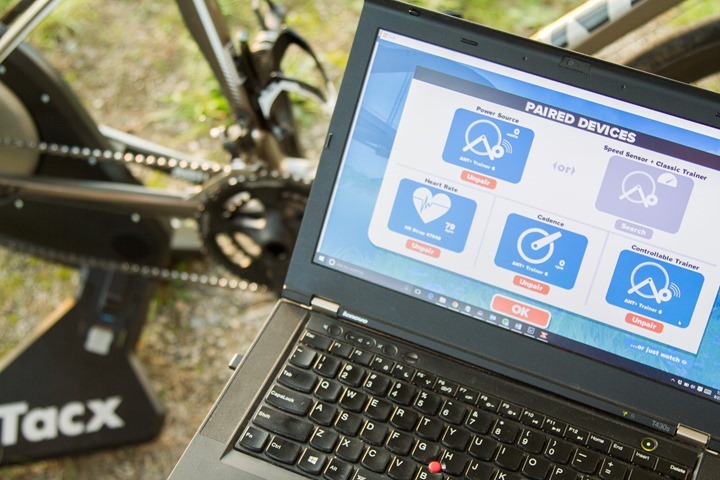 And TrainerRoad does much the same, again, just needing an ANT+ USB stick for the PC version, or the ANT+ adapter for the iOS platform.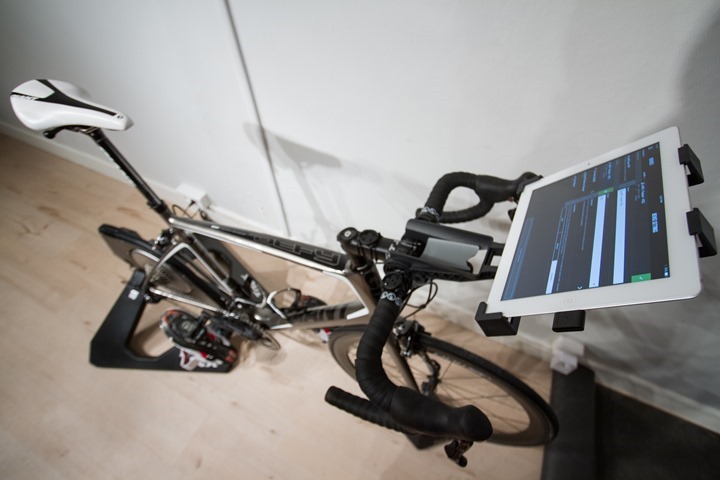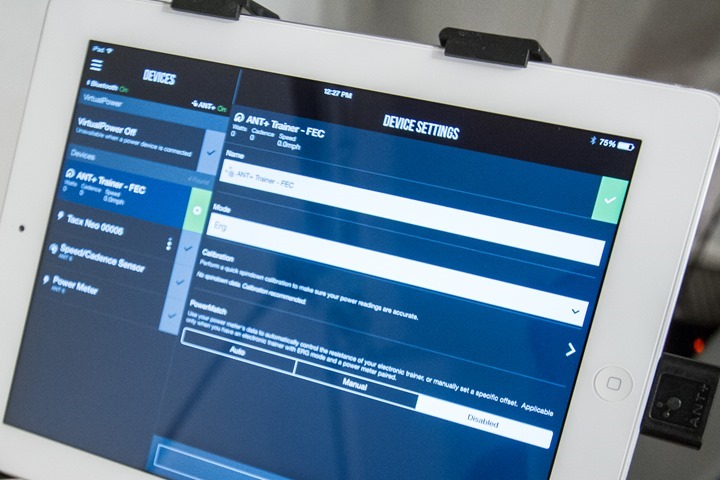 With FE-C support on the Garmin Edge 520 (and soon the Edge 1000), you can also use that to control the trainer.  During both sound test videos that I did, I used the Garmin Edge 520 to control the trainer directly from the head unit.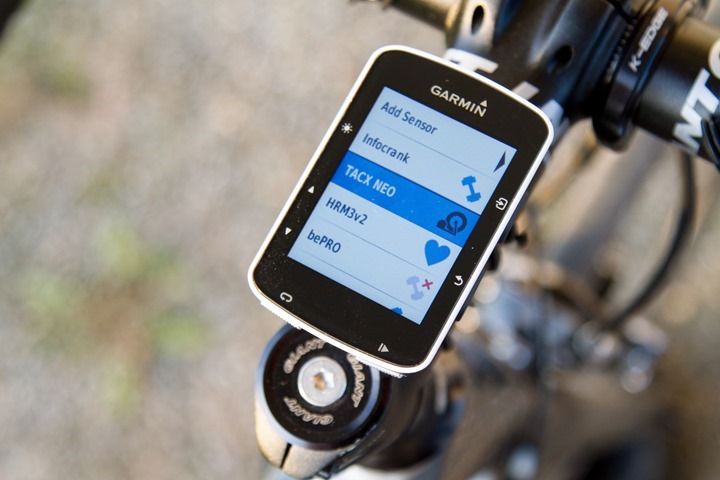 This allows you to do anything from re-riding a ride you've done outdoors, a ride you've downloaded, or just setting a wattage to follow a specific structured workout.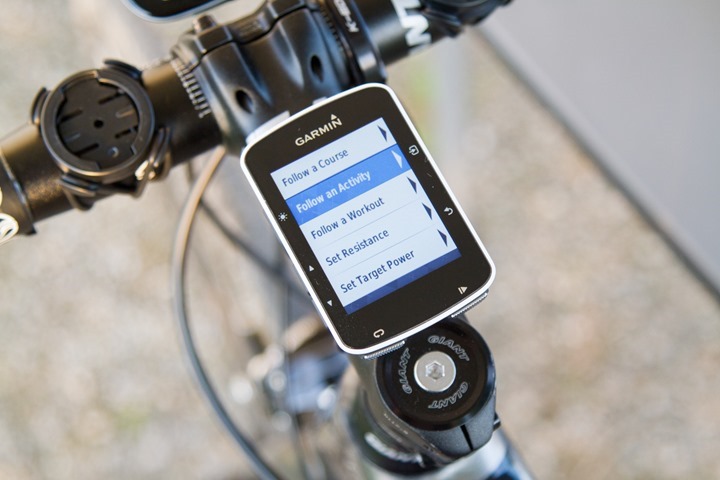 Now the Bluetooth Smart 3rd party app side, which would be leveraged by apps such as those on iOS or Android is a bit less clear.  Major 3rd party trainer app developers have been working with Tacx to get support covered, and Tacx says they're working on getting something more formal in place as well.  But neither have firmly put a date on things.
I suspect the reason is that there isn't yet an official Bluetooth Smart control standard for trainers.  Wahoo does it one way, PowerTap another, and Tacx yet something else.  Today, apps like Kinomap and Trainer Road simply work with these manufacturers to bake-in support for each trainer company's variants.  I expect to see that occur here as well, and find it hard to believe that won't be in place prior to shipping units to consumers.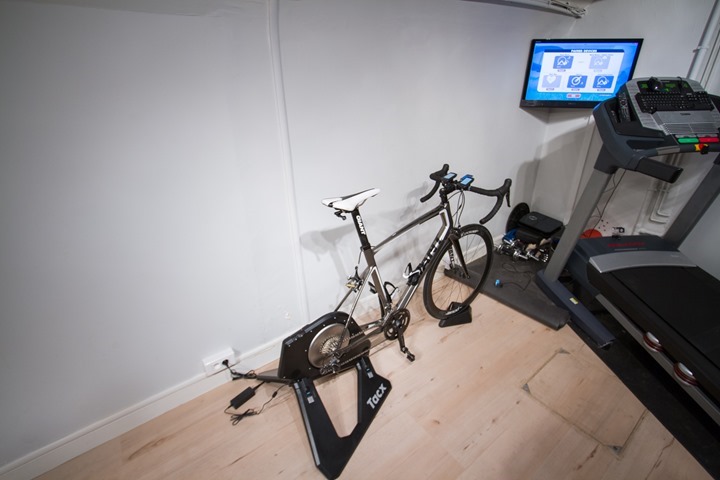 (Just to be really clear here, you can still use Bluetooth Smart to control the trainer with the default Tacx apps.  And, you can use Bluetooth Smart to connect to the trainer and read power/speed/cadence from any 3rd party app today.  It's only control via Bluetooth Smart by 3rd party apps that's lacking today.)
So what about trainer feel?  Well the unit feels cleaner and more smooth than any other past Tacx trainer I've used (and I've got a boatload of them).  Because there's no rear wheel, there's no slippage.  Plus, the unit will simulate descents.  It's not perfect, but it's better than nothing as the rear 'wheel' won't just stop when you stop pedaling.  This is obviously most notable when descending down steeper hills, such as on a real course video or on Zwift.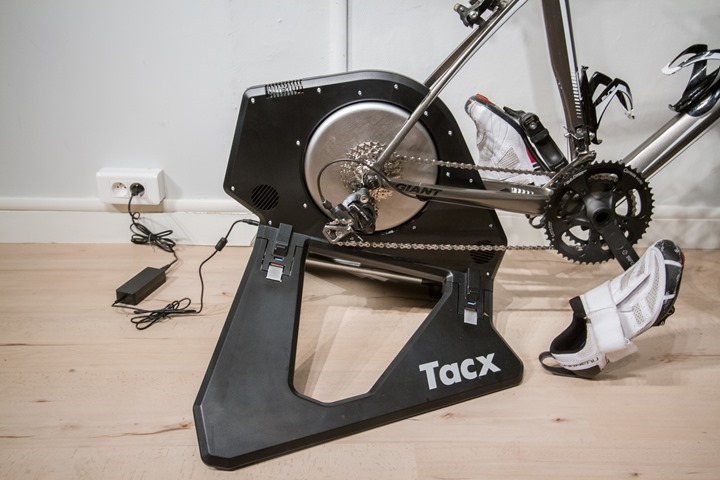 It feels as close to riding on a road as other products aimed at replicating that (Wahoo KICKR, Elite Real Turbo Muin, Lemond Revolution).  I'm not sure I'd declare one a winner over the other.  I think one minor thing the NEO has going for it though is a slight bit more lateral movement than the others.  You can actually just tilt it a tiny bit side to side (perhaps 1cm), whereas the KICKR is more locked down.
This allows you a little bit more realistic feel when sprinting or climbing, as the bike sways that little bit.  But I wouldn't really let that be a deciding factor.  It's still not riding outside.  There's no wind in your hair, nor squirrels to dodge.  Perhaps I'm a bit more cynical there when folks talk about true road feel on trainers, as for me…it's still a trainer.  Just, a really nice trainer (albeit one that can sorta simulate downhill).
Noise, Weight, and Size:
Next we'll look at the noise.  There's of course immense interest in this, given the claims of near silence of the trainer.  Sure, Tacx produced an emotional ad showing you out in cow fields – complete with an elegant British voice to make it sound smarter and lots of fancy manufacturing imagery.  But at the end of the day – is it really silent?
Well, mostly.
About the only thing you're going to hear on the trainer is your bike parts moving and a very slight electronic hum.  For your bike, the chain and its interaction with your front chainring and rear cassette on the trainer will make noise.  Not much, and not enough to be heard in the apartment next door.
But rather than try to explain it in text, I've put together two videos showing it.  The first is a sound comparison against the Wahoo KICKR – simply because that's what most folks are interested in.  In this video I'm in about as non-noise friendly environment as I can think of.  No trainer mats, no carpeting, just the echo-chamber of the DCR Cave:
Next, we shift over to the DCR Eurobike RV rental, where I filmed this inside to again cover noise and volumes:
As you can see – it's pretty darn quiet.  It'd be hard to be upset with those volume levels.
About the only thing you could potentially be upset about is the weight.  It's a beast.  It tops in at 48 pounds (22 kilograms).  You really don't want to be moving this thing very far very often.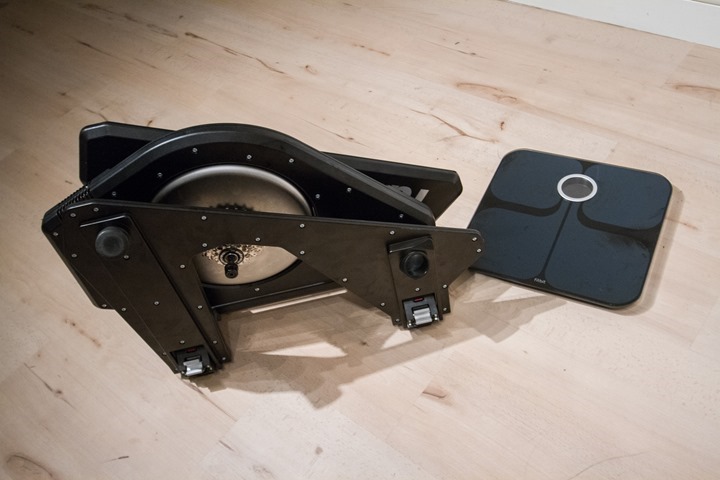 It's a bit awkward to move because it lacks a handle like the KICKR has.  Though once you get the right hold on it, it's not too bad for short trips: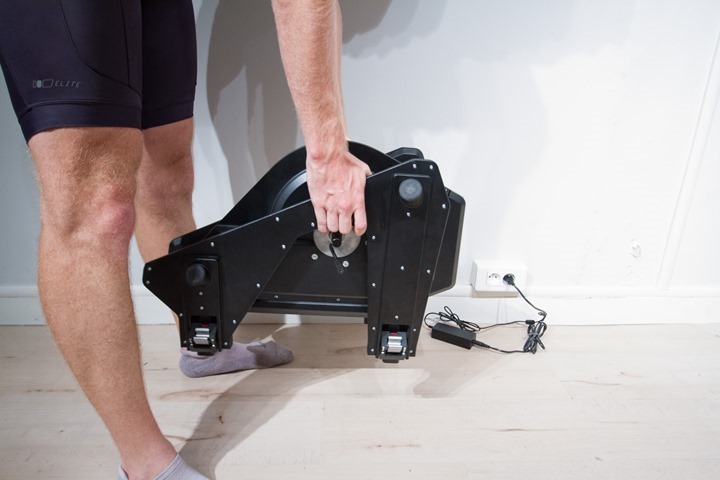 Next, there's the size.  The unit has precisely two positions: Folded and unfolded.  The clasps keep it firmly locked in either position, so there's no worries about snapping your fingers in the unit.  Here's the folded up position: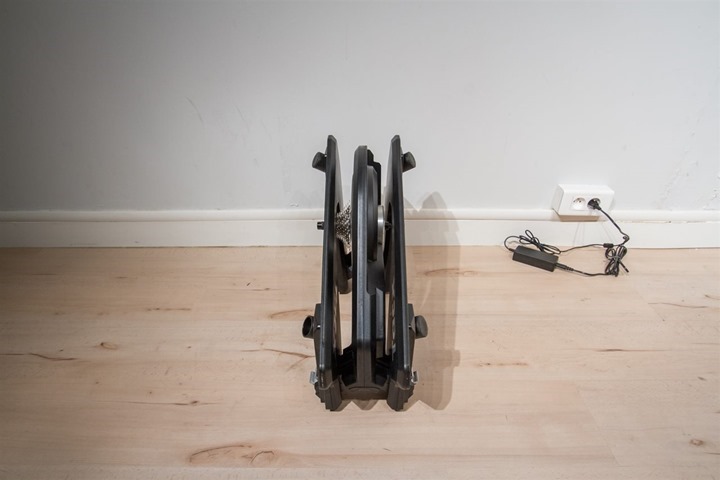 And here's the unfolded (trainer mode) position: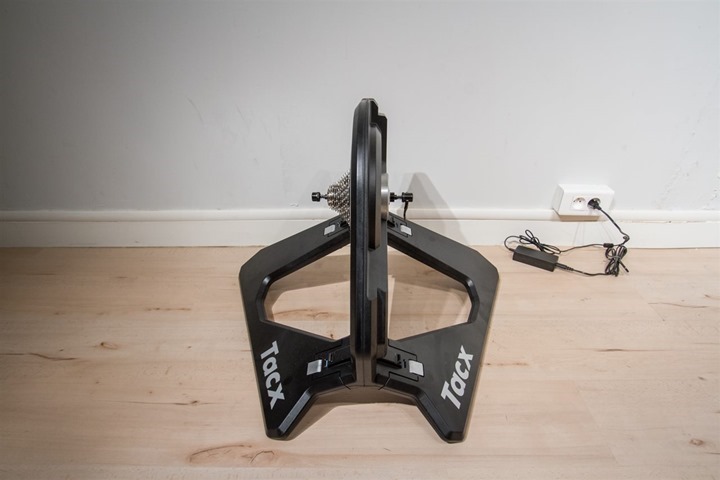 And here's a nifty animated GIF of everything: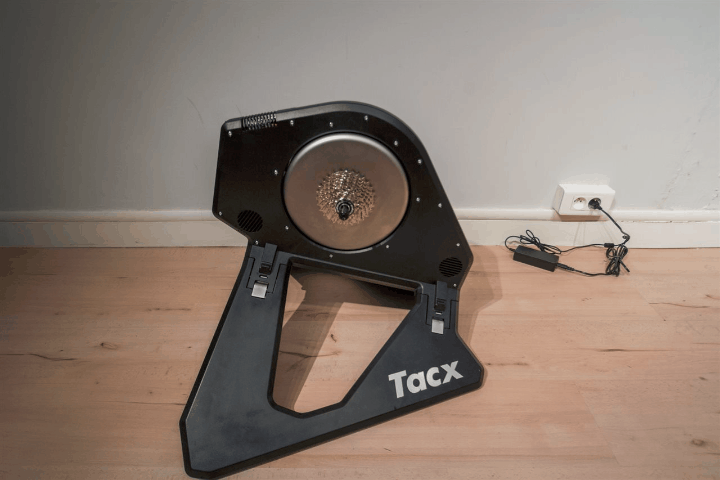 Changing the position is pretty easy and only takes a few seconds.  Finally, to compare it against the Wahoo KICKR in size, you'll see that it dwarfs it.  Which is quite an accomplishment, since the Wahoo KICKR always felt kinda big previously (in a good way).  Now it looks sorta tiny.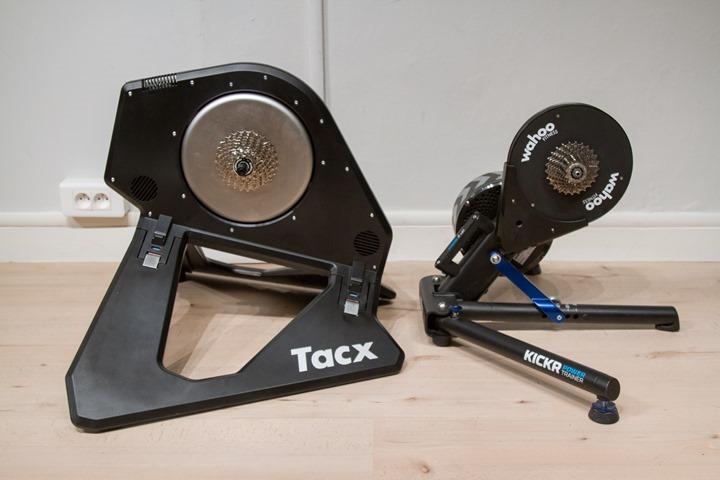 Now of course one of the things with trainers is that weight and materials are important to both stability and long term reliability.  I can't at this point speak to how well it'll hold up in 5 or 8 years.  But it (like the KICKR) is built like a tank.  It's built to take a beating.  Which is what you want.  You don't want a tipsy trainer, so you want something that can have a wide base (even if it folds up like the NEO and KICKR).  Similarly, you don't want something with cheap materials that will break after years of placing your bike on and off (and the usual banging that comes with it).  So you want to be leery of thinner plastics or moving parts made out of thin plastic (i.e. some levers).  I'm not seeing any obvious breakpoints at this stage with the NEO.
Comparing the Tacx NEO: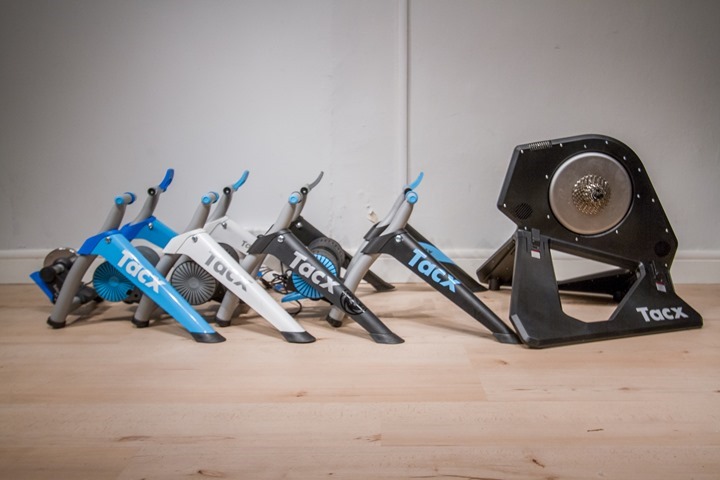 As you can see above, the Tacx lineup of Smart branded trainers has certainly grown (though, it's got nothing on the quantity of 16 trainers that Elite has in their 2015-2016 lineup).  But I think Tacx has done a better job at creating products at different price points.  Here's the basic levels – note that all of these trainers broadcast in dual ANT+/Bluetooth Smart:
Tacx Satori Smart ($469): Basic trainer that has manual lever to control resistance, but still broadcasts ANT+/BLE and can be calibrated for accuracy.

Tacx Vortex Smart ($629): Least expensive trainer they offer that includes electronic resistance control, and support of ANT+ FE-C (plus the same ANT+/BLE broadcasting).

Tacx Bushido Smart ($959): Same as Vortex, except that it can push a quite a bit more watts and a steeper incline and doesn't require a power cable, it's self powered by your pedaling

Tacx Genius Smart ($1,099): Can pump out more resistance again, but most importantly is able to drive the wheel forward to simulate downhill descents on the trainer.

Tacx NEO ($1,599USD): Their top of the line direct drive trainer, the only one they have that you remove the rear wheel. Highest levels of resistance offered by them.
Now I'm sure if you read a bunch of marketing materials they'll sell you on slight resistance/max wattage levels of each trainer.  But realistically you're not going to need that.  Unless you're pumping out 1,000w+ on a regular basis, it's just not likely to matter.  If you are pumping out 1,000w – then you already know that.  The incline differences can matter if you're replicating Alpe d'Huez on a regular basis (for slippage), but otherwise you'll likely not often notice.
In many ways I feel like aside from the NEO, the sweet spot in the Tacx lineup is at the Satori/Vortex levels.  If you don't need trainer control – the Satori is an excellent value.  Whereas if you want trainer control, the Vortex is very solid and well priced.  I don't find all that much value in not having to plug in my trainer, nor do I find a ton of value in simulating downhill sections.  But that may be because much of my trainer time is with wattage-focused workouts.  Perhaps as I do more and more Zwift sessions that'd change.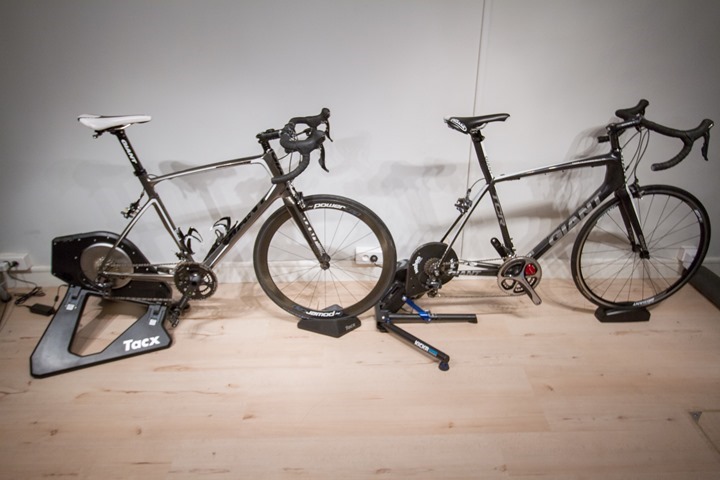 So what about comparing it to the Wahoo KICKR or the Elite Real Turbo Muin?  Well, that's tricky.  The KICKR and Elite Turbo Muin are roughly in the same ballpark price-wise, in the $1,100-$1,200 range.  Whereas the Tacx NEO is at $1,600USD.  Note that Euro prices are a bit different, so keep that in mind – but generally the Tacx NEO is more competitively priced in Europe to the Elite units.
The biggest short-term challenge the NEO has is 3rd party iOS apps (without adapters).  They haven't yet published a way for those apps to talk to the NEO, whereas Wahoo has.  And there's 20+ apps today that support the KICKR, many on iOS.  You can see my massive trainer app post from last year.  Long term though, I think both Tacx and Elite will offer ways for apps to add support for Bluetooth Smart control, it's just that'll lag behind the KICKR which already has apps using it.
When it comes to the Elite Turbo Muin, it's sorta in the same camp as the NEO for apps.  Both have FE-C, so you'll see all of the FE-C apps support both at the same time (i.e. Zwift, TrainerRoad, Kinomap, and others already).  That list of ANT+ FE-C apps will only grow over the next few weeks.  I'd be blown away if there's any apps not supporting it by October, given the number of trainers that'll support it.
So then it really comes down to noise.  How much do you want near-silence?  Is it worth $500?  That's up to you to decide (or perhaps, more accurately – your house mates and neighbors).
Frequently Asked Questions:
Here's a round-up of what I expect will be frequently asked questions.  I'll update/add as I see repeat questions.
How much does it cost, and when it's available?
The trainer is priced at $1,599USD, and €1,399.  This does not include the cost of a cassette, which you'll need to get elsewhere.  Availability is planned for later this month (September) for Europe, and about 4-6 weeks later for North America.  The delay in timelines is due to the product being shipped (via boat) from Europe to the US.
What is the weight of the unit?
48 pounds, or 22 kilograms.
What does power accuracy look like on the Tacx NEO?
I'm working to collect all that data, but it's going to take a few more rides.  After getting back to the DCR studio things look good thus far based on just glancing at multiple units, but I haven't dug into the power files yet and most of the time I wasn't recording all units yet at once.  Expect to see me update this post with more data soon.  It'll include multiple power meters to better understand how things line up.  Look for that by early next week.
Meanwhile, Tacx is initially claiming 2% accuracy, but is working to increase that claim to a higher accuracy level with 3rd party validation/testing.
Do you recommend the Tacx NEO or Wahoo KICKR?
I think it's still too soon there, but see my comments in the previous section on things that might help you decide between them.
Which Garmin units can control the Tacx Smart trainers via ANT+ FE-C?
Today it's the Edge 520, but Garmin has stated the Edge 1000 will get the update as well.  However, the Edge 510 & Edge 810 will not be updated for ANT+ FE-C control.  No other devices have been announced either.
So wait, are you saying my Garmin can't connect to the Tacx NEO?
No, that's NOT what I'm saying.  Rather, only the Edge 520 & Edge 1000 can control it.  All other Garmin devices can READ the data from it.  So for example, the Edge 510 & Edge 810 can pair to the Tacx NEO's ANT+ power/cadence/speed streams and display and record that data, just like any other ANT+ sensor.
What apps can control the Tacx NEO?
Any app that supports the ANT+ FE-C.  Down the road, it sounds like Tacx will be working with 3rd party apps to get Bluetooth Smart control as well, but that's not yet here today.  You can check out my massive trainer app guide here from last year.  I'll be updating that later this fall.
To be clear, the apps made by Tacx today for iOS/Android can control the units directly using Bluetooth Smart.
What the heck is the Tacx "Upgrade Smart"?  And should I buy it?
The Tacx 'Upgrade Smart' is basically just a bundle they've created with the TTS4 desktop suite (Windows), a small handlebar controller, and then an ANT+ USB adapter.  The handlebar controller is specifically for the Tacx desktop suite, not 3rd party apps.  The TTS4 software includes a more advanced interval function, 3D worlds, Google Earth option (with more licenses), and the ability to buy videos.
Now normally at €180, I'd so no, it's not worth it.  But for buyers of the Tacx NEO Smart, it's discounted down to €80 – which makes it slightly more interesting.  I'm not a huge fan of the desktop suite in general, but at that price you're also getting the ANT+ USB adapter and wireless remote.  So essentially you're software cost is in the €30-40 range.  If you already have a USB stick though, it's of less value.
After you get the trainer, look at 3rd party app options first.  Then go from there.  While the Tacx software suite has improved considerably over the years, I think there's some solid 3rd party options out there.  If those apps don't fill the gap, then look at Tacx TTS software.
When will an in-depth review be out?
I'm not sure exactly. Likely early to mid October is a safe bet.  With full weeks of Interbike and the ANT+ Symposium between now and then, along with every other week containing work travel, it's going to be challenging to get as much trainer time as I'd like.  Still, I'll be answering questions as I go along here in the comments.  So there shouldn't be really any question as to my thoughts on the unit.
What cassettes is it compatible with?
You can use Shimano, SRAM, and Campagnolo.  Both 10 & 11 speed.
How does the trainer work when there's no power connected?
Exactly like the Bushido Smart – which is to say that you power the electronic components of the trainer.  So you can be setup in the middle of the cow pastures in their add and pedal away just fine, even controlling the resistance with your mobile phone.
How do you calibrate the trainer?
Interestingly – it doesn't actually support any calibration feature (unlike all their past trainers).  It remains to be seen how over time that'll work.  The theory here being that there's no moving parts and thus nothing to get out of alignment, nor to warm-up such as a fluid trainer.
Is there a ride weight limit on NEO?
Yes, 125 kilograms /275 pounds.
What is the max resistance power and incline/decline?
On the NEO it's 2,200w and 25% incline.  Meanwhile it can simulate 5% declines (downhill).
Where's the Tacx NEO built?
It's built fully in the Netherlands.  It's a small European country that has taken cycling to a potentially unhealthy national addiction and cult-like level.  But because they're usually pretty polite about it, it's OK.  Plus, everyone loves their waffles Stroopwafels.
Summary: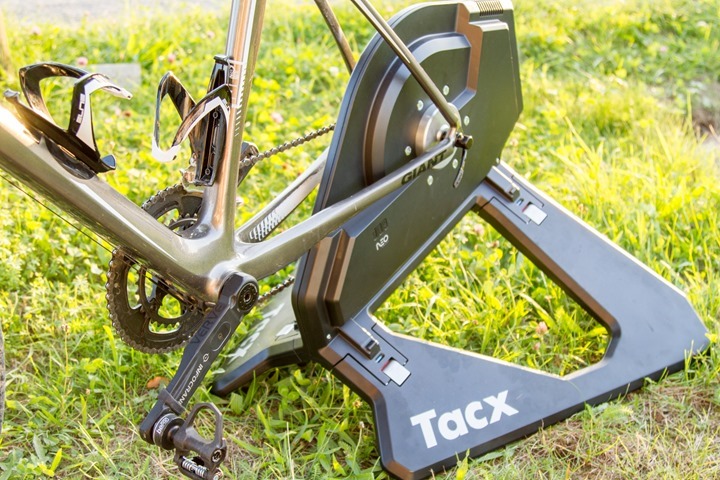 There's no doubt the Tacx NEO is shaping up to be a solid entrant in the higher end trainer world.  The lack of massive trainer noise levels alone will be a huge appeal to many, as well as the direct drive aspect.  There would be no issues using this trainer in any sort of noise-restricted setting, such as an apartment, or significant other who is desperately trying to watch Grey's Anatomy re-runs in the same room.
But at the same time, there's also no reason you need to spend that much money for a very functional electronically controlled trainer.  Tacx themselves makes some great models at almost 1/3rd the price that still do FE-C and all of the other technology focused items I discussed here (except simulating descents).  Similarly, other competitors such as Bkool, Elite, and Wahoo all are making strong competitive options at lower prices.  So definitely do your research.
I think one of the biggest strengths though of any of these trainers, especially the NEO, is the 3rd party compatibility.  While Tacx may have a rocky road on the software apps front, it's somewhat of a non-issue here – since the trainer is being controlled by these 3rd party apps.  I do suspect we'll continue to see some very slight teething items over the next month or two with apps, head unit, and trainer companies implementing these specs.  But I think a lot of that's already been occurring over the summer and by and large things are cleaning up nicely.
I'll continue to update this post as I get more time on the unit, as well as answer questions below in the comments.  Thanks for reading!
(**Update: The Tacx NEO has been superseded by the Tacx Neo 2T. Check out that link for the latest In-Depth Review on the Smart Trainer**)
Found this review useful? Or just want a good deal? Here's how:
I've partnered with Clever Training to offer all DC Rainmaker readers exclusive benefits on all products purchased.  By joining the Clever Training VIP Program, you will earn 10% points on this item and 10% off (instantly) on thousands of other fitness products and accessories.  Points can be used on your very next purchase at Clever Training for anything site-wide.  You can read more about the details here.  By joining, you not only support the site (and all the work I do here) – but you also get to enjoy the significant partnership benefits that are just for DC Rainmaker readers.  And, since this item is more than $49, you get free 3-day (or less) US shipping as well.
Tacx NEO 2T –  (Clever Training)
For European/Australian/New Zealand readers, you can also pickup the unit via Wiggle at the links below, which helps support the site too! With Wiggle new customers get 10GBP (or equivalent in other currencies) off their first order for anything over 50GBP by using code [Currently Disabled] at check-out after clicking the links below.
Tacx NEO 2T (EU/UK/AU/NZ – Wiggle)
And finally, below I made a handy list of accessories that most folks getting a trainer for the first time might not have already.
Thanks for reading! And as always, feel free to post comments or questions in the comments section below, I'll be happy to try and answer them as quickly as possible.
| | Product | Amazon | Note |
| --- | --- | --- | --- |
| | Apple TV 4K (2021 Edition) | Amazon | There's no better bang for your buck in getting Zwift (or FulGaz/etc) on your big screen TV than Apple TV - it's the primary way I Zwift. Even if you don't have a 4K TV, the 4K version has more powerful graphics than the base, worth the extra $30. |
| | Basic Trainer Mat | Amazon | This is a super basic trainer mat, which is exactly what you'll see me use. All it does is stop sweat for getting places it shouldn't (it also helps with vibrations too). |
| | Cassette Installation/Removal Tools | Amazon | There are *many* variations of cassette removal tools, this is the best bang for your buck. Don't overthink this. You'll likely only use this tool once every 2-3 years. |
| | Front Wheel Riser Block | Amazon | Here's the thing, some people like front wheel blocks, some don't. I'm one of the ones that do. I like my front wheel to stay put and not aimlessly wiggle around. For $8, this solves that problem. Note some trainers do come with them. Also note, I use a riser block with *every* trainer. |
| | Honeywell HT-900 Fan | Amazon | I've got three of these $12 fans floating around the DCR Cave, and I frequently use them on rides. They work just fine. Sure, they're not as powerful as a Wahoo Headwind, but I could literally buy 20 of them for the same price. |
| | Indoor Cycle Trainer Desk (RAD/Lifeline/Vinsetto/Conquer/etc...) | Amazon | This desk is both a knock-off of the original KICKR Desk, but yet also better than it. First, it's got wheel locks (so the darn thing stays put), and second, it has two water bottle holders (also useful for putting other things like remotes). I've been using it as my main trainer desk for a long time now and love it. Cheaper is better apparently. Note: Branding varies by country, exact same desk. |
| | KOM Cycling Trainer Desk | Amazon | This is by far the best value in trainer desks, at only $59, but with most of the features of the higher end features. It's got multi-tier tablet slots, water bottle holders, non-stick surface, adjustable height and more. I'm loving it! |
| | Lasko High Velocity Pro-Performance Fan (U15617) | Amazon | One of the most popular trainer fans out there, rivaling the Wahoo Headwind fan in strength but at a fraction of the price. It doesn't have smartphone/ANT+/Bluetooth integration, but it does have secondary outlets. I've been using it, and a similiar European version lately with great success (exact EU variant I use is automatically linked at left). |
| | Shimano R7000 105 Cassette (11-speed) | Amazon | This is a Shimano 105 cassette (thus, slightly more budget compared to the Ultegra), in most cases, you probably won't notice the difference. Ensure that the number of speeds matches your bike (e.g. 11-speed, 10-speed, 9-speed, etc...). |
| | Shimano R8000 Ultegra Cassette (11-speed) | Amazon | This is a Ultegra cassette, you can save about $10-$15 by picking up a Shimano 105 instead. Ensure that the number of speeds matches your bike (e.g. 11-speed, 10-speed, 9-speed, etc...). |
| | Tacx Tablet Bike Mount | Amazon | I've had this for years, and use it in places where I don't have a big screen or desk, but just an iPad or tablet on my road bike bars. |