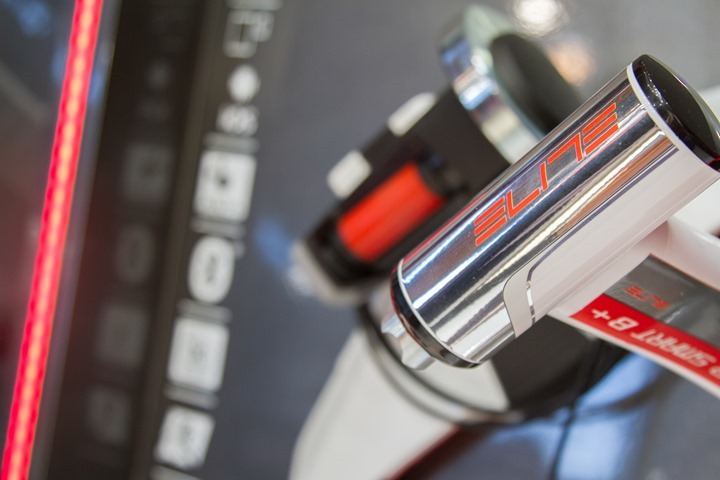 An Overview:
You know how when you go to the supermarket and can't decide which ice cream flavor to come home with – only to end up coming home with more than one container of ice cream?  That's kinda like what Elite did.  Except, they just bought the whole flippin' creamery and ended up with this:

Yup – that's now some 16 trainers for their 2015-2016 trainer lineup – a complete baker's dozen (ok, actually a baker's dozen + 3).  The vast majority of them being new.  The good news here being you've got plenty of choice.  I suppose the bad news being the decision tree is a wee bit complex.  But I'll try and help you out.  Here's the core things you need to know when combing through the Elite trainer list:
The B+ Suffix: No, this doesn't mean it's a mediocre grade school student, rather B+ means that it transmits on both Bluetooth Smart and ANT+.  As a result it transmits Bluetooth Smart Speed/Cadence/Power, [Update] but NOT ANT+ Speed/Power.  Meaning, you can pair it to an app, but not to a Garmin Edge series unless you have an Edge 520/1000.

'REAL' Trainers: These are trainers that include the 'REAL' software suite that the company makes.  This software suite has tons of functions like following courses outdoors, racing online, etc…. Some of these are done very well and others…not so much.  In general, I think you'll see most of the industry shy away from creating their own apps over the next 1-2 years and instead look to just offer API's for 3rd party apps using FE-C and whatever the Bluetooth Smart equivalency will eventually be.

The FE-C Logo: This ensures that ANT+ FE-C compatible applications can control the trainer (resistance control).  Virtually every app worth its salt has or is adding this support (with plenty more announcing it this week).  Though, note that FE-C support isn't really available on iOS apps directly, since Apple devices can't talk ANT+ (some apps support an iOS ANT+ adapter however).  For iOS without an adapter to control it you'd need native Bluetooth Smart trainer control – which is more limited in terms of app support.

Misuro B+: This is a small pod that attaches to certain trainers in order to basically give it B+ capabilities.  In other words, it can then broadcast its speed/cadence over ANT+/Bluetooth Smart.  It does NOT give it FE-C capabilities, since this is basically just a tiny box that is triggered by a magnet.

Wheel-on vs wheel off trainers: Some trainers you remove the rear wheel (wheel-off) and attach your chain directly to the trainers cassette.  Whereas other trainers are wheel on, which means that you leave the rear wheel attached just like riding outdoors, and the trainer presses against the rear wheel.  There are pros and cons to each, but in general wheel-off is quieter and usually costs more.  It also reduces the slip (to none) that can sometimes occur at very high inclines, on the flip side though most would say it's not quite as quick to install a bike on it every day.

Rollers: Adding even more types you've got rollers, where you greatly increase the risk of crashing into your TV inside your living room.  But they have a dedicated following and can actually improve bike handling skills (as well as improving your TV when you have to buy a new one).
Phew – ok, now that we've got that out of the way, let's talk about some of the more notable ones.  Yes, I know, you're supposed to love all children equally – but let's be honest, some children are just better than others.
Notable Models and Tweaks: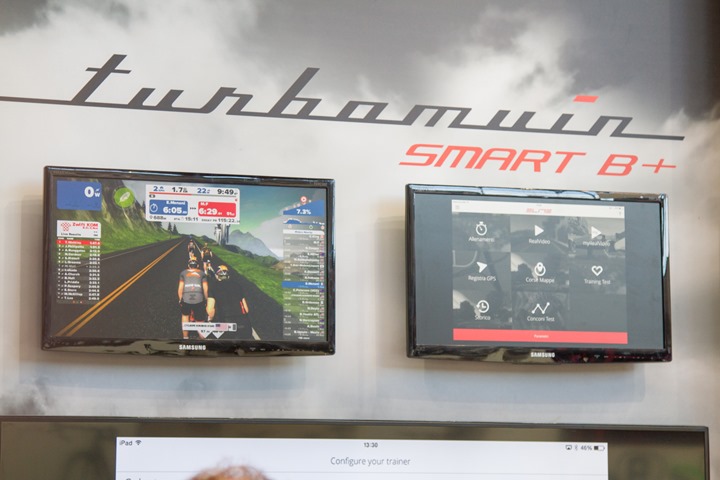 Overall there are two trainers that I'd specifically focus on.  One is at the high end, and one is at the low end.
Real Turbo Muin B+:
This is essentially their new top-dog.  It's also essentially a Real Turbo Muin with the B+ tacked onto it (and FE-C).  It slides in at 1,290EUR, so definitely up there (in the same rough ballpark as the Wahoo KICKR and the Tacx Neo).  It's a wheel-off-design like in the past, but now includes the ANT+ and BLE transmission pieces baked in.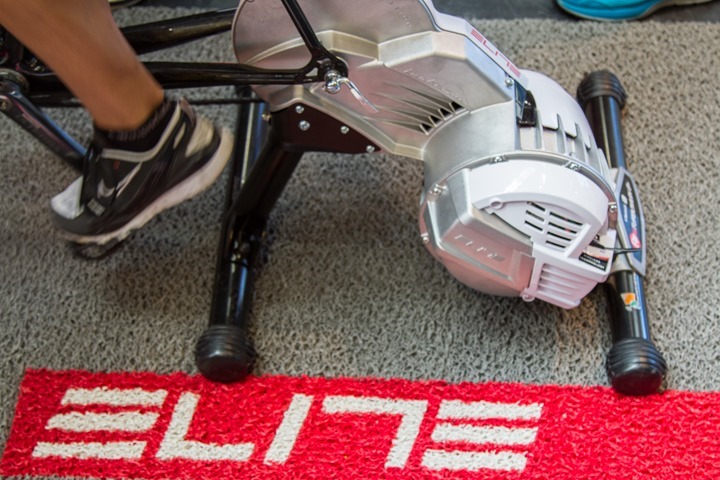 Now this trainer is quieter than a Wahoo KICKR, but not as silent as a Tacx Neo (because that's as silent as you get).  Being it has FE-C it's fully compatible with all the cool apps you want for controlling the trainer, but it's also got broadcasting of ANT+ and BLE signals for apps that can't or don't have access to ANT+ FE-C support.
Now in the provided papers you'll see there's also the REAL Axiom B+ which is very similar spec-wise, the main difference is that it's wheel-on (and can't do more than 10% grades – but you really don't want to do that anyway).  So basically you've got a small difference in price and you can decide which type of trainer you want.
Qubo Digital Smart B+:
This may take the cake as the best Elite option out there for a budget FE-C trainer.  At 394EUR, it's the cheapest ANT+ FE-C trainer they offer, and on par price-wise (in Euros anyway) with the Tacx Bushido Smart.  The trainer also supports the same ANT+ & BLE broadcasting options.  It doesn't include the REAL software suite however, but as I noted before – I think that's OK.
Note that they didn't have one of these in the booth at Eurobike (because, you know, they have 16 trainers on offer and their booth wasn't palatial), so instead I give you this picture of a bunch of trainers stapled to the wall.  It looks almost like the one in the middle.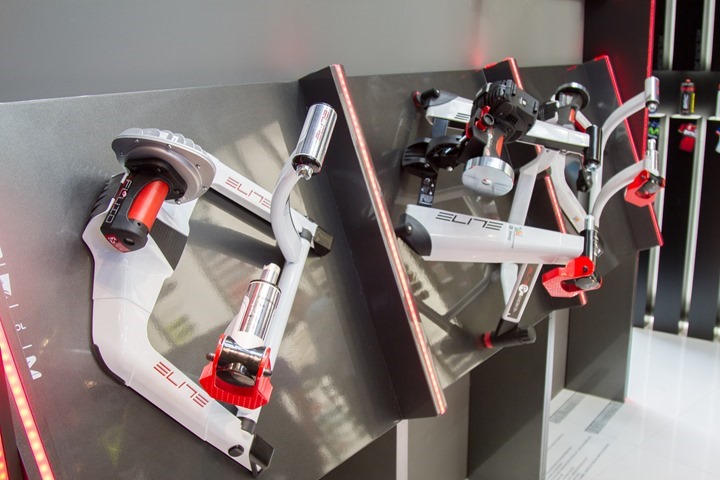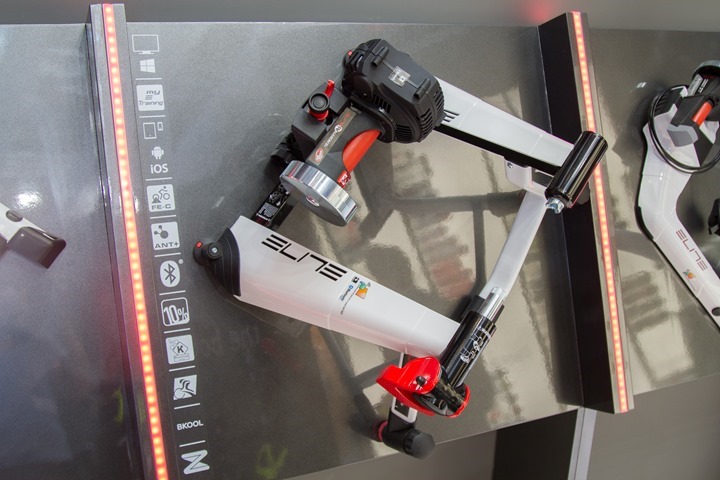 Now as I noted there are a crapton of other models, so in order to try and make your life easier, I've taken this nifty photo of the model comparison spec-sheet, so you can try and decode them all.  Actually, I'm going to give you the entire brochure for full decoder capabilities.
But again, probably best just to aim for the two models I've picked out.
Existing Model Updates: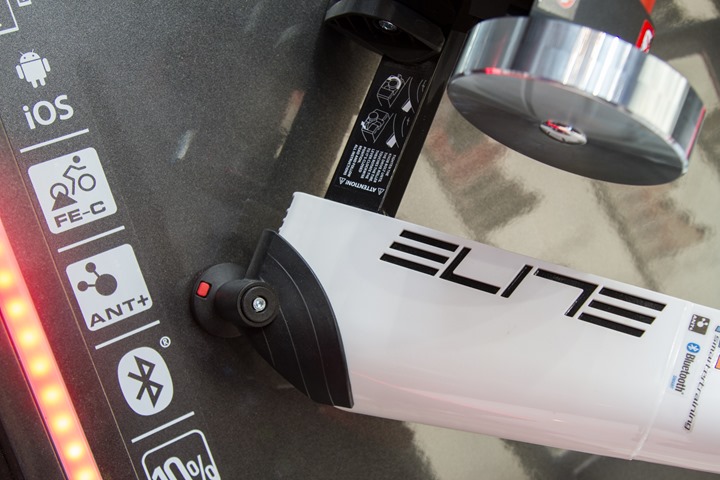 Finally – the piece you've all been waiting for:  What happens to existing Real Turbo Muin owners as far as FE-C goes?  Well, in a nutshell you're going to get an update.  Elite has promised that by the end of the year (2015) they'll update the existing Real Turbo Muin to include ANT+ FE-C support.  That means that you'll be able to control it using 3rd party apps like Zwift and others.
However, and I think it's important to caution here – Elite also made this same claim exactly one year ago today.  They said the Elite Turbo Muin would get ANT+ FE-C support by the end of last year.  And then by the end of January, and then by late Spring, and then they said by Eurobike (now).  So basically…it keeps getting pushed out.
Now on the bright side I suspect that this is really a case of doing the software for the Elite Turbo Muin B+ (that's the new model), and that software will basically just be ported over to the non-B+ variant (old model).  Given the B+ won't ship for another month (all of the new ones are roughly end of September, early October), I think that's the cause of the delay.  And since they'll have to have FE-C done by time they ship the new B+, it surely can't take another 2-3 months for the existing units update.
But again, the proof is in the pudding.  I like the approach that both Tacx and Bkool have taken in basically saying "go download the FE-C now, it's available", versus future promises.  On the other hand – I definitely appreciate acknowledging a future firmware plan even if I don't like the dates I get back.
—
With that, thanks for reading!  If you're looking to burn a bit of time, here's all my Eurobike 2015 posts!