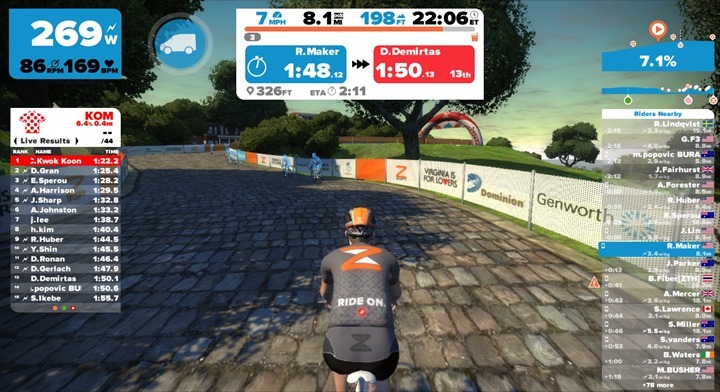 Zwift has delivered on the first of their many promised expansions: real world courses. Back when I first discussed the service with them a year ago, they noted that they'd eventually see opportunities to partner with race organizers for creating virtual versions of their events.
The idea being twofold here: Events that could be ridden virtually at the exact same time as the actual race (ideal for folks such as deployed soldiers unable to attend), and then just cases where people could train and otherwise ride the event course ahead of time. This has benefits for training, but also just event PR aspects.
Up until this point the company has been focusing on fictional locales – such as Watopia in the middle of the Pacific Ocean. Today though Zwift rolled out the first real world course they've done: Richmond, Virginia. I know, it's not as sexy as…well…anywhere else really (yes, I've been). But, it's home to the upcoming UCI 2015 Road World Championships, which will be held in Richmond from September 19th to 27th.
And with that obvious cycling tie-in, it seems like a natural fit. In this case, Zwift partnered with Richmond 2015 on the effort (who I turn is partnered with the UCI on the event). This sort of partnership is something we haven't really seen from most of the trainer app companies to date. Most of those partnerships have been at levels such as Ironman, or local events. Going to a major UCI event is kinda an entirely different ball game.
Building the Course:
I was curious how exactly Zwift was going about re-creating the 3D world of Richmond. Obviously there are other trainer apps out there that use Google Earth to dynamically show you a 3D world as you cycle. Most of these tend to be sorta…unreal…feeling though, despite trying to feel real. Then there are of course manually built fake worlds, which tend to feel very realistic, but that's because you aren't comparing them to any actual real location.
In Zwift's case, they started with a video of the course provided by the event organizers. This was then combined with GPS log file data they obtained (.FIT & .GPX) to generate the road data. In the middle of all that, they sent a team member out to Richmond as well.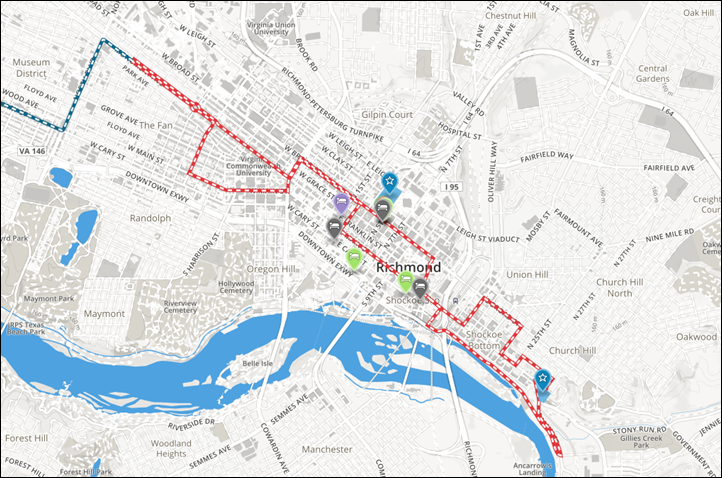 Next, they layered in USGS survey data for the correct terrain height. The challenge they noted was that the data they received from all these sources wasn't terribly awesome once combined, which is especially true in urban environments with buildings. So they had a fair bit of editing the data to make it line up correctly.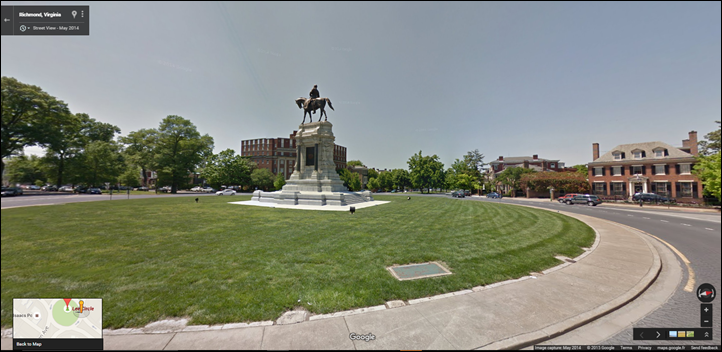 They also leveraged Google Street View quite a bit when it came time for their development artists to start building the models. When I asked about how and where they drew the virtual line on recreating a given building/monument/etc, Jon Mayfield of Zwift noted:
"We used our best judgment. We wanted the feel of the Richmond VA without our artists literally going off into the weeds modeling 3d assets that don't really matter. While watching the course video we'd make note of certain land marks that stood out (a church steeple, a factory, overpass, etc) and we tried to make sure many of those were in."
You see that within some of the course components. For example, there's a monument early in the course that in real life is a Robert E. Lee on a horse (photo taken by a DCR reader, also above in Google Street View). But in Zwift it's actually a bike: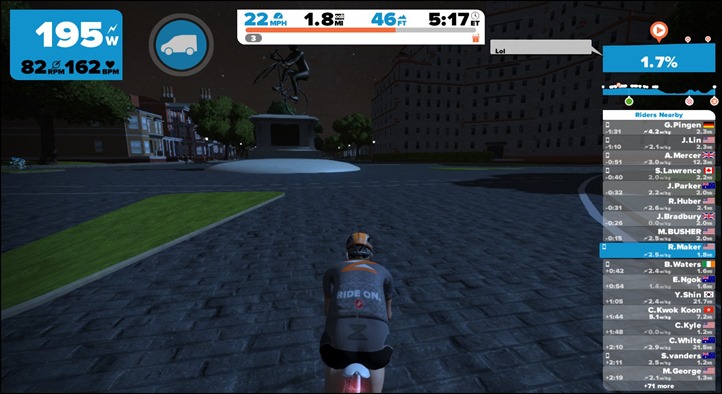 The effort started about a month ago, and Zwift noted that only a portion of the game development team was working on it. Obviously it's likely a goal of Zwift's to increase these sort of marketing partnerships, since they likely drive both users to their platform, as well as money from partnerships. Jon said that "it's feasible for us to make more courses if they prove to be a hit, especially for race type events. We're strong on the community/social aspect of our product, so we have to be careful about separating users too much between many courses."
Which is definitely true, and one of the biggest reasons that I think Zwift has been successful to date: They only have a single course. Many other cycling 3D worlds have numerous courses which spreads out the users and makes for lame game play.
Riding the Course:
I gave the course a ride today over lunch, mostly just out of curiosity. Unlike previous times when I've launched the app, I'm now presented with a new challenges option. This was also added today, and allows you to compete against various personal challenges. Since riding 797 miles on my trainer seemed like a painful goal, I went with climbing Mt. Everest instead.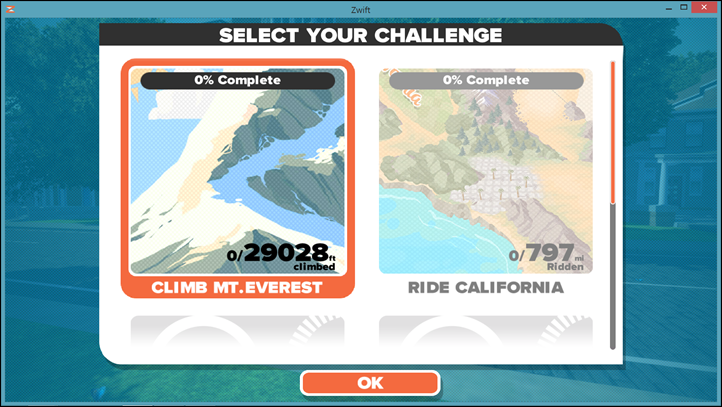 With that out of the way I was off on my ride. At this point it was just about sunrise in Richmond at 7AM, though that was a bit of pure dumb luck. The day/night cycles automatically on a short schedule just like on Zwift island.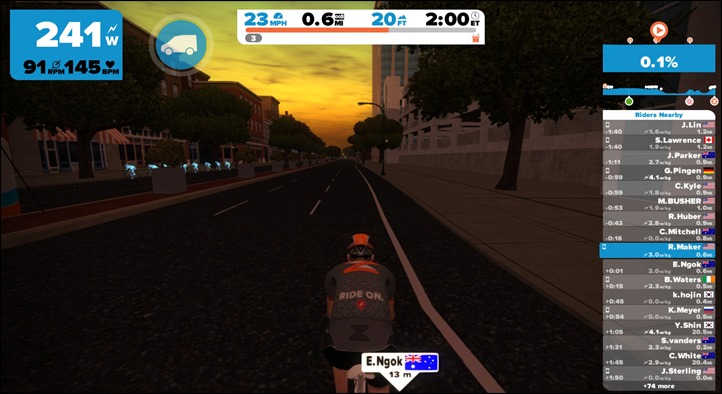 The first portion of the 10-mile long course is mostly in the downtown area. Perhaps because it was dark, or perhaps because it was a non-vibrant city, this wasn't terribly exciting for me.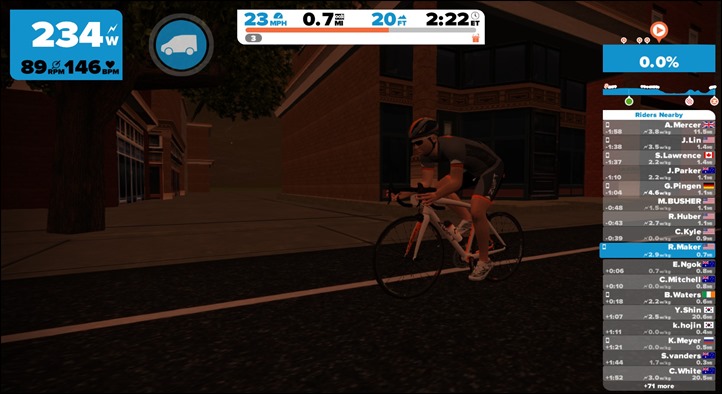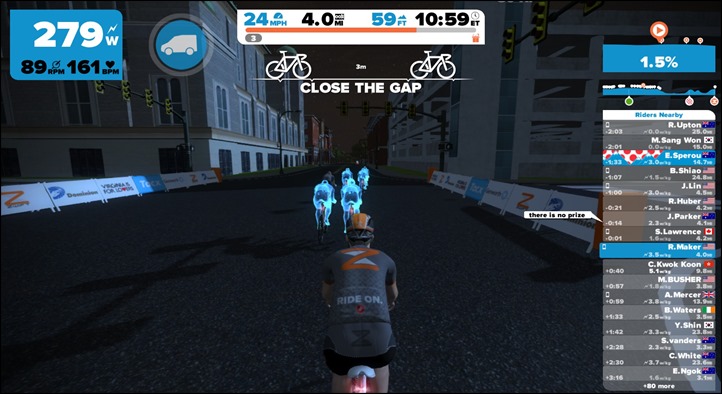 I think the realism in the city environment is lost a bit during tight turns, as the camera doesn't 'tilt' like you would normally corner a turn, so it feels unrealistic. Whereas in the fictional Zwift world, there's no places on the course that have 90° turns, so you don't actually ever notice it.
Nonetheless, I kept on chugging along. There were some 80-90 other riders on the course at that time of day, disproportionally Australian. And the smack talk was definitely flowing.
Eventually though, sunrise rose, and with that I got out of the city a bit: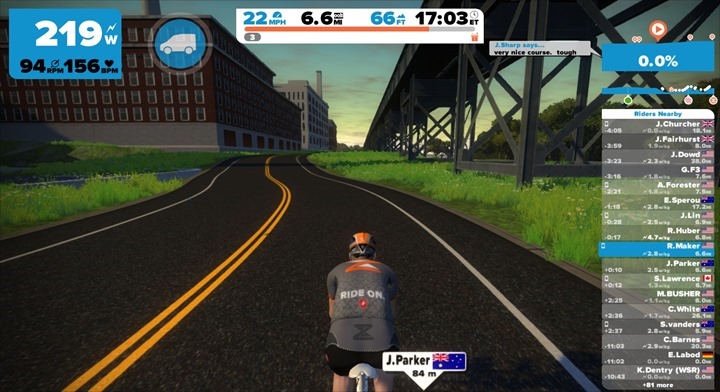 For fun, here's what I believe to be that same spot on Google Streetview: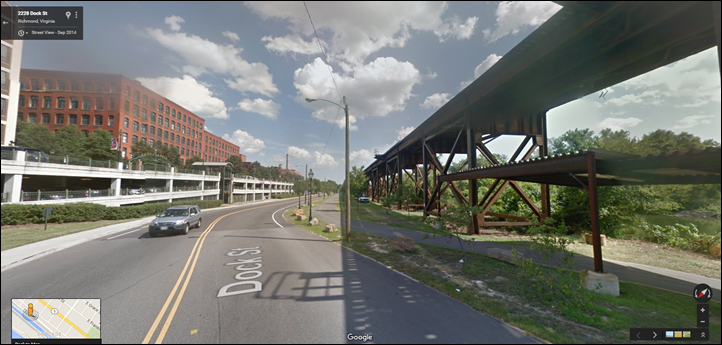 So the gist of things is definitely in the ballpark.
Once I got to this portion I actually rather enjoyed the course. I think that's because it was less about city and more about parklands of sorts – an area that Zwift already excels at. Further, there weren't really many sharp turns here, so things felt more natural.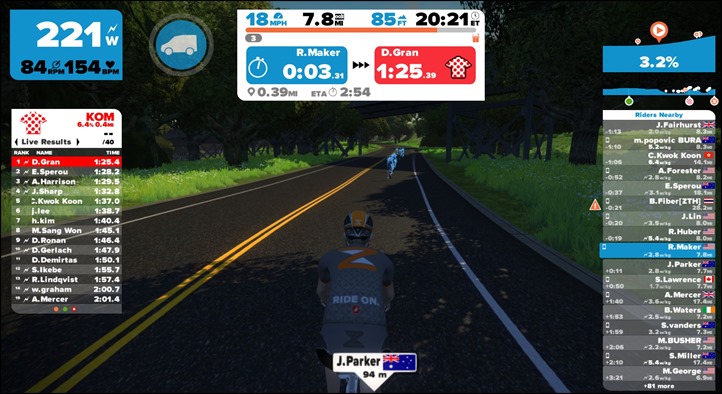 Soon I'd find myself a bit of a cobbles section. Interestingly, you could clearly feel the change in resistance on the Tacx Neo the split second I hit this. Not saying you could feel cobbles, but rather the friction changed.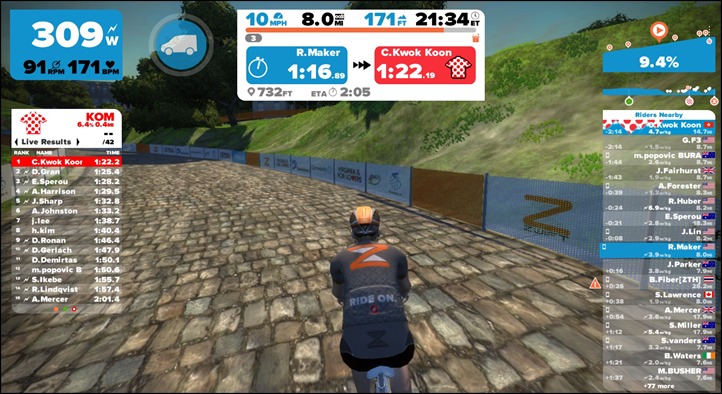 Unfortunately there isn't Google Street View imagery here, since it's normally a closed road – but indeed, there are cobbles going up the hill (the Zwift image above is taken quite a bit further up the hill than the photo below).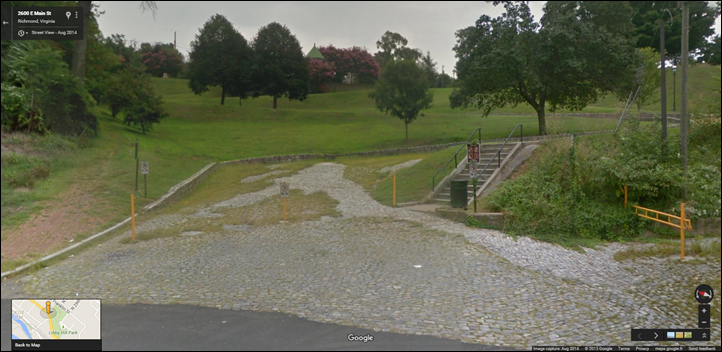 Then from there it was into some neighborhoods for a while.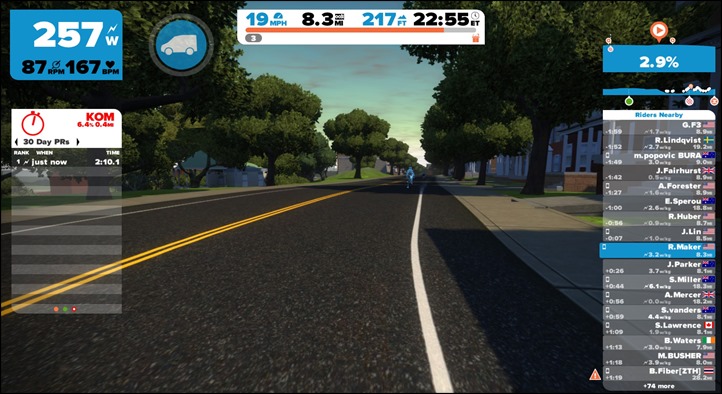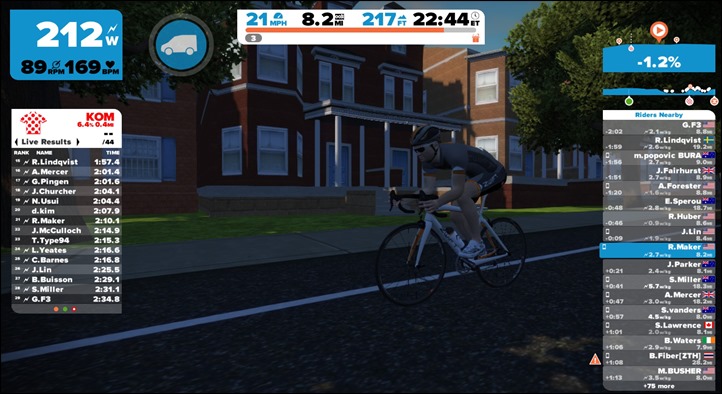 Then finally as I hit about the 10.4-mile marker I cleared the finish line, and could begin my 2nd loop.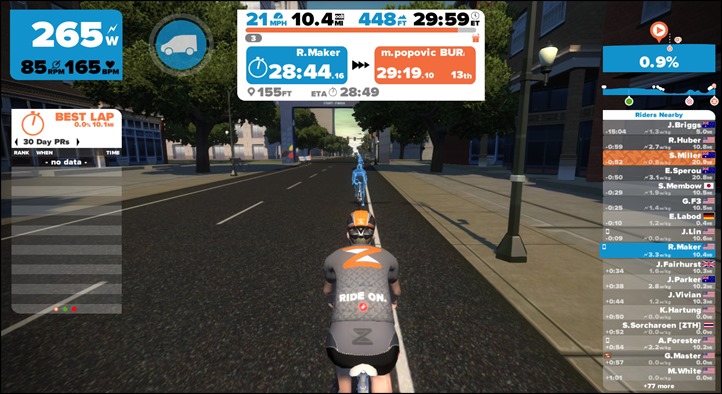 At that point though, my actual lunch was calling, so I called it a day.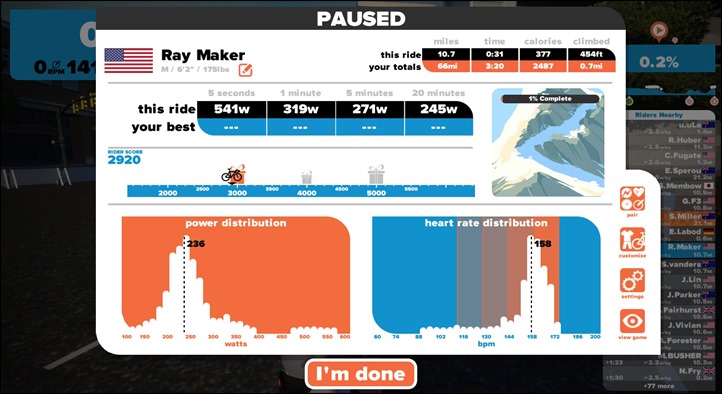 And, I made stellar progress towards my Mt. Everest goal, now only 99% remaining!
In addition to the photos above, I gave my first go at using YouTube's Live Streaming functionality with a desktop computer. I've previously toyed around with this on mobile devices and action cams. While I got the software all setup without too much incident, I left the defaults in the software for the recording rate, which did it at some very non-High Definition levels.
So, if you're interested in watching my entire go of the course – you're welcome to check out the YouTube video below. It just looks like…non-awesome sauce because of the dismally low recording rate. Don't worry though, I've already changed the setting so I'm good to go for next time.
It's worth noting that right now when you connect to Zwift you don't have any choice in the course you're given. There's only one course at a time. The schedule for which course you'll get is a bit wonky over the next month, but here ya go:
Sept 1st – 8th Richmond
Sept 9th – 12th Watopia
Sept 13th – 15th Richmond
Sept 16th – 19th Watopia
Sept 20th – 27th Richmond
Sept 28th+ Watopia
Zwift says eventually they'll allow you to select a course, but that's not in the immediate cards. I think they're trying to carefully balance ensuring that they always have large quantities of riders in the courses to keep them more interesting.
They noted that "the course will be available in some way for many months to come. It may be on a limited schedule, or we may have regularly scheduled events on it every week. It's too early to say, but it's a nice asset for us to have and use as we see fit."
Uploads to Strava:
Finally, it's worth mentioning that like usual my Zwift ride automatically uploaded to Strava. However more important here is that it was tagged as a Virtual Ride.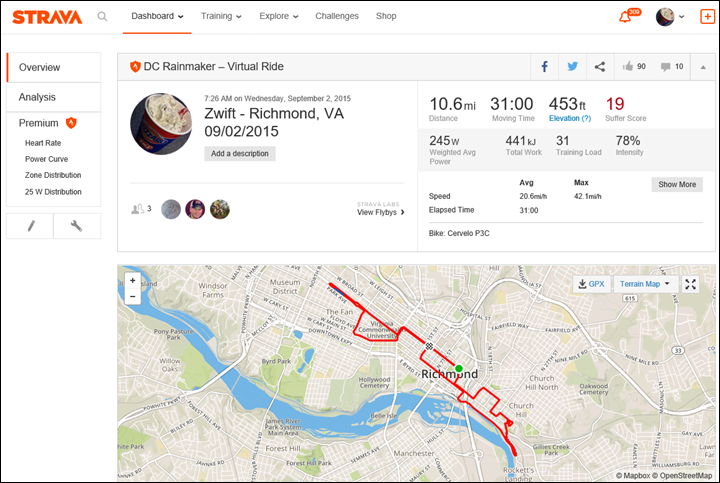 Virtual Rides are important because it ensures that folks using Zwift (and other trainer apps) don't incorrectly show up in regular Strava leaderboards. So at the bottom, where there would normally be segments it's a bit slim right now:

Over time though, as more segments are set via virtual segments, they'll start showing up here.

But even if you look at some of these already, all of them are via Zwift riders (only) today alone. Some 403 people in the first portion of the first day already. Impressive.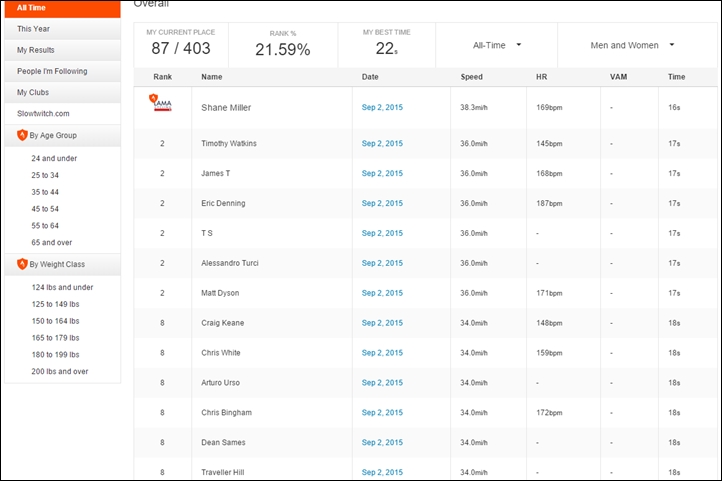 Pretty cool stuff, by both Zwift and Strava. I'm looking forward to seeing other partnerships. For example, I'd love to see the final stage at the Tour de France in Zwift (in Paris) – it's just about the perfect length for it too!
With that – thanks for reading!