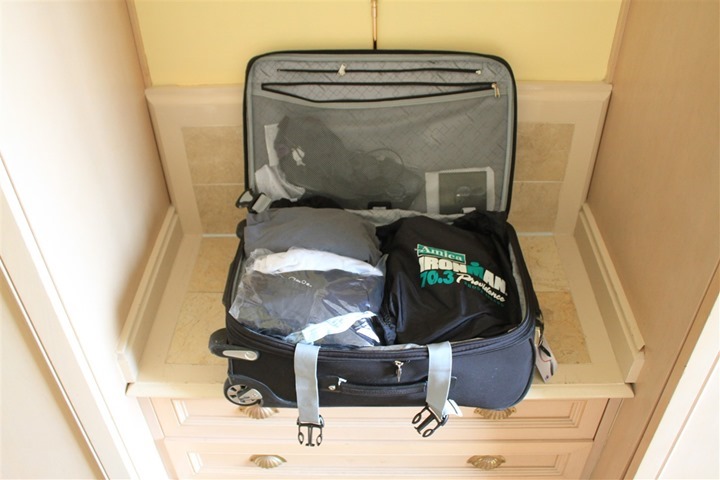 A number of you have asked recently how it is that I pack for work trips when it comes to working (or other sports).  I don't remember the last time I took a trip and didn't work out.  It's just sorta part of the package.  Heck, even on some day trips I'll manage to sneak in an occasional run.  I also think it can be easy to find excuses to not work out while travelling.  So I'll cover some tips as well at the end.  First up, making it fit.
And for those who may be new around here – I kinda travel a fair bit for work.  This year I'll easily clear between 250,000 and 300,000 miles.  No, that wasn't a typo.  I travel almost every week, from quick 75 minute train rides to 22 hour flights.  Every week is a new country and usually a new continent.
My Suitcase System:
I have three suitcases.  Two of which get regular use.  At the smallest end I have an 18" roll aboard suitcase that I use for most trips under about 5 days.  Then I have a 22" roll aboard suitcase that I use for trips between 5 days and two weeks.  And finally, I've got a big gigantic suitcase that I'll use beyond two weeks (i.e. a cruise/long vacation/etc…) – typically when I'm taking a lot of clothes/items.  I use that probably once per year.  In the below case, it's my 22" roll aboard: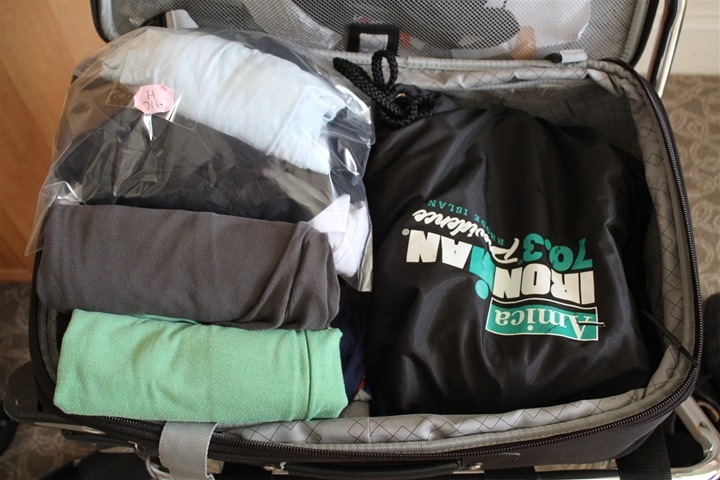 (The above photo was on the last day of a two-week trip through Australia and New Zealand.  Some clothes are in a plastic bag because they were clean from laundry service.)
Almost everything of mine workout-wise fits into a single cloth bag.  This is the bag that's normally given at out triathlons these days, but has long been used by swimmers and others.  I put my running shoes inside of this.  The reason for this is that if it's muddy/wet/stinky/whatever, it keeps it inside.  While I could use a plastic bag (and sometimes do inside the cloth bag if things get really ugly) – eventually that tears.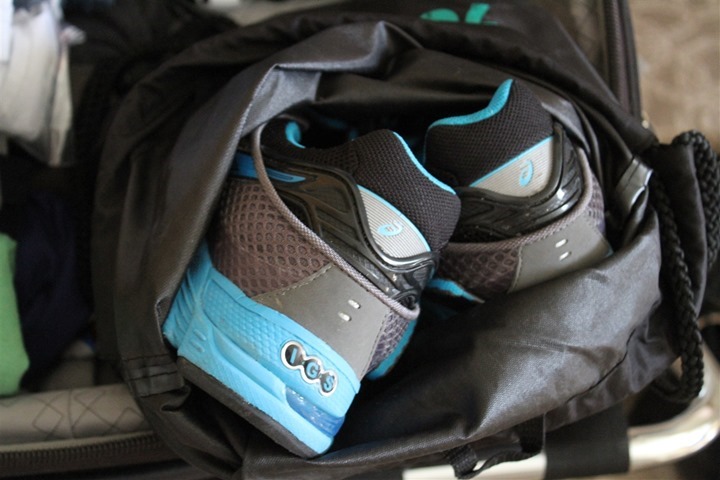 Next to the shoes I usually throw my heart rate strap (though my regular running watch I tend to keep in my backpack).  Additionally, I have a spare phone arm-band for running with it – in case I get lost or something.  Also useful for holding a bit of cash or room key.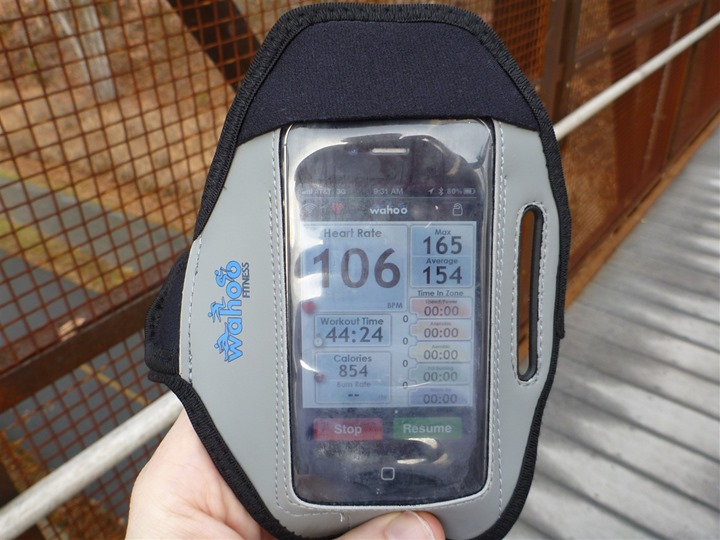 Inside this cloth bag I'll then stash my swimming stuff.  Everything fits into a swim cap.  Goggles, swimsuit, swim watch, and swim cap.  Done.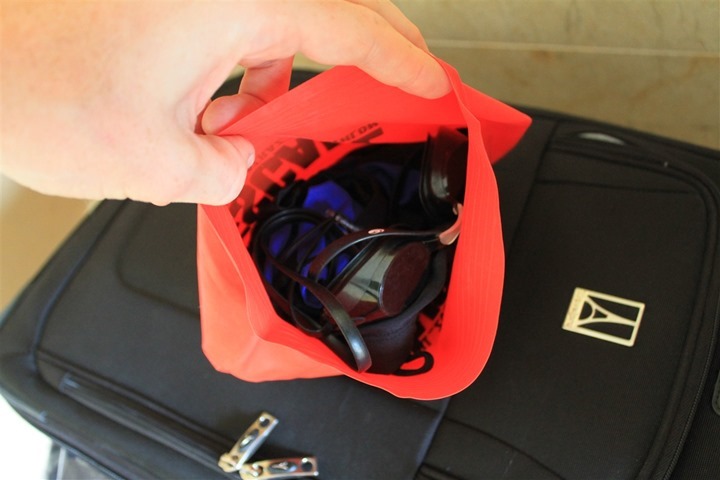 Now I do often keep a spare swimcap, pair of goggles and suit in the front pocket of my suitcase.  I do this because sometimes the one in my clothes bag will get caught up in the unloading process at home and not make it back in.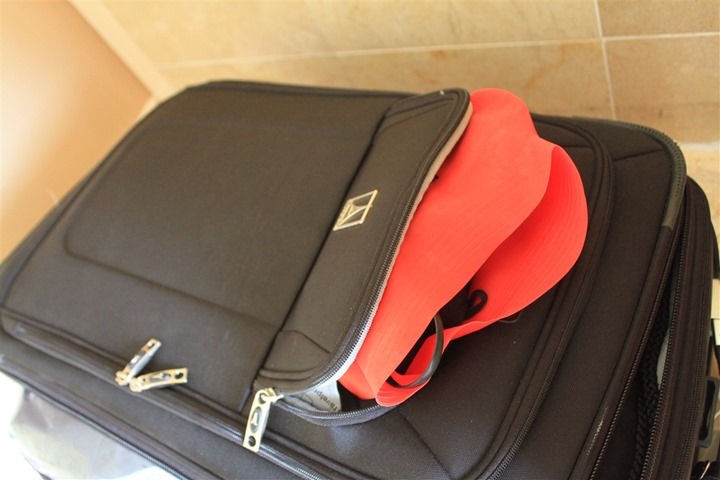 When it comes to workout clothes, I try and carry only 1-2 pairs of shorts/t-shirts/socks.  All I do is post workout while in the hotel shower I simply wash them quickly with soap/shampoo and then rinse.  After that's done, I just hang them up. Many hotels have clothes lines over the bathtub (Note: In Europe sometimes those aren't actually clothes lines but 'help lines' – so poke around a bit).
However, for hotels that don't have that, the trick is finding the air vent in the room, and then wedging a hanger from the closet up there.  Almost all hotel rooms have the air vent about 4-8 feet after entering the room.  With even just a tiny bit of airflow, your clothes will quickly dry by morning – even with abnormally small vents like these: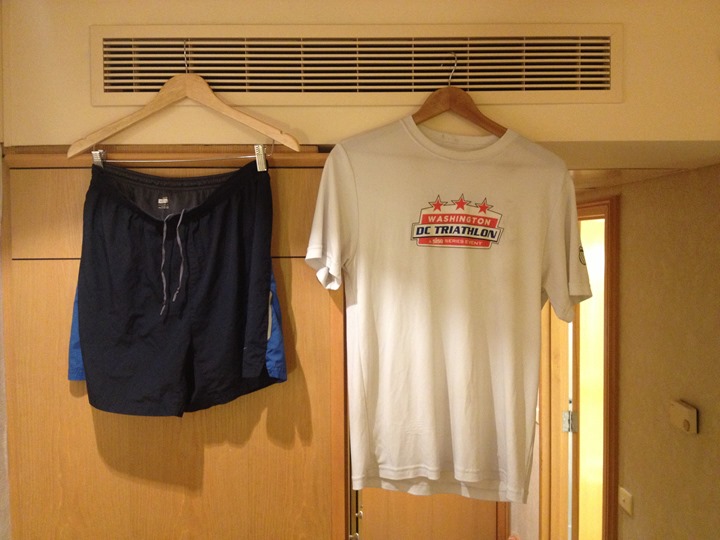 (The above photo was taken in Wellington, around 10PM, the clothes were dry by time I left for the airport around 4AM.)
Dirty or wet clothes go into the bag with the shoes.  Generally inside a plastic bag inside that bag (just grab a plastic laundry bag from your hotel room's closet).  In the event your hotel is more swanky and the laundry bags are fabric, grab a plastic bag from your ice machine bucket.  This keeps it from stinking up the rest of the suitcase.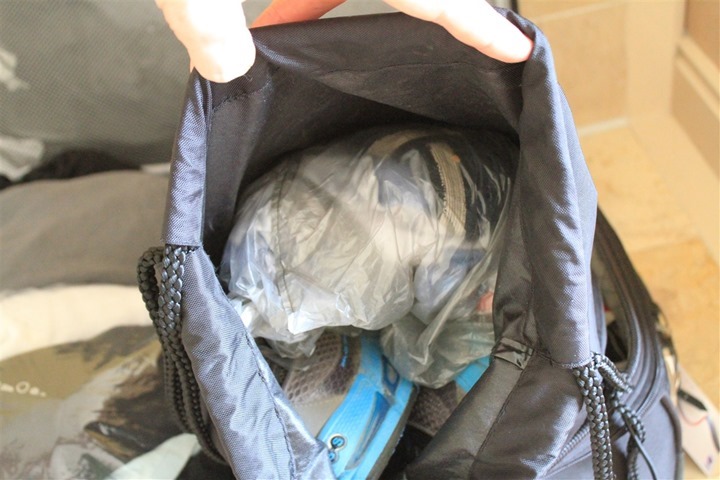 Lastly, I always have a spare CR2032 battery in there, since I find it useful in most heart rate straps or sensors.  And if I know I'm going for a ride, I'll toss in a quick release ANT+ speed/cadence sensor too.  I use a rare-earth magnet with it and just stick it on the back of the pedal spindle, so I don't have to have any tools.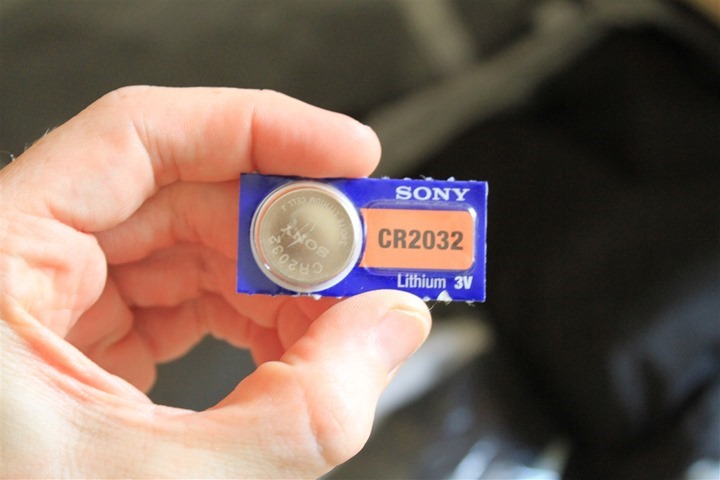 Working while travelling tips/thoughts:
I've written about this a bunch before, so here's some new thoughts about four years later – and a lot of miles later.
Fighting excuses:
Trust me, I've heard them all.  And, on occasion, taken part in them.  I am not immune to that.  For me I attempt to balance getting workouts in on a regular basis, with making it through the end of the week in one piece.
Schedule the week: A lot of it comes down to having a schedule for the week before the week even begins.  I work carefully with my coach to outline my schedule as best as possible, and then he puts together a workout plan that takes everything into account.  Over the years he's come to understand what works best for me, and what doesn't.  For example:
1) Mornings before flights: If from home, a trainer ride or run works best. This removes any pool logistics issues. If on the road, a run works best.  This removes any gym issues.
2) Upon landing: If the flight is more than about 5-6 hours, then it'll likely be something in the 40-minute range.  Typically either a 40-minute run, or a 30-40m easy trainer ride.  If it's less than that, HTFU and get a workout done (unless the schedule is wonky that day).
3) Harder efforts: This past week while travelling I had two 'hard' interval workouts.  One was a 90ish minute brick (short hard bike, long interval run), and the other was a 2hr brick (long hard bike, short-hard run).  He separated these out, and put them away from the travel days, so that I could recover a bit before diving into them.
4) Swims: Swimming while travelling is the bane of my existence.  Sometimes it works out great, and then other times it's a flotilla of fail boats.  Pool schedules, bad/crowded facilities, etc… That said, I do try.  But I mentally and physically prioritize swims while travelling lower.  Especially if I'm lying in bed at 5AM trying to fit in 2 hours worth of logistics and workout time.
Schedule the the day: In addition to having a weekly schedule, spend 30 seconds the night before putting together the next day's schedule, inclusive of the workout.  For example, I'm sitting on an 11 hour flight back home right now, but here's my schedule this morning inclusive of my 90 minute run (simply done in notepad):
6:30AM Wakeup
6:45AM Leave for run
8:15AM Back/Shower
8:30AM In car driving/gas at airport
9:45AM Rental car facility
10:00AM Airport door
11:23AM Flight
I worked backwards from my flight time to when I woke up.  In case you're curious – the massive gap in the car was to account for rush hour traffic (I ended up at the airport door 6 minutes early per my schedule).
Just get it done: With the schedule done, it removes any ambiguity.  In my mind, there's generally only one choice: Get it done. I can plan out exactly when in the week I'm going to complete the workout based on what work commitments I have.  Meaning, if I know that I've got meetings from 8AM till 5PM, and then know that people want to hang around and chat till 5:30-6PM, and then suspect that a co-worker/team will want to do dinner at 7PM – I'll do my workout first thing in the morning.  Even though I'm not an early bird. At. All.
Take Advantage of Time Zones: It's funny, if done right you can really work the time zone system to your advantage – even when skipping forward (going East, going West is simple).  Take for example this past November when The Girl and I flew into Dubai.  We landed a little before midnight, but both of us were wide awake.  Rather than head out into the hot sun some 6-8 hours later in the early morning, we just simply headed out and did a run at midnight.
The same thing goes for severe jetlag, which may have you waking up at 4AM.  Like my time in South Korea – where I was standing at my hotel window waiting for the sun to rise to start running.  Had I tried to run at 6PM, I'd been shot.  Again, not a morning person – just getting it done versus watching CNN.
Taking workout clothes takes too much space: No, you don't get to use this excuse.  Sorry, it's been revoked.  I'm 6'2", everything I have is big. From my big flopping running shoes to my clothes.  It takes up almost half my suitcase.  Yet I still make it work (and yes, I often do bring suits/coats with me).  Minimalize other things.  Minimalize your workout clothes to just a pair of shorts and t-shirt and shoes.  When I cycle in the gym, I just use running shorts.  It's one less thing to bring.
The logistics of workouts:
I'd be lying if I said I didn't sometimes find the logistics the most daunting thing.  Because finding a route in a new city can be tough – especially for long runs and the like.  But, in today's technology driven age, there's really no reason for excuses here any more.
Running: For running, start by simply ask your hotel folks where a local running or cycling trail is.  Next (since they won't likely know), go to Garmin Connect or MapMyRun.  You don't need an account (and if you want one, they're free).
If in the US, use the Garmin Connect heat maps to figure out where people are running.  Here's a look at Seattle.  Not to point out the obvious, but that red circle is where people run.  A lot.  Go there.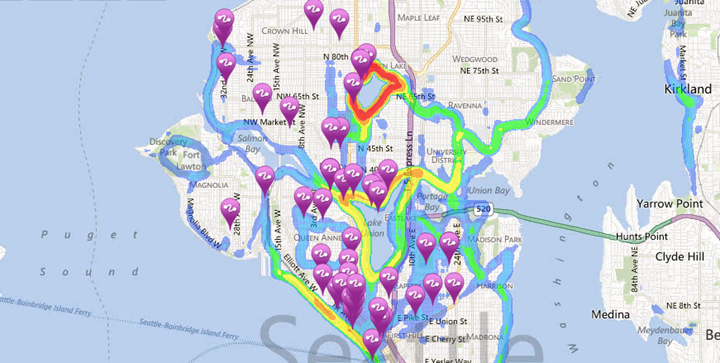 Outside the US (no heat maps yet), you can still use Garmin Connect to find running routes.  Just enter your current address, and then lookup recent runs.  I typically use the advanced search feature to pick longer runs, even if only doing a short run.  The reason is that longer runs tend to indicate someone that knows what they're doing.  And thus, tends to be a better route than the odd 4-mile run meandering through the city.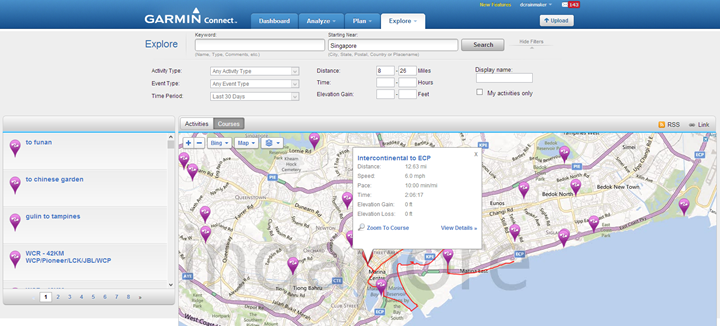 Next, simply search Google/Bing/etc. for your city name + running club, i.e. "London Running Club" or "London Running Group".  Almost every club site out there has many of their local running routes published.  And in almost every case, clubs have little tolerance for stop/go type routes – so these are usually pretty good.  In fact, the below site even includes a traffic score on it!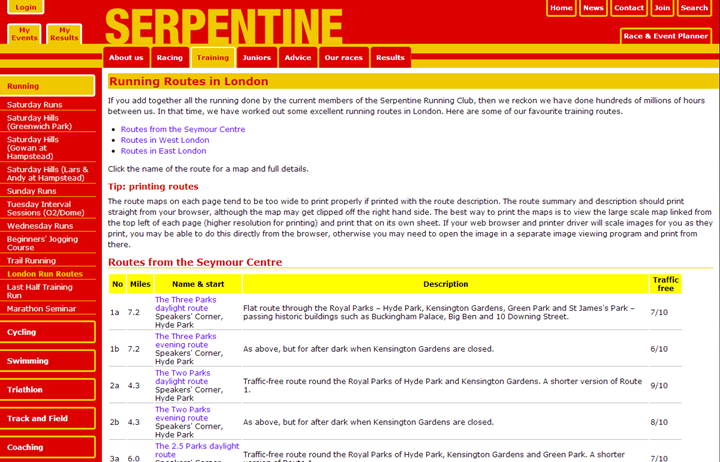 Additionally, every running group I've ever heard of has regular runs.  And if you e-mail them (or just show up), I can almost guarantee you they'll be happy to have you along.  Most running groups run a wide variety of paces from 6:00/mile to 12+/min/mile.
Finally, search online for a local 10K/5K/triathlon in that city.  In most cases, those routes are functional.
Swimming: Ah yes, swimming.  I'm not gonna lie, swimming while travelling can be a tough nut to crack.  Finding a pool is actually the easy part.  For that I use the SwimRadar App.  As it just shows me pools around me no matter where I am (just like I did last week).  But if you're on a computer (or lack an iPhone), then you can use the Swimmers Guide site instead.  The only challenge being that site doesn't map them out, making it somewhat difficult to find.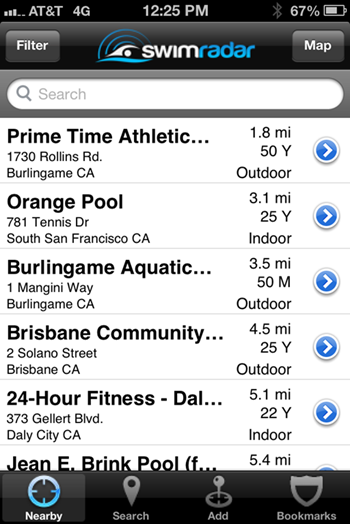 I tend to gravitate towards community rec centers, as they'll generally be cheaper for day passes ($1.50-$8US normally).  On the flip side, the YMCA's are actually the most expensive single-day use property out there (usually $18-22US per entry).  You can always do other private facilities as well like 24 Hour Fitness or the like.
One other thing is to check with your hotel.  Often times they have deals with local fitness clubs, especially on the pool front.  That can save a bundle.  Also, if you're travelling for business and your organization has offices nearby, definitely ask your local HR folks if they have deals with local gym's/rec centers.  Most do.
And lastly, always call the facility for hours.  I've found that most pools infrequently update their web sites with the correct hours.
Now openwater tends to actually be easier.  For that I just go to Google Maps and look for a blob of water.  Then I take the name of said water blob and add the word 'swimming' to it and stick it back in search.  This will usually yield whether or not it's legal to swim there.  For example "Deer Lake Swimming".  In most cases you'll find at least somewhere that it's written either 'Yes' or 'no'.
Cycling: And last but not least, the worst sport to try and sort out while travelling.  For this post, I'll focus on not taking a bike with you.  If you're taking your bike, then read my older post on that.  For the most part, I find it's far easier to use the hotel gym bikes than try and deal with going for a ride with a rental bike.  Or, a nearby rec center/gym will likely have spin bikes – which make fine substitutes.
The challenge with bike rentals is that in most places in the US, the selection is slim – and the prices high.  This is actually one of the few scenarios where it's much easier outside the US.  Both in terms of price, as well as quality of the selection.  To find bike rentals you can try Google and a city name, but I actually find that calling a local bike shop (just pick one at random) is your best bet.  They likely won't rent bikes – but they'll know who does.  In most cities, you're really only looking at probably one place that will rent road bikes.  Plenty of places will rent you a touring or low-end mountain bike, but finding something suitable for a multi-hour ride as a workout is much tougher.
As far as when I travel with my own bike, it tends to be limited to trips where I'm going to a single city for a sustained period of time (either a week, or over a weekend) and where the riding is a 'known good'.  For example, last month I dragged it to Las Vegas and LA, because there were plenty of solid rides and I was there over the weekend (thus a long ride).  But for a trip to China this Wednesday for a week, I won't take my bike.  The cities are unknowns, and the hassle factor of multiple cities with unknown riding potential is just too daunting and too much of a hassle.  Instead I'll focus on running and swimming and the odd hotel exercise bike.
–
Ultimately, getting workouts done while travelling really comes down to how much you want to stay on schedule.  There's almost always a means of staying fit on the road – and in today's information driven world, it's increasingly easier and easier to find routes and locations and simply get it done.
As always, thanks for reading!