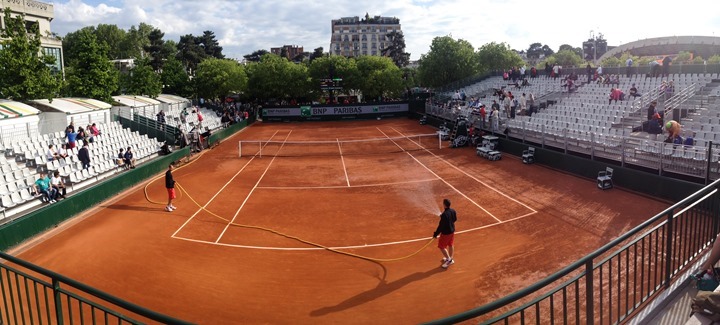 Despite my sunburns – luck was definitely on our side Monday.  First, we have some good friends that have been in town the last few days and gave us tickets to go check out the French Open.  Then, it got sunny (a rarity here).  And finally, we got to see not one, but two matches with US women in them – plus one with a Canadian (Historical reminder: I'm American, The Girl is Canadian).  Oh, and they had Hot Dogs and Häagen-Dazs.  But, let's not get ahead of ourselves.
First up – getting in.
We took the metro (subway) directly from our place to the grounds.  16 stops later (but only 20 minutes), we arrived with the masses in the nearby subway station: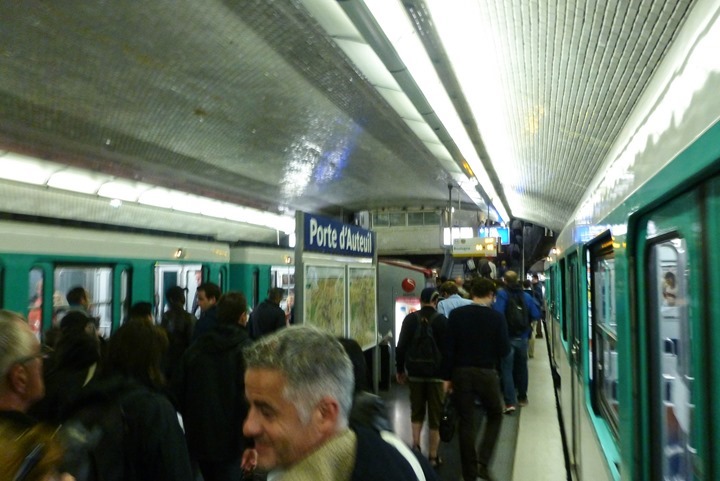 From there it was about 10 minute walk to the grounds.  They had little tennis ball stickers on the ground, but we just followed everyone else.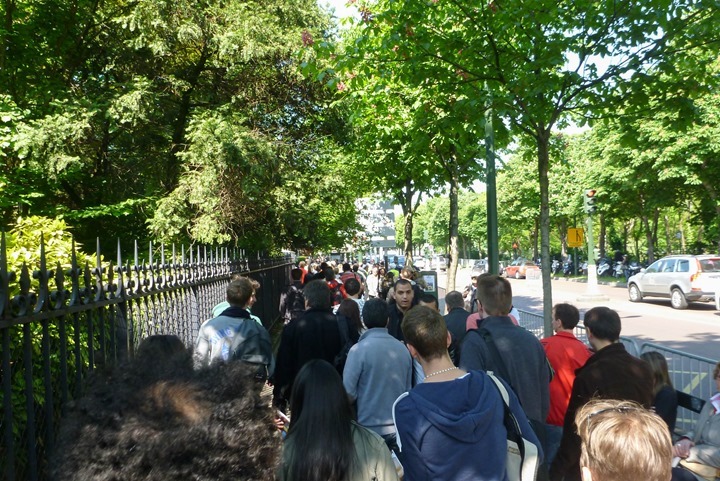 Somewhat like any other sporting event there were street vendors hawking all sorts of things.  Along with various promotional/marketing efforts: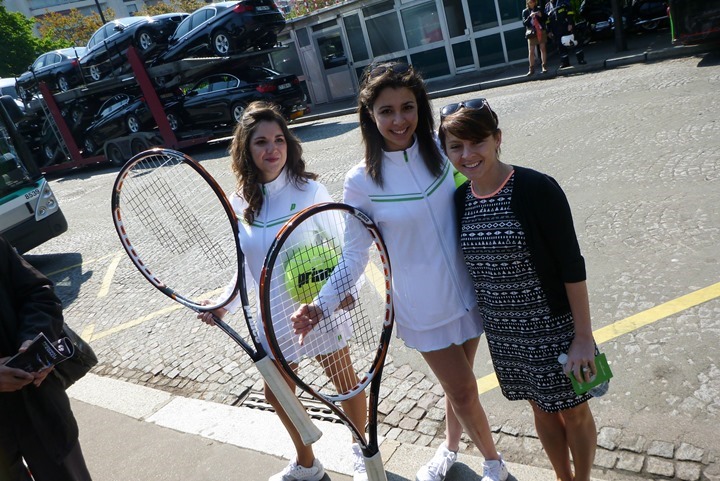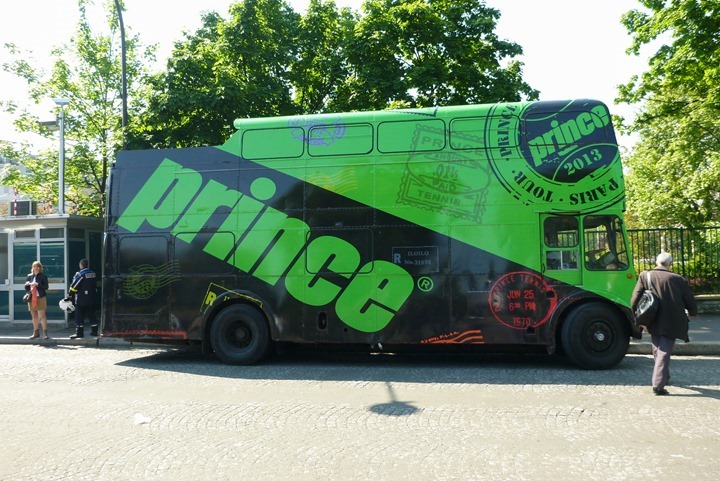 And while there were also scalpers, picking up scalped tickets for the French Open would have been a "Really Poor Idea".  See, they take the ticket resale thing really seriously here.  I'm reasonably certain it'd be far easier to get into the country illegally than it would be to use resold tickets.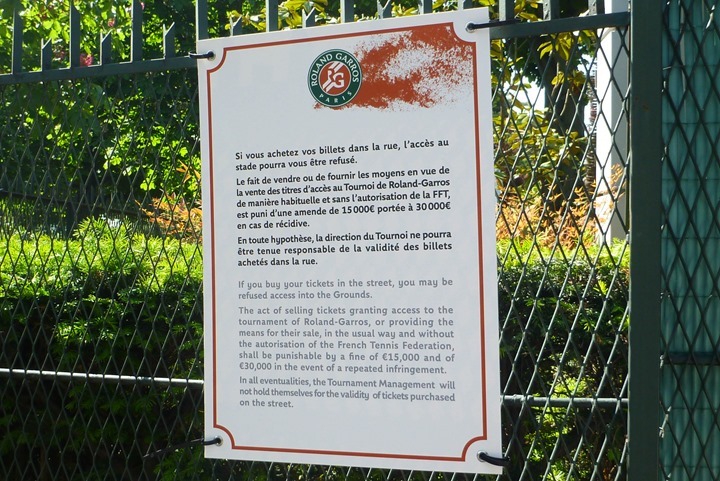 First up, the person buying the tickets has to transfer them online to you.  But, they have to do that at least 24 hours in advance of the date of the ticket.  Then we had to print them out before hand (no will call) – which was a PDF file sent to us.  Once we arrived we queued up to then go to the ticket office and exchange our must-have paper vouchers for new paper (printed on regular 8×11" paper) tickets with barcodes.  These new tickets had our actual names on them.  Then (no, we're not done), we scanned the barcode into a turn-style machine and it printed out yet another ticket – one with more fancy graphics and holograms than Epcot Center (on back of ticket) – this one also having our name on it.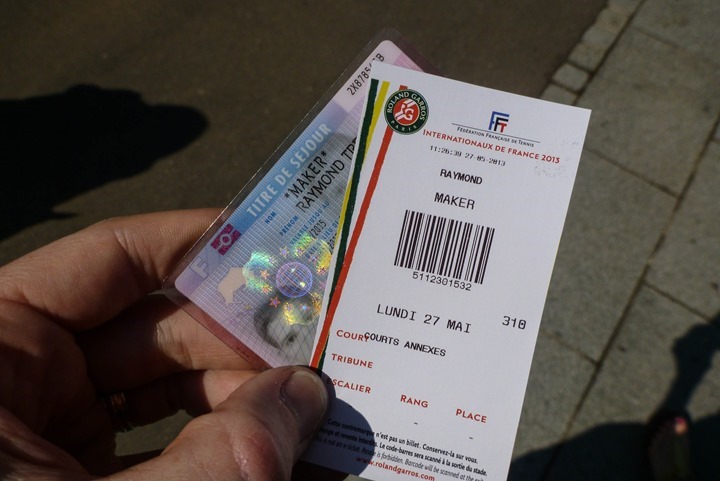 We then took this final fancy ticket and had it manually checked by an attendant against our government issued ID.
Oh – and in case you're curious, you have to have your ticket to exit too (even though once you exit you can't return).  Yikes!
Once we got past the security (which did only take a couple minutes), we were in the land of tennis courts.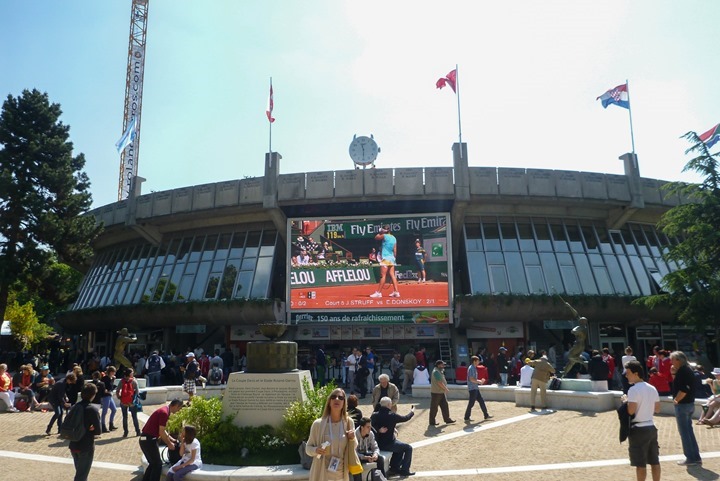 A lot of them actually – about 17 or 18 in total, plus some additional practice courts.
Not knowing much of anything about tennis (I hear it's vaguely related to beer pong), I didn't realize going into it that there were so many matches at once.  I figured that we'd all be in one giant stadium.  That's not the case however.
Instead, there are essentially two categories of tickets: Those with grounds passes (like ours, about 25€/$35US), and those with specific seats in one of the three big stadiums.  In our case, we could wander freely with our grounds passes to everywhere except the stadium (which required additional/separate tickets).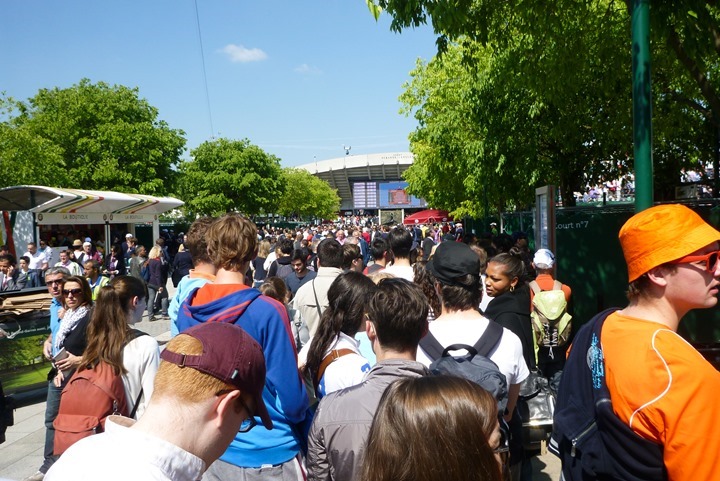 This worked out rather well in that we spent over 8 hours just wandering from court to court watching matches.  For example, we started off watching a match between the Canadian Jesse Levine (interestingly, just after this photo was taken they trimmed that errant branch).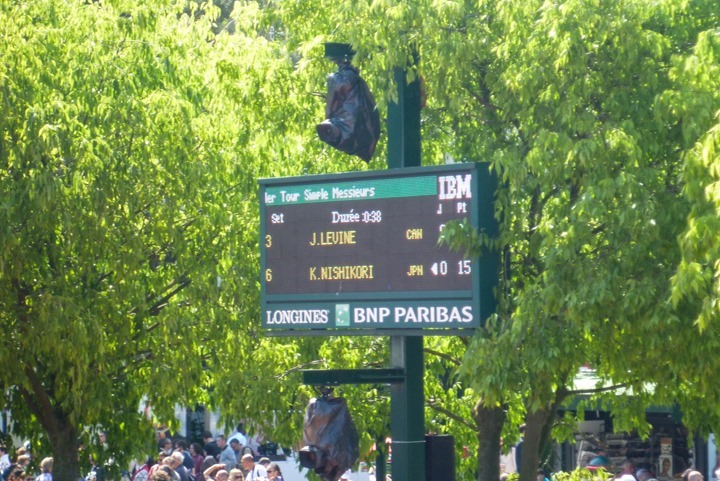 In order to get in we just lined up for a couple minutes and then every few minutes when people left, they'd let people in.  It was quick and efficient.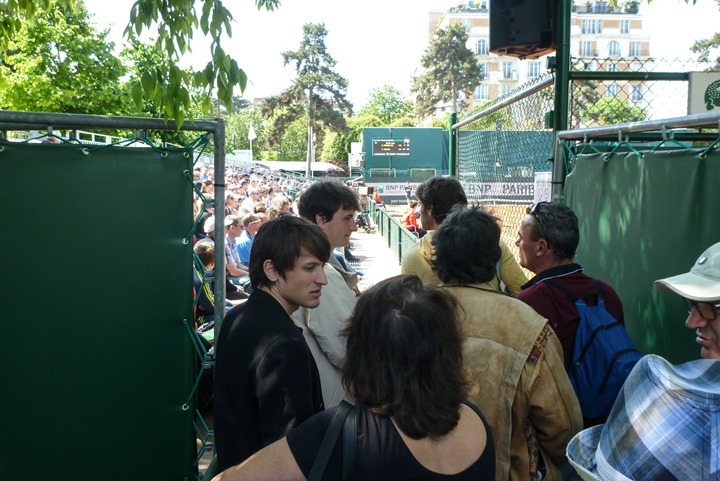 And as the match progressed, we'd eventually migrate to better seats within each court – ultimately, along the front row: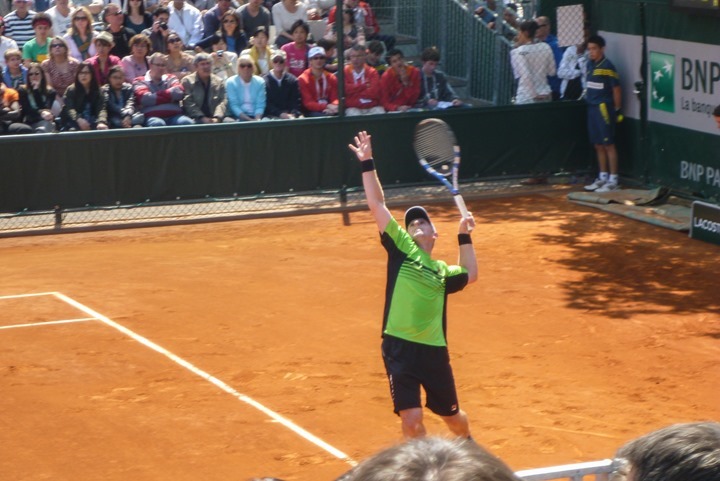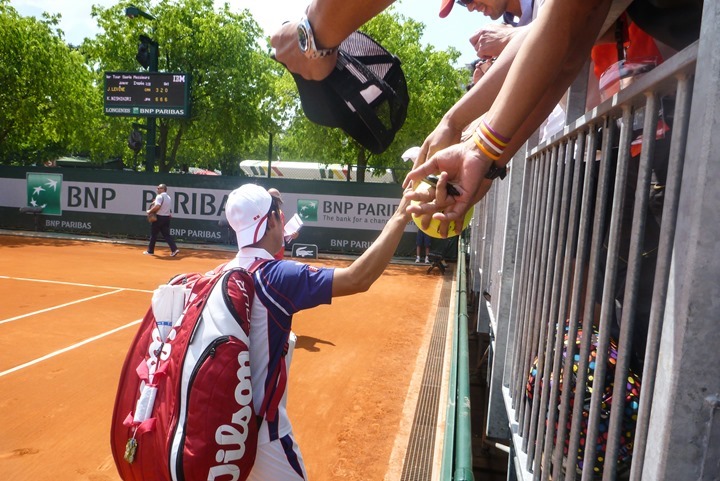 Aside from getting sunburned due to lack of shade – this worked well.
The nice part about all these courts is that they were fairly small – and thus you had a great view.  Take for example another match between two Spanish players (interestingly, it had stated the night before, but after 3 hours they ran out of light – no lights here – and had to resume on Monday).  In this match when they came in, I was able to clearly see (and photograph) him taking 5-hour energy.  No way you'd be able to see the exact drink from 58 rows up in a stadium.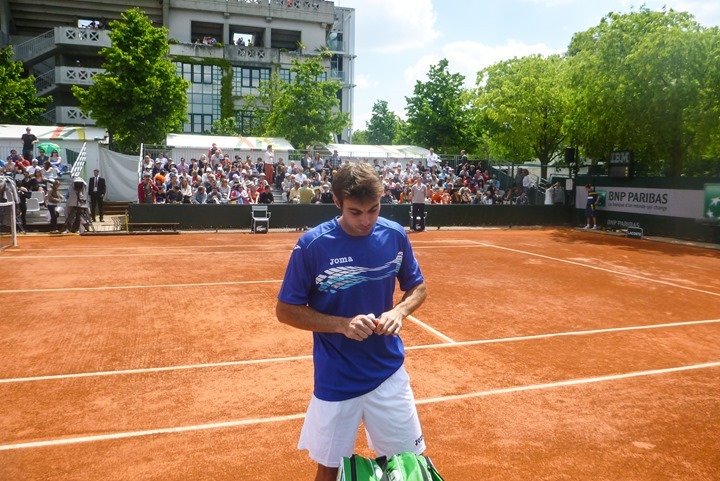 Perhaps the most impressive thing to me (aside from the games) was the kids.  They used local kids (likely from various tennis organizations) to handle all the ball retrieval and player hospitality tasks during the game.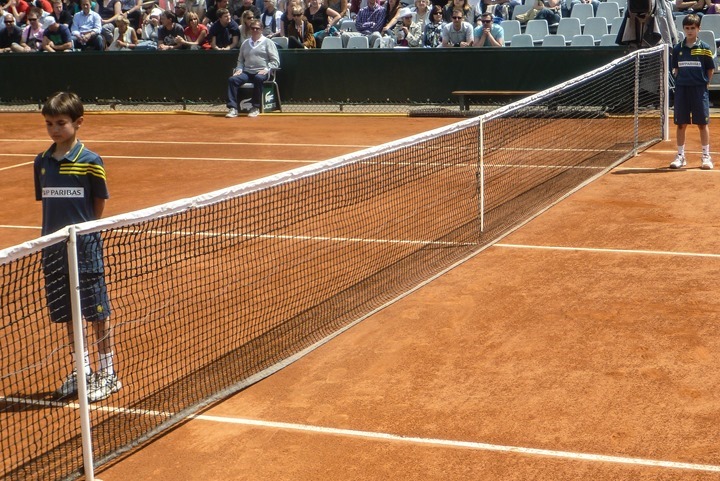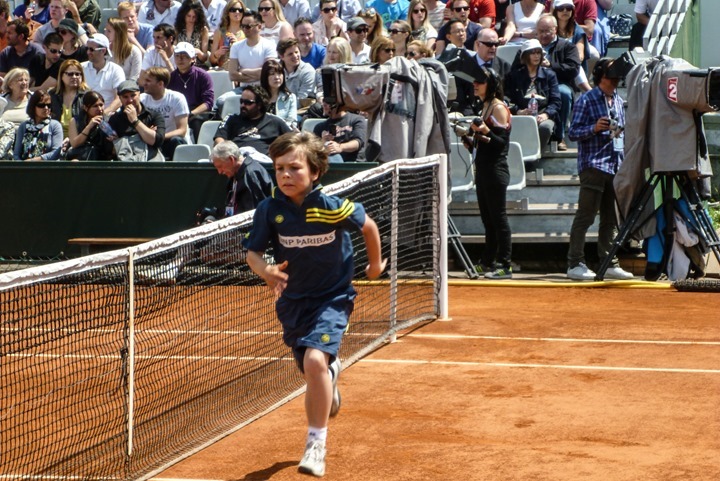 I was absolutely blown away by how responsible, focused and sharp the kids were – despite being as young as probably 10 years old.  In 8 hours of watching tennis (including seeing the same kids at the start and beginning) there was no messing around, no behavioral issues, or anything.  They were sorta like mini-robots (in a good way).  Blown away.  I even watched one that was again, probably 10 years old, have the foresight to realize that as he was in the track-start position to go retrieve a ball that he might be in the way of a long-lens camera for an AP reporter (he wasn't), but he still glanced over and then backed up to ensure the guy had a shot if the player moved further right (same circumstances below in photo, except the boy had already run across and now the girl was in the track start position).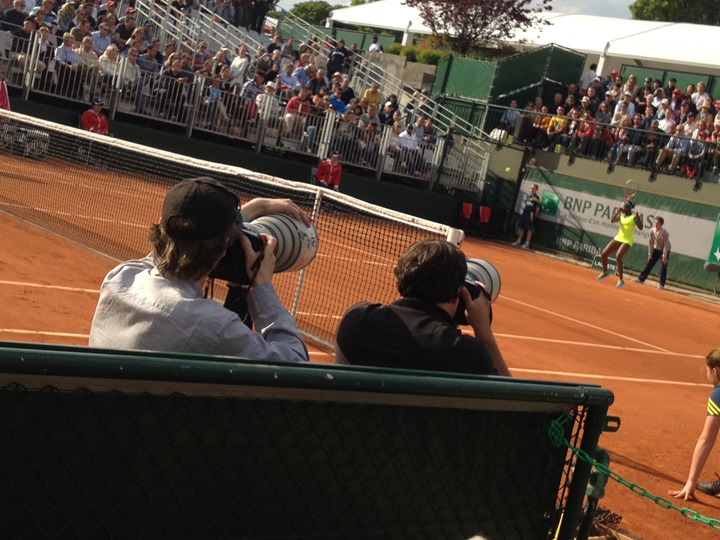 We caught a number of matches, and as noted – also got to see some up and coming players – including Sloane Stevenson from the US.  We watched her mostly dominate the Italian player she was playing.  We snagged seats right behind the team seats – and they pointed out her Mom up in the stands.  It was kinda fun watching the dynamic between the two with little smirks or 'doh!' expressions traded that you'd likely only get from a 19-year old to her parents.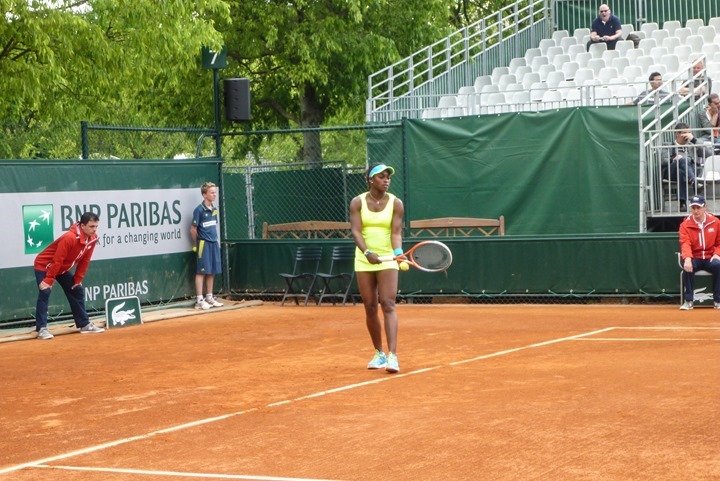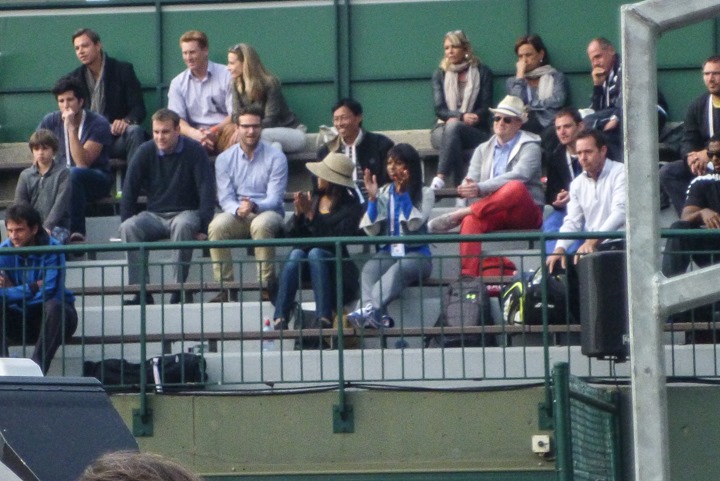 And here's a few other photos of matches and practice sessions along the way: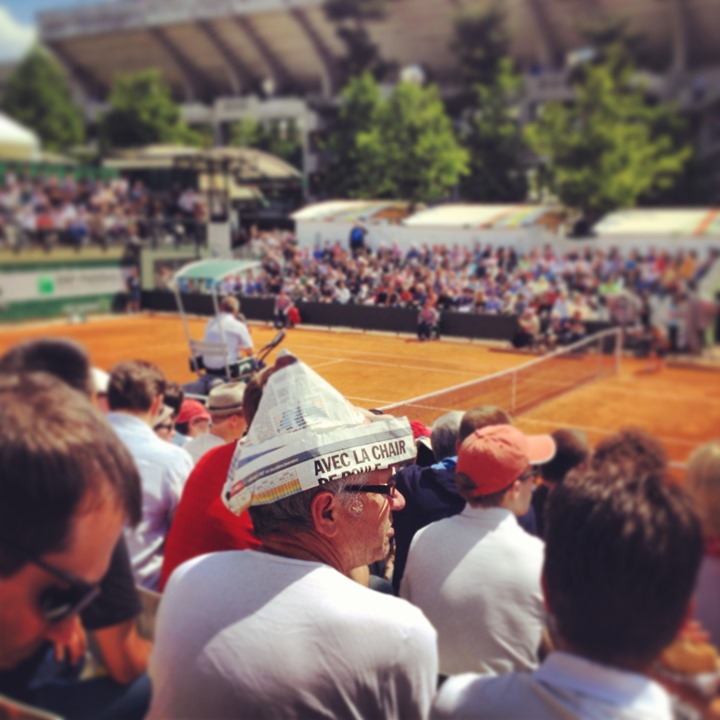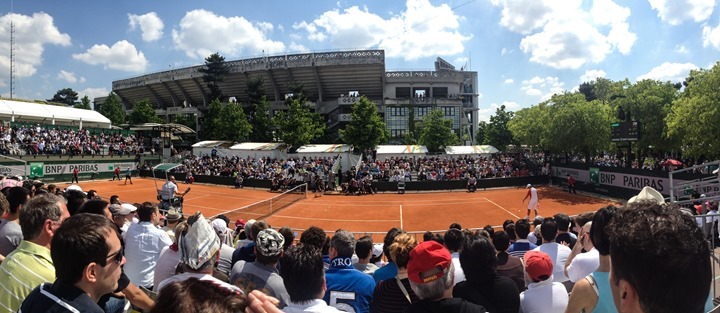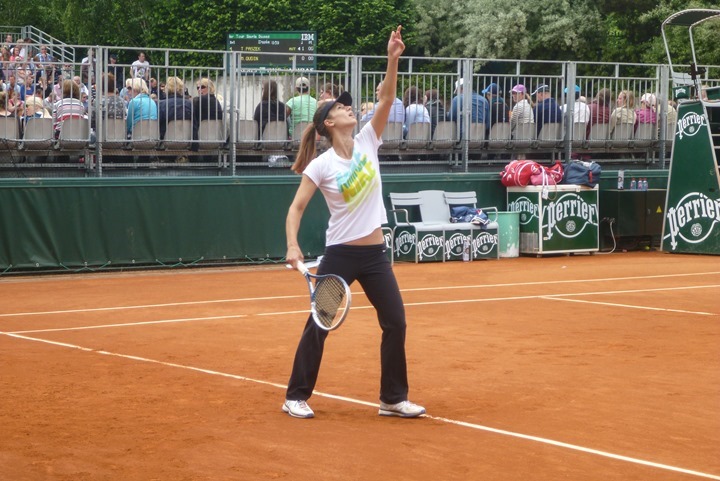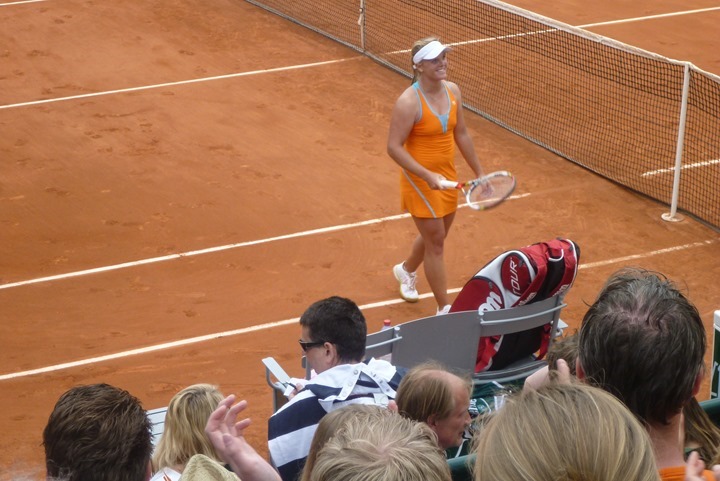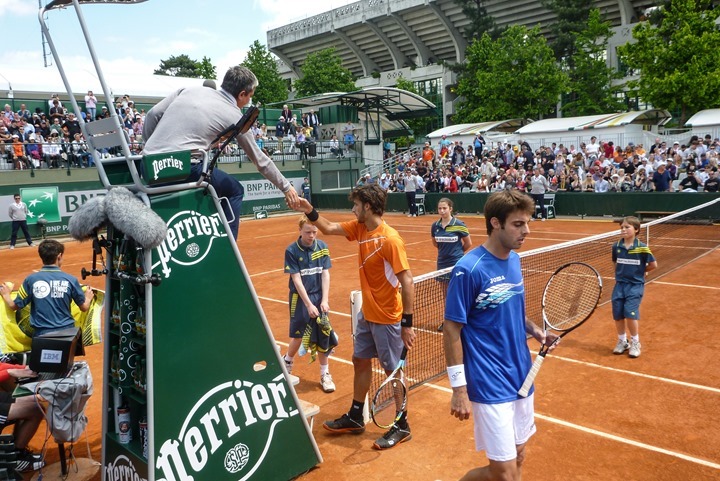 After each match completed, the winner was hand-written on the large chalk-board.  It's pretty impressive to see how many players started (women on right, men on left):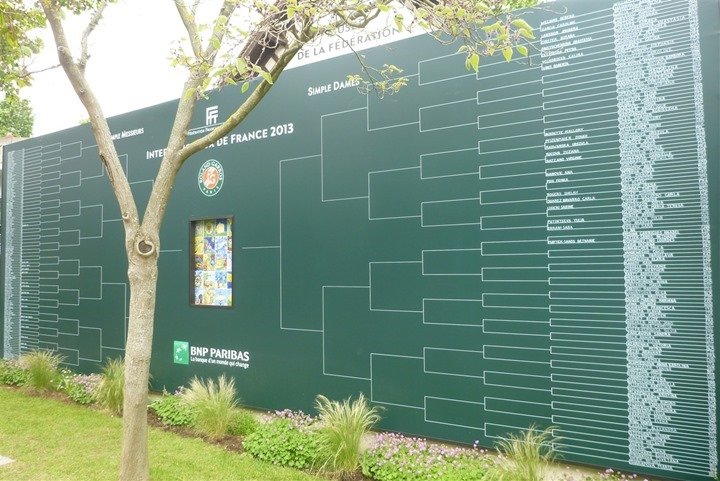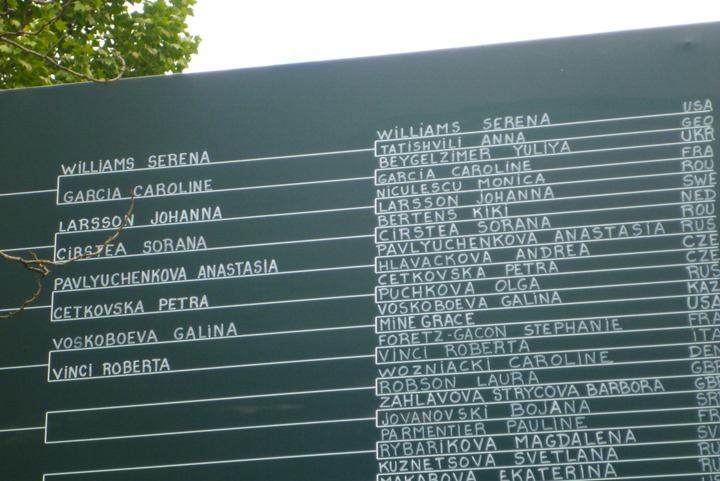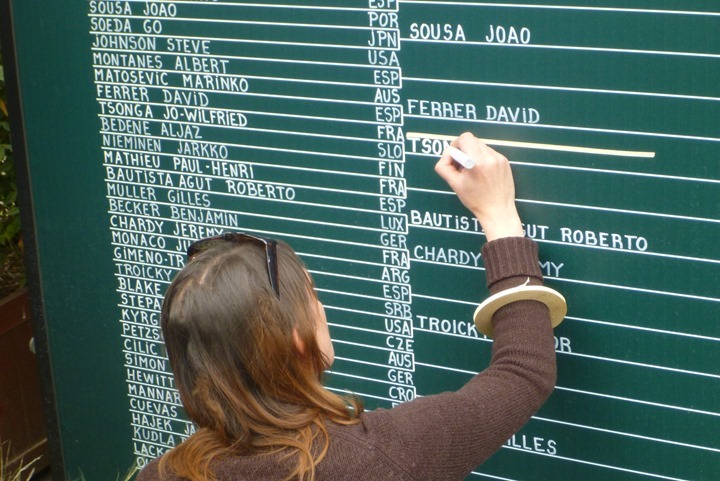 As I alluded to in the beginning – we were both happy that they had both hot dogs and ice cream from Häagen-Dazs (though, I'm typically more of a Ben and Jerry's guy).  Like any large scale sporting event – the prices for everything were absurdly high on the food side. On the souvenir front – the prices were even higher! 45€ for a hat!  The large tennis balls were popular for getting autographs.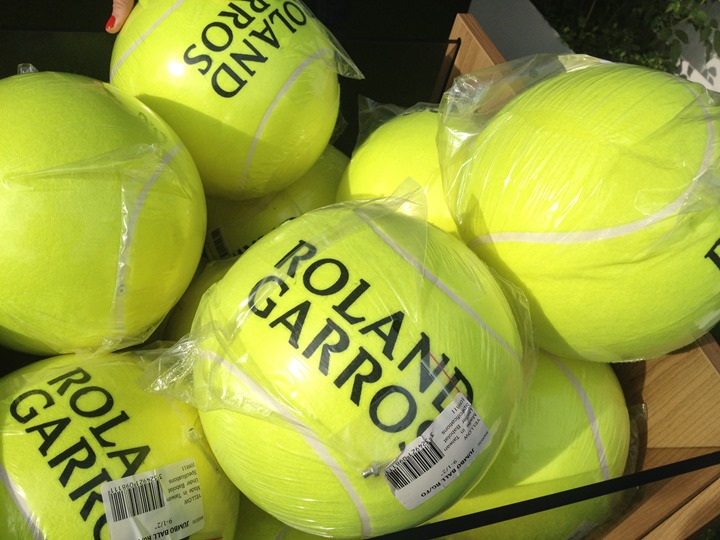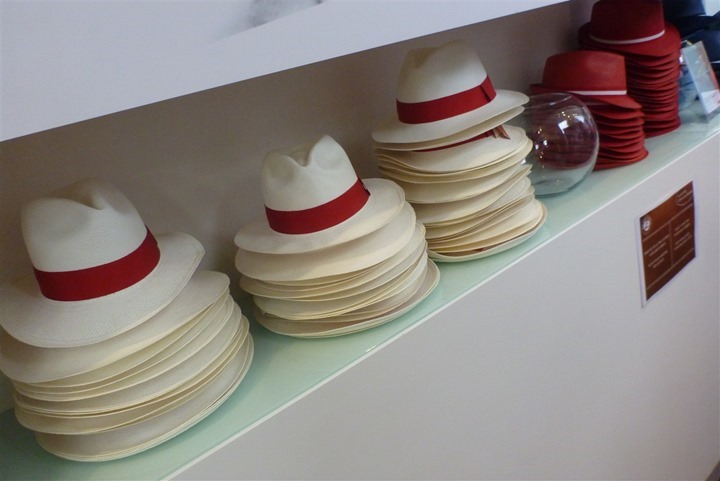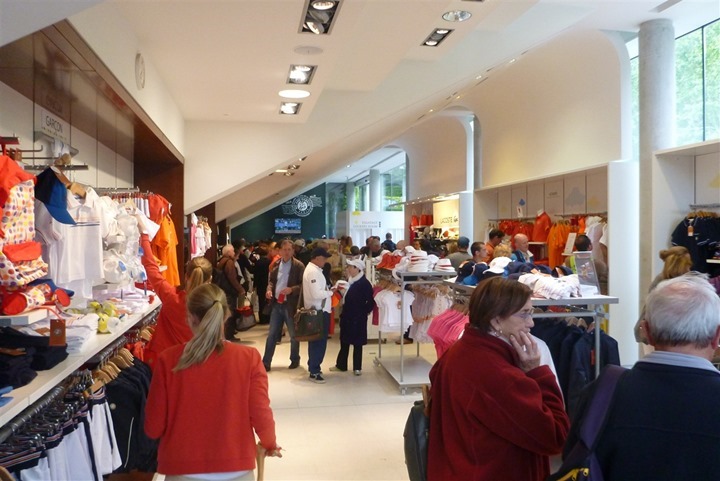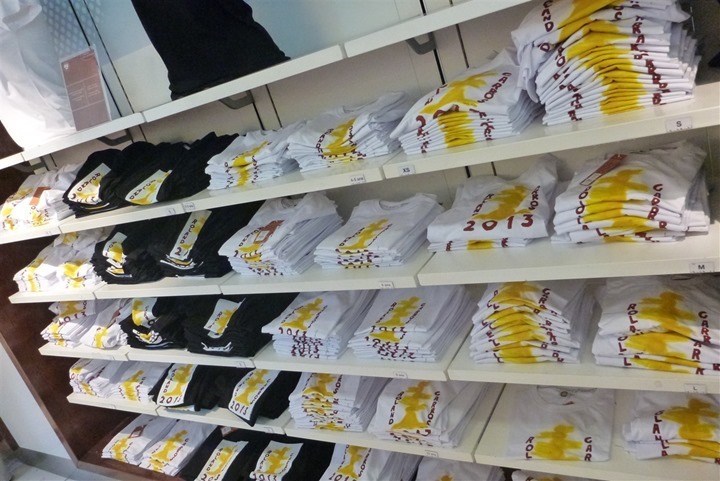 On the bright side, we were able to go into this photo booth and get a handful of little photos for free: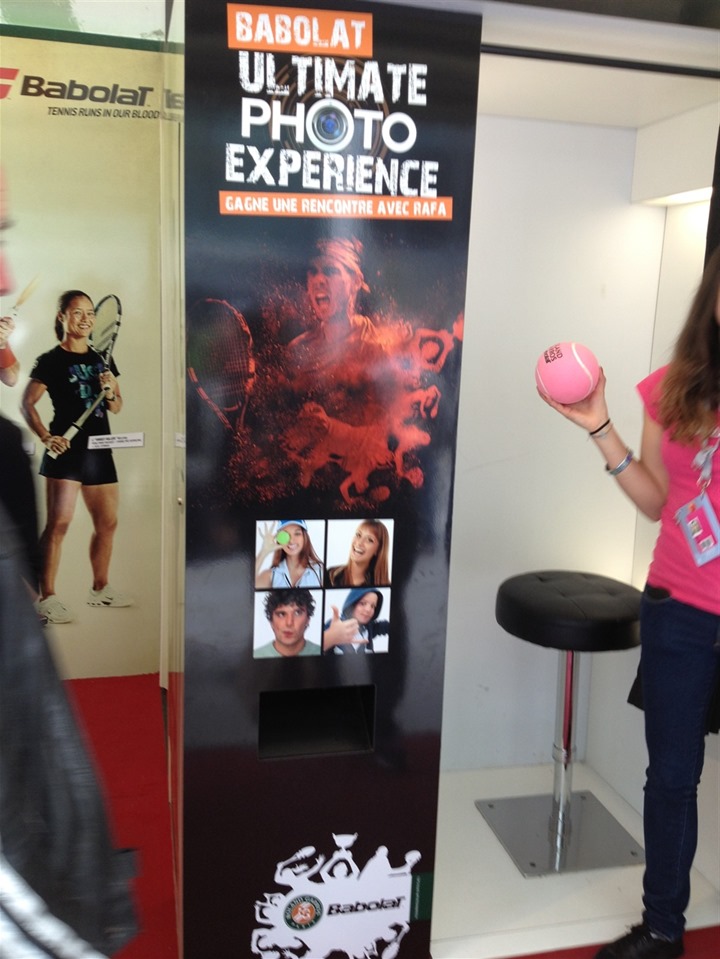 Which, now have joined our Paris Marathon photo booth photo on the fridge: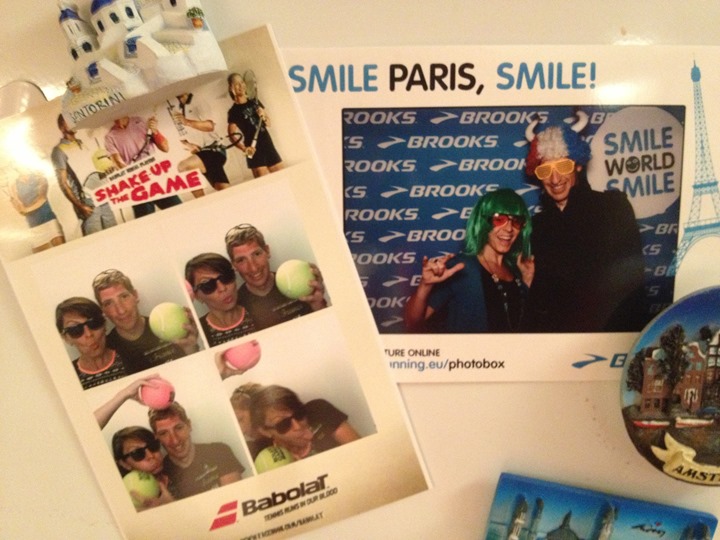 With that, we finished up the day just after 7PM and headed on home.  A huge thanks to our friends for giving us the tickets for the day (a sunny day – while they hit in the rain today).
And thanks for reading!