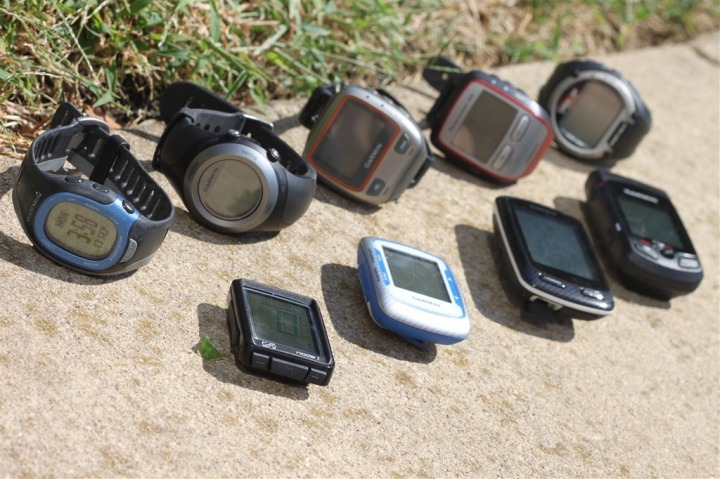 A whole lot of ya just got new Garmin Forerunner's and Edge devices over the last few days, so I figured what better way to get you all kick-started into the world of GPS running devices than a consolidated post of all the best 'How-to' posts for getting the most from your Garmin Device.
First up, ensuring you're showing the right fields…
1) Getting the lay of the data fields
You've got TONS of data at your disposal now – perhaps too much, but which data fields should you show, and which ones just cause confusion?
I put together this detailed post on every data field offered, and which ones I use, as well as why.  Others have chimed in with their favorites as well:
2) Training Indoors with your new Garmin
There's a lot of you along the Atlantic seaboard right now who might be a wee bit stranded inside due to snow, so what better way than to inaugurate your Forerunner or Edge on the treadmill or trainer?
You can do an amazing amount of stuff inside with it, if you just spend a brief moment to configure it.  Here's how to get the most when you're stuck indoors:
P.S. – If you managed to make it outdoors into the snow, but only to ski…well…use this guide instead. 🙂
3) Burning off all those Christmas Calories…and getting accurate calorie burn numbers
So, you just finished up the statistical 3,000-5,000 calorie Christmas Day grazing – but don't worry…so did I!  Assuming you're planning on trying to work some of that off, you'll probably be wondering how to get your Garmin to tell you how many calories you've burned.
The good news is that the setup for calories is easy…even if the hard work outdoors or in the gym isn't:
4) Choosing which software to use
By default your Garmin Forerunner or Edge device comes with free access to Garmin Connect, as well as a bit of older software that you can load onto your PC or Mac called Garmin Training Center.  While Garmin Connect is a good starter piece of software, it lacks any detailed analysis capabilities.  Thus, I recommend a few different options instead:
A) Sport Tracks 3.0 – This is free for up to two plug-ins, or $35 for the paid version.  It's downloadable to PC's only, but has an incredible range of functionality.  I wrote up a review on ST3.0 back a few months ago when it came out.

B) Training Peaks – I use this as my day to day training log, as it offers a good balance between usability and functionality.  I can drill down pretty deep in data – but also get data from other devices such as my Withings WiFi scale (note: ST integrates there as well).

C) Golden Cheetah – This free application is primarily targeted at cyclists, and ideal for the Edge devices.  It'll analyze your power data and more, to degrees you never considered possible.
There's of course a ton more options out there, but these are my favs, mostly because they're tried and true.  As a minor side note, I do recommend that if you have a Forerunner device that uses the ANT+ agent (wireless), to configure it to upload all activities to Garmin Connect automatically.  That way, in case something ever happens, you have a copy there – even if you never use it.
5) Understanding how those things in outer space actually see where you are
For the geeks around these parts, I've got a few posts that talk to both accuracy of GPS fitness devices, as well as how elevation data works with GPS devices.
Understanding Sport Device GPS Elevation Issues

Sport Device GPS Accuracy In Depth – Part I
6) Creating workouts and race plans, and then downloading them to your Garmin
You know what's probably one of the cooler features of the Garmin devices that doesn't often get as much 'press'?  The ability to have it continuously yell at you until you follow your workout plan.  Yup, it'll do that.  Even in a race.
Here's how to setup workouts that your Garmin will execute and you just follow along:
How to download workouts to Garmin devices (all training devices)
And, if you're looking to follow a route, you can follow this guide as well:
How to create courses and maps for your Garmin Forerunner or Edge
7) Understanding the heart rate strap and how to get the most accurate numbers
Heart rate straps can be finicky little things, especially in winter when the air is dryer and cooler.  Thus, check out these guides I've put together for getting you on the right path to issue-free heart rate readings:
Troubleshooting your heart rate monitor straps when you see HR spikes

A solution to heart rate dropouts/spikes with Garmin HR Soft Straps
8) The Quick Release Kit – Why you'll love it!
If you're a triathlete, the quick release kit is your best friend on earth.  It enables you to quickly snap the Garmin Forerunner off your wrist band and place it onto your bike…and vice versa.  It's also great for cyclists who run occasionally and want it otherwise hard-mounted onto their bike.  And heck, you can even tweak a Garmin Edge 500 and Edge 800 to work with it. 🙂
The quick release kit – Solving one of life's great mysteries
Looking for even more in depth how-to's and details?
Fear not, I've got years of rambling about how to use these devices – and I've tossed them all in a semi-structured page here, divided up categorically by what ya want to do: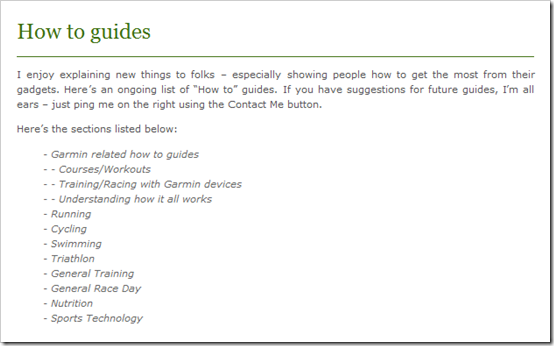 Have a great week all, and enjoy your new toys!