Monday midday we (The Girl, my Mom, my Dad, and I) packed up the car and headed up to nearby BWI airport to catch a flight to Hartford, CT – just a short 45 minute hop away.  This is where my Mom's side of the family lives, so we'd join my parents for the first few days of their much longer trip.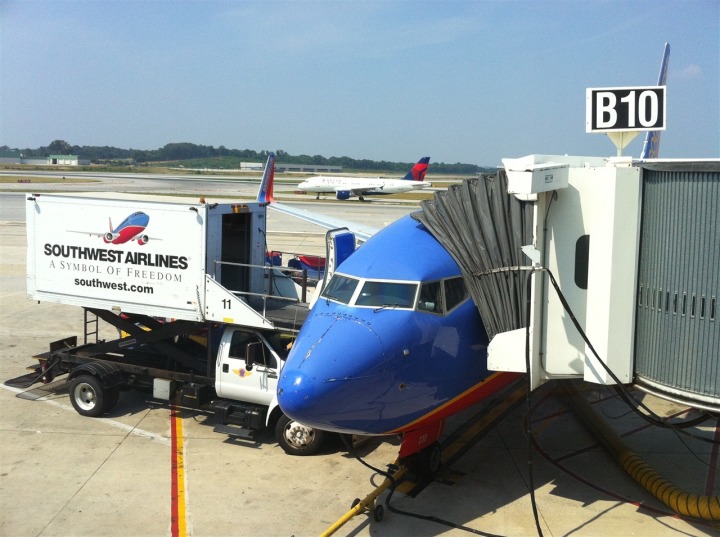 Of course, upon landing what's the first thing we'd do?  Go to the nearest pool to get our swim workout in!  Luckily, I've been to this pool a few times before, and know how to get there pretty quickly.  It also happens to be a favorite of mine, given it's full sized as well as being outdoors (during the summer, during the winter it's indoors).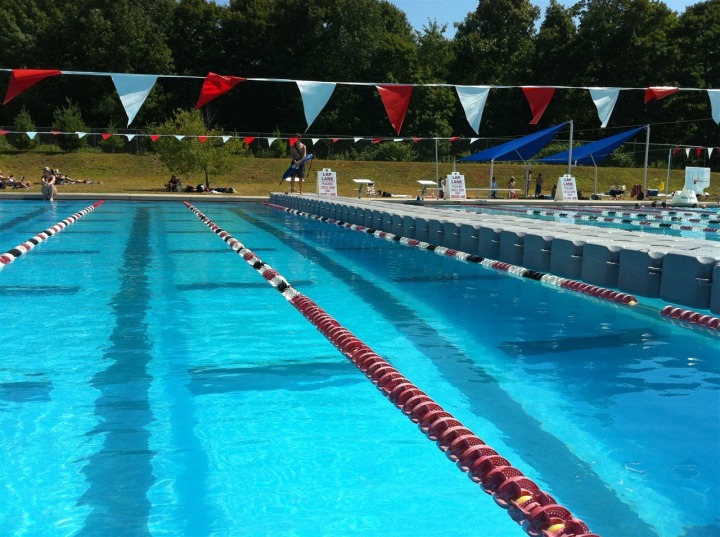 While there my Mom also swam and we'd give her occasional pointers (you know, very useful stuff like: Don't drown).  After about an hour of going back and forth, we wrapped our our pool party and headed just around the bend to one of my aunts/uncles/cousins house for a very solid BBQ!.  There were some three separate (by at least an hour) grill times for different items.  Pretty awesome.
After a few rounds The Girl and I walked over to a nearby park to practice our bulldozing skillz, along with some baseball.
The next day though the highlight would be the heat.  Lots of it.  Triple-digit heat.  And humidity at 83%.  Seriously, 83%:

So what activity would we partake in?  Running.
We were eventually destined for a different Aunt/Uncles house with a pool – so we figured we might as well just run there.  It's only about 7 miles or so.  While we had intervals to do, they were all just time based, so we'd do the sets just on the road.
So we set out from my 92-year old Papa's house and headed on our way: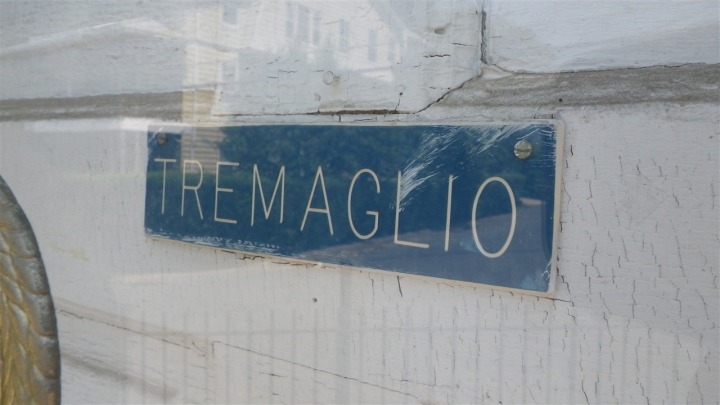 It's a fairly Italian area – so the street even gets into the action with centerline painting: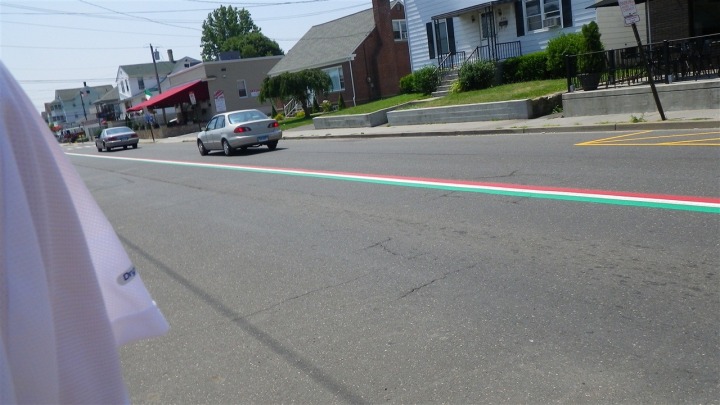 I'll save you all the pain and suffering, but there was plenty of it to go around.  And with the Girl becoming speedy Gonzales, she actually just edged me out on a few of the last sets.  You see, I have the air-conditioning capabilities of a large pallet of bricks – so the extreme heat and humidity are not my friends.  After our extended warm-up (not that we needed it…we were quite warm once stepping out the door) – we did a core set of 5 x 5 minutes at 10K triathlon race pace, before finally finishing off with a handful of 200m sprints.  By the end, we looked kinda like this: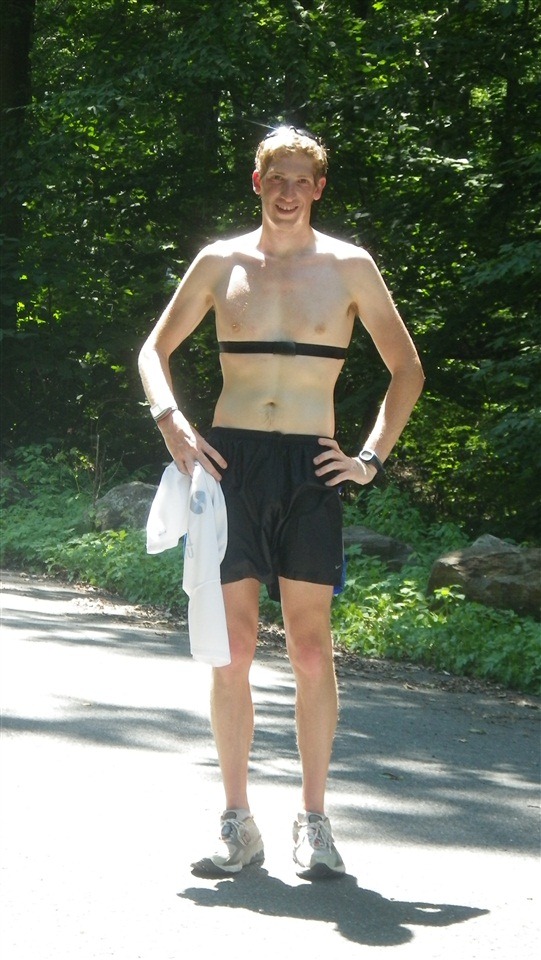 Exhausted.
Luckily, our end point was the driveway of my Aunt/Uncles house with a giant pool.  So seconds after the cool-down, it was pool time: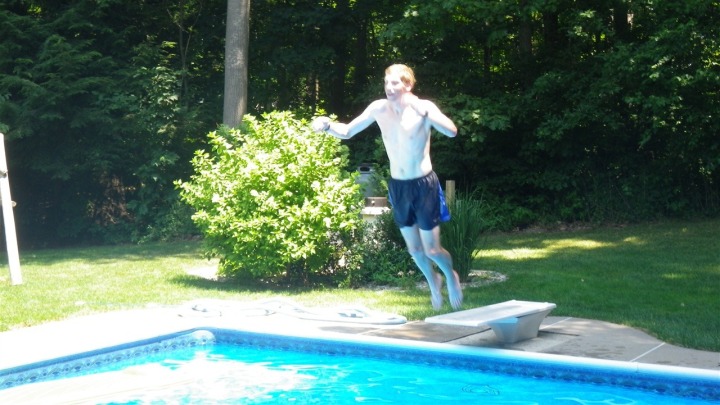 And then food time: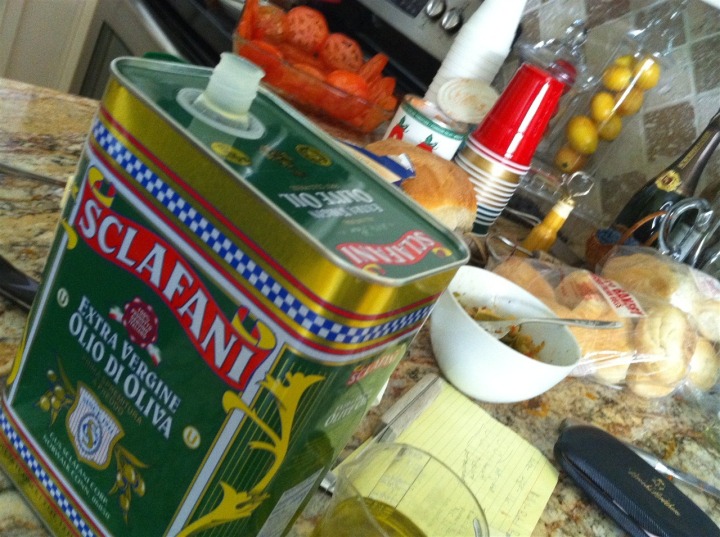 Wednesday brought more sports activity – but this time back in the form of swimming.  Swimming is good when it's hot out…rather enjoyable.  Though, the water was feeling a bit warm by the end of my 3×700 main sets.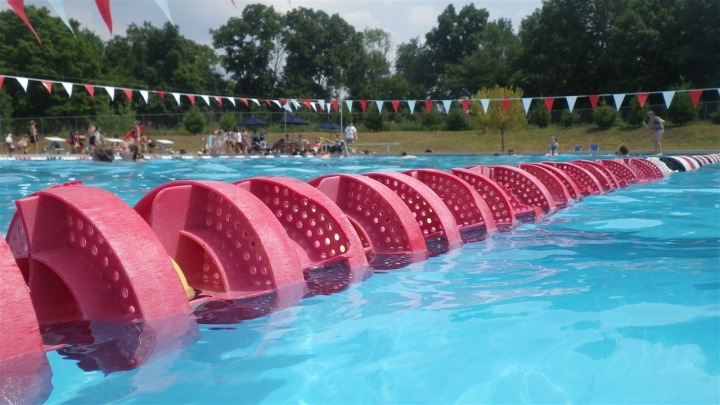 Post-swimming, there was only one of two activities left to do to mark the trip as 'complete'.  The first…picking blueberries: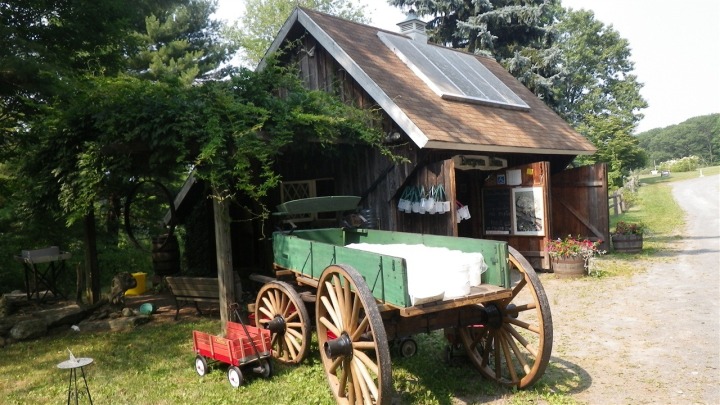 Longtime readers may remember when I did this two years ago, which resulted in a crapton of blueberries.
Last time I made an entire WEEK's worth of goods with the berries.  This year, The Girl is already planning her creations.  I think she even has a multipage schedule prepared, and we just picked them mere hours ago.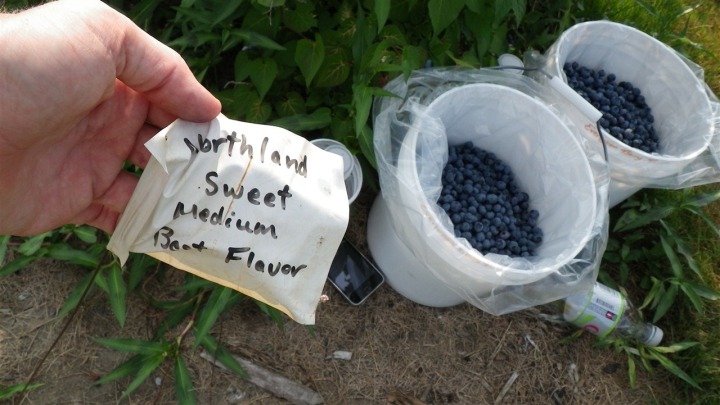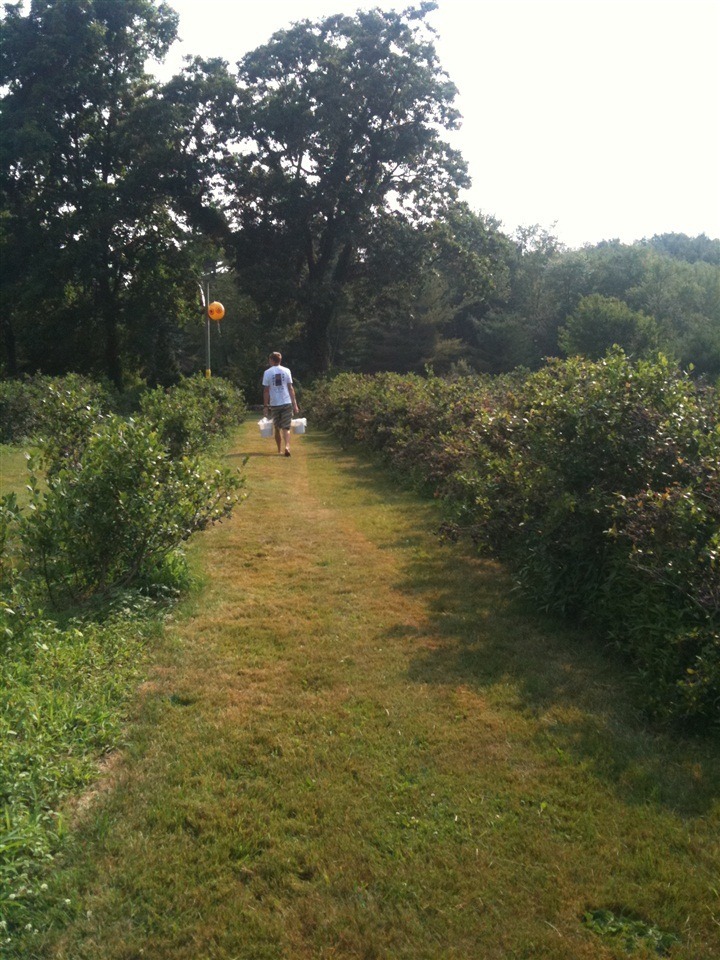 Following blueberries we did something completely different: Went to the Casino.  Complete with – Rainmaker Square!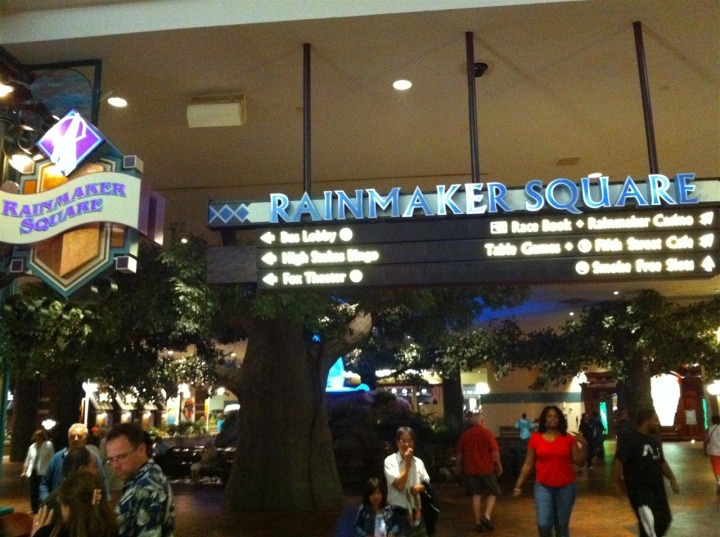 Check please…
(P.S. – For those looking for the winner of the Garmin FR110 Giveaway, they'll show up just a tad bit later today (Thursday) – once I get back to DC and can print off the 464 comments…  Thanks!)