I'm stuffed.  No seriously, I've been eating nonstop for days now.  Combining my annual two week 'rest period' with Thanksgiving was officially a bad-bad idea.  The good news though is that since I left home (DC) Tuesday night, I haven't had an occasion to step on a scale – and won't until Thursday night after my trip to Dallas.  So really I've got until around Thursday at midnight to get my ass back in check.
It all began on Wednesday with a large Italian dinner.  A few dozen people with tons of food as 'pre-Thanksgiving day meal".  Yikes, I knew I was in trouble.  Below is the itemized list of food things for Thanksgiving – there was stuff that magically appeared that wasn't even on this list – like say Pumpkin Martinis, or perhaps some corn breadish kinda dish. Danger I say!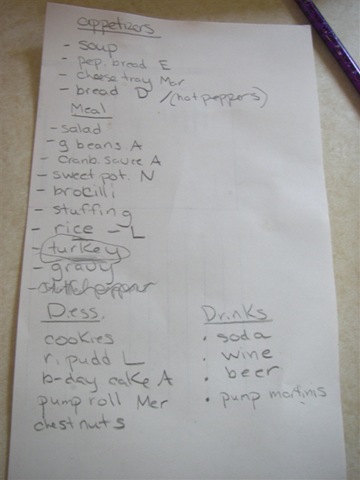 Roll over to Thanksgiving day, and it started rather innocently with some bagels for breakfast.  And then immediately went downhill from there.  I seriously lost track of appetizer courses around 2PM – and the Turkey didn't even make it's grand entry until 5PM.  There were various soup appetizer courses that had to be conquered, plus umpteen cheeses and meats out and about.  Not a healthy situation, given enough food for 35-40 people (Italians; who like to eat btw).  Once Mr. Turkey appeared – there was two full plates of entree foods that I had to consume, eventually followed by pies and other desserts, and various adult beverages.  At this point I was probably already in the hole by a solid 2-3 pounds.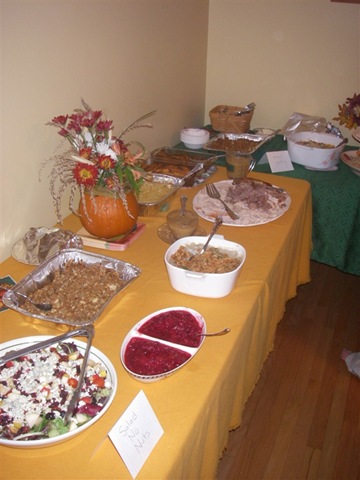 (Note: This photo only shows a 1/3rd of the Thanksgiving dinner buffet table)
But don't let it stop there.  Nope – we have yet to begin!  Moving over to Friday, I did manage to get in a nice 2,000 yard swim around 9AM.  But it was waaaay downhill after that.  The next few recollections will make Thanksgiving day look like a Jenny Craig affair.  I started with a loaded bagel from Panera…and then had another half a bagel (with cream cheese).  Then a drive up to Foxwoods Casino, for some money-losing action!  After I lost a few cents (seriously, I play penny slots) in the Rainmaker Casino (there's also the Rainmaker Garage, Rainmaker Valet, Rainmaker Country, Rainamker Square, Rainmaker Drive and Rainmaker Cafe!) – it was over to the buffet.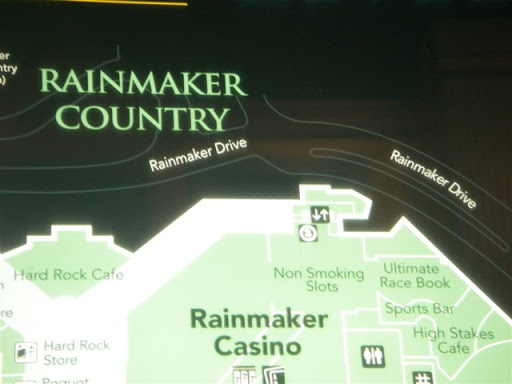 Now, it didn't start out as an eating competition.  It was supposed to be just a solid lunch time performance.  But much like a group run, everyone starts off all friendly…and then someone decided to push the pace a little, and then someone else counters.  Yes, exactly like that – except someone might have pushed it by layering in an extra level of ribs, or perhaps it was the ancillary bowl of chili.  Either way, three overflowing plates of main courses into it – it was game on!  That was then followed by FOUR – yes count them below – FOUR plates of dessert (Pie, Jello/Peach Cobbler, Pudding, Ice Cream/Hot Fudge).  Seriously!  I was in a moderate amount of pain for about 20 minutes afterwards.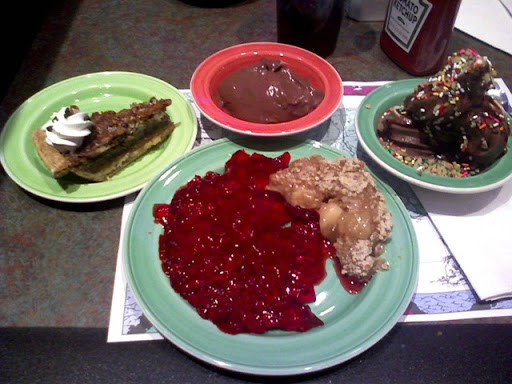 Check out this sign they had placed sorta near us…maybe they were concerned if I took any food out I'd keel over!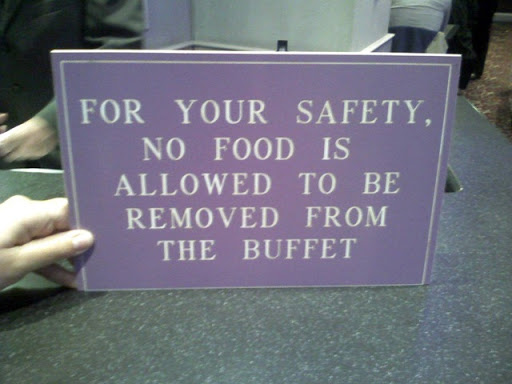 After I was done losing a few more cents (I managed to escape with only loosing $19.98, I took home my two cents!), it was to the other side of my family in Rhode Island.  Not knowing of our buffet plight a mere three hours prior, they had ordered some good local pizza just as we arrived.  And spicy wings.  Doh.  My tummy hurt.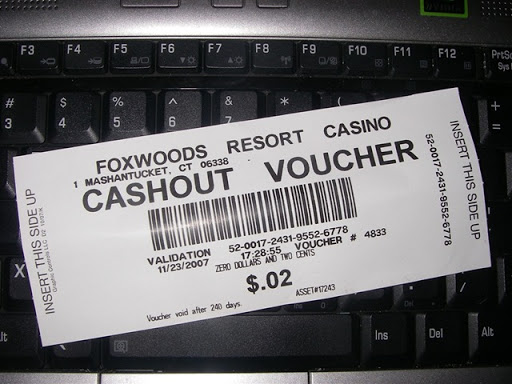 Oh…but we are not done here my friends.  No – move onto today, Saturday.  The family we were staying with in Rhode Island; my aunt is a chef.  So we had homemade sourdough pancakes and bacon for breakfast, as a warm-up course to pork ribs slow cooked for five hours for lunch.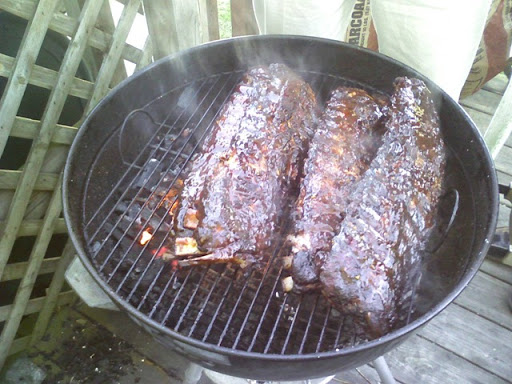 Then between lunch and dinner it was a quick drive back to Connecticut, for it was round two on the Thanksgiving meal front.  This was a encore of many of the leftovers, which were served in a buffet that could have rivaled the original just two days prior.  A few courses later, I'm full.  I've probably gained more poundage than I care to even think about.
The good news is though, with my flight tomorrow to Dallas, the hotel I've booked has a two-lane 25yard pool built right into it – so I'll be able to spend the week swimming it off, and some running tossed in as well.  And a lot of salads.  As long as I never step on a scale between this past Tuesday and next Thursday – we can pretend I never weighed anymore…that's the way I'm playing it anyway.