I've crisscrossed the country hundreds of times, though today's flight home is a bit of a different experience.  Because of a mechanical issue, my little Airbus 320 is being kept below 28,000 feet – thus providing a slightly different view about 1/3rd lower than normal (and an hour slower).  Thus, giving me more time to write about my past week of training in San Diego.
Unlike many triathletes who come to San Diego, I was not partaking in a training camp – or going to a race.  Instead, I was here for work (lots of it) – thus my life was painfully simple: Train, Work, Sleep…repeat.  There was no time outside of that to do anything else.  And here's why:
After arriving into San Diego rather late Sunday night (err…Monday morning), I was up at an almost normal time of 6AM on Monday to go swimming.  This would be the last time this week I was waking up at a time that I could count to on one hand.
I wandered over to my favorite training travel site ever – Swimmersguide – and found a pool downtown that opened early. It turns out the pool is actually located on the 5th floor…and outside…with a view of the San Diego skyline to boot.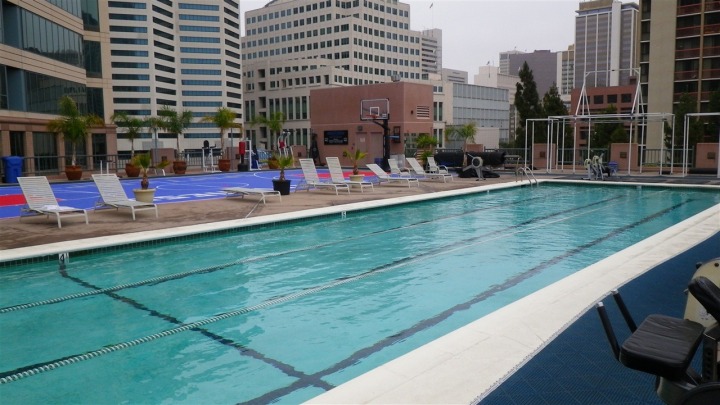 I was even more excited though that they had all the pool utensils that I usually use.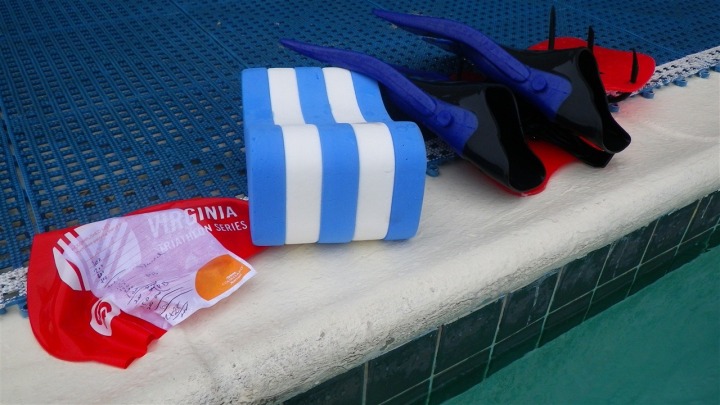 And finally – the topper was that I was completely alone the entire workout.  I bounced back and forth for an hour, as early-bird office workers from buildings on all sides looked down on my antics.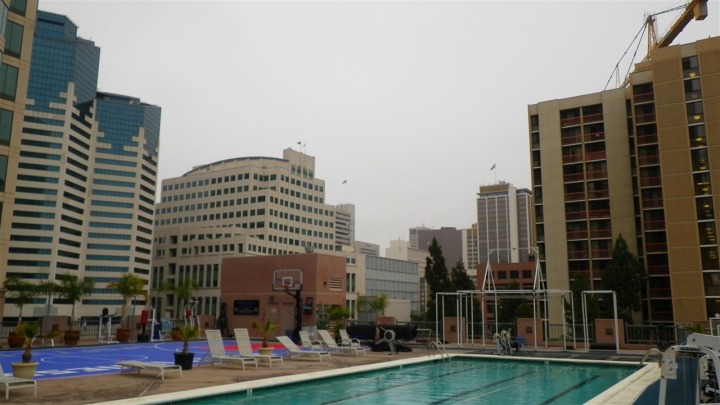 With that done, let's move onto Tuesday.
Tuesday was the beginning of the pain train.  I had to be downtown in the office and dressed nicely by 6:00AM – which meant that my 90 minute brick workout would be starting just after 4AM.  I don't care what time zone you're from…that hurts.  So, before I went to bed on Monday night I staged a mini transition area near the door of my hotel room – which I'd move outside to my rental car in the parking lot come morning.
(Yes, I'm actually using the soft-bag this week and last for travel.  I can't express how much I love it.  Though, because I know that eventually the bike will become sad by baggage handlers, I'm going to switch to using my road bike in a modified setup for travel workouts).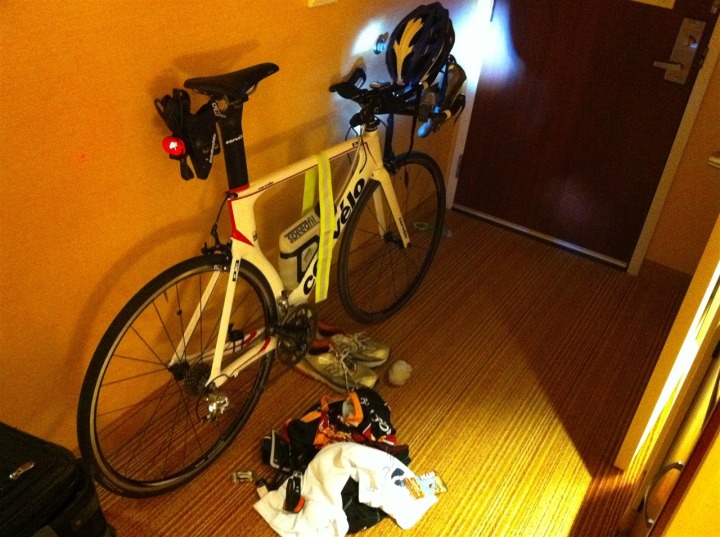 I also attached some lights to my bike to minimize the change of getting pancaked out on the road.  I don't really have many good pictures out on the bike at 4AM – as they all kinda came out like this: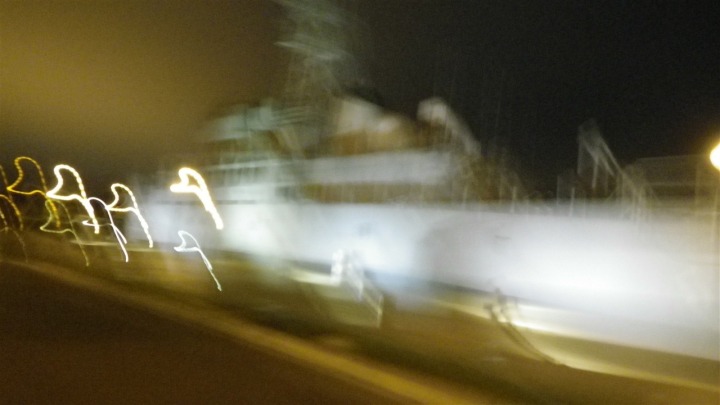 The bike was followed by an hour of fun run intervals.  Five sets of five minutes at Z5A heart rate – which was producing roughly 6/minutes/mile for each set.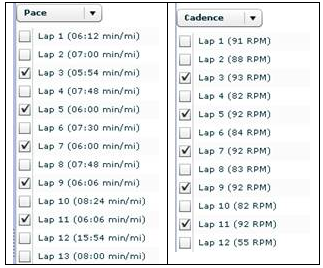 While 4-6AM wouldn't be my preferred time for working out – it's so nice how quiet and calm the city is then.  You can really just enjoy the workout with out the craziness of people buzzing around you.  Plus, you can't beat running along the harbor.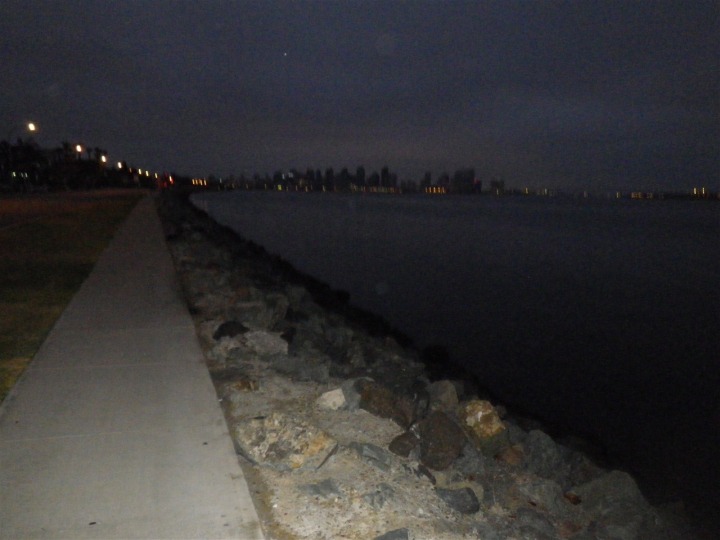 Along the way I actually ended up on the San Diego triathlon course (same for my bike too) – pretty much by accident.  It was held just 48 hours earlier, so the markings were still fresh.
Wednesday brought yet another swim, this time though back at 5:00AM – enabling me to cruise into the office a few minutes after 6:00AM.  5AM was the earliest the building opened, so I was waiting at the door for them to unlock it.  I swam quietly in the dark, alone, on top of the building, for an hour.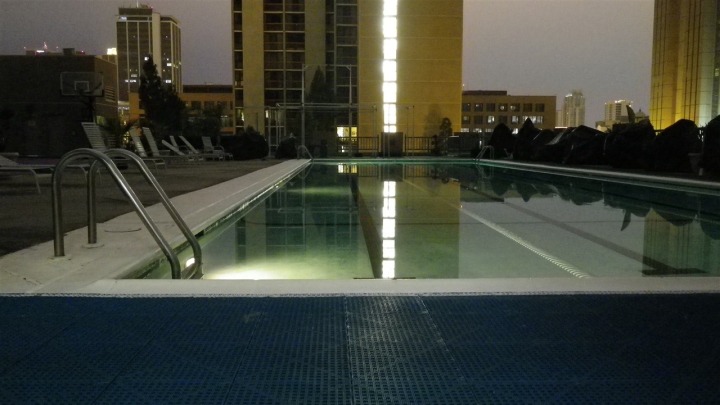 Each time I'd take a breath it was like a slow motion time-lapse of not only sunrise over the city, but also the ever increasing number of office lights slowly turning on.
Just as I completed my cool down, the pool got busy – from me alone, to some 5-6 people all in the span of a few minutes.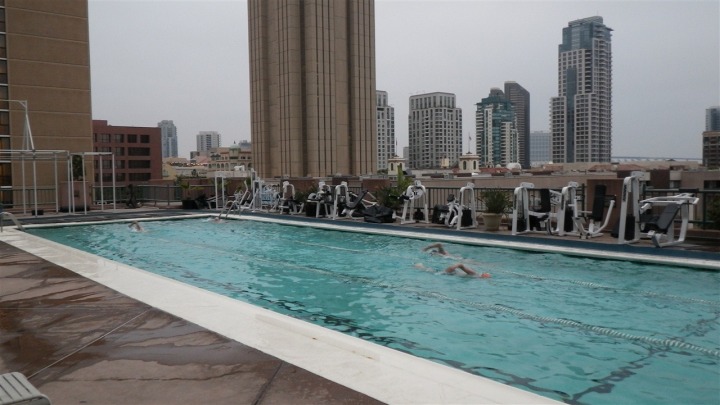 Though – with the help of the Forerunner 310XT and a swim cap– I more than left my mark on the building: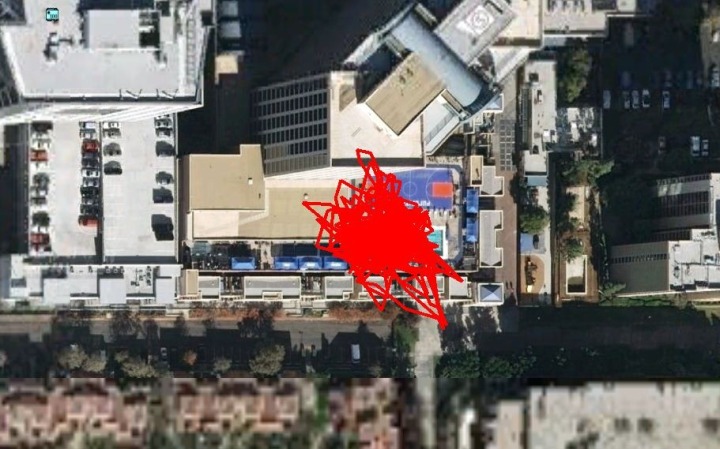 Thursday would be my last day in San Diego – and also take the cake on the earliest start time I've ever commenced at.  I had to be down south almost right on the Mexico border just after 6AM – which meant that I needed to be done and showered shortly after 5:30AM.  Turning back the schedule clock, this ended up with my waking up at 3:15AM and being on the bike no later than 3:45AM.
Once again, I started off in my parking lot transition area – here I am, around 3:40AM: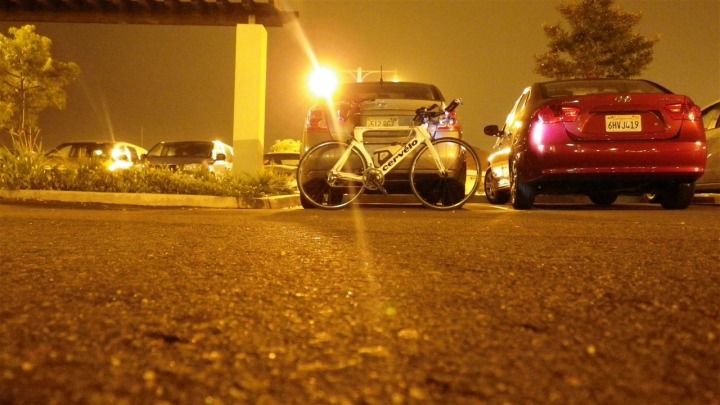 From there I'd get a good solid 30 minute building warm-up done on the flats looping around a small island-thing nearby.  Then I'd head out of the airport area and past the Holiday Inn – the same hotel I stayed at when I started my Great White Shark Trip last year (series starts here – probably one of my favorite trip series I've posted yet).  After passing it I continued out towards a long hill that lasted almost two miles in length.
This hill would give me just enough runway and grade to be able to do 5 minute hard sets up it at Z5A/B HR's, and then scream back down again.  The road was dead quiet, and rather dark: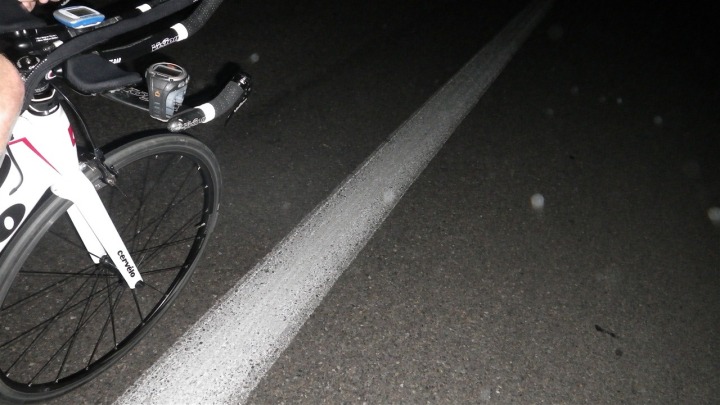 Which made it perfect for my morning pain.  Things that were less perfect however, was nearly running over a skunk.
I had just finished my first interval near the top of the hill and with no traffic nearby, I did a slow lazy U-turn to come back down the hill.  Out of the corner of my eye, I caught what appeared to be a black cat to the side of the downhill lane.  As I completed my turn into that lane though, I was now within about 2 feet of said cat.
At this juncture, I found the cat looked rather like a skunk – and was now frozen with its ass up in the air ready to shoot…me.
Thankfully, he was aimed the wrong direction – and further, thankfully I didn't make a wider turn.  I couldn't even imagine having to fly back after getting skunked.
The rest of the ride went exceedingly well.  I was thrilled that my sets were producing about 380w average per set.  I need to get some triathlons starting at 3AM!
I completed the ride about 80 minutes after I started, and then headed out on a 30 minute run with a core center 20 minutes paced at 6:20/mile using the virtual partner feature. I ended up a bit fast by a few seconds, but all felt good.
And with that, after about 6 more hours at work, I packed up my bike in a random strip mall parking lot, and headed out to the airport.
And now here I sit, watching the world float by, one unmarked state at a time…soon, home.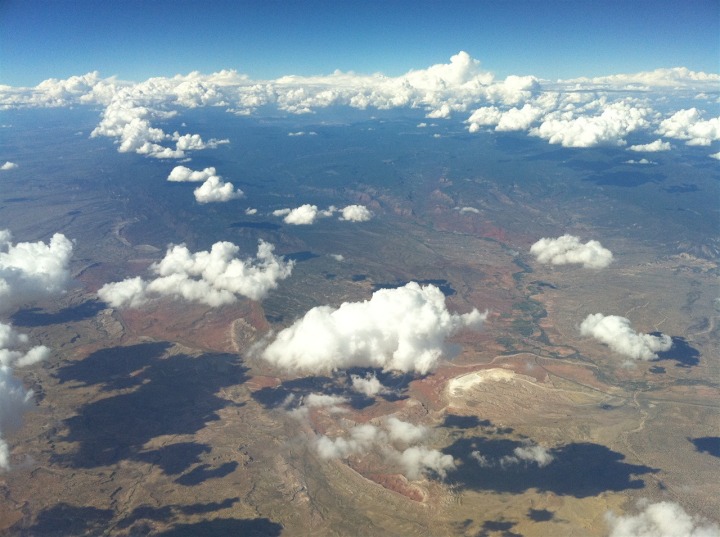 Enjoy your weekend!