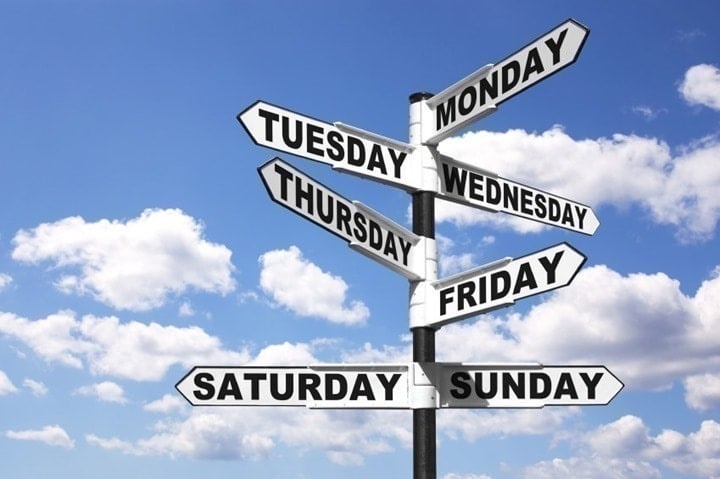 The Week in Review is a collection of both all the goodness I've written during the past week around the internet, as well as a small pile of links I found interesting – generally endurance sports related. I've often wondered what to do with all of the coolness that people write, and while I share a lot of it on Twitter and Facebook, this is a better forum for sending it on to y'all. Most times these different streams don't overlap, so be on the lookout at all these places for good stuff!
So with that, let's get into the action!
Sports Tech Deals of Note:
We're currently in the lull between Amazon Prime Day a few weeks back, and the start of Black Friday type sales in November. Still, there's some decent options out there. Oh, you can always access all deals at dcrainmaker.com/deals
Also – Backcountry.com has a 20% off one item sale right now. While it's not valid for most of the sports tech products you might want, it is valid on plenty of other supporting gear you probably buy. Using this link you'll see the 20% coupon on the homepage to add to your cart. Plus, it helps support the site here.
There are no deals currently.
DCRAINMAKER.COM Posts in the Past Week:
Here's all the goodness that ended up on the main page this past week:
Tuesday: Tuesday Tidbits: Quarq Bitter Battery Warning, COROS Major Firmware Update, Garmin Major FR245/FR945 Updates
Wednesday: DJI Mini 2 In-Depth Review
A bit of a quieter week on the site, busier week on YouTube, and working behind the scenes on posts for next week. Enjoy!
YouTube Videos This Past Week:
Here's what hit the tubes over on the You of Tube, definitely don't forget to subscribe there to get notified of videos the second they hit!
Stuff I Found Interesting Around The Interwebs:
Here's a not-so-small smattering of all the random things that I stumbled on while doing my civic duty to find the end of the Internet:
1) Full presentations from Garmin Developer Virtual Conference Now Available: You can watch most of them, and while I haven't yet had the opportunity to listen to them all, there's usually some solid behind the scenes nuggets in these presentations. Often especially from the business track ones (like this one). Also, semi-related, it's cool to see nearly 30,000 people have streamed my full 45-minute-long 'State of Sports Tech' presentation. But even cooler is the intelligent comments in the comments section there. YouTube often has the (usually correct) reputation of the comments section being a dumpster fire. But this is a nice example of that not being the case. Also, somewhat astoundingly, assuming people made it past the first 60 seconds, almost 60% made it then the full 45 minutes. That's crazy for YouTube. Which isn't to be like 'Oh, people liked it' – but to point out that there is an audience for some long-form fitness tech on YouTube. Kinda like last year when DesFit and I did a 34+ minute long video together discussing the year in smartwatches…that now has 300,000 views!
2) AI Camera System Continuously Mistakes Bald Football (Soccer) Ref for Ball: To be fair, the guys head does look like a soccer ball.
3) Spotify Can Now Stream On Apple Watch Without Phone: But somehow, impossibly, you still can't offline music on the Apple Watch app. Thus, you do have to be connected for this to work (such as cellular).
4) Panasonic makes gadget to rescue AirPods/etc from train tracks: This isn't sporty tech per se, but it's related enough that I found it super interesting.
5) Magene P325 CS Power Meter Kickstarter Launches: I generally think Magene actually makes good products. They primarily focus on the Asian market, with most depth in China. But they also partner with some major western sports tech companies for OEM of equipment.  Thus, I'm a bit surprised to see a very well established company on Kickstarter. All about marketing. I haven't tested this unit yet. Maybe soon.
6) Fitbit posts pretty good Q3 results: Of note is that this actually wouldn't have likely included any meaningful number of their newest Sense/Versa 3 units, since those only started shipping the last few days of the quarter.
7) And yes, Peloton posted strong Q3 results: As did Garmin, but in the case of Peloton, they managed to ship some 243,000 smart bikes out to consumers. Yet the waiting list is mostly into the December to January timeframe right now. Kinda crazy. Still, for the next quarter they're expecting to ship roughly the same number of units out – which tells you that they haven't quite found a way to add additional manufacturing capacity yet.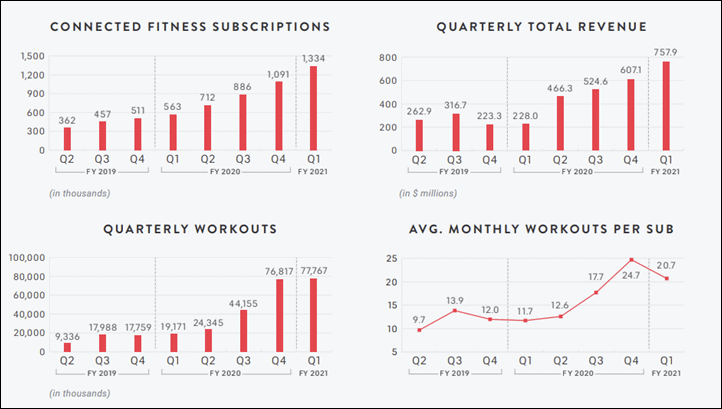 8) Livestream with Dave from Chase The Summit: Since there was no 'Week in Review' last week, I didn't have a place to stick this. But you can sit back and listen to an hour-long chat on sports tech geekery, plus lots of random historical DCR bits and bobs.
Sports Tech Device Firmware Updates This Week:
Each week I quickly highlight some of the new firmware, app, software, and website service updates that I see go out. If you're a sports technology company and release an update – shoot me a quick note (just one-liners are perfect, or Tweet it at me is even better) and I'll make mention of it here. If I don't know about it, I won't be able to post about it. Sound good?  Oh – and if you want to get a head start on things, this page is a great resource for watching Garmin, Wahoo, Polar, and a few other firmware updates.
Garmin Edge 530/830/1030/1030 Plus Series BETA Firmware update: Mostly just minor fixes, and CIQ additions.
Garmin Venu & Vivoactive 4 Series BETA Firmware Update: Mostly just fixes, but I did notice the ability to set/calibration elevation from Garmin Connect Mobile, which is definitely new across the Garmin world.
Garmin FR245/745/945 BETA Firmware Update: Just bug fixes.
Hammerhead Karoo Series Firmware Update: Added navigation cues, quick-action menu, in-ride banners, battery saver mode, and a bunch of other things.
—
With that – thanks for reading all!