I'm spending today and tomorrow wrapping up a few posts for later this week, including an in-depth review, the Annual Trainer Recommendations Guide (which frankly, might just be boiled down to 'Buy anything you can actually find in stock'), and a few other new pieces of hardware to talk about. So, as outdoor light and time are limited, here's a few things worthy of your attention for today.
Quarq Warning on Bitter Batteries: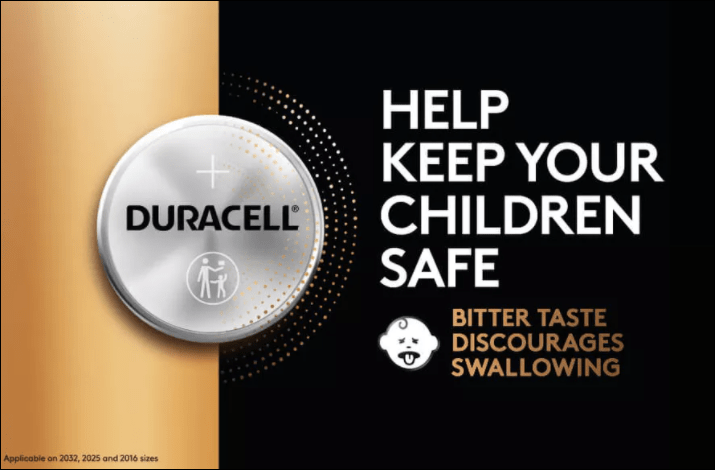 Apparently, Quarq power meters don't like bad tasting batteries any more than young children. Quarq sent out a service announcement last night indicating that Duracell's new so-called "bitter batteries", which have a bitter tasting coating to deter young children from putting them in their mouths, can cause issues with the company's power meters.
Specifically, the CR2032 batteries can cause the LED to not function, cadence and power dropouts (including for extended periods of time), as well as the unit failing to wake up or pair. In other words, basically any type of failure you could conceive of, these batteries probably caused it. About the only symptom not on the list would be 'power meter explodes'.
Duracell started shipping the new bitter coated batteries on their CR2032, CR2025, and CR2016 batteries this past September. So, if you happen to pick one of those up, beware it will probably dork with your power meter. And realistically, if Quarq is figuring this out – I'm going to take a guess other sensor companies won't be far behind. It's simply more likely that power meter users, being the typical Type-A personalities we are, are more likely to notice quirky things than those coming off heart rate straps or other sensor types.
Of course, there's still gazillions of batteries out there, so it shouldn't be too hard to avoid this for your power meter.
COROS New Sports & TrainingPeaks Firmware Update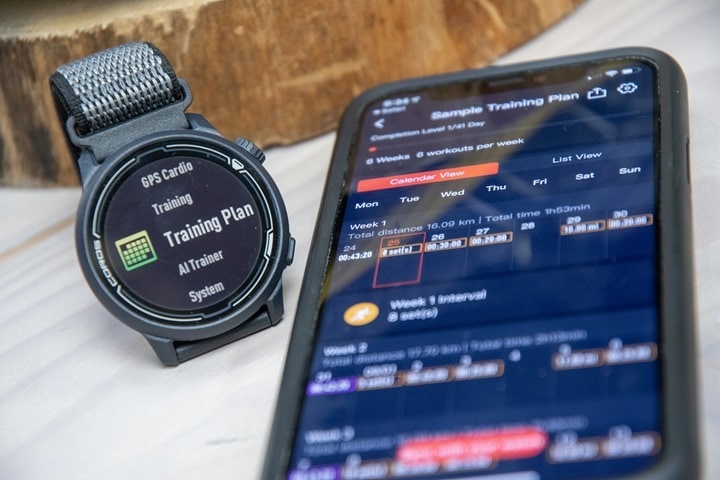 COROS units are receiving a sweeping firmware update this week that will introduce a whole "boatload" of new sports (that's how COROS phrased it, and it's pretty accurate). All of these new sports focus on boating activities in some way, either through a vessel you'll keep dry in, or one you'll float atop the water but still probably get wet.
Here's all the new sports:
Rowing
Indoor Rowing
Flatwater
Whitewater
Windsurfing
Speedsurfing
In this case, I lack all of these vessel types. Thus, my ability to cover them will be highly limited. Though, I suppose I do have a Stand Up Paddle Board for the new 'Flatwater' profile, which is designed for that. Given the bizarre semi-heat-wave we've got going on this week in the Netherlands, maybe I'll take it out for a spin later in the week. Some of these profiles are pretty advanced – for example the Speedsurfing one has legit integration with Speedsurfing.com. Whereas the rest range in the data provided. For example, you'll get stroke rate for rowing, but windsurfing has more basic data (it doesn't appear to be tracking jumps or such).
In any case, here's the data types, as stated by COROS, for each of the new sport profiles:
"Speedsurfing

Co-developed with the leading GPS website for windsurfers and authority for the specialized sport of Speedsurfing GPS-Speedsurfing.com. Speedsurfers are focused on achieving the fastest speed possible on the water. COROS is the only multisport watch brand to offer native integration available to this community of over 25,000 members. Direct sync to the GPS-Speedsurfing.com platform will be available before the end of the year, allowing speedsurfers from all over the world to compete for speed records.
Data includes auto run detection, fastest speed, alpha speed, and more

Windsurfing

Wind Surfers will see data including Distance, Speed, Heart Rate, and other traditional metrics

Whitewater

Ideal for activities that involve a rapid downhill current such as Kayaking, Canoe Slalom, and rafting
Data includes Stroke Count, Stroke Rate, Elevation, Speed, Distance, and more

Flatwater

Used for more calm water, like on lakes, ponds, or bays, good for measuring activities such as Stand Up Paddle Boarding.

Indoor Rowing

Compatible directly with the Concept2 indoor rowing machine (ergometer) via a Bluetooth connection
Live data includes Distance, Stroke Count, Power, and more

Rowing

Rowers on the open water will receive data including Pace (per 500m), Distance, Stroke Length, Stroke Rate, and more"
However, that's not all – the bigger news here for non-aquatic people is the integration of TrainingPeaks structured workouts from the TrainingPeaks platform. Previously, you could push a completed workout to TrainingPeaks, but not download a planned structured workout. Now you'll be able to execute structured workouts a coach might put together on TrainingPeaks. That comes as part of a larger set of updates being made, including:
– Added TrainingPeaks training plan workout support
– Added TrainingPeaks individual structured workout support (for swim/bike/run/strength workouts)
– Added ability to group interval steps on structured workout for quicker duplication
– Added metronome function within the toolbox
– Added 'Heading Up' navigation option
– Increased activity detail on the 'Summary' card in app
Now, not quite all of these (aquatic + TrainingPeaks updates) will come to all units, and the dates vary a bit depending on which unit you have. The below table outlines everything pretty clearly.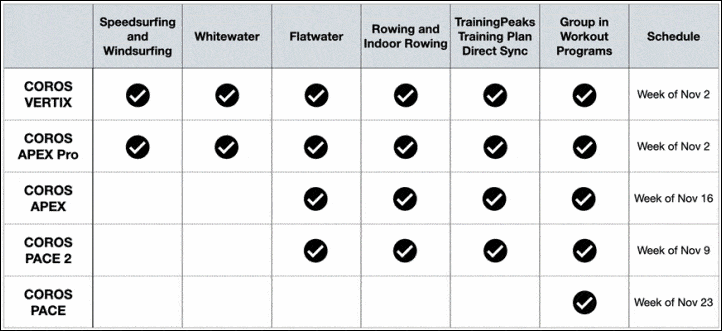 Ultimately this is another solid update from COROS. We continue to see them increase functionality, and most importantly, take the Wahoo approach of largely rolling out those updates to all past units. I can see the logic here in keeping the Speedsurfing/Windsurfing for the higher end units, same goes for Whitewater. As for the original Pace, they previously noted they were simply up against hardware limitations there – specifically around space and processor power. The only update here for the original Pace is more on the app side than the firmware side.
In any case, I'll try and take a crack at it later this week when a few of the smoldering things in the "comin' in hot" pile simmers down a bit. But it's clear that the already incredibly well priced $199 COROS Pace 2 becomes an even stronger competitor with this update.
Garmin FR245 & FR945 Feature Updates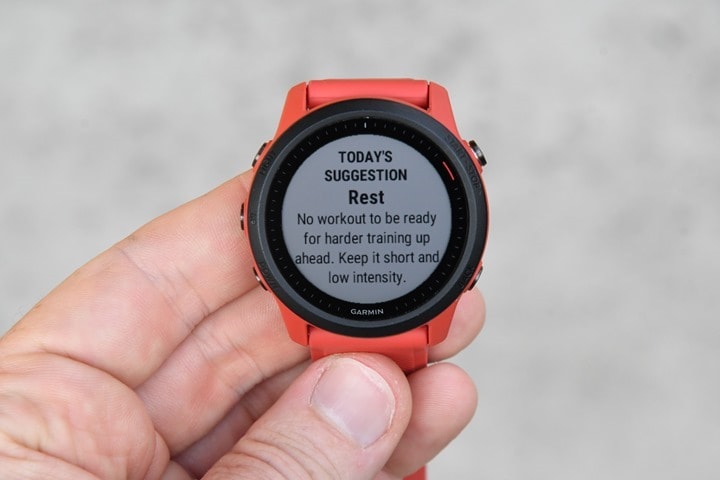 Finally, we've got less of a surprise and more of a formalization. Back when the FR745 was announced in September, it brought with it three major new features to the Garmin lineup:
A) Running Track Mode
B) Daily Suggested Workouts for Running (Cycling was added with the Edge 1030 Plus in June)
C) Improved Recovery Time
At the time the FR745 was announced, Garmin noted these features would be rolled out to other watches including the Fenix 6, FR945, and FR245. With each unit receiving different levels. Well, the FR245 and FR945 both had their beta rollouts over the past few weeks, and now the final production firmware is making its way towards you.
Here's the core new features each watch get:
LiveTrack course sharing
Improved recovery time
Track running activity
LiveTrack course sharing
Improved recovery time
Track running activity
Daily suggested workouts
Tacx smart trainer control
Now, all of the FR945 ones have already arrived on the Fenix 6 series, over the last month or two. So that's already there today if you've got that. As usual, don't expect these updates to come to the Fenix 5 or Fenix 5 Plus series. And by 'don't expect', I mean, they're definitely not coming. Equally, the FR645 isn't getting them either.
For a bit more detail on each, I'll just give a quick paragraph. I've got a longer piece I'm gonna circle back in on the Improved Recovery Time, as there's a ton of nuance there that's actually way more in-depth than anyone has really talked about yet (or anyone else in the industry is doing). It easily surpasses what both Whoop and Polar are doing, albeit, it just doesn't make it as obvious as theirs since you can't clearly see cause and effect.
LiveTrack Course Sharing: This was rolled out with the Edge 1030 Plus back in June, and is also slated to hit the Edge 530/830/1030 too shortly in production (it just launched in beta there last week). Essentially, it allows your friends and family to see your planned course as loaded into your device, in addition to where you actually are. The idea being your friends can see how you're doing in relation to what you planned. Versus previously it just showed where you've gone to date. The planned route in blue below, actual in purple: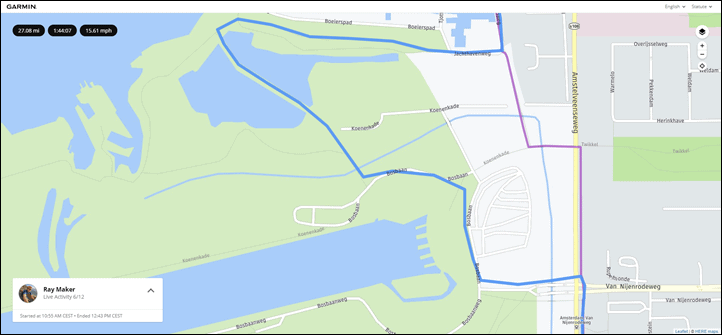 Track Running: I covered this in-depth in my FR745 review. But this will snap your track workout to the track, so you get perfectly round ovals every time. It's brilliantly awesome. There's a few more tweaks likely coming here that I'll do a final update on shortly, but track mode in general (both from COROS and Garmin) is frankly one of my favorite features over the last year. There's just something so satisfying about a perfect oval GPS track. I don't know why.

Daily Suggested Workout: This was initially introduced on the Edge 1030 Plus back in June for cycling workouts, but has since been expanded to running workouts. When you open up the running or cycling sport page, it'll suggest a workout for the day, based on your current load as well as recovery time aspects. Those are indeed tied together here. If you have crappy sleep the night more, combined with high load, it'll even go as far as canning your workout for the day. Overall, I've found these workouts surprisingly similar to what I'd pick for myself. Not always perfect, but pretty darn close. However, keep in mind it doesn't have/know about an end-goal in mind. So it's mostly just training you for the sake of training and slowly incrementing load. But it doesn't know if you're training for a short distance event (like a 5K), or a marathon.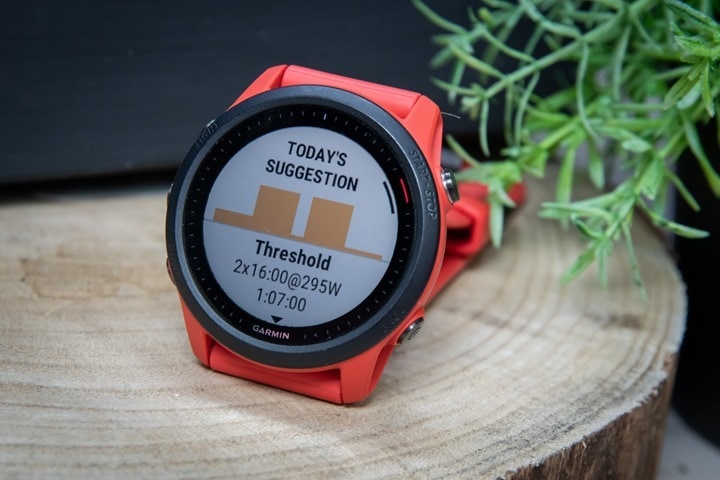 Improved Recovery Time: This is probably one of the more holistic sweeping changes being made, yet it's something that's super hard to visualize because almost everything is under the covers. Historically speaking, recovery time on a Garmin watch was purely a function of your workout data. Thus, you had basically two piles of data: Workout data (runs/rides/etc..), and 24×7 data (sleep/steps/stress). But those two never really met – just like they don't really on Whoop either (load vs sleep, with no overlap), though they do to a limited degree on Polar. In any case, with this update, the recovery time recommendation that you can access from the widget roll is now dynamic based on sleep, stress, and daily physical activity.
The watch will actually increase or decrease the recommended recovery time based on your sleep quality, upon waking up. The same goes for stress, a high-stress day will increase recovery times, while a Netflix & Chill day will decrease times. Notably, daily physical activity (like steps) cannot decrease the recovery time, it can only add to it (as it should). However, Garmin notes that normal daily movement is good for recovery. They specifically stated they wanted to avoid a scenario though where after a 10 hour day standing at a trade-show that you're then told to go do a sprint workout.
Overall, Garmin says that sleep is by far the biggest factor in the recovery time changes. Which of course is something that most athletes already know, but having a watch remind you of that, as I type this as 12:36AM, might be useful.
Finally, note that Garmin says if there's a significant 'life event' during the day, specifically an exceedingly stressful day, the watch will actually proactively note that an adjustment to recovery is being made due to that event. I haven't seen that yet, but perhaps my days aren't stressful enough yet.
—
With that – thanks for reading!