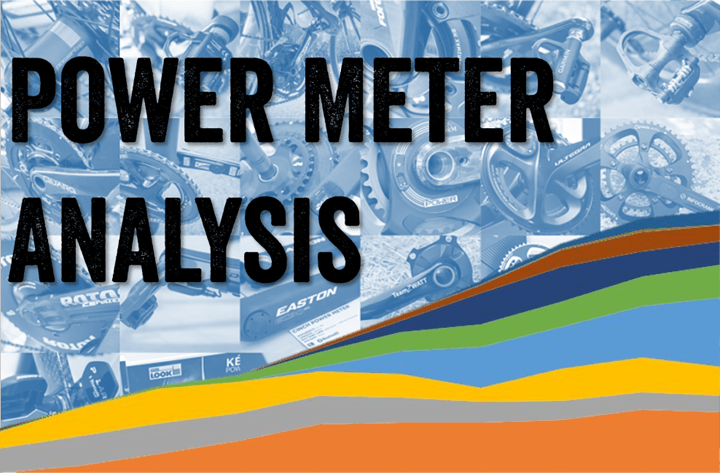 Once again, it's time for the big dance that is Kona. Or more technically – the Ironman World Championships. It's when the fastest long-course triathletes in the world gather on a small island to collectively consume more electrolyte-filled drinks and gel packets in a day than more cities could ever down.
But like past years – I'm most interested in the data, specifically, the power meter data.  As I've done for a crap-ton of years in the past, I'll analyze the power meter count data that was released this morning by Triathlete Magazine, and talk about the trends.  And for the first time in 8 years there's a change to the power meter throne. Well, the king kinda-throne. Not the crapper type of throne.
A Bit of Backstory
For those not familiar, each year Lava Magazine (well, now Triathlete Magazine), in conjunction with a bunch of industry folks, count all of the bikes entering the transition areas.  By 'count', I mean that they give them a complete rubber-glove exam of componentry.  While this might be an interesting consumer publication tidbit, it's really about industry marketing.  It enables big companies to brag about domination in the bike industry for everything from the bikes themselves to helmets to wheels.
For example, here's an ad from a few years ago (2014) that Quarq did almost immediately following the bike count numbers.

Starting in 2009, the Kona bike count added power meters to the list of counted parts.  So we've now got almost a decade of power meter numbers to work from.  Enough to start developing some interesting trends.  For many that follow the industry, these trends won't really be a huge surprise.
By the same token, it's really important to understand that these numbers don't paint an accurate picture of power meter usage across the board.  Why's that?
Because Kona Qualifiers are the pointy end of the pack.  The super-pointy end.  They also tend to be well beyond the normal triathlete Type-A mentality (that I fit into as well), which means that in addition to spending all their time on their sport they also spend all their money.  They tend to gravitate to the more expensive options, especially for things like weight savings or if the word 'carbon' is involved.
Whereas the more weekend warrior road bike rider might not spend the same proportion of income in the sport, and thus is far more likely to buy cheaper power meters (à la Stages, 4iiii, Favero, etc…).
Next, remember that these are for units on the market as of the first few weeks of October.  But in reality, I'd wager that 95% of athletes qualifying for Kona will have a fairly locked down mentality on gear – so likely any major bike changes, such as a power meter purchase, would have been done back in the spring (or at worst mid-summer), to be able to leverage that data for training all season.  So any new power meter announcements or availabilities in the last few months aren't likely to be reflected here.  So it's unlikely we'd see the impact yet of things like SRM's EXAKT pedals, or the WatTeam Gen3 for example. And certainly not the PowerTap P2 pedals that don't come out for another month.
Finally, note that the field at Kona is very dynamic in that while the age groupers on the podium at Kona will often return year over year, much of the age group field tends to view going to Kona as aspirational – and thus aren't likely to be there 5 years running.  Still, excluding the lottery winners, the overall athletic class of athlete tends to remain quite consistent year over year (and getting faster).
The Numbers:
To begin, let's start off with all the raw data from the past 9 years.  I've ported it into a single table to make it easy to deal with.  See the links at the bottom if you want to look at the individual yearly data straight from Triathlete Magazine.  I've compiled it into some spreadsheets, and color-coded it for fun.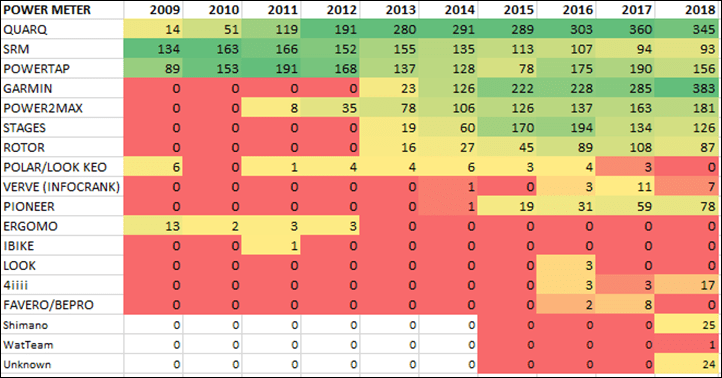 A crapton of quick technicalities to note here (seriously these are important):
– There's clearly some miscounted pedal-based power meters in here – especially Garmin ones. As you can see below, the folks counting the pedals counted 418 Garmin pedals versus only 383 Garmin power meters. I'm going to use the numbers in the power meter section, though clearly Garmin has even higher numbers than that lets on (since the higher number wins in this case).
– There's no breakout of models, so we don't know on PowerTap for example, how many are hubs vs chain-ring vs pedals. Same goes for SRM pedals vs SRM cranksets.
– Polar/Look appear to be counted somewhat differently over a few different surveys (breaking them apart and the combining of  them).  Earlier ones could technically be the Polar chain-based power meter, while later ones being the pedal.  Either way, the numbers are honestly somewhat negligible here at only six units.
– Newer power meters simply weren't available in earlier years, for example, Infocrank's Verve didn't exist 8 years ago, nor Pioneer.
– Inversely, some brands like Ergomo have long died off, but I kept them for historical reasons.
– On the official list there is a power meter titled 'Prw', which I've never heard of before. So I've included them in the totals, but not as a line-item. I suspect that might be Favero, since somehow they have zero units this year (from 8 last year), despite being overwhelmingly popular in the sales data I see.
– There's also a listing for 'Team Watt', which I presume is actually WatTeam, though it could well be Team ZWatt. Hard to know. I gave it (a single unit) to WatTeam though since technically that's the closest to it.
– I suspect there are cases where other relative unknowns might have been missed. It appears they've caught most brands, but if something is mostly unheard of (such as an Avio power meter), it might not be seen. These folks have to work super-fast and are likely not expecting the unknowns.
– While the top of the Triathlete Magazine piece notes 2,500 bikes counted, the highest totals value I could find for any category was 2,407 (saddles). So I'm using that instead so I suspect the 2,500 was the assumed value. Otherwise the totals were 2,259 bikes, 2,284.5 wheelsets, 2,392 shifting sets, and 2,262 pedal sets.
Here's what I was referring to on the Garmin front. Also, you can see the PowerTap breakouts a bit in this too. Noting about 1/3rd the units were apparently pedal based (50 counted, versus 156 total PowerTap products).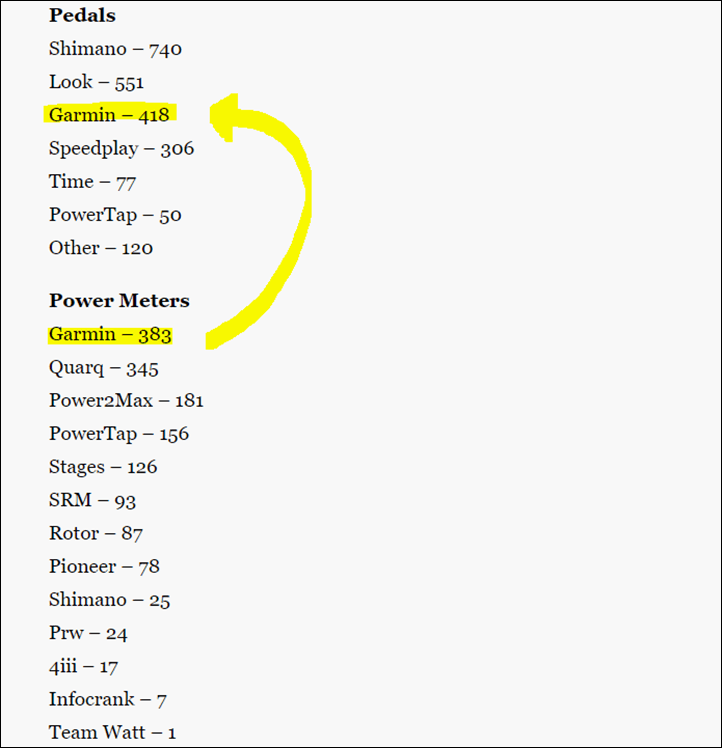 So what about power meter adoption?  Simply put – it continues to climb. And in fact, I bet it's even higher than these numbers let on. I suspect some Shimano power meters were missed (since they can be hard to spot), as were Favero and probably a few others (even Specialized no doubt on some pro's bikes).  Either way, despite that, things climbed considerably again.

I also included a line item below showing what would happen if you added in the 35 extra Garmin-counted pedals (pedal data section) that didn't show up in the Garmin power meter section (which would be a total of 1,558 power meters – or 65%.  No matter how you slice it – up it went.
One of the challenges that we always have at Kona is that disc wheels are not permitted, primarily due to safety concerns with strong crosswinds on certain sections of the course.  As such, people that may have PowerTap hubs in disc wheels aren't really accounted for here.  That said, year after year I suspect that's a dwindling number of people, especially among the Kona crowd.
Next, let's look at the brands more carefully: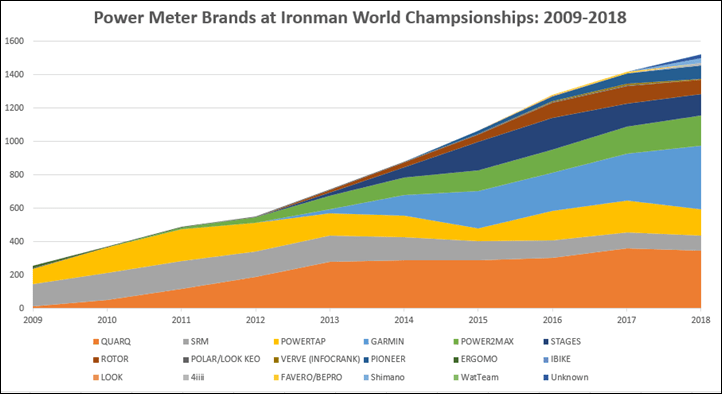 First off, sorry there are duplicate colors. There are only so many colors to work with, and I just let Excel do its thing. All you really need to know to decode it is that orange section on the bottom is Quarq, and the lighter blue in the middle is Garmin.
Of course, most of the trends we see here aren't surprising.  Back in 2009, there were really only a few brands (Quarq, SRM, PowerTap, Polar, Ergomo).  But it's really PowerTap and SRM that dominated then.
Of course, a year later and Quarq is quickly in the running, and before you know it, by 2012 they held the dominant position all the way until last year (2017). But Garmin was clearly gaining on them, and this year they took the crown for the first time ever.
Why, you might ask?
Well, I think a few core reasons:
A) The Garmin Vector 3 pedals simply look better than before. There's no doubt that most Kona athletes care very much about what their bike looks like as a whole, and with Vector 3 getting rid of the visually unappealing dangling pods that Vector 1/2 had, that makes it more attractive.
B) Garmin's simply in more bike shops. Distribution matters here, and the fact that one can buy Garmin pedals at virtually any bike shop on earth matters. Same goes for online stores too. While Quarq has similar reach via SRAM's ownership, stocking Quarq cranksets is a far higher bar than stocking a single type of Garmin pedals.
Now, keep in mind that the numbers probably would be even higher if Garmin hadn't been embroiled in the Great Battery Cap Clusterfudge of 2018, whereby a non-trivial number of Vector 3 owners returned their units this past spring after dropouts and related issues. While I think that's largely behind us, that no doubt had an impact – especially on pointy-end pack people who typically have less tolerance for data dropouts. But ultimately when Garmin is likely shipping 1,000-3,000 sets per week (and has been for exactly one year now), that volume is going to overcome almost any competitor.
Let's talk about some of the other stand-outs in this list though. In mostly order of volume shipped:
Quarq: Obviously, Quarq is still a big player here. With 345 units, they were second and only lost a little bit of units-on-bike ground compared to last year (at 383 units). Still, it's been over two years since Quarq last announced a new power meter – and more importantly, the trend is overwhelmingly going towards pedal based units. Still, I have Quarq units (including their most recent DZero) on a number of my bikes and they make an awesome and reliable unit. Not to mention their customer service is top notch.
PowerTap: If there was anyone here that should be looking at the numbers closely – it's PowerTap. They lost about 20% of their Kona on-device volume this year, from 190 units to 156 units.  There's almost no doubt in my mind they lost units by people going from PowerTap P1 to Vector 3 – primarily for pedal weight/size. And while they announced the PowerTap P2 this week at Kona, I don't see that helping them unless they substantially undercut Favero on pricing. There's really no other way to say it: PowerTap needs to make a new pedal that has a body (and internal technology) that's basically in line with their competitors. The trend won't change directions until they do.
Power2Max: Despite doing virtually no marketing or new products this year, Power2Max continued to grow in size (for the 8th year in a row) – up to 181 units to claim the 3rd ranked spot on the podium. There's good reason: They make solid products that are priced appropriately. One does have to wonder though if they spent even a bit of time marketing, at events or such, where they'd be. Still, good on them.
Stages: Despite releasing the Stages LR dual system earlier in the year, Stages remained mostly flat with a slight drop from 134 units to 126 units. Given the massive drop they saw the previous year – I think that might actually be a bit of a turnaround to stop the bleeding there. Again though, this is the one company that's likely not represented well on the Kona charts. In reality, I suspect they probably ship more power meters than anyone (or are just behind Garmin) – just to a different budget category.
SRM: They also seemed to stop the bleeding this year, only going from 94 to 93. Given they only started shipping their SRM EXAKT pedals in late July, I don't expect we'd have seen many of them. And, given they might not be easy to spot – I suspect a few were probably missed on this count.  Next year will be what matters here.
Pioneer: I'm always impressed with Pioneer's numbers here. And this year is no different – they sat at 78 units, which is solid given how often they seem to slide off of people's radar.  This was up from 59 the year prior, so a nice little riser. To think they've almost eclipsed SRM and even ROTOR is kinda astounding. Perhaps there's something to that consistent and yearly release cycle they've got. Hey, if it works for Apple…
Everyone else: For the most part, it was minor shifts between everyone else. Shimano did score 25 of their new power meter units on bikes though, which isn't too shabby (they just started shipping last fall). And 4iiii went from 3 bikes to 17 bikes. As I noted above though, I suspect some pedal based units were missed – especially Favero ones. Given Favero's growth this past year, for them to go from 8 units to 0 units doesn't make much sense.
Wrap Up:
Once again, it's no surprise to the majority of the field using power meters at Kona. We saw a bit more growth this year than in years past, which is good. I suspect that's fueled by there simply being more choice in the market than ever before across so many price points.
The past 12 months has actually been pretty quiet for new power meters (as I outlined in my keynote speech last week), and I'm not convinced we'll see much different next year either. As noted, with so many announcements typically tied to Eurobike or Interbike, these shows are often too late to make a dent at Kona.
Perhaps though if a startup like IQ2 can get off the ground (read: ship) with their budget-priced units, we'll see a shift towards even more adoption.  But ultimately, any startup has to prove their units are accurate with independent reviews from numerous sources. Simply shipping a piece of hardware out the door doesn't mean it's an accurate power meter (as we've seen with other crowd-funded power meters).
While this year didn't include aero sensors in the line-up, it'd be fun to find out how many (if any) Notio Konect sensors are in use out there at Kona today (they started shipping back in July). VeloComp's AeroPod just shipped this past week, so that's unlikely to be on bikes at Kona this year – but I'm willing to bet if people comb through the race day photos, they'll find at least a handful of people using the Notio system.  We'll see…
With that – thanks for reading!
Note: This year, and many of years past data is from Lava Magazine and Triathlete Magazine by a collection of industry folks that survey the bikes upon check-in.  Links to all past data sources are listed here: 2018, 2017, 2016, 2015, 2014, 2013, 2012, 2011, 2010, 2009.