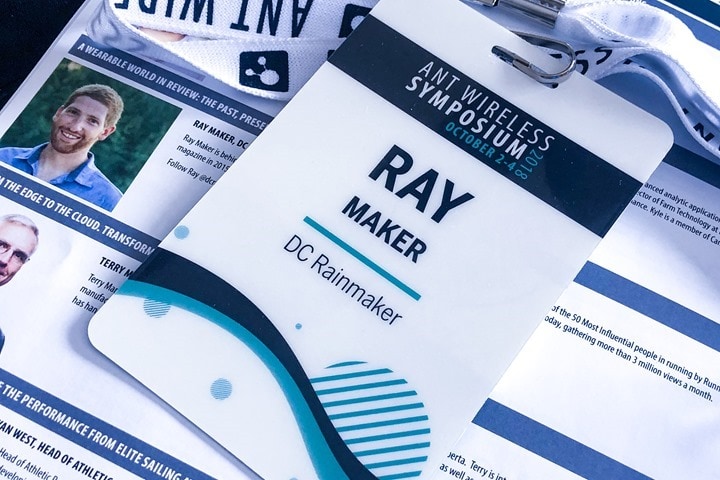 It's that time of year again – my annual state of sports technology presentation at the ANT Wireless Symposium.  This year marks the 8th year that I've given such a presentation at the event, which includes the vast majority of sports technology companies (even one surprising new one this year I'd never have expected to make the long journey to Banff).
As always, this annual event caps off the busy sports tech conference season (following Interbike & Eurobike).  But unlike those two events, this isn't a trade show.  Rather, it's a conference for companies that are largely in the sports technology realm to discuss products and standards.  And, it's hardly limited to ANT+ these days.  There was plenty of discussion around Bluetooth Smart, and even presentations on picking which protocol makes the most sense for a given project/product.  Heck, ANT Wireless themselves even now makes a chipset (G.FIT) that's focused on dual-protocol scenarios across the indoor fitness industry for trainers, treadmills, and the like.
Ultimately, just as much conversation is focused on the end-state product as the protocols used.  This year the focus shifted a bit towards the majority of the sessions being outlines of solutions that companies have implemented, both within the fitness industry and outside of it. For example, while companies like The SufferFest, Garmin, and more presented on fitness focused items, there were also presentations on using ANT in agriculture and energy companies.
But more important than all of those are the discussions that happen outside the conference floor rooms.  They're the discussions occurring on nearby trails running, riding, or hiking (or, given the icy/snowy weather – more at the bar this year).  It's these discussions that truly influence product direction, whether it be two companies discussing a partnership – or myself trying to convince a given company to implement your ideas.
In fact, that's really the secret agenda of the symposium for me year after year.  It's effectively my hunting grounds to be able to convince companies to change products or platforms based on what I hear in thousands of comments each week from you. In fact, I generally don't create content directly from the Symposium event. It's more of a behind the scenes thing for me.
In any case, my annual presentation covers the past year in sports technology (wearables/cycling/running/action cams/drones/etc…).  I talk about what's working and what's not. I give usually very specific examples of both (sometimes to the dismay of those in attendance). But that's the way I've always done it, so why change a good thing? Anyway, go forth and enjoy!
Additionally, if you'd like to download this year's keynote presentation (PDF), you can do so below (it's sorta big).  Further, I've also linked to the 2010-2018 presentation files and to the 2011-2018 video clips.  Basically, you can now binge-watch my sessions (whatever floats your boat!).
DC Rainmaker 2018 ANT+ Symposium PDF (Watch here)
DC Rainmaker 2017 ANT+ Symposium PDF (Watch here)
DC Rainmaker 2016 ANT+ Symposium PDF (Watch here)
DC Rainmaker 2015 ANT+ Symposium PDF (Watch here)
DC Rainmaker 2014 ANT+ Symposium PDF (Watch here)
DC Rainmaker 2013 ANT+ Symposium PDF (Watch here)
DC Rainmaker 2012 ANT+ Symposium PDF (Watch here)
DC Rainmaker 2011 ANT+ Symposium PDF (Watch here)
DC Rainmaker 2010 ANT+ Symposium PDF
Boom!
While I don't plan a secondary post on the ANT+ Symposium from a tech standpoint, here's three tidbits that are worthwhile noting for those that are curious:
Aero Sensors: Tons of talk on aerodynamics devices this year, including the Aero Technical Working Group, which is nearing a device profile. There were a number of major aero device companies present, as well as head unit makers, virtually all of which seemed to have made good progress on a path forward. It sounds like this path is pretty well solidified. As I cautioned back in July, if you're an aero device maker and you're not engaged in the TWG, your solution from a consumer standpoint will quickly become second-rate. The major head unit companies and training log platforms will be supporting the aero profile, and if you're off dancing by yourself…good luck with that.
Cycling Dynamics: This is super close. I talked about it last year, and it sounds like things are in the home stretch of finalization. This should work out as well as we expected with the major head unit companies supporting the updated profile, and likely Favero being the first company to roll it out soon.
G.FIT: While this isn't new per se to this conference, it is getting more attention. Kinetic is using it within their new Kinetic R1 trainer for example.  Their website I just linked to isn't terribly awesome at explaining what it is (hopefully they'll publish the video from the session this year, which is very good at explaining it).  But essentially it's a module that goes into trainers and treadmills and allows a bunch of dual-protocol scenarios, including re-broadcasting natively of sensor data from devices into various channels. It's designed as a dual ANT+/Bluetooth Smart scenario for both ANT+ FE-C and FTMS. That said, NPE's GEM product (recently acquired from Wahoo), dominates this space today. Will be interesting to see how things go, especially in relation to the R1.
With that – thanks for reading and if there's other areas/questions you're curious about – feel free to drop questions below, and happy to answer them as best as possible.
Initial Note: You can go back and see all my past ANT+ Symposium posts from all the years, here with one handy link!  Yes, even including when I ran into a moose on a run. Don't worry, I've got a fun recap of the last few days of activities I'll be posting shortly.
Secondary note: I have ANT+/Dynastream donate my speaker fee to charity each year.  This year that went to the Newfoundland Easter Seals organization.
Third note: That's it, have a great weekend all!