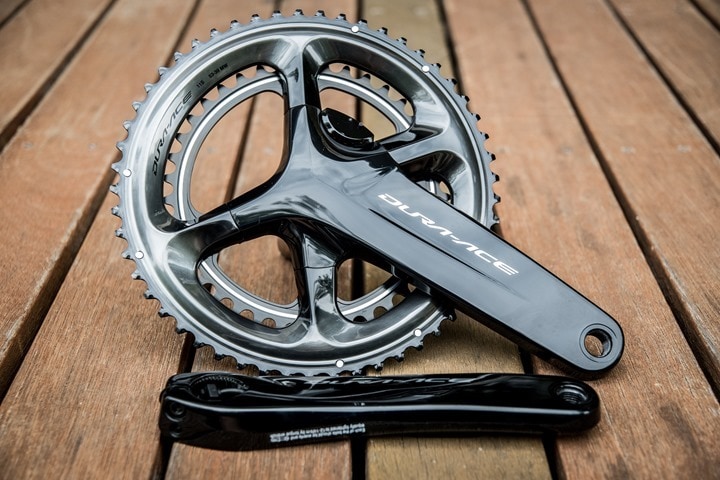 It's been almost two years since Shimano first announced their intentions to sell a power meter developed in-house, launched in the lead-up to the Tour de France in June 2016.  That summer, a handful of pro riders would be seen riding prototypes of it.  Those numbers increased again in spring 2017 with slightly more WorldTour individual riders using it, and again even more in 2018 on the WorldTour roster.  But it wasn't until this past fall and winter when it started shipping in limited quantities to the masses were we able to start to see whether or not it was accurate, as well as see how it compared to other offerings on the market.
And that's what I've been doing for the couple months or so with a final R9100P unit – seeing how it compares to other trusted power meters and trainers on the market.  Not just in features of course, but also aspects like accuracy across power values and cadence values.  As well as left-right balance.
As with all units I'm sent, this media loaner unit will soon go back to Shimano. Sometimes for power meters I go out and buy my own afterwards, but I'm undecided on whether I'll do that here – simply because I already have a lot of crankset power meters in my inventory and this is a pretty pricey one.  Nonetheless, if you find this post useful – feel free to hit up the links at the end of the post, I much appreciate it!
With that, let's dig into things.
The Parts and Install:
In my case, I was sent a unit sans-fancy retail box. Mostly with the goal of getting me a unit sooner rather than later, as is often the case.  Nonetheless, my understanding is it's the same parts as any other.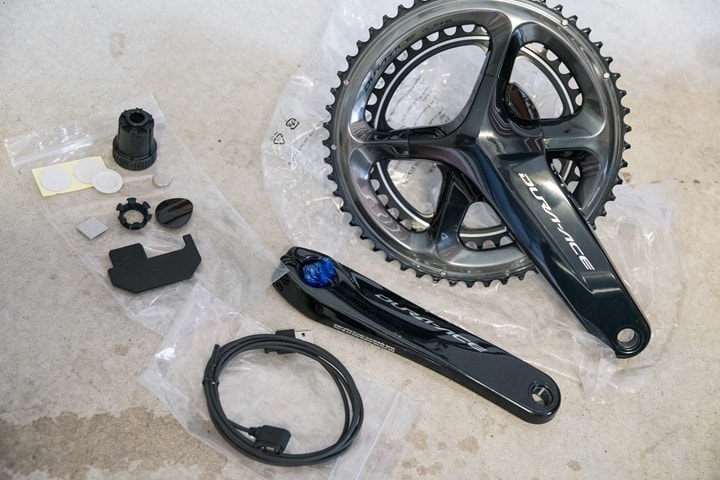 Here's what you've got above:
A) Drive-side crankset with chainrings
B) Non-drive side crank
C) Charging cable
D) Bag of parts for installation: Magnet, cable installation tools, crank arm hole cover, magnet install tool
And that's about it. Pretty straightforward, as most power meters are these days.
If you flip over the drive-side crankset, you've got the right-side sensor that's attached to the crank arm.  Not appreciably different than how countless others measure strain on their power meters (Stages, 4iiii, Pioneer, Specialized, and a bunch of lesser-known brands).  You'll see the logo for ANT+ sitting there as well, indicating its compatibility.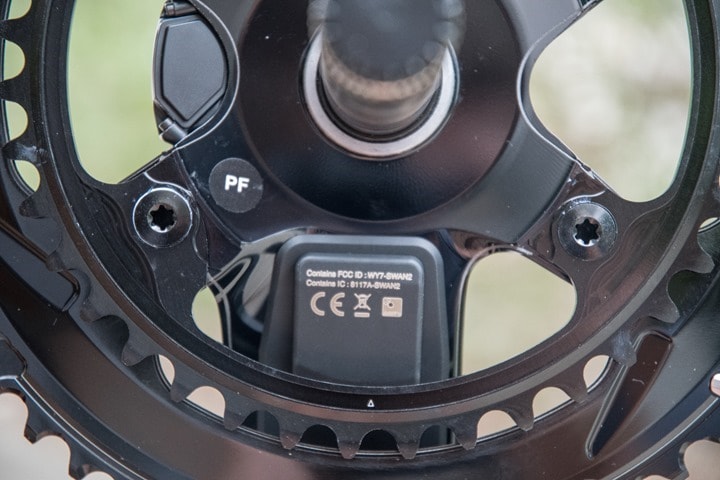 Lower on the crank arm is the ANT+ ID etched into it, along with the crank length.  While this unit says 'prototype', I've been told it's a final production unit.  Sometimes various brands will etch that into media loaner units, to prevent resale.  Polar does the same thing in some cases.  Not that it matters to me, it goes back to them later this week.  Also, this unit is running the latest firmware as of March 26th.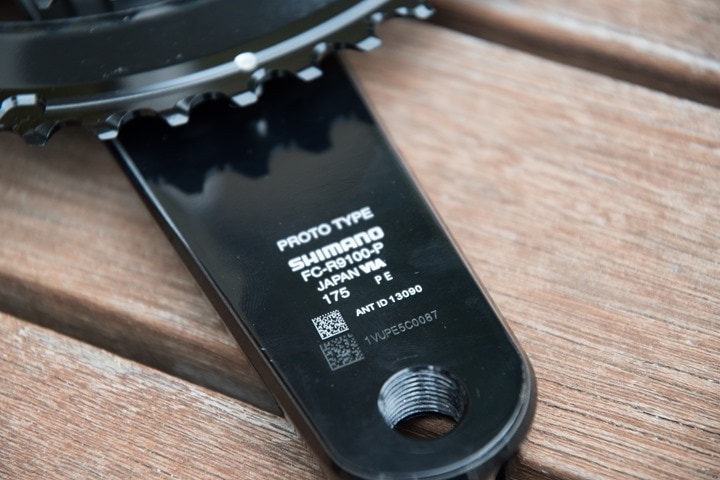 Meanwhile, on the non-drive (left) side you've got another small pod, where it measures your left leg power output.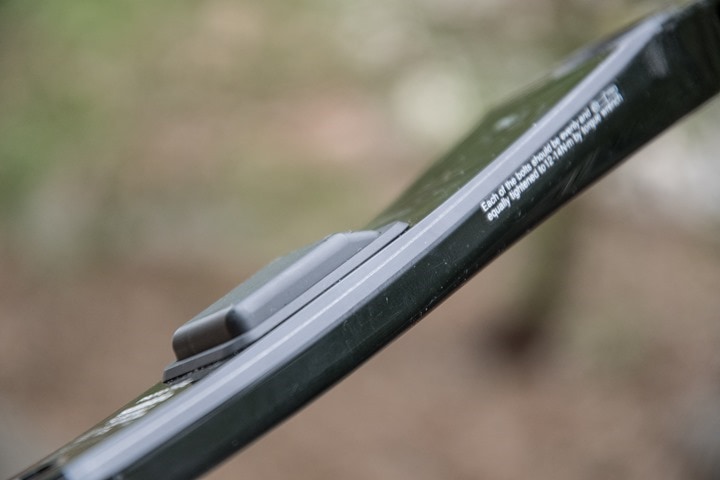 Now this is where the Shimano unit is unlike many others on the market.  It doesn't take coin-cell batteries in each side.  Rather, it has a cable connecting the two.  You can see that cable prior to installation, coming out of the left crank arm.  And this has the cascading implication that Shimano is also creating a small channel within the crank arm to run the power from the pod down to the power supply connector.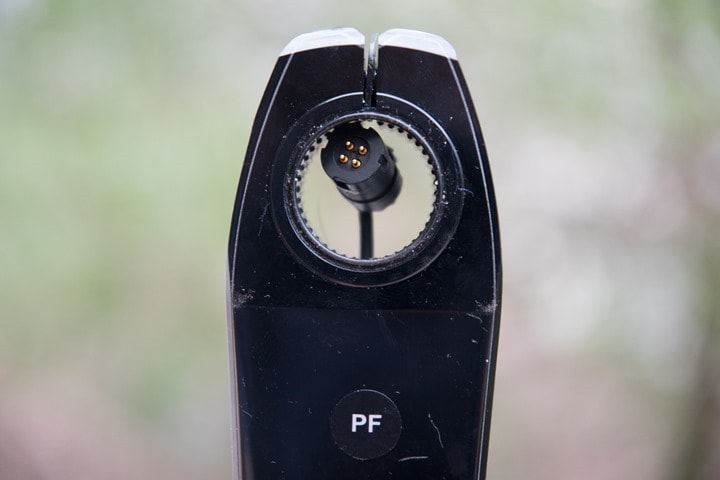 Here's a cool diagram from Shimano in a press packet I got showing it: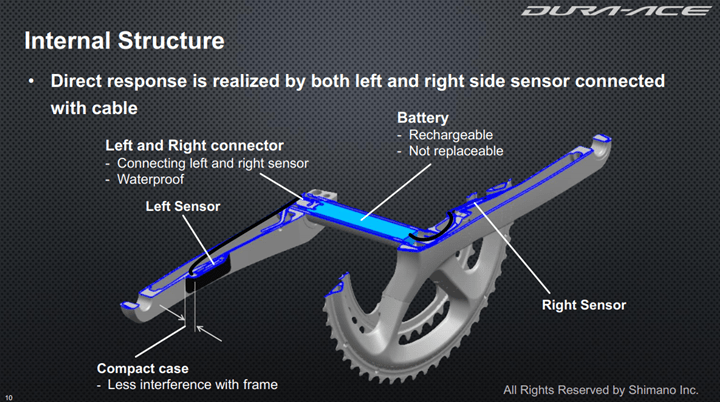 In any event, we'll dig into all that later on.  First, let's get it installed.  I pulled open the installation instructions and go to work.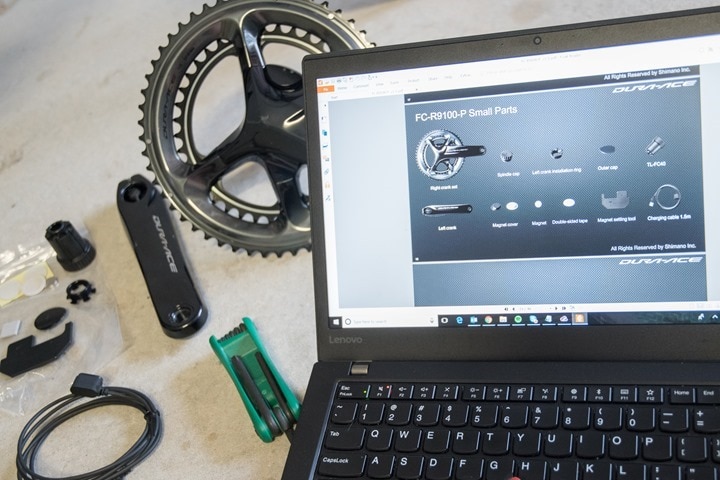 The first thing we'll do is install the magnet.  That's where we use this small magnet tool to measure the optimum distance from the bottom bracket to where the magnet should go.  While given two magnets, only one is used – purely on the drive-side (right side).
Then we'll take the drive side crankset and ensure the protective cap is placed onto it before sticking it through the bottom bracket.  You can see here what it protects – the cabling (left), as well as the cap placed on the end (right).
Once that's done you'll very carefully place the left crank arm onto the spindle.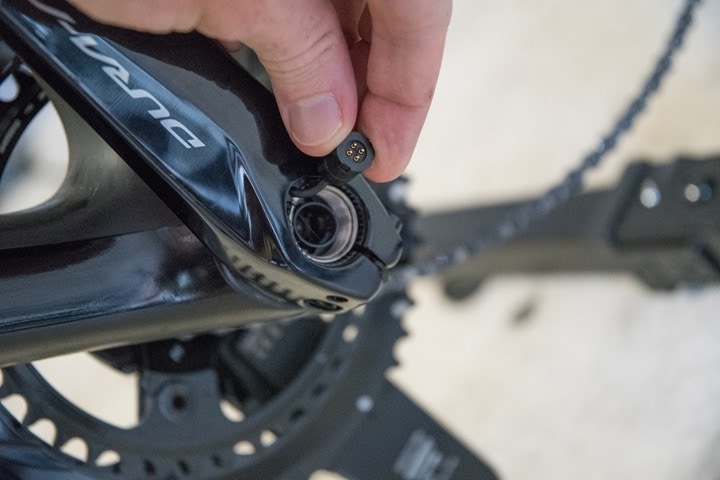 Then you'll insert one of those installation parts into it, carefully to ensure you don't slice open the cable.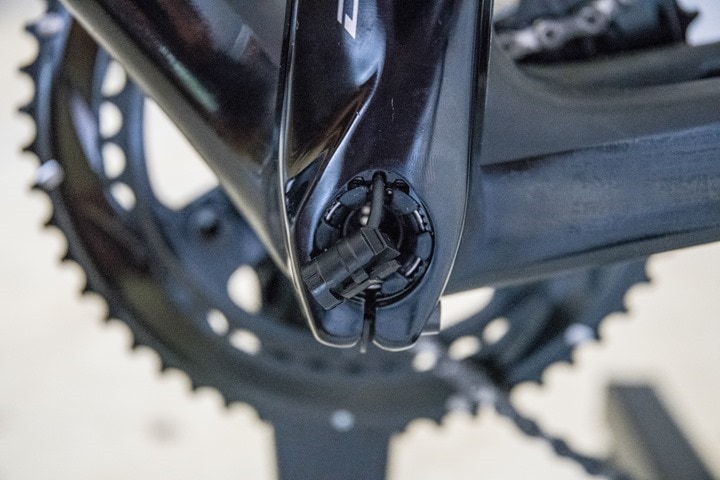 After that you'll rotate the cable connector back into place neatly within the small spider-like component you just inserted.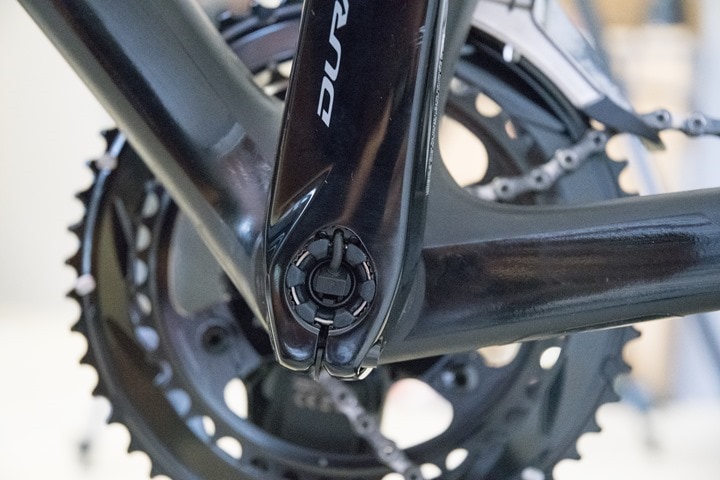 Next, you'll tighten on the crank arm like any past Shimano crank arm.  If the above sounds complex, it's not. It's just a bit scary the first time that you don't screw up in an immense way.  But realistically, it's pretty easy.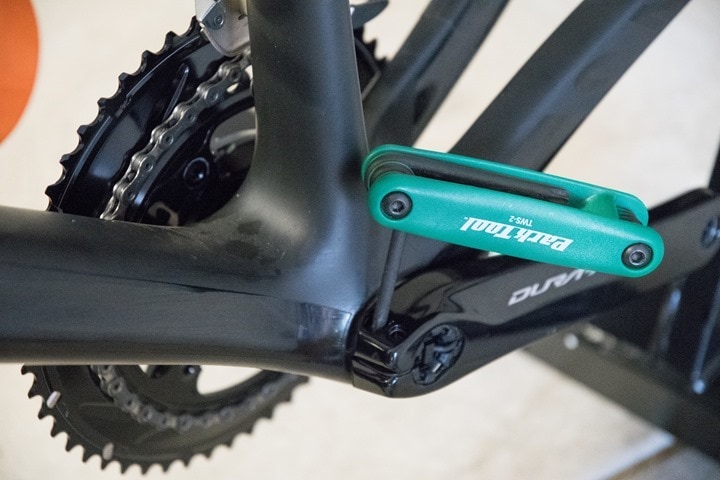 Finally, you'll add the little cable cover cap to the whole setup – making for a nice and tidy setup.
And with all said and done, here's what you've got: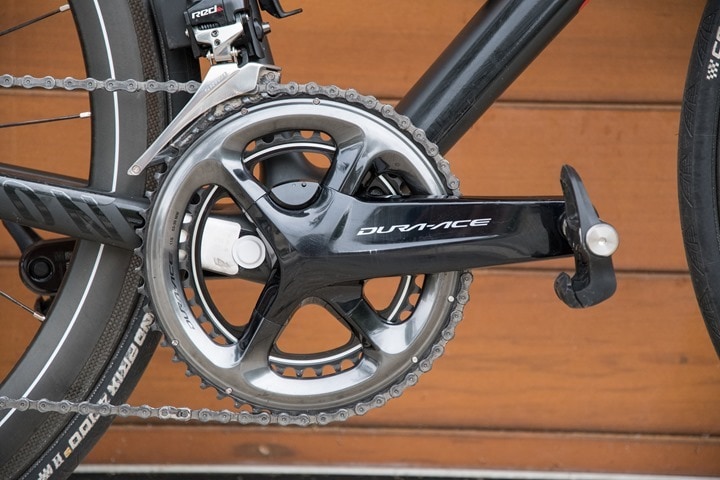 With everything all set – we'll get into some of the basics.  But first, here's a power meter spotting pro-tip for you.  Wanna know how you can spot a Shimano power meter from afar (even with a well-painted magnet)?  The battery pod.  Simply look for that tiny little pod with two dots (one light, one button) nestled between the spider arms of the crankset.  Every power meter on the market has their 'tell', and this is the easiest way to spot the R9100P when bikes are flying past.
General Use Overview: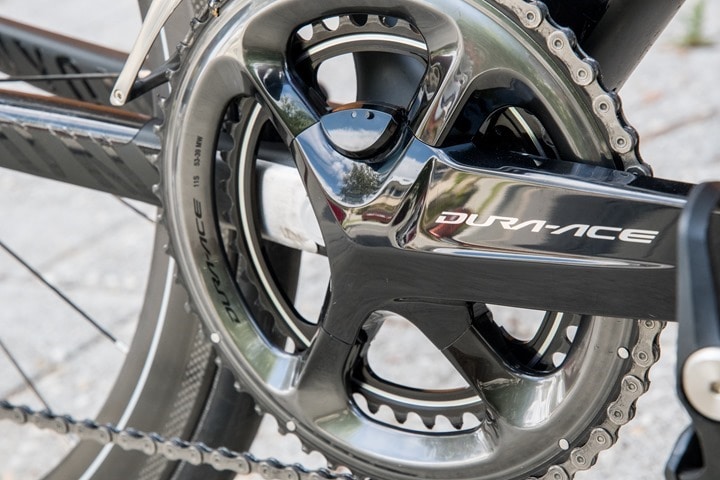 For the most part, the R9100P works just like most other ANT+ dual-sided power meters.  By that, I meant that it broadcasts power, cadence, and power balance, as you'd expect.  It also supports standard zero-offset commands from head units like a Garmin device.  I say that not to skip over the details, but to state what these days has become largely the norm: power meters following standards.  With about fifteen power meter vendors out there today, most of them follow these standards and do it well – Shimano included.
And unlike five or ten years ago, most people in the market for a power meter understand the basics of how to train with them.  Thus I can kinda get straight into the Shimano-specific details.  And the first one is probably the most unique to Shimano's setup: Charging.  No other unit on the market does it quite like this.
As you saw in the setup/install section, you've threaded a wire connecting the left side to right side via the bottom bracket.  That means that you'll charge on the drive-side (right side) and it'll power both sides.  To charge, you'll first open the small plastic door near the spider: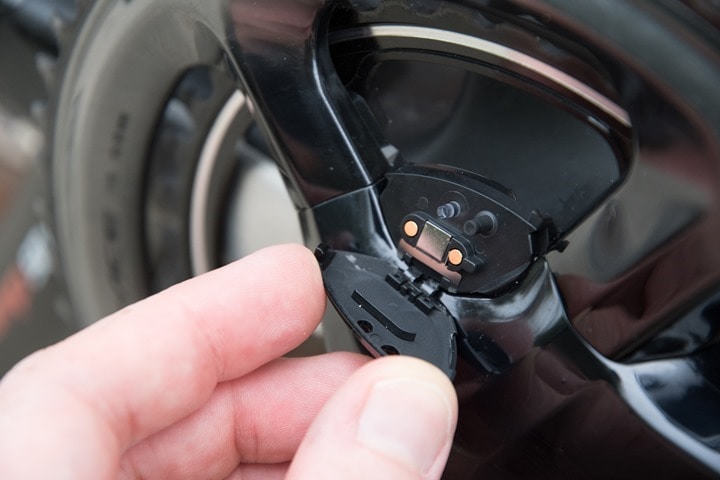 If there is anything I'd say is a design flaw in the Shimano system, it's this.  This door is as flimsy as Janet Jackson's wardrobe, and will easily malfunction when you pull it too hard.  Now it's technically not the door piece itself that's flimsy, but rather the over-engineered design of it.  Which means that when you do inevitably break it, it'll require you send it back to Shimano to fix, since there's a slim tethered ribbon that connects into the power meter somewhere inaccessible.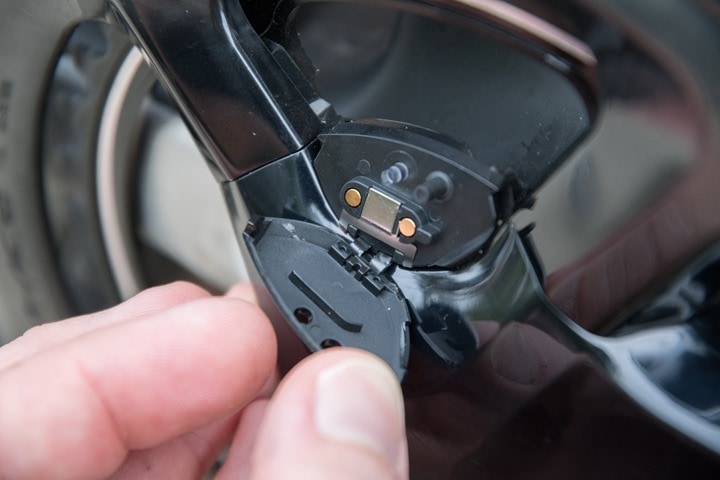 In any event, door concerns aside, the magnetic charger simply pops on and stays put.  You'll connect it up via USB charging, which the manual says takes about 2.5 hours to charge.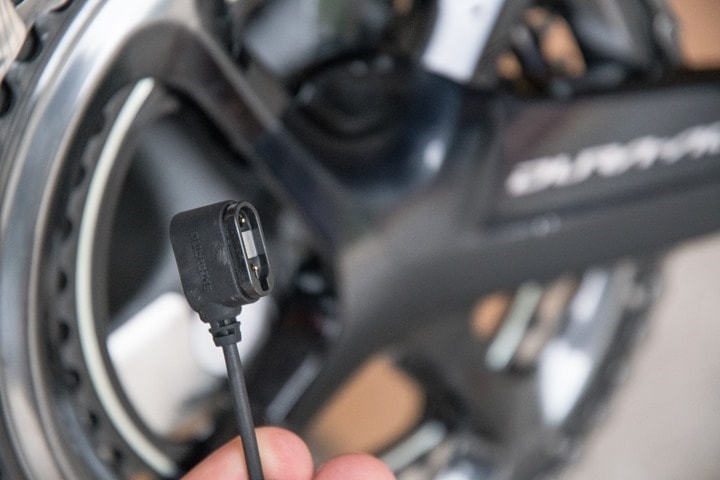 But like most people, I just charged it overnight. The rechargeable battery is stated to last 300 hours, though I can't easily verify that. But it didn't die at any low battery value for me, so that's good.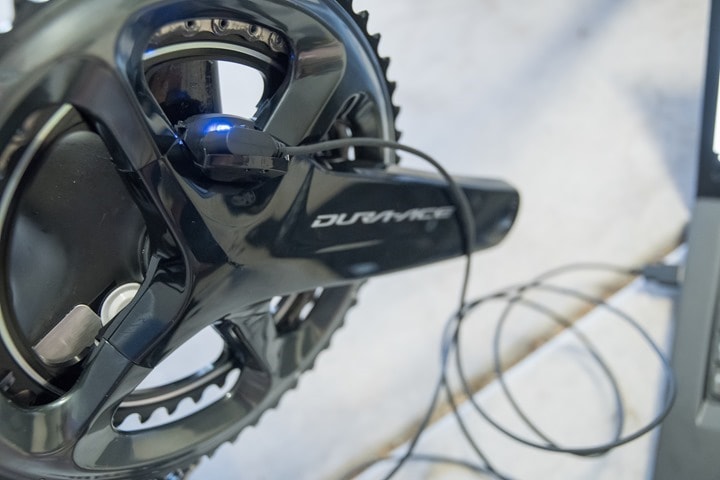 Speaking of lights, see that blue light up there? That shows up during calibration, charging, and power on.  But you can also press the little button next to it to get the current battery state at any time. A green LED means 20%-100% battery remaining.  A red light means 0%-20% remaining (plus a message to your head unit indicating low-battery).  And no light means you ran out of battery entirely.
Next, I should note again the magnet is indeed required according to Shimano.  As I showed in the installation, you do need to place a magnet on the frame for the unit to determine everything from power to cadence.  Without it, no luck (or love).  In this day and age, I'm not entirely sure I get that approach.  Sure, 10 years ago that was commonplace.  But sorta like film, it's mostly out of style these days.  Accelerometers are used, and virtually every power meter on the market today is more than good enough both on and off-road with such technology (for pros and normal people like us alike).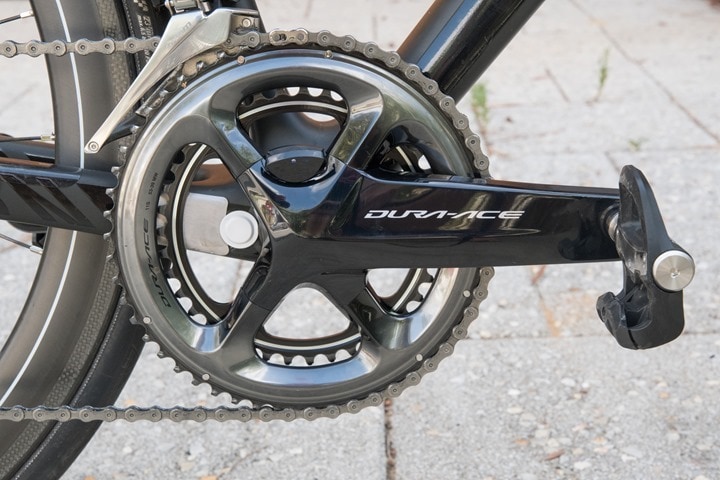 Of course, it doesn't matter that the magnet is both gigantic as well as fugly.  Compare that to the variety kit of magnets you used to get from Quarq that you could install in a variety of unseen places.  But hey…at least it's not the old and crazy Pioneer or Infocrank magnet setups (those setups too, are long gone).  I suppose some spray paint might fix what is otherwise a beautiful power meter here.
In theory, according to the documents I received, I should have had a black magnet cap in there too, but instead, I just got two white ones.  A black magnet cover would move the needle a bit on the fugly status.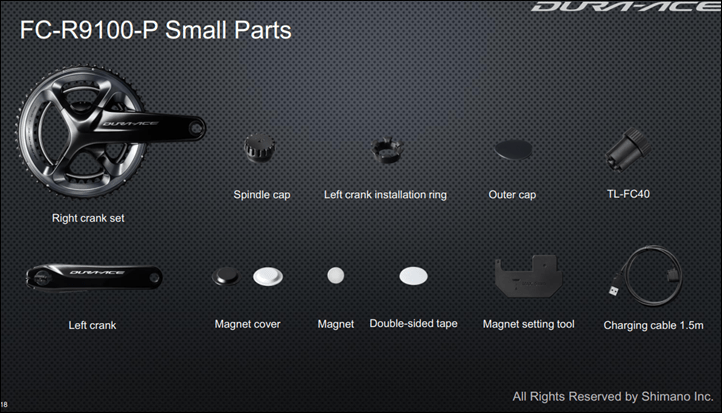 Worth a passing mention is that Shimano states the entire power componentry adds 70g over and above a normal R9100 crankset.  In terms of comparison to something like Stages, that's actually precisely double the weight penalty (35g for Stages LR on a Dura-Ace R9100).  Though, you can debate whether it's worth it in terms of rechargeable battery (300 hrs) versus coin cell battery (175 hrs).
Moving along next we've got the protocols the unit broadcasts on, which today is actually inferior to that of the competition. That's because despite being Bluetooth capable, the R9100P only broadcasts power on ANT+ today, and not Bluetooth Smart.  So if you wanted to hook it up to Zwift or TrainerRoad via iOS/Apple TV (or some Android devices), you'd be out of luck. And Suunto/Polar user? You need not apply either – as it won't work with those.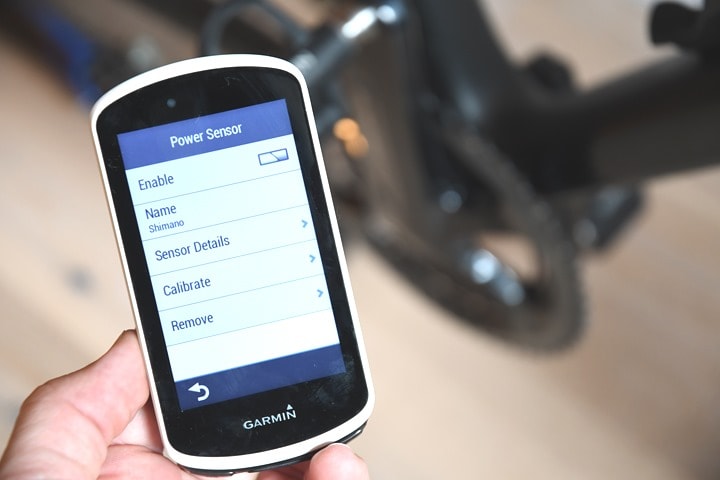 But Shimano says it has Bluetooth you say?  That's true, it does, but only for accessing the power meter via Shimano's mobile app to check setting and such. More on that in a moment.
In any event, it transmits both power and cadence, as well as additional metrics in certain cases.  Here's the total listing:
ANT+ Power (total)
ANT+ Power Balance (left/right)
ANT+ Cadence
ANT+ Pedal Smoothness
ANT+ Torque Effectiveness
As an example of what you'll see recorded afterwards, here's a Garmin Connect file (click here to view) recorded by an Edge 1030 with the Shimano R9100P.  Or a quick screenshot below: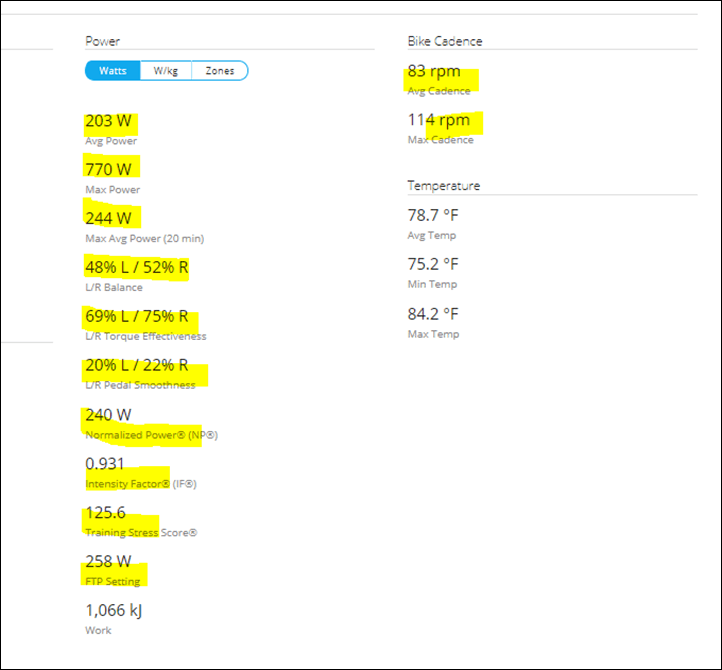 Shimano has merely stated 'later in 2018' for when they'll add in Bluetooth Smart power broadcasting, which they do intend on doing.  What's strange is that it's such a trivially easy thing for them to do that it's odd they haven't done it yet.
Moving along to calibration and zero offset, you can perform both via ANT+ or via the smartphone app over Bluetooth Smart, using a Garmin head unit to zero-offset your unit.  In general, I do this before every ride, as a quick validation that things are working as expected.
You'll trigger a calibration just like you would other power meters by going into the 'Calibration' comment on your head unit.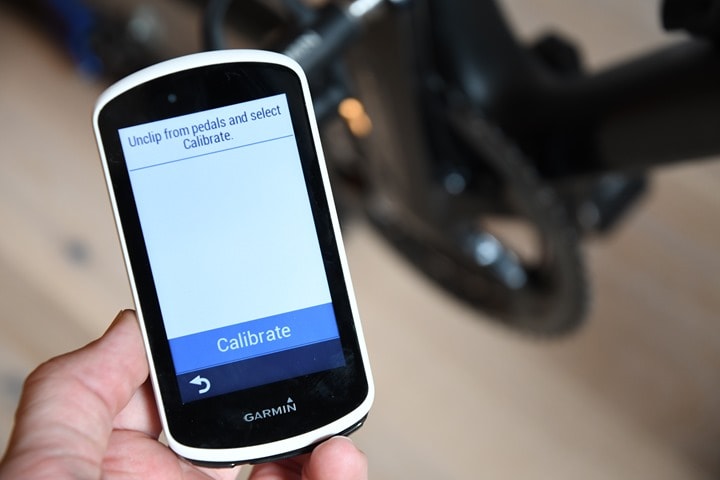 The Shimano unit will then report back 5050, which is all I ever got as a response back.  This likely correlates to a two-part response similar to 4iiii/Specialized, whereby the first part is for one side and the second two digits for the other side.  I'll get some clarification from Shimano on this though.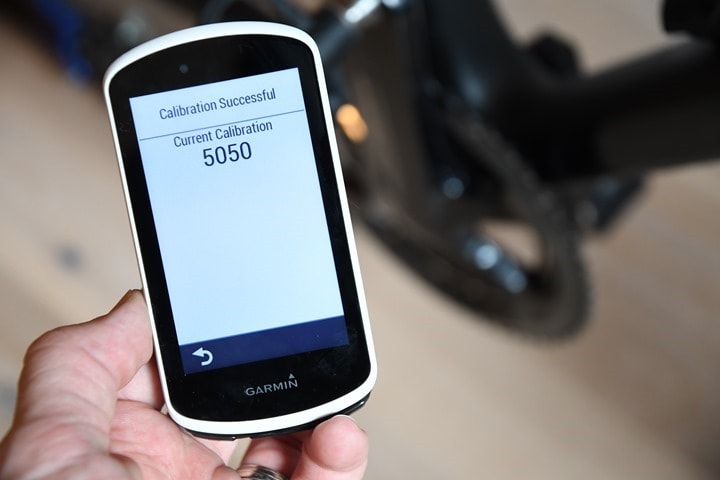 The downside is that it can make tracking calibration/drift variances harder since you're not given a specific zero offset.
In addition, you can use the Shimano e-Tube app to connect to your power meter and perform the same zero offset.  This is the same app you'll use for other Shimano products.  It's not exactly as stunningly pretty as your Dura-Ace crankset…but it is mostly functional.  First, you'll need to pair it up.  This only takes a second, and first searches for the unit, and then requires you enter a pairing code in. I don't believe I've seen any other pairing codes in power meters to date.
Immediately after entering in the default password, it'll require you to enter in a new pairing code.  I'd strongly recommend going with something that even if you forget, you'll remember.  For example – changing from the default 000000 to 123456.
After that's done it'll automatically force any firmware update available on the unit.  Beware, there's no option for deferral here.  So if you're not in a good spot (either due to time constraints or what-not) then you might not want to open up the Shimano app.  It took maybe a few minutes to get things all completed, though, it did take two attempts in my case.  The first attempt failed for some unknown reason, and then I had to wait for the system to entirely timeout (perhaps 10 minutes?).
Once the app is opened though, there's basically just two pages (plus a general Shimano e-Tube app settings page).  The general setting page is shown on the left.  Then, in the middle, there's a 'monitoring' page, which allows you to see your current power/cadence, and perform a zero offset (and see battery status at the top).  And finally, on the far right page, you can see the unit and upgrade firmware accordingly.
And that's it. There's nothing else within the app related to the power meter. No serial numbers or similar to check out, nor any other settings to look at.  Simple and straightforward.
With that, let's dig into the most awaited section – the accuracy pieces.
Power Meter Accuracy Results: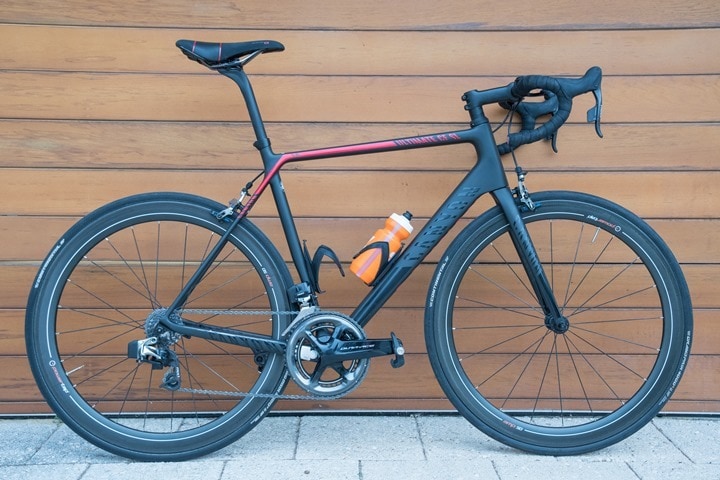 I've long said that if your power meter isn't accurate, then there's no point in spending money on one.  Strava can give you estimated power that's 'close enough' for free, so if you're gonna spend money on something it shouldn't be a random number generator.  Yet there are certain scenarios/products where a power meter may be less accurate than others, or perhaps it's got known edge cases that don't work.  Neither product type is bad – but you just need to know what those use/edge cases are and whether it fits your budget or requirements.
As always, I set out to find that out.  In power meters today, one of the biggest challenges is outdoor conditions.  Generally speaking, indoor conditions are pretty easy to handle, but I still start there nonetheless.  It allows me to dig into areas like low and high cadence, as well as just how clean numbers are at steady-state power outputs.  Whereas outdoors allows me to look into water ingest concerns, temperature and humidity variations, and the all-important road surface aspects (e.g. vibrations).  For reference, Shimano has a claimed accuracy rate of +/- 2% for the R9100P (specifically claimed at 300w and 90RPM).
In my testing, I generally use between 2-4 other power meters on the bike at once.  I find this is the best way to validate power meters in real-world conditions.  In the case of most of these tests with the Shimano unit I was using these other power meters concurrently:
Garmin Vector 3 Pedals
JetBlack WhisperDrive Smart Trainer
Magene Gravat2 Smart Trainer
PowerTap G3 Hub Power Meter Wheelset
Wahoo KICKR 2017/V3 Trainer
In general, my use of other products is most often tied to other things I'm testing.  Also, when it comes to data collection, I use a blend of the NPE WASP data collection devices, and a fleet of Garmin head units (mostly Edge 520/1000/1030 units, but also a Hammerhead Karoo too for the Shimano unit).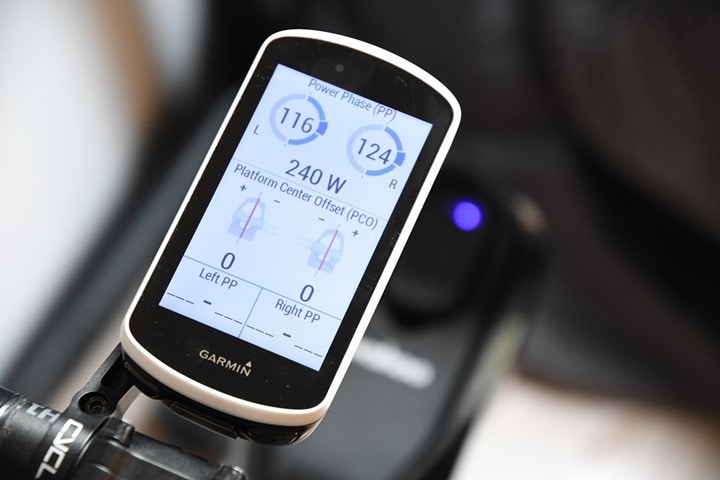 (Geekery Sidebar: The above photo is actually showing Shimano data.  On the Edge 1030 if you use the Garmin Cycling Dynamics default data page, it'll populate the left/right balance information into the Power Phase graphical fields up top.)
Note all of the data can be found in the links next to each review.  Also, for lack of anywhere else to stick it – the R9100P does have active temperature compensation, which means that it's actively monitoring the temperature and accounting for it within the strain gauges accordingly.
First, let's start indoors with a Zwift session from last week. All data is recorded straight to individual head units. Here's the DCR Analyzer link for this set if you want to dive in more deeply.  The random green line you see at the 10-minute marker is simply the trainer entering into calibration mode, so you can ignore that.

As you can see, across the board things look pretty consistent and pretty good, from all three units in fact.  Note that the Trainer will read a bit lower as expected, given that it's further down the drive-chain than the other units.
Let's zoom in one some sections after the 10-minute calibration point, just to see how things are tracking as I randomly ride through Zwift.  What you see here is that the Vector 3 and Shimano units are like white on rice – incredibly close.  A bit more separation to the Gravat2 trainer, primarily when my power drops, which is common for many trainers to see a bit of separation there as the flywheel slows.

Even as we go into some sprints (these are all smoothed at 5-seconds to make it easier to read), they are very close:

They are only 14 watts apart on 845w, which is only 1.6% difference between the two main on-bike units.  Or within the tolerance you'd expect, even considering a sprint, where I rarely can get power meters to match for max power.
Since the rest of that ride is pretty boring from an accuracy standpoint (it's perfect), we'll look briefly at cadence.  But that's also boring – it's perfect.  Even some short peaks up to 125RPM and things are precisely the same between Vector 3 and the Shimano.

So let's head outside.  I've got plenty of other trainer rides (and we'll come back to one in a bit), but all the rest of the indoor rides are boring.  If you want to look at some yourself, you can click here and here and here (that's a fun one with short 30-second intervals) and here (also fun).
Thus, outside we are.  This time for a relatively straightforward loop on mostly smooth roads, though two brief cobble sections for the fun of it (yes, I was actually able to find a section of cobblestones in Australia, some new and upcoming neighborhood thought it'd be trendy or something).  Here's the DCR Analyzer link.  Note that you're looking at dual-recordings of the Shimano unit, one on the Edge 1030 and one on the Hammerhead Karoo.  More important is that they are identical, which is always good.

In any case, let's randomly zoom into a few chunks of power to see what's going on between the three units.

While a bit harder to read, what you see here is a tiny bit more separation between the units.  The Vector 3 and Shimano are further apart.  Not massively so, but about 4-10w in most cases.  In a perfect world, they'd be closer, but I've found getting units to be within a few watts outside is always tough.
What you do see however is both the Vector 3 and Shimano units briefly drop for about 1-2 seconds each.  Only once in the file, and at different times.  It's not clear why this is.  However, my guess is more transient interference than anything.  Why's that?
Because in the case of the Shimano drop, it wasn't the broadcasting, but rather the receiving side that blipped.  As you can see, on the Karoo the ride data continues in that gap.  In the case of Vector 3, I wasn't recording it on another head unit, so we'll never know there.  Examples of transient interference can be anything from power lines to a GoPro's WiFi nearby.  It's rare, but it does happen…even to me.
Next up, a short sprint.  This is smoothed at 3-seconds, but still, the power hovers around 700w for about 10-seconds.  What you'll immediately notice is the PowerTap G3 was significantly higher, even throughout the ride up until this point, that's odd.  But it was also the very first ride on this brand new wheelset.  And after this single sprint?  It seemed to settle out and agree.  In fact, if you look at the rest of the ride and the next sprint, it's spot-on.  That's not unusual for power meters to need a good whack to the side of the head (sprint) on a first ride to tighten up (it's actually 100% the norm).  This appears to be that sprint.

But, we're not here to judge the G3.  Instead, it's about the Shimano unit.  And that was within 5-10w of the Vector 3 pedals the entire time.  More than solid for a sprint.
So let's head onto another data file.  This time a group ride.  Group rides are interesting from a data standpoint because of the near continuous stop and start pedaling action that occurs as you keep yourself in place in the peloton.  It also means that your ride file has a giant-ass hole in the middle of it, as in Australia they do a proper near hour-long stop for coffee.  Here's the DCR Analyzer file.

As you can see, it's a bit of a mess to try and analyze.  But not impossible.  We've just gotta work harder at it.  Or, simply use the zoom tool.  Here's a random snippet of the ride to dissect:

What we see here is that in general, the three units are very close.  But still, there are some differences.  Most notably that the Shimano unit seems to very occasionally underreport brief power-ups (to use a Zwift-like term).  Meaning, micro-sprints.  If you look at the above you can see how I'm constantly stopping and starting pedaling.  Since you're looking at a 10-second smoothed view above, let's look at the horrifically messy non-smoothed view:

It's almost like artwork. Almost.
And, to be clear, I'm getting incredibly detailed here.  But still, to expand a bit on what you see is a 1-3 second burst in power in the highlighted area where I went from easy pedaling at 200w to 500w.  Typical group riding shifts.  But the Shimano doesn't capture it.  The Vector 3 captures it the most properly, and then the PowerTap G3 captures it mostly, but not the Shimano.

But this pattern is repeated quite a bit, thus causing this slight micro-reduction in total power.
It's actually very similar to what I see on Favero Assioma's with very brief stop and start pedaling behavior like this (but in that case, on a shared bike/pedestrian path).
Now – does this impact things considerably?  Well, not really.  Sure, looking at totals is the least common denominator, but in this specific case – it's actually what we care about.  Because realistically nobody cares about pack performance while riding in the peloton when you're coasting versus not coasting.  If you're slightly off on wattage, it just doesn't matter in any practical way.  And this doesn't exhibit itself in other riding cases either.
If we look at summary stats, you can see it has virtually no impact on weighted or average power.  Weighted power is basically similar to Normalized Power.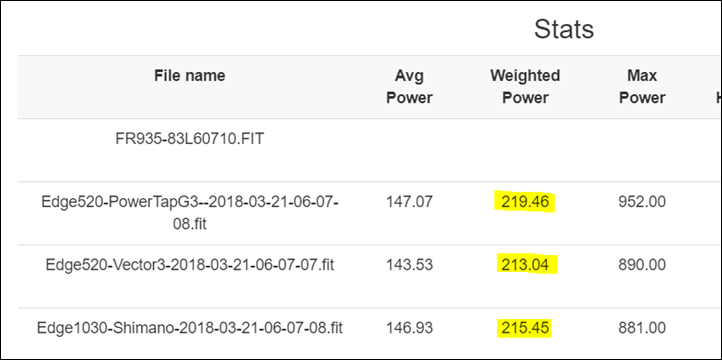 And it has virtually no impact on the mean-max power graphs either, all of which are very similar.

It's essentially an imperfection.  Almost every power meter has some imperfection, it's just a matter of whether that imperfection matters or impacts you.
Now, the big question many of you may be asking is what about left/right balance? Is that accurate too?  After all, Ben Delaney at Bike Radar found issues with left/right accuracy.  And it's a funny issue in many ways.  See, it's theoretically impossible to be inaccurate on left/right balance but accurate on power measurement.  That's because in the case of the Shimano unit, left/right balance is measured independently from the actual left/right wattages.  Thus if balance is wrong – it means one (or both) of the two sides is also measuring wrong.
Of course, it's possible to still have total power correct if both left and right balance are wrong, because one can be high and the other low.
(Sidebar: I'm very specifically focused on understanding issues where left/right balance is probably incorrect.  Not on cases where a rider believes their left/right balance is magically 50%/50% – because that's actually quite rare.  Nor on cases where one tries to compare data from different rides/days.  That data is unfortunately useless from a comparison standpoint, no matter how much we want to believe otherwise.  Instead, I'm purely focusing on multiple power meters on the same ride.)
There's no better way to dig into left/right balance issues than a quick single-leg pedaling test.

First, what you see above is total power (smoothed at 10-seconds), done on a smart trainer with a set wattage.  The test was done in blocks of approximately 1 minute each:
1) 60 seconds both legs
2) 60 seconds right-only
3) 60 seconds both legs
4) 75 seconds left-only
5) 60 seconds both legs
I did right only for 75 seconds once instead of 60 seconds because I stopped paying attention and was day-dreaming about a late lunch.
But here's what that looks like if we separate out the legs:

What are you looking at?  Well, essentially the left-right balance split of Garmin and Shimano.  I don't show the left/right balance split of the trainer, since that doesn't do splits.  And it remains constant at about 180w of total power throughout.  The above is smoothed at 4-seconds to make things clearer.
Now when I'm pedaling with my right leg, my left foot/leg is totally detached from the pedal/bicycle (hanging out in air like a dog taking a pee).  And the inverse on the other side.  Thus, no power is exerted on the pedals….in theory.
Except, in reality, we see a tiny bit of residual power. If we remove the smoothing entirely and zoom in, we see it occurring, up to about 4w of left ghost power.

Fascinatingly, as you see in the first image, this doesn't occur when I pedal on my left leg only.
So why is this?  Well, technically the pedal body swinging around can actually exert a force – kinda like g-forces on an airplane.  But in reality, all power meters I've tested to date correctly zero this out nonetheless.  For example, you see the Garmin Vector 3 is totally 0% across the board for the non-active pedal.
But does 4 watts really matter?  Maybe…it depends more specifically on what's causing it.
There's really two issues here:
A) Non-zero values on zero-value scenarios (phantom left data)
B) Incorrect values period
The first one is just poor handling of data, but it's something Shimano should be able to fix.  The second one though is what Ben at Bike Radar is likely seeing, and that's more complex (a lot more complex).
I suspect what Shimano is up against here is something unique to specific user pedaling styles.  Meaning that everyone exerts forces on their pedal, and thus their crank arms slightly differently.  Those forces are in turn measured using strain gauges.  And ultimately, showing you wattage.  But it's actually far more complex than that.  Forces in certain directions are far more difficult to account for, and have long tripped up power meter companies.
You may remember about three years ago when I had an issue on one of 4iiii's first generation power meters.  It would cause all sorts of wonkiness when I specifically rode it, compared to numerous other people.  It wasn't until they captured a bunch of additional data that they figured out it was my specific pedaling style (as normal as that might look) that was generating unique forces on the crank arms.
Which isn't to say I have a unique pedaling style that significantly impacts Shimano.  Nope, I suspect I don't.  But instead, I suspect Ben from Bike Radar does. After all, Shimano gave him two different units – and both resulted in the same thing.  If we roll back the history clock, it was many months for 4iiii to figure out how to address this issue in their units, and that's with a pretty deep team.  It's not clear here how long it would take for Shimano to address this issue.
But I would be careful to characterize it as just a balance issue.  It's merely manifesting itself as that, but in reality I suspect there are cases where it's also most definitely impacting total power too.
In any case, I can't specifically say that I'm seeing broad balance issues across the board, despite looking at all my files.  Partially because it's also really tough to, with 100% certainty, say that either Garmin or Shimano is perfectly correct.  Instead, you need to cross-reference against total power and spot the variance first there, and then work backwards to spot the balance issues (and thus, incorrect measurement issues).
But as for total power, across a wide range of scenarios including rain, heat, temperature shifts, cobblestones, and a bit more – things are largely very consistent with a slew of power meters I've put it up against – minus the one notable item I raised above.  Oh, and cadence is just fine too, inside and out.
(Note: All of the charts in these accuracy sections were created using the DCR Analyzer tool.  It allows you to compare power meters/trainers, heart rate, cadence, speed/pace, GPS tracks and plenty more. You can use it as well for your own gadget comparisons, more details here.)
Power Meter Recommendations:
With so many power meters on the market, your choices have expanded greatly in the last few years.  So great in fact that I've written up an entire post dedicated to power meter selection: The Annual Power Meters Guide.
I refresh that annual guide each fall, and in this case that was November – which is inclusive of all the power meter players on the market.
The above-noted guide covers every model of power meter on the market (and upcoming) and gives you recommendations for whether a given unit is appropriate for you.  There is no 'best' power meter.  There's simply the most appropriate power meter for your situation.  If you have only one type of bike I'd recommend one power meter versus another.  Or if you have different needs for swapping bikes I'd recommend one unit versus another.  Or if you have a specific budget or crankset compatibility, it'd influence the answers.
I also recently published a pricing update a month ago, covering where pricing stands for power meters in general in 2018, and what my predictions are, going forward over the remainder of the year.
Summary: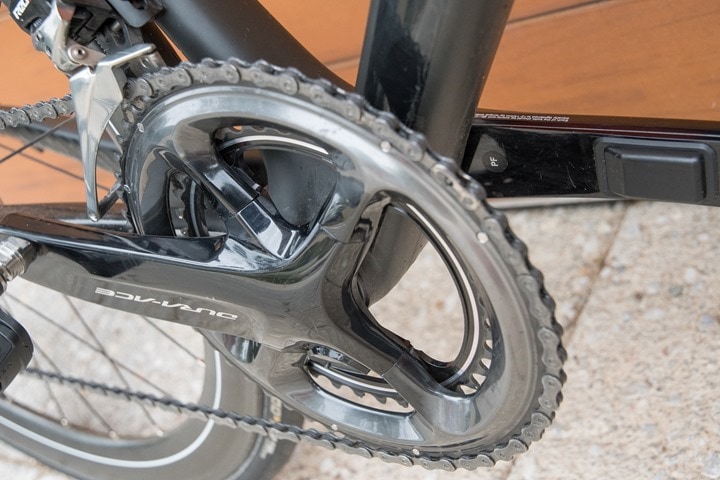 Everyone in the industry knows that the Shimano power meter we see today isn't the end-game for Shimano.  No, the R9100P should probably be best viewed in the lens of a work in progress.  Not so much for the tech side as you might think, but for the viability of the product as a baseline component of Shimano's cranksets.
There will eventually be a day when you don't have an option to buy a Dura-Ace crank without a power meter.  Instead, it'll just come with it. Or in a worst case scenario, the cost will be negligibly different.  But eventually, some day, there will only be one type of crank.  But that isn't the case today.  In fact, it's quite the opposite.  The power meter equipped Dura-Ace crankset comes in at ~$1,550, which is considerably higher than well established Dura-Ace 9100 options on the market including those by Stages, Pioneer, and 4iiii.  Also soon Specialized.  And in the case of Stages, Specialized, and 4iiii, they include dual ANT+/Bluetooth Smart compatibility.  Not to mention not having some of the early teething pains of Shimano.  But again, mostly the cost differential with the others at about $300 or more dollars less and having more functionality.
Which isn't to say Shimano won't get there. They will.  It's just that at this point there are very few reasons to purchase the R9100P over competitive options.  Some might prefer rechargeable pods of the Shimano, or perhaps the singular battery component.  But when it comes to accuracy and functionality like Bluetooth Smart power broadcasting, the cards are stacked against them.
Of course the next step in Shimano's power meter future (aside from working out the early bugs) is getting an Ultegra version of this on the market.  I'm not convinced we'll see that this year.  Shimano introduced their new Ultegra group set last year, and they've long stated they're on a pretty predictable ~3 year cycle.  Given they're still struggling to keep up with demand for the Dura-Ace power meter variant, it's highly unlikely they'd introduce a lower cost version this year in the form of Ultegra.  That'd just be undercutting themselves.
Still, eventually they'll get there. Like most things Shimano, it's just a matter of time.
With that – thanks for reading!
Found This Post Useful? Support The Site!
Hopefully you found this review useful. At the end of the day, I'm an athlete just like you looking for the most detail possible on a new purchase – so my review is written from the standpoint of how I used the device. The reviews generally take a lot of hours to put together, so it's a fair bit of work (and labor of love). As you probably noticed by looking below, I also take time to answer all the questions posted in the comments – and there's quite a bit of detail in there as well.
If you're shopping for the Shimano R9100P Power Meter or any other accessory items, please consider using the affiliate links below! As an Amazon Associate I earn from qualifying purchases. It doesn't cost you anything extra, but your purchases help support this website a lot. Even more, if you shop with TPC (The Pro's Closet), you'll save $40 on purchases over $200 with coupon code DCRAIN40! The Pro's Closet has been a long-time partner of the site here - including sponsoring videos like my cargo bike race, as well as just being an awesome Colorado-based company full of good humans. Check them out with the links below and the DCRAIN40 coupon!
And of course – you can always sign-up to be a DCR Supporter! That gets you an ad-free DCR, access to the DCR Quarantine Corner video series packed with behind the scenes tidbits...and it also makes you awesome. And being awesome is what it's all about!
Thanks for reading! And as always, feel free to post comments or questions in the comments section below, I'll be happy to try and answer them as quickly as possible. And lastly, if you felt this review was useful – I always appreciate feedback in the comments below. Thanks!