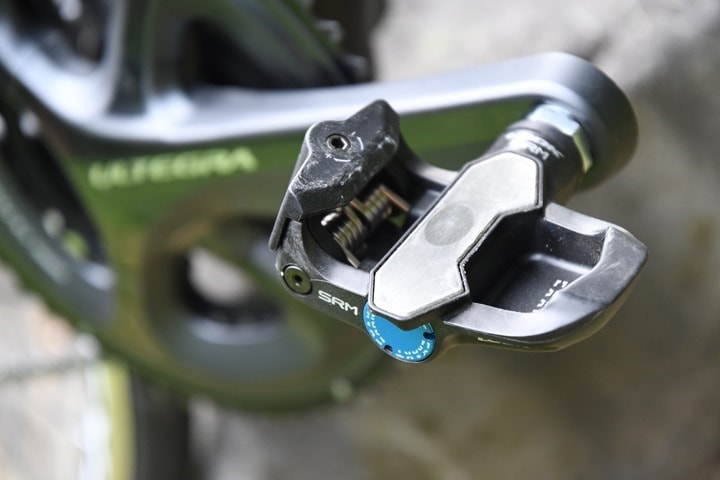 This week SRM announced their latest power meter, EXAKT. But unlike every previous bike-mountable power meter they've made, this one isn't crankset based.  Instead, it ventures into new ground for them: The pedal.  The company has partnered with LOOK to create a pedal-based power meter that does away with the pods of previous LOOK power meter designs, all while broadcasting on both ANT+ & Bluetooth Smart (something existing SRM power meters don't do).
And even more?  It's technically SRM's least expensive power meter to date.  Which doesn't mean it's cheap – at 1399EUR/$1,200-$1,300USD*, it's still the most expensive pedal-based power meter on the market (by a long shot).  Though, you can save about half that cost if you only want half a power meter. The company is offering a single-sided version for 799EUR. Choices folks, it's all about choices (like everyone else).
With the launch yesterday, I spent time talking with numerous SRM and LOOK engineers and their respective CEO's about the units, as well as heading out for not one, but two rides on the new pedals. One of which has comparative data against a secondary power meter.
Note that this isn't a review. It's merely an early look.  My in-depth reviews have numerous rides in numerous conditions against numerous power meters.  This is just a quick look at things until I have my own set of pedals that I can throw the gauntlet at.
So with that, let's dive into all the details.
*Specifics of the USD pricing is being sorted out as they finalize some of the US import duties they need to pay (the pedal is built in France/Germany). They hope to have that number shortly, but they state the USD range for the dual set will be between $1,200-$1,300USD.
The Details: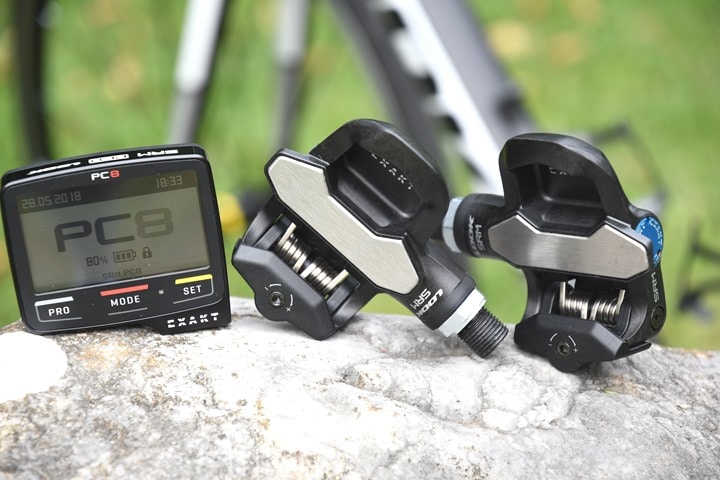 When discussing the SRM EXAKT, it's likely best to start with the partnership aspect.  The pedal is the child of two parents – SRM and LOOK.  Both companies have fairly equal responsibility for it.  The production starts with LOOK, in their factories in France, where the carbon pedal bodies are made.  The pedal body is almost identical to that of their existing Blade product, though I'm told the stack height is just a tiny bit higher at 11.9mm (I didn't get a chance to validate that with a measuring device though).  The Q-Factor comes in at 54.6mm.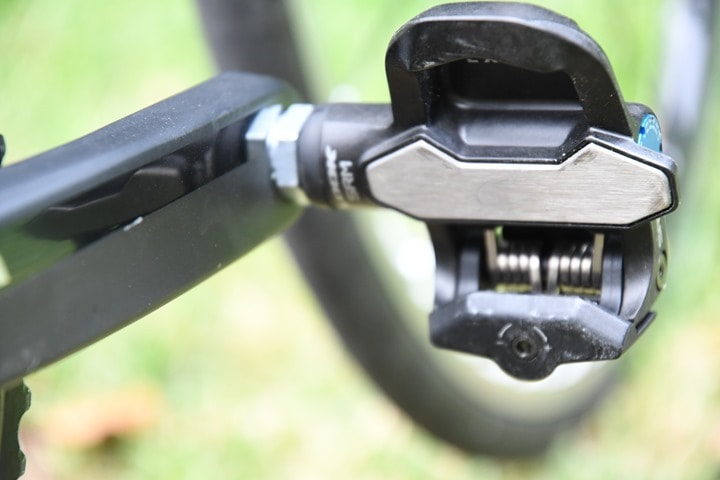 Once the pedal body is made, it's shipped across the border to SRM in Germany. It's there that the SRM-manufactured steel spindles are placed within the body of the pedals.  These spindles are where power meter 'goods' are, including the four strain gauges per pedal in a fairly traditional Wheatstone bridge design.  The spindles do not use an accelerometer for cadence, but rather a small magnet you can see on the exterior of the pedal body.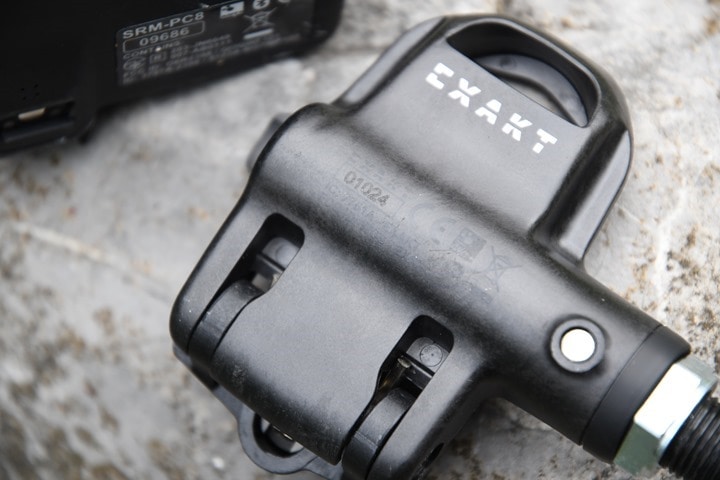 This magnet rotates past the spindle, allowing them to track its precise location (more on that aspect in a moment).  In theory, this also reduces accelerometer driven accuracy issues that used to be an issue in the power meter industry (but realistically, aren't an issue in 2018).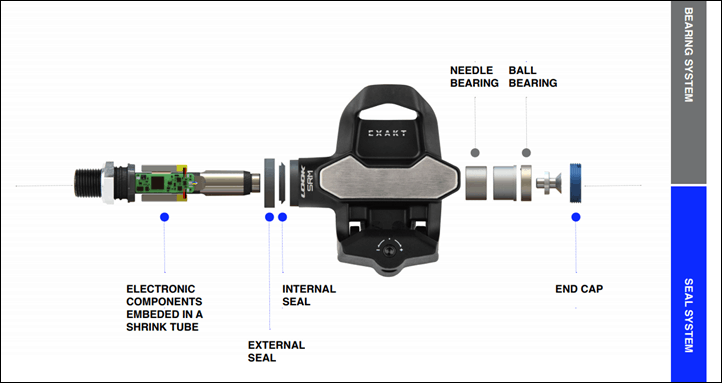 The pedal body and spindle can be replaced.  While the operation isn't technically difficult, it's something that SRM/LOOK will likely limit to their dealers for now.  It simply requires opening that little blue cap you see below and swapping out the spindle inside.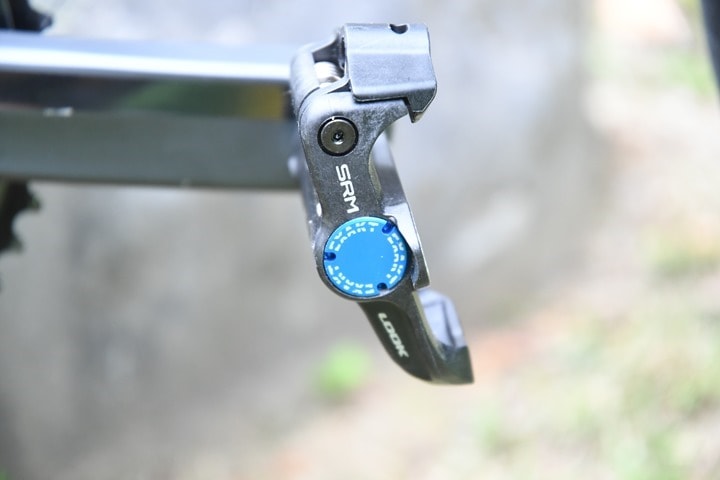 When it comes to support, SRM and LOOK have bonded together a dedicated support front-end that customers will interface via online support.  That entity will then farm the request out to the appropriate company office for the country/region the user is calling from.  For example, if the person is in France, then they'll be handled via the LOOK France offices.  Whereas if the user is in the US, they'll be forwarded to SRM's Colorado offices.  In both cases though, to the end customer, it'll appear as a single cohesive entity.  Only behind the scenes are they dividing up the labor/handling.
In any case – back to manufacturing.  After the pedal body is inserted into the unit and tested by SRM in Germany, the pedals are shipped back across the border to France, where LOOK packages them up in a pretty box.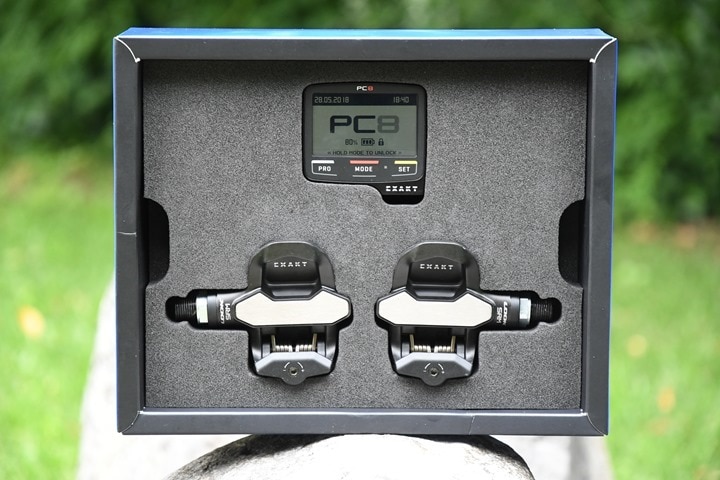 You've got three choices for your purchase acquisition, they are:
EXAKT DUAL + SRM PC8: Dual-sided power meter pedal sets with SRM PC8 head unit (2,179EUR)
EXAKT Dual: Dual-sided power meter pedal sets (1,399EUR)
EXAKT Single: Single-sided power meter pedal, with a matching 'empty' pedal (799EUR)
Float-wise the options at 0°, 4.5°, and 9°.
All of which will start being available as of July 1st for shipping.  Looking at the build quality and readiness of the units at the event yesterday, this seems rather achievable. I would imagine the only thing that would interrupt this date is a manufacturing related issue (e.g. supplies/etc…), but everyone seems confident of July 1st, albeit in limited quantities.
The completed pedal body is IPX7 waterproof (30 minutes at 1-meter), similar to most other power meters in the industry.  It claims an official weight of 155g per pedal, inclusive of the stainless steel contact surface inlaid into the pedal body.  In my case, I weighed them in at slightly more than that. Perhaps my scale is wrong, perhaps this unit isn't quite final, or perhaps people just like round numbers. Most of us won't notice that gram or so one way or another.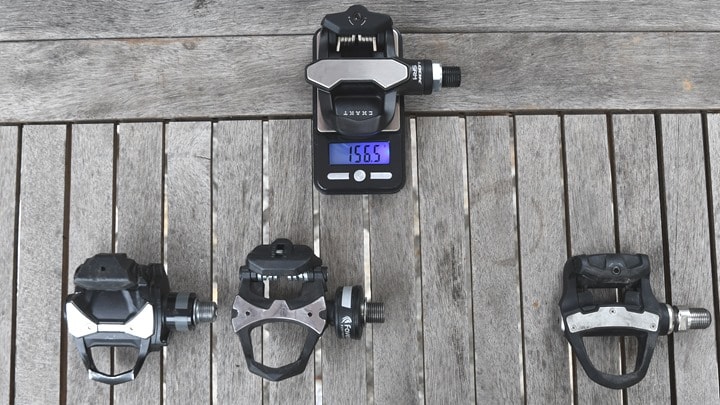 When it comes to mounting the EXAKT, they do take a bit of a step back from where other units have gone.  The EXAKT pedal (in theory) requires you to use the special mounting tool, which holds in place the spindle while you tighten the nut down.  This is similar in design to the previous LOOK/Polar and stand-alone Look pedals.
In practice though, if you use the smartphone app in conjunction with a standard Allen wrench, you can achieve the same thing. That's because the pedal has a small blue mark on it to assist with alignment, and then from there the mobile app to ensure you keep it within the 'green' zone gauge.  Within that zone is within 1% of claimed spec, yellow is 1-1.5%, and red is playing with fire.  All of this is trivial and most SRM/Look employees noted they rarely use the tool and just use the app to double-check it.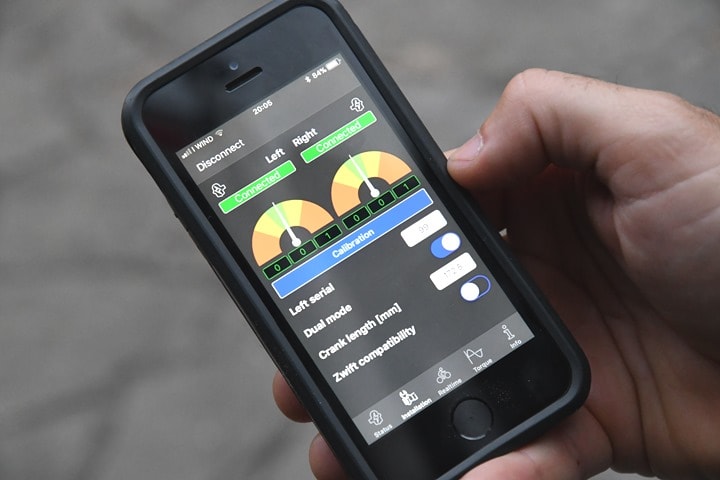 That app also allows you to check stats about the pedal such as firmware and offset.  Speaking of offset, you can enable/disable the auto-zero if you'd like to, though SRM says there's no reason to. It's fire and forget from their perspective.  Once you've got your unit in the green zone on the app, they say you should just be able to ride without any zero offset or calibration procedures, every time.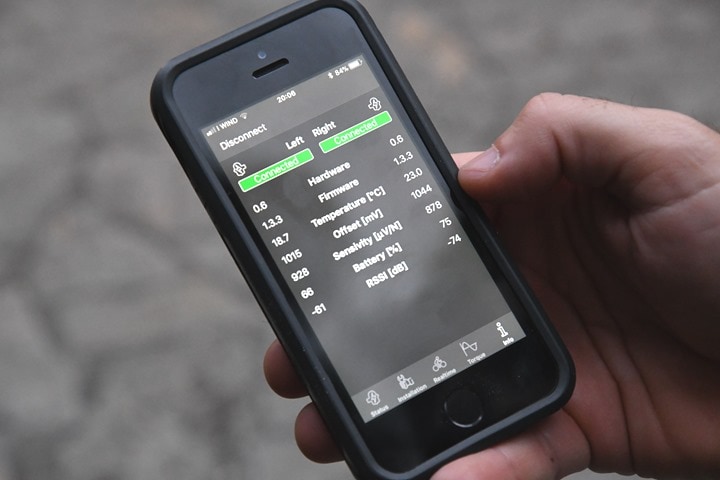 The app also has a high-speed data transmission mode via Bluetooth Smart, at 200hz, so 200 times per second.  As of now though, that data isn't recorded, but only displayed for viewing live.  They're looking at user feedback to see if there's any demand for recording that data (Stages does something similar, and I've yet to hear of many people actually using that in real-life…mostly just woulda/coulda type statements).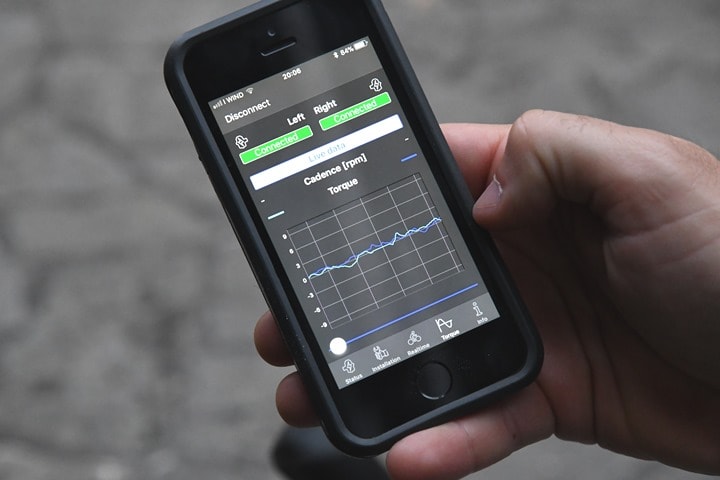 Once you're ready to ride you'll pair it up to your head unit via either ANT+ or Bluetooth Smart.  Both are supported concurrently.  I paired it successfully to the SRM PC8 (duh), as well as to a Garmin Edge 520 Plus, a Garmin Fenix 5, and then another bike computer.  All without issue (and the data from all matched).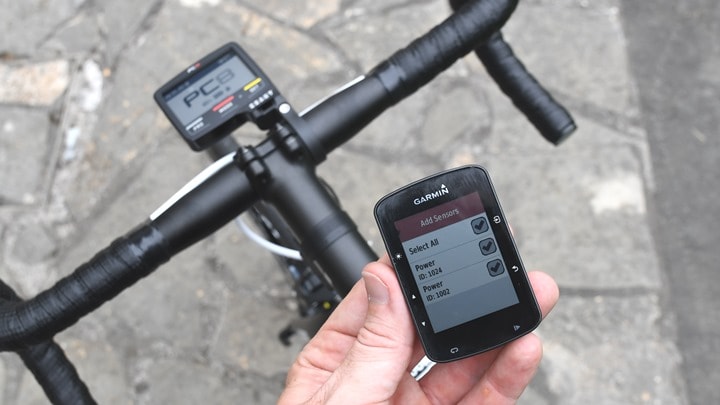 Interestingly, SRM has a trick up their sleeve on the Bluetooth Smart side.  They've got a 'Zwift Compatibility mode' (for Bluetooth Smart).  That's because on Bluetooth Smart, Zwift is unable to pair to the left/right pedal concurrently.  So for the PowerTap P1 and Favero Assioma pedals, you have to choose either the left only or right only pedal, effectively rendering your expensive dual-purchase no different than a single-sided power meter that cost half as much (for half the data).
With EXAKT and the Zwift compatibility mode, it enumerates as a single cohesive unit with total power already calculated properly between the two pedals.  This is roughly in line with what Garmin does for Vector 3 as well.  This function would also be useful for Suunto watches, which do not properly support dual-broadcasting left/right pedal based systems either.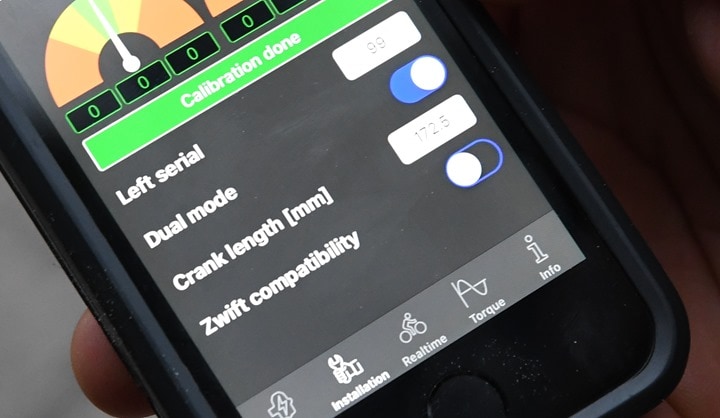 From an ANT+ standpoint, the unit also broadcasts power balance, ANT+ pedal balance, ANT+ pedal smoothness, and ANT+ torque effectiveness.  It doesn't broadcast ANT+ Cycling Dynamics, largely because at this stage that specification is still held up in the Technical Working Group (mostly through fault of the power meter companies themselves dragging their feet on approving it).  Here's a link to a Garmin Connect activity recorded on an Edge 520 Plus showing all the data you'd get during a ride: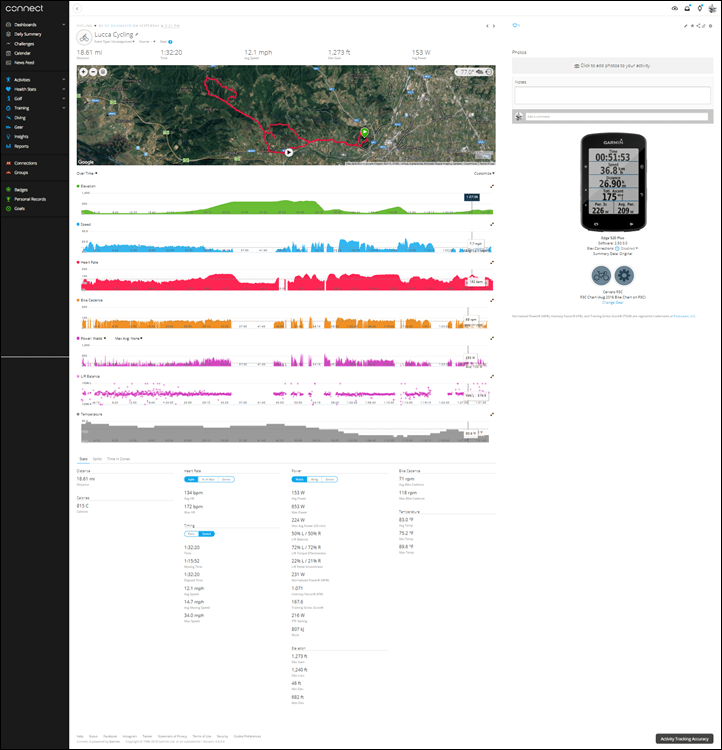 And for those who want to download my ride file data, see the accuracy bits down below.  The company claims a +/- 1.5% accuracy level for the dual-sided EXAKT.  For single-sided, the claim is the same, but only of the measured leg (right).  In SRM's system, the right pedal is the master.  If the right pedal is lost, the system is unavailable. If the left side is lost, the right side will automatically compensate and double the power of the right side to keep you in the game.
On the accuracy front, the unit uses both passive and active temperature compensation, which is a bit different than SRM crank-based power meters that lack that active compensation component.  That'll help the company better track temperature shifts over long sustained climbs with shifting temperatures where you never stop pedaling (such as climbing Alpe d'Huez…Alpe d'Zwift need not apply).
The company says they're looking to add both the active temperature compensation (which requires new hardware) and Bluetooth Smart support to their crankset lineup likely later this year.
When it comes to battery life, the unit claims 100 hours per charge, which takes about 5 hours to charge.  The unit comes with a small charging adapter that plugs into the side of the spindle, and connects via micro-USB cable (the pedal itself doesn't have a micro-USB port, just the bite-sized charging adapter).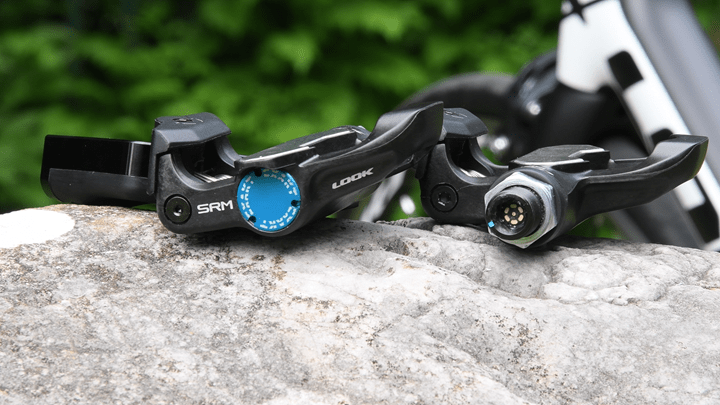 Finally, for lack of anywhere else to stash it, the product has a two-year warranty (globally), and the firmware can be updated via mobile app over Bluetooth Smart.  Also, you can do a static weight calibration validation.
A Test Ride:
Technically, I did two test rides as part of the media event they had.  But only one of them was data-wise useful.  The first ride I did was about an hour or so riding the pedals on a provided bike, but without any other power meter reference.  While that type of ride is fine for spotting obvious issues (such as a dropout, unrealistic power numbers, or issues with rough roads), it doesn't tell me anything meaningful from a power accuracy standpoint.
Nobody can, without context out on an open rolling road inside a group ride, tell the difference between riding for 20 seconds at 232w and 248w. And that's the kind of difference you'd need to know exists.  So while that ride was nice and fun, it was largely superficial.
So instead, I do what I do best: Steal other peoples bikes, preferably more expensive bikes.
Since this particular 3-day and 6 city trip was too complex to take a bike with me, I didn't have my full test setup.  So instead I borrowed a different bike from SRM that was equipped with both an SRM crankset-based power meter, as well as the new SRM EXAKT pedals.  It also happened to be the CEO's bike, so chances were pretty good it'd work.  But still, I've 'broken' plenty of supposedly working power meters from CEO's of power meter companies before.  Adding another to my resume? No problem.
In any case…off I went: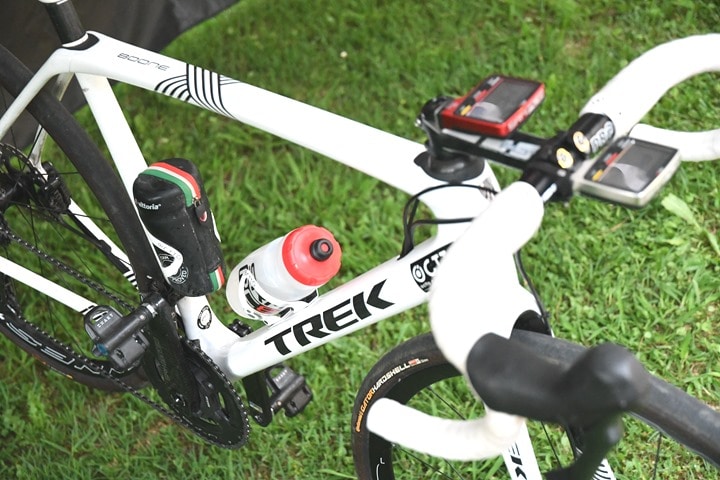 Now I was technically recording the data on four sources.  I recorded it on two SRM PC8 head units that were already mounted to the bike, and then I also recorded the data on an Edge 520 Plus and a Garmin Fenix 5.  Backups of backups.  For the charts below I ended up using the two data sets from the SRM PC8, though the pedal data matched spot-on from the Garmin too.
My route was roughly out and back, save for getting (purposefully of course) lost three times on the back part. I was trying to find rougher roads, as well as areas I could throw down a bit on power.  Rougher roads turned out to be easy, many of the roads in that town aren't exactly smooth.  In fact, on the earlier ride, I misplaced the group (don't ask) and ended up on a random very-rocky road. No issues with dropouts.
In any case, the data (you can dive into the Analyzer here, including downloading the original SRM PC8 .FIT files):

As you can see, it's virtually identical. I need not do too much analysis here, because quite frankly they almost never diverge. About the only point you see any differences is during some sprints (I smoothed these graphs to 3-seconds), but even that is only 20w (on 800w).  As anyone can attest, when looking at max power sprints, you're virtually always likely to get a slight difference in the peak power due to transmission/recording timing differences.

A quick look at cadence is worthwhile too.  Both units actually use magnets for cadence, though it appears the pedals may, in fact, do a better job of it than the crankset.  You can see these brief moments here where I stopped pedaling, and the pedals catch it substantially quicker:

It also handled some 30-35RPM sections I did of low cadence as well without issue.  This isn't a surprise, but something I like to test, most other units handle down to about 18-20RPM fairly well.
The only area that's worth some slight pause is the mean-max graph, which around the 30sec to 1min peak power shows a bit more divergence than the rest of the graph shows.  It's unclear to me where precisely this is coming from (perhaps I'll load it into Trainer Road's tool to do it), but it is about 15w (on 345w).

So at first glance, I'd say things look fairly good.  But one thing I'd caution is that I didn't get to test out temperature shift type scenarios here, or really have any more data than 30 seconds worth.  A typical review takes about a month and has numerous rides across different scenarios.  And more importantly: Has different branded power meters.
Like any other power meter on the market, all power meter brands have quirks. And when you're comparing only two units from the same brand, it's likely those quirks will manifest itself the same way on both units (since algorithms, assumptions, etc… are often shared).  Thus in the above graphs I might not even see an issue since both units would have handled the issue the same way.
That's why in my reviews I use 3-4 power meters, almost always from 3-4 different brands.  Which, I'll do in my full SRM EXAKT in-depth review a bit later this summer once they start shipping.  So hang tight for that!
Ultimately, I'd say that given the limited 30-minute test, the accuracy performance on these pedals seems to match that of the other power meter pedals on the market.  But, as those pedals can all attest too, it's actually not accuracy that's been the challenge for them.  Rather, it's durability and manufacturing related challenges that has caused most competitors their pain.  And in those cases, it's never been on day 1, but months later (many months in some cases). Still, things look positive here.
(Note: All of the charts in these accuracy portions were created using the DCR Analyzer tool.  It allows you to compare power meters/trainers, heart rate, cadence, speed/pace, GPS tracks and plenty more. You can use it as well for your own gadget comparisons, more details here.)
Pedal Market Comparison: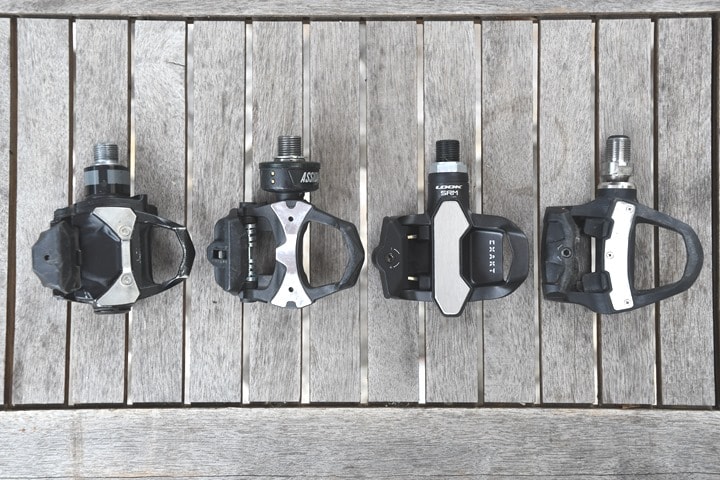 Last fall upon the release of the Vector 3 and Assioma pedals, I stacked those two up against the existing PowerTap P1 pedals in a sprawling post with more details and specifics than I can throw a stick at.  Or a lot of sticks.  Seriously, it got out of control.

(Left to right: PowerTap P1, Favero Assioma, SRM EXAKT, Garmin Vector 3)
However, towards the end of that post I had a bit of simplified table that took all of the details of the umpteen sections and simplified it.  So, in order to help compare some aspects, I've added the SRM EXAKT pedals to that table and placed it below.  Note that there are some details I don't have yet.  For example, the cornering angle piece I did on a specific bike of mine with a specific crank length. Thus I wouldn't be able to compare against using data from different bikes.  So I'll need to do all that from scratch once I get a final set of pedals.
As for a non-data driven comparison, I'll largely wait until the review for that.  I suspect for the most part, like before, it's going to come down to a specific nuance/detail of one unit or another.  I suspect that we will find the accuracy to be on-par with the other units in the market (which is to say, they're all good).  With that being equal, I'd probably guess you could summarize the downsides in the most distilled manner as possible:
Favero Assioma Downside: Pod design is not as aesthetically pleasing
Garmin Vector 3: Battery cap/pod fiasco, availability constraints
PowerTap P1: A bit of a chunker, needs a diet
SRM EXAKT: Expensive (and yet unproven over time), imperfect mounting
But again, more details in my full review.  I'll also likely release a new version of that previous comparison post, with the EXAKT in there, and in the highly unlikely chance anything else pedal-wise comes out of Eurobike, that too.
Wrap-Up: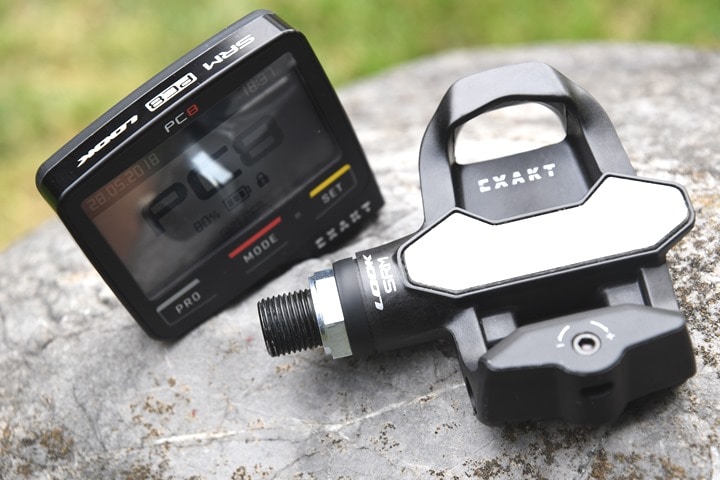 Overall SRM and LOOK have put together a really nice looking power meter pedal from an exterior standpoint, and one that at first glance appears to be producing accurate data across a small bevy of tests.  Certainly both companies are well-known for the quality of their products, and in this case – the timelines are merely four weeks away for units to start shipping (though, it sounds like quantities will be highly limited at first).
Obviously the price will be a sticking point for many, though the company did concede that they'll be paying attention to consumer feedback in this area. They also noted they are aware they are entering a market with already existing products that they themselves noted were largely accurate.
The only concern I had going into the event was how the dual-partnership would handle support for customers, and after a long discussion about it with the CEO of LOOK, I'm more confident they've learned from the failures of their support of power meter pedals in the previous LOOK/Polar partnership.  Of course, the proof will be in the pudding over time, but they've put processes in place to ensure people aren't falling through the cracks like before.
With that – stay tuned for my full in-depth review later this summer, probably sometime in July, assuming I get a final pair here shortly.
Thanks for reading – and feel free to drop any questions below as always.
(Also note for lack of anywhere else to state it, I paid all my own travel to the event and I do not accept advertising or anything else from SRM or any other product that I review.)