For those in the triathlon world, today's the big day: Kona.  Or more accurately called – the Ironman World Championships.  It's when the fastest long-course triathletes in the world gather on a small island to collectively consume a hundred-thousand gel packets.  Following which tomorrow, there'll be some 2,400 people unable to walk.
But what I'm interested in is the data.  This first of two posts I'll do will focus on the power meter side, and then in the next day or two I've got a bit more on the watches and bike computers people are using (thus, get your data uploaded to Strava if you're competing!), in partnership with Shane Miller.
It's been a couple of years since I did my yearly run-down of the Kona power meters, but it's definitely time to get back in the game.  So with that, let's begin!
A Bit of Backstory:
For those not familiar, each year Lava Magazine, in conjunction with a bunch of industry folks, count all of the bikes entering the transition areas.  By 'count', I mean that they give them a complete rubber-glove exam of componentry.  While this might be an interesting consumer publication tidbit, it's really about industry marketing.  It enables big companies to brag about domination in the bike industry for everything from the bikes themselves to helmets to wheels.
For example, here's an ad from a few years ago (2014) that Quarq did almost immediately following the bike count numbers.  And Spoiler Alert: They can now say 6 years in a row:

Starting in 2009, the Kona bike count added power meters to the list of counted parts.  So we've now got almost a decade of power meter numbers to work from.  Enough to start developing some interesting trends.  For many that follow the industry, these trends won't really be a huge surprise.
By the same token, it's really important to understand that these numbers don't paint an accurate picture of power meter usage across the board.  Why's that?
Because Kona Qualifiers are the pointy end of the pack.  The super-pointy end.  They also tend to be well beyond the normal triathlete Type-A mentality (that I fit into as well), which means that in addition to spending all their time on their sport they also spend all their money.  They tend to gravitate to the more expensive options, especially for things like weight savings or if the word 'carbon' is involved.
Whereas the more weekend warrior road bike rider might not spend the same proportion of income in the sport, and thus is far more likely to buy cheaper power meters (à la Stages, 4iiii, Favero, etc…).
Next, remember that these are for units on the market as of the first week of October.  But in reality, I'd wager that 95% of athletes qualifying for Kona will have a fairly locked down mentality on gear – so likely any major bike changes, such as a power meter purchase, would have been done back in the spring, to be able to leverage that data for training all season.  So any new power meter announcements or availabilities in the last few months aren't likely to be reflected here.  So it's unlikely we'd see much in the way of recent announcements like Favero Assioma, Vector 3 (not shipping yet), Stages Dual (not shipping yet), and so on.
Finally, note that the field at Kona is very dynamic in that while the age groupers on the podium at Kona will often return year over year, much of the age group field tends to view going to Kona as aspirational – and thus isn't likely to be there 5 years running.  Still, excluding the lottery winners, the overall athletic class of athlete tends to remain quite consistent year over year (and getting faster).
The Numbers:
To begin, let's start off with all the raw data from the past 8 years.  I've ported it into a single table to make it easy to deal with.  See the links at the bottom if you want to look at the individual yearly data straight from Lava Magazine.  I've compiled it into some spreadsheets, and color-coded it for fun.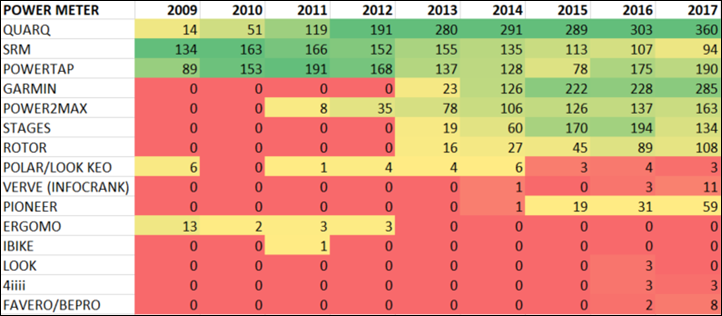 A couple of quick technicalities to note here:
– There's no breakout of models, so we don't know on PowerTap for example, how many are hubs vs chain-ring vs pedals.
– Polar/Look appear to be counted somewhat differently over a few different surveys (breaking them apart and the combining them).  Earlier ones could technically be the Polar chain-based power meter, while later ones being the pedal.  Either way, the numbers are honestly somewhat negligible here at only six units.
– Newer power meters simply weren't available in earlier years, for example, Infocrank's Verve didn't exist 8 years ago, nor Pioneer.
– Inversely, some brands like Ergomo have long died off, but I kept them for historical reasons.

– I suspect there are cases where relative unknowns might have been missed.  Meaning, it wouldn't surprise me if a Shimano power meter or two slipped through since they are hard to spot (as are 4iiii's).  Not tangible in the grand scheme of things, but something to consider.
So what about power meter adoption?  Well, we've definitely seen some solid climbing of the numbers, with the majority of the field now using one.  Still, we didn't see the big jump we saw last year in relative % compared to this year.  Keep in mind though that there was a significant increase in the overall field size.  So in actuality, total power meters in the field did increase (again).

As you can see throughout the years, the biggest jump was from 2015 to 2016 in terms of units ('13-'14 in terms of percentage).  However again, this year saw 178 more athletes than last year and still saw an increase of 139 power meters over last year – albeit that makes only a 2% increase.
One of the challenges that we always have at Kona is that disc wheels are not permitted, primarily due to safety concerns with strong crosswinds on certain sections of the course.  As such, people that may have PowerTap hubs in disc wheels aren't really accounted for here.  That said, these days I suspect that's a dwindling number of people, especially among the Kona crowd.
Next, let's look at the brands more carefully: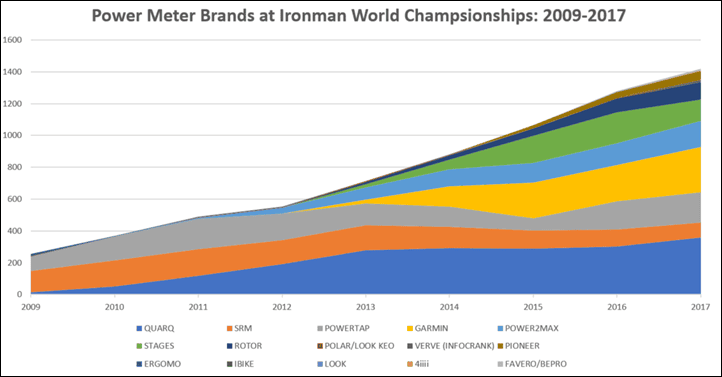 First off, sorry there's duplicate colors.  There's only so many colors to work with, and I just let Excel do its thing. All you really need to know to decode it is that massive blue section on the bottom is Quarq, and the lighter blue in the middle is Power2Max, and the darker blue up top is ROTOR.
Of course, most of the trends we see here aren't surprising.  Back in 2009, there were really only a few brands (Quarq, SRM, PowerTap, Polar, Ergomo).  But it's really PowerTap and SRM that dominated.
Of course, a year later and Quarq is quickly in the running, and before you know it, by 2012 they held the dominant position and haven't looked back since.
Why, you might ask?
Well, I think a few reasons.  First is they're a well-known, trusted, and reputable brand.  The product fits well into the triathlon realm where many triathletes don't actually have multiple high-end tri bikes like a roadie might have.  So going with a single crank spider position unit works well.  And their newer DZero unit is pretty solid.
But I think it's more than that.  I think that Quarq's customer service (which is well known and discussed in triathlete-focused places like the Slowtwitch Forums), actually plays a key part in it.  It's well known that if you call Quarq you're going to get a human on the phone almost instantly and they're going to get you sorted super-quick.
Let's walk through the other companies after Quark briefly though, with a few quick thoughts:
Garmin: Coming in at #2, they hold up at 285 power meters, about 50% more than their nearest rival – PowerTap.  As I've said in the past, I think the main reason Garmin does so well here is simply distribution.  They're in almost every bike shop on earth, and thus easily available.  Certainly, they make an accurate product, though one not as well liked by roadies due to the exterior pod design of Vector 1/2.  With Vector 3 though and the pod-less design (which wouldn't impact these results), I think they stand a very realistic chance of snuggling right up to Quarq next year in the 2018 rankings, if not eclipsing them.  Pricing wise, Garmin isn't much different than Quarq (actually cheaper in certain scenarios), so next year will be very interesting.
PowerTap: A couple years ago in the Kona count numbers they actually specified pedals by brand (as opposed to cleat type this year), so we could see how many PowerTap P1 units were out there.  They didn't do that this year, unfortunately.  Still, PowerTap continues to do relatively well in these numbers, again likely due to distribution as well as brand reputation.
Power2Max: The Power2Max NG units that were announced last summer (2016) were severely backordered/delayed for much of the past year, so in some ways Power2Max got dorked a bit here likely, where people just cancelled orders and went elsewhere (though, Quarq was equally as delayed with their DZero lineup from last summer).  Still, we're seeing Power2Max start to lose the massive momentum they had a few years back.  I think though their new NG ECO unit that they announced at Eurobike this summer will help that (since it's sub-$500).  But I think it's also clear they're starting to see the limits of not doing distribution (they're direct to consumer).
Stages: Woah. They saw a massive drop in numbers here this year compared to years past.  Sure, SRM lost numbers too, but dang, Stages really lost some numbers.  But this was predictable in many ways.  With left-only power meters no longer having much of a price advantage, people have chosen to go with full-sided units that capture all power instead accurately.  Of course, Stages probably saw this as well, which is why back at Eurobike they announced their dual-sided system (Stages LR), which should start shipping in the next month or so.
SRM: As has been the trend for the last 6 years, SRM continues to lose market share.  Again, no surprise here to anyone in the industry.  They simply aren't innovating fast enough or compensating for that with pricing.  Consumers are demanding things like Bluetooth Smart connectivity (heck, even Garmin was forced to add it, despite owning ANT+), and as such, people are voting with their wallets and their requirements.
ROTOR: I'm actually impressed that ROTOR continues to make incremental gains each year.  They don't quite have the marketing prowess of the other companies when it comes to power meters specifically, but each year they keep adding a little bit more.  For the most part, I liked their unit they introduced over the past year, as seen in my in-depth review.
Pioneer: The last of the big ones I'll profile individually, Pioneer made huge strides this year – doubling the number of units they had last year.  Sure, that might be easy when you're talking low numbers, but that's actually a pretty solid gap on these charts.  Even more so since they don't have as strong of marketing message as others, but they do tend to be fairly involved in pro teams, which may be trickling down here.
Everyone else: We didn't see a significant shift from 4iiii this year, I suspect in part due to the same single-sided limitations that Stages has.  Of course, 4iiii is doing dual these days, but I think a lot of people don't realize that, or the cranksets just don't fit what they want.  Meanwhile, Favero added a handful more units this year as well.  I suspect we'll see a huge jump next year for them with the availability introduction of Assioma in the last few months.  And lastly, Verve also picked up a few units too – no surprise, they make a good product.
Wrap Up:
It's no surprise to see the majority of the field using power at Kona on the bike.  Though, I will say I'm slightly surprised to see it only grow by 2% this year.  I don't know whether that's due to a rash of products being delayed last year, or people waiting for the next new thing this year.  Or just hitting the saturation point given the current prices.  But it is something to ponder.
What I think might be really fascinating next year though is if they count aerodynamic sensors, as we've got 2-4 companies all working towards getting products in the market, likely by this winter or next spring.  And the absolute target market for all these products in triathletes, and specifically, triathletes going to Kona.
Similarly, it'd also be interesting to know what percentage of people are using running power.  Certainly today there's really only Stryd (which is very active at Kona), but next year we'll have Garmin, RunScribe, and others.  Good times ahead, that's for sure!
With that – thanks for reading!
Note: This year, and many of years past data is from Lava Magazine by a collection of industry folks that survey the bikes upon check-in.  Links to all past data sources are listed here: 2017, 2016, 2015, 2014, 2013, 2012, 2011, 2010, 2009.