A few minutes ago AeroPod launched for purchase on Kickstarter, though, the company is hardly new to the aero field.  In fact, one could argue that nobody as has much experience (manufacturing or practical) with aerodynamic sensors in the industry than Velocomp.  After all, they've been making aerodynamic driven cycling products for a decade, most recently with their PowerPod.
The $299 Kickstarter priced AeroPod is essentially stepping up the PowerPod both from a hardware and software standpoint to offer real-time aerodynamic information to a rider so that they can adjust their position (or gear) to improve their CdA values, which in turn either makes you more efficient or faster depending on how you use the data.
Now, I want to caution that this post primarily uses/shows a prototype based on their existing PowerPod hardware, it is NOT what the Kickstarter project is. Rather, it's just that – a functional prototype.  I'll detail the differences later, as some of them are actually quite significant.  But until I have one of those units in the future, this will at least illustrate what they're doing.  Note that this PowerPod looking device has both special hardware inside of it, as well as special software. So it's not your run of the mill PowerPod unit, despite looking like it externally.
Now – there will be a small pile of folks that prefer direct force power meters over the PowerPod implementation. And that's cool. Because the primary goal of the AeroPod is actually to be used with a direct force power meter.  And that's something that even Velocomp's past detractors have agreed with the company on: If you can combine their captured aero data with a standalone direct force power meter, you can do some really fascinating things.
But, we're getting ahead of ourselves. Let's dive into the details first.
The Hardware: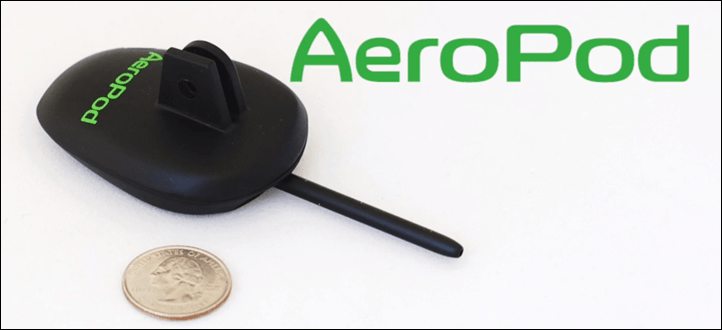 What you see above with the coin next to it is the final hardware version, that I should be able to touch in the next 48 hours at Sea Otter. It's not what I tested however.
As noted above, that hardware prototype isn't ready yet.  So instead I used a hardware and software modified PowerPod.  That pod lacks some of the items of the final pod, specifically (according to Velocomp), here are the differences between the modified prototype I have and the final production unit coming:
1) AeroPod uses a pitot tube design which, which in their testing provides better wind measurement
2) AeroPod firmware has more optimizations remaining
3) Connect IQ app is isn't final (including logging of CdA data to the .FIT file)
4) Smartphone app for setup is not finished
5) TT mount is not finished
6) Plastics tooling is not finished
While that may seem like a big list, most would agree that #3-6 are pretty minimal.  #1 and #2 are more open-ended into what rat-holes one can go down, but only time will tell there.  Certainly most players in the market have been spending considerable time with #1/#2, but at the same time they also lack a decade of producing in-market cycling aero products.  So it's hard to say either way.
So what does the final pod have in it?  Well, I could re-write what they've written in different language, but in this case I'm just going to show you a snippet of the specs of the unit.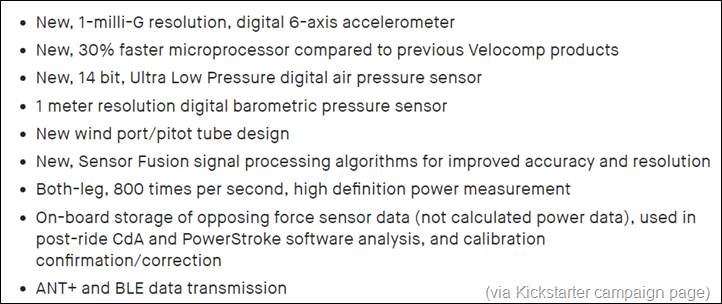 Some of this is fairly straightforward, like the ANT+/BLE pieces, that's all expected.  And the high definition power measure they already do on PowerPod today.  Much of the first portion is just componentry specs. It's hard for me to know whether or not that's meaningful in the aero realm today, since most companies aren't publishing such specs out there.  However, I'd note that things like the "30% faster microprocessor", is somewhat of a 'neither here nor there' thing.  As a user, I shouldn't care about how fast a processor is, as long as it's invisible to me in terms of product functionality. At this point, everything in my testing seems reactive enough – so that's fine.
Now, what is implied above that's worthwhile pointing out is that you're still getting a PowerPod power meter (non-direct force) with the product.  Said differently, this is like PowerPod++.  You get all the power meter broadcasting of the existing PowerPod product, plus all the new aero-specific elements focused on pairing with a direct force power meter.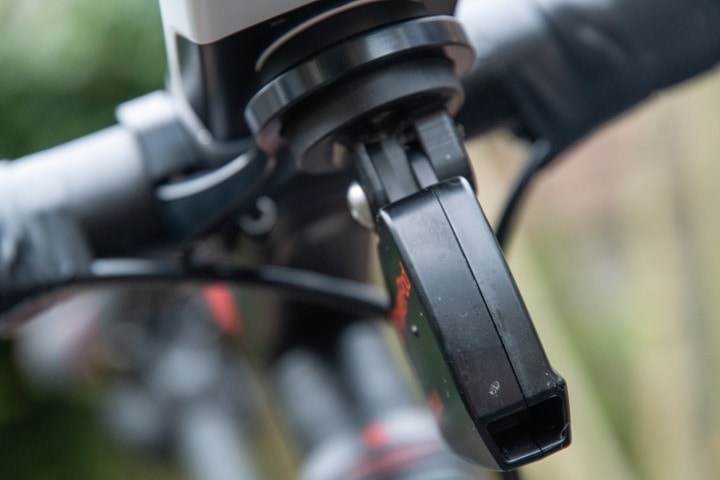 The unit is planned to have a final weight of 40g, and will continue to use the GoPro style mount.  It will also come with a standard mount seen here: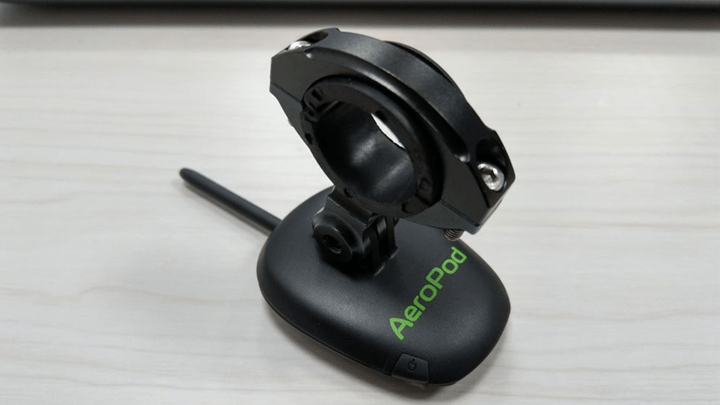 Though you can purchase a specific Garmin combo mount, like the one I tried below. Though it should work well with most other metal mounts (less so plastic mounts due to flex). There's plenty of options on the market today.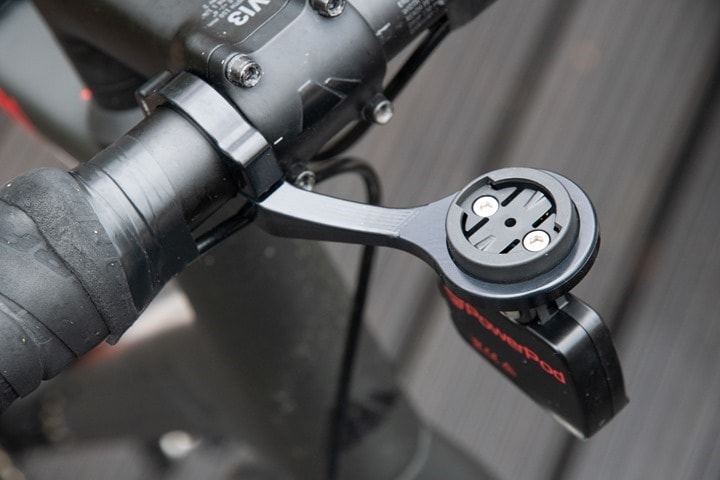 The unit requires a direct force power meter for CdA measurement/reporting. It MUST have this.  Any direct force power meter works. Which more or less means any power meter out there except PowerPod itself.  So PowerTap, Stages, Power2Max, Garmin, SRM, Verve, Pioneer, ROTOR, Shimano, Favero, etc… Pick almost anything here.
Though, they caution against using single-leg varieties of power meters, as I would, since you're going to see more variance there which would impact accuracy of CdA measurements.  Given in aero testing you're looking for gains in the 1-2% range, trying to deal with pedal balance issues in the 1-8% would likely significantly impact things.  It may be something I'll talk about down the road in my in-depth review.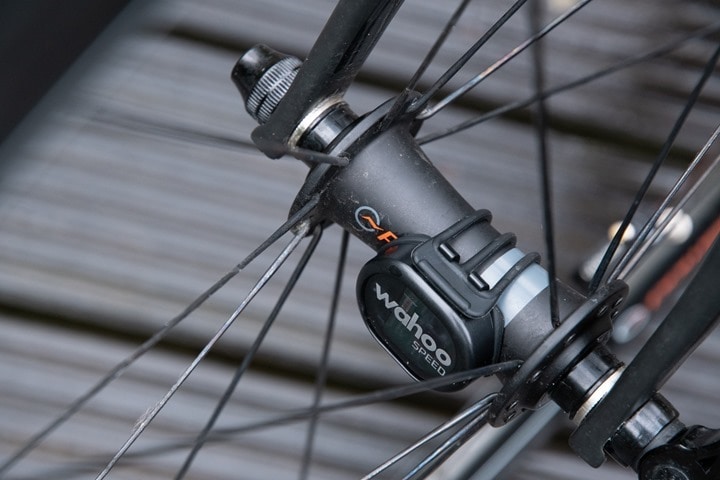 Further, you will need a speed sensor, which is not included. Most folks have ANT+ speed sensors, so that's not a huge deal per se.  This is the same as the original PowerPod.
Finally, on compatibility, it'll transmit in real-time to three platforms:
A) Garmin Connect IQ compatible devices (which is pretty much anything, even the new lower-priced Edge 130)
B) Their mobile app via Bluetooth Smart
C) Everysight Raptor glasses
For the purpose of this test I only tried the Connect IQ data field.
Test Riding:
Now I've only had the device since last Friday, so my time with it is limited to an initial calibration/configuration test ride, followed by a normal ride where I had segments that I was focused on capturing some aero data.  Please be aware I did this as part of a larger ride. Said differently, I didn't spend that entire ride focused on aero stuff, as a lot of the ride was focused on getting photos/videos/etc for various products this week.  Speaking of that video content – here's an entire run-through of not just the AeroPod, but also some more general thoughts on aero testing and the value/place for it.
Next, note they didn't quite have a triathlon/TT bike mount ready last week, so we went with a road bike. Obviously, a large target audience here is triathletes, and that's what I'll test with down the road.
In any event, in order to get things calibrated, there were a pile of steps involved, mostly because it's still beta and I had to use desktop software for it all.  If I look at all of the aero systems I've beta tested to date, all of them have involved a fairly high level of setup complexity, and usually a fair bit of hand-holding by the company responsible.  Not because that's the end-state product, but just because that's the point where the beta product sits.  The AeroPod is no different here.
The main portion, however, that's not going to change is the actual calibration ride.  This simply involves doing an out and back course, approximately 2 minutes in each direction along the same route.  This is identical to what Velocomp would do with their advanced calibration on the PowerPod units previously.
In my case, I selected a nearby bike path that was perfectly straight along a rowing basin (seen at left).  This isn't necessary at all, but it just happened to be convenient.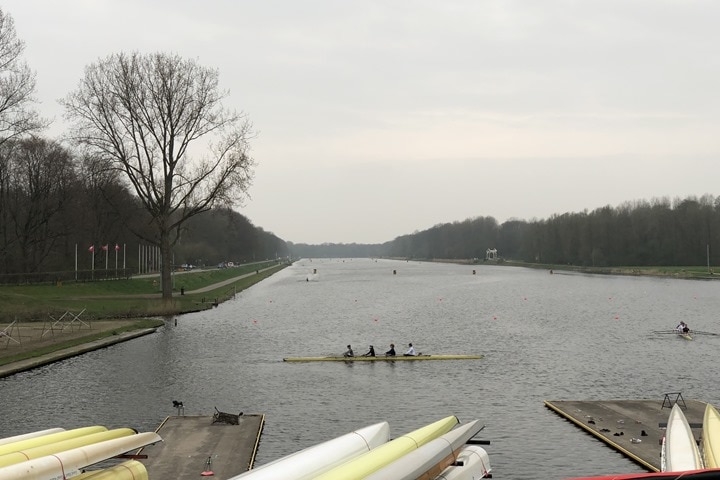 Once I was doing do a quick out and back, I did another two minutes of normal riding.  At this point I'd start to get CdA and wind speed values.  Ideally, you'd ride for another 10-15 minutes to let things stabilize before calling your calibration ride done.  At which point you'd head back to the computer and connect to the app to set 'default' CdA values.  These default values are essentially used as a baseline to compare against.  This is ultimately what allows the app to give you a time benefit value, it is the value over this default baseline.  My 'default' CdA was pretty darn high, partially cause I was having some beta issues getting the data to show fully on my Garmin during my test (that was later resolved).  So don't fuss about that too much.
With the default re-sent to the AeroPod (or, PowerPod prototype as it may be), I headed back out for another ride.  This next ride was out in the middle of nowhere, largely on country roads.  But before I did that I installed their beta Connect IQ data field.  This data field allows me to view CdA information as well as wind speed and time benefit savings.  Like most Connect IQ data fields, it only takes a second to install.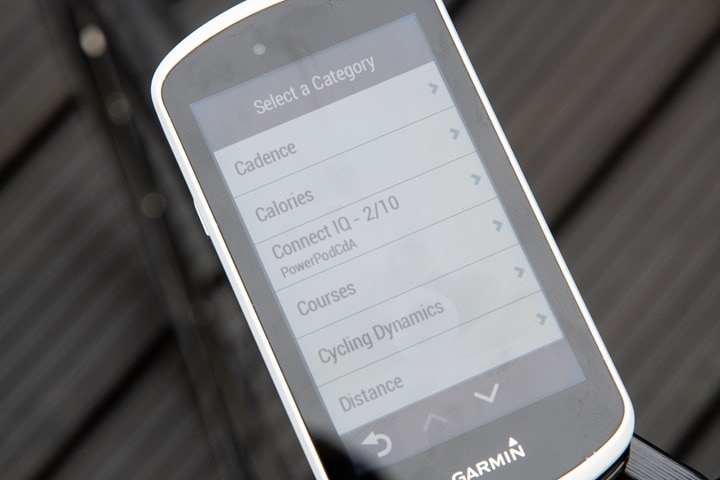 With that all set it was off I went riding along.  Once out on clear road, I started experimenting with different positions, initially at about .38-.40.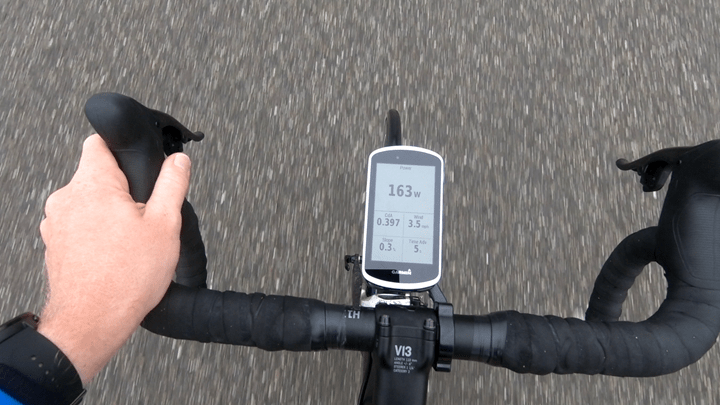 At the risk of sounding obvious, as I went into less frontal positions (such as getting down into the drops on my bike), the CdA value reduced, down to below .300.  This makes sense and is fairly logical.  I'll caution it was a bit tricky to take these photos at the same time as getting measurements since I'm actually holding an entire gimbal setup for the video portion. Thus, again, don't entirely overthink the values in the photos.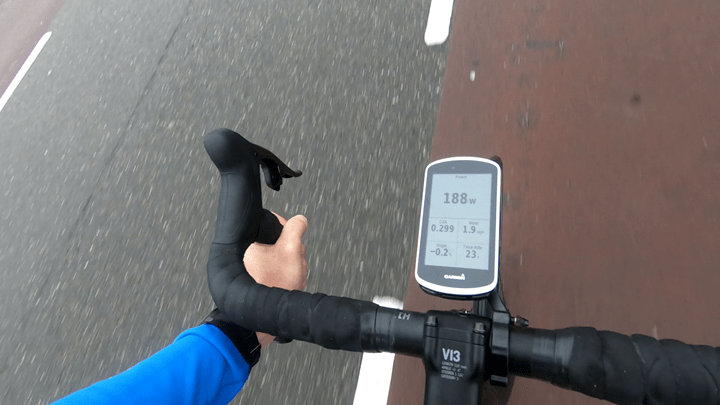 When you're doing this though, Velocomp is like many other companies in that they recommend you hold positions for at least a minute or two (ideally 2-3) so you an let things stabilize.  This is virtually identical to what every other company I've tested aero devices with has said as well.  Most of this is accomplished via smoothing the data.
As part of those numbers, it's tracking the wind speed, which it knows because it's paired to a speed sensor on the bike, thus knowing your actual ground speed. The CdA data is derived by knowing your power output from pairing it with your power output.  Thus it's able to use those two values and figure out when you're putting out more power because you're pedaling harder, versus the wind driving that equation.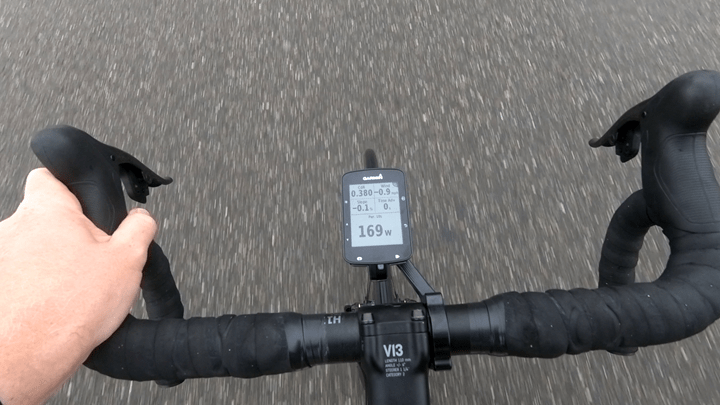 In addition to the CdA value, the app also gives you the wind speed (which is helpful more as a sanity check), as well as the 40K TT time savings of the position over the baseline.  As you modify your 'final' position you should update the baseline CdA values so that the time savings occurs.  Of course, you can simply mentally know as well what your current position CdA value is and figure out whether it's faster or not.
Note that at present if you're below 15MPH the unit will not display a new CdA value, instead, it'll show the 'default' value noted earlier.
Because I wasn't able to test it on my triathlon bike it wasn't quite an ideal platform for doing better aero tests.  The road bike is fine, but it's more difficult to get the various finite position adjustments that you'd see on a triathlon bike once settled down into aero position.  Further, since I only had basically one usable day to do testing, and about 8,238 other things to do that day on the bike, I couldn't devote an entire ride to just aero testing, which is ideally what you'd want to do so that you could better analyze it.  As such, once I get back to Amsterdam next week after Sea Otter I'll do some of that on a predictable route, so those that want to throw the data into various analytic suites can do so.  Still, for the fun of it, here's that full ride's worth of crazy data.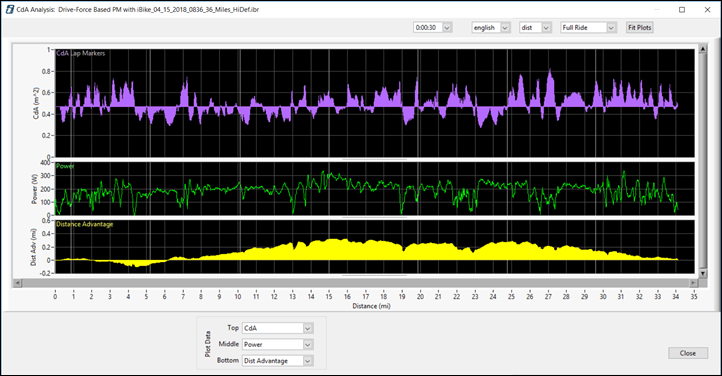 There were areas that I was focused more on position and such, and the data looks much cleaner. And you can see at the end of the highlighted blue section when I sat up that everything all spiked as expected.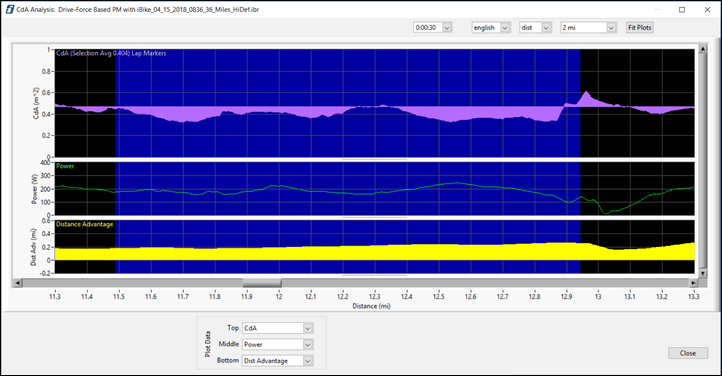 Note that this data will also show up/be saved in the .FIT file via your Garmin device, though the CIQ app that I was testing didn't have that enabled yet – so I can't show you that portion.
Also, the prototype unit I tested doesn't quite get as high of resolution of data as their incoming hardware.  So once I've got a chance to test that, I'll have a better feel for the overall system. In many ways though, that's pretty much the norm for all of these aero systems I've tested – it's usually a cobbled-together Frankenstein type setup. Not in a bad way, just in a normal prototype way – that's how product engineering works.
Going Forward: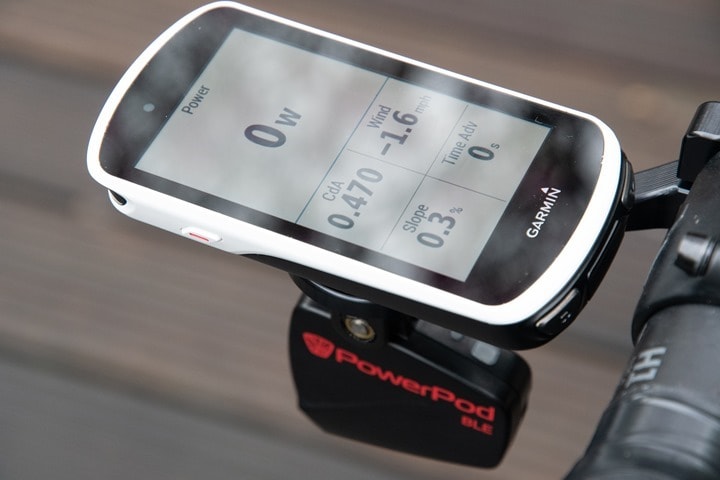 As I've said on my other aero pieces, one of the challenges I have with the aero portion is that at this stage it's pretty hard to refute or confirm any aero claim I see. There's a lot of math one can do to get close, but that doesn't really take into account the actual nuances of the day out on the road. Things like road conditions, random chunks of cobblestones I crossed, and so-on.  Ideally, I'll be able to find a neat clean repeatable short looped route nearby me to do tests with (where braking doesn't often occur).  It shouldn't be hard, since there's endless miles of beautiful country roads.
Until then, this is really just a preview of what they're doing. Like others that I've written about – I'm not at this point passing judgment on accuracy claims or the like.  And I'd caution that there are really only a handful of people out there in the cycling (aero) industry who I'd trust to make those claims.  Still, I'd like to see all manufacturers – including Velocomp – find ways to backup their claims via 3rd party validation. Be it in a wind tunnel or some other platform that can really support any marketing claims they make.  That can also to some degree be through comprehensive white paper like what we saw AeroLab do as well.  More data is always better.
Finally, as for the project itself, they're on Kickstarter from now for the next 29 days.  The Kickstarter variants start at $299 (though down the road retail will be $499). They're currently planning on delivering this July.  I suspect that's an achievable date, but as always, it's Kickstarter.  And it shouldn't be forgotten they've been the *only* Kickstarter sports tech project that came close to hitting their previous dates, missing it by only about 3-5 days if I remember correctly.  It also helps that manufacturing, supply, and the whole aero puzzle isn't really new to them.  I think their single biggest risk is simply re-engineering their app side to not be cumbersome.  It needs to be super clean, super easy to use, and totally driven by a mobile phone. That's the baseline for success in 2018 with a cycling device.
With that – thanks for reading!
Found this review useful? Support the site!
Hopefully you found this review useful.  At the end of the day, I'm an athlete just like you looking for the most detail possible on a new purchase – so my review is written from the standpoint of how I used the device.  The reviews generally take a lot of hours to put together, so it's a fair bit of work (and labor of love).  As you probably noticed by looking below, I also take time to answer all the questions posted in the comments – and there's quite a bit of detail in there as well.
I have partnered with the retailers on the left, and any shopping you do through those links or the ones below, helps support this website. Thanks!
Velocomp AeroPod– Amazon
Additionally, you can also use Amazon to purchase  anything else on your wish list. Any shopping done through these links  also really helps support the site (socks, laundry detergent, cowbells).  If you're outside the US, I've got links to all of the major individual country Amazon stores on the sidebar towards the top.
Thanks for reading!