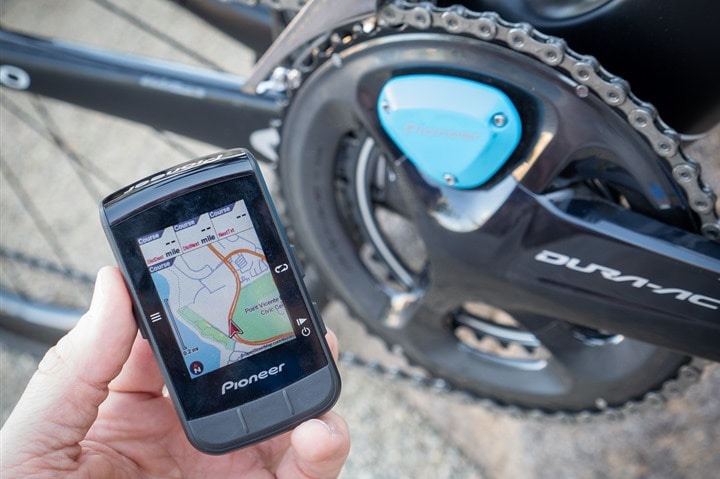 In some ways, Pioneer can be easy to forget about in the power meter scene, though I'm honestly not sure why. They've consistently delivered a new round of products every year at Interbike – almost as consistent as Apple can be counted on to deliver new iPhones in September. Each year Pioneer tends to announce new crank-arm models, and roughly every other year they drop the price. All while every once in a while announcing new head units.
The real kicker here though is that their pricing scheme and power accuracy is actually quite good, albeit global product availability a little more fragmented than some companies.  They're of course used by a couple of Pro WorldTour teams, but that's just a function of sponsorship and doesn't imply accuracy.  As for their bike computers? Well, they haven't exactly been the Beyoncé of bike computers.
But as of today, that might be different.  They've moved up in class.
Oh, and the power meters? They too got some long-overdue changes to add in Bluetooth Smart and a pile of other features.  Here, let me explain. Actually, this quick video I put together covers everything:
Just want the text details? No problem – keep cruising below!
(Side note: Today Pioneer also announced a partnership with Wahoo that lets any Wahoo ELEMNT/BOLT user show Pioneer's advanced cycling metrics on their Wahoo head units, for any edition Pioneer power meter ever made. I talk about that in this separate post.)
The Head Unit (CA600):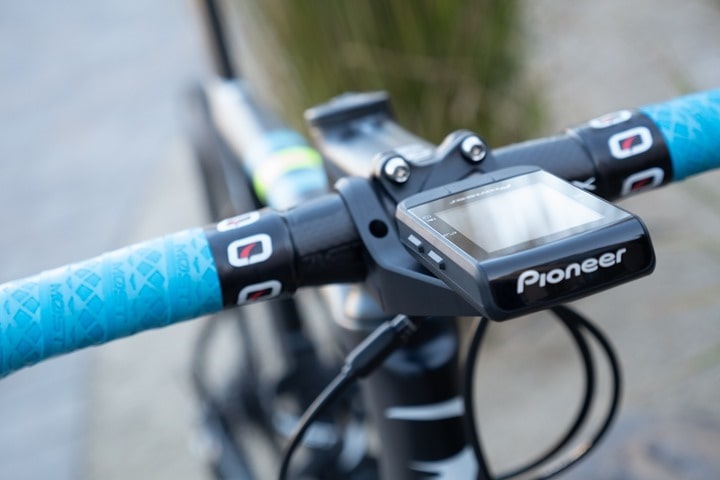 Historically I haven't been a huge fan of the Pioneer head units. Mostly because they felt outdated and were clunky to use. They did, however, have significant features in them, and a ton of data field flexibility. With the new CA600, Pioneer is clearly aiming to address its shortcomings.
You can see right away these look a heck of a lot better. They have slight similarities to the Wahoo BOLT design in terms of the three inset buttons on the top of the unit closest to the rider, as well as the exterior button layouts.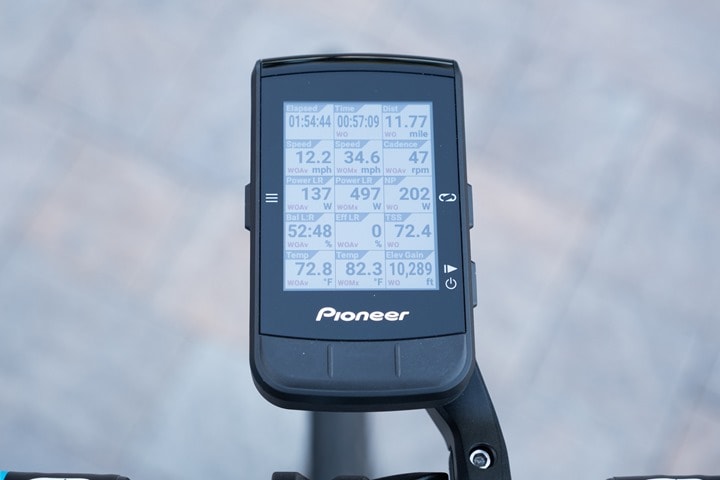 But the Wahoo similarities get much more defined on the back: They've adopted the Wahoo ELEMNT/BOLT mount. This is important because it means you've got far more selection when it comes to bike computer mounts. Most mount companies these days make Wahoo-compatible mount plates.  Of course, the aforementioned Wahoo partnership is undoubtedly making this bit easy.
Still, the majority of changes are in software – and have nothing to do with Wahoo (both Wahoo and Pioneer confirmed that Pioneer has done 100% of the software on the CA600). Right away you'll notice the new 2.2" color LCD display. They've gone to a more vertical orientation than the wider orientation in the past. And now, they've got mapping: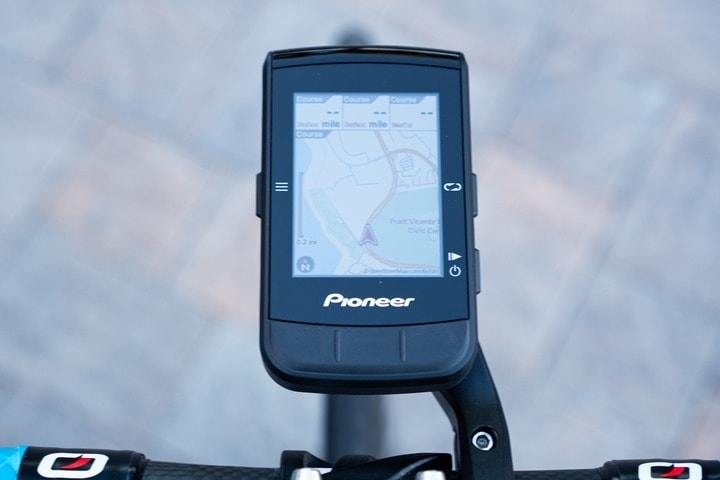 The unit can do breadcrumb trail maps, turn by turn maps, as well as cue sheet directions. Routes can be downloaded from Strava Routes or Ride With GPS. The company says you'll get course profiles (elevation), off-course alerts, POI's, and turn by turn messaging. The feature wasn't enabled yet on the unit I test rode, so I can't really say how well that piece works yet.
However, they did note that the off-course routing will be similar to Wahoo in that it gives you the direction of your course/route, but won't give you street-level re-routing to get back on course (compared to something like a higher end Garmin/Sigma/Hammerhead unit that will give you newly generated street names to get back on course).
Where they go beyond their competitors is around friend tracking during a ride. Sure, Garmin and Wahoo both allow you to see where your friends are on a map. But Pioneer also allows you to see their data (up to three riders worth). I didn't have any friends on my test ride (though you can see the screen on my test unit in the video), but here's what it's supposed to look like: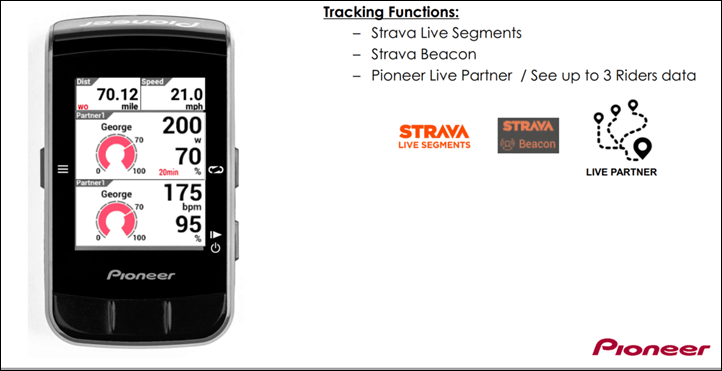 In addition, they're rolling out Strava Beacon integration (that's Strava's Live Tracking platform), as well as Strava Live Segments will be included too.
Like past Pioneer units, you'll also get all of the advanced cycling metrics around force direction as well. You can see this as I ride along where the bottom of the screen is showing the forces of each pedal stroke.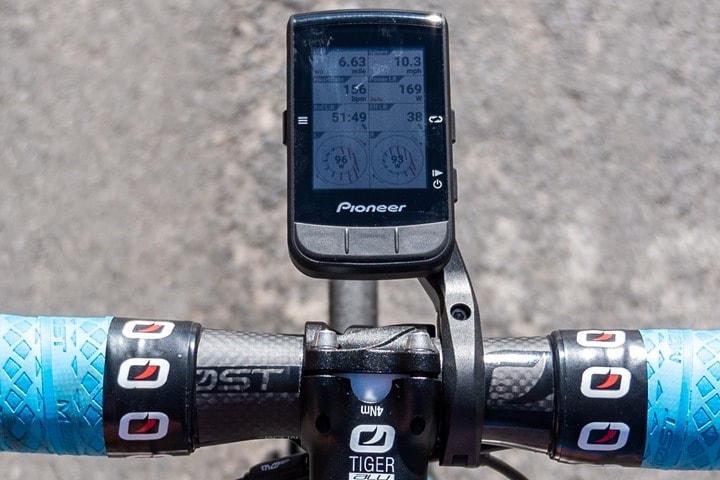 Similarly, you're going to get a pile of WKO4 specific training metrics. I wasn't able to capture these easily out on my test ride (just like my above photo during my ride came out so-so due to the harsh sun). So here's a slide showing them much better: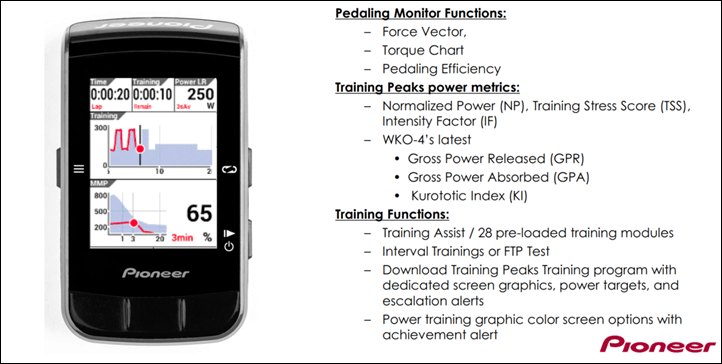 (Once back in the Netherlands, the more dreary weather will cooperate for better outdoor mid-ride photos)
In addition to supporting all the standard sensors for ANT+ & Bluetooth Smart (including ANT+ FE-C), they're doing some crazy cool ANT+ to Bluetooth Smart rebroadcasting of the power meter signal. This means that if you have an existing Pioneer power meter that's ANT+ only, the CA600 will actually re-broadcast it via Bluetooth Smart so that 3rd party apps can tap into it via Bluetooth Smart.
For lack of anywhere else to stick it – here's a cool overview of all of the screens you can add in. Keep in mind that you can customize all of them. So this is just like a sampler platter.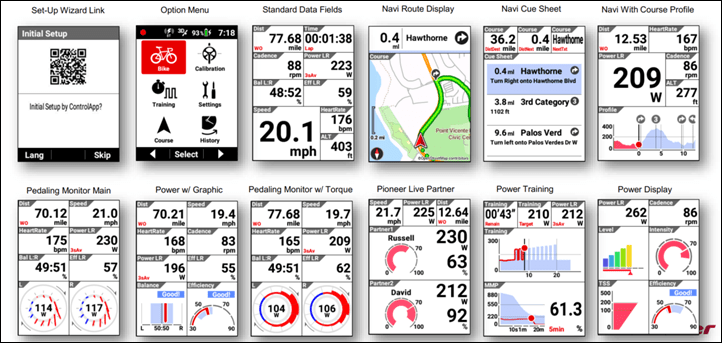 Now I would caution that the very early pre-production unit I rode with doesn't look anywhere near as clear as these screenshots. You can see it a bit in the photos above, but keep in mind that taking photos of almost anything in the harsh desert sun is tough. Also, Pioneer noted that the unit I had was hand-built and hasn't been tuned for contrast/brightness/clarity yet.
Finally, one of the most interesting technical differentiators they're rolling out is the inclusion of A-GPS. That's assisted GPS, and is often used by phones in denser city areas to offset the impact of poor GPS signal. Assisted GPS uses cellular towers and a slew of other data points to determine your location. It has its pros and cons though too.
But what Pioneer is doing is blending the data from standard GPS alongside the assisted GPS (A-GPS) signal from your phone. The idea being that when you ride through crappy GPS signal area (such as a city, like my recent test), you can get a cleaner signal.
I'm not aware of anyone doing this across any sports/fitness devices today. Even with Apple, their A-GPS integration is either/or. You switch over from A-GPS to regular GPS, but it's a hard-cut (which can also have impacts too).
I'll be interested in testing this of course. Error correction will be key here. For many conditions going with regular GPS will be better, whereas A-GPS might have limited applicability (but hugely beneficial in those cases). So ensuring that it doesn't give bad GPS when A-GPS is crap is important too.  All things I look forward to testing!
Speaking of testing, the head unit is slated to start shipping later this year in December at $359USD. To be clear, you DO NOT need a Pioneer power for it (just like you don't need Garmin Vector to use Garmin's bike computer). It works fully with all ANT+ & Bluetooth Smart common cycling sensors. It weighs 85g and has a claimed battery life of 12 hours.
Power Meters: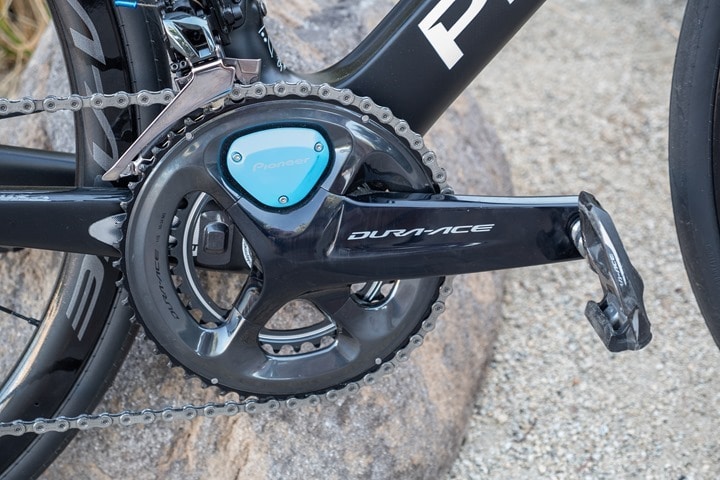 While the cool sexy news was up in the previous section, the more practical news for Pioneer power meters is down below here. They've now iterated to a new generation of power meters that adds in much needed Bluetooth Smart support, as well as some under the covers changes around the strain gauge design. Plus above the covers (for real) changes to the pod waterproofing to now withstand direct pressure washer forces.
Starting off with the most important bit – Bluetooth Smart, you may remember that up until now the Pioneer units have been a blend of ANT+ and private-ANT transmission. You could toggle between either mode, with the ANT+ mode being the most compatible with all bike computers on the market, while the private-ANT variant was only compatible with Pioneer's head unit. But, with that private-ANT variant you got the more advanced cycling metrics, including the various force measurement bits.  Essentially, all the stuff you see below was from the private-ANT variant: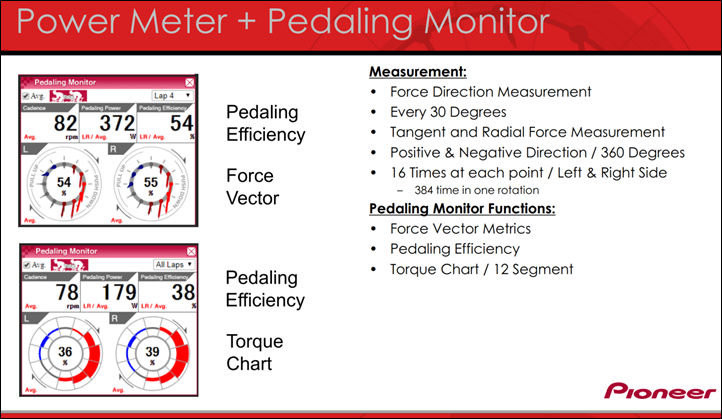 (Private-ANT simply means they don't follow a specific ANT+ protocol. For example, Shimano does this with Di2 – instead of following the ANT+ Gear Shifting protocol. In the case of Pioneer, the more advanced cycling dynamics protocol for power meters isn't done yet, so they roll their own.)
In any event – all this stuff was fine and dandy, but meant that if you had something like Zwift on an Apple TV or TrainerRoad on iOS, you couldn't connect to the Pioneer power lineup without a bunch of accessories.
Now you can.
The Pioneer power meters from here forward have new hardware in them that allows concurrent ANT+ & Bluetooth Smart. In addition, you've still got the private-ANT mode for the added metrics if you want those and have a compatible head unit.
Next, is some behind the scenes bits that might not be sexy, but are actually important. Pioneer has ever so subtly changed the strain gauge design for the latest generation of Shimano cranksets. Now, as opposed to using the same design for the left and right sides, they've shifted to having different designs for each side.
The reason? Starting last year with the latest Dura-Ace models they were seeing variances in flex from the materials that Shimano was using for the R9100 generation units, with clear differences between the left and right sides (which could and would impact accuracy). In fact, Pioneer quietly introduced this change last year with those units on those R9100 cranksets.
But this year they're being more open about it, and also rolling it out to all their cranksets – which they believe gives the greater accuracy across the board on their lineup.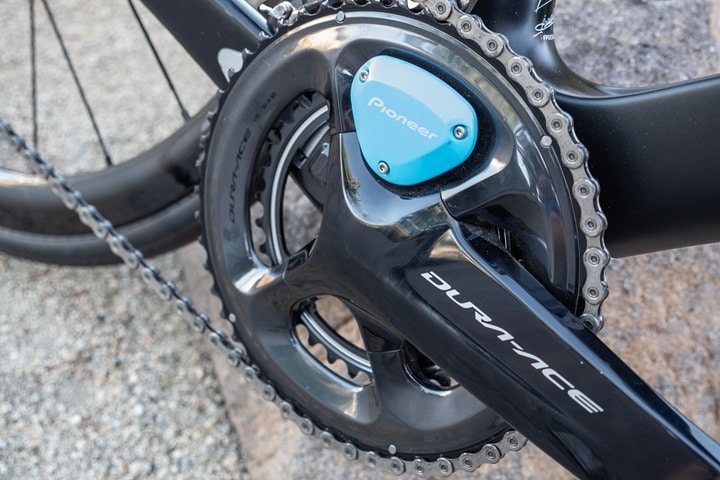 Of course, this little tidbit is actually a somewhat big deal – and something a number of other power meter companies have been grappling with since the Shimano change last year in the new models.
Last up on the changes docket is an increase to the waterproof spec of the units. They've increased that to IP66 and IP68 water resistance. The main goal here was protecting against direct water pressure washers. I suspect this came from their work with multiple WorldTour Pro teams, who frequently use such tools for cleaning bikes.
As for availability and such, the Shimano Dura-Ace and Ultegra units will start shipping in November, at the same prices as before (see below). They've got both pre-installed kits and kits where you send in your crankset and they install it for you.

They will be shipping this year's model with a red colored cap, though there are 6 other accessory colors you can get instead if you want.
Updated App:
Just a super quick note since it crosses both of the above sections, they've redesigned the app to work with both the power meters as well as the head units.  The new app can connect directly to the power meters to not only tweak various settings, but also display real-time power from the power meters. Most notably, the pedaling metrics:
You can also see above the changing of the data fields from the app.
In addition, the app contains many of the details from your workouts as well. Here's a handful of screenshots from Pioneer:
I didn't get a chance to fully test out the app, but certainly plan to in the future.
Wrap-Up: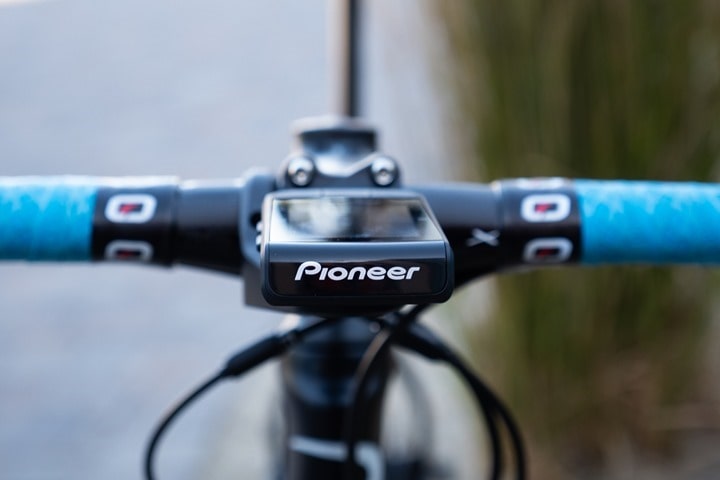 Overall I think this is a very strong showing for Pioneer at Interbike. Rolling out a pile of new products including much-needed updates to support Bluetooth Smart on their power meters, alongside a much improved head unit. And of course that sidesteps the equally important step of having Wahoo Fitness adopt/implement the Pioneer pedaling metrics over on the Wahoo ELEMNT/BOLT head units. That's huge for Pioneer users, especially ones that already have Pioneer power meters.
Pioneer has always done a solid job of making accurate products, so I'll be looking forward to seeing whether that continues to hold true with the latest generation of units later this year when I can start testing them.  Similarly, I'm hoping that maybe we'll see some of the influence from Wahoo trickle down to Pioneer's software group for the head unit, focusing on simplistic and ease of use.  At present, things seem to be headed in the right direction for the new CA600.
Look for a review from me later this year, once both are ready to start poking at in more detail.
—
With that – thanks for reading, and don't forget to hit up all the other Interbike coverage here. And follow on Twitter for plenty more tidbits!