Two weeks ago I was in NYC for a slew of events, product pickups, and meetings. Most of which you've heard about by now. Be it the DJI Mavic 2 launch, the Garmin Vivosmart 4 announcement, or the Fitbit Charge 3 announcement. And that's only the half of it.  But in that 36 hours I had on the ground in NY, I snuck in a run around Central Park…starting from Times Square.
I've done this countless times before. I usually make a point of getting in at least one run in Central Park anytime I'm in town. And while I was exhausted from an early morning transatlantic flight and a long day of meetings/shooting, I went out for an evening run to 'freshen up'. Or something like that.
For whatever reason, I decided to shoot a YouTube video about it. Seemed like a fun vlog style thing to do. Then I decided to write a post about it. After which I decided to go down a rabbit hole of looking at data nearly a decade old…so the post got a lot longer. But, if you don't have time for all that – here's the video:
If you still have time and want to get a bit geeky (as opposed to the more fun video), continue on!
Oh, and I totally get that thousands of people run in NYC every day with GPS devices. But very few people run with 3 GPS devices and then chart/plot the results. So…here I am in an old-school DCR style totally geeky deep dive.
A NYC Test Run:
In case you didn't watch the video (why?!?) the premise here is simple. I took three watches with me out for the run (fear not, I had an entire suitcase full of other watches). Each watch was configured with the best GPS settings offered on each unit that would, in theory, give me the most accurate data:
A) Garmin Fenix 5 Plus (GPS + Galileo mode)
B) Suunto Spartan Trainer Wrist HR (GPS 'Best' mode)
C) COROS Pace (GPS 1-second mode)
I know you might ask why not the Suunto 9 instead? Quite frankly I get better results from the Suunto Trainer Wrist HR. My Suunto 9 review is done, so I'm back to using the Suunto Trainer Wrist HR as a reference device. Love that little thing. Why not the Polar V800? Cause I'm still trying to find it…from last December. I'm starting to wonder if it was a casualty in the move. Maybe when I unpack later this month when construction in the new DCR Studio is finished I'll find it.
The COROS Pace was in the mix because I'm prepping an in-depth review on that. I wore the Garmin and COROS Pace units each on one wrist, and then simply hand-held the Suunto, keeping the satellite bump pointed at the sky at all times.  I thought about adding my phone to the mix, but honestly my phone battery had a long day already and was about to die. So no point in dragging that along only to have it die mid-run.
I started the run from Times Square, as it made for a solidly tough place to begin a run from a GPS acquisition standpoint. I've started, give or take a few blocks, from here over the years, and it used to take half a dozen minutes to get GPS signal. In this case – a mere 20 seconds for the Garmin Fenix 5 Plus. A couple minutes for the Suunto, and over 5 minutes for the COROS Pace.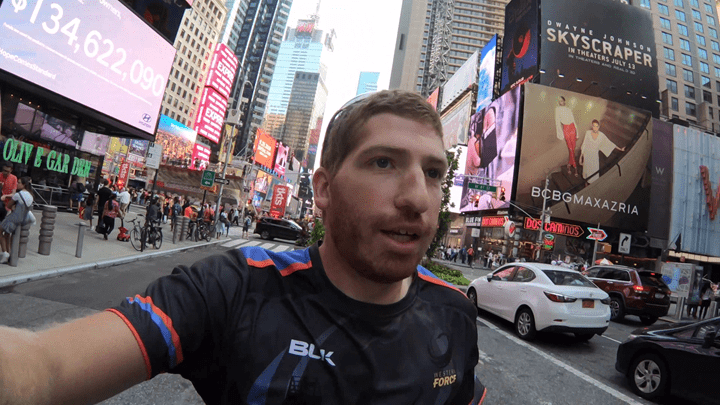 With that, I headed out towards Central Park via Broadway. So basically a straight but not terribly wide road (in that section) snaking between the towering buildings of Manhattan: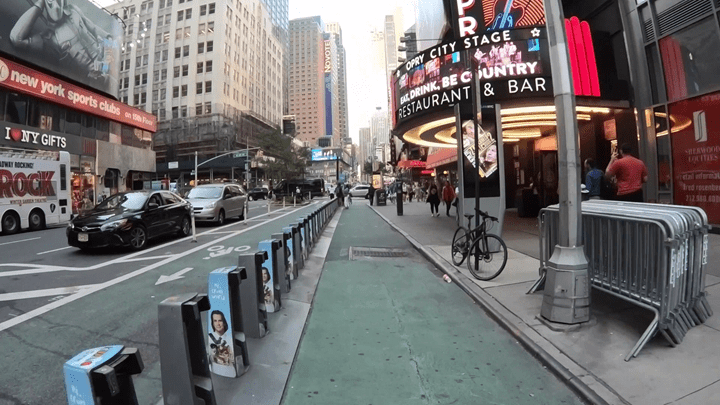 Here's the results of that first section (you can click on that link to dive into the DCR Analyzer files for the entire run):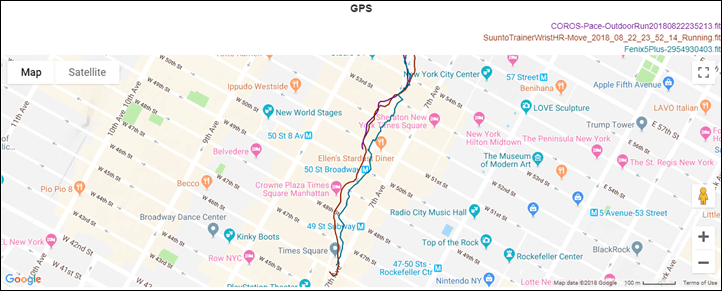 You'll probably notice two things immediately. First, it's a mess. But second, the COROS Pace decides to wait 5 blocks to start plotting its GPS track. While all devices did start with full bars and satellite lock, apparently that was a fake-out play on its part. Once it decided to start plotting points, it wasn't any better than the others.

I'd argue for this specific section the Fenix 5 Plus was closest to the road, but that's like giving an award to someone who gets a 'D' in class, merely because the only two other people in class got an 'F'. Roughly.  Though, these were hardly the worst GPS tracks I've ever seen in NYC. So that's positive I suppose.
In any case, crossing the street into Central Park the COROS Pace was the closest to where I went. After which, the Suunto took over the lead on accuracy for the exact path I was on (or closest to it). But once I hit the main road in Central Park, things equalized between the units.

Below left, showing my entry into Central Park. And at right, on the inner side of the pathway.
One could quibble about which side of the road each GPS track said I was on (I was physically always on the innermost side), which meant that for the outbound portion the Garmin was generally most correct while the other two were on the other side of the road. But I suspect most wouldn't care about this tiny difference.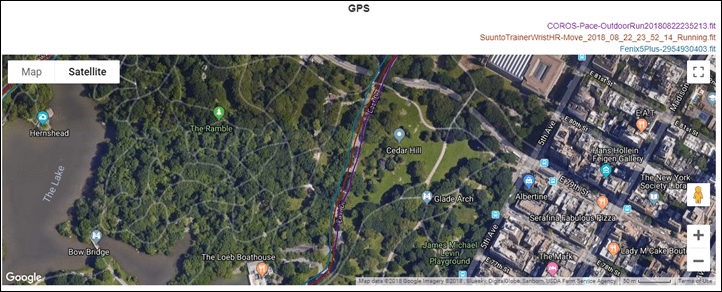 Plus, on the return coming back down the other side of the park the Garmin got an odd offset of perhaps 10-meters into the woods for almost the entire length of the park.  The other two stayed on the road (right or wrong side be damned).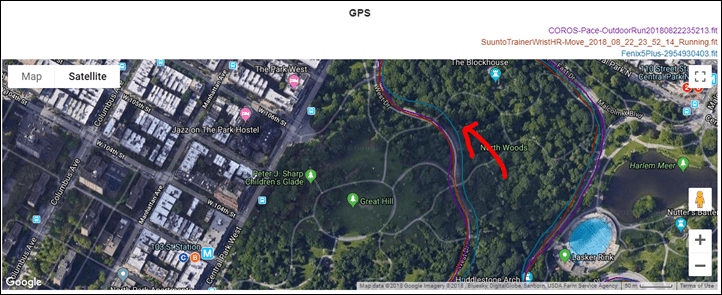 Offsets like this aren't super uncommon actually, and do hit all models from time to time on various workouts. Today was just the day for such an event for my watch. Win some, lose some.
Oh – along the way a DCR Reader spotted me and took a selfie as we ran. You can find this whole interaction at about the 6:08 marker of the video above. It's pretty funny and worth the quick watch!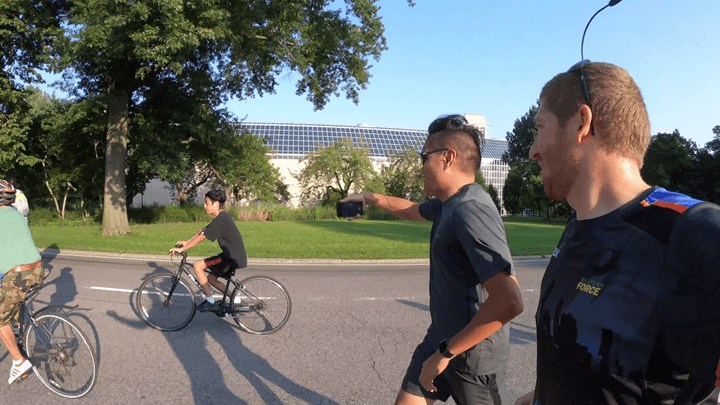 Close to the end of the park though, all three units joined back up again and ended happily together:

From a distance totals standpoint, here's where they sat:
Ignore the zero-value elevation gain on the Suunto. Unfortunately Suunto's Movescount doesn't properly write the .FIT file header data, so in the DCR Analyzer we don't have the 'known' data to pull from (we don't want to recalculate it, as that's not what appeared on your watch and is making assumptions).
I'm not sure which watch is ultimately the 'winner' here, if there is one. I suppose it's not the COROS Pace merely because it fumbled the play at the beginning. So that leaves the Suunto and Garmin. The Garmin has a (barely) better track in the tougher buildings. And on the outbound portion the Garmin was on the correct side of the road.  But on the return the Garmin was off in the woods geocaching or something with the weird offset. That wouldn't have impacted distance meaningfully, but certainly could have impacted Strava Segments or just the vanity of a perfect GPS track (which, is important to me). Your call.
(Note: All of the charts in these accuracy portions were created using the DCR Analyzer tool.  It allows you to compare power meters/trainers, heart rate, cadence, speed/pace, GPS tracks and plenty more. You can use it as well for your own gadget comparisons, more details here.)
Was it better years ago?
Still, I was curious – has much changed here in terms of GPS accuracy?
People always seem to say that previous devices were better than current devices. I often hear that a device from 2008 or 2010 made better GPS tracks than a device from 2018. I suspect the vast majority of that is just the normal human brain's ability to slowly over time view everything through rose-tinted glasses of times (except for bad airline flights).  Still, off I went searching.
While I've run probably dozens of times in NYC over the years, my ability to find all these runs and the corresponding watches is a bit of a mess.  In theory it should be easy, but in practice not so much.  Part of the complexity is that the further back you go in time, the less likely you used cloud services.  For example, my older Garmin FR305 certainly wasn't uploading to Garmin Connect in its heyday.
So I dug into each platform to see what older runs I had. I started with Suunto, because they have by and away the best way to search old activities from a heatmap standpoint. I simply zoom into NYC on the map and select to just show my runs. And done.
Only problem was that I've only got one other NYC run on a Suunto device (remember, I don't live in NYC). Ironically enough, almost precisely one year prior on the exact same Suunto Trainer Wrist HR: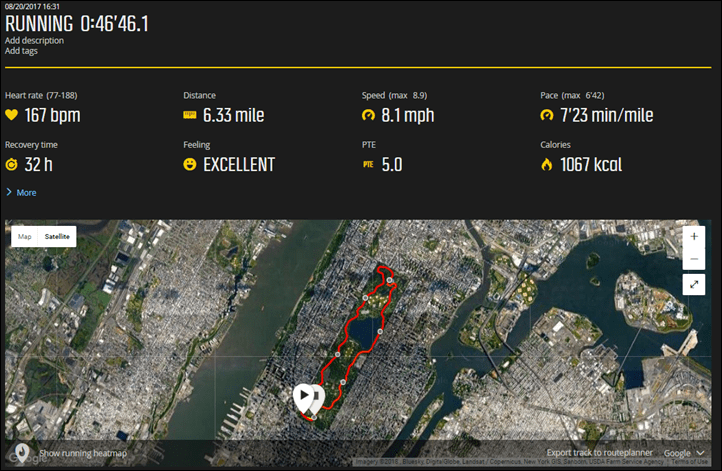 Looking into that track, the vast majority of Central Park was perfect, but it did bobble at the start for some odd reason:

Next, I tried to do the same within Polar, and it too would have been super easy.  Except this:

The above of course is newish, after some bad things happened. Sad panda.
Next, Garmin Connect. I can't seem to find any way to zoom around my own personal map there anymore – so I had to filter by activity names. I did searches on both New York and NYC and some other variants. They turned up a handful of items over the past 4-5 years.  Still, it was also definitely missing some items within that timeframe too – probably because I renamed them something other than New York for some reason.
In any event, going back to some of the older ones, there was one from 2015 that almost mirrored the same route – starting a few blocks from Times Square and then doing a loop around Central Park. I did this on that day with both a FR920XT and a Forerunner 630. Clicking on either of the images below takes you to those Garmin Connect files to look at.
On that same street as before, it was pretty much equally as sucky. Here's the FR920XT track for that starting point:

And here's the FR630 – it was worse:

The rest of Central Park was fine though – nothing notable there.
So let's turn back the clock again a year prior.  Again, a FR920XT (here's that file), but also a Fenix 3 (original edition, no HR yet – here's that file).  In this case, I started a few blocks away, did a full Central Park loop and then went back into the buildings down to Times Square.  As you can see, that was a crap-show too, though slightly better on the return. Barely.  However, it still had a rough time getting into Central Park and getting out of Central Park as you can see at the edge of the green.

The Fenix 3 meanwhile was marginally better in that area/stretch.  By the way, in case you're wondering why these screenshots are so small, it's because you can't make the map any bigger on Garmin Connect (or at least, I've never found a way to do so…why Garmin, why???).

Neither watch displayed much oddity once in Central Park – all was good there.
Prior to that point though, I can't seem to find much older on Garmin Connect.  So I turned to Training Peaks.  This would have a record of all my runs/rides/swims since around 2007 or 2008.  So digging into that I went.
Like Garmin, they don't offer a way to filter on a map. But even worse is that back in the day most workouts weren't named by location either. So I had to simply hope that I had put something about NY in the description to my coach that I could find in a text search. Only four results came back, one of which was a passing reference to NYC from a run in Paris. One was a bike, and the final two a run.  Of which, one of those runs was my NYC Triathlon Race, the run portion:

If we look closely at the portion that goes from the river to the park, you'll see it does roughly follow the road. But that road's a heck of a lot wider and with shorter buildings: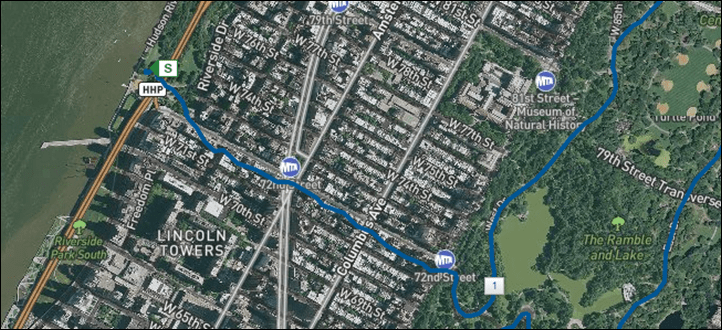 Not only that, but it still meandered through buildings.  According to my race report from the NYC Triathlon that year, I was wearing a FR310XT. I was also wearing something on my other wrist, but I'm honestly not sure what it was. I can't quite tell. However, doing some digging I was wearing/testing the older Forerunner 110 in an older post a few weeks prior – and it looks pretty similar. So maybe that's it.
Then we've got a run back from 2010. This was starting a handful of blocks away from Central Park, a loop or so around Central Park and then back.  While I don't know the precise path I was taking back then, I think we can all agree it wasn't diagonally through these buildings.

The sections in Central Park were pretty much the norm, all good there: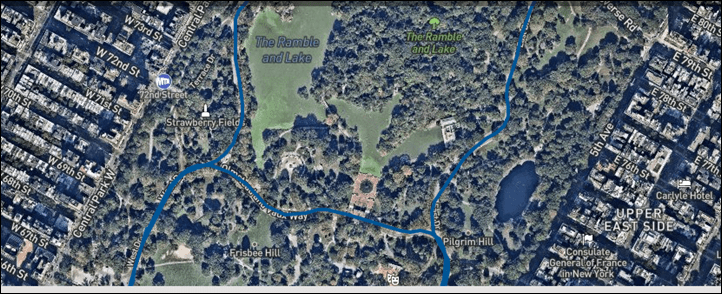 Unfortunately, Training Peaks doesn't display the older device types here. So I had to download the original file, then crack it open and look at the file contents to see which device it was – the good ol' FR310XT:

Phew.
And that's where I run out of searchable/findable data. I've no doubt got older runs probably on Garmin Connect and Training Peaks, but they certainly aren't filterable easy enough to find them. And then there's likely runs somewhere in an offline file of the desktop version of SportTracks from before that. But I haven't had SportTracks desktop installed in years. Plus, this rabbit hole is deep enough already…for now.
Still, it's clear that at least in the random snippets here, things weren't really any better back then. I'd say they trended either roughly the same or perhaps slightly worse in the buildings.  Plus, what I do remember (and some of my older posts point this out) is that I'd often wait 5-8 minutes for GPS satellite acquisition. As you saw in the video – it was under 20-25 seconds for the Garmin, with the Suunto not terribly far behind.  And that's considered slow – purely because of the buildings.
Ultimately though – for now, big tall buildings are still big tall buildings, and by and large, they're going to block GPS signals. Even my iPhone – the latest and greatest available, still would struggle as I walked around town to place the blue dot on the correct street. Whether you're in NYC or Dubai, I wouldn't expect massive improvements in GPS accuracy anytime soon. Instead, I think you'll continue to see minor improvements like you can see with the data here. Or ancillary type improvements with GPS lock time that are clearly far faster than before.  Not to mention today's devices have far more features and functionality packed into the same form factor (or smaller).
In any case – hope you enjoyed this random jaunt down the rabbit hole (or memory lane).
With that – thanks for reading!