When I heard about the Red Bull Air Races a few years back, I mentally jotted it down as a pretty sweet thing to eventually go check out (btw, check out videos like this to see what I mean).  At the time, the races were primarily in Europe, so it was sorta a long term mental note.  But over the past few years they've expanded to a few cities in the US – including now NYC.  Thus back a few months ago, we decided to schedule a trip to come up and see the action.
On Friday evening we caught the cheap $20 Bolt Bus up to NYC for the weekend.  We'd be bringing along everything from running stuff to cycling stuff…after all the training still needs to happen!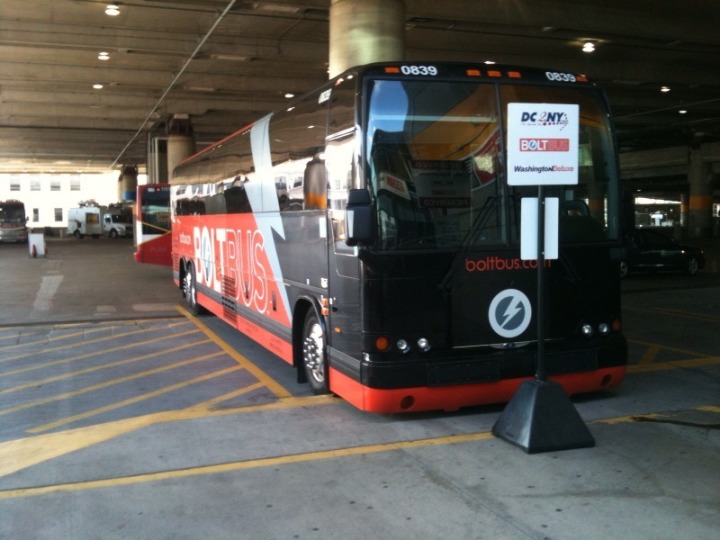 Saturday morning brought plenty of warmth – but surprisingly I still threw down a fairly solid run in Central Park.  Actually kinda scary fast really for that easy zone.  I find I really enjoy running in Central Park…mostly because I'm so easily distracted at all the things to look at and dodge (or be dodged):
Btw – I'm not sure I'd be too happy if someone stuck of a feather duster on my head!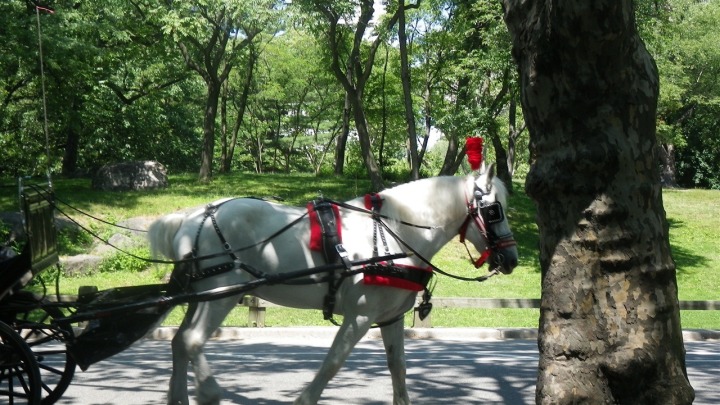 I was using the FR110 for Saturday's run.  While I'm still on the fence about it for me personally due to the lack of features, I am seeing the appeal of a simplified and streamlined GPS running watch for steady-state runs where the details don't matter.  Plus, when running in Central Park you have to look New York Fashionable…and the FR110 certainly ousts the FR305 or 310XT in that department.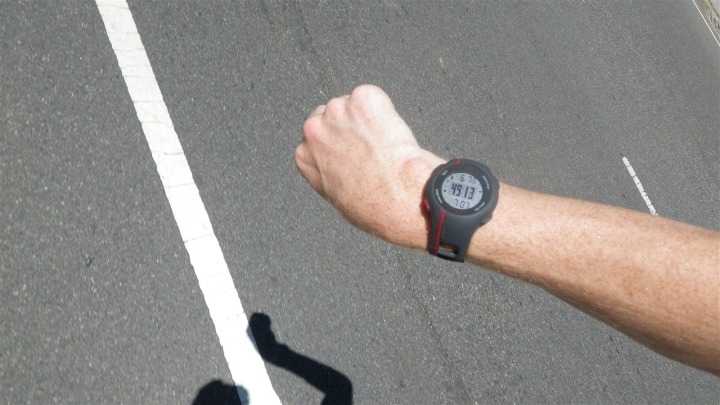 Later on the in the day we went and hit the pool as well, but somehow I missed pictures of that – so nothing for ya there!  Instead, I'll substitute a picture at Katz's Deli…cause it was awesome (again):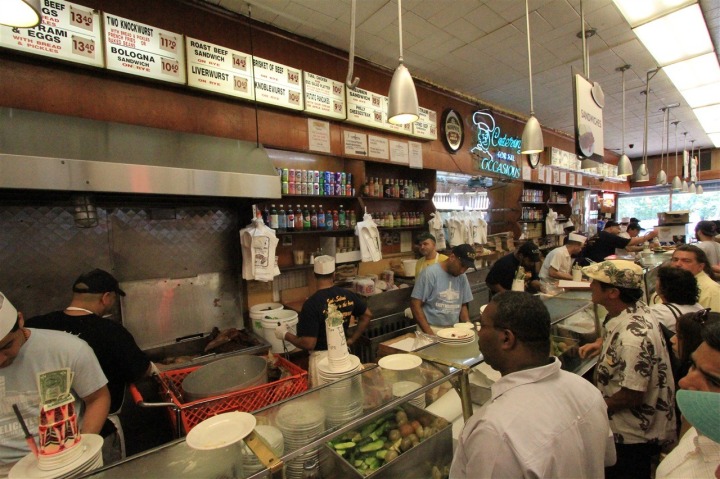 The majority of the day however was taken up by spending time watching the Red Bull Air Races.  We left Battery Park, which is on the tip of Manhattan Island and then headed across the harbor to Jersey.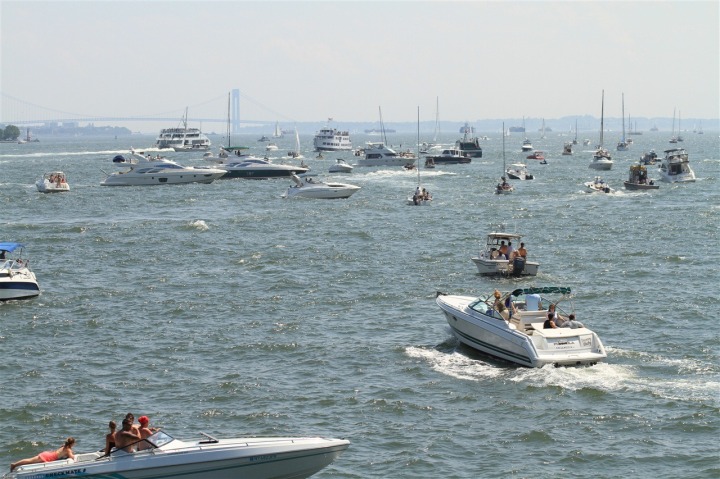 Along the way we had to navigate across a literal sea of boats…pretty crazy.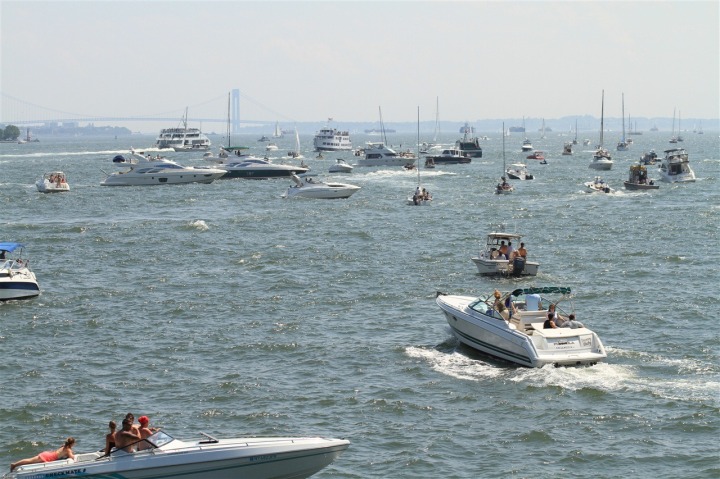 But the trip was short and only took about 10-15 minutes.  After which, we were right there alongside the course – situated on the water in between downtown NYC and the Statue of Liberty.  First though I should explain what this whole thing is about.  Basically, it's like a Time Trial Indy Car race…except in the air.  Each plane goes for about 2-3 minutes through a course with a series of inflated pylon gates.  They can get assessed penalties for doing any of the below: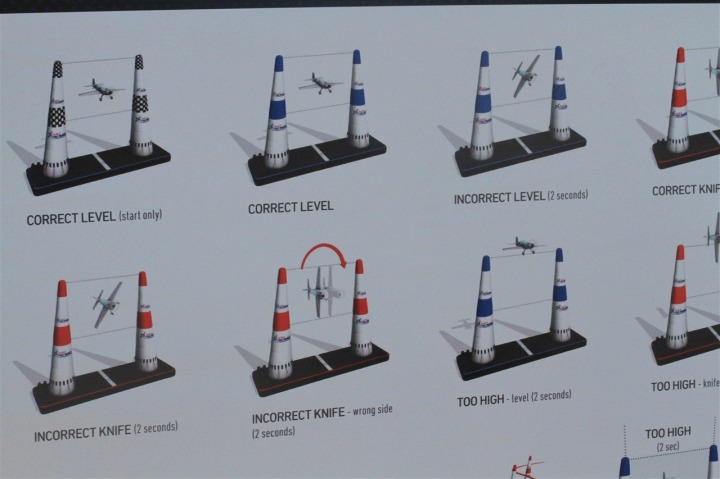 Simple, right?  Basically as a spectator you just watch as planes get scary-close to anything and everything…and do it all at crazy speeds.  Here's some of my favorite shots:
Pretty whacky, huh?
While the event was a blast to watch, and pictures like the below make it appear that the stands were well filled…I have to imagine the event took a financial bloodbath.  Compared to how packed it is in Europe, there wasn't a ton of people here.  And they flew in a TON of resources from Europe and elsewhere, not to mention a crazy-abundance of security from many agencies (DHS, State Policy, NYC Police, NJ Police, etc…).  Nonetheless, hopefully it'll come back again next year and start to build a following.
After watching that for a few hours we headed back, caught a Broadway show, and then dinner.  Finally…sleep.  It was a long day out in the sun.
This morning (Sunday) brought a long bike ride.  Long rides in cities I don't know are one of the few things that make me antsy.  Not because of the fear of cycling in NYC.  Nope, just the fear that somehow along the way my ride will become interrupted in such a way that it defeats the purpose of the ride (due to getting lost, etc…).  But, Coach Alan put together a pretty clear set of routes based on some information he found online – so we were in good hands.
Our route started just a few blocks from the hotel, in Central Park.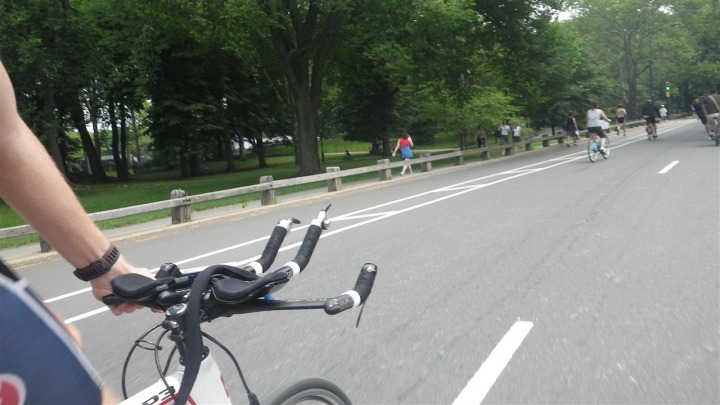 From there we exited the other side and headed out along Riverside Drive – which runs along…the river.
Eventually we made it up to the George Washington Bridge, which allowed us to cross the river and get cooking on 9W.  It turns out this route is pretty much a cycling Mecca – as there was a never ending stream of cyclists and triathletes out there.  Serious, very fit ones too – not just out for a stroll types.  Pretty amazing.
Somehow though, I missed taking any pictures on the route itself – but it's your basic rolling semi-countryside road.  Nice stuff.  After a while – about an hour and a half, we turned around and headed back towards the city.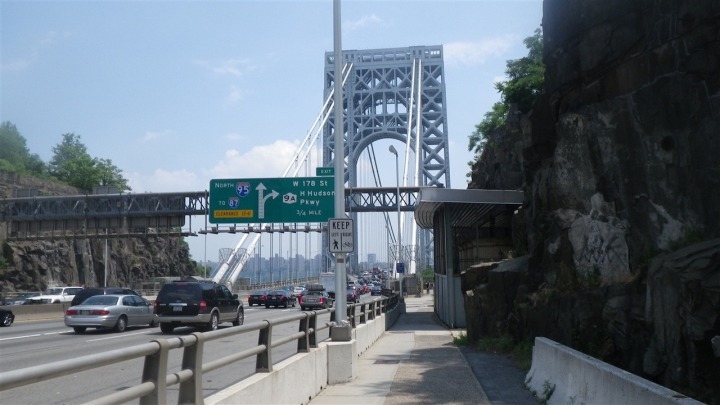 From there it was back along Riverside drive before heading back into Central Park – where I did two loops of the ~6 mile route as a time trial.  Lots of fun.  I'd be curious though if the folks out there at 6-7AM would be much more competitive than the folks at 1-2PM.
However, I'm highly doubting you'd see all the sunbathers out there at 6-7AM…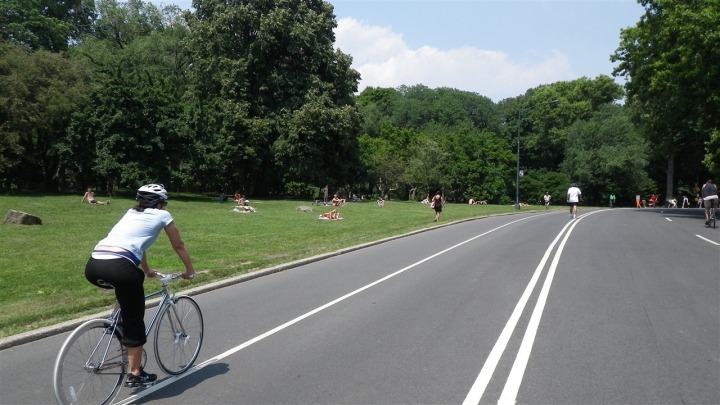 Anyway…
Finally, after the time trial it was a short easy-pedal back to the hotel.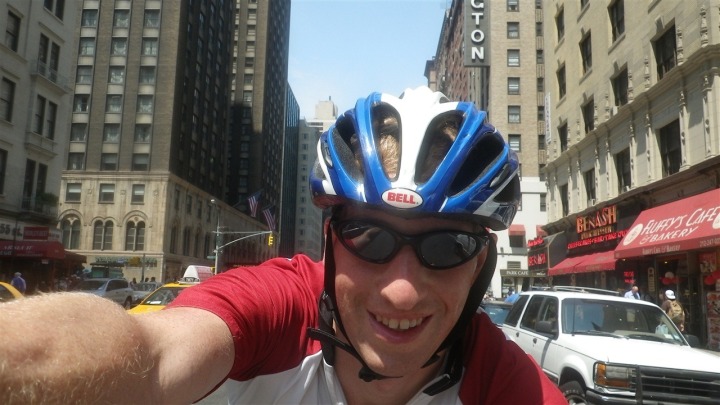 And last but not least…reward: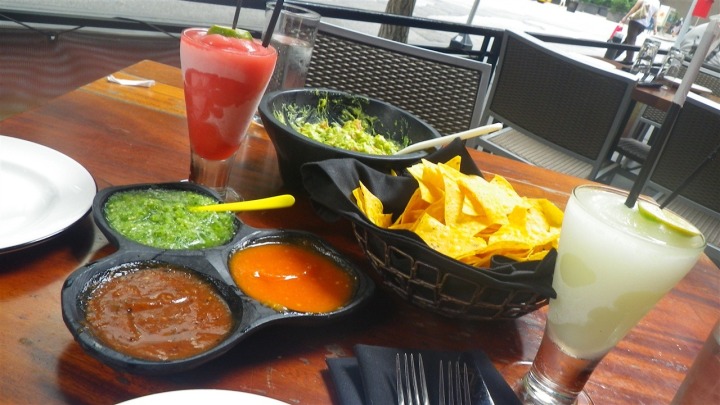 Ok…that's all I've got.  Hope you enjoyed your weekend!