***UPDATE: Fitbit has since released the Fitbit Charge 4, check out the in-depth review here!***
No matter how you slice it, the Fitbit Charge series is Fitbit's leading line to date. Having sold over 35 million units amongst the various versions, it accounts for the bulk of their sales. Thus despite all attention on the top-end Ionic and Versa units over the past year, there hasn't been an update of the Charge lineup since 2016 – an eternity in consumer and wearable tech gear. The Charge 2 might as well be a Fred Flintstone watch at this point.
Last week that changed though, with the Fitbit Charge 3. And while it's still an activity tracker at its core, you're seeing the gradual transition of not just Fitbit but other companies as well, into eventually making FDA approved medical devices.  While this is not a review (that'll come later), I've had a bit of time to get hands-on with the unit and can dive into all the new bits.  There's a surprising number of new features and functions here, including some not yet seen on other units (even their higher-end units). And of course, we're also seeing some features appended to now lower-cost units that were previously reserved for higher-priced editions.
For those unfamiliar with the Fitbit Charge series, it has always sat in the meaty middle of Fitbit's product offerings. Usually priced between $125 and $150 ($149 in the case of the Charge 3), it tends to be a step above a basic activity tracker – including things like workout tracking, while not quite having the advanced features of a full 'watch', such as the higher end Versa ($199) or Ionic smartwatches ($249).
What's new: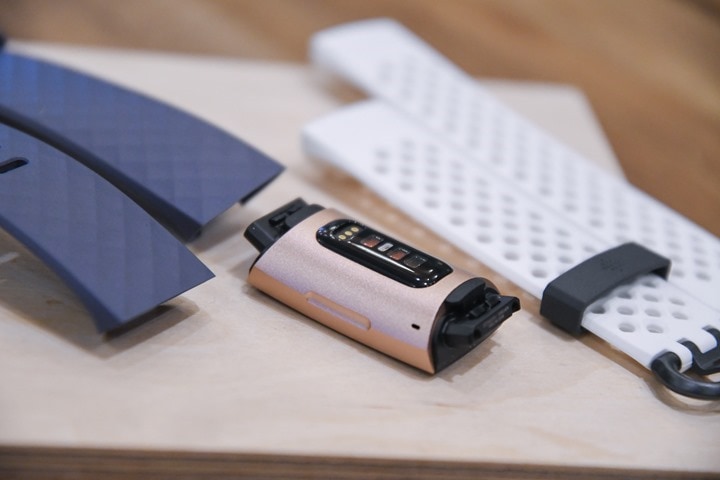 Because life is short, we're going to get right into the details on what's new in the Charge 3.  Here's my bulletized list of all the newness (in comparison to the Fitbit Charge 2):
– Finally made it swim/waterproof (up to 50-meters deep)
– Increased battery life from 5 days to 7 days
– Increased usable display area by 40% using new OLED touchscreen
– Increased brightness compared to previous Charge 2
– Added SpO2 sensor (Ionic/Versa have the same sensor too, but previously unused)
– Added female health tracking
– Added NFC/contactless payments (Special Edition in US/Europe for $169, all units in Asia-Pacific)
– Added in 'sleep disturbance' tracking (for conditions like sleep apnea, allergies, and asthma)
– Added goal-based exercise targets
– Added automatic run detection
– Added pool swim tracking mode (note: you won't see distance until post-swim, only time during swim)
– Changed/upgraded device pod to 'premium aerospace grade' aluminum
– Changed/upgraded display material to Gorilla Glass 3
– Did I mention that they finally made it waterproof?
– Reduced weight by 20%
– Changed band swappability to just single button press
– Increased processor speed (and thus added small animations…because everyone likes animated GIF's)
– Added quick text message replies for Android users (Apple blocks this for 3rd party devices on iOS)
– 'Select' 3rd party apps coming to device later this year (sorta, it's complicated)
– Claimed improved heart rate accuracy compared to previous Charge 2 sensor
Also, coming via updates on the mobile app are:
– New 'dynamic insights' portion on app, starts to cohesively look at all the data being gathered as related (i.e., sleep versus resting heart rate vs workouts)
– Displaying relative SpO2 via app (for Charge 3, Ionic, and Versa)
– Sleep Score beta dashboard from Fitbit Labs planned later this year
– Additional female ovulation tracking coming soon (currently has menstrual cycle tracking)
As I teased at above, perhaps the biggest item on the list for most people is quite frankly the silliest and the stupidest. It's now waterproof. I know I've given Fitbit a hard time about this over the years – because quite frankly they've more than deserved it. As I always note, $10 watches at Walmart have been waterproof for decades, but somehow much of Fitbit's line hasn't been. This finally is. The company says you can go swimming with it – and even touts its indoor swimming capabilities.  They actually show a legit swimmer in the water with it on their site: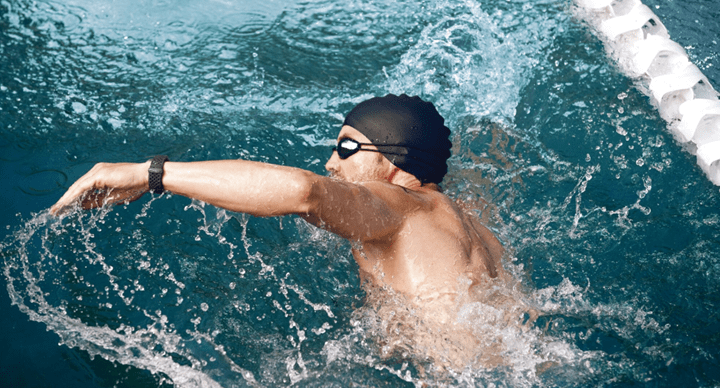 Keep in mind that the swimming functionality in terms of sport modes is still somewhat limited however. For swims, it'll track your distance, time, and laps. It even allows you to choose the pool size (which enables the accelerometers to determine distance).  However, while actually in the pool it's only going to show your current activity time, not the distance.  Distance swam and laps will only be shown afterwards on the mobile app.
This is different from the Versa and Ionic which can show your swim details in real-time. Obviously this is product differentiation, but I wouldn't necessarily call it out of place. Kinda like the older Withings watches that did the same, only showing swim totals post-swim.
In-line with the new swimming capabilities, they've also expanded various other sport features. Specifically around exercise goals. The unit now allows you to specify an exercise goal for one of 15 exercise modes.  These goals can be configured around distance, time, and calories. Of course, for activities like Yoga, you won't get distance as an option (personally, I'd say 'buckets of sweat' should also be an option).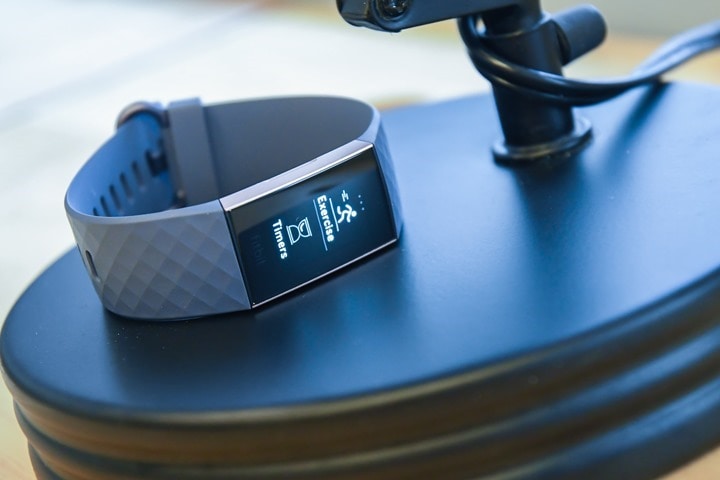 They've also added in automatic run detection. This is similar to what they introduced on some of their other devices, including the Ionic and Versa over the past year. It's also fairly common among wearables, so I'd classify this more as keepin' up with the Joneses.
On the running and outdoors front, the Fitbit Charge 3 doesn't have GPS within it. Instead, it uses 'Connected GPS', which is a fancy term for 'your phone'. It leverages the GPS of your smartphone (Android/iOS/Windows) and then records the GPS track that way via Bluetooth Smart.  Fitbit has long done this for many of their products. The only current Fitbit product that has GPS within it is the Fitbit Ionic (previously, the much older Fitbit Surge had it too).
In some ways this is Fitbit protecting their higher-end products, though, I'm not entirely sure how much longer they'll be able to do this. To some degree they can get away with it because they're Fitbit.  Fitbit states the main reason they did so was to protect battery life (which increased from 5 days to 7 days). Certainly that's true but only to a limited extent, competitors in the same price range already have GPS built-in – such as the Garmin Vivosport.  But again, Fitbit.
If you run without your phone, it'll use the accelerometer internally to measure pace and distance. So you'll still get those metrics, including calories.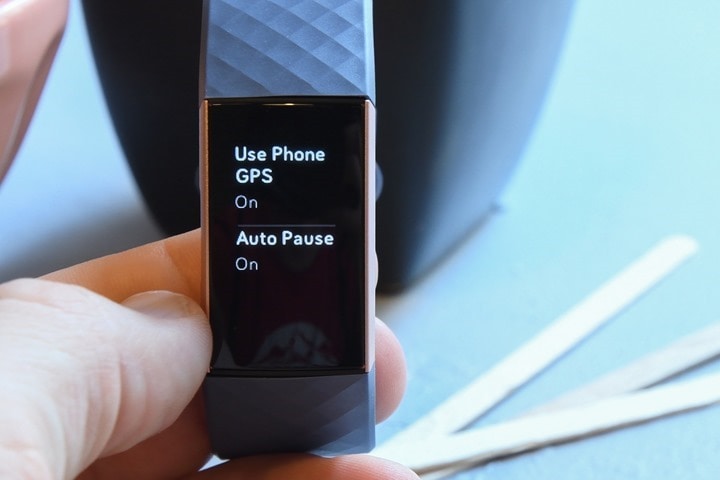 Finally, the company has made a bunch of physical changes as I outlined in the bulleted section above. Most notable is really the size of the touchscreen display being so much bigger. While it may look similar to previous units, the previous 'screen area' only had a fraction of that space as usable display. The rest was just border material. Now as you can see, it's quite a bit bigger display. Also of note is that it uses Gorilla Glass 3, though honestly I can't remember ever hearing of anyone breaking the display on one previously (though, it should help with scratches).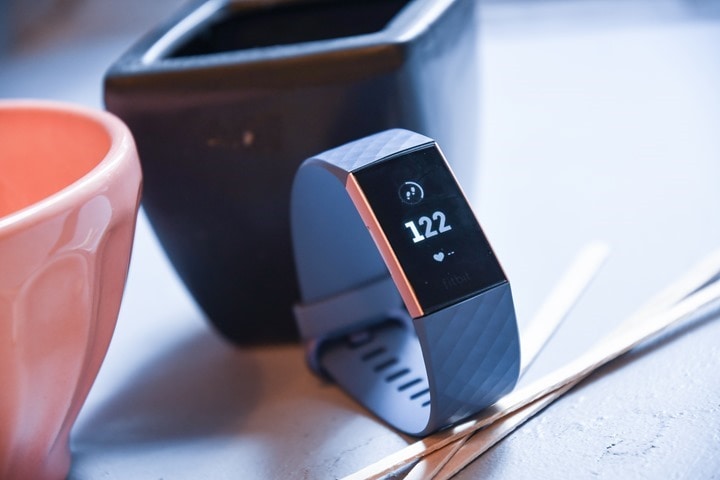 Alongside that, they've gone to an "aerospace grade" aluminum for the pod (keep in mind, almost everyone says that), alongside quick detachable bands. These bands detach much much much easier than previous ones, in about 1-second. It's just a better locking design, so I'll give them credit for that.  As part of all of this they reduced the weight by 20%.  And of course, there's a bunch of new accessory bands.
Oh, and in case you missed it up above – they added contactless payments like the Ionic and Versa. But like those units it also depends on which edition you buy.  In the case of the US and Europe markets for example, the base $149 unit doesn't include NFC payments, but the $169 special edition does (and it includes an extra band). While the Asia-Pacific base variants do include the contactless payments built-in, a likely nod to just how popular contactless payments are in those regions.
With the exception of SpO2 and sleep disturbances tracking that I'll discuss in the next section, most of the rest of the Charge 3 is just the standard Fitbit related things you've known for the last decade or so.
Medical Device Futures: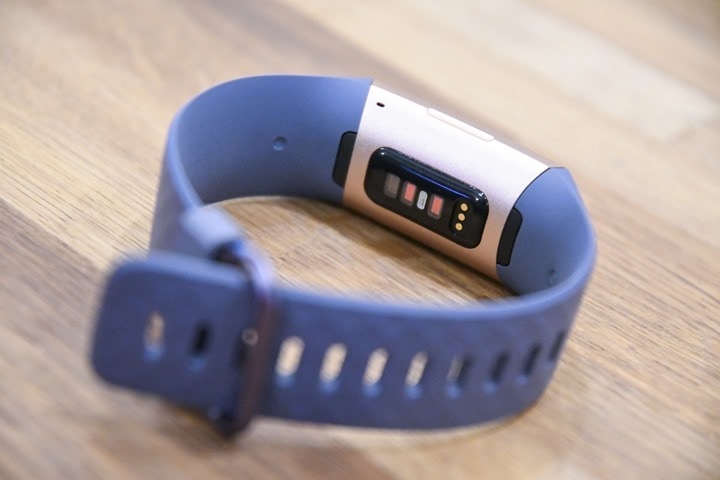 It's funny how things have changed. Just a few short years ago fitness tech companies were vehemently noting how their devices were not medical devices. In Fitbit's case, they got themselves caught up when users expected medical-level heart rate measurement quality from a consumer-level product.  As such, companies like Fitbit, Apple, and Garmin (among all others) emphatically noted in every manner possible how these devices were not medical devices.  The conversation then turned to whether or not they were misrepresenting heart rate accuracy in general (medical issues aside), but that's another topic for another day.
In the past year though we've seen this same set of companies start to make hints at their medical device aspirations. Be it Apple touting medical integrations in their annual keynotes, Fitbit talking at length about the same to press, or Garmin introducing SpO2 readings in their Fenix 5X. Everyone wants a piece of the pie…but they are careful to not ask for the entire pie.
What do I mean?
Well, all of these are made possible by an FDA (Food and Drug Administration) program that allows what are called 'software as a medical device' (SaMD). In effect it allows companies like Fitbit to certify only a portion of their device as being medically approved for a given purpose. And more specifically, it allows it to certify a software application running atop a given piece of hardware. That application may not even be Fitbit or Garmin's, but a 3rd party.  This reduces the complexity in certifying an entire device that has boatloads of functions, down to a very specific and thin piece of the pie.
There are a pile of companies in this program, including Fitbit, Apple, Garmin, Samsung, Johnson & Johnson and many more. Last I heard there were more than a dozen companies accepted into the pilot program, out of over 100 applicants.
Take Garmin for example, their announced aspirations are to potentially medically certify their new Pulse Ox technology found in the Fenix 5X Plus.  Their goal would be to certify just the specific software application on the watch that touches Pulse Ox. Whether they do that or a 3rd party does that is somewhat up for debate.
Fitbit meanwhile, hasn't specified precisely what their ambitions are, but it's clear they're spending their time on sleep disturbances and now also SpO2.  The company has talked about both quite a bit over the last year, but especially sleep disturbances. That's a catch-all for a number of sleep-related conditions, but especially sleep apnea, atrial fibrillation, allergies, and asthma.
Starting later this year they'll be rolling out a 'Sleep Score' beta dashboard. This will come from their Fitbit Labs group which is heavily focused on R&D, especially with the medical side of things.  This dashboard will track sleep quality, and utilizing the SpO2 sensor found in the Charge 3/Versa/Ionic, will start to also start to track SpO2 (note: SpO2 will not be shown in the device itself).
The company says at this point that consumers can utilize that information to spot trends, which they could take to a medical professional to figure out the appropriate next steps.  That wording keeps them out of the doghouse for now, until they can get to the point of having proper FDA medical device certification.
But Fitbit was clear about their future here, saying the entire goal of the Sleep Score beta dashboard is that they're "looking to collect data to get to a FDA device and system" down the road.  It remains to be seen how long that road is. I certainly don't expect it to happen this year, and probably anytime early next year.  But for folks suffering from sleep disturbances, this may help bridge the gap a bit in data collection in the meantime.
Wrap-Up: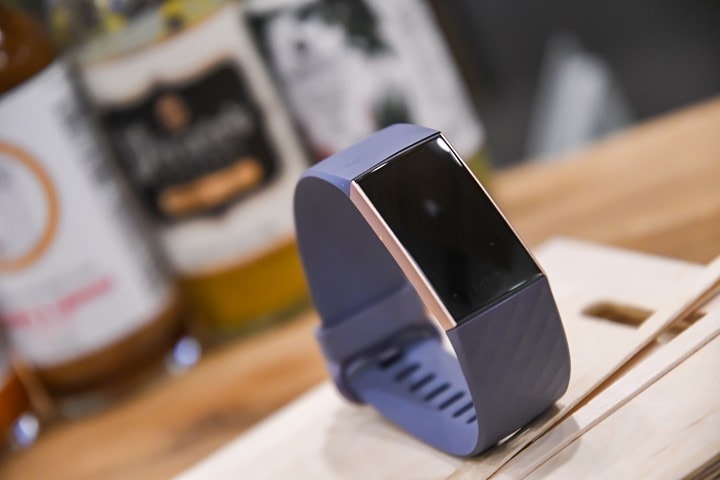 In many ways one can somewhat forgot how much progress has been made over the years with Fitbit's lower and mid-range activity trackers. Sometimes it can feel like each new release is 'just another Fitbit', and in some ways, undercurrents of that are true with the Charge 3.
But I do think there's actually more than meets the eye here. It seems to be a far bigger jump from Charge 2 to Charge 3 than Fitbit usually has in terms of new features between product editions. Perhaps because it's been a two-year gap since the last Fitbit Charge model, or perhaps because Fitbit with the Ionic and Versa is finally starting to feel more like a smart device with integrations into 3rd party ecosystems, rather than just a well-designed step counter.
Or perhaps it's because we're finally seeing the light at the end of the tunnel in relation to potential medical device status, at least insofar as the sleep disturbance pieces go.  Lest we also forget relative SpO2, which is a huge potential differentiator at this price point in the market (depending on how it's implemented).
I think all are areas that Fitbit seems to be finding ways to say 'it's more than just a way to count steps'.  Given consumers (in the form of market share over the last two years) have clearly told Fitbit they aren't unique anymore, the Charge 3 might actually go a ways towards at least pausing that slide, if not perhaps reversing it a bit.
Of course, the proof is in the pudding.  And that's gonna spending some time with a final production unit to see how it handles and what the software platform behind some of these new features looks like.  So swing back in about a month or so and I'll let ya know if this is indeed something that's going to differentiate them in the market.
With that – thanks for reading!

Found This Post Useful? Support The Site!
Hopefully you found this review useful. At the end of the day, I'm an athlete just like you looking for the most detail possible on a new purchase – so my review is written from the standpoint of how I used the device. The reviews generally take a lot of hours to put together, so it's a fair bit of work (and labor of love). As you probably noticed by looking below, I also take time to answer all the questions posted in the comments – and there's quite a bit of detail in there as well.
If you're shopping for the Fitbit Charge 3 or any other accessory items, please consider using the affiliate links below! As an Amazon Associate I earn from qualifying purchases. It doesn't cost you anything extra, but your purchases help support this website a lot. Even more, if you use Backcountry.com or Competitive Cyclist with coupon code DCRAINMAKER, first time users save 15% on applicable products!
And of course – you can always sign-up to be a DCR Supporter! That gets you an ad-free DCR, access to the DCR Quarantine Corner video series packed with behind the scenes tidbits...and it also makes you awesome. And being awesome is what it's all about!
Thanks for reading! And as always, feel free to post comments or questions in the comments section below, I'll be happy to try and answer them as quickly as possible. And lastly, if you felt this review was useful – I always appreciate feedback in the comments below. Thanks!