As expected, most of the cycling electronic-related gizmos and gadgets were announced back at Eurobike in July. Still, there were some holdouts. Both announcements that didn't quite make the July dates and slipped till now, as well as some companies that were simply targeting Interbike from the very start.  And then there's those updates on products announced at Interbike.  Got all that? Good.
Also, in case you missed it, here's three other product announcements that happened during Interbike that got longer posts about them:
First Look: Kinetic R1 Direct Drive Trainer
Wahoo Fitness adds Pioneer's advanced pedaling metrics to ELEMNT/BOLT
Pioneer announces new color-mapping GPS bike computer, plus new power meters
GoPro Hero 7 Black In-Depth Review
First Look: The $749 Tacx Flux S Smart Trainer (Direct Drive)
With that, let's get to the tech tidbits.  Oh, and I've got a separate write-up tomorrow on my thoughts on the general move of Interbike from Vegas to Tahoe/Reno.
Stages Dash Updates:
We'll start off with the simplest of ones – which is merely a date update on the new Stages Dash GPS bike computers.  These units were announced at Eurobike with the intention to ship roughly next week. That's not exactly going to happen.
But to back up very briefly, Stages had announced three new GPS bike computers, the Dash L50 and M50, and then a revamped original Dash unit with better guts called the L10.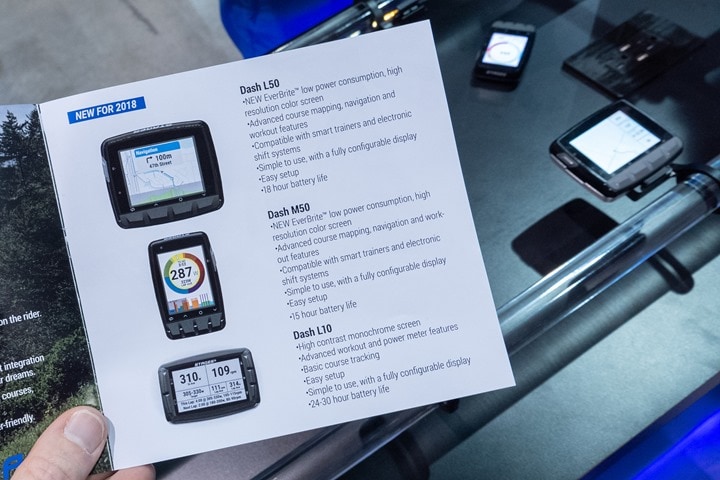 At Interbike, they had these on display, and in a fully functional 'poke as you like' setup. They might not be done, but at least one could go through the menus and check out the screen clarity.  Speaking of which, the screen brightness here is legend. Seriously, there's nothing like it on any device I've had to photograph in years (except perhaps a TV screen).  I'd even go insofar as saying it's pretty miserable to photograph, though, it looks awesome in real-life. Sorta like peanut-butter really. Looks like crap in all photographs, but tastes amazing.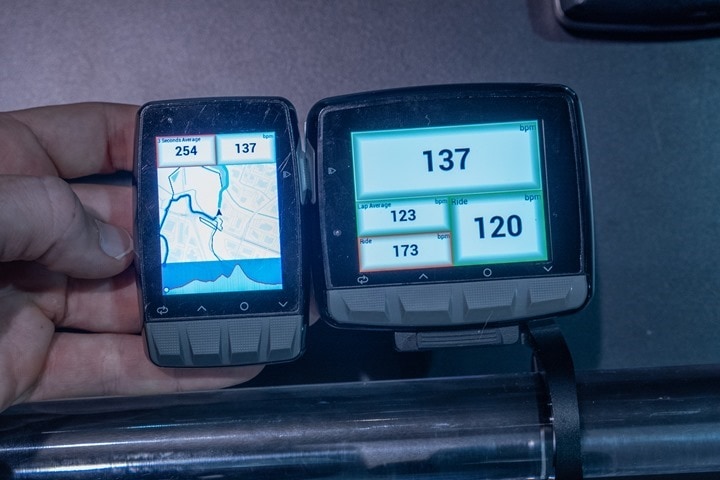 As far as functionality goes, I was able to get a brief walk-through, but the proof is in the pudding (or peanut butter), and that will be testing – likely in late October or early November for me.  I'm looking forward to it, and in particular to seeing how well the claimed battery life (18hrs) holds up with the lighthouse of a backlight. It's one of the main things that Stages is hanging their hat on when it comes to the new hardware.
The current timing is likely late November for shipping, though given that time of year isn't the peak of outdoor cycling, they aren't super wed to an exact week for release. After all, they'd rather just get the product right.
Elite's New Direto Trainer: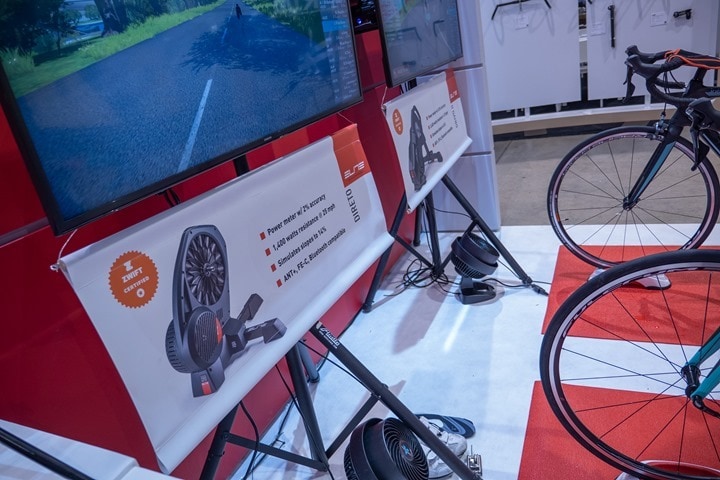 And by 'new', I mean, kinda new. I'm actually not entirely confident anything has truly changed with hardware here, but, if nothing else you get a riser block out of it.  Still, let me try and give it a go.
The original Elite Direto was released/announced a bit over a year ago at $899, and was enormously popular. Without question it would take home 'trainer of the year' award in terms of best value/etc. Solid accuracy, relatively quiet (not silent though), and it worked with all your favorite apps. Not to mention being direct drive. At the time there was only the Tacx Flux 1 out, and it had a rough go initially.
Fast forward to this past July and Wahoo announces the KICKR CORE trainer, also at $899.  Except, that trainer was now legit silent, and had a bigger flywheel which meant better road-like feel. Essentially it was just a 2017 KICKR under the hood made silent.  Both Tacx and Elite pretty much just shook their heads and said FML.
Tacx had a plan though – a lower cost version of the Flux 1, called the Flux S, which they announced last week (down at $749) – which counters Wahoo pretty nicely and saves the consumer $150 but requires them to give-up silence.  Meanwhile, Elite also countered. They lowered their stock of Direto's down to $799 (which is what the Flux 1 was down to as well).  The key thing they offered was simply availability. With Wahoo not starting to ship until early September (and now backordered well into fall), they were offering a 'get it today' solution.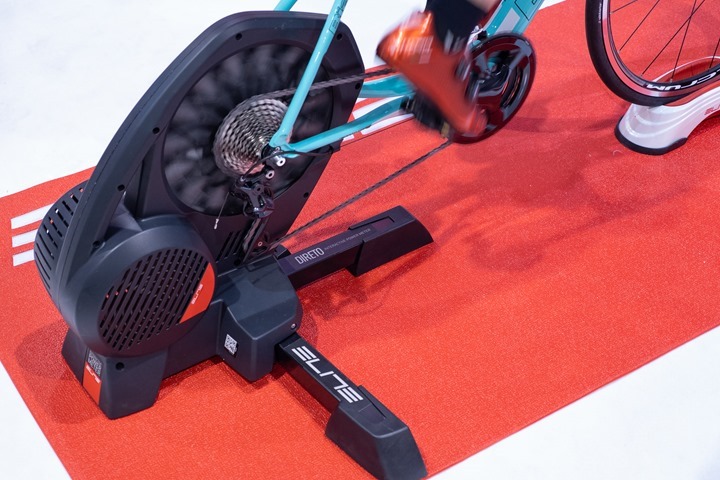 But that price basically wasn't sustainable long-term, so Elite countered with an updated Elite Direto trainer. This trainer had 'increased accuracy' at +/- 2% instead of the +/- 2.5% of the original Direto. Also, they tossed in a riser block for your front wheel.  The price reduced slightly from the original price of $849, and the name?
Well, that's a bit confusing. Officially there is no 'new' name. Unlike Tacx's move, Elite just kinda rolled with it as before. Call it what you want I suppose: Elite Direto II, Elite Direto V2, or perhaps the Elite Direto (2018).  Either way, now you've got a riser block. And also, "increased accuracy". Though frankly, it was basically always that accurate to begin with (as myself and many others showed in testing).
It goes without saying that Elite's in a tough spot with the Direto specifically against the KICKR CORE longer term. For now it's not too bad, because Wahoo isn't going to be able to keep up with orders anytime soon.  But eventually they will.  At which point it's hard to see why someone would pay roughly the same amount for a trainer that's louder and doesn't have as good of a flywheel (or a small pile of other smaller reasons like lack of CLIMB compatibility, or the dominance of Wahoo Bluetooth trainer control support in smaller apps that you might not use).  On the flip side, the Direto does support built-in cadence, which Wahoo doesn't. Hopefully Elite sorts out some longer-term solution, either by tweaking prices or something.
In unrelated news – I spotted a 'Zwift Certified' logo. Haven't heard of that before, will have to do some digging.
Velosense CdA01: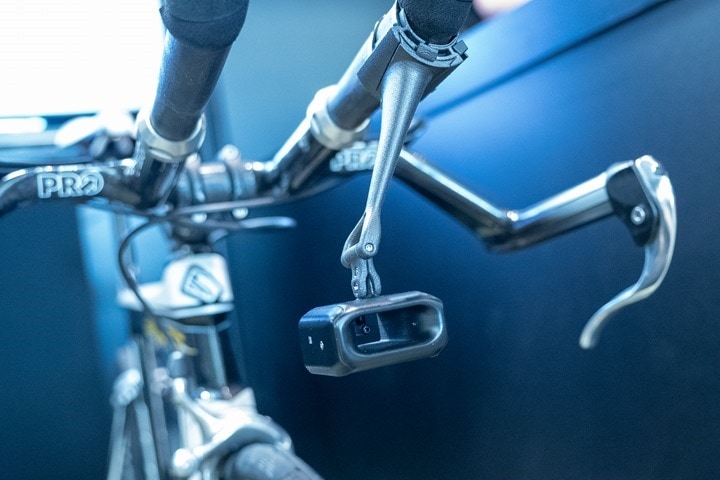 Out of the 8-9 different aerodynamic companies on the market today, Velosense has been one of the quieter ones, until now. I actually met them last year at the ANT+ Symposium, and like everyone else, they've been chugging away on their product.  Interestingly, the entire team behind this unit comes from a background with Formula 1 cars and measuring aerodynamics there.  It was fun chatting with them about the differences (both pro and con) of measuring aerodynamics on race cars versus on a bicycle.  For example, on a bicycle the wind speeds are lower – making it more challenging.  Whereas on a car, the forces are higher, which makes that more challenging to deal with product-wise.
In any event, their first unit is named the CdA01, and looks unlike anything else we've seen before.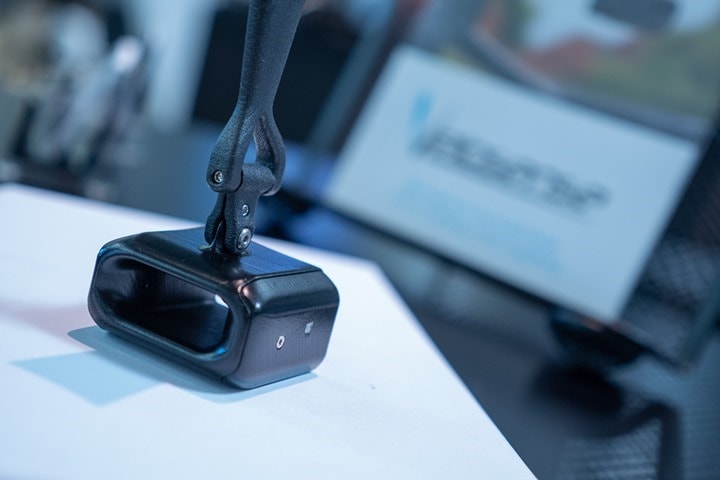 And unlike most other units on the market, it's slated to measure yaw angle (basically wind direction), up to 30° for accuracy at +/- 1°, and up to 50° at +/- 2.5°.  The unit of course also measures wind speed, with accuracy stated at +/- 1% for up to 30° yaw, and accuracy at +/- 2.5% at 50° yaw.
They had some neat demos in the booth to illustrate their capabilities. They made a makeshift wind tunnel to show wind speed stability/measurement and yaw angle, and allowed one to rotate the unit which was on a stick to get live readings of yaw.  It also tested my ability to get photos of super-bright screens sitting atop a very dark under the cabinet tunnel.  You can see the wind yaw angle (22.9°), and the wind speed (24.5KPH)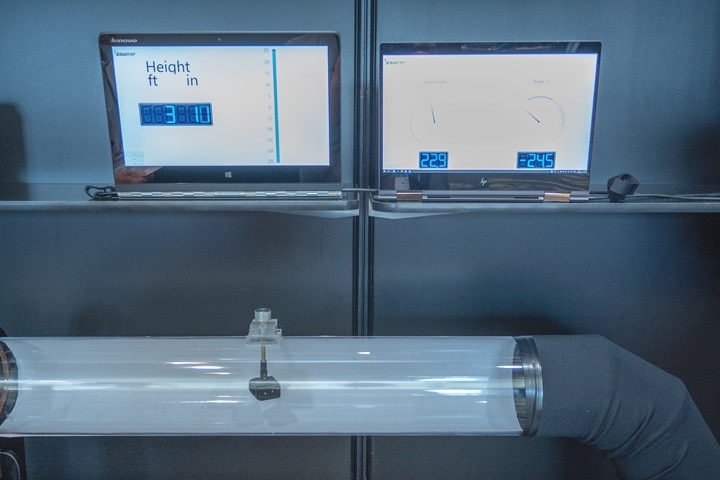 In addition, to demonstrate their barometric altimeter resolution (+/- 50mm, or 5cm), you could place it atop your head.  The screens were configured to show the difference compared to floor level.  So, in essence, it was measuring your height (and doing so instantly as you moved).  I'm 6'2", and it pegged me at 6'.  Close, but not yet perfect.  Of course – that's also pretty darn good for a unit still almost a year away.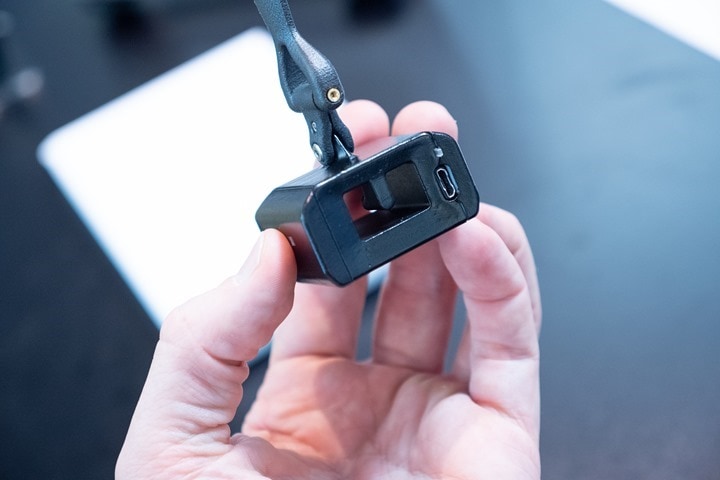 The product will transmit across ANT+, and they are one of the members of the ANT+ Technical Working Group (TWG) for aerodynamic sensors.  As such, they plan to fully use that upcoming ANT+ device profile for aero details.  The unit is slated to get about 30-hours of battery life, which is more than most others I've tested.  The weight comes in at less than 40g, and they claim "CdA repeatability" at +/- 1% for up to 20° of yaw for speeds greater than 20kph.
Availability though is still some ways away. They're currently slating summer 2019, with a price point of just under $1,000USD.  Obviously, most companies in this product space are moving pretty slowly, largely due to the complexities of the space and the newness of it all.  Still, looking forward to diving into the product more down the road once they're ready.
K-Edge's New Mounts:
If there's anyone dependable year after year for having new gizmos at shows, it's usually K-Edge. Mind you, they don't always have a ton of gizmos, but like grandpa with candy – there's always something. And unlike most gizmos, this stuff is silly quick and easy to explain.
First up is a new Wahoo compatible TT/triathlon mount. It'd be compatible with the Wahoo ELEMNT/BOLT, as well as the Pioneer head units that were just announced.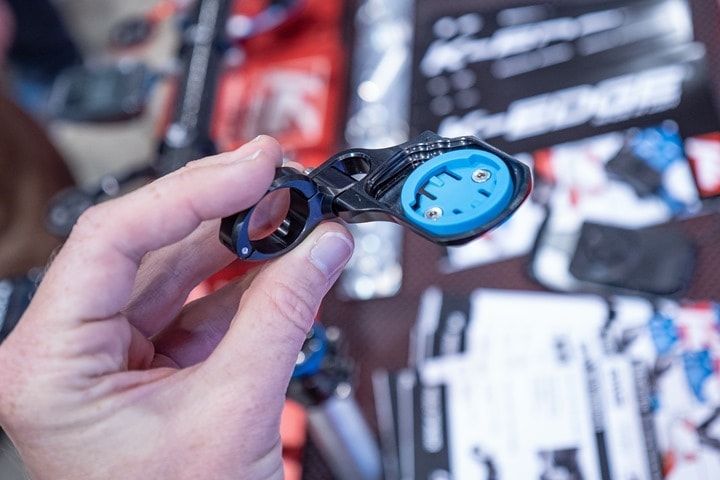 This TT mount is notable because it also allows you to attach K-Edge's GoPro mounts to the bottom of it.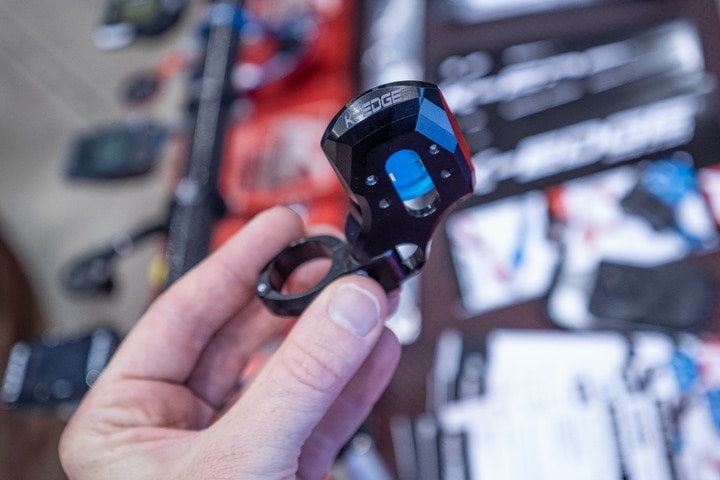 Many people use GoPro mounts for other purposes besides GoPro's of course.  For example, a number of the new aerodynamic sensors aimed at the TT/triathlon market are using such mounts – making it a great mount option for triathletes wanting a dual head-unit/aero sensor mount.  Now, only if Wahoo would support such aero sensors.  The Wahoo TT mount is $54, and available immediately.
Next, they've got a new adapter plate for Lezyne units.  Lezyne, of course, has been doing fairly well in making more affordably priced head units, though their mount has always been a bit 'complicated' for 3rd party mount companies.  K-Edge worked with Lezyne to come up with an adapter plate that makes it work with existing K-Edge mounts.  So if you're converting from another bike computer but have a K-Edge mount, you can simply pick up the adapter plate and be off and running.  The pricing for this mount hasn't been finalized yet, but should be in-line with existing mount prices the company says. It'll be available to ship within 30 days.
Finally, there's a new Di2 junction box mount, which is designed to ever so thinly slip where your spacers on your headtube go. The super-thin machined plate will then just hang out there, far cleaner than zip ties or other wonky setups I've seen.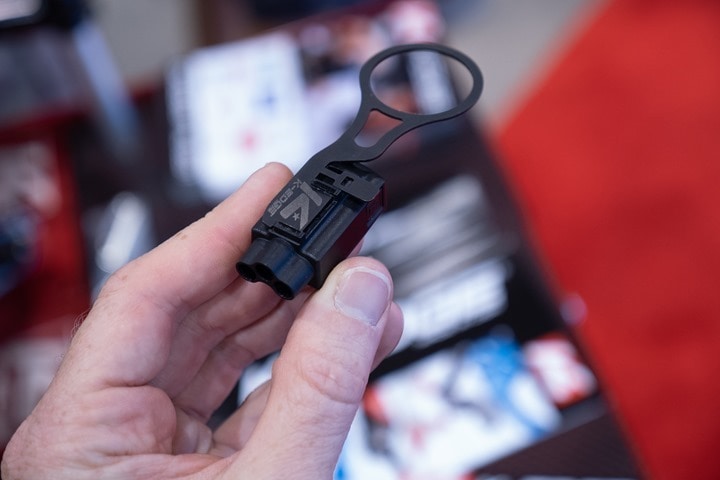 This new Di2 mount is only $15, and available to ship immediately.
Minoura Kagura DD: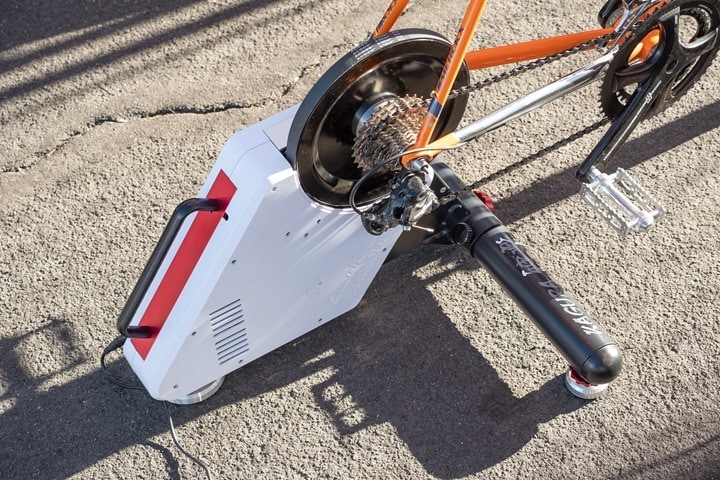 Finally, we've got the Minoura Kagura DD…with the DD standing for 'Direct Drive', obviously. What else would it stand for?
This direct drive unit builds on the previous Kagura DT unit (DT = Direct Tire), which is their non-direct drive wheel-on variant.  That's the variant you'll see an in-depth review for in under 24 hours.  Kinda following the Wahoo model of having a direct drive unit and a non-direct drive unit at a lower price point.  But, since this tidbit is all about the new direct drive one, let's focus on the quick specs there:
– Price: $899 (cassette not included)
– Max Incline: 25% (woah!)
– Max Wattage: 2,200w
– Flywheel: 10kg (22lbs)
– Accuracy: +/- 3%
– Cassette Support: Shimano/SRAM 9/10/11 speed (they're working through details on Campy support, but you can see in the picture above it was actually used at Interbike with a Campy cassette).
– Thru-axle support for 9×130/135, 12×142/148 (adapters included in box)
– Protocols: ANT+ FE-C & Bluetooth Smart FTMS (Control), plus ANT+/Bluetooth Smart power broadcasting
– Sound: Quiet, but not totally silent.
– Uses a 'user-serviceable flat belt'
– Availability: November 2018
Now – before you say that this trainer got whacked with the ugly stick, I wanna note that the final production color of the shell is black, not white.  That should make a world of difference to the little Nespresso machine that it is (as Shane called it).  Here's a rendered gallery from Minoura of what the final unit should look like. I kinda like it:
Speaking of Shane, he did get a quick video put together showing him jumping on it at Interbike (at the 5:31 marker), he found the road feel quite nice.  In talking with Minoura, they're hoping to have a final production unit to me by mid-late October for full review.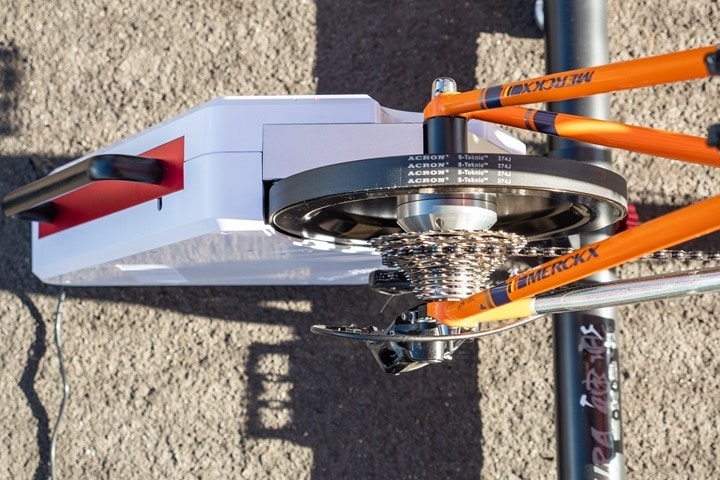 In looking at things with the wheel-on Kagura DT, I think they're definitely over the hump of early accuracy issues they had all last year.  My data is really solid once I've done a spin-down/calibration.  With the new DD unit, you remove the entire tire-pressure aspect of roll-down, which should dramatically help stability of accuracy readings from ride to ride on the DD.
But more than that, we need to get back to that 25% incline thing. Holy balls. There's nothing in this price range that has that. The only other 25% grade option is the Tacx Neo, but at $1,369 (almost $500 more).  And that flywheel? Again, almost nobody has anything like that except the Tacx Neo.  The Wahoo KICKR 2018 is 16lbs (compared to 22lbs for the Kagura DD).  The +/- 3% is perhaps a bit outside of the +/- 2-2.5% we're seeing of others, but perhaps it'll be like Elite's Direto where it does better than spec.
The most non-delicate way of putting this is that as long as there's nothing totally screwed up on power accuracy or feel of the final unit – this could be a bit of a dark horse coming out of the trainer world.  Obviously, it's not silent (and there was no way to judge it at Interbike, given it was outside in a busy convention area), but as long as it's relatively quiet – this could be a really solid contender.
Again – Minoura's done some really good work with the Kagura DT (albeit I think at a tougher price point), so with the much more appealing price-point of the DD, they stand a legit chance to make some inroads here after many years of being in the trainer game…but not really being in the trainer game (at least in North American/European markets).
Anyway – more to come!
—
With that – thanks for reading!