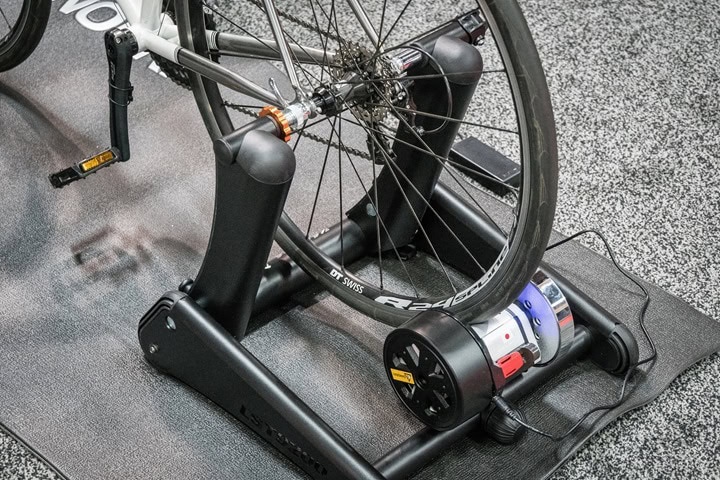 While at Interbike I got the chance to check out and ride Minoura's new smart trainer, the Kagura.  The Japanese firm was on-hand at the Las Vegas show, including their founder and CEO (Koji Minoura) to show off the $599USD unit, which ranks competitively compared to other moderately priced smart trainers (KICKR SNAP, CycleOps Magnus, Elite Rampa, and Tacx Vortex Smart, Kinetic Smart Control).
If you're short on time, here's a quick video I slapped together showing the Minoura Kagura and how it all works, as well as the highlights of it:
With that, let's dive into the details.
The Kagura Details:
To get things started, the unit is wheel-on, meaning that you'll leave your rear wheel on your bike and then clamp it in the trainer frame.  However, what's notable is that it actually has two frame 'modes'.  The first is a gravity based mode (akin to some Bkool models), where your body/bike weight keeps the rear wheel pressed on the roller, so it's a bit like floating.  And the second is a more traditional system where the frame is locked in place and the roller tightened onto the wheel.
You can swap between the two modes using the small slider switches at the bottom of the trainer.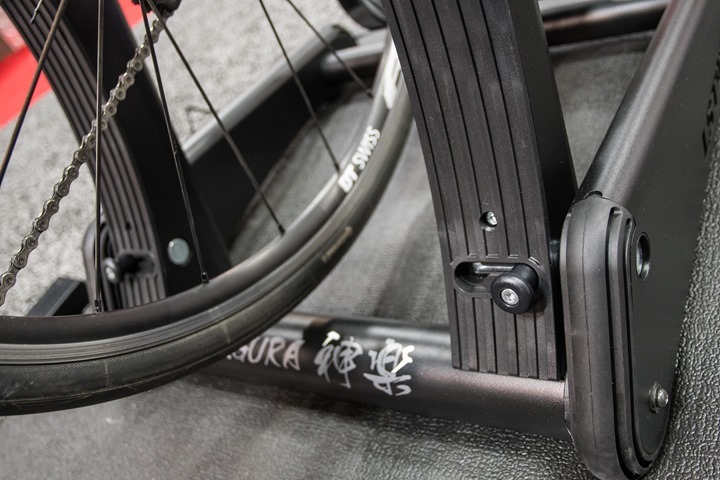 Now, while this is a wheel-on trainer, the company says that this is their initial focus.  While the next model will be a direct drive unit (wheel-off, à la a Wahoo KICKR/CycleOps Hammer/Elite Direto/etc…).
The Kagura sports all the protocols and standards that you'd expect from a smart trainer in 2017.  You've got ANT+ FE-C control along with Bluetooth FTMS control.  Then you've got standard power transmission across ANT+ & Bluetooth Smart as well.  Further, you've got the ability to do wireless firmware updates via Bluetooth Smart as you'd expect.
All of the above means that it works with basically any app out there: TrainerRoad, Zwift, Kinomap, Road Grand Tours, etc…  It also means it'll work with the trainer control functions of your Garmin Edge or Wahoo ELEMNT/BOLT units that utilize FE-C.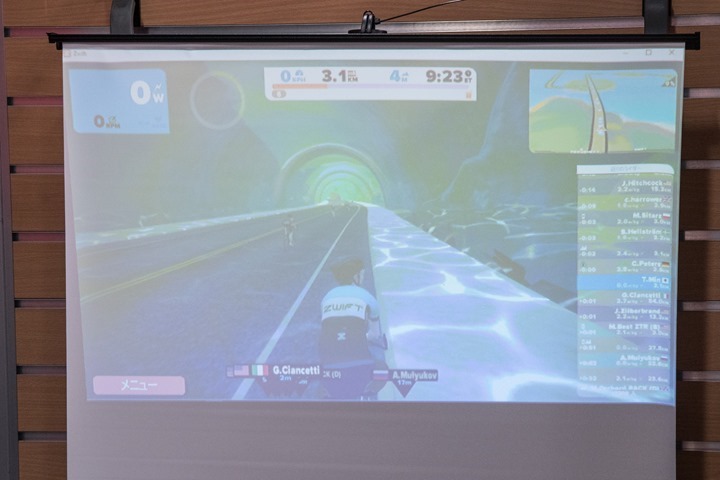 When it comes to simulation, the unit can simulate an impressive 20% incline, and 2,000w.  That's generally considered high-end trainer territory, usually reserved for $1,100+ trainers.  So to see it on a $600 trainer is fairly remarkable.
In addition to electronically controlled resistance, the unit can actually flip over into a mode without electricity (meaning, no power cord).  Within this mode it has three resistance levels (aptly labeled 1,2,3).  These resistance levels roughly correspond to 100w, 200w, and 300w of maximum resistance.  The idea being to use this at a race or similar locale without power provided.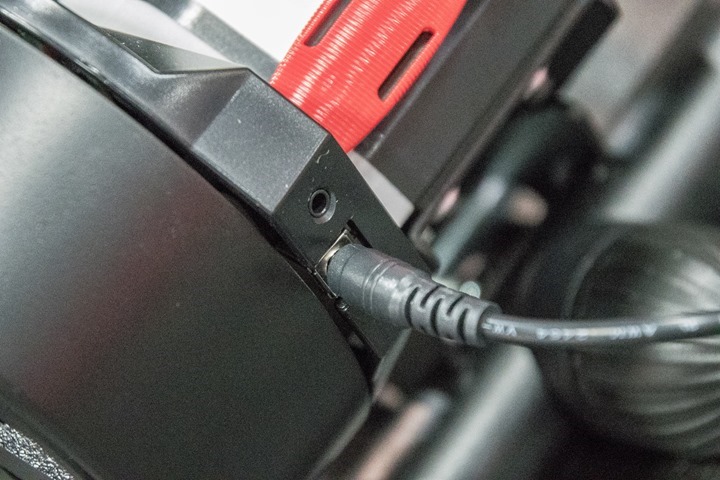 Of note is that the company will allow you to buy just the resistance unit, which is compatible with almost any wheel-on trainer they've made over the last 15 years.  That'll set you back $499, so you'll save $100 by doing so compared to the regular all-in price of $599.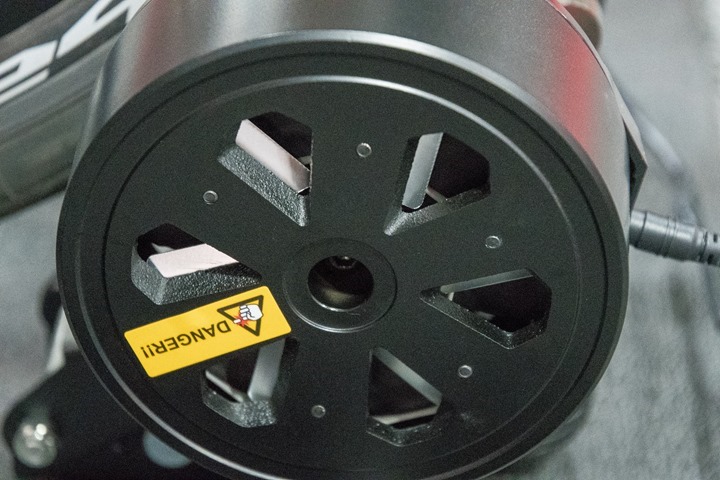 Also – the company says that the trainer is the quietest wheel-on trainer on the market.  Unfortunately that's not a claim I can validate at Interbike on the loud show floor.  Though something I'll certainly test once I have a unit in-hand, likely in mid-October if all goes well.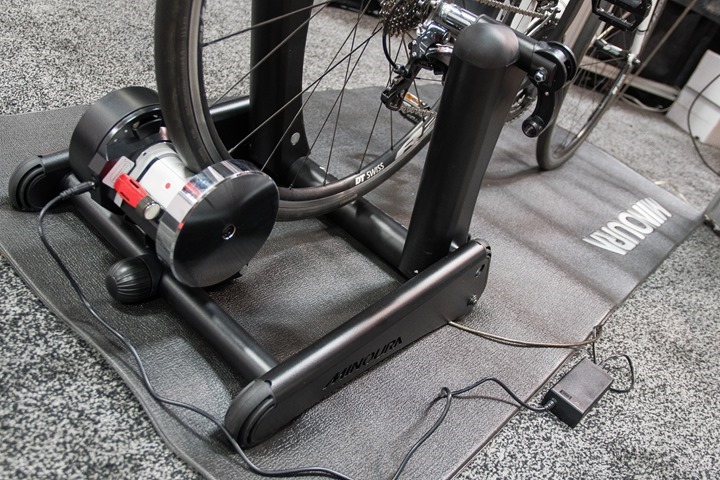 As you might expect from a wheel-on trainer, the unit supports a spin-down calibration process to ensure accuracy, which is claimed at +/- 1.5%.  Now, this is the only area that I have some concerns on.  While jumping on the trainer/bike at Interbike it was paired up with Zwift, so I was able to see my wattage in real-time.  Despite throwing down a few solid intervals (likely in the range of 400w-600w), it was only showing about 97-110w.
The company says this particular unit wasn't calibrated prior to Interbike.  However, they noted they were awaiting completion of the calibration software in order to do calibration routines on any trainers.  That's a wee bit concerning that this wasn't done prior to this point (on any trainers), as getting accurate power is an area that often takes months to really nail/finesse.
Still, perhaps it'll be a quick fix.  But it's definitely worth pointing out since it struck me as odd given the timing.
Wrap-up: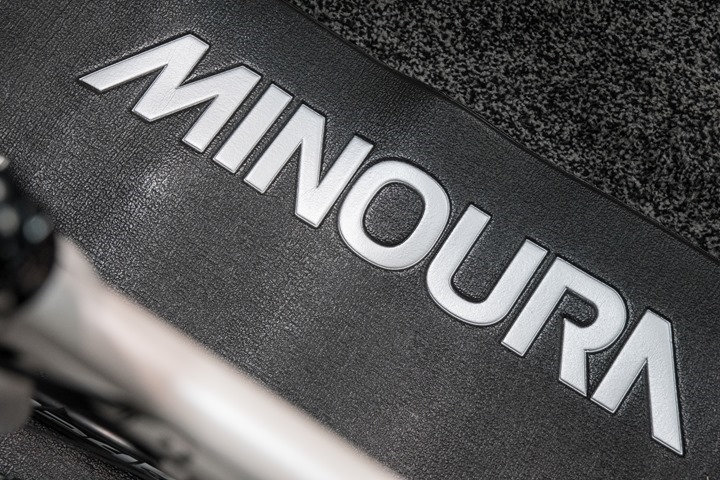 The current plan is to have the Minoura shipping starting later this month (October, in case you didn't realize that happened over the weekend).  In fact, the company has already been producing the hardware, and is just awaiting the final software.  Thus units are already piling up in distribution centers around the world in anticipation of the final software.
Of course, this is a bit risky given the calibration concerns I saw above.  Typically companies would get a bit closer before stock-piling hardware.  Of course, they have been making trainers for the better part of two decades, thus they do have some experience here that shouldn't be ignored.
While the trainer will arrive too late for complete analysis in this year's DCR Annual Trainer Guide, that won't keep me from checking it out and posting on it once it does arrive.  If the road feel holds up, alongside the accuracy, it'll definitely be a very compelling option at that price point.  Especially considering the higher wattage and incline levels, as well as the ability to go without electricity, all of which are superior to any other unit in its price range.
With that – thanks for reading, and I look forward to presenting the annual trainer round-up in the coming days!  Stay tuned!