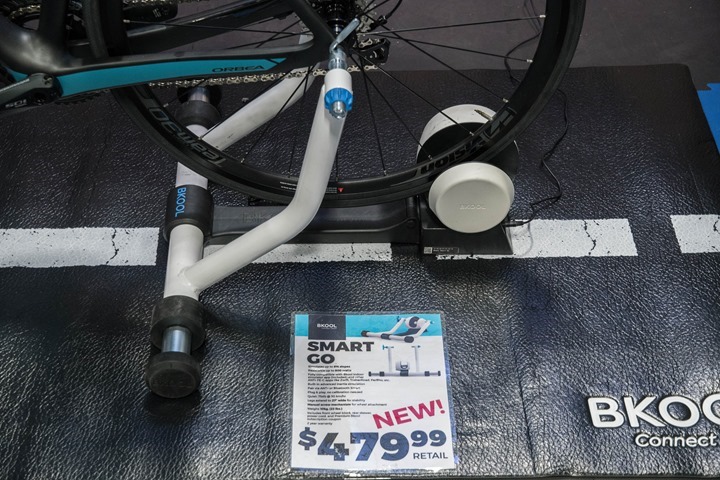 While at Interbike, Spanish trainer company Bkool announced their latest trainer – the Bkool Smart Go. This lower-priced option helps to complement their existing option, the Bkool Smart Pro. These two trainers sit at $479 and $699USD respectively.
In many ways, the trainers are very similar, but they have one of the more clearly defined list of differences between two mid-range trainers on the market. Sometimes you get a bit of wishy-washyness when comparing options in the $450-$700 trainer market, but this is straightforward…which is nice. Let's get into it.
What's new: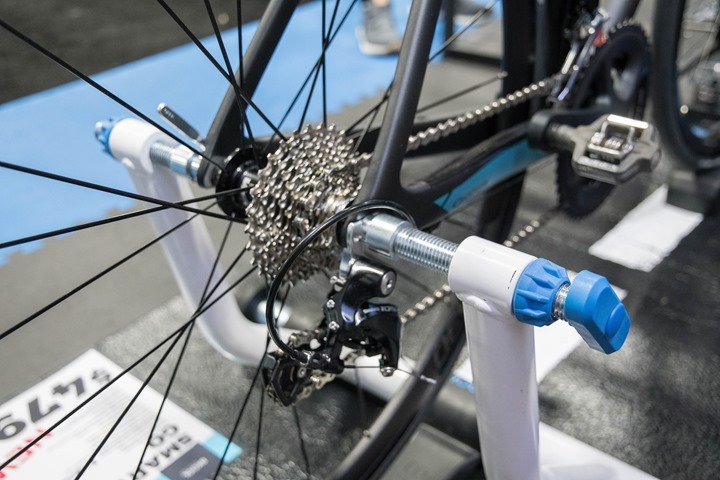 Like all but one new trainer in the market, the Bkool Smart Go supports all the common control options/standards on the market today:
– ANT+ FE-C Control
– Bluetooth Smart Control
The one difference though is that unlike some other trainers on the market, it doesn't broadcast standard ANT+ Power or speed, so you can't pick it up on your older Garmin head unit. For some, that may not matter, and for those with newer Edge units (Edge 520/820/1000), you can simply pair via FE-C instead on your Garmin and you're good to go.
The Smart Go has a maximum simulation resistance of up to 8%, which is in the ballpark of others in this price range. However, in order to compensate for the occasional resistance levels beyond that, they'll actually compensate by slightly slowing the videos down (within their own apps). Thus creating the effect of having to work harder to compensate for the trainer being unable to punish you properly.
The trainer has a resistance capability of 800w, which is likely more than enough for the vast majority of riders. To put it in perspective, I very rarely go above 800w – and even then it's only for a second or two in a hard sprint on Zwift. If it wasn't for that, I could likely go years on a trainer without hitting 800w since it's well outside of any normal training zones. Of course, to each their own.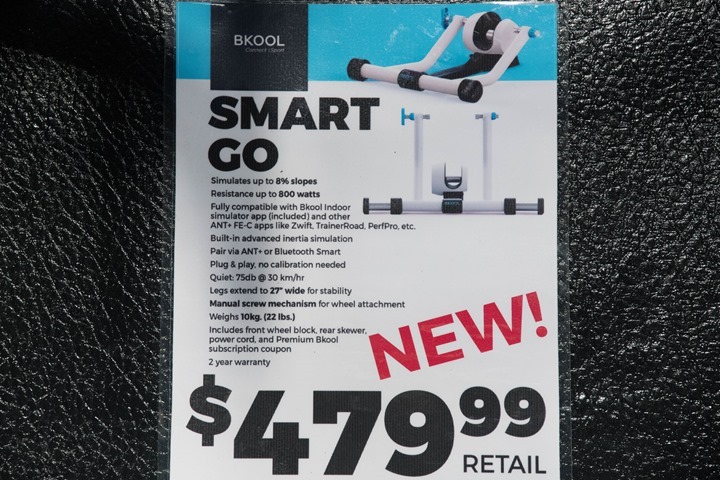 Now many of the remaining differences between the two units are more physical trainer frame attributes. For example, the Go Trainer (on the left) uses a twisting tightening knob, versus the Pro (on the right) using a quick release lever:
Then on the trainer frame legs, on the Bkool Smart Go, they are 27" wide (68.58cm), whereas the Smart Pro expands to 32" wide (81.28cm).
Lastly, on the physical trainer frame attributes, we've got the ability for you to separate the frame from the resistance unit. On the Smart Go, you'll have to take out a hex wrench to remove the bolt. Whereas on the Smart Pro it has a quick release type system.
In order to make this all a bit simpler, I've tossed both models into a modified comparison sheet. I'll add the new model into the product comparison tool, but it wouldn't have captured some of the frame nuances, as I don't typically track those. In any case – here ya go:
Bkool Trainer Comparison
| Feature | BKOOL Smart Go | BKOOL Smart Pro |
| --- | --- | --- |
| Price | $479USD | $699USD |
| Max Slope Simulation | 8% | 20% |
| Max Wattage | 800w | 1200w |
| Trainer legs | Static at 27" wide | Expandable to 32" |
| Trainer collapse | Bolt requiring tool | Quick release |
| ANT+ FE-C | Yes | Yes |
| Bluetooth Smart Control | Yes | Yes |
| Weight of trainer | 10kg (22lbs) | 12kg (26.5lbs) |
| Noise level | 75db @ 30KPH | 75db @ 30KPH |
| Premium Bkool Subscription | 3 Month (US) | 12 Month (US) |
| Includes front wheel block | Yes | Yes |
| Warranty | 2 Years | 2 Years |
Note that on the Bkool subscription, those will vary by country. So in the US, I've listed those, but if you go to various European countries the subscription amounts will vary.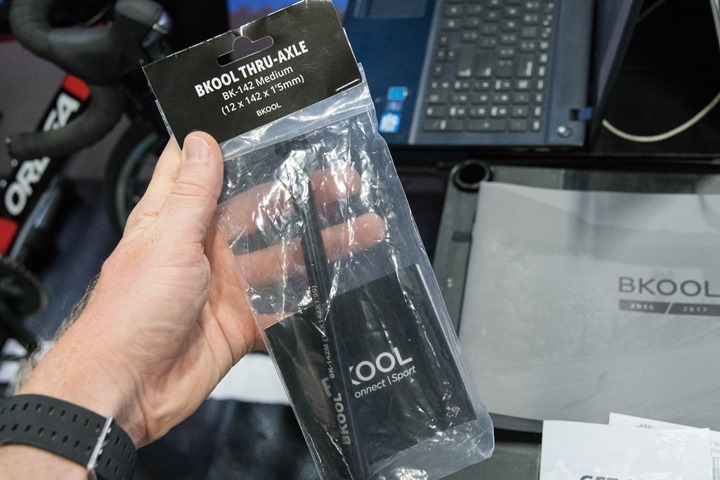 Oh, and speaking of random things – Bkool also have announced some new thru-axle accessory options as well (above), you'll soon find these listed on their site for $59.
The Bkool Smart Go should start shipping within Europe by the end of October, and then will hit US stores about two weeks later in mid-November.
Initial Thoughts: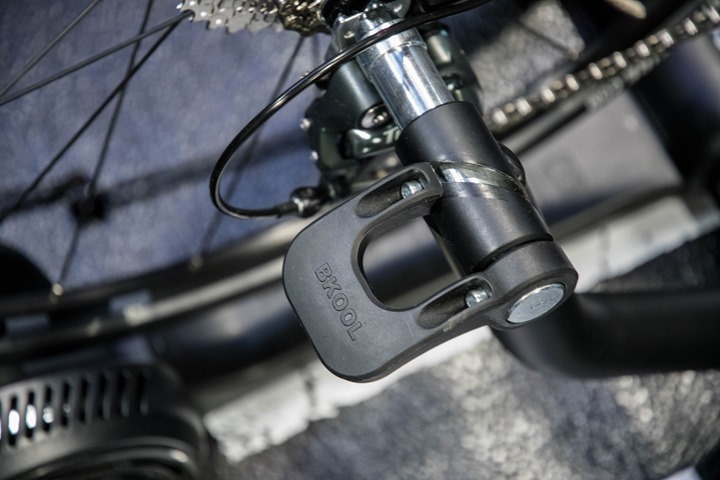 This is a nice offering from Bkool, with the majority of features common to this price range. Longtime trainer segment followers will remember that Bkool was really the leader in the market when it came to budget electronically controlled trainers. But, that point was a few years ago. Once Tacx came in with their 'Smart' lineup, those differences largely disappeared and left Bkool in a tough spot.
However, this new $479USD option (again, Euro prices will vary, and I don't have those at the moment) will make it more competitive with the Vortex Smart sitting at $529USD. Plus, them throwing in 3 months of a subscription to their training platform will certainly be appealing for some folks that want to experiment with training platforms. There are still some minor hardware differences – but I'll cover those later in the week in my 2016 Trainer Recommendations Guide.
Finally, I'll note that this is the end of the road for new trainers for 2016. In a few hours (4hrs to be precise) you'll see my Interbike Trainer Round-up, covering the last tidbits of trainer news for the Eurobike/Interbike 2016 run. There won't be any new trainers in that piece, but there will be key shipping timeline updates on all of the new trainers.
With that – thanks for reading!