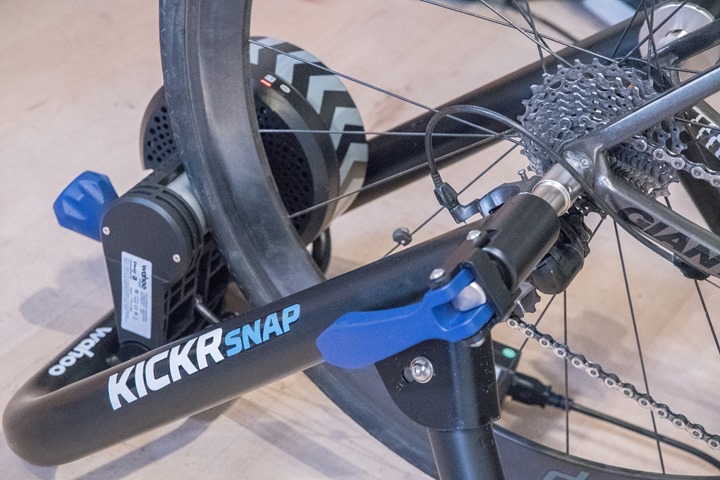 This week Wahoo quietly launched an updated version of the KICKR SNAP trainer.  That's Wahoo's lower-end trainer that sits at $599USD.  Of course, Wahoo only makes two trainers – the full KICKR (direct-drive), and the KICKR SNAP (wheel-on).  The full KICKR got a refresh last summer (aka KICKR2), which focused on a bunch of less visually obvious changes like higher accuracy, quieter, and some tiny status lights.  Standing from 10 feet away you probably wouldn't notice the differences unless you were looking closely.
And that's somewhat like what they're doing this year with the KICKR SNAP.  These changes are summed up in a very concise bulleted list as follows:
– Increase in power accuracy from 5% down to 3%
– Addition of LED status indicators
– Expanded power matching support
– Slightly increased manufacturing tolerances
And…that's it.  Really, the first two are the only ones you'll likely notice since those are more tangible.  The power matching support was also brought to the existing KICKR SNAP trainer through a semi-recent firmware update there.
So this list is slightly smaller and less critical than that of the larger KICKRv1 to KICKRv2 we saw last summer (which saw reduction in noise among other changes).  But it's still appreciated, especially the accuracy pieces.
If you want the full look at things, including audio levels and how it works in Zwift – then check out my below video:
Otherwise, onwards with the details!
A Closer Look:
So what's in the box? Well, let's start there.  First off is that the KICKR SNAP actually has a proper box now that looks all nice and fancy.  It's no longer just a semi-branded brown cardboard box (or at least, that was the case from the unit I bought back last fall).
The trainer sits in the box obviously, protected by foam.  Inside you'll also find two smaller boxes, which contain more piece goodness.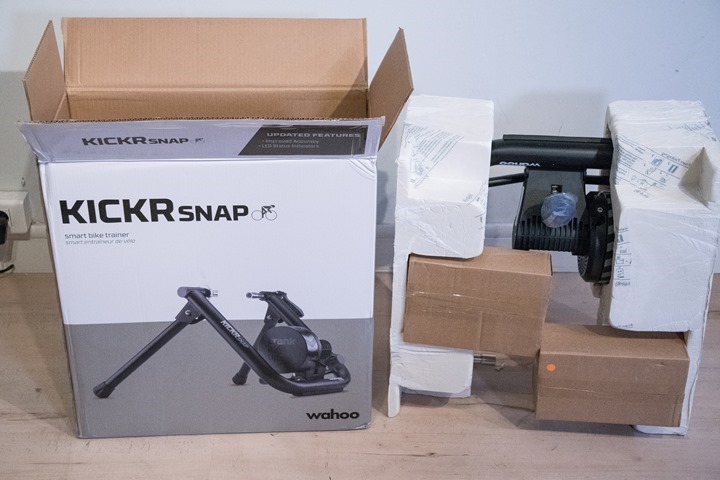 These pieces contain power cables, a trainer skewer, and a front wheel block.  They also contain a quick start guide and some legal paper stuff.  They do not contain Wahoo KICKR SNAP stickers as they used to.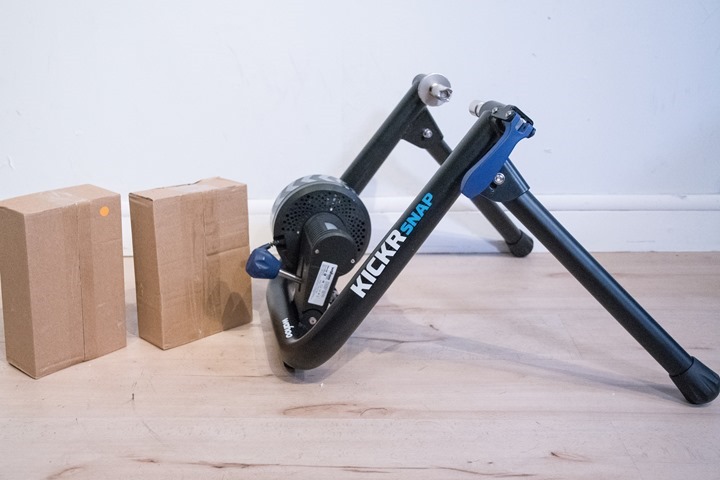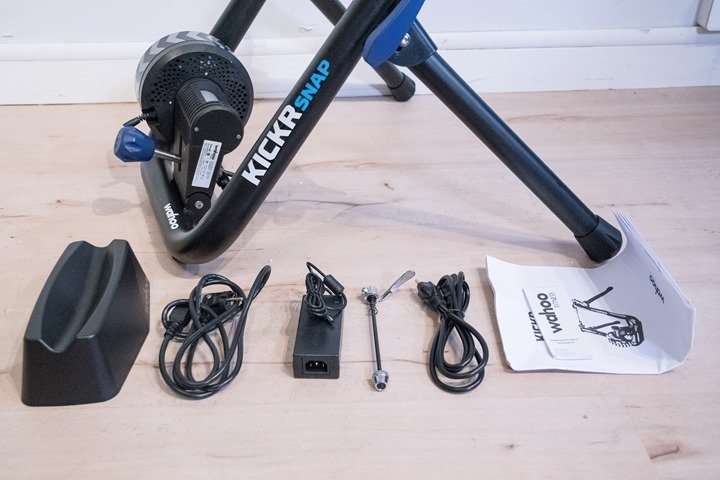 Why do I bother to call out the stickers?  Cause I used to use these to label my power cables so I could figure out which was which.  Instead though, I just cut off the front of the little useless paper warranty guide booklet and taped that to my power cord block.  There's no labeling on that power cord otherwise, so this helps ensure you've got the right one in the event you get them mixed up (Pro Tip: You don't want to mix up the CycleOps and Wahoo power cables, even though they both fit. They are very different and one will kill the other. It's like a Trojan horse.)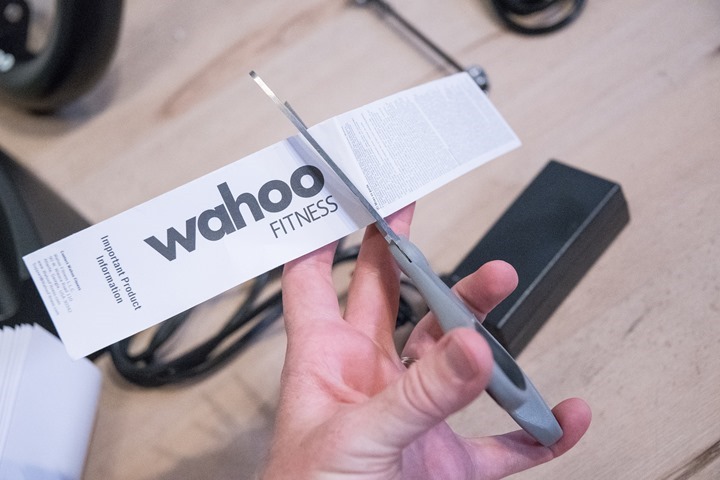 In any case, moving along, the power cord is required for the KICKR SNAP – so it doesn't run untethered.  The voltage is 110/220v though, so no issues with using cross-region.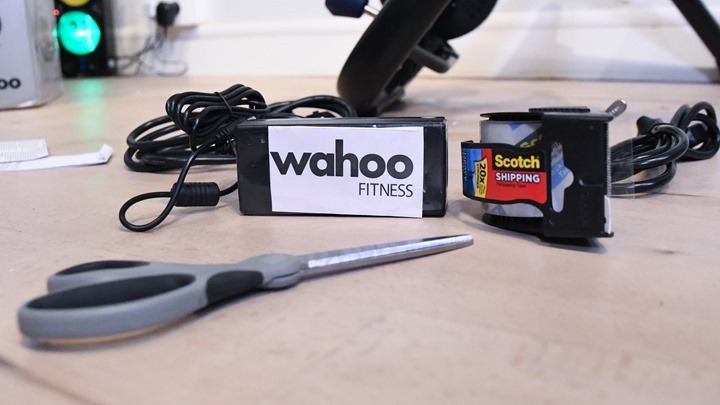 Next, what if we stuck two KICKR SNAP's side by side?  On the left, the SNAPv2, and on the right, the SNAPv1: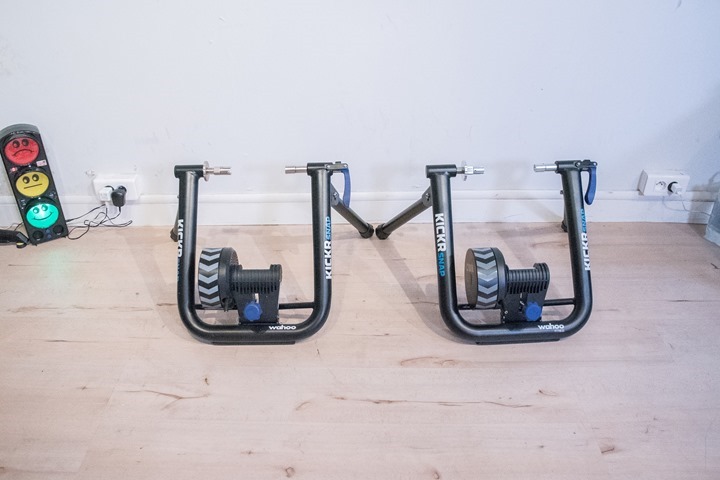 Basically, they appear identical to the untrained eye.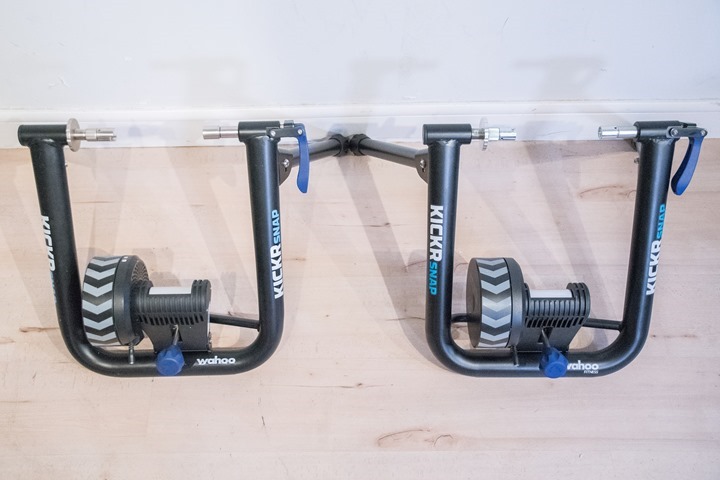 But in reality, the difference (singular) gets to the LED status lights mentioned earlier, which sit near the flywheel on the V2 version: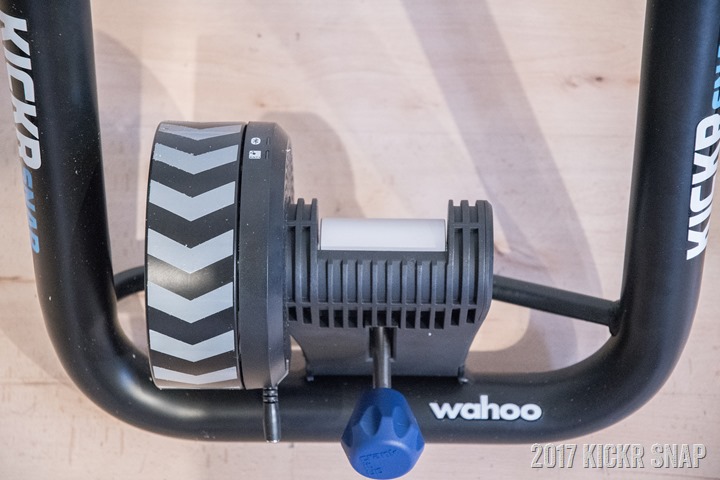 These are missing on the V1 version: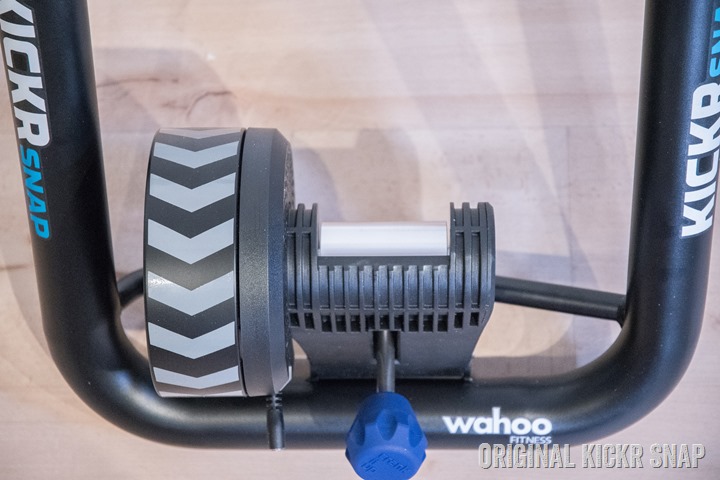 Also, the V2 SNAP has a slightly different sticker model number, as you'd expect: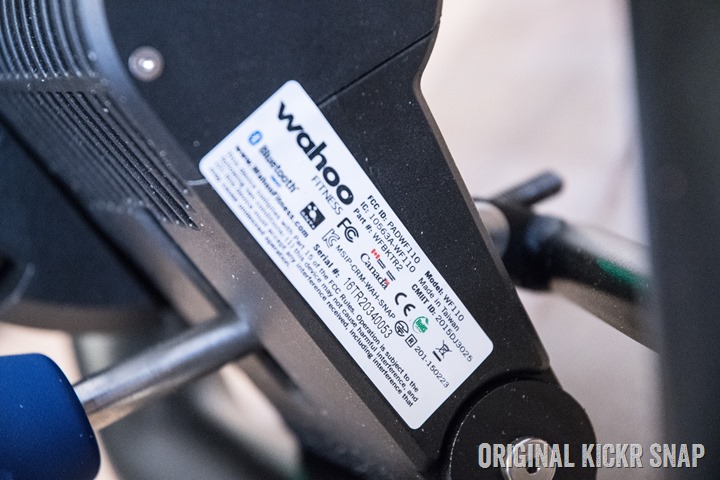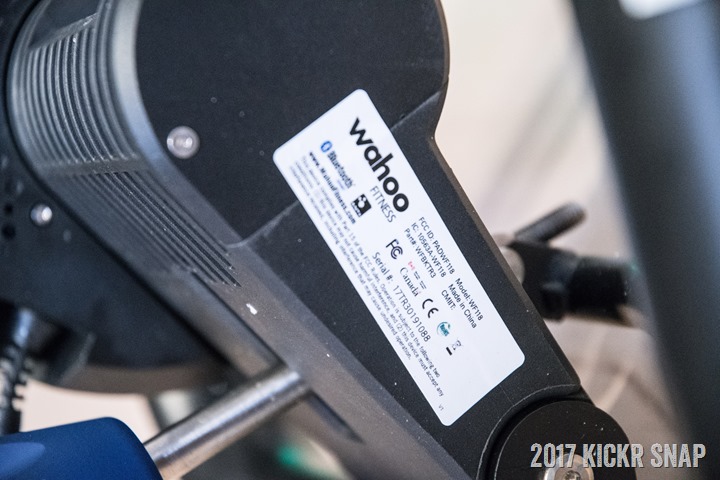 The only other change is one that's not seen (hopefully not anyway), but rather behind the scenes.  Last winter there were a handful of people that saw some KICKR SNAP units (V1) that displayed some sort of 'wobble' in the roller.  There was a lot of debate on whether this was real wobble, perceived wobble, a weeble-wobble, or whatever.  Either way, it was somewhat out of left field, as there were no units in the previous 18 months that reported this.
Wahoo went back to their manufacturing facility and did some digging.  While they found the rollers were still within spec of what they specified, they decided to increase that spec further.  So these new V2 units have a higher bar from a manufacturing standpoint.  As I said, it's likely that 99.99% of people will never notice or even care about this.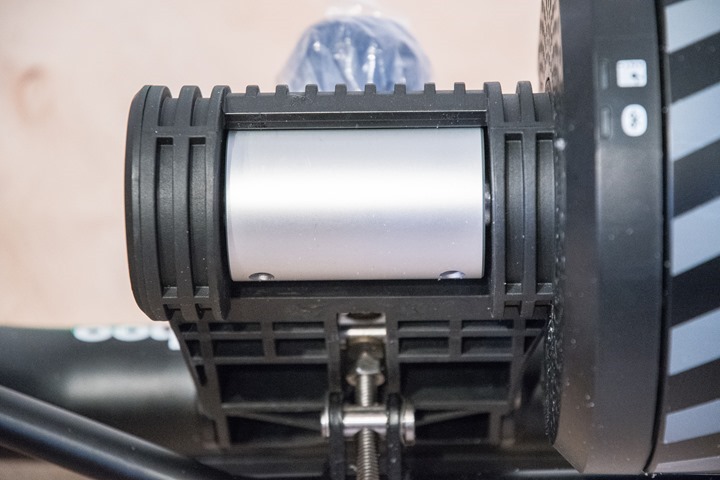 I don't see any visual difference in the roller's rolling between my Fall 2016 unit and this 2017 unit.  They both appear identical.
In any case, beyond all the new tweaks, the unit maintains all the existing KICKR platform pieces of past.  For example, it's dual ANT+ & Bluetooth Smart.  It transmits out your power and speed over ANT+ as well as Bluetooth Smart (but no cadence, as some competitors have).  It also is compatible with ANT+ FE-C for control through many apps, and the Wahoo Fitness Bluetooth Smart API for another large pile of apps.
This means it works with Zwift, TrainerRoad, KinoMap, and on and on and on as described in my massive trainer apps post here.  Basically any and every app out there is compatible with the Wahoo KICKR trainers.  If they aren't….honestly…well, I know of none that aren't. So it doesn't much matter actually.
Speaking of apps, let's give the unit a first ride.
First Ride Details: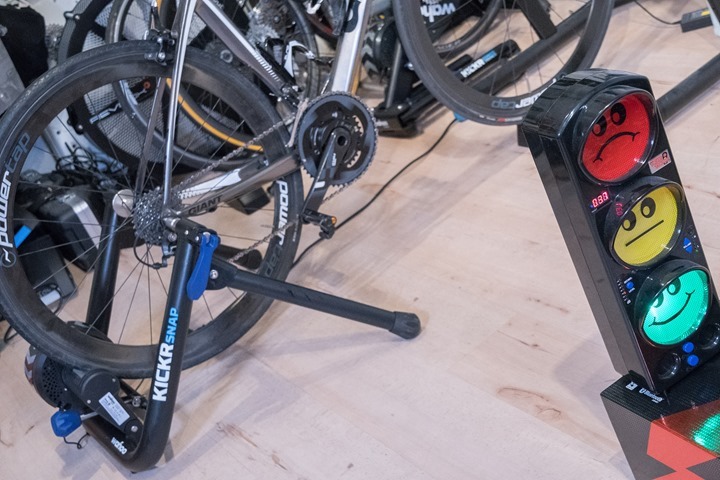 With everything all ready to roll, I went ahead and connected up the 2017 SNAP to Zwift.  I did this using an iPad and Bluetooth Smart, which in turn lit up the blue Bluetooth Smart LED light.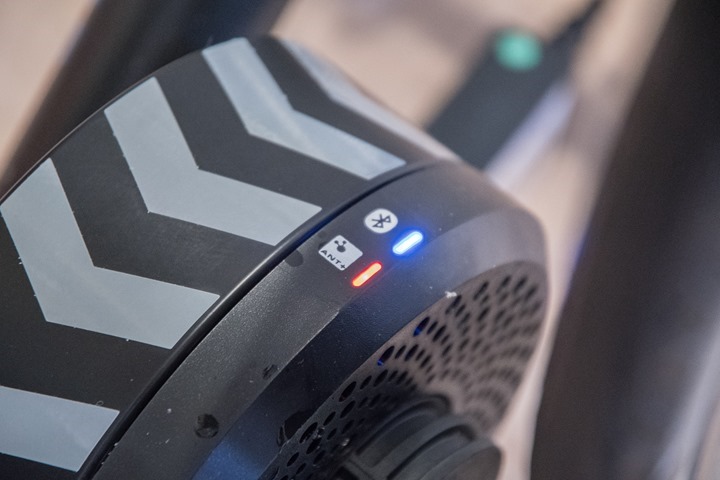 On Zwift I simply selected the trainer from the list, and then paired both a heart rate strap as well as a cadence sensor.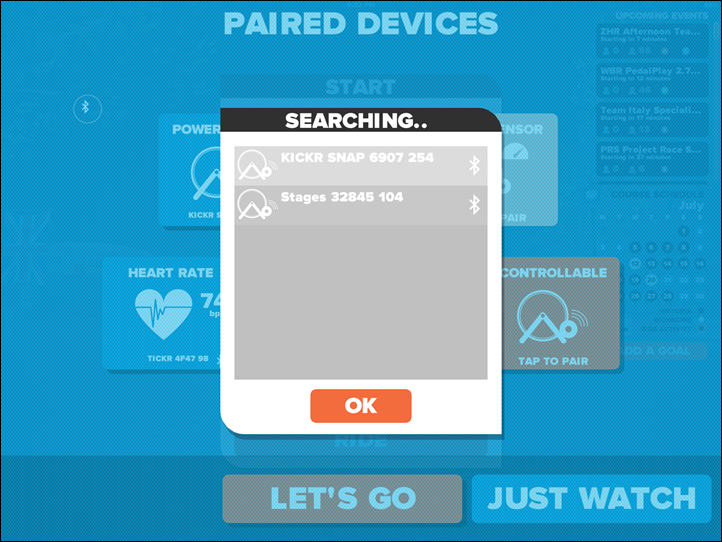 Quick and painless.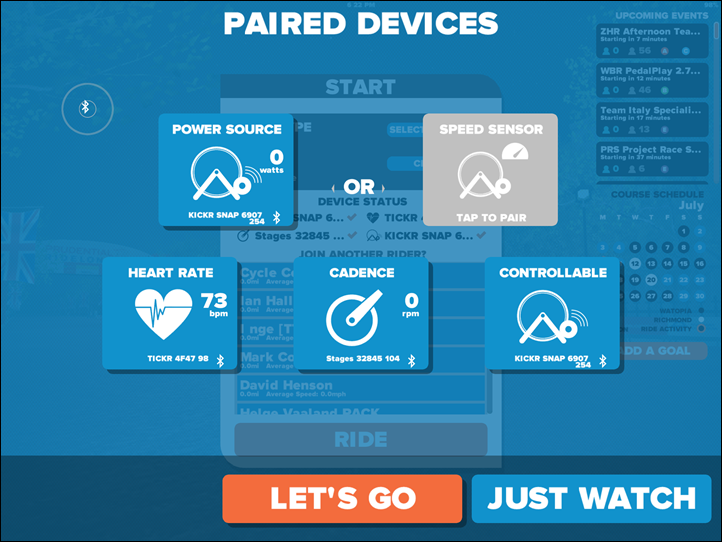 After that was done, I realized I wanted to do a roll-down (essentially calibration), which Zwift can't do (somewhat annoyingly).  So I killed off Zwift and opened up the Wahoo Fitness app on my iPhone to sort that out.
I had some issues with this actually. A lot of issues to be precise, but I think it was largely my fault.  My tire pressure was far lower than it should have been (looks like I've got a slow leak since the day prior) – which was causing severe accuracy issues.  Even though the spin-down check came back successful, the power numbers were 30-40w out (of course, I only know this because I have three other power meters on the bike).
Certainly, having it at 70psi isn't acceptable per the manual, so I can't fully blame Wahoo here.  But at the same time – that's kinda the point of the spindown, to catch issues like this.  For example, Tacx will give you a red 'out of range' error if it's not acceptable.  Wahoo doesn't.  In talking with them last night about it, it's something they're considering adding.
In any case, with that all resolved I started off and rode around Zwift: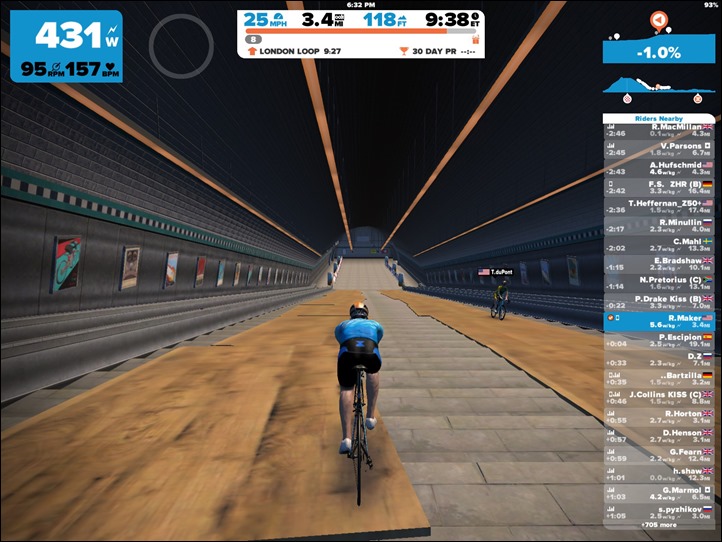 For the most part, I was on the flatter sections of London, though did wander here and there to find some hills.  I really do prefer Zwift island instead though.  At least it wasn't Richmond.
I did a few sprints just shy of 1,000w to see how it handled.  I saw a few oddities here, namely if I dramatically reduced power after the sprint (such as at 100-200w), that it would take 5-10 seconds until it recognized my new power level.  During that time I'd show about 0w.  Whereas if I went from 1,000w down to 300-500w, then it'd correctly recognize it.
What I suspect was happening here is something I've seen on a handful of other wheel-on trainers where the flywheel has to 'catch-up' after a significant acceleration and then subsequent speed decrease.  Until it does so, it'll show zero value.  Interestingly the PowerTap G3 hub can also show this as well, though not usually as severe.
Which, is now a good time to talk about power accuracy.  After all, that's probably the most important change here – from 5% to 3%.  So for this I decided to compare it against other power meters, namely the PowerTap G3 and Power2Max NG.  Here's all that data overlaid together using the DCR Analyzer.  You can look at the dataset yourself here.

So overall things look pretty good…except for the sprints.  The KICKR SNAP significantly overshoots on my 900w sprint about 100-130w.  I did this 4 times…and each time it did the same.

So then I wondered if perhaps it was PSI related, so the next day I ensured the wheel was at 110-120psi and started the entire process all over again.  10-15 minute warm-up, half a dozen spin-downs and good accuracy on relatively normal wattages, but once again issues at sprint wattages.
I looped back to Wahoo again, and this time they had me do an Advanced Spindown within the app.  But after a bunch of back and forth and half a day of roll-downs, I wasn't any closer to getting sprint numbers to agree.  At this point they started working to replicate my issue (simply a hard sprint in Zwift), and were able to.  A week later (last night) I received a beta firmware update which they believe addresses the issue.
So, back on the bike I went again. I did some warm-up, then the advanced spin-down, and then got right into a short but wattage-filled Zwift session (Analyzer link here):

Boom, success.
This time the sprints were in the right ballpark of the other power meters.  As always we see some slight differences in those peak 1-second numbers, some due to measurement differences and some just due to accuracy and recording differences.  Either way, it's a heck of a lot better than before, this also includes the 400-500w range too:

So at this point I'd say things are definitely where I'd expect them to be.  You do notice though that the power doesn't quite track as well immediately after the sprint when the wheel speed is still really high (9-minute marker two screenshots above), just like some other wheel-on trainers struggle with. This is where I peaked in power, and then backed off slightly before surging a bit more.
Of course, this is a first look – and not an in-depth review. That'll come in time.  For now though, after these tweaks I'm content where things are.  I'd still like to see Wahoo though address their spin-down app to actually give meaningful feedback.  If the spin-down times are above/below spec, it should reject that attempt (as Tacx does in their app).  Or if the temperatures aren't correct – it should note that too (I saw a 25°F swing in a matter of 10 minutes).  But again, at this point after a lot of spin-downs and with the new firmware I think I'm good.
(Note: All of the accuracy related charts were created using the DCR Analyzer tool.  It allows you to compare power meters/trainers, heart rate, cadence, speed/pace, GPS tracks and plenty more. You can use it as well for your own gadget comparisons, more details here.)
Summary: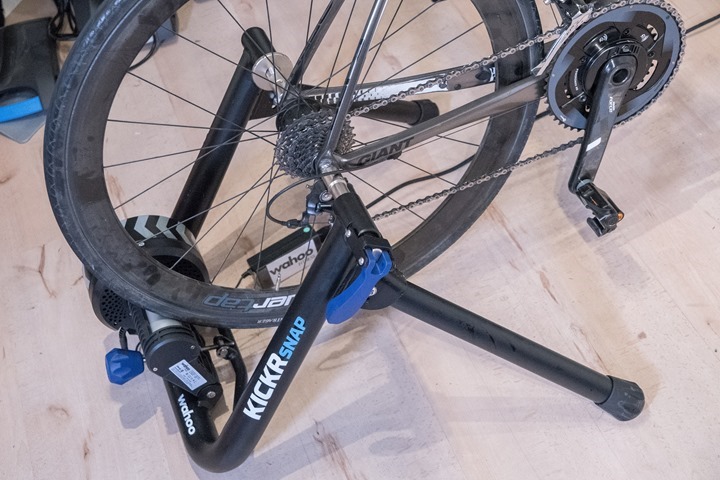 All in all, these are nice changes to the SNAP.  As with the previous model it remains a solid mid-range trainer option, but with the new +/- 3% accuracy levels, it gets a bit of a nudge above the other options in the market which largely still sit at +/- 5% for the same price.  Plus, the Snap tends to be a bit more sturdy than the others and has the ability to match your power meter – which the others don't have either.
On the flip-side, some of the other models can go higher in stated incline (i.e. the CycleOps Magnus at 15% vs the Snap's 12%), so if increasing your level of pain is what matters more than accuracy, then that's something to certainly consider.
Overall I wouldn't look to upgrade an existing Snap to Snap V2, but if you're in the market for a mid-range trainer, this is definitely among the top options out there to consider for this trainer season. And as I noted elsewhere, I don't expect this to be a year filled with a bunch of new trainers.  I think we'll see a few more minor tweaks from companies like this over the next 45 days, but that's about it.
Finally, I'll be doing more rides on this over the next month or so, once they finalize that beta firmware I have to production, and then release a full in-depth review with more power data after that.  Look for that in mid-late August.  Until then – thanks for reading!

Found This Post Useful? Support The Site!
Hopefully you found this review useful. At the end of the day, I'm an athlete just like you looking for the most detail possible on a new purchase – so my review is written from the standpoint of how I used the device. The reviews generally take a lot of hours to put together, so it's a fair bit of work (and labor of love). As you probably noticed by looking below, I also take time to answer all the questions posted in the comments – and there's quite a bit of detail in there as well.
If you're shopping for the Wahoo KICKR SNAP (Current edition) or any other accessory items, please consider using the affiliate links below! As an Amazon Associate I earn from qualifying purchases. It doesn't cost you anything extra, but your purchases help support this website a lot. Even more, if you use Backcountry.com or Competitive Cyclist with coupon code DCRAINMAKER, first time users save 15% on applicable products! Or, with TPC (The Pro's Closet), you'll save $40 on purchases over $200 with coupon code DCRAIN40!
Here's a few other variants or sibling products that are worth considering:
And finally, here's a handy list of trainer accessories that most folks getting a smart trainer for the first time might not have already:
And of course – you can always sign-up to be a DCR Supporter! That gets you an ad-free DCR, access to the DCR Quarantine Corner video series packed with behind the scenes tidbits...and it also makes you awesome. And being awesome is what it's all about!
Thanks for reading! And as always, feel free to post comments or questions in the comments section below, I'll be happy to try and answer them as quickly as possible. And lastly, if you felt this review was useful – I always appreciate feedback in the comments below. Thanks!