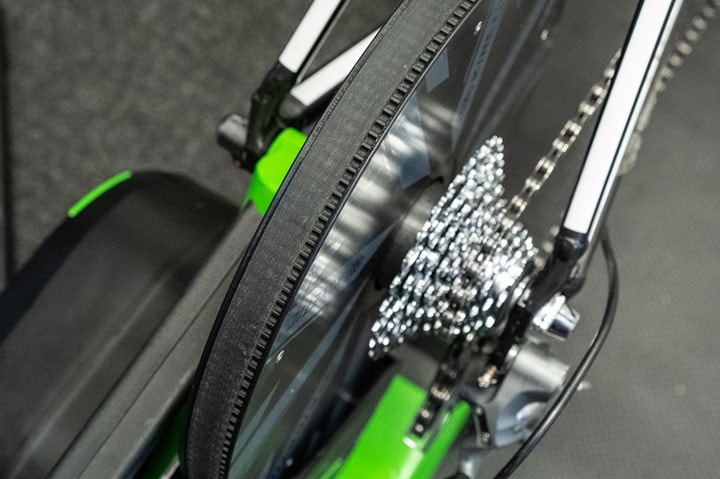 Update – December 2019: You can find my full Kinetic R1 In-Depth Review here! Which is packed with plenty of real-world details after months of usage.
And just like that, Kinetic has joined the direct drive trainer flotilla. But unlike everyone else, their trainer actually rolls. Or tilts I suppose. I guess it could roll if you fall off it.
Kinetic has taken their popular Rock & Roll series of trainers that spans back more than a decade, and upgraded it to the digital (and direct drive) era. The new R1 trainer supports all the protocols and features you've come to expect on a trainer in 2018 – such as dual ANT+ & Bluetooth Smart support, as well as support for a variety of cassette and thru-axle types.
I got the chance to give the trainer a brief spin yesterday morning to form some initial thoughts. And of course, the best way to do so is the video below – because you can actually see the whole thing rockin' and rolling (2m30s marker for those time-crunched):
Anyway, let's not get ahead of ourselves, time to dive into all the details!
The Tech Specs: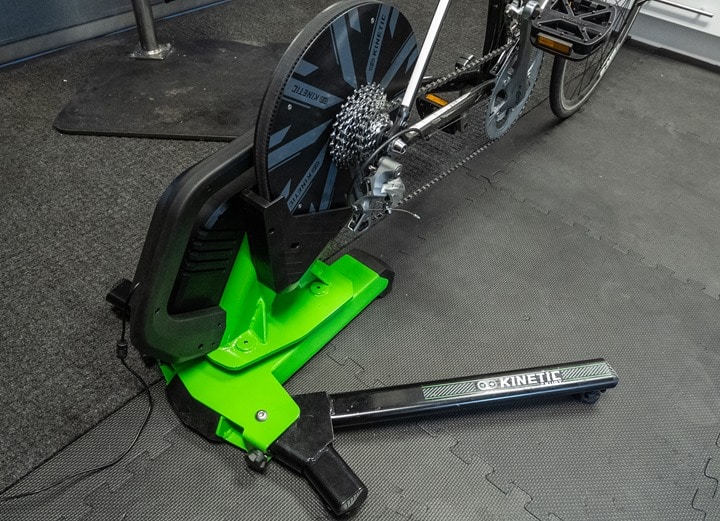 In some ways, the R1 is the culmination of many different pieces at Kinetic finally coming together into one cohesive package.  Sure, they've been doing rollin' trainers for years, but never direct drive ones. And they've been doing smart controllable trainers for years, but never on fully open ANT+ & Bluetooth Smart standards. The R1 takes all of those pieces and now makes a product that's very clearly targeting likely a different market than their previous efforts.
It's also in a lot of ways likely to be a second chance for the brand that lost a lot of love back two years ago when they decided against following industry standards. But we saw them turn that tide earlier this summer with the Kinetic inRide V3 pod (now dual ANT+/BLE), as well as what I'll discuss in the next section too.
Kinetic has stated loud and clear on all the calls I've had, and all the in-person meetings I've had that they want to be seen now as fully supporting standards. And they've put their money where their mouth is.
In any event, let's get straight to the specs. Here we go:
– Dual ANT+ FE-C and Bluetooth Smart FTMS Control
– Broadcasting of regular ANT+ & Bluetooth Smart Speed/Power/Cadence
– Max resistance: 2,000w
– Max incline: 20%
– Flywheel weight: 14lbs/6.3kg
– Claimed Accuracy (provisional): +/- 3% (they're looking at going higher/better)
– Cassette Support: 9/10/11-speed Shimano/SRAM (can support Campy with adapter
– Thru-axle support for 130mm, 135mm, 142mm TA, 148mm TA (Boost)
– Does NOT include a cassette in-box (must provide own)
– Can adjust side to side resistance/balance
– Can adjust feet height on either side
– Foldable legs (inwards)
– A beast of a carrying handle
– Optional non-powered mode for race site warm-ups
– Wired data connection for apps that support it (just PerfPro today)
– $1,050USD, availability Nov 1st
Phew, got all that?
I don't know about you, but I just like specs sometimes. It's clean and easy, and everyone finds out everything they need without having to read a bunch of text.
Still, let's pretend you like text – or, we want to talk about some things that aren't great on bulletized lists, like road feel, rockin' feel, or noise. That's why we have text.
Thus…let's talk about that sway. Or rock. Whatever it is, it moves. Of course, their 'Rock & Roll' concept has been around for years and continues to be very popular. It's likely the rise of rocker plates in trainer setups can be in part credited to the work that Kinetic did in marketing that concept (albeit a different implementation).
With the R1 you'll immediately feel the side to side movement when you attempt to mount the trainer. Like pushing a punching bag, it pushes away a bit at first. It can be slightly unnerving, but as long as you don't try and do a dance routine on it, you'll successfully mount it without any incidents.
We measured the side to side max angle at about 15% (using a simple phone level). You could go beyond that (we got to 18%), but in doing so you had to be prepared to crash (indoors). Let's be clear though, doing so took a very concentrated effort to tip it over. And just like outside (or any other trainer) you can eventually tip over your bike if you lean far enough.
While it's popular to show how a rocker plate or rockin' trainer works during a sprint (as I did in my video above), in reality, I don't think that's actually the goal here. And Kinetic agrees. It's really about movement. It's about the subtle changes you'll feel as you're riding that gives you some relief on the saddle. Replicating the correct movement of a bike during a sprint is rare (many rocker plates actually inverse the direction the bike should travel).
In this case, it's more the natural sway left and right that you're after.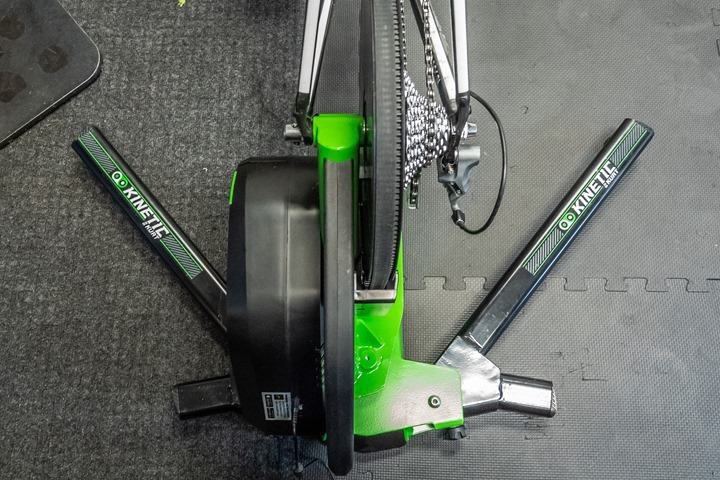 From a generalized road feel standpoint, I'd say on my brief time with it that it feels more or less like any other trainer in this price bucket. It responds nicely during the sprint and has a good spin-up associated with it. It's no LeMond Revolution Pro, but neither is anything else sold these days.  Since I don't have one side by side with a KICKR or other trainer I can't really give you a fair side by side assessment. It's too difficult to do separated by days, but it's close enough that I wouldn't say it's that much different.
From a noise standpoint, it's not silent. There's no other way of stating that. It's not loud, rather, it's basically the same as most trainers aside from the silent Wahoo KICKR/KICKR CORE, Tacx NEO, and STAC Zero.  Beyond that collection, most trainers are in the same ballpark – and this is in that ballpark (you can hear it in my video above).
As noted above, Kinetic has done a bunch of work on ensuring protocol compatibility and support for ANT+ & Bluetooth Smart. This means it's fully compatible with apps like TrainerRoad, Zwift, Rouvy, Fulgaz, and a dozen or two others. In fact, in some ways they go beyond those apps.  The company has long supported wired control as well, allowing apps to tap into fully wired control for environments that wireless protocols suck at (such as some group ride situations). You'll find that USB port on the back of the unit: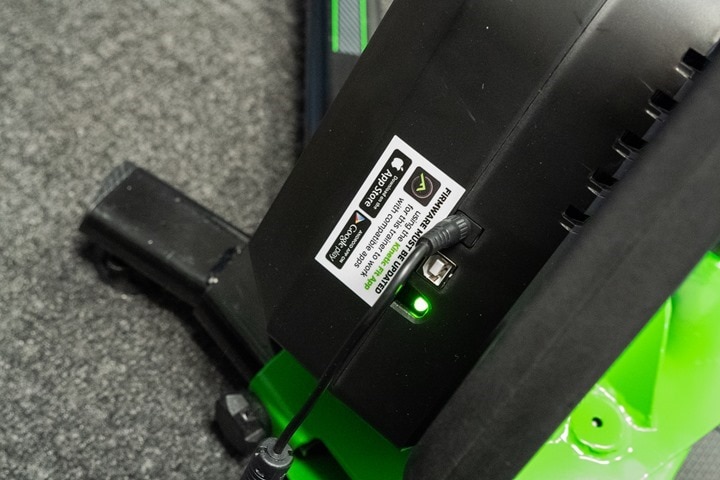 To date, only PerfPro supports that port unfortunately.  Though I've gotta imagine as group competitions become a bigger and bigger part of Zwift, they'll probably support it as well.
One interesting tidbit not covered well in the specs section I put above is the accuracy claims. Currently, they're officially going with +/- 3%, which is a bit beyond the +/- 2ish percent that most other trainers in this price ballpark are at (or even more accurate).  This is mostly because they're still working on the firmware and want to be a bit conservative on claims.
However, they noted that their initial accuracy testing is showing more positive results than the +/- 3% claim, so it's plausible they'll tighten things up as they get closer to release date.
One More Thing:
Before we wrap things up, I'm just gonna drop a small nugget here for now: Two other new trainers. I suppose it might technically be one trainer, or three trainers, depends on how you look at it.
Either way, they're refreshing their entire lineup of Smart Control trainers. So that includes the Road Machine and Rock & Roll variants, as well as just the base resistance unit (in case you already have a kinetic trainer stand).
The main change for these? New hardware that supports the same dual ANT+ & Bluetooth Smart resistance control and broadcasting. That's a shift away from the proprietary Bluetooth Smart control of the past that got them into hot water.
These new trainers should start shipping in the next couple weeks. They're just finalizing some of the firmware bits.  In fact, I've had one since earlier this summer sittin' at the DCR Studio.  I'll get more hands-on once that firmware hits and I can dive into it in more detail.
Product Comparison:
I've added the Kinetic R1 trainer into the product comparison tool below, allowing you to see how it stacks up against other trainers in the same price point.  For the purposes of the below I've added in the Wahoo KICKR CORE, Elite Direto, Tacx Flux 2, and then the Wahoo KICKR (big one, just to set a ceiling on pricing).  Of course, you can mix and match your own product comparison charts here.
Function/Feature

Kinetic R1
Elite Direto (2018)
Tacx Flux 1
Wahoo Fitness KICKR CORE
Wahoo KICKR V4/2018
Copyright DC Rainmaker - Updated March 19th, 2023 @ 10:57 am New Window
Price for trainer
$949
$849 ($799 for 2017 models)
$799USD/€799
$899
$1,198
Trainer Type
Direct Drive
Direct Drive (No Wheel)
Direct Drive (no wheel)
Direct Drive (No Wheel)
Direct Drive (No Wheel)
Available today (for sale)
Ships Nov 1st, 2018
Yes
YEs
Yes
Yes
Availability regions
Global
Global
Global
Global
Global
Wired or Wireless data transmission/control
Wireless & Wired
Wireless
Wireless
Wireless
Wireless
Power cord required
No
Yes (no control w/o)
Yes
Yes
Yes
Flywheel weight
14.0lbs/6.3kg
4.2KG/9.2LBS
6.7kg (simulated 25kg)
12.0lbs/5.44kgs
16lbs/7.25kgs
Includes cassette
No
No
No
Yes (11 Speed SRAM/Shimano)

Resistance

Kinetic R1
Elite Direto (2018)
Tacx Flux 1
Wahoo Fitness KICKR CORE
Wahoo KICKR V4/2018
Can electronically control resistance (i.e. 200w)
Yes
Yes
Yes
Yes
Yes
Includes motor to drive speed (simulate downhill)
No
No
No
No
No
Maximum wattage capability
2,000w
1,400w @ 40KPH / 2,200w @ 60KPH
1,500w @ 40KPH
1800w
2,200w @ 40KPH
Maximum simulated hill incline
20%
14%
10%
16%
20%

Features

Kinetic R1
Elite Direto (2018)
Tacx Flux 1
Wahoo Fitness KICKR CORE
Wahoo KICKR V4/2018
Ability to update unit firmware
Yes
Yes
Yes
Yes
Yes
Measures/Estimates Left/Right Power
No
9EUR one-time fee
No
No
No
Whole-bike physical gradient simulation
No
No
No
With KICKR CLIMB accessory
With KICKR CLIMB accessory
Can directionally steer trainer (left/right)
No
No
No
No
No
Can rock side to side (significantly)
Yes
No
No
No
No
Can simulate road patterns/shaking (i.e. cobblestones)
Entire trainer rocks/rolls side to side
No
No
No
No

Accuracy

Kinetic R1
Elite Direto (2018)
Tacx Flux 1
Wahoo Fitness KICKR CORE
Wahoo KICKR V4/2018
Includes temperature compensation
-
N/A
Yes
Yes
Yes
Support rolldown procedure (for wheel based)
TBD
Yes
Yes
Yes
Yes
Supported accuracy level
+/- 3% (To be finalized)
+/- 2% (Sept 2018 models, +/- 2.5% for earlier models)
+/-3%
+/- 2%
+/- 2%

Trainer Control

Kinetic R1
Elite Direto (2018)
Tacx Flux 1
Wahoo Fitness KICKR CORE
Wahoo KICKR V4/2018
Allows 3rd party trainer control
Yes
Yes
Yes
Yes
Yes
Supports ANT+ FE-C (Trainer Control Standard)
YEs
Yes
Yes
YEs
YEs
Supports Bluetooth Smart FTMS (Trainer Control Standard)
YEs
Yes
Yes
YEs
No, but supports most apps
WiFi or Ethernet
No

Data Broadcast

Kinetic R1
Elite Direto (2018)
Tacx Flux 1
Wahoo Fitness KICKR CORE
Wahoo KICKR V4/2018
Transmits power via ANT+
Yes
Yes
Yes
Yes
Yes
Transmits power via Bluetooth Smart
Yes
Yes
Yes
Yes
Yes
Supports Multiple Concurrent Bluetooth connections
No, just one
No, just one
Yes, 3 Concurrent
Yes, 3 Concurrent
Transmits cadence data
Yes
Yes
Yes (with Sept 2019 firmware update)
Yes
Bridging or re-transmission
No

Purchase

Kinetic R1
Elite Direto (2018)
Tacx Flux 1
Wahoo Fitness KICKR CORE
Wahoo KICKR V4/2018
Amazon
Link
Link
Link
Link
Backcountry.com
Link
Link
Link
Link
Link
Chain Reaction Cycles
Link
Link
Link
Link
Link
Competitive Cyclist
Link
Link
Link
Link
Link
REI
Link
Link
Link
Link
Link
Wiggle
Link
Link
Link
Link
Link

DCRainmaker

Kinetic R1
Elite Direto (2018)
Tacx Flux 1
Wahoo Fitness KICKR CORE
Wahoo KICKR V4/2018
Review Link
Link
Link
Link
Link
Link
Don't forget you can mix and match and make your own product comparison charts here in the product comparison database.
Wrap-Up: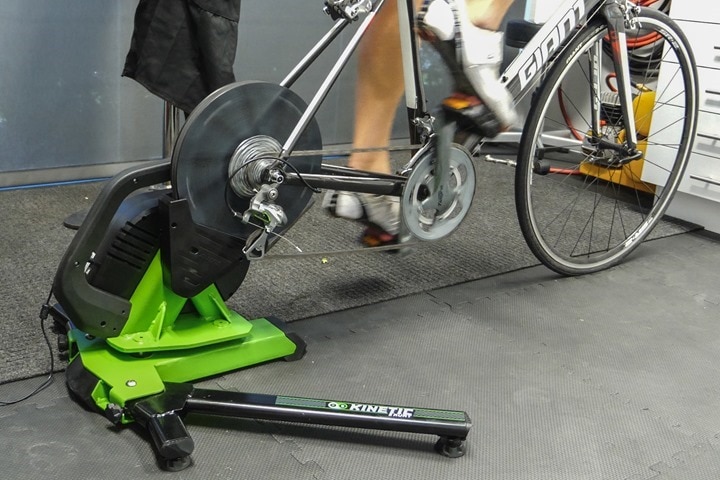 Overall I think this is a solid next step for Kinetic. Over the last couple years they've lost a fair bit of market share in the trainer market, especially in the mid-range realm where the number of options have greatly expanded with plenty more features.
The introduction of a bit of a higher end option (but without necessarily the super-higher end prices of the $1,200 range) might resonate well with those that were more loyal Kinetic fans in the past. Plus, those looking for a bit of motion in the ride but that don't want to commit to a full rocker plate solution yet, this offers a fairly solid option.
My only concern though is that I think pricing-wise they might have done slightly better at $999 versus $1,050 – purely from the perspective of how consumer brains work. Once you cross that barrier you start comparing it against the higher end trainers from a brand standpoint, which might be a tougher sell for some.
Still, I'm looking forward to testing the Kinetic R1 once they've got some final production units that I can sway around on.  And again, I think having motion in the indoor training experience is definitely where the market is heading longer term, even if it takes smaller steps each year.  Oh – and I'm thrilled to see them adopt the trainer standards out there for ANT+ & Bluetooth Smart. #Winning
—
Update: You can now pre-order the Kinetic R1 trainer from Clever Training. It's expected to ship the first 10 days of October. You can use DCR Reader Coupon Code DCR10BTF to save 10% off your order, plus free US shipping. Doing so helps support the site here as well!