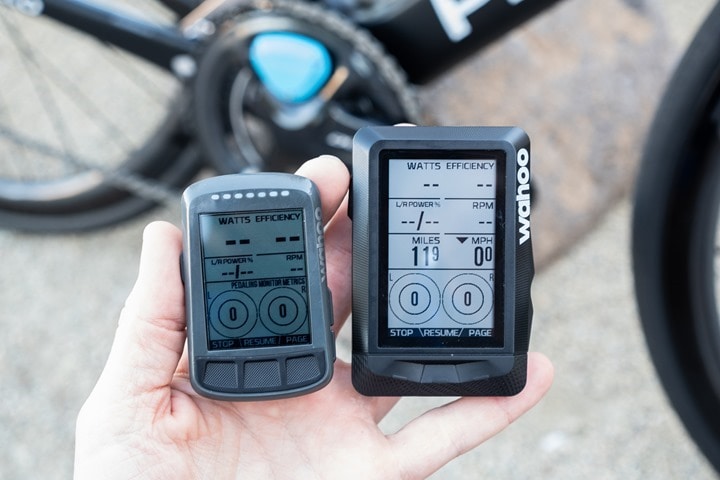 Today Wahoo and Pioneer announced a bit of a partnership that will bring Pioneer's advanced power meter pedaling metrics onto the Wahoo ELEMNT and BOLT head unit lineup. These metrics have long been only available on Pioneer's head units, and roughly rival what Garmin has done with Cycling Dynamics (though, I'd argue Pioneer's are far more detailed).
In addition to this Wahoo-specific announcement, Pioneer also announced new power meters as well as a new head unit of their own. And in an indication of Wahoo and Pioneer growing closer, that new head unit uses…a Wahoo mount. But more on all that over in my complete Pioneer post here.
In any case, this will be a relatively short post, because at the end of the day we're just talking about new data fields and the ability to capture that data. Thus, onwards!
The Wahoo Update:
Starting in early October, Wahoo will roll out the firmware update for all ELEMNT and BOLT users. This update will include the ability to add pedaling monitor data fields to your Wahoo GPS, just like any other data fields.  In order to see the data fields though you'll need to have a Pioneer power meter paired, and have done so using the Pioneer-specific power meter broadcasting mode: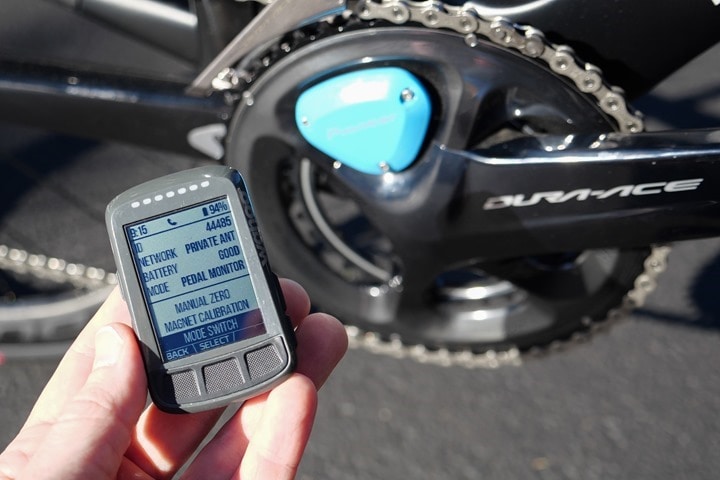 In fact, fun tidbit: You can even change modes from the Wahoo unit now: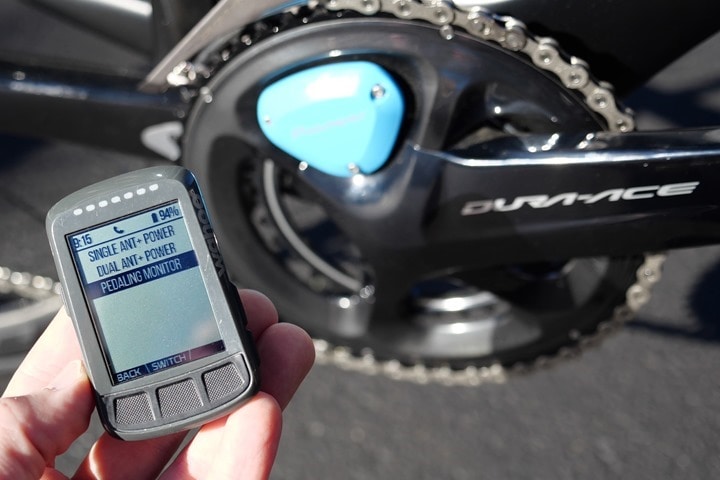 This firmware will be backwards compatible to ANY Pioneer power meter ever made. So no matter how old your Pioneer power meter is, it'll immediately start working with Wahoo's update.
Once you've done the pairing you'll see new options in the Wahoo companion app:
By default, it'll toggle the new Pioneer metrics on automatically, but you can go ahead and dive into them and configure/change which metrics you want.
After that's configured you're set to go out and ride. So I did just that yesterday morning. Here's what the data looked like on the screen (to the best of my mid-ride photography capabilities).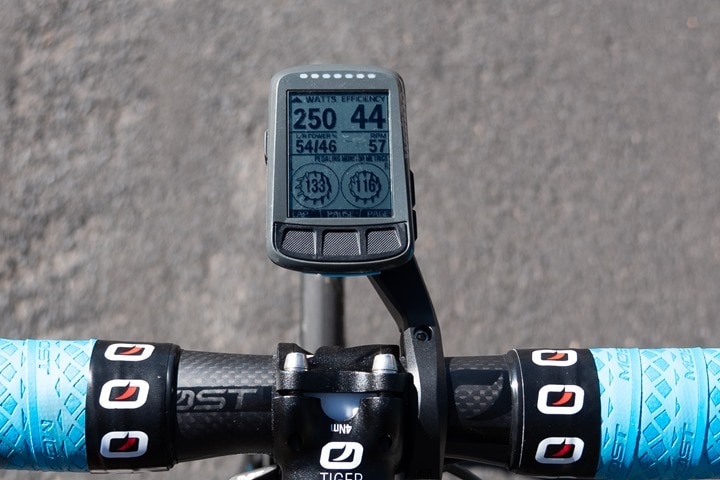 In case it's hard to see on my photo, here's a non-exciting screenshot from a PowerPoint presentation: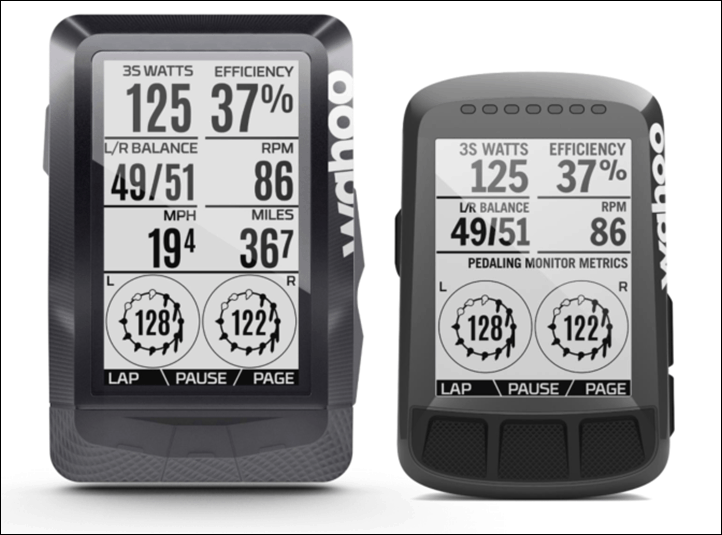 These new metrics show you the pedaling power force throughout the stroke as measured by Pioneer's power meter. This below slide explains a little bit behind that.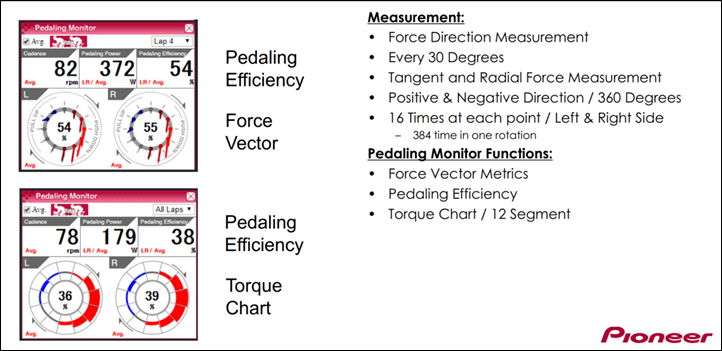 While I generally question whether or not there's huge value in these sorts of metrics (be it from Pioneer, Garmin, or others), there's definitely value in being able to see them beyond just one company's head units.
And in fact, I think to some degree the lack of usefulness of these metrics is tied to how challenging it is to view them on various training platforms (again, beyond that single company's own sites).  Hopefully, this helps to open that door a bit more.
As part of this, you'll soon see the Pioneer CycloSphere training platform listed among the places you can send your training data from the Wahoo ELEMNT/BOLT (just like other platforms such as TrainingPeaks or Strava).  That will allow you to dig into the advanced metrics in more detail on the platform that was originally designed for it.  Of course, other platforms could implement support as well, as they'd receive the data automatically within any uploads sent to them.
The beta app version I was using for yesterday's test ride didn't have the ability to upload the data enabled in it yet, so we'll have to save that for down the road.
Wrap-Up: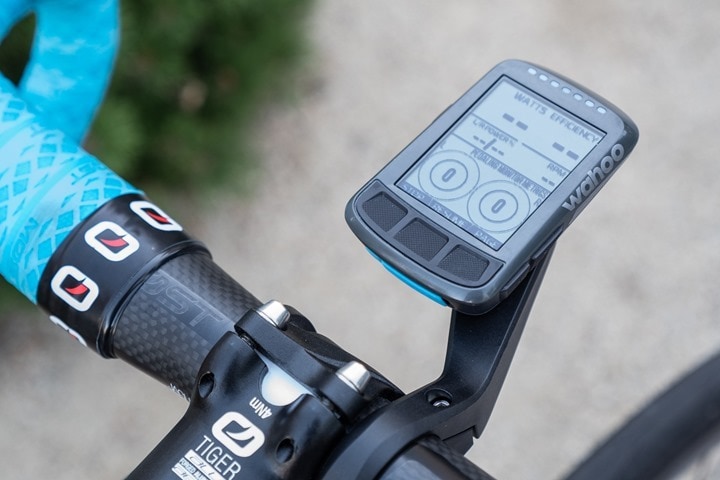 I think it's great to see this level of integration, especially for existing Pioneer users.  The fact that this will be backwards compatible for all Pioneer power meters ever made is awesome.  Of course, there was no reason not to do so, but somehow them actually doing it just gives everyone warm-fuzzies.
Of course, it'll be interesting to see where the Wahoo/Pioneer partnership goes from here.  Wahoo has a pile of partnerships within the software realm (like Best Bike Split for example), but somehow this seems a bit more than that. Perhaps it's Pioneer using Wahoo's mount, or that the new Pioneer CA600 hardware-wise looks a heck of a lot like a BOLT.  Not sure.
In any case, look for this update to hit your Wahoo device by early October.
—
With that – thanks for reading, and don't forget to hit up all the other Interbike coverage here. And follow on Twitter for plenty more tidbits