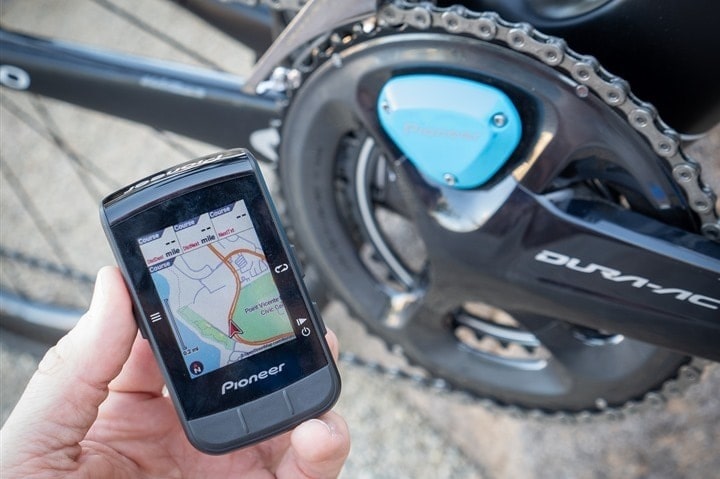 Pioneer announced today that as part of an agreement with Shimano, quietly penned back in December, they'll be exiting the cycling business. That includes ending their power meter and bike computer product sales. Shimano has purchased unknown assets in conjunction with that agreement, and does not plan to continue to carry-forward the Pioneer product line. Pioneer, however, will continue support for Pioneer products.
The exit was announced first in Pioneer's Japanese channels, and then in their English and Facebook accounts. I'll give them credit, their Facebook post is clever: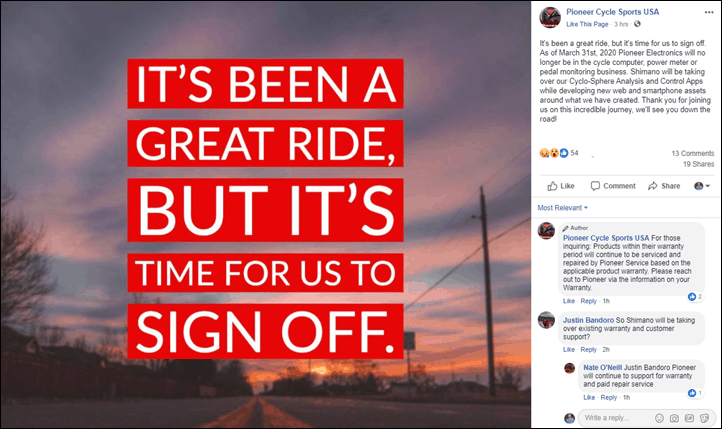 While there's plenty of questions on Facebook, the vast majority of them are actually fairly well answered in the company's FAQ statements, which I'll dig into down below.
What it Means: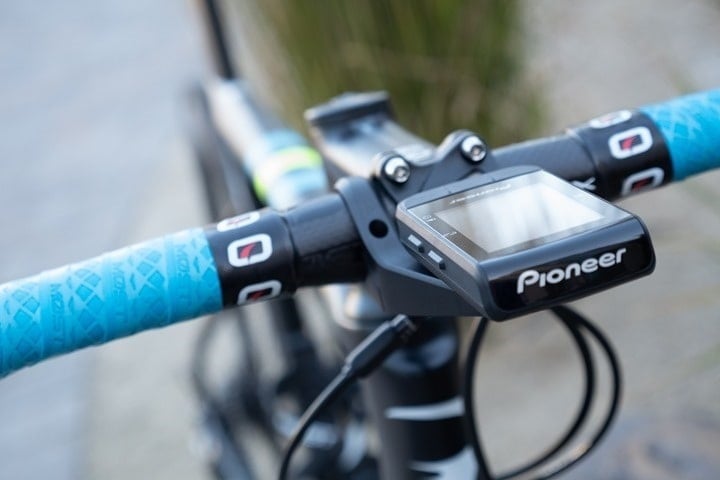 Before we get into some of the analysis, here's the quick snippet of text from their official press page on the transfer of the cycling business to Shimano:
"PIONEER ANNOUNCES TRANSFER OF CYCLE SPORTS BUSINESS

Pioneer Corporation announced today that it has signed an agreement to transfer certain assets of its Cycle Sports business to Shimano, Inc. ("Shimano"), a leading manufacturer of bicycle components globally.

Through this agreement, Pioneer will transfer the assets of these technologies and conclude its related operations. Sales by Pioneer of pedaling monitors, cycle computers, and other related products will cease by the end of March 2020.

Shimano plans to develop products, web services, and applications using the Pioneer Cycle Sports assets and make Shimano services available to customers who currently use Pioneer's Cyclo-Sphere web services, PC tool, and smartphone applications. Cyclo-Sphere will continue to be available to consumers until Shimano's services are introduced.

Pioneer will continue to accept customer inquiries about cycle products and services and provide repair services on Pioneer Cycle Sports products sold prior to the asset transfer per the terms of any applicable product warranties.

Background
Pioneer Cycle Sports developed and introduced the world's first pedaling monitor, cycle computers and web services (Cyclo-Sphere) for cyclists in 2013. At present, the product's third generation has been developed and is used by many cyclists.

Shimano's bicycle components are highly regarded and equipped by many cycle athletes. As a result, a significant portion of the Pioneer Cycle Sports product portfolio has been designed to be specifically compatible with or sold pre-installed on Shimano components. The transfer of the Cycle Sports technology to Shimano will incorporate Pioneer's strength in electronics and IT technologies, enhancing the functions of Shimano products and services and achieving the aspiration of Pioneer to contribute to a wider range of customers."
I just wanted to paste that there, since I suspect eventually it'll go away. History is fun.
Now, as they say in their FAQ (which I also pasted below), they'll continue to support the Pioneer products both in and out of warranty. This actually makes sense, given that Pioneer is a sprawling company, of which cycling is just a tiny itty-bitty bit. It's easier for Pioneer to simply keep the handful of employees onboard within their existing support organization to handle the existing Pioneer customers.
That also goes for the Pioneer Cyclo-Sphere website, which is the main conduit between Pioneer bike GPS units and the rest of the internet, including things like uploading to Strava, TrainingPeaks, and more. It also was a complete training log platform, along with advanced power meter force metrics. Without that conduit, I'm not sure off-hand if those head units will continue to work for uploading purposes.
However, probably most interesting is this little line item in the press release:
"Shimano plans to develop products, web services, and applications using the Pioneer Cycle Sports assets"
I've bolded the important parts above. But they double-down on this again in the FAQ section too:
"Can I register a new account on Cyclo-Sphere?: Yes. Cyclo-Sphere will continue to accept all new accounts until Shimano launches its new web service, at which time subscribers will be directed to re-register with the Shimano service."
Essentially, this FAQ hints that Shimano is planning on launching their own web service for connectivity between cycling GPS computers and the rest of the internet. That could imply that Shimano is working on a head unit, or at least some sort of training log platform site. Or maybe an in-depth power meter site. We don't know yet, and Pioneer's FAQ also covers that too:
"When will Shimano's web services and alternative Pioneer Products be released? Pioneer cannot comment on Shimano's Web services or its future products. Please contact Shimano for further information."
Still, that previous FAQ answer is potentially a stunning hint at what Shimano might be up to. They of course have their existing Shimano R9100P power meter already, which has widely regarded as the least accurate mainstream power meter in 2020. However, most of that accuracy largely comes from the R8000/R9100 base crankset that it's built off, primarily on the right side. The engineering of that latest crankset has caused accuracy issues for all power meter companies building units atop it, including Pioneer as well as Stages, 4iiii, and others. And of course, Shimano themselves.
So to that end, I'm not certain that Shimano's play here is really power meter focused. Meaning, I don't think they bought Pioneer's assets for their power meter tech. While Pioneer's power meters have historically been very solid, and included numerous advanced metrics, I don't think any of those metrics had patents that provided a competitive reason to purchase them. Don't get me wrong, I'm sure they had some patents mixed in there. But everything they'd released to date was largely within the consumer realm already in bits and pieces from other companies. Their force vector display bits was mostly unique, but also something numerous other companies had shown off at one point or another – and even implemented.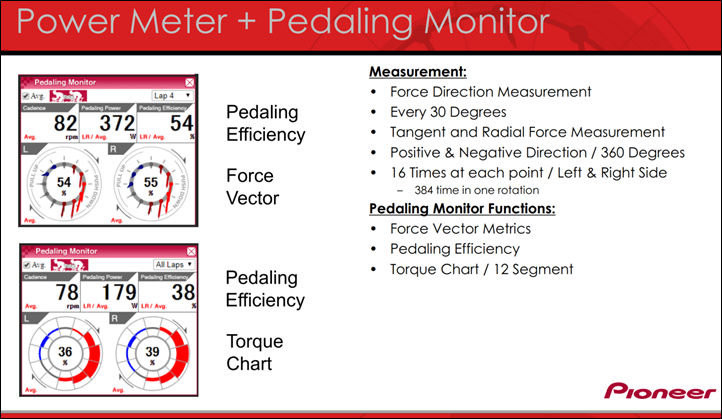 Thus I've gotta believe the tie-in between Pioneer's statements around a web service and the purchase of Shimano's assets has more to do with their bike computers than anything. And perhaps leveraging the existing web platform was seen as a faster player towards that goal. Launching a bike computer is hard, but getting the app and web platform that's considered critical is just as hard.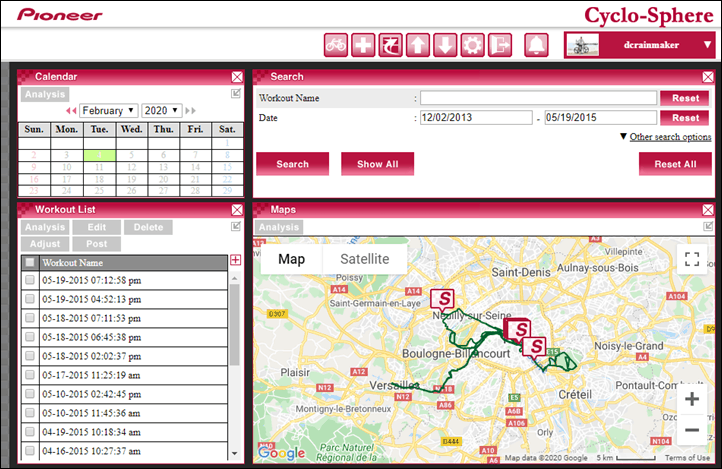 And unfortunately, while Shimano makes great cycling components – they have a long history of making poor apps and connected devices (excluding Di2). Remember Shimano's Action Cam? Yup, that little gem of a product managed to go nearly a year after initial release before its first software update. Most people had given up on it by then.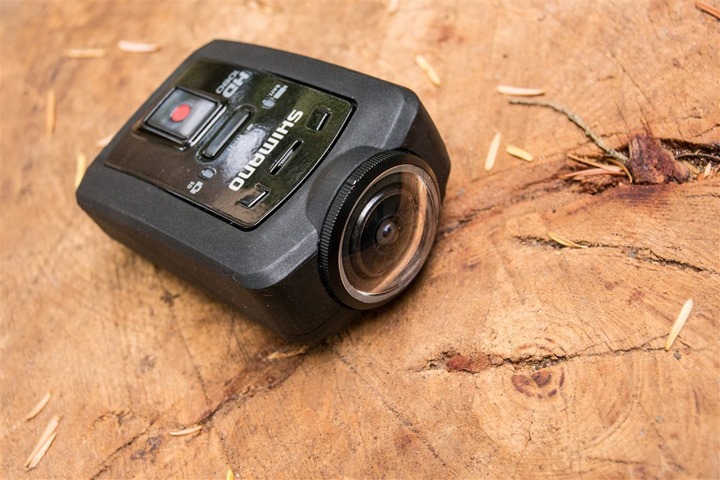 Or way back when their small ANT+ connected bike computer that wasn't connectable or downloadable to anything else. Or that it took more than a year and a half for Shimano to add Bluetooth Smart power meter broadcasting to their power meter, years after everyone else already had it. Shimano always has grand plans for connected sports tech, but Di2 aside, the actual execution fails every time – with things mostly ending up half-baked. Be it action cams, power meters, or head units.
Meanwhile, while Pioneer never quite nailed the 'beautification' of their earlier products, their latest attempts from about 18 months ago with the CA600 head unit was a solid step in the right direction. Not only did that head unit step things up dramatically from the past, the company brought Wahoo onboard for integration of their pedaling metrics into Wahoo bike computers. While Pioneer never ended up adopting the ANT+ Cycling Dynamics standard, this did serve as a stop-gap.
For historical purposes, here's a copy of the FAQ page that Pioneer published: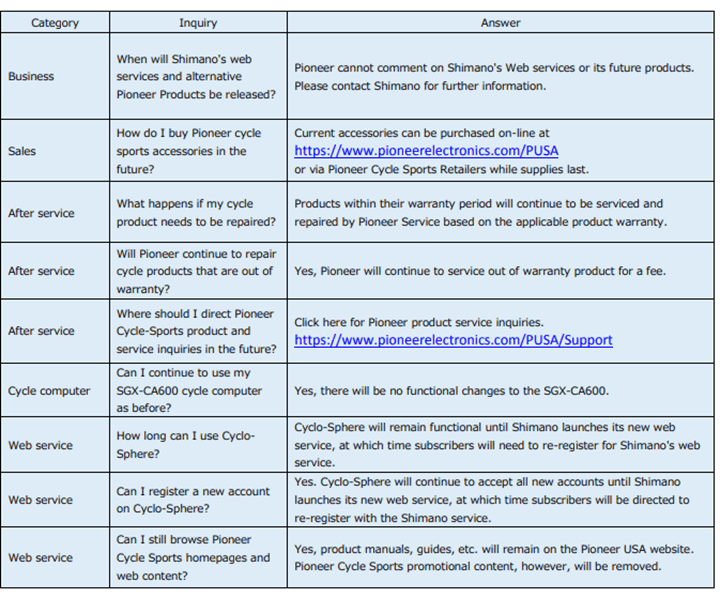 Going Forward: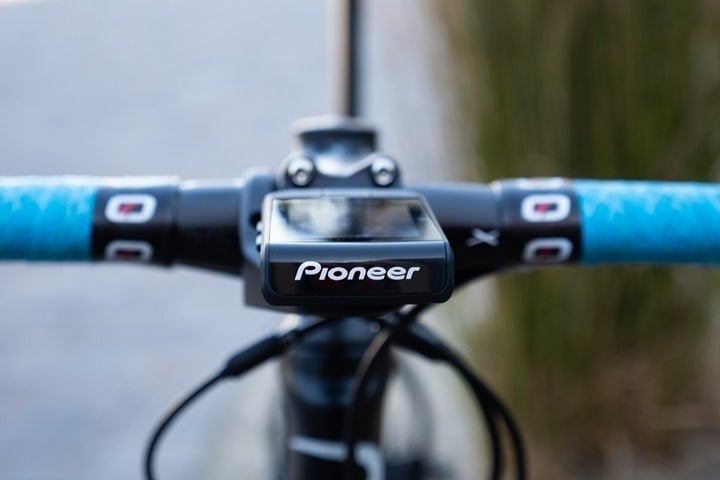 Less competition is never a good thing. Mostly.
While there are now less power meter players (fear not, there's still plenty of power meter companies left), it's plausible that by picking up some of Pioneer's assets we'll gain competitors in a different field. Perhaps the bike computer field. Pioneer was never a major player in the cycling bike computer arena. Though, with the right marketing I think their CA600 might have made good inroads in a V2 variant. Thus it's plausible that with enough engineering, a Shimano driven V2 of the CA600 could offer a real alternative to Garmin, Wahoo, and other bike computers.
But that's still a tough scenario to imagine. That would require Shimano to demonstrate significantly different app/platform skillsets than they've done for any products to date. Obviously, the company could acquire them. But if there's anything I know about sports tech is that the most successful companies in this business are where they are not through just hiring more employees, but because the employees they already have are really damn good at building their existing products, in the field already.
For example, Shimano is really damn good at building cranksets and related hardware bike bits. But as I've said up above, they're less good at building app/platform systems. And while Pioneer was trending in the right direction, I wouldn't put Pioneer in the same category as a Garmin or Wahoo in that realm.
Still, I'm looking forward to seeing what comes of it. Hopefully it's more competition in the bike computer realm, which is always good for consumers. And hopefully it's not the company figuring out ways to reduce competition dramatically in the power meter and crankset realm. Only time will tell.
With that – thanks for reading!