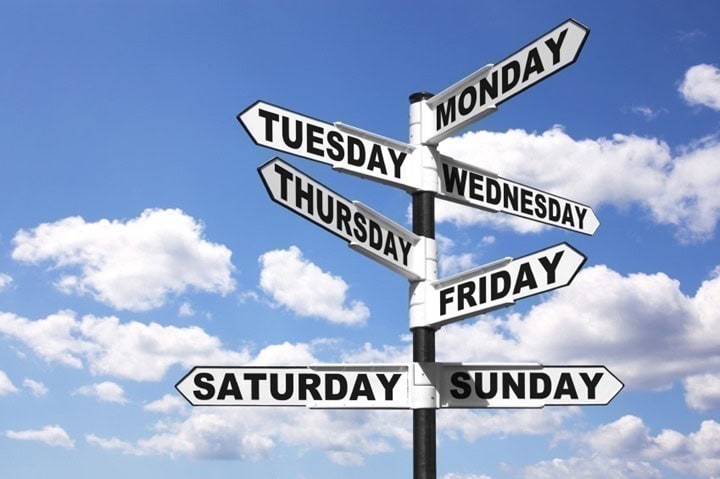 The Week in Review is a collection of both all the goodness I've written during the past week around the internet, as well as a small pile of links I found interesting – generally endurance sports related. I've often wondered what to do with all of the coolness that people write, and while I share a lot of it on Twitter and Facebook, this is a better forum for sending it on to y'all. Most times these different streams don't overlap, so be on the lookout at all these places for good stuff!
So with that, let's get into the action!
DCRainmaker.com posts in the past week:
Here's all the goodness that ended up on the main page of DCRainmaker.com this past week:
Sunday: Week in Review–July 30th, 2017
Monday: 5 Random Things I Did This Weekend
Tuesday: Wahoo ELEMNT MINI In-Depth Review
Wednesday: In Just 7 Days….
Wednesday: Investor Call Tech Tidbits: Garmin Q2 2017 [Fenix, future products, and activity tracker tidbits]
Wednesday: Investor Call Tech Tidbits: Fitbit Q2 2017 [Upcoming smartwatch, other products insight]
Thursday: Interbike moves to Reno (and Tahoe) in 2018, opens to consumers
Thursday: Investor Call Tech Tidbits: GoPro Q2 2017 [Hero 6, Fusion, and Karma insight]
Well that week turned out busier than I expected.  Ironically, most of my time was actually spent on prep of other things as I noted last week.  With Eurobike looming, there's a lot to get tested, photographed, videoed, and written about!
Sports Tech Deals This Week:
Below is the current list of deals in the sports tech realm.
Product

Sale Price

Amazon

Other site

Sale Notes

Apple Watch SE (2022/2nd gen) - $30 off
$249/$299 (cellular)
$219
Amazon
Apple Watch Series 8 - $70 off
$399/$499 (cellular)
$329
Amazon
Apple Watch Ultra - $70 off!
$730
Amazon
This is actually one of the lower prices we've seen for the Ultra. Note that there's a checkbox on the Amazon page to add another $50 discount to get it to the $730 price. This seems to work for most Apple Watch Ultra band editions.
DJI Mini 3 Fly More Combo with DJI RC - 7% off
$798
Amazon
DJI Mini 3 with DJI RC - 13% off
$609
Amazon
DJI Mini 3 with RC-N1 Remote - 16% off!
$469
Amazon
Elite Direto XR Smart Trainer- $400 off!
$1,000
$599
N/A
REI
Garmin Instinct Crossover - 20% off!
$399
Amazon
This is an oddly unexpected sale since this watch only just came out. But hey, take it and run!
Garmin Rally RK200 (LOOK KEO Dual Sided) - $220 off
$880
N/A
REI
⚡ This is a very solid deal that happens twice a year, if you were looking at the Look KEO Rally setup (which can be swapped between pedal types), grab these before this disappears (and it usually disappears). This deal is via REI for REI members using the coupon code MEMBER23.
Garmin Rally RS200 (SPD-SL Dual sided) - $220 off!
$880
N/A
REI
⚡ This is a very solid deal that happens twice a year, if you were looking at the Shimano road SPD-SL Rally setup (which can be swapped between pedal types), grab these before this disappears (and it usually disappears). This deal is via REI for REI members using the coupon code MEMBER23.
Garmin Rally XC200 (SPD Dual Sided) - $240 off!
$959
N/A
REI
⚡ This is a very solid deal that happens twice a year, if you were looking at the Shimano MTB SPD Rally setup (which can be swapped between pedal types), grab these before this disappears (and it usually disappears). This deal is via REI for REI members using the coupon code MEMBER23.
Tacx NEO 2T Smart Trainer - $280 off!
$1,399
$1,120
N/A
REI
This is Tacx's current top-end trainer, and while sales have been more frequent the last year, this is still a solid deal for a solid trainer. This deal is via REI for REI members using the coupon code MEMBER23.
Wahoo KICKR 2022/V6 - 11% off
$1,299
$1,149
N/A
REI
This is for the current model Wahoo KICKR 2022/V6, which includes built-in WiFi. This has mostly been on sale for a while, which doesn't mean there's a new variant coming, but rather likely just trying to get people to buy into a trainer towards the end of the winter season.
Wahoo KICKR Core Smart Trainer - $200 off!
$899
$699
Amazon
REI
This has been the mainstay price on the KICKR CORE for a while. While the new Zwift Hub came out that's relatively similar and cheaper, the KICKR CORE is a better option if you want to combine it with the Wahoo CLIMB, or, if you need multichannel Bluetooth.
Not a lot this week, and I don't expect much more till we get to September.
YouTube Videos I Published:
Here's some YouTube goodness that I published this past week, don't forget to subscribe!
YouTube & Podcast Cameos:
With the Tour de France in town last week I had a small gaggle of visitors to the cave.  For example, Cycling Maven and Hannah came through and we had a chat at a café as well (the full interview will be published a bit later), but there's a short tidbit in here in the meantime:
And then the folks from the Zwift Podcast also stopped by as well.  We chatted about trainers and what to expect at Eurobike.  A second and longer section is coming up soon as well:
Here's the full Zwiftcast notes about the episode as well.
Stuff that I found interesting around the interwebs:
Here's a not-so-small smattering of all the random things that I stumbled on while doing my civic duty to find the end of the Internet.
1) Another motor found in competitors bike: And just imagine how many bikes aren't being tested out there… (via Slowtwitch)
2) Why UCI's detection method isn't all encompassing: This is a pretty cool video and highlights some of the challenges.  Note that I don't believe however some that say using heat is the answer either. There's just too much radiant heat on a hot summer day in many places that it likely won't show up (all thermal images I've seen of bikes with motors are taken on cooler fall/spring days).  But, happy to be proven wrong there as I do have a thermal imaging camera but lack a motorized bike. Maybe at Eurobike I can find one to demo on a hot summer day.  In unrelated news, the YouTube channel this video is from is geek heaven.  Not totally sports-tech geek, but like 10GB Ethernet adapters geek.  Never seen it before, but definitely subscribed now!
3) SportTracks is now integrated with Polar: Well then, that took a long time (through no fault of SportTracks).  Really hoping this will enable Polar to move faster in adding in 3rd party sync partnerships…like the Nike+ Run Club integration they also announced.
4) Man swims to work each day: And the kicker? He's not living in a warm place either! And he even takes his laptop along. (via Matt)
5) Las Vegas-Reno/Tahoe now wants the Olympics: Not content with just getting Interbike in 2018, they want the Winter Olympics in 2030.  Yes, I said Winter.  Btw – they're almost 500 Miles/700 KM miles apart.  If there's anything I hate more in any Olympic games bid is where venues are spread on the other side of the country.  It's a *city bid*, and thus events should be roughly in that city.  Drove me nuts at London 2012 that you had to take a train more than 2 hours away out of the city to see a football match.  Or that in Beijing 2008, some events (equestrian) was held in Hong Kong – 2,000 KM away.  Grr…
6) Wanna be a Quarq product manager? There's now an opening for you.  This position wears a lot of hats.  It's the person that actually works with me to get me products, hear my feedback (which is really your feedback), as well as deal with other media too.  It's a pretty cool job.  The previous person moved out of state, opening this position.  (Note: I often include interesting/unique sports tech job positions in the Week in Review, if you have one, send it along.)
7) Deliveroo using GoPro's due to acid attacks: First of all, WTF!?!, who is acid attacking bicycle delivery people? Don't f with my Phad Thai delivery girl please.  But second, GoPro cameras to catch the people (hopefully).  Interesting.
8) US Army issues order to immediately cease DJI drone usage: Due to concerns around how the location and photo/video data is being streamed back to DJI (live or delayed).  This is actually totally understandable, and perhaps this action will lead to DJI offering more options to consumers in the same vein.  I think DJI would be mistaken to take this action lightly, as this is something that could quickly spiral out of control for them from a PR standpoint.  A few national newscasts about it, then every local TV station is mentioning it (because they love to talk about fear of drones), and before you know it other governments are issuing the same thing. (via Sunny)
Sports Technology Software/Firmware Updates This Week:
Each week I quickly highlight some of the new firmware, app, software and website service updates that I see go out. If you're a sports technology company and release an update – shoot me a quick note (just one-liners are perfect, or Tweet it at me is even better) and I'll make mention of it here. If I don't know about it, I won't be able to post about it. Sound good?  Oh – and if you want to get a head start on things, this page is a great resource for watching Garmin firmware updates.
DJI Spark Firmware Update: Adds new gesture video recording modes, a few other new features.
Garmin FR230/235/630 Firmware Update: Handful of bug fixes.
Garmin Fenix 3/3HR BETA Firmware Update: Single bug fix for apps/widgets.
Garmin Fenix 5/5S/5X/Chronos BETA firmware Update: Whole pile of bug fixes, plus some new minor features, and support for latest version of Connect IQ.
Garmin FR935 BETA firmware update: Umm…balls that's a massive firmware update. It more or less matches what the Fenix series has had over a while, just in one gigantic drop. Seriously, just go read the list.
—
Thanks for reading!