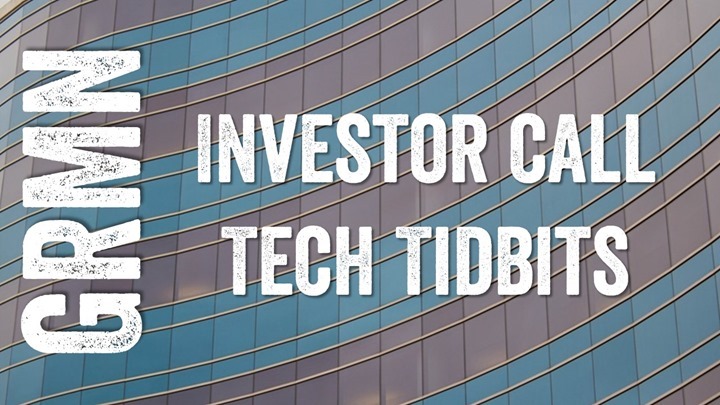 When I'm sufficiently bored, I listen to investor calls for companies in the segment.  Or, I read through investor reports – such as Amer Sports (parent company of Suunto), last weekend.  In actuality, these calls are often filled with interesting tidbits for those familiar with the companies' business components.  It's just that they are rarely stated in an obvious way on the call (except GoPro, they're usually more direct/obvious).
Now of course, not every company in this segment does investor calls or similar reports.  It's mostly just the biggies that are publically traded entities.  So no reports or calls from Wahoo, PowerTap or countless others.  But there are ones from GoPro, Fitbit, Garmin, and Apple.
I'm gonna keep this short and to the point, more like bullet-points to be specific, since while there's nothing earth-shattering in here, there are lots of things worthwhile chewing on.  Note that I'm not going to talk financials here.  Meaning, stuff like operating growth, gross margins and blah-blah-blah, I mostly don't care about.  Instead, it's largely the non-financial tidbits I'm interested in.
Note that I won't do these for every quarter or every company.  Just cases where I think there are enough worthwhile things to post about.  Sort of an extended version of what I sometimes include in the 'Week in Review' posts.
Apps, Apps, Apps:
Garmin pretty much kicked off the call with a bang by noting that in the last 12 months there have been 17 million downloads of Connect IQ apps to Garmin devices (apps/widgets/data fields).  Since inception there's been over 30 million app downloads. These numbers build on the numbers I heard back at the Connect IQ summit, indicating that Garmin is definitely doing something right here as it shows multiple app downloads per device (I think it was ~6 apps per device is the average, from some numbers I had last winter, but my memory might be failing me there).
As an aside, at one point there was a bit of a rambling investor on the call, and he noted a Garmin Connect IQ app to control your Tesla (and then proceeded to note how he found it interesting nobody knew about it when talking with friends).  Ironically enough, I never knew such an app existed either, but sure enough – there is one.  Learn something new every day… Now, if only I can get someone to loan me a Tesla.
Activity Trackers Are Hurting:
Garmin noted multiple times (no really, a LOT of times) that basic activity trackers, specifically the Vivofit, have sputtered out for them.  They explained that going forward into Q3 they're "counting on a steep decline in the activity tracker market"  and that they're "following the rising and falling tides in that area".
They compared this to the industry at large, though that's slightly misleading – Garmin is mostly just lacking with fashionable options like Fitbit at the lower end.  When asked for a breakout of activity tracker declines by one investor, they deferred a little bit and pointed to an NPD number showing the market is down 32% for US sales of activity trackers.  What they didn't say though was that wearables at large is actually up 17%.
As a result of this drop for them though, they decreased their growth guidance for the Fitness segment, for which Activity Trackers are a part of.  They noted that the Forerunner lineup (which is part of Fitness) continues to be strong, but more on that in a minute.
(This chart says '2016 Revenue guidance', which I'm 99% sure is just a typo, since you wouldn't give guidance on something from a year ago.)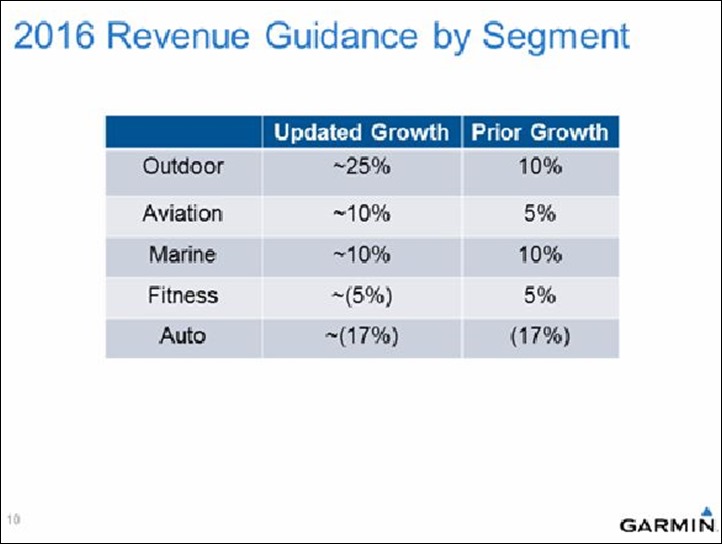 (Sorry they're fuzzy pics, annoyingly Garmin's investor portal set a fixed slideshow size for the livestream, of which the size was basically no bigger than a watch-face to view.)
Fenix, Fenix, Fenix:
The vast majority of investor/analyst questions were about the Fenix lineup, and for good reason – it's made Garmin a crapton of money and is probably the single most important product at the company.  Remember that Fenix is officially categorized in their 'Outdoor' business unit, and not their 'Fitness' one (that's cycling stuff, Forerunner-anything, and Vivo-anything).  Years ago this was logical because Fenix started off as a hiking watch, and it kept it in the same group as hiking handhelds and related, which made sense.  These days though, it's mostly just a clever way to make the Outdoor business look larger than it would be otherwise.
As Garmin pointed out about 98 times, the Fenix 5 is selling a crapton of units.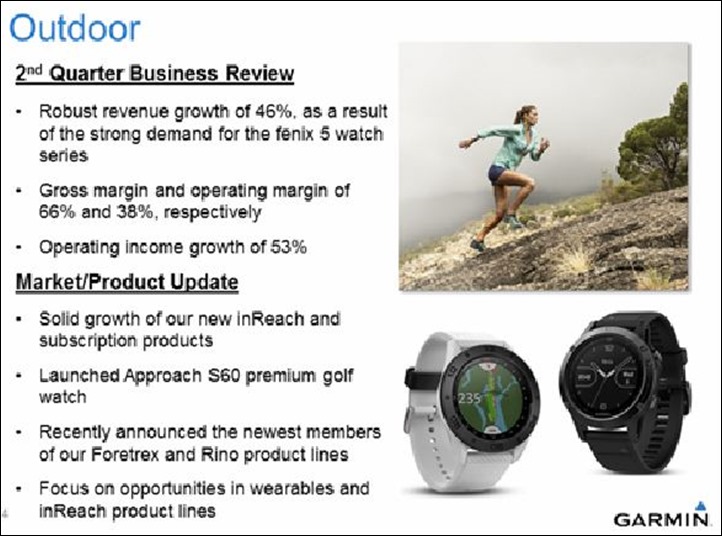 When asked about popularity of case sizes, they repeatedly deferred questions for device model breakouts (i.e. percentage per size), but they did note that "In the [Fenix 5S], we're definitely seeing the majority of customers towards (the) female demographic."
And if we look at the charts, we'll see that Outdoor now surpasses every other business segment at Garmin, both for revenue and operating income.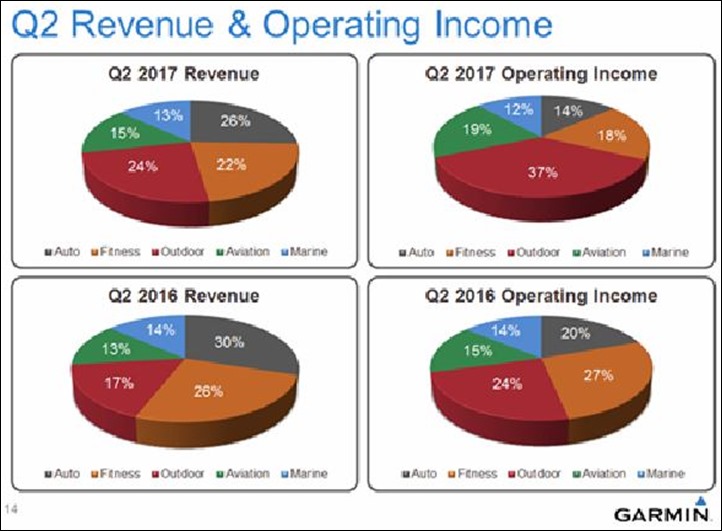 Also, due in large part because of the popularity of the Fenix 5, they've revised their Outdoor growth guidance from 10% to 25% for 2017.  That's a pretty massive change.
Running Watches:
With activity trackers crapping the bed of the 'Fitness' division, it's basically up to the running watches and cycling gear to make up for it.  Running watches was mentioned repeatedly as a segment that they're seeing strong growth in:
"In our Forerunner category, which is what I'll call our 'made for running product line', we're seeing double-digit growth strength in that product line, so we feel very good about that category and the market if you will."
This doesn't surprise me much, as I suspect most of that is being currently driven by the Forerunner 935 and to a lesser extent the Forerunner 735XT, given the Forerunner 230/235 and Forerunner 630 (running-focused watches) are almost two years old now.
Cycling and Bikes:
There was zero mention of cycling stuff in today's call.  I don't think the word 'bike' or 'cycle' was uttered even once.
A Sleight of Hand:
Again, when looking at the Fitness segment declines, it's INCREDIBLY important to remember that Fenix is eating into Forerunner sales in a huge way.  It's simply a shift where people that used to buy a Forerunner watch are now buying a Fenix watch.  It's actually weird that Garmin didn't make any attempts to point this out to investors, since it's such an important thing to understand.  Sure, activity tracker sales are slumping at the low end (~$100 Vivofit devices specifically), but Forerunner devices are doing well sales-wise, it's just that many sales are converted to the Fenix lineup, which sits in a different financial reporting division.
Remember that unlike Fitbit, Garmin does not generally provide any unit/model sales numbers. Nor do they provide any breakout of revenue by product categories within a financial reporting division.  Meaning we don't know the exact breakout of Fenix vs Delorme stuff within Outdoor, or any of the other random products that are in the Outdoor group.
Action Cams:
Action cameras were moved earlier this year to the auto group, for no clear reason in particular.  While Garmin made no mention of the base VIRB Ultra 30, they did briefly touch on the VIRB 360 they just launched, purely explaining to investors what it was.  However, they didn't really provide any insight in this area beyond their basic overview.  And no investors/press asked any questions about it.
The Future:
As is expected on most investor calls, Garmin immediately deflected any questions about product futures with a standard no-comment about futures disclaimer. The closest they got was when asked about the Fenix product refresh cycle, and whether it would be a 2-year or 1-year cycle, was answered with:
"We do have a very active roadmap in all of our wearables"
That said, they did actually end up dropping some futures discussions.  For example:
Activity Tracker Market: "Our product introductions will take place a little later in this year in terms of refresh." – This was in reference to questions about the decline of activity trackers this year and Garmin talked a bit about where they stand quarter by quarter, talking to a soft Q3 (now till September), but that later this year they'd basically have new products that should breathe some life into their Fitness division numbers.
Advanced Wearables: Whatever the heck this means, they're focused on squeezing money out of it.  My assumption here is simply them focusing on their higher end Forerunner units.  Given it's part of the Fitness slides, that's logical.  Since they used the word 'wearable', that likely doesn't imply things from the recent acquisition of aerodynamics company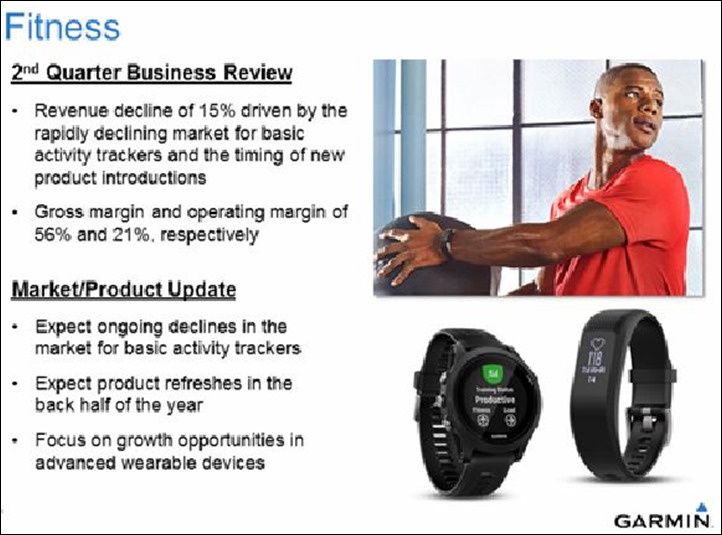 Holiday Sales: When asked about what Garmin might be doing for the holidays for Outdoor/Fitness segments compared to 2016, Garmin stated that "I think you'll see us do similar types and sizes of campaigns in the holiday buying seasons to support our overall revenue plan, and our retailers as they carry our product."
That's a fancy way of saying look at 2016 sales to see what they might do for 2017.  What's that?  You want a complete inventory of those sales?  No problem, I kept track of them all in a historical table, which you can find here (both a Garmin table, and then an everyone else table lower down under 'Expired deals'.
—
Okey doke – that's all we got.  As I said, nothing earth-shattering.  But for those sports tech geeks out there, I'm sure you'll find some interesting tidbits in there.  Also note that I don't really comment on specific unannounced products, unless it comes up in an investor call like this or other public interview.
With that – enjoy your evening!