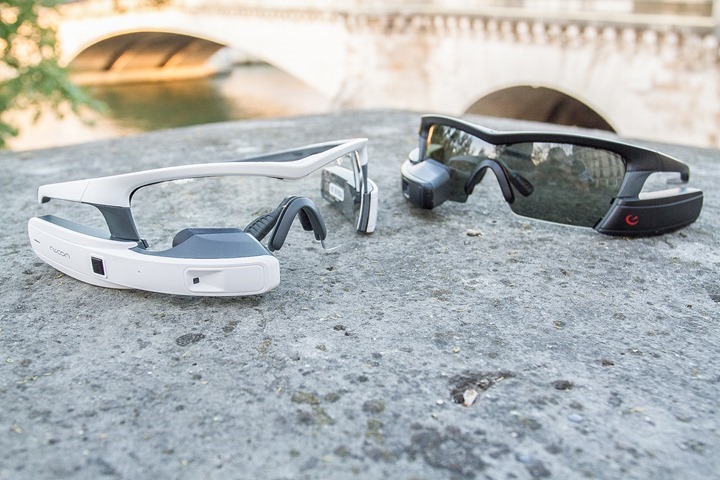 Earlier this week Recon Instruments started shipping their long-awaited Recon Jet heads up display for sports, to real-life actual consumers.  Completing a journey that began just over two years ago upon announcement of the product.  In fact, a few DCR readers tweeted me to let me know they had received shipping confirmations.  Folks in California (closest to Recon's manufacturing and distribution locales) would have started receiving them yesterday.
At the same time, for the last month I've been using the device on various rides and runs – getting the feel for wearing it.  As well as letting the greater Parisian neighborhood get the hang of seeing someone wear it.  You see, while head-based wearables such as Google Glass might be common in the US…that's not so much the case here in Paris (or Europe at large).
This post isn't a full review.  Largely because the final production software just hit in the last few days, which is certainly not enough time to test everything.  Also, I just got the final-final production unit this weekend.  Previously I've been using a so-close-but-not-quite-final unit.  With that new unit, I see slight differences (all for the better).  So my plan is to continue using it for the next month or so, and then push out a typical in-depth review sometime in May.
For now, let's do a quick sweep through how it works.
Inside the Package: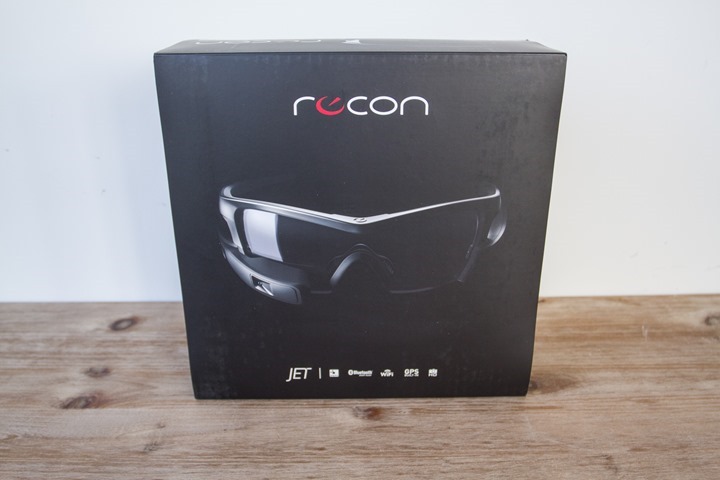 The Jet arrives in a UFO saucer-like protective case, somewhat oddly appropriate.  The case contains the Recon Jet itself, along with slots for different lenses and for the micro-USB charging cable, as well as a small cleaning cloth.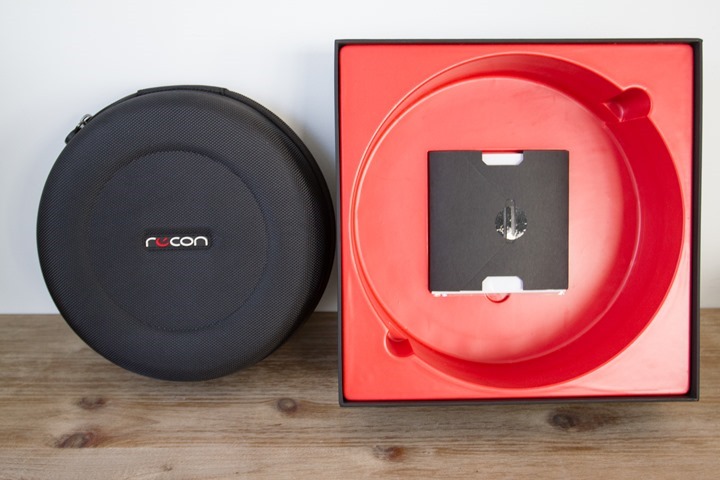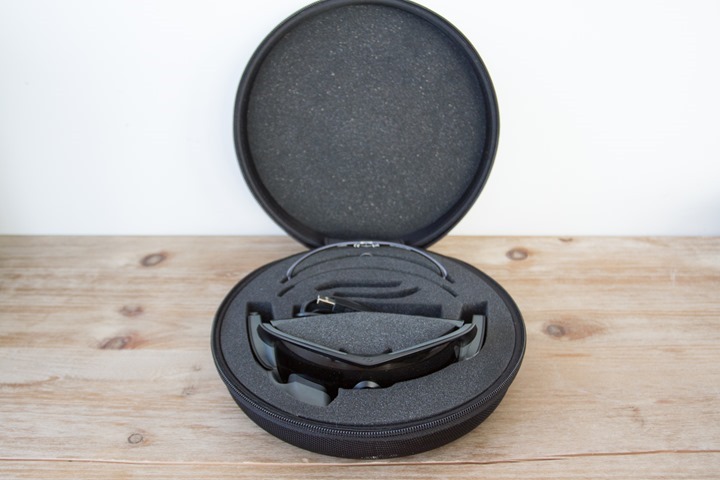 Obviously, if you're going to travel with it – I'd recommend putting it in the protective case.  While I'm usually the last one to worry about protective cases, I feel like the opportunity for failure is higher here.  If you don't use the case, but rather a simple sun glass soft bag, I'd recommend just popping off the two side pods instead while travelling, that way it doesn't get snapped off when you jam your bag under the seat in front of you on the airplane.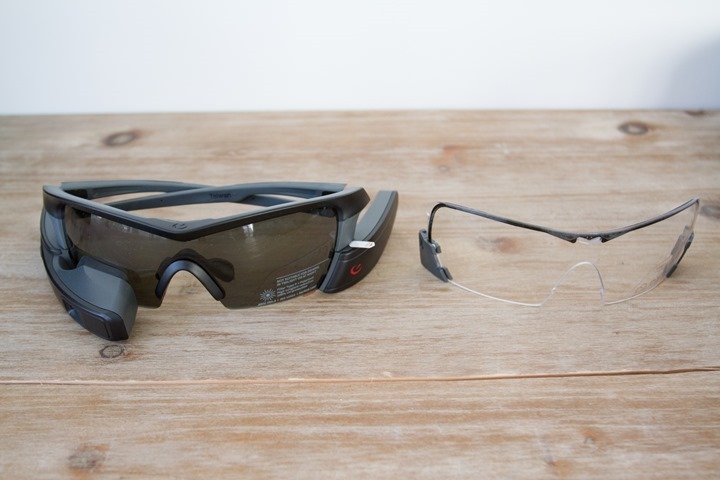 Here's a bit of an unboxing video I put together, showing you all the saucer-like goodness:
As part of my in-depth review I'll get into weights and size comparisons with products like Google Glass.
The Basics: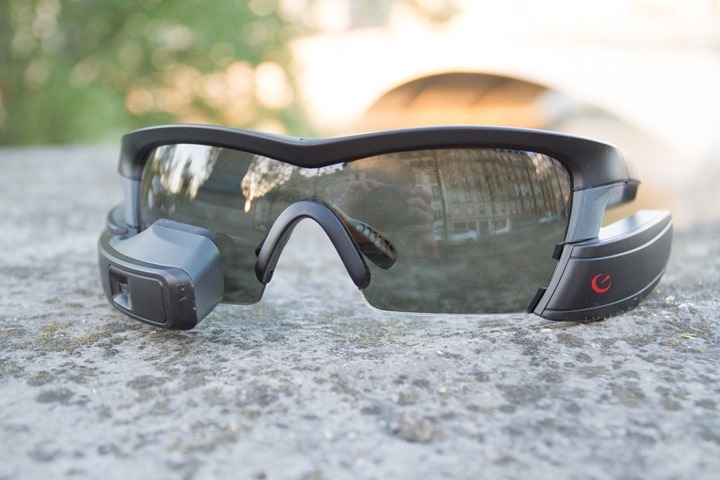 To start, let's look at some of the basics of the unit.  First up is that it's essentially a highly custom pair of sunglasses with two pods that attach/detach to it.  One pod is the battery, and the other pod is the computer/display.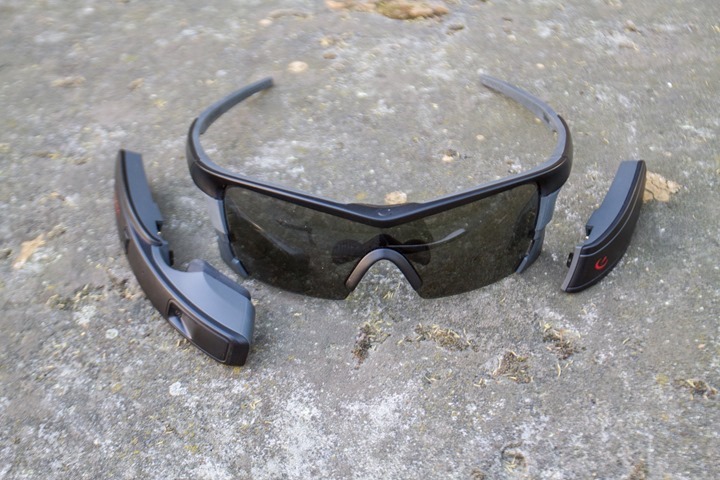 They're designed so that if you wanted to just wear the glasses without the pods (say after finishing a workout and going to 7-11 for a giant Slurpee), you could do so and be a bit less conspicuous than with the pods hanging there.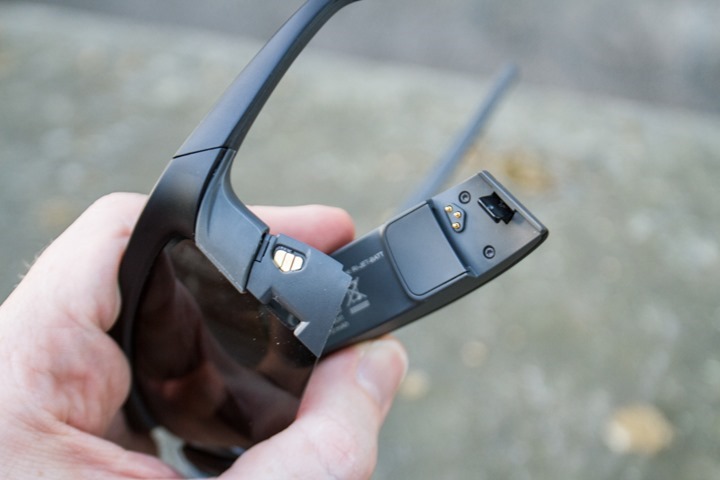 Additionally, this allows you to swap batteries.  The unit will actually permit you to pop-off the battery mid-activity, and not lose state or the activity upon adding the battery back.  In talking with Recon, they sounded rather focused on the 'Thou shall not lose data' mantra when it came to folks using the device.  They're sending over a second battery here soon, so I'll be looking forward to testing the crap out of this concept.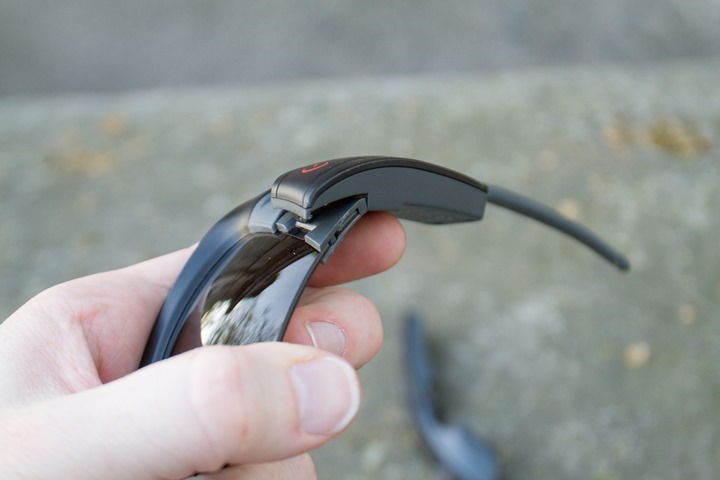 Right now the battery life isn't terribly awesome on the Jet however.  It's one of the areas they saying they're focused on over the next few months.  At the moment getting more than a couple hours hasn't seemed to happen for me.  They're aiming to get it up to about 4 hours though, so enough for many rides – but not quite enough for an Ironman bike.  So you'll need a few batteries.  The battery is super-tiny, basically like a gel packet.  And most Ironman athletes go through quite a number of gels on a ride.  So I suppose it all works out.
When it comes to operating the Jet, you've essentially got three 'buttons' for interactions.  The first two are two tactile buttons on the underside of the pod.  These are primarily used for selecting something (i.e. 'OK'), and moving backwards/forward through the menu.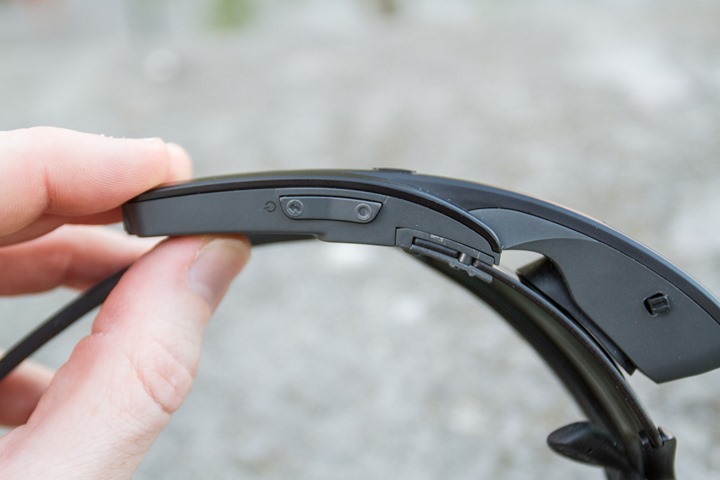 The third is a swipe sensor on the side.  This allows you to navigate through screens and menus, such as left and right.  Or up and down.  It generally seems to work well, though does take a bit of learning to get used to knowing where it is on your face.  Otherwise it's a bit like watching the TV show COPS when they ask the drunk driver to touch their nose.  Practice makes perfect (to be clear, not drinking and driving – using the Jet).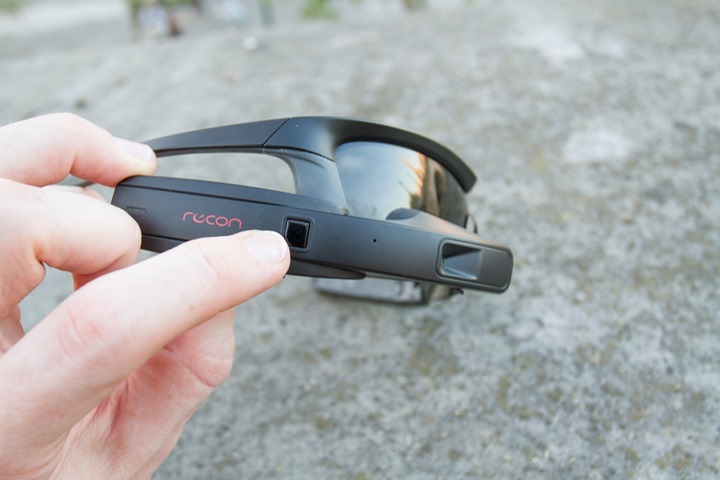 Finally, when it comes to the display, it's a small little screen that effectively 'floats' in front of your eye.  It works by becoming part of your peripheral vision.  The company has previously sold skiing goggles with the same technology.  I've used it for years there without any issue, it works quite well.
With either the snow-focused units or the Jet, the biggest trick is getting the display adjusted right for your noggin.  Notably, ensuring that it's just in the right spot for your vision.  To assist with that you've got two adjustment points.  First is a little mechanical lever below the eyepiece: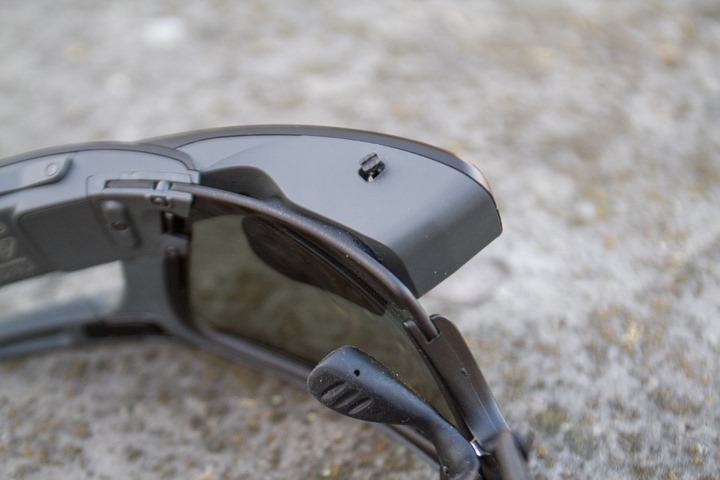 And the second is that you can use the rubber bridge on the glasses to adjust up/down aspects.  It actually works surprisingly well for finding the perfect spot.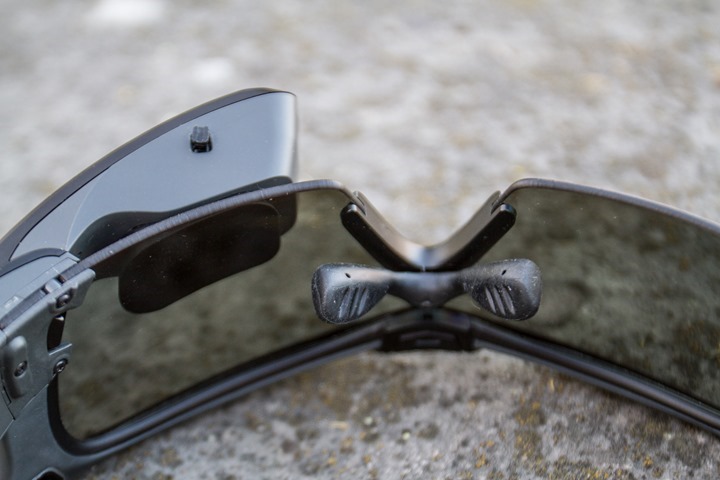 Once you've got that spot identified, it'll stay put, so you're good to go from there on out.  Finally, note that they make both a tinted and clear lens (and plan to have others available as well).  You can see this below where I swapped out my second unit for the tinted lens.  This made it easy to run at night: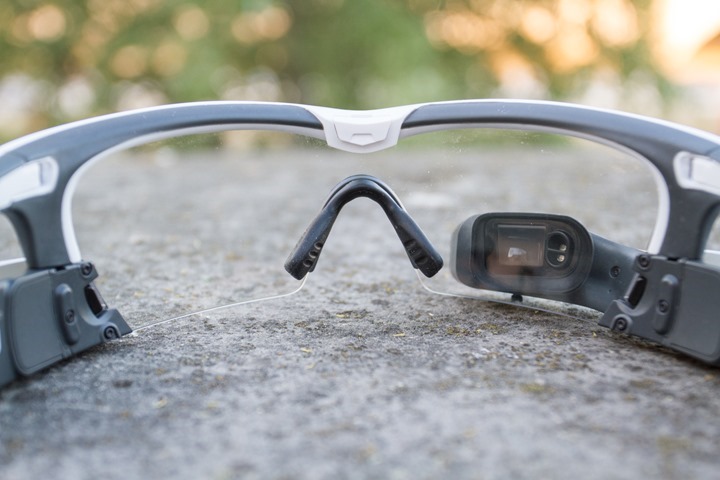 And, I suppose this is a good time to mention it comes in two colors: White and black.  Technically the units are the same.  Visually they are…uhh…black and white.  In my experience with them thus far, I get FAR more looks wearing the white one than the black one.  To the point it generally makes me a bit self-conscious (and this coming from someone who always has a ton of devices on themselves).
I even thought that because I was a tall pale (very white) dude wearing a white helmet on a white bike that I might blend in more with the white variant.  The answer was very much: No.
But of course, to each their own.  Speaking of riding, let's head outside.
Use while cycling: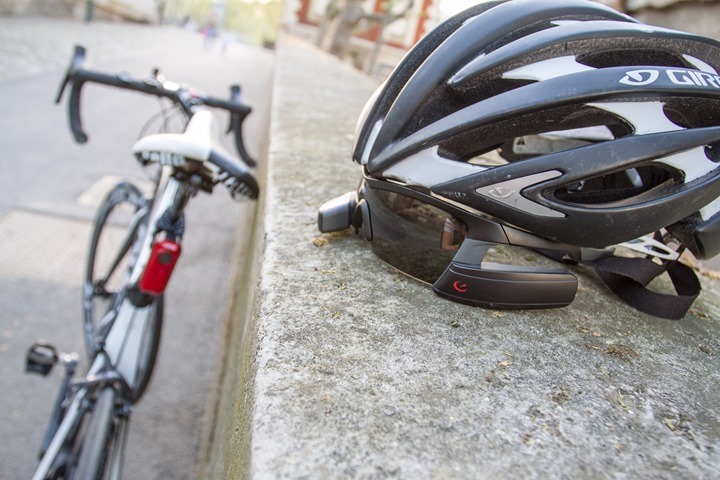 If there were any sport that the Jet excels in, it's probably cycling.  It's likely because it blends in a bit more on your body while cycling, especially if your helmet matches (and if the unit is black).  It's also an area where minimizing having to look down at your handlebars is ideal, thus keeping your eyes on the road.
This is a good time to dive into the sensor pairing.  The unit currently pairs to ANT+ or Bluetooth Smart sensors (though, currently only ANT+ sensors are enabled).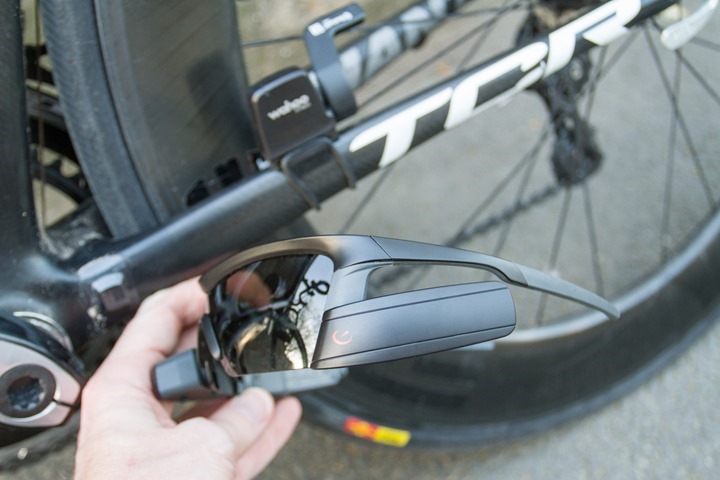 Right now it supports the common cycling sensor types of: Speed/Cadence combo sensor, Speed-only sensor, and Cadence-only sensor.  Plus, the heart rate sensor.  It'll soon support the power meter via a planned firmware update.  To pair these sensors you'll dive into the settings menu to pair them.  It's not really any different than doing it on your Garmin device.  The Jet does allow you to pair multiple sensors of the same type.  For example, I have a few cadence sensors in there from different bikes.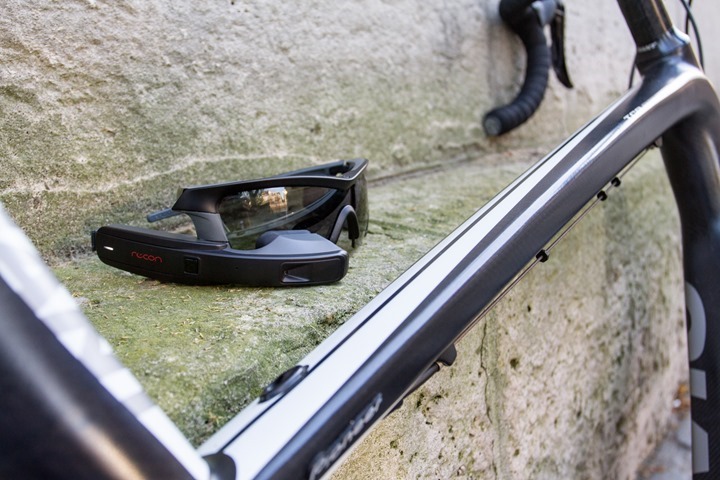 Next, when it's time to ride, you head outside and find the satellites.  This is an area where I'm seeing some mixed results, with it sometimes taking forever, and sometimes being insta-quick.  There was just a firmware update this morning that my unit got that says it should address that though, so I'll keep an eye on it.
What's cool though is that the Jet actually will not only pre-cache satellites (like most GPS watches these days), but will actually leverage your phone's GPS for briefly assisting the Jet in knowing where it is.  Basically, it's like the phone gives your jet a quick coordinate hint, and then the Jet is able to super-quickly find its location.  Pretty cool.  Of course, it can also do old-school style satellite searching too.
As you're riding, the unit will display various metrics on the screen.  You can define all these metrics using the Engage website.  So if you want speed, cadence, distance, etc… You can place them on the screens you want.  You can have multiple screens, which are accessed via the swipe button on the side.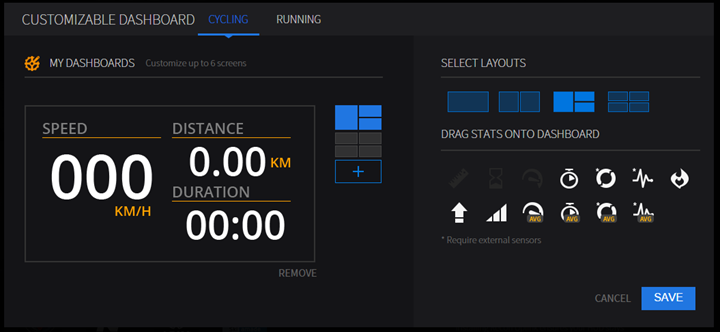 The data page process works fairly well, though I do wish I could build them via the phone app as well.  And do note that you can have both running and cycling pages.
In addition to regular data pages, there's also a map page.  The Jet allows you to download maps for your region (free).  It's pretty cool: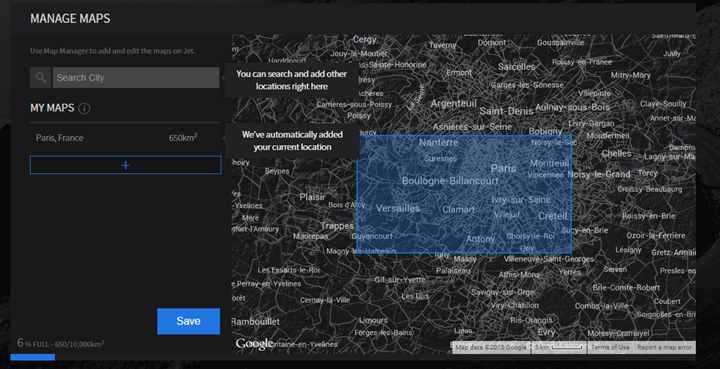 The map then will show you your current location.  You can add multiple areas that aren't adjacent as well, handy for road-tripping.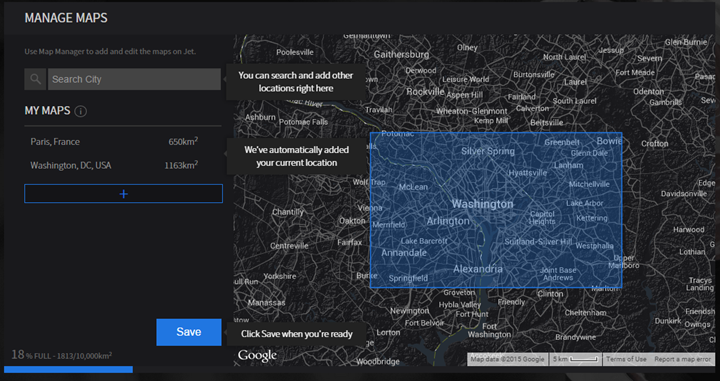 Even without the directional aspects, this actually worked fairly well for me this morning during a ride.  I was going to a part of town I'd never been to before, and since I knew roughly on the map where I was going, the ability to see streets/roads made it easy to manually navigate there without checking other data sources.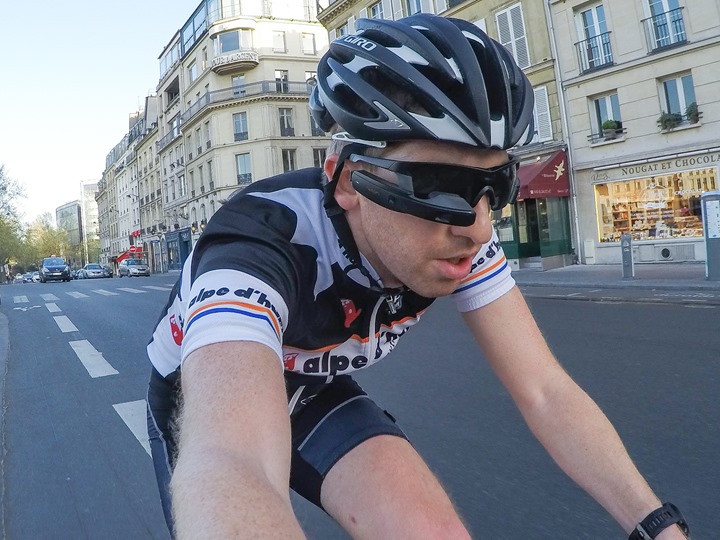 In addition, during all activities you can access the camera.  This is done by long-holding the front button, which then opens up a menu where you can select various tasks including the camera.  Once you open the camera, you have two options: Photo or video.  There aren't any settings with that – it's basically point and shoot.  Here's a few shots I've taken from it.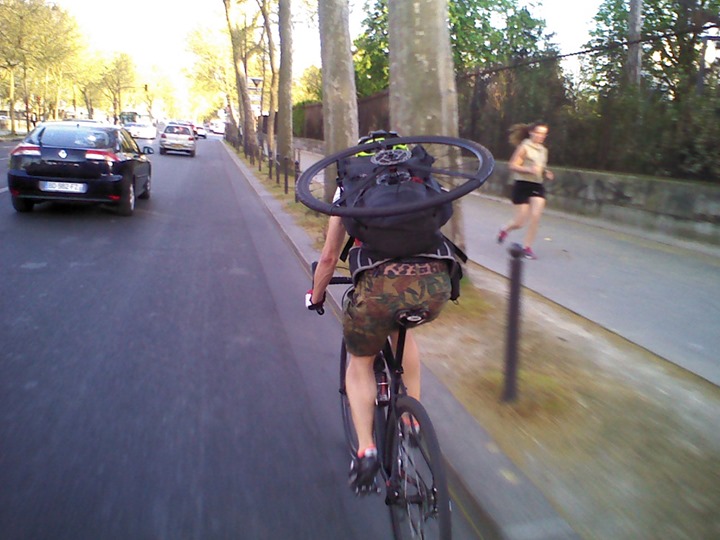 These photos are automatically uploaded after the ride to Engage (well, they were, but it stopped for a few days, it'll start again in a few days).
With videos, the unit is currently limited to 15-second clips, mostly out of concerns around battery life.  They're looking to make that user changeable however though, so you can burn battery to your hearts content.  Here's a quick clip I've shot:
While the camera is of 'so-so' quality, what's slightly more problematic for videos is that it's angled a bit down.  So it feels a bit unnatural to hold your chin up higher to get a view that isn't really the roadway.
Finally, post-ride everything (photos and your track file) gets uploaded to the Engage site.  But I'll cover that in a moment.  Also note that almost everything I cover within the running section applies to cycling as well, but it's just a simple way for me to split up the review a bit.
Use while running: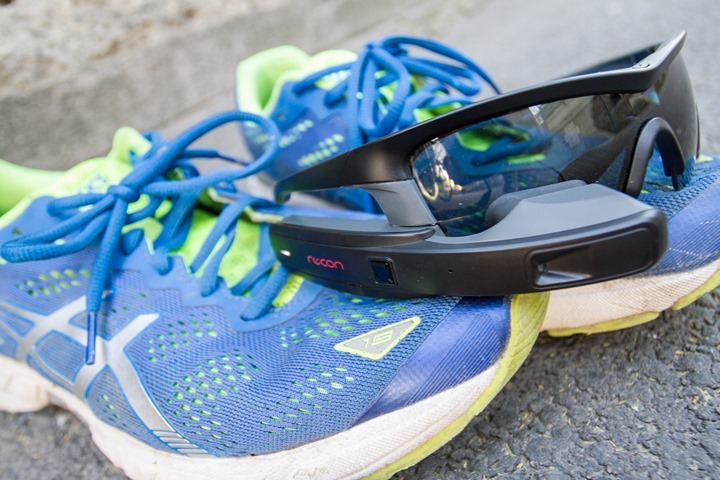 Next we get to running.  Here the unit turns on the same way as in cycling, and data fields largely display the same way (just with 'pace' metrics instead of 'speed' metrics).  Even the buttons all work the same.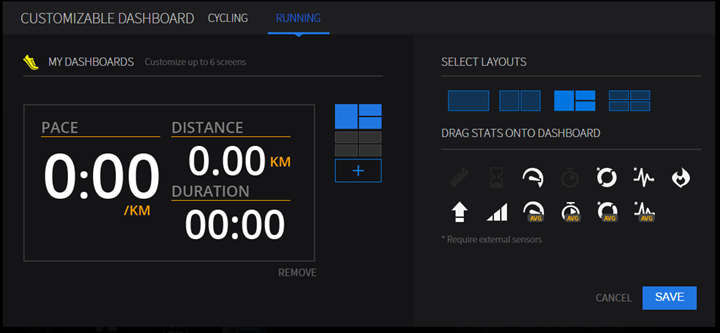 One feature that's available on both, but is a great way to save battery is to use the gaze detection feature.  This allows the display to turn off when your eye isn't focused on it.  You'll configure this on the unit and then it'll automatically trigger on/off when you shift your eye to it.
The only challenge with running with the Jet is that it feels a bit overkill to me.  Meaning, it feels like a lot of stuff going on my face compared to a simpler watch.  Also, because of the speed you pass people (slow), a lot of folks will stare at you like you're a small green alien dressed in a Waldo outfit.
But, that aside, it does work just fine.  For example, two nights ago in Doha (Qatar), I ran at night with the clear lens attached to the unit.  This meant that I could see just fine at night without the darkness of the tinted lens.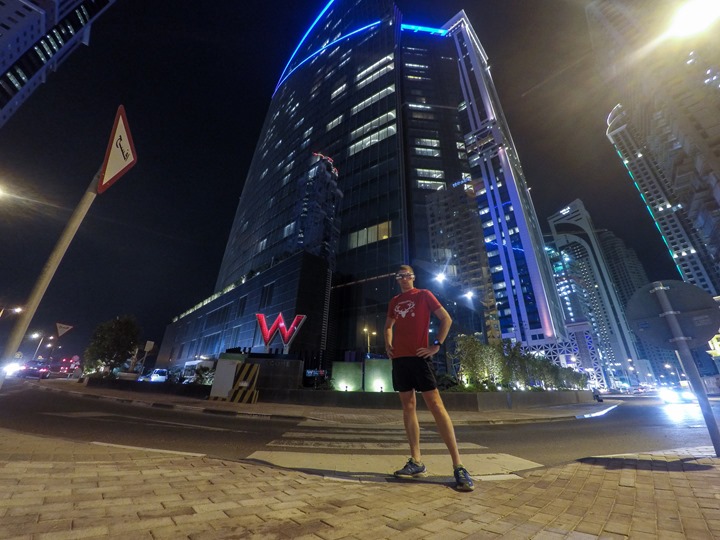 Plus, GPS signal wise there's pretty much no better place than an antenna on top of your head.  Score one point for ideal antenna design!
Otherwise, as noted before – there's very little that's unique to only running.  They will be adding in pace smoothing here shortly, to match what Garmin and others have done around rounding the instant pace to the nearest 5-seconds.
The Engage App & Site:
There's a ton of features that really only get lit up once you start integrating with the Engage mobile app and the website.  For example, on just the phone app side as a quick preview into those (and my in-depth review), you've got:
– Live Tracking (you can share your current spot)
– Buddy location (you can display the location of others with Recon products)
– Smartphone notifications (i.e. text message notifications)
– Automatic uploading of activities
– Viewing of other friend's activities in your feed
It'll also automatically upload your activities upon completion to Recon's training log site: Recon Engage.  This site is shared with their snow-sports devices, so occasionally you'll see references to that still.  I suspect they'll taper off over time.
The site allows you to analyze your workouts as well as manage your device.  For example, here's the main activity page:
You can then dive into any single given activity, such as one of my rides (this morning for example).  You'll see up top the map of where I went, and then down below you'll get the different metrics displayed on a graph.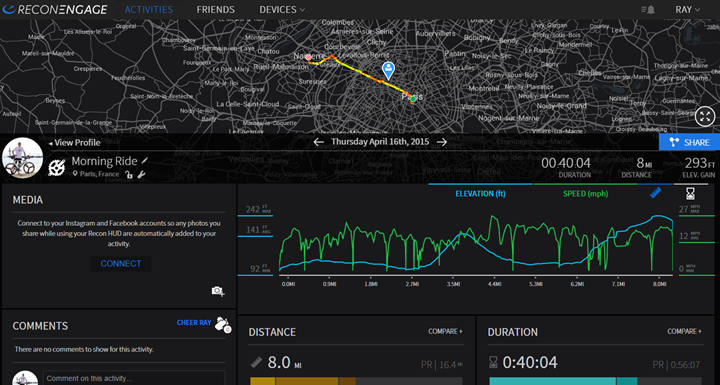 As you continue further down the page there are sections for each of the main metrics of the ride.
And of course, my favorite metric – Burgers:

Running-wise, you'll get roughly the same thing, just with aspects like 'pace' instead: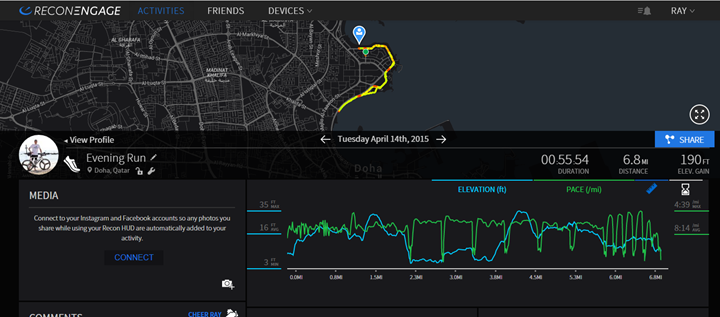 In addition to viewing the data on their site, you can also connect 3rd party sites, including Strava & TrainingPeaks.  These sites will then be sent the raw .FIT file of the data as you complete the activity:

Additionally, in the settings you can configure a variety of options, most notably how the units are displayed.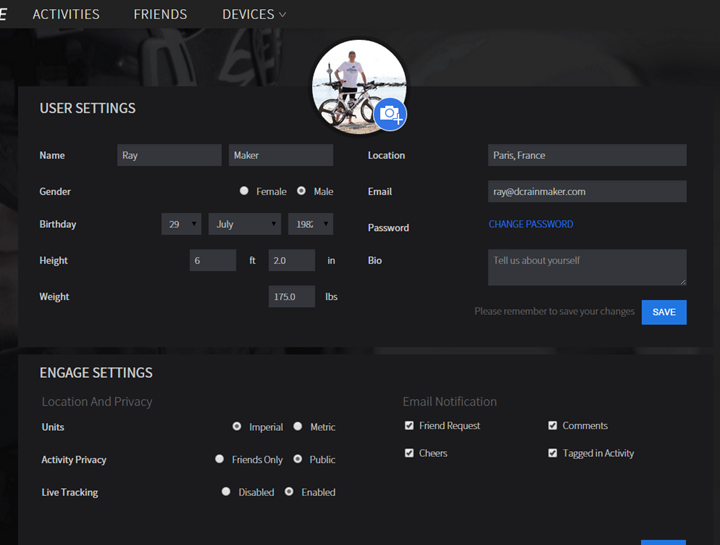 Overall, from a website standpoint things are coming along nicely.  There's still a bit of work that can be done to make it feel more unique to cycling and running – and the graphs could use some work.  But I definitely appreciate the connectivity to 3rd party services.  I continue to believe that's incredibly important for devices today.
The Road Ahead: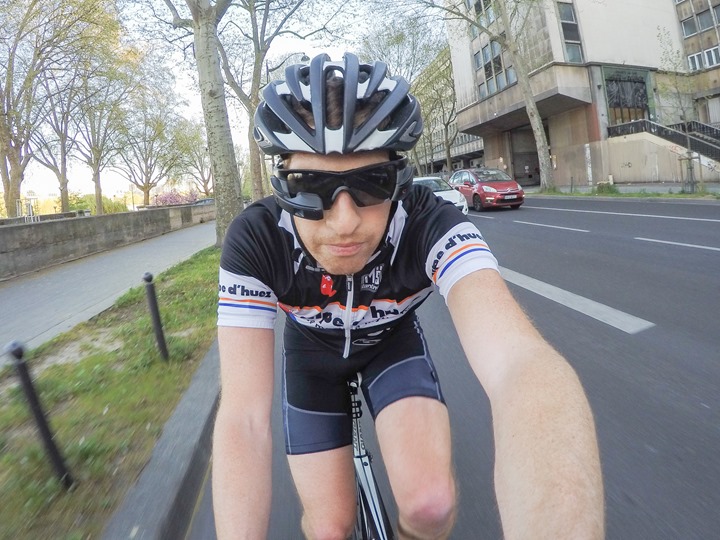 While the unit has just started shipping this week, there's definitely a number of items still on the road map for the company.  Notably the short term road map.  They tell me that they expect frequent updates for the near-term, both to the device and the site.
For example, power meter support is coming soon.  As is Bluetooth sensor support (with heart rate first).  Additionally, they're looking to work more and more with partners on their SDK.  Their SDK already has apps in place – for example, Garmin VIRB control – allowing you to control the cameras from the goggles.
They're also looking at Garmin Connect IQ integration as well, trying to find the best ways for those two ecosystem and devices to integrate.  On the Recon SDK side of things, the next big update is coming out May 18th, which will open up quite a number of possibilities.
And of course, much of what lies ahead is taking the feedback from all of their pre-order customers over the next few weeks and incorporating that into the firmware.  There's nothing quite like thousands of real-life users to tell you how they'd like things different.
As I noted at the beginning – this isn't a full review, but just sorta a peek into things.  As the software gains some of these features and I'm able to spend a bit more time with the production unit – I'll be looking to get out that detail that everyone is looking for.
Until then – feel free to drop questions below.  I'd be happy to try and chase down the answers.
Thanks for reading!