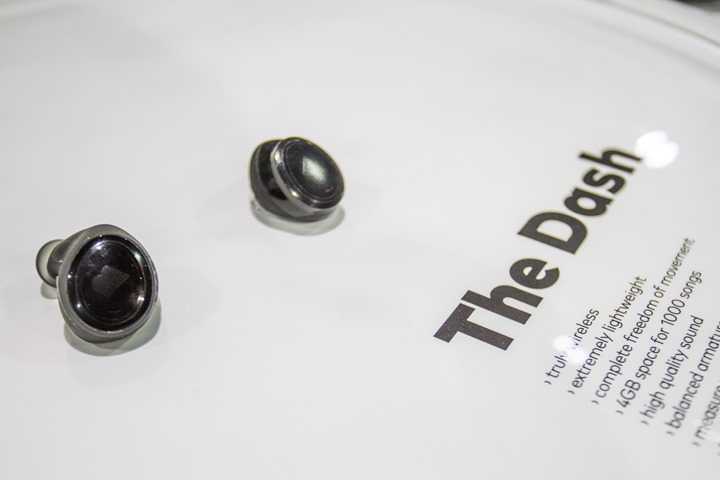 Perhaps one of the most highly anticipated products out there is The Dash, by Bragi.  This tiny little set of pods sits in your ear and measures a cornucopia of athletic metrics from pace and distance, to heart rate and body temperature.  But it also pulls in aspects you'd expect from a music device, such as audio playback and a 4GB storage for music files.
I previously wrote about them last February when they first rolled onto Kickstarter (and I go into more details details of what they're doing with the product).  At the time, I was both optimistic as well as skeptical of their claims – primarily due to my concerns around timelines and new technologies being integrated in a way that's never been done before (on many fronts).  These concerns were based on my knowledge of the industry and general challenges with Kickstarter projects.  Still, they managed to raise over $3.3 Million (USD) from approximately 16,000 backers.
For those familiar with the project, you already know that it's been delayed beyond their previously planned ship dates.  But I still wanted to catch up with the founder of the company, Nikolaj Hviid, and see where things stood going forward, as well as simply get hands-on with the unit.  Thankfully, CES provided that opportunity.
The Hardware: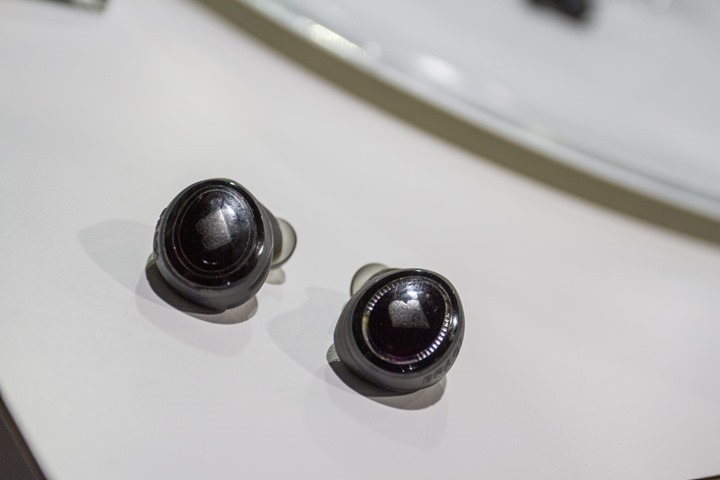 First up is the unit itself.  While they had a booth, it was rather minimalistic with only a single set of pods under the glass.  Thankfully, Nikolaj was able to let me go a bit more hands on.  You'll see that the pods are indeed the size they touted since the beginning.  These pods include all the actual components within them.  This is important because one of the biggest challenges the project faced was getting all the components in the right sized package.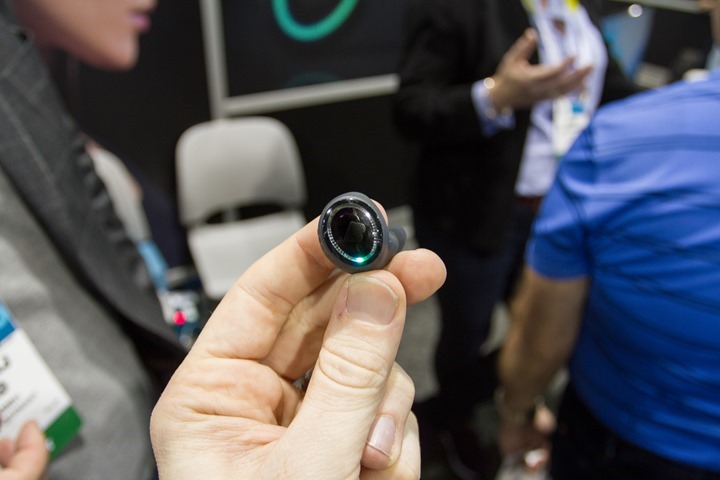 Next, you'll see that it's powered up, via the small pulsing light on the unit itself.  While the unit was sitting still it was powered off, but once you shook it a bit or tapped it, it woke up.
On the backside of the unit on the ridgeline in the middle is the tiny little pulse oximeter sensor that measures your heart rate.  Meanwhile, on either side of it are the charging connector pieces.  You'll notice in this beta version it's not quite perfect as one of the connectors has rubbed a bit raw.  He noted that's already been addressed.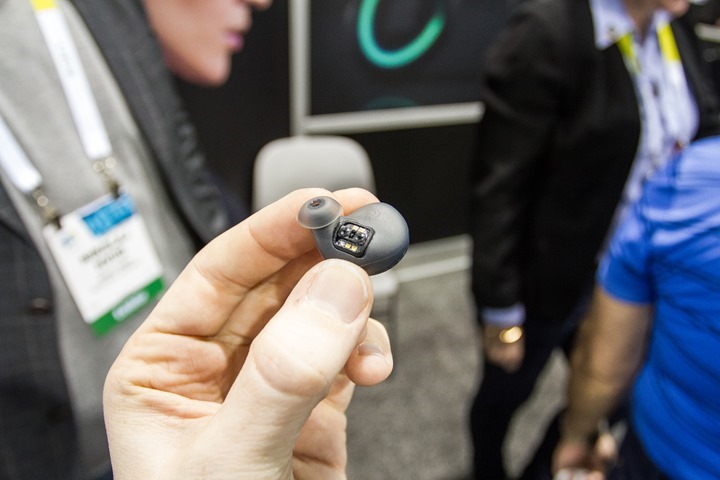 While standing on the show floor in a booth no bigger than an airport bathroom stall, it's a bit hard to get a full test of features designed for an athletic devices.  So, the 'demo' portion was fairly limited in that sense.
Still, he did demonstrate the dynamic audio pass through functionality.  This ensures that if you're running in the city and a car honks their horn at you, or a cyclist dings a bell – that you'll hear it  This reacts dynamically to allow outside noises to pass through clearly – such as snapping one's fingers about a foot from my ear as was the case in the demo.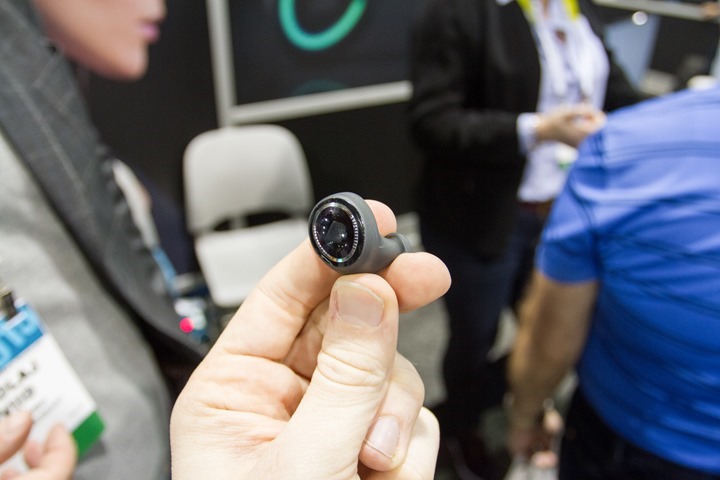 Speaking of my ear, here it is.  Well, not just my ear, but the powered on unit in my ear.  It fit pretty much perfectly for me and felt snug.  But of course, I'd reserve fit and stability judgment until after going for a run where you bounce around.  For any earbud within a booth setting it's difficult to really test that piece.  They do have different size silicone sleeves that come with it though, so ideally one of them would work on one's ears.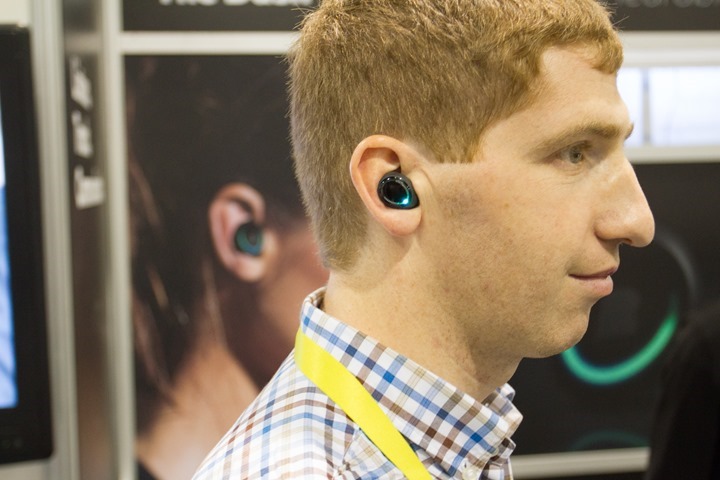 As shown above I had just one pod in, but obviously the system comes with two pods (left and right).  The pods are waterproofed to an IP67 standard.  However, Nikolaj spent a bit of time to walk through the different waterproofing aspects of each layer of the device.  For example, if you were to just lower the device into the water, it could actually stand up to 10m waterproofing (~30ft).  But the waterproofing rating is reduced to the IP67 standard when you apply pressure, especially onto the outer membrane that sits roughly in/around the light ring that you see.
Either way, the device is perfectly fine for swimming in a pool.  It's also notable that in a pool setting if your head is primarily below water the unit will only play audio out of one side.  This is logical, given the totally wireless digital connection is broken once submerged.  If however your stroke keeps your head above the water then the music will remain coming out of both sides.
The Software: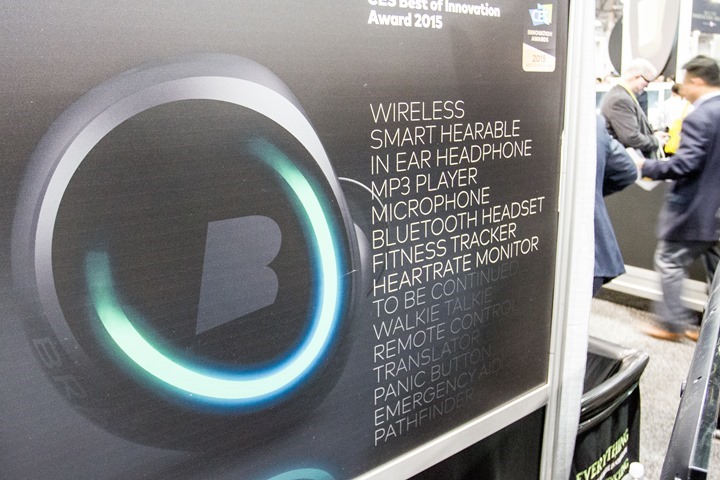 Now, when it comes to hardware as I noted above it does all seem to fit and be within the unit.  But, the key thing to remember is that after you get all the components done – hardware  is generally the least of your problems in a technology device.  It's the software that makes or breaks things.  For many sports technology companies, it may be a year or more before a perfect hardware device gets the software that it deserves.
Like most companies these days, Bragi sees the hardware as a platform for continued software development longer term.  They illustrated this in that half of the booth board space was dedicated to the list of future software features (seen above).
Yet, for many users it'll be the previously announced features that'll be focused on.  For this there will be some bumps in the road.  For example, while the unit will have heart rate sensing upfront at shipping, it won't have the ability to rebroadcast that over Bluetooth Smart to other apps & devices until July.  That's because they're dependent on a chipset firmware update on the Bluetooth Smart stack they're using, which won't come until later this spring from their vendor.
Still, the majority of features should be there upon launch.  Additionally, things that weren't around a year ago are already in the works – such as Apple Health and Google Fit integration for various health and fitness metrics.  These will come directly from the app by Bragi to those 3rd party services.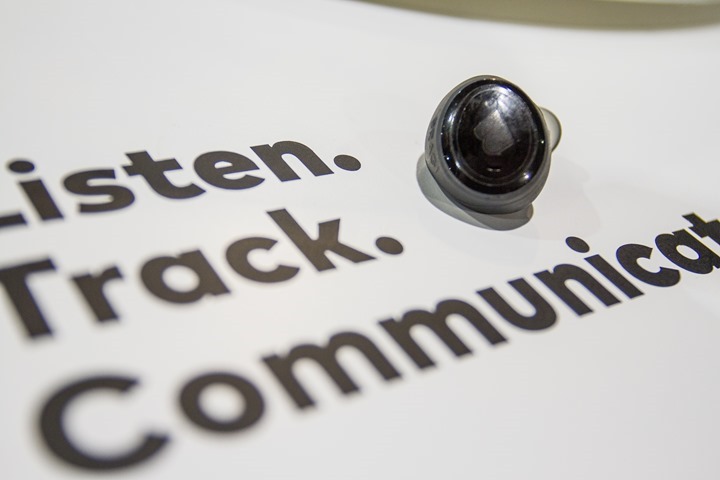 Then there's features that Nikolaj was particularly excited about, such as the ability to create macros.  For those that remember their old school Microsoft Office days, macros are predefined actions based on a trigger.  In this case, the unit can respond to certain movements and automatically perform certain tasks.  For example he gave the concept of looking at the sky for 3 seconds and then music starting to play.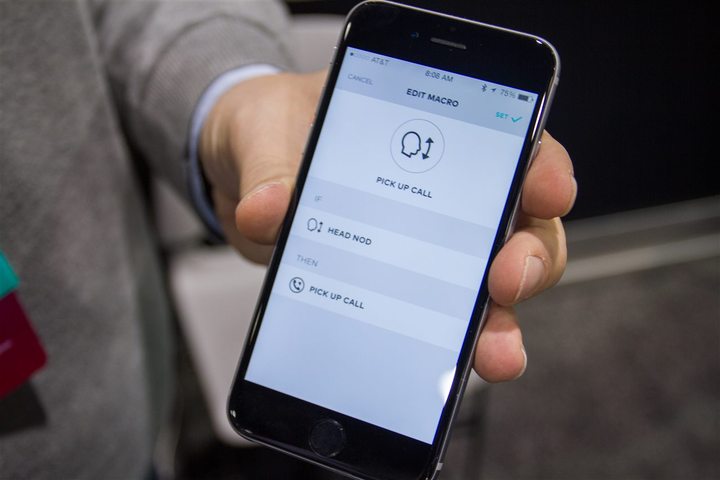 These macros would be customizable from the app itself.  They're expected to be available within a few months from release.  As an update, here's a few more shots from the app I went back and got:
Overall I was impressed with how polished the app looks at this point at time.
Shipping: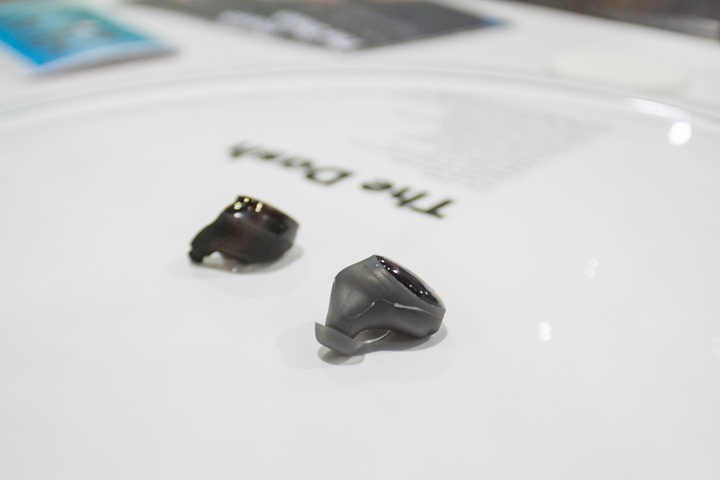 Of course, the real question everyone wants the answer to is when they'll be shipping.  Barring further complications, here's the cut and dried schedule:
Early February: Shipping to Kickstarter "developer" backers
Late February/Early March: Shipping to remainder of Kickstarter backers
April: Shipping to regular retail locations (only after all Kickstarter units have shipped)
I'll certainly be looking forward to getting a unit and giving it a full in-depth review once they start to ship, as there is no doubt lots of interesting technology within it.
As always, feel free to drop any questions below and I'd be happy to try and track down the answers.
–
Welcome to CES 2015! Don't forget to check out all my CES 2015 coverage, as well as my continual updates throughout the day on Twitter.  It's gonna be a crazy busy week!