Over the weekend I held the 'Anything on my Recommendations List' giveaway, which basically meant that as long as I liked the product and it was listed on my Winter 2014-2015 Recommendations Guide – then you could win it.  This ranged from products as expensive as a computerized trainer, to a simple bike computer mount.  You get one toy to choose from the chocolate factory!
All in a total of 4,255 of you successfully entered by the closing time (and after I removed a bunch of duplicates).  From there, it was off to my favorite Random.org to find a winner: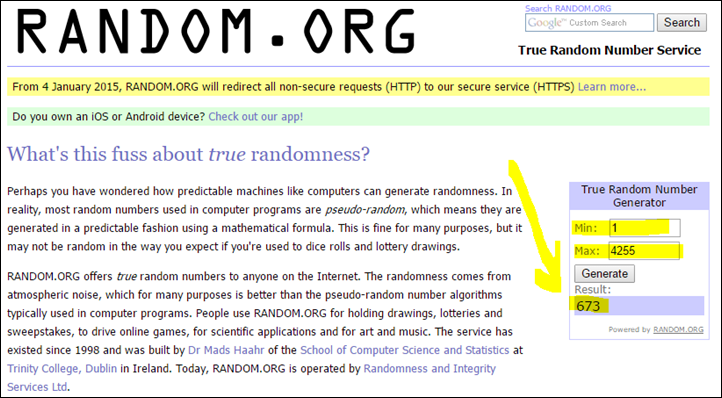 So, I then took that number and went off to find a winner that gets to choose whatever the heck they want from the list:

Woot, congrats Gary!  Hopefully the race last weekend went well and you got the ribbon!  I'll be in touch shortly for you to pick your gadget!
For those that didn't win – there's still a ton of sweet deals in the Black Friday/Holiday List post that I have that are still going on a wee bit longer.
Finally, a huge thanks to Clever Training who sponsored all the goods, which I've got a great partnership with.  As you probably remember, by picking up sports technology gadgets from Clever Training you support the site.  And on top of that, all DC Rainmaker readers get an exclusive 10% off all products they sell (basically every sports tech company/gadget/device) with the VIP program and/or DCR reader exclusive coupon code (depends on product), plus free US shipping.  And most of all, you support the site in a big way – so I appreciate it!