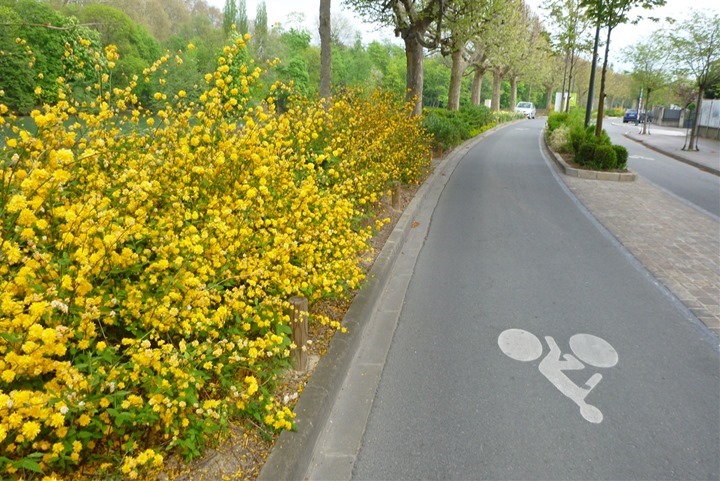 The last few weeks have been a bit of a blur between travel and putting together the Suunto Ambit review.  As such, my usual weekend wrap-ups got slightly side tracked.  So for those that enjoy the non-product review side of things, here's a bit of what I've been up to.
First up, a lot of brick workouts.  It seems like I'm doing brick workouts almost every other day.  But, that keeps things interesting, so I'm happy with it.
My brick workouts average between 70 minutes and 2 hours.  And they tend to fall into one of two camps:
A) Long bike (trainer), short run
B) Short bike (trainer), medium run
The long-bike/short-run scenario usually consists of about a 75-80 minute bike ride, followed by a 30 minute run.  The bike segment has a bunch of building intensity for about 35 minutes, and then dives into long sets.  Yesterday's was 2x16m each.  Saturday's was 3x12m.  Note unlike this outlined workout.  I was pondering yesterday which one was worse.  I haven't quite decided, but I think I prefer the 2x16m ones, since it feels shorter (yes, I know it's technically shorter) – despite the individual sets being longer.
The other brick, a short-bike/medium-run scenario involves a very similar 30 minute build on the bike, but then straight out into the run for more intervals.  Repeating sets lasting about 9 minutes long where the pace stays roughly in 10K race pace territory, though it's governed by heart rate.
Of course, along the way I occasionally take photos.  Usually if I'm grabbing photos for a review.  In the below case, I was working on the Ambit review – so I had my camera with me.   Now that it's gotten a bit warmer out they've setup these giant outdoor tent/patios in some sections along the river.  That in and of itself isn't terribly entertaining.  However…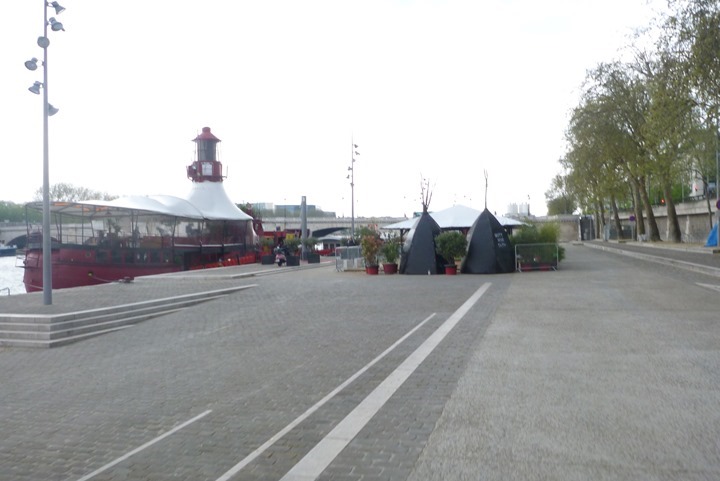 …this guy at the side of the structure was.  The water comes down from up top, and spits out…uhh…him.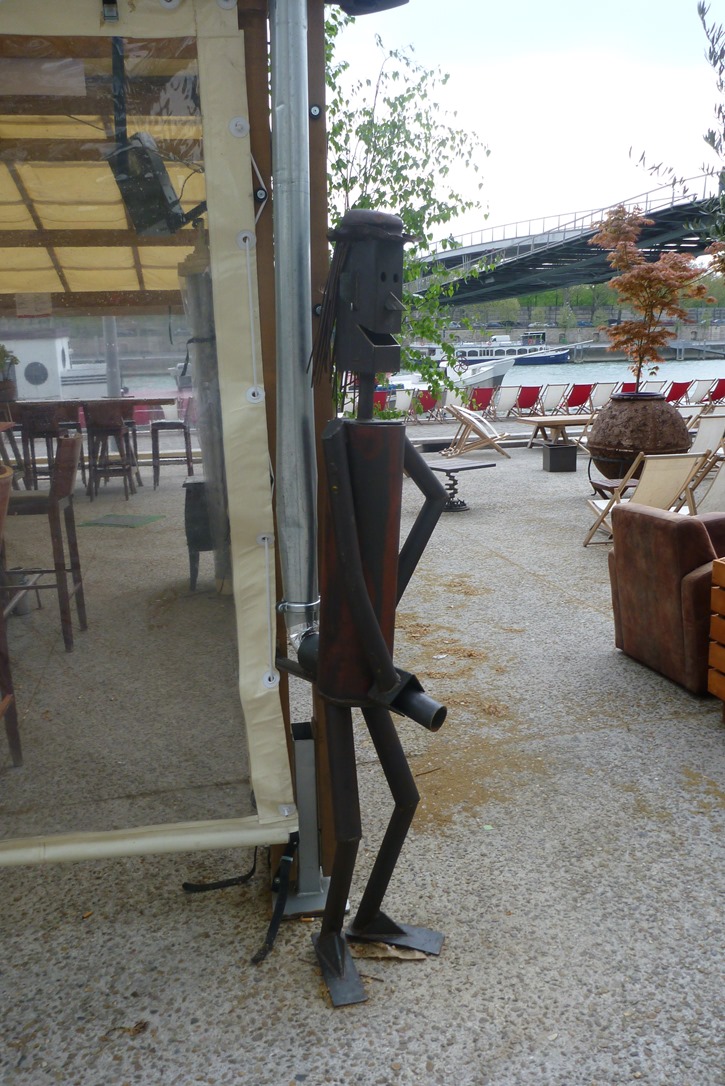 The Girl actually snapped the above shot, as I traded the camera with her mid-way through the run so she could get some watch shots on her wrist.
Speaking of The Girl, we went out for a nice ride together Sunday afternoon.  It wasn't a training ride, more just a meander.  Thankfully, the roadway along the river is actually closed again on weekends for pedestrians/cyclists.  During the winter they apparently decide it's not worth it to close, since nobody will be out there (too bad, I would have been!)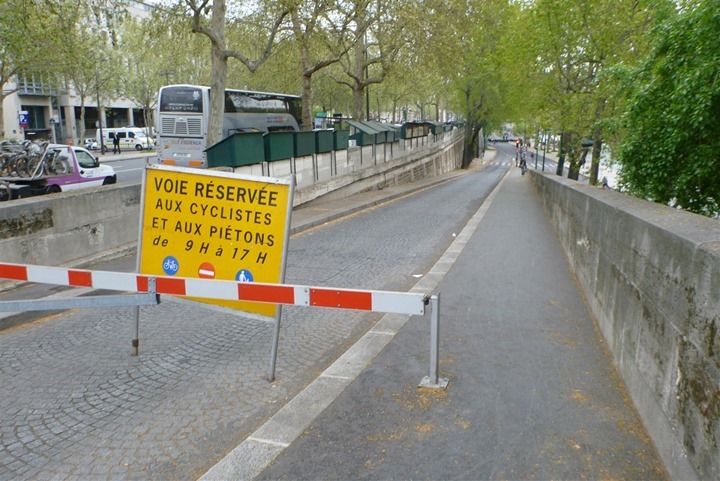 Here's The Girl on her bike: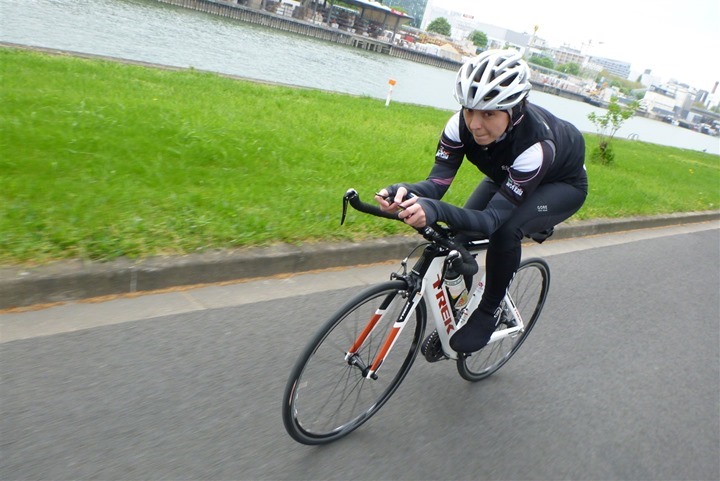 Which is a very different aero position than when she tries out my bike: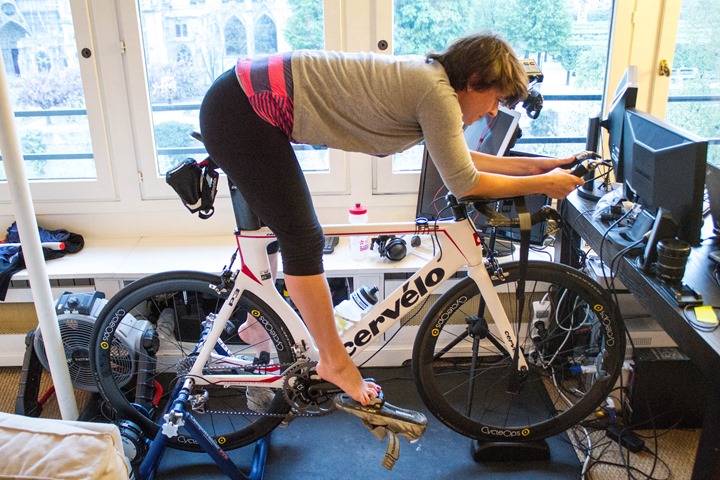 We wandered along the river, and then that split and we were along a smaller river/stream of sorts.  It was nice and quiet and fairly pretty with all the green again.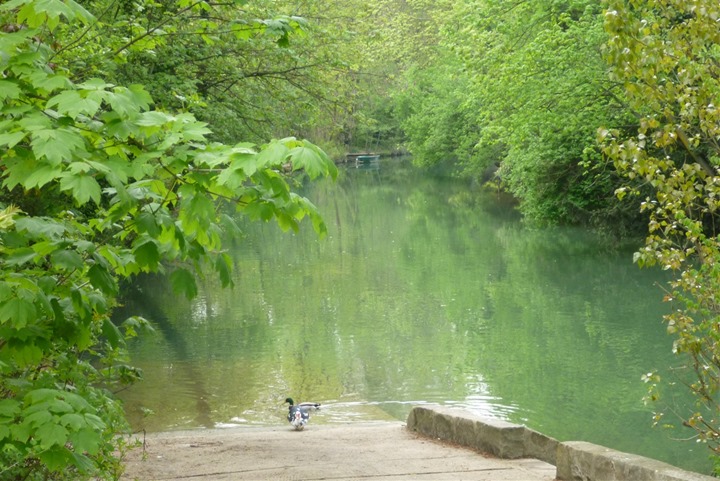 I often ran down this way during the winter, but it was usually wet and cold.  And all sorta barren and brown.
In fact, the color was not unlike the random flying creature that crapped on me mid-ride.  I didn't even realize it happened.  Just looked down at one point and saw it there.  Seriously bird, seriously?!?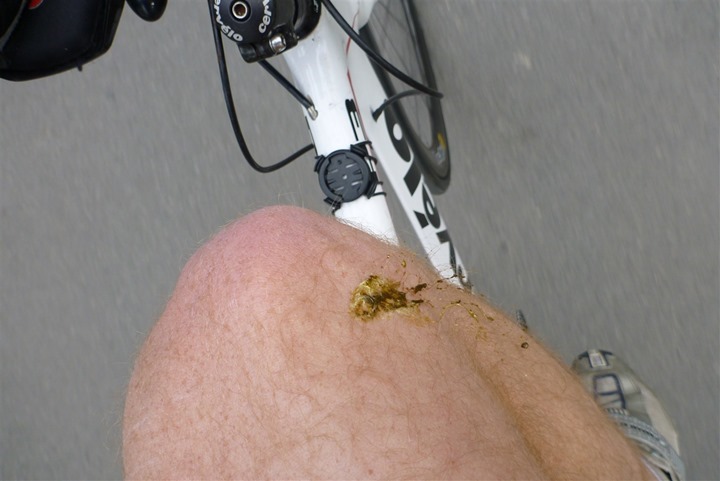 On the way back we saw a boat headed into the locks to get dropped down a few feet: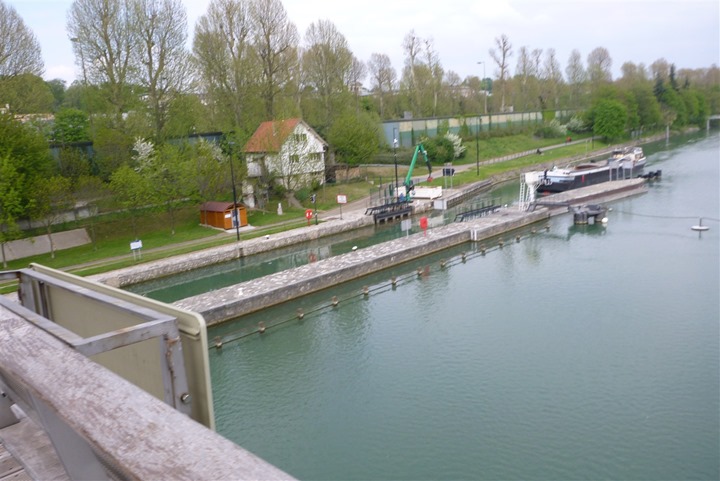 It's funny, I never even realized there were locks right there.  While you can see a path in the photo below, it's actually private. The running path is up against the upper wall, and the view is sorta blocked.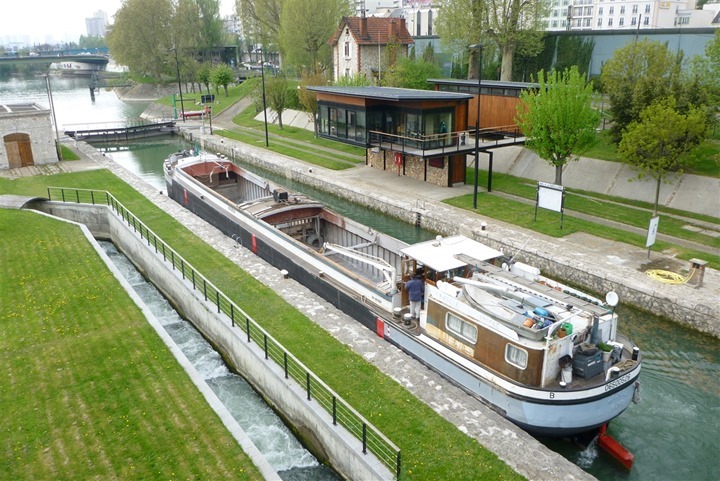 We both enjoyed the fact that the Captain actually took his took cats out for a walk while the water was drained.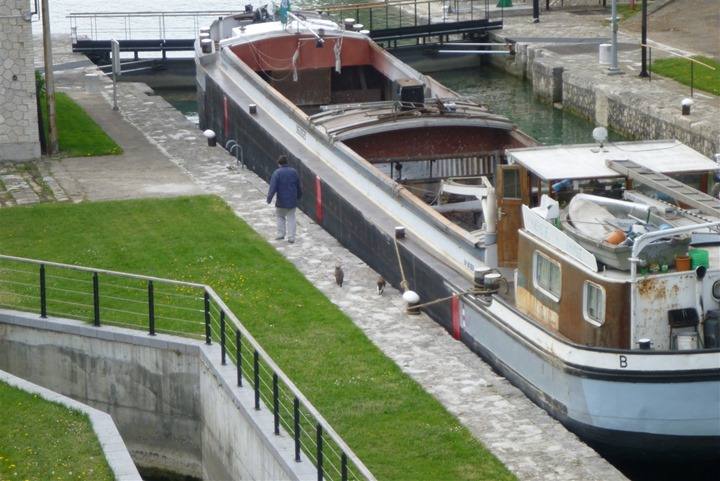 From there, it was back towards the house.  We hit up what we call 'The Model Bridge', simply because we see model photoshoots there semi-often.  Which is different from the fashion models outside our window.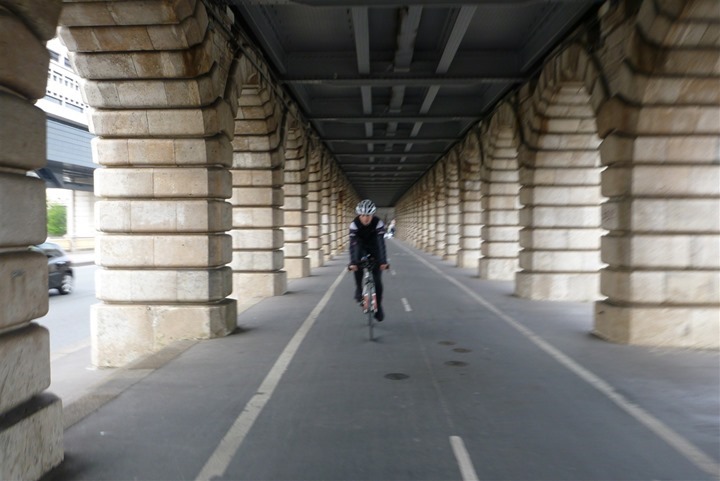 Once back at the apartment we successfully navigated not one, both BOTH of our bikes into the tiny elevator.  And both of us. Definitely a successful elevator ride.  No cyclist left behind.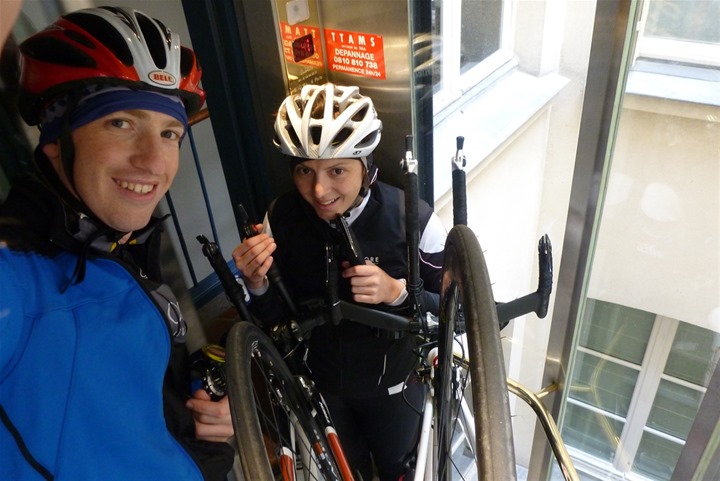 About the only thing left behind recently were a few trees outside our window (in fact, the tree below  is just offset to where the fashion models were in the above link).
Apparently some of the trees here have some sort of disease and they have to cut them down.  They did about 4-5 on the stretch in front of our place.  That's understandable.
What wasn't understandable is why they had to start cutting them down at 7AM.  First, the beeping crane and basket to get up really high to access the limbs.  Then, high powered chainsaw.  Followed by none other than the wood-chipper as they shifted a full-on tree through there.  And of course since this all occurred while blocking two lanes of traffic, you can layer in a never ending barrage of cars angrily honking.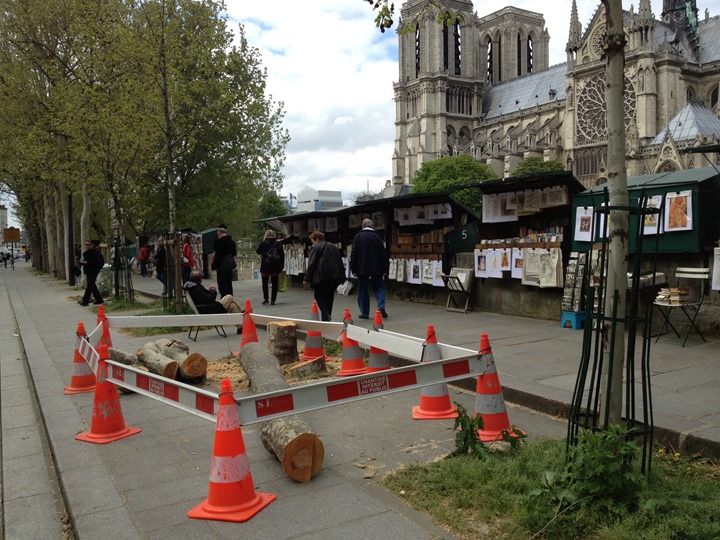 In other news…
A bunch of stuff came in.
Or rather, stuff I brought back from the US last week.
Actually, sorta a compilation of both.
Some of it I just outright bought – like the latest Withings Scale*, the Adidas Footpod and the Poolmate HR. And others companies sent over to get reviewed.
(*Yes, the same scale to which The Girl rightfully asked "Why do they want to measure air quality in the bathroom?" – as it has that feature)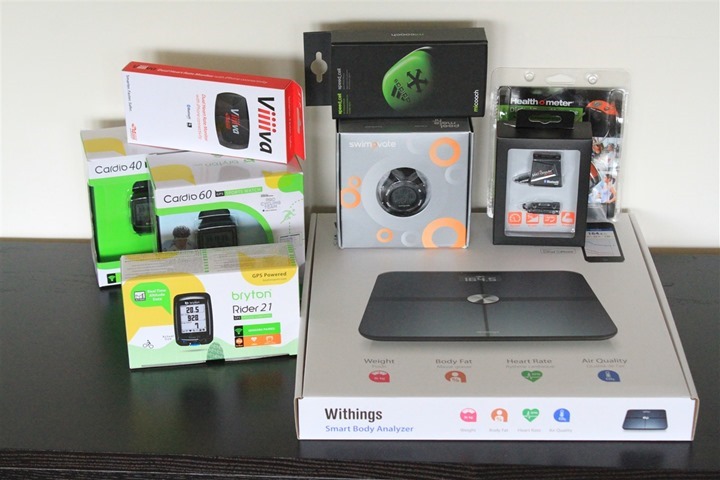 I don't have any timelines on any of it, except  'a while'.  The Queue is pretty deep right now, and for the most part any new products are looking at 2-3 months out.  There will always be exceptions, but for the most part, that's where things stand.  Only so many hours in the day and night.  Obviously, things already in the queue are in the queue.  I'll load these into The Queue sooner or later.  Except the Viiiiva, it's already in the queue – this was just an updated version of it to commence my testing on.  And there's stuff popping back out of The Queue here over the next week.  French holidays are helping!
In other news, last night I registered for my first triathlon in France.  It's next weekend, and only about 10 miles away at Versailles (big castle/garden/estate place just outside of Paris).  As many of you know I originally planned on racing the Paris Triathlon in early July, but they cancelled that race due to permit issues.  So, this race next weekend provides a nice start to the triathlon season until I sort out what I'm doing later.
I liked that I was able to register easily this late before a race.  In the US, that's usually pretty hard to do, as most races sell out quickly.
Two items of note with this race.  First, was registration.  I tend to use Google Chrome, because it has automatic language translation built in.  So whether I'm reading a French site or a German site, the text all looks English to me.  Really cool.  But, sometimes it just doesn't quite work out.  Take for example, the categories: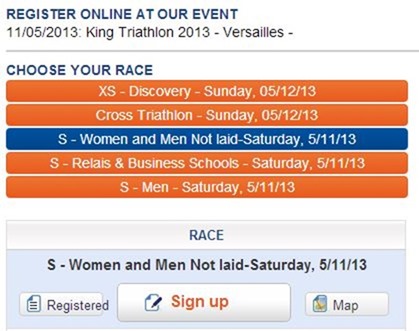 In this case, I'm apparently racing in the "Men Not Laid" category (highlighted blue).
In reality, it's supposed to be licensed.  Here's the original text: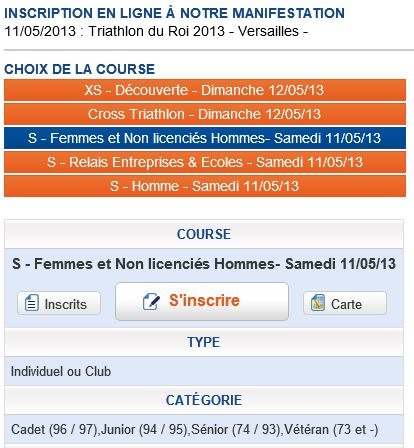 I have no idea how to get a license, so, I'll just go with non-licensed.  I'm not clear if it's like an Elite USAT license, or just a regular USAT Age Group license.  Either way – sans-license!  Err…'Not-laid'!?
Second, is that unlike 99.9998% of triathlons in North America, this one is draft legal.  Meaning that the cycling leg is more akin to the sport of road racing than a time trial.  You can draft directly on someone's wheel as you see fit.
But as a result of that they do not permit traditional triathlon bikes.  Specifically, any triathlon bike where the aerobars extend further than the brake levers.  So super-short aerobars are permitted (like you typically see in ITU professional level triathlon), but not what you'd see in an long-distance triathlon (half-iron/iron).  Most races in Europe that aren't half-iron's or longer are draft-legal.
Of course, the challenge here is I no longer have a road bike in Europe.  I've got a triathlon bike, my commuter bike…and near unlimited access to the Velib bike rentals.
Perhaps I'll race a Velib: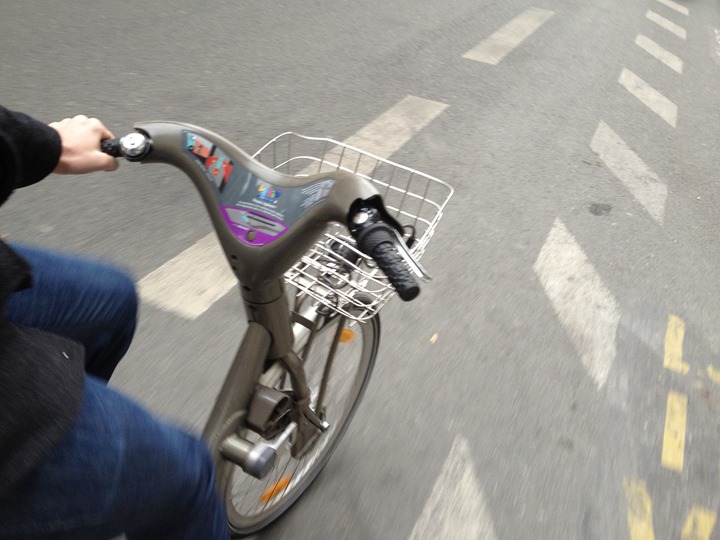 I've got a week or so to figure it out.  Plus, it's only a sprint triathlon.  How much could possibly go wrong in 25-30 minutes on the bike with a new/rented bicycle?
With that…thanks for reading!