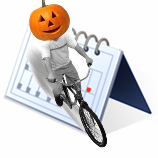 The Week in Review is a collection of both all the goodness I've written during the past week around the internet, as well as a small pile of links I found interesting – generally endurance sports related. I've often wondered what to do with all of the coolness that people write, and while I share a lot of it on Twitter and Google Plus, this is a better forum for sending it on to y'all. Most times these different streams don't overlap, so be on the lookout at all these places for good stuff!
So with that, let's get into the action!
DCRainmaker.com posts this past week:
Tons of interest this week in the WTC cancellations post – so definitely check out that post. Good stuff abound!
Saturday: Week in Review–October 23rd, 2011
Monday: A DC weekend of Cyclocross and assorted new products
Tuesday #1: WTC now cancelling races 30-45 days out when they want to avoid "a sizeable loss"
Tuesday #2: Garmin iPhone ANT+ Adapter and Garmin Fit app Review
Wednesday: Garmin Connect adds back Google Maps support, keeps Bing too
Thursday #1: Tracks, Timex Run Trainers…and a night at the Kennedy Center
Thursday #2: A look at Garmin's new Forerunner FR70 running watch
Friday: Now available- DC Rainmaker Stickers!
Men's Health/Gatorade/Urbanathlon Blog posts this past week:
In addition to all my writings here, I also cover a bunch of topics over on the Men's Health Urbanathlon blog. Here's the goods from the past week:
Monday: Some of my favorite Chicago Urbanathlon photos
Friday: All checked in and ready for NYC Urbanathlon!
Note that I post over there roughly every Monday and Wednesday, and Sarah posts on Tuesday and Thursday. It's a tag-team event.
Washington Post Article:
This week I was featured in the Washington Post – pretty cool stuff.  I was talking about runner tracking technology for events like the huge Marine Corps Marathon, which happens Sunday morning in DC.
Check it out!  And be sure to read onto page two as well!
Stuff that I found interesting around the interwebs:
Here's a not-so-small smattering of all the random things that I stumbled on while doing my civic duty to find the end of the Internet:
1) Electronic Shifting is here…now what?  A good article from Cycling Tips looking at what's coming next down the electronic shifting pipeline.  In addition to the items they mentioned, I'd love to see more data integration with head units there.  For example, it'd be interesting to see if over the course of an Ironman race if athletes become lazier in shifting, resulting in sub-optimal gearing.  This could be accomplished fairly easily via ANT+.
2) A really good explanation of the really complex 2012 London Olympic Triathlon Spot System: Do you know how slots are handed out for next year's Olympics in the triathlon event?  Even if you think you know I'm willing to bet you might not realize all the finer details.  Definitely check out this post from pro triathlete Ben Collins on how it all works.
3) Bluetooth Low Energy (BTLE) now…Bluetooth Smart…or something like that: There's little doubt that BT 4.0 has arrived in a big way, ushered in via the iPhone 4s.  And sensor devices are right on the heels (more soon on that).  But this really confusing new naming chart doesn't help the situation.  I'm still trying to figure it out.
4) Bicycle funding bill being presented this week: Worth a look if you value some of the funding that helps bicycle projects here in the US. Has a nifty little support form and all.
5) TrainerRoad coming to Mac on Sunday?  Looks like it might be…thanks to this tweet.  We'll see!
6) Why Open is Better, post from Wahoo Fitness: That last few days have been interesting. Lots of commotion around Garmin's recent iPhone dongle release – the majority of it coming from fairly angry ANT+ companies.  But they aren't actually upset about a Garmin product, but rather Garmin's implementation, which is only really achieving one goal: Fragmenting ANT+.  I haven't decided whether I'll write a post on it explaining why…perhaps if there's interest.  Sure, Wahoo has skin in this game, but actually they are probably the least concerned of all the folks I've chatted with.  In the meantime, this post from them gives some of the basics of why open is better than a fully closed off accessory.  After all, that's the whole point of ANT+: Open.
7) Triathlon in the high school: Awesome to see a full-blown class dedicated to triathlon effectively being a course in a public high school.
8) New iPod Nano Distance/Pace Accuracy Post: I recently picked up one as well, and will be adding it into my runs here soon – simply curious to see how accurate the accelerometer based unit is.  In the meantime, check out this post.
9) Differences between exercise in NYC and Paris: Being that I'm taking a train from NYC to DC right now, found this of interest.  A look at the differences between how people exercise in NYC compared to Paris…from the perspective of someone who's likely not an endurance athlete (aka: Everyone else).
10) A bike that plays records: Crazy!  But yup, it's got a record player on the back.  But no, I can't think of a practical use for it.
11) Aerial footage of cyclocross race: I wish I had one of these RC helicopters. And a place to fly it.  Cool stuff.
Random Notes:
Good luck to all those racing this weekend – and in particular the folks racing the Marine Corps Marathon.  Have a great time!
Thanks for reading all!