It was three years ago today that I made my first post here.  At that time I had just registered for Ironman Canada and was preparing (at least mentally) for the road ahead to my first Ironman race the following August.  Since then a lot's happened around here.  Mostly in the form of far too many cupcakes eaten.  And cookies.  Lots of cookies.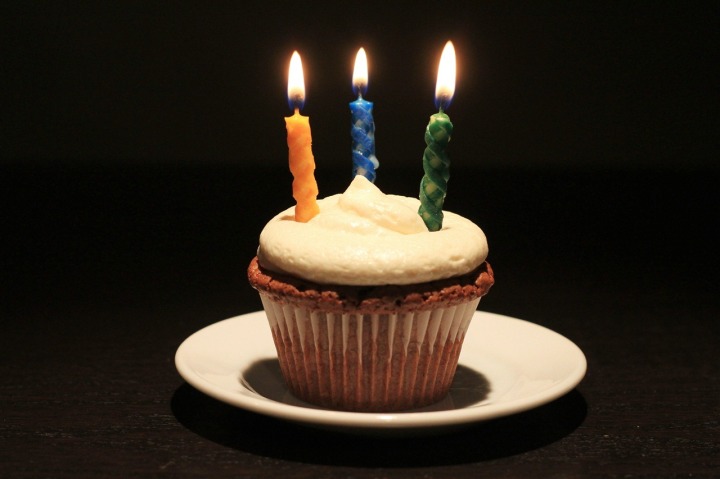 (Cupcake courtesy The Girl)
It's been interesting to watch the blog world move by over the past few years.  Some blogs that used to be the staple of my daily reading…now gone.  In their place new and unique blogs have sprouted up.  The only challenge here for me is that I've gotten busier and busier – so much so that it's hard to stop by and comment on all the blogs I used to.  Which makes me sad. But I still read them daily.  Especially the folks that have been around since the beginning.  I'm talking about folks that were there from just about the very first post.  People like Don, Audrey, Curly Su, Al, Lesser, and Quadrathon to name a couple.  All of which have great, interesting and fun to read blogs.  These were blogs that I looked up to when I first started out blogging.  If you want to see a small snippet of the folks I enjoy following, see my sidebar for 'Blogs I follow'.
Just last month I passed one million page views.  And thanks to all of you, I'll likely hit the second million before the end of the year.  You guys and gals are awesome!  So, just for fun, here's some random statistics over the past three years:
– Total posts: 598
– Total times the word 'cupcake' has been mentioned: 99 (100 including today)
– Total times the word 'The Girl' has been mentioned: 279 times
– Total bears spotted on Skyline Drive: 17
– Longest period without a post: 7 Days (otherwise only four days)
– Number of blog-related photos taken: Tens of thousands… 
– Most popular post: Garmin FR305 Review (my first review!)
– Number of times I had to stop on a run and #2 in the woods: No comment
– Most popular non-review post: How to Swim with your Garmin Forerunner
– Movie I'm watching right now: Sahara on TNT
Thanks for reading, I'm looking forward to another three years!  Have a great weekend, especially all of you that are lucky enough to have this be a three-day weekend!