I picked up the Garmin Edge 705 back a few months ago in early September after going out for a 15 mile bike ride and while getting horribly lost I/we ended up cycling 50 miles. Amazingly, she still stuck with me after that.
Determined to not let that happen again I decided the 705 met the bill of being the most cycling specific GPS device that also acts much like a GPS you may have in your car. A few clicks on Amazon and it arrived a day or two later. However, questions remained. Would the Tom-Tom of the bike world prove itself out on the road, or just act as a hindurance?
Like all my reviews, they tend to be fairly long – it's just the DC Rainmaker way of doing things. Most of them are more geared towards folks who stumble onto my blog looking for a review of a device. Also, note that I did indeed pay for this device and all the accessories myself. I always try to be clear about that when I'm reviewing a product and whether it was provided to/for me, or if I bought it myself.
The box: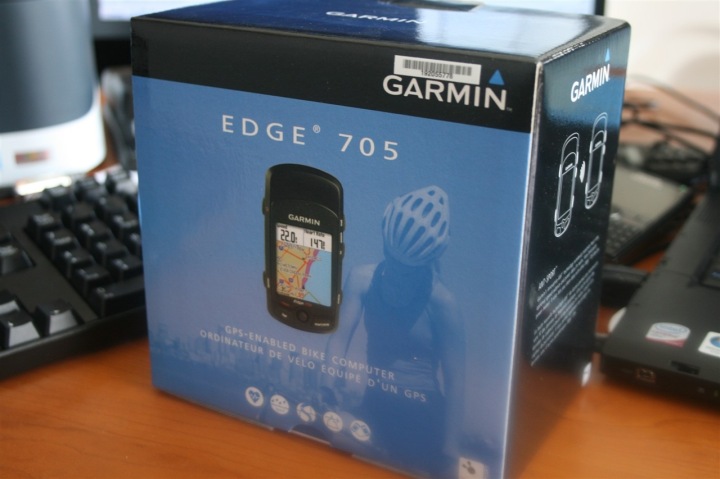 It arrived in a fairly oversized but functional box. Inside there's a slew of paper, a CD and then important stuff: a HRM strap, two different bike mounting connectors, a wall charger, a USB charging/docking cable and the Edge 705 itself.
When I originally ordered it, they only had black available. But recently they made a nifty orange color available.

The unit itself is much smaller than you'd think. It's virtually identical to an Altoids tin in both height and width/length.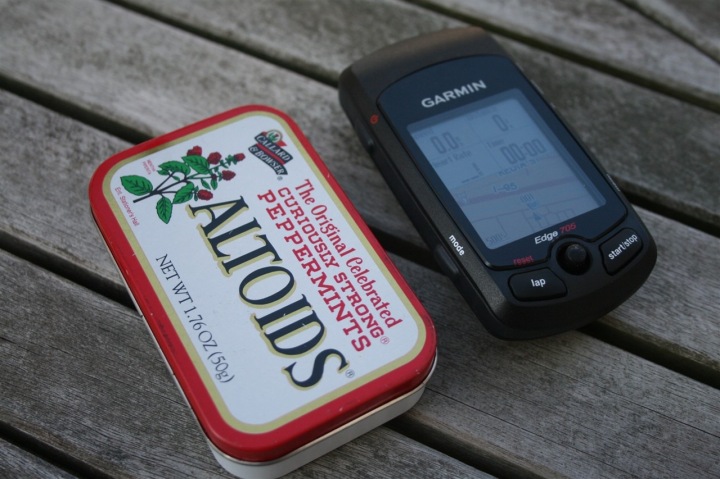 Mounting:
Once you un-package everything it's time to mount the pieces to your bike. It's at this juncture that a dry run should be considered. You see, there are two different mounting attachments depending on if you plan to mount to the middle stem piece or onto the handlebars (basically depending on which way the bar is going).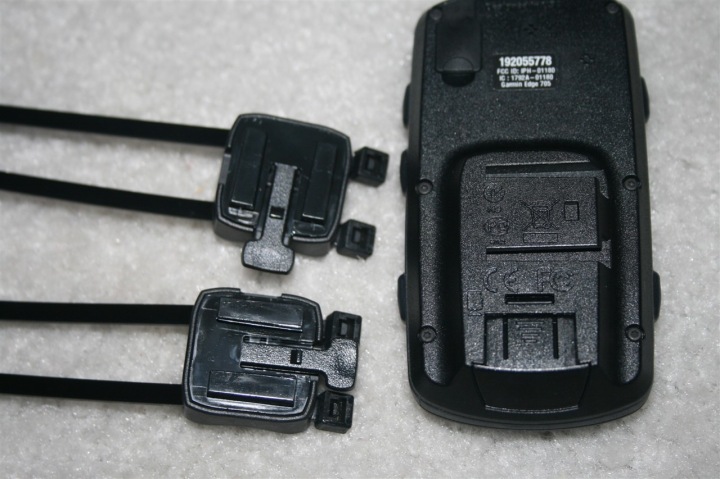 After selecting the appropriate piece you should then contemplate which way to mount it. Otherwise you end up like me…and find you've managed to mount it upside down. Fail.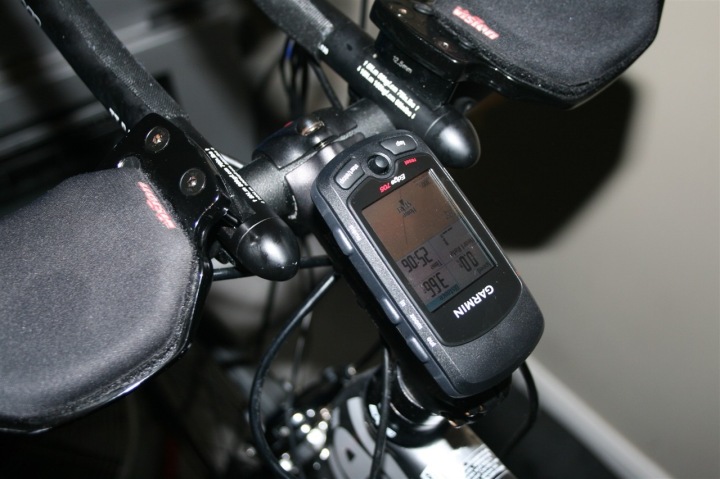 The good news is since it's just zip ties (and they give you plenty extra) you simply clip and remount. All good.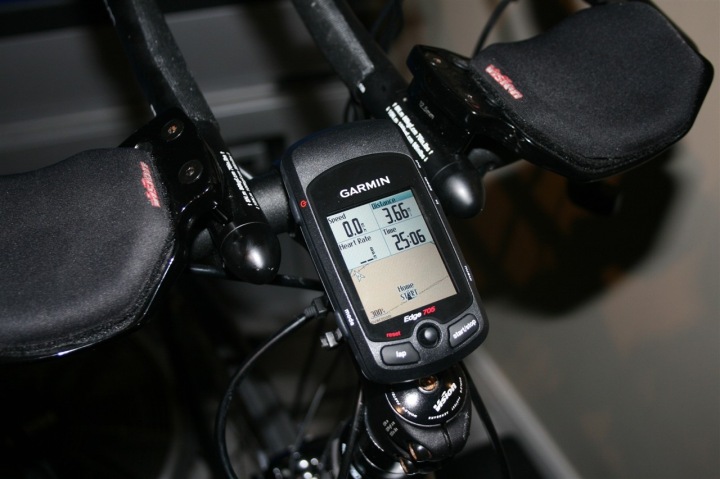 The mounting clip is designed with a tiny little lever that you press to slide the GPS out to the right when you want to take it off the bike.
Connecting/Charging/Uploading
The 705 is great in that it uses a standard USB cable. Nothing funky. The same one that I use on my little digital camera works for this. Which is awesome, since I have a plethora of them floating around my house. It simply plugs into a small port on the back of the device. The port is protected by a rubber stopper than snuggly fits in.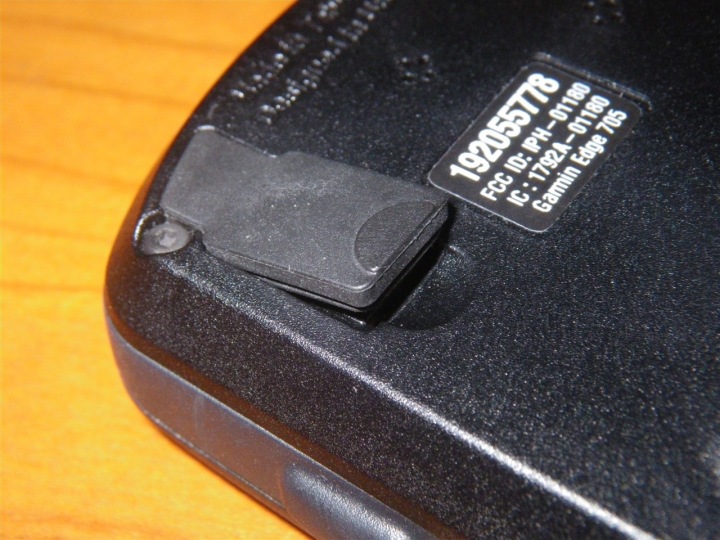 Once you've connected it to your computer, it will start charging almost immediately.
It's at this juncture you can upload to Garmin Connect or use the Garmin Training Center to access the data. Garmin Connect allows you to upload and store you workouts on a free website. The service has improved considerably since being first rolled out last spring, where it initially had a slew of issues. I find it fairly reliable now and pretty nifty when you want to share a workout with someone or just store all your training online and easily accessible from any computer.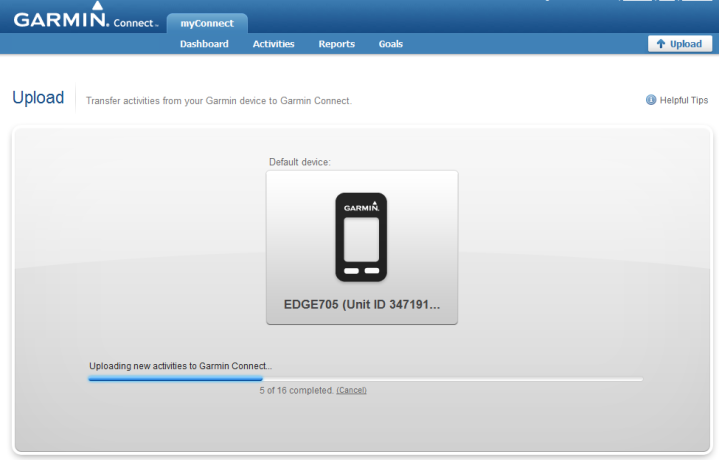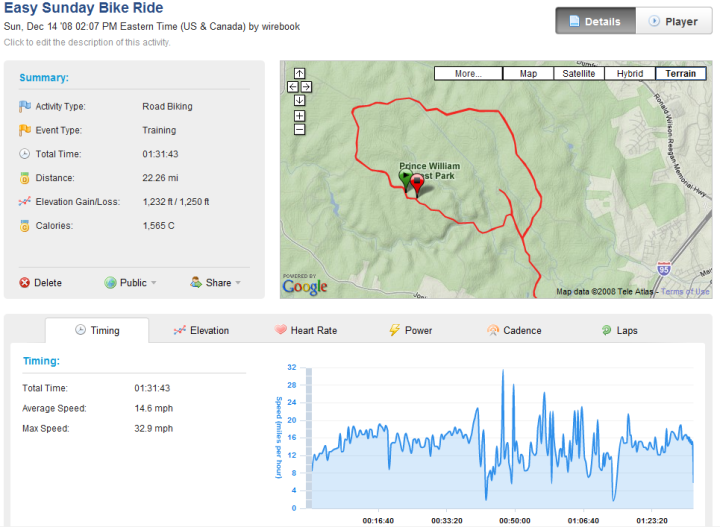 As noted you can also upload to Garmin Training Center which is a locally installed application on your computer that needs a bit of updating from 1995. But it does do the job…sorta.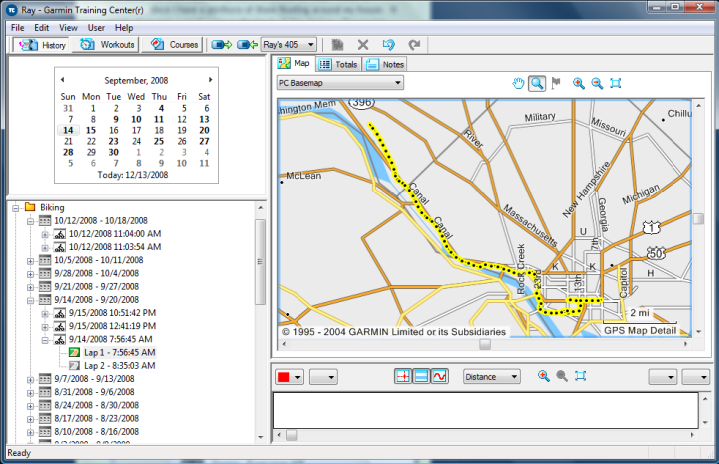 Lastly, you can also use Sport Tracks (free) to interface with the Garmin 705.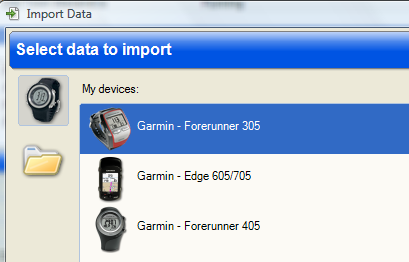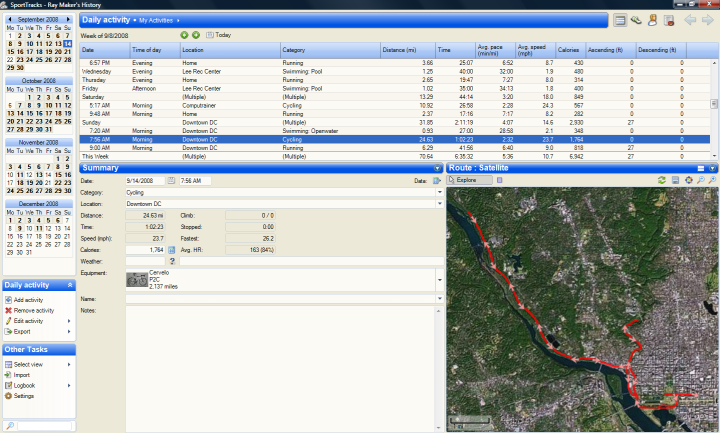 Actually, one more thought on connecting – one of the really cool features of the 705 is the fact that it appears just like a USB drive does. You can see all of the data on the device in simple folders. This is GREAT because I can literally copy and paste my workout history to my computer without any software at all.

It's because of this capability that makes it super-easy to upload to Training Peaks (which I use to transmit all workouts to my coach). Simply select the the .tcx file and you're done!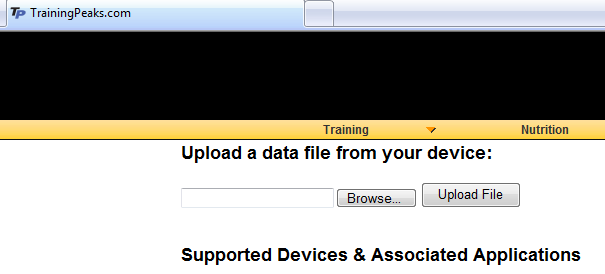 Screens/Features
The 705 has a ton of built-in functionality – and in many ways has much of the same baseline features as the other Garmin GPS fitness devices (i.e. 305/405). It can record all the data you'd expect such as speed, altitude, HR, distance, etc… But it also has a lot of neat mapping and visualization screens available. For example…
The below screen is showing my ascent live as I ride. Very cool to see as you go up/down in the mountains (or hills). You can zoom in/out to adjust the scale.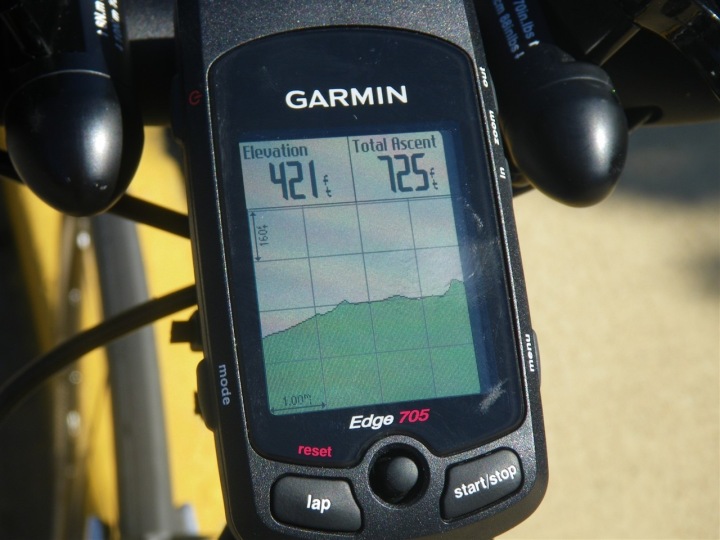 The next screen is what I typically leave it on – it shows me my most critical pieces of information: HR, speed, cadence, distance and time.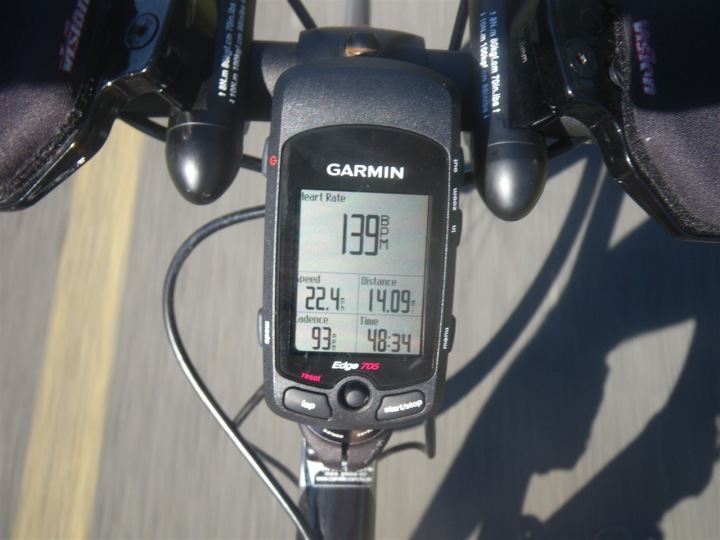 You can easily flip between a multitude of different pages that you've pre-customized. You can display up to eight different pieces of data per screen, but can also choose to display less if you'd like.
Mapping and the micro-SD card slot
Everything I've discussed thus far is pretty much available on the other Garmin fitness series watches. However, from here on out it gets unique to the 705. The first thing you'll notice on the unit is there's a tiny little micro-SD card slot. This allows you to load maps onto the device for virtually anywhere in the world.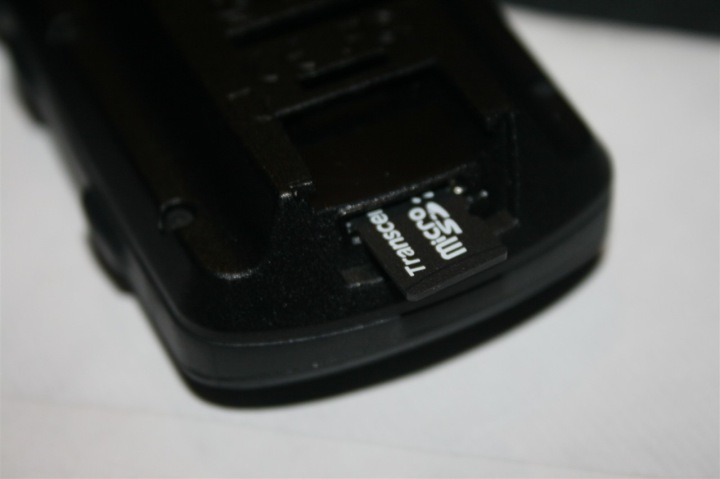 The slot then covers up with another little clip to keep it safe and sound. Honestly though – you really don't need an additional MicroSD card for just normal riding. I think you'd only need it if you wanted to load many states worth of data. And even then, Micro-SD cards only cost $7
To load maps you open up a program that Garmin supplies called Map Source, from where you can send maps to the device. This program – also apparently developed in a stylish 1995 retro look, is simple to use and gets the job done as well.
Well…except one minor issue. The Garmin 705 doesn't come with a very valuable base map set. What do I mean? Well, if you go out for a drive/ride, you'd want to see roads. Ya know – the things we travel on. Except the map set that comes preloaded has very few of these so-called 'roads'. It looks like a map from perhaps the 1700's.
Unclear on what I mean? Check out the below image of downtown Washington DC: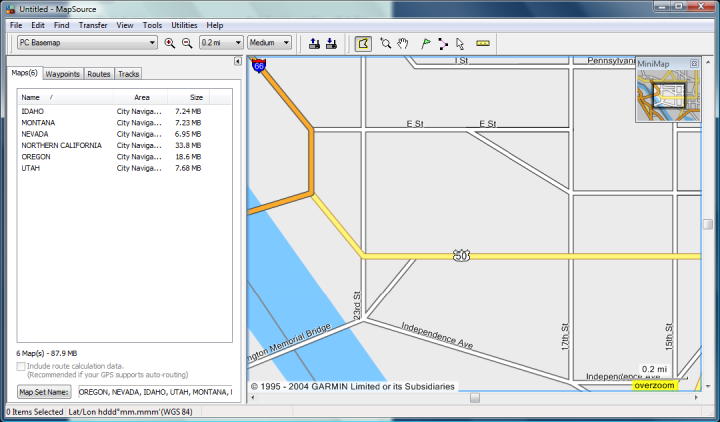 Now, check out the exact same view (below) – using a set of maps you can buy from Garmin for…about $100, or from Amazon for about $75.  Note I do NOT recommend buying the MicroSD card and instead recommend buying the DVD – as it's much handier having the full DVD than a tiny SD card.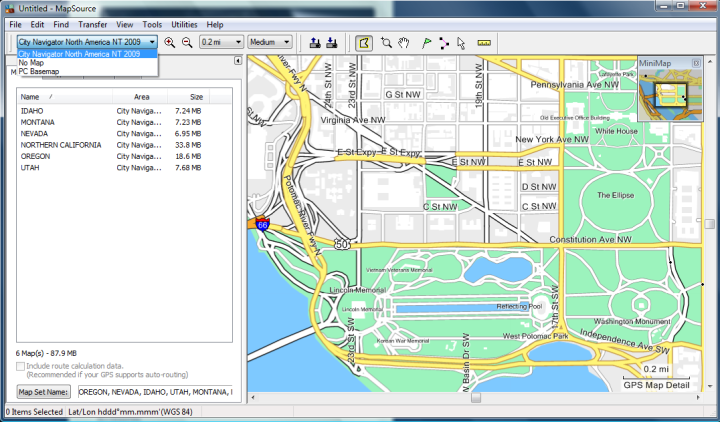 Huge difference. Actually…massive difference. In my mind the device is extremely limited from a mapping/directions standpoint if you don't have all the roads on it.
However…there is some good news here. There are more and more free mapping products available on the internet to download. If you're a tiny bit adventurous you can easily get really detailed maps for free. I wrote up a post on another forum on how to do it. Some of the options are as simple as copy/paste onto the USB connect 705. Super-easy.
Here's an example of some of the maps you can download for it. I created this one using an Opensource (free) mapping tool.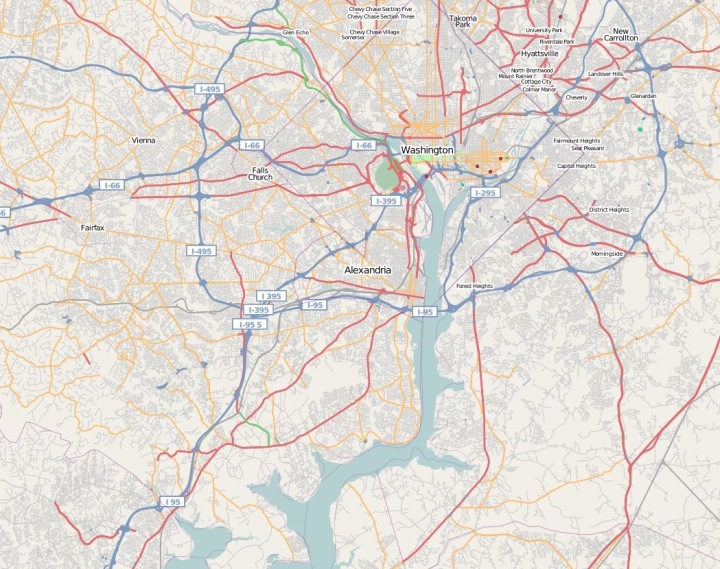 Oh, and here's the CD I bought with the Garmin Maps on it.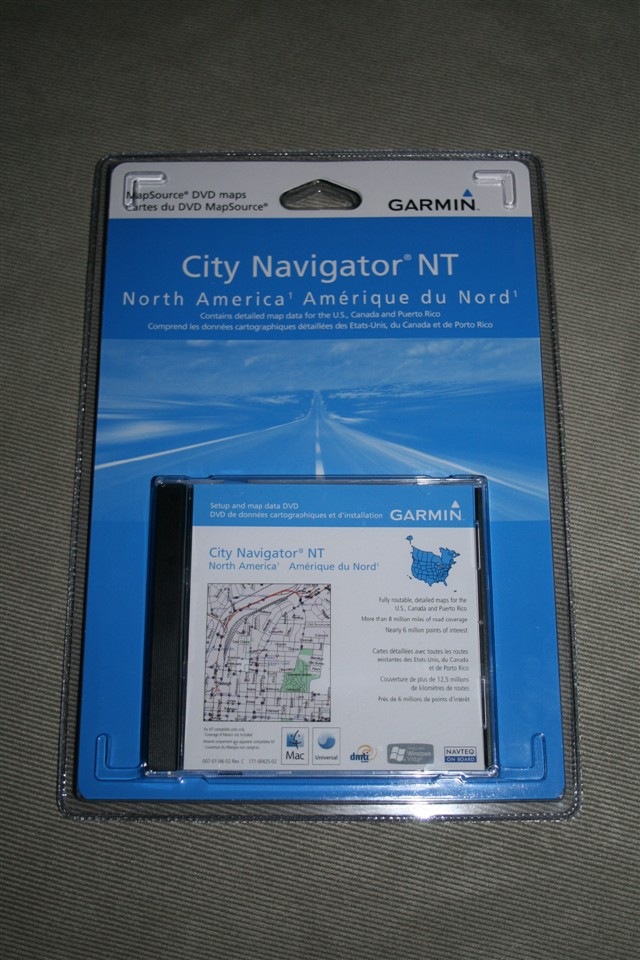 So once you've got your maps all loaded, then you can go out and explore the world without fear of getting lost. It's very simple to use. You can route to destinations (like an address) on the fly.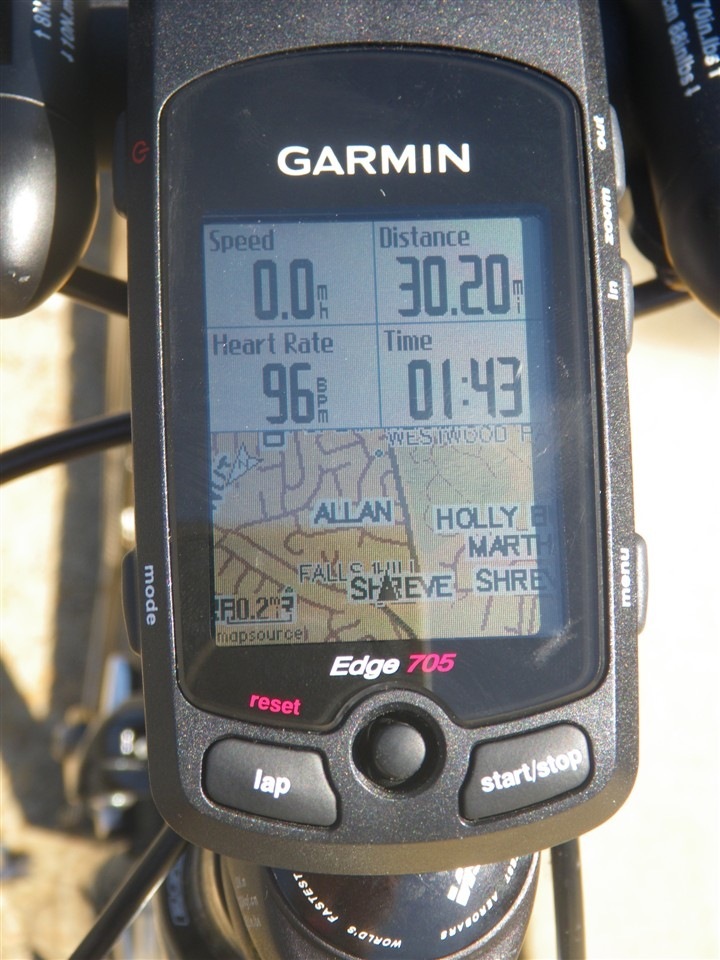 Or follow a pre-created route/course that you created on your computer. Just drag and drop little waypoints into Garmin Map Source and download it to your device. Quick and efficient.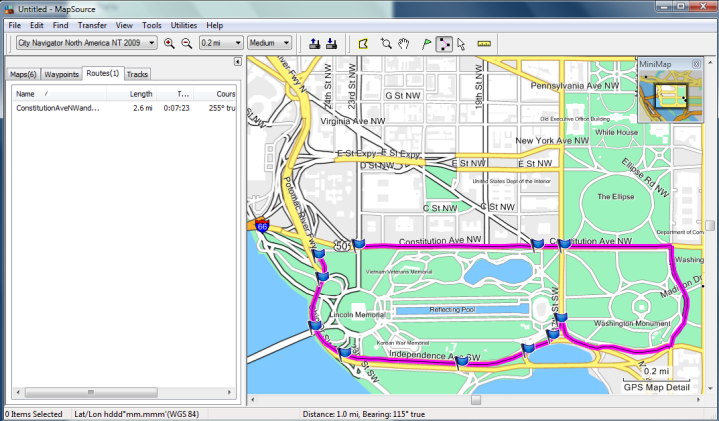 Plus, it will generate really cool turn-by-turn sheets that you can print out or save: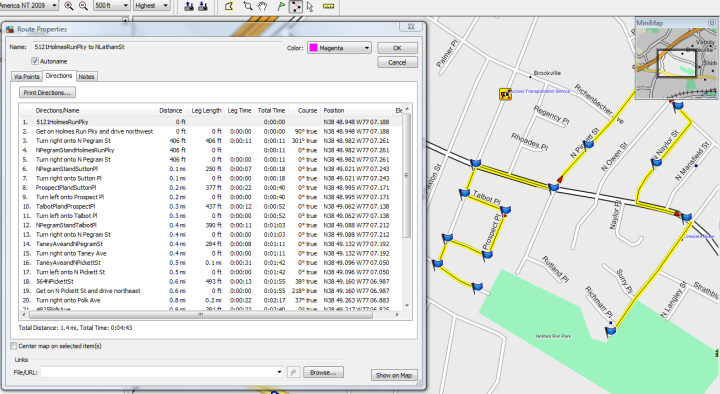 Assuming you actually get on your bike and start riding the GPS device will give you an audible warning and turn directions when you're coming up on a change in direction.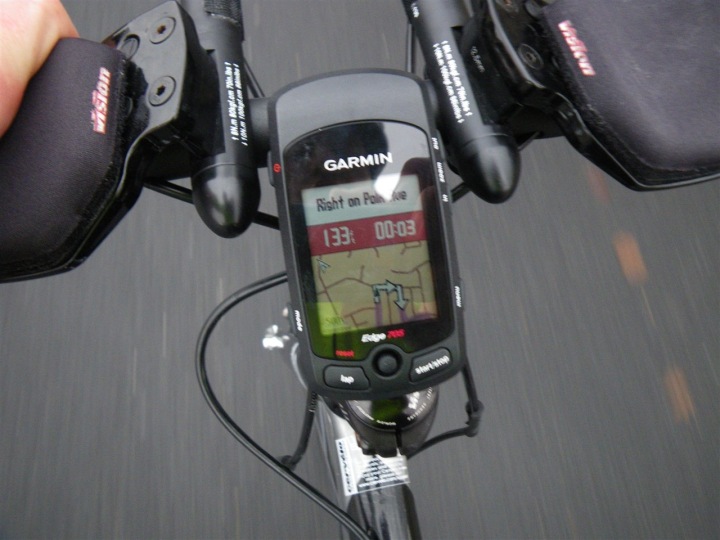 The below photo shows the list mode you can switch to, to see upcoming streets with estimated times/mileages. The ones with zero's next to them are ones I've already past.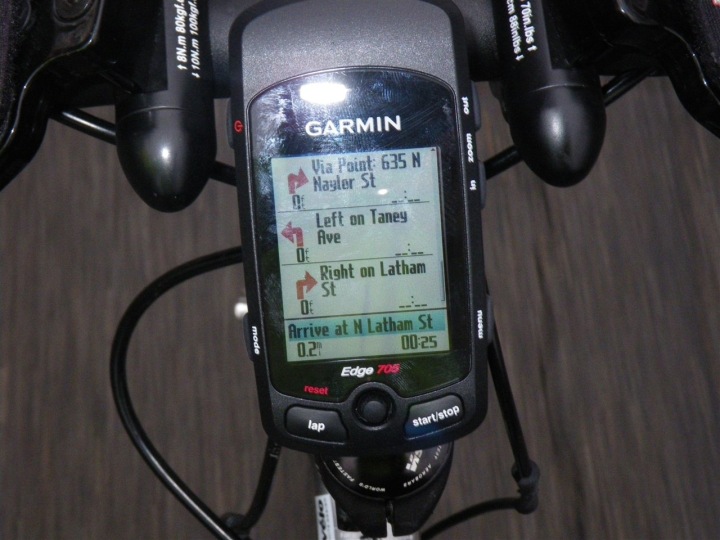 Here's a quick 90 second or so video I shot. It shows me starting the route, and a few turns, as well as correcting directions after I made a wrong turn. I just created a route (see above) that made a ton of turns on a nearby neighborhood. I casually edited out where I nearly fell of the bike. Sorry sports fans.
You can configure how long the display stays on – and even just tell it to stay on permanently, which is what I usually use in the dark, and also use when I'm indoors as it makes the screen nice and crisp.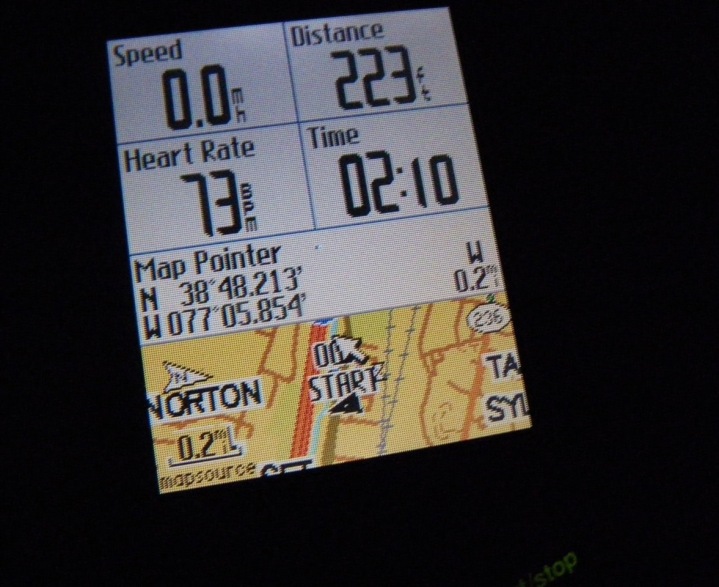 Obviously, the mapping and navigation capabilities are among the major reasons to buy this device. And quite simply: It's really awesome!
Accessories
Like most Garmin devices, this one has a slew of accessories that work with it. Many of these use Garmin's ANT+Sport technology, which allows integrate with other devices using a wireless protocol that other companies can now develop with to offer 705-compatible devices.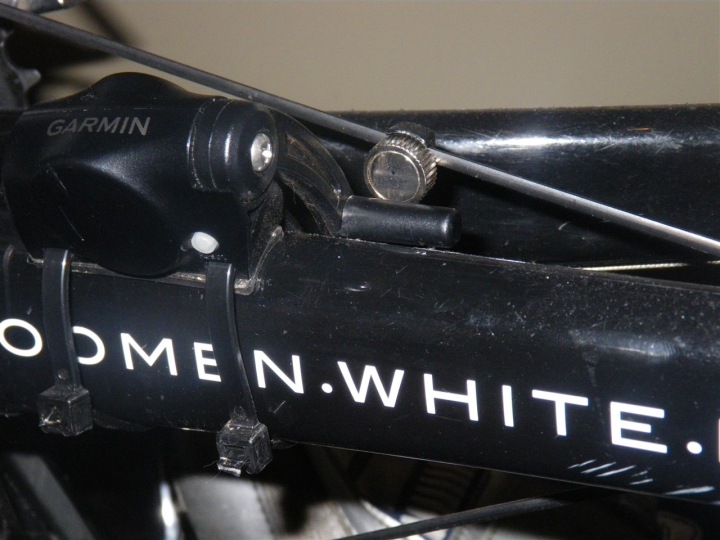 The speed magnet (part of the package) allows you to get speed and distance when indoors or otherwise in an area without satellite coverage (like a big tunnel). It works great on a trainer.
This integration with the power meters is huge because it allows you to really bring all the technologies and different data sets together and start to put together a more comprehensive picture of a workout without juggling multiple data sets. And Training Peaks just announced on Fridaythat WKO is now compatible as well. I use a CompuTrainer today for indoor power/wattage information – but don't have anything for outdoors.
Quick comparison to 305/405
Just for fun, I went out one day and put all three devices together on my bike for a few hour ride. They all showed virtually exactly the same thing.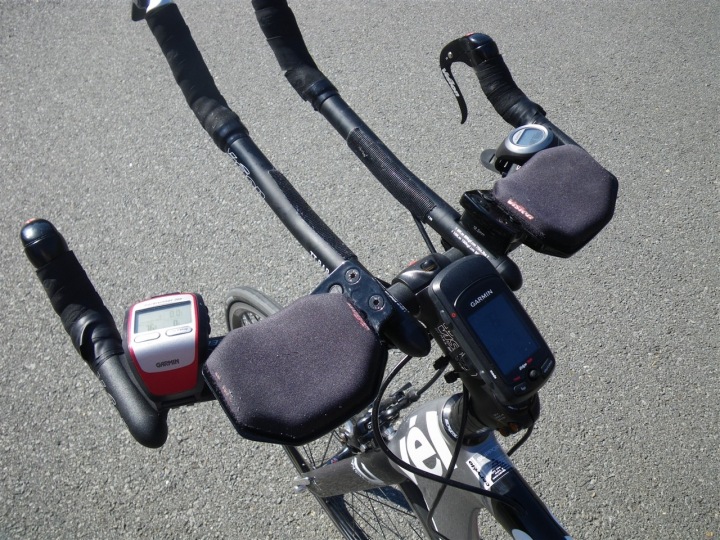 (Garmin 305 on the left, 705 in the middle and 405 on the right)
Actually, one thing I have noticed while doing this – the Garmin 705 is super-duper quick in the initial satellite reception piece. Meaning, it seems much faster in picking up the satellites upon turning it on.
And one day for fun, I took it out and went for a run with it – just to see how it might work. Aside from the obvious of having to carry it, it works pretty well. Except do note that you can't show your speed in pace (i.e. 7:00/mile), but instead just in MPH (i.e. 8MPH). They did end up exactly the same though. Pretty cool. Plus, it's kinda fun to run with a map.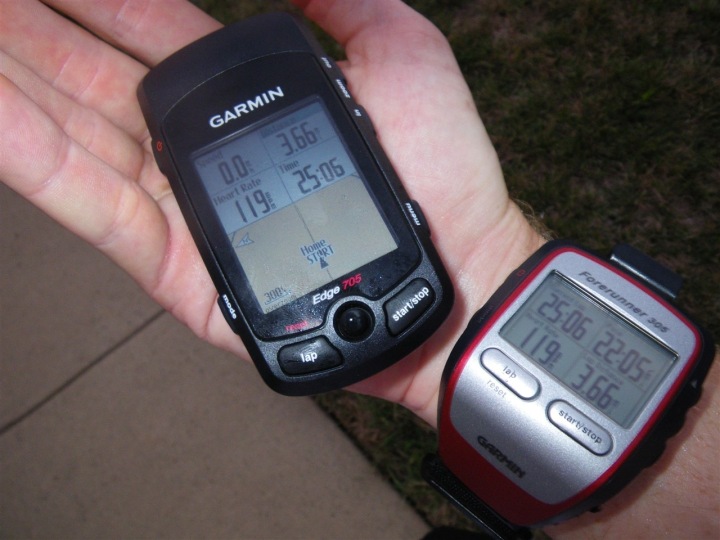 Pros and Cons:
Here's just a quick section of pro's and con's as I see them.
Pro's: