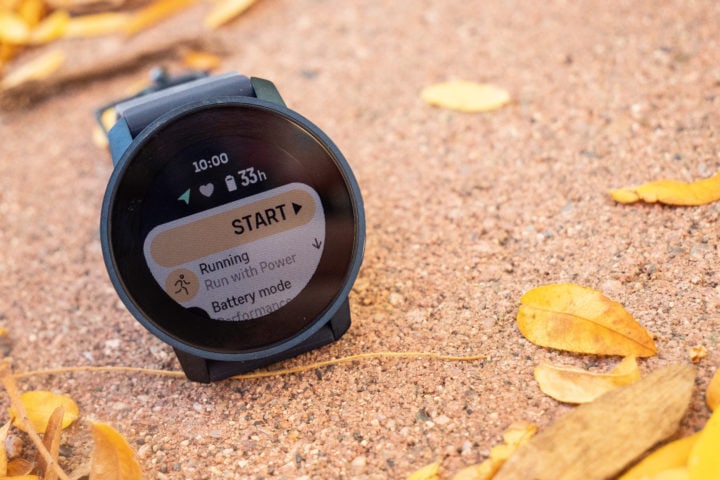 Suunto has announced their new Suunto 9 Peak Pro multisport watch, which takes the existing Suunto 9 Peak, and makes it a bit more 'Pro' through a variety of hardware and software updates. One could argue it's actually the biggest internal hardware update that any Suunto watch has received in years, and then add atop that a revamped user interface and new sports features like wrist-based running power. In fact, Suunto themselves notes that it's the "most powerful Suunto ever" with its new processor and MCU (microcontroller), all of which Suunto says should make it a bit more future-proof.
However, the watch isn't the only news from the Suunto camp. In addition, they're expanding their 3rd party apps platform to allow more data connectivity from the watches, including being able to directly connect to devices like the CORE body temp sensor and others. As part of these larger updates, they're releasing a new Visual Studio Code extension so that companies can develop apps for the Suunto watches more efficiently than before.
Now, this post isn't a full review, mainly because the watch isn't coming out till later in the month, so for now it's nearly beta software (albeit nearly final). Once it does start shipping, I'll release a full in-depth review. Till then, here's something to tide you over.
What's New: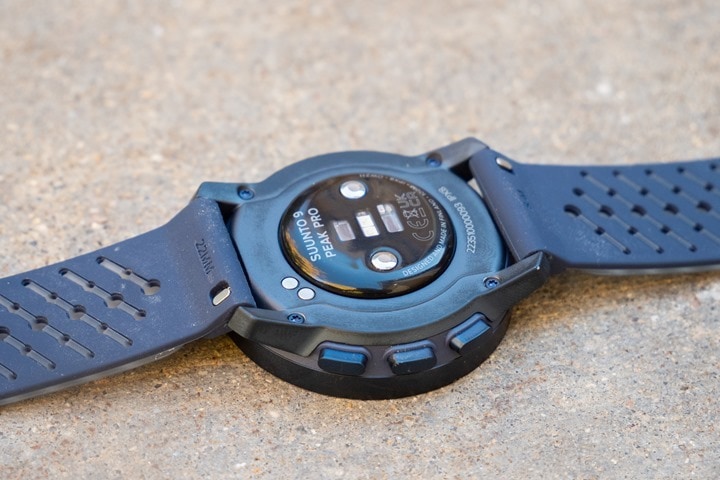 From the outside of the device, the new Suunto 9 Peak Pro doesn't look much different. Though technically, it's slightly different – a mere 0.2mm thicker, which of course you wouldn't notice in real life. Instead, it's all about the internal hardware revamps, and software features updates. Here's a quick hit list of what's changed:
– New more powerful processor, but also with new power-efficient MCU
– New LifeQ Optical HR sensor module, slightly decreased battery consumption
– New All-Systems GNSS Chipset (not multi-band, but GPS/QZSS/Galileo/Beidou/GLONASS via Sony)
– Claimed increased GPS accuracy by allowing up to 4 concurrent systems and 32 satellites at once
– Revamped user interface, with faster responsiveness
– Added new "Mermaid Dive" mode, for tracking shallow free-diving to 10 meters
– Added watch widget customization
– Added wrist-based running power
– Added normalized graded pace (NGP) in activity logs
– Adding Strava Live Segments in (date TBD)
– Added more SuuntoPlus guides (mini-apps)
– Increased durability to MIL-STD-810 standard
– Increased battery life by 50% to 40 hours of GPS time in high fidelity mode, 70 hours in endurance mode
– Maintained existing fast-charging (10 mins charging = 10 hours training)
– Price is 499EUR for the stainless steel, and 629EUR for the titanium
So let's briefly dive into some of these features, and no better one than the actual sorta-diving one, Mermaid Mode. Suunto says this is something popular in China, where people want to track repeated shallow dives. This mode will show depth down to 10 meters in depth, but will not show depth beyond that. The reason for the limit was finding a sensor that was accurate both above and below water. While Suunto has extensive experience with dive watches, they noted that finding a specific combo sensor that worked well above and below water is tricky, saying that most combo sensors that work well deeper, tend to be less awesome above water for elevation/altitude (e.g. for the rest of your training). This was the middle ground. Here's how things will look on the watch: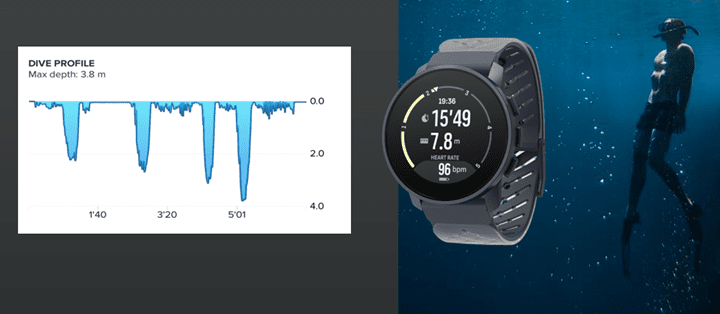 Afterward, you'll see this data in the Suunto app. I've got some warmer/clearer water over the next week to test this out a bit more, so I'll include that in the full in-depth review.
Next, is the revamped user interface. If you come from an existing Suunto watch, you'll find it's pretty easy to get used to and will feel quite familiar. Suunto says they've put effort into the overlays and coloring, making things pop a bit more, and be more clear. One of the big complaints I had about many of the recent Suunto watches is that the display simply isn't great. The thing is, the actual display itself wasn't bad per se, but rather, Suunto's previous selection of fonts and UI elements made it feel worse than it needed to be. The new UI aims to fix that, in combination with the faster processor so that things don't feel sluggish.
And indeed, it definitely feels better. The UI is certainly more clear, and also certainly faster. It still feels like a bit of a dim watch though (when the backlight isn't on), and the display-to-bezel ratio hasn't changed any here either. But overall it's a good improvement.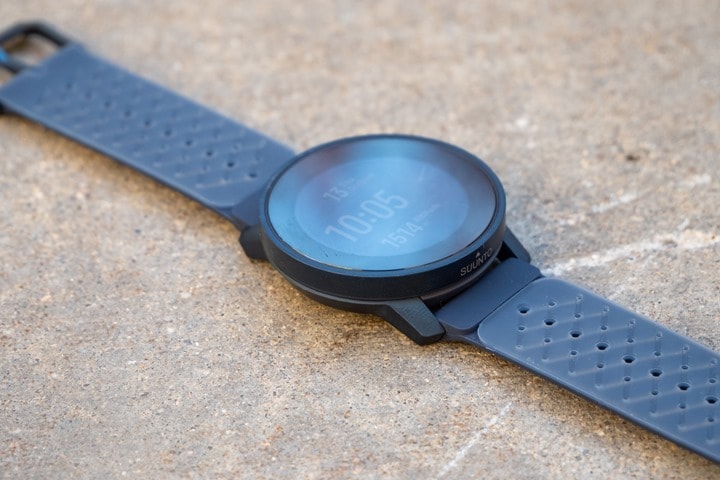 That gets us to the big ticket item for most people, which is the new wrist-based running power support. Suunto is now joining the fray, which includes Garmin also announcing wrist-based running power last week. With previous entrants Apple, COROS, and Polar, pretty much rounding out the most common GPS sports watches (save Wahoo, which does support the accessory power). As with most wrist-based running power options, you simply need to run to see your running power.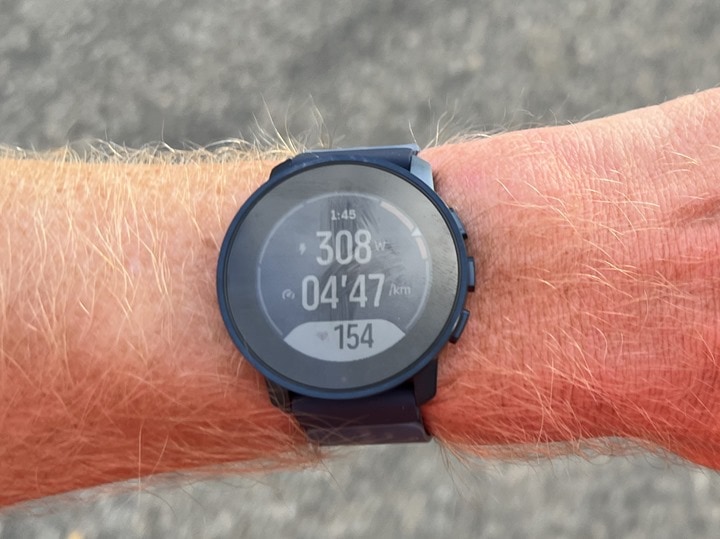 Suunto continues to support the Stryd running power pod, and if you pair a Stryd pod, that data will override the Suunto wrist-based data. All other power-driven functions remain the same as before, it's simply now that you don't need a Stryd pod.
Now for the usual preface, there is no standard (or scientific agreement) for running power, and each company more or less aligns to a few different algorithms. Some companies simply choose to align to what Stryd has done (COROS/Apple), while others select different algorithms (Polar/Garmin). Suunto aimed for the Stryd camp, and thus says their data should align there.
My wrists have been a wee bit packed with many new watches the last few days, but I did a short test run to see how things handled. This run had the Suunto on one wrist, Garmin on the other, and then a COROS up on the hand (so, it's not perfect, but I find it's usually pretty close to ballpark). I had planned to include Stryd, but as I discovered at the start of my run, the Stryd battery had apparently died on the plane. No worries, I'll update this chart with another run shortly.

As you can see, it's pretty much where we'd expect, closer to COROS (since COROS generally matches Stryd). The Garmin is higher up, as is usually the case based on the algorithm choices they've made.
Still, this is great to see, and I think with all major companies moving towards wrist-based running power, it'll be interesting to see if we start to see more adoption of running power generally (e.g. from a coaching/etc standpoint). Part of the challenge there though is that with different companies selecting different algorithms, it makes coaching a bit more challenging as the coach has to essentially cater to the specific brand device a user has. Which isn't something coaches have to do today for cycling power.
Finally, one last thing that's worthwhile noting is that Suunto is using fully renewable energy for their factory and headquarters, and has calculated the carbon footprint of the watch at 7.5kg (equivalent to driving 44 kilometers). For comparison, the carbon footprint of the Apple Watch Ultra, according to Apple is 56kg. While Garmin has a very pretty website on this topic for lots of initiatives, I can't seem to find per-product data there.
Suunto Platform Updates:
Next up, we've got a slate of updates around the Suunto platform, some of which are development-focused, but all of which have consumer implications/benefits.
The first is a new connectivity option that lets apps pair to specific non-standard devices, such as something like the CORE Body Temp sensor. This allows the app to automatically pair to the nearest device, and then store that data in the app and underlying workout file (exportable in .FIT). There's also API support as well. The idea here is roughly akin to Garmin's Connect IQ Data Fields & Apps, in that sensor makers don't have to get native support or try to get support for an entirely new protocol, they can simply communicate directly via an app on the watch.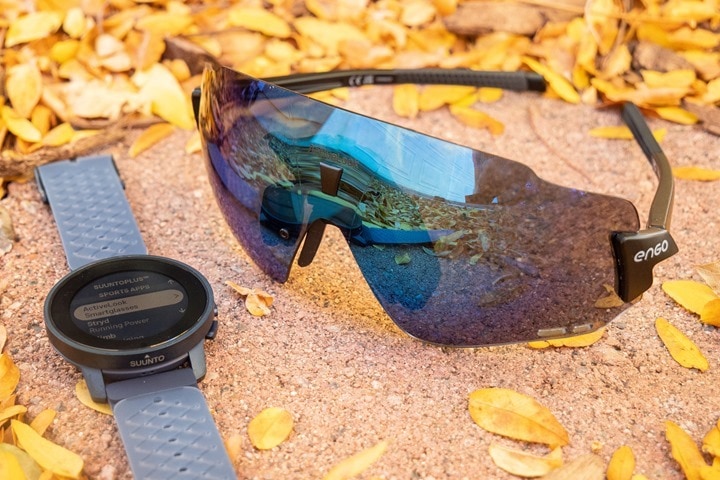 That then allows the data to be shown to the user mid-workout as a data field, but also allows saving/writing the data to the files which 3rd party apps can display. That could be apps like TrainingPeaks, but also simply native API connections from the Suunto platform to perhaps the device maker's own website, which would be able to better understand the added data.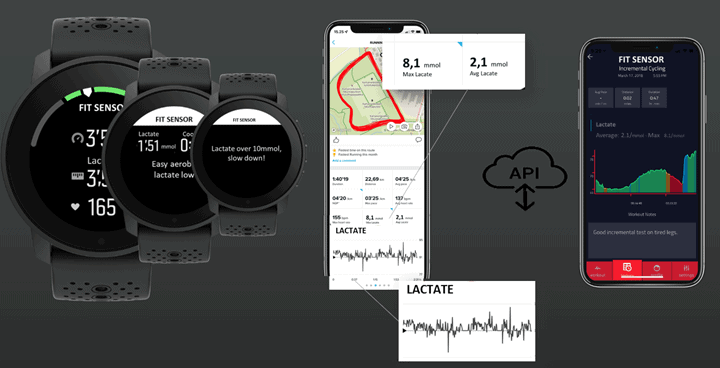 This is all great stuff, but keep in mind there's still a limit of a single Suunto app per workout. So you wouldn't be able to combine one of these new Suunto apps with something like one of the Suunto guides that does structured workouts.
Next, they're releasing a Visual Studio Code Extension, called SuuntoPlus Editor, that will help developers create SuuntoPlus apps faster. Suunto says they've been trialing this with about 20 partner companies thus far, and that the feedback has been good. You can see below the code behind the Cooper Test app (SuuntoPlus app).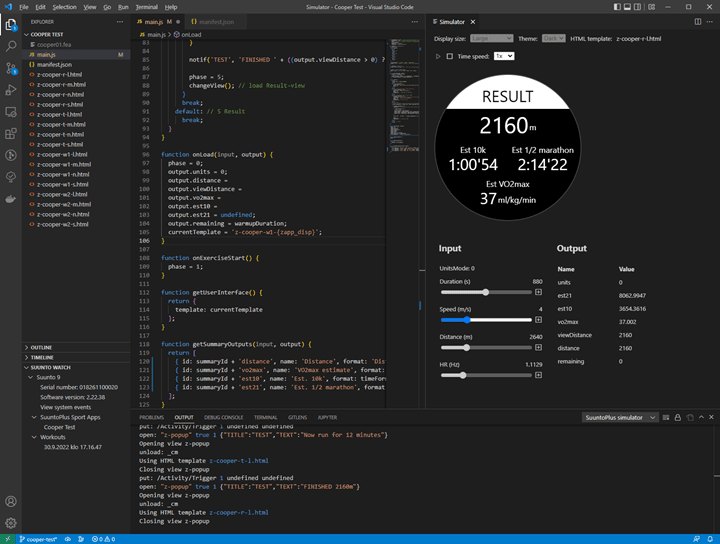 Next, Suunto will be rolling out Strava Live Segments at some point in the future (previously it was hoped by end of 2022, but sounds like it'll be longer than that). Segments that are starred will get automatically transferred to the Suunto watch, and you'll be able to race against both your existing PR and the KOM.
Keep in mind this is the second Strava integration over the last few months, with Suunto also having added in Strava Routes functionality this past summer.
All of these platform changes are good to see, but especially the 3rd party sensor integration option. That gives them much more flexibility to approach partners about adding in sensor support for new products, especially startup companies, without the need for complex integrations.
Wrap-Up: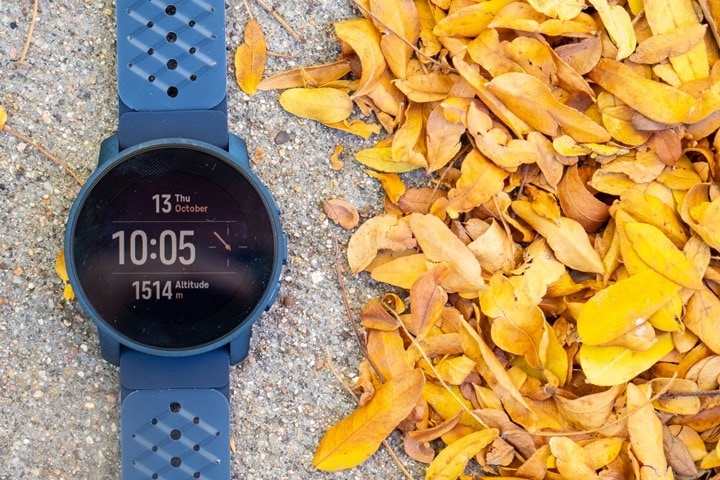 The Suunto 9 Peak Pro seems to be a bit of a turning point for Suunto. Or at least, it might appear that way. On one hand we've got revamped hardware internals, which should make the watch not just more accurate with its higher-end GNSS components, but also simply faster to use with the increased processing power. Meanwhile, on the software side bits like refreshed user interface help considerably, as does running power and the soon-to-arrive features like Strava Live Segments. And finally, the platform changes all indicate Suunto is investing in the business, the platform, and time with their partners.
Platform changes and integrations aren't typically sexy things. And don't by themselves sell watches at a running store or online retailer. Instead, they connect the dots for people that may have other products/accessories/platforms, and want a product (watch) that works with those. It's not every consumer, but individually it's a lot of consumers with different needs, solved by a lot of different solutions. All of which require good integrations, and it's good to see Suunto opening that door wider here.
Of course, there's also the reality that while the internals are refreshed here, the basic overall screen technology and screen size still feels pretty dated (and dim). And launching a $500 GPS endurance sports-focused watch in late 2022 without multi-band GNSS is challenging. This is a watch that I'd assume will sit in the product lineup for at least 1-2 years, and we're already seeing the tides shifting here very quickly, and by early next year I think we'd be hard-pressed to see any new watch from $300+ not have multiband built-in.
Suunto of course can sidestep some of their hardware shortcomings by increasing to a software cadence that outlines more and more new features. In effect, they can look to companies like Hammerhead (which Suunto actually has a partnership with), as an example of a very high release cadence of new and useful features that draws customers in – all without releasing new hardware. This of course requires more developers and more investment, and likely a bit more cultural shift.
Ultimately though, I'm happy to see Suunto kicking things up a bit here. The last few years have felt a bit stale, but this might be the beginnings of renewed focus for the company, and hopefully increased competitiveness.
With that – thanks for reading!
Found This Post Useful? Support The Site!
Hopefully you found this review useful. At the end of the day, I'm an athlete just like you looking for the most detail possible on a new purchase – so my review is written from the standpoint of how I used the device. The reviews generally take a lot of hours to put together, so it's a fair bit of work (and labor of love). As you probably noticed by looking below, I also take time to answer all the questions posted in the comments – and there's quite a bit of detail in there as well.
If you're shopping for the Suunto 9 Peak Pro or any other accessory items, please consider using the affiliate links below! As an Amazon Associate I earn from qualifying purchases. It doesn't cost you anything extra, but your purchases help support this website a lot. Even more, if you use Backcountry.com or Competitive Cyclist with coupon code DCRAINMAKER, first time users save 15% on applicable products!
And finally, here's a handy list of accessories that work well with the Suunto watches. Given the unit pairs with standard Bluetooth Smart sensors, you can use just about anything though. I'd recommend the Garmin bike sensors over the Wahoo ones, merely because the Garmin have two concurrent Bluetooth channels versus one for the Wahoo RPM/SPEED sensors.
And of course – you can always sign-up to be a DCR Supporter! That gets you an ad-free DCR, access to the DCR Quarantine Corner video series packed with behind the scenes tidbits...and it also makes you awesome. And being awesome is what it's all about!
Thanks for reading! And as always, feel free to post comments or questions in the comments section below, I'll be happy to try and answer them as quickly as possible. And lastly, if you felt this review was useful – I always appreciate feedback in the comments below. Thanks!