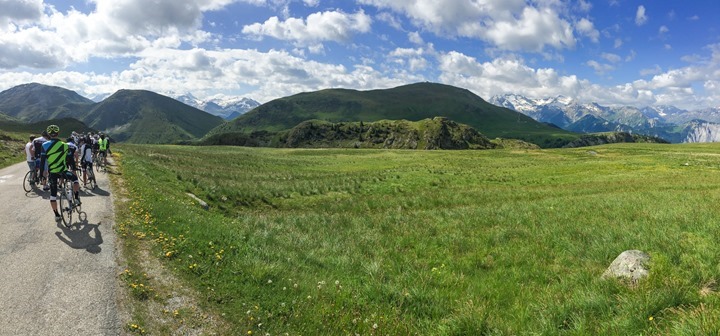 Last week while doing some initial testing for the new Polar M450 GPS cycling computer I headed down to meet the Polar crew at Alpe d'Huez.  It's a reasonably efficient 3ish hour train ride from Paris, plus another 75 minute car ride to the mountain village.
While they had multiple rides over the course of the few days the event was going on, I was only able to join them for a single road bike ride.  The route does a giant loop up/down/around and back up again Alpe d'Huez.
Last week I covered the actual Polar M450 from an product perspective, this week I'll just talk about the ride from a cool cycling perspective.  Aside from the 3+ action cams I had on me at the time for photos seen here, there's no other sports technology talk in this post from this point forward.  Enjoy!
Up and away: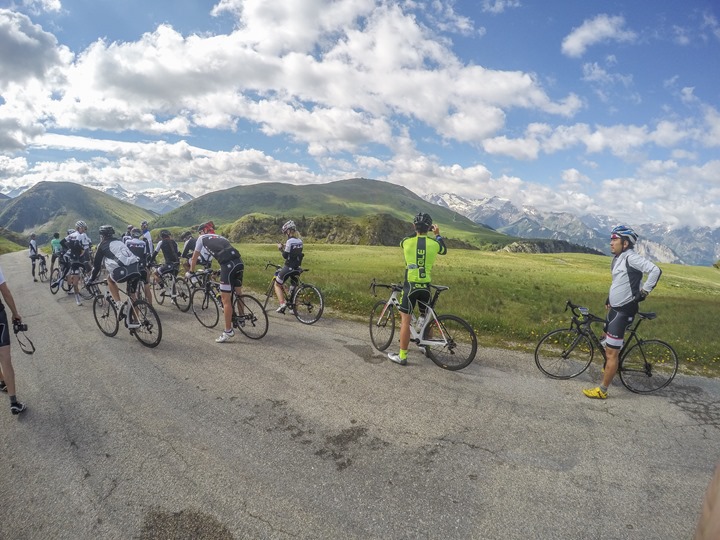 I've learned since living in France that anytime a French cyclist says "It's all downhill", they really mean: "There's a small bit that's downhill, but the remainder is all uphill".  This experience seems especially true in the Alpe d'Huez area – for example last year at the triathlon, where the start is thousands of feet below the village where most people stay.  In that scenario they tell you that it's all downhill – but neglect to mention the numerous uphill and flat sections.
Which…turned out to be much the same way the ride started.  We more or less immediately started climbing.  Now, to their credit, these were absolutely stunning climbs.  I've actually skied this specific section numerous times (it's a blast), but I think cycling through it was actually cooler.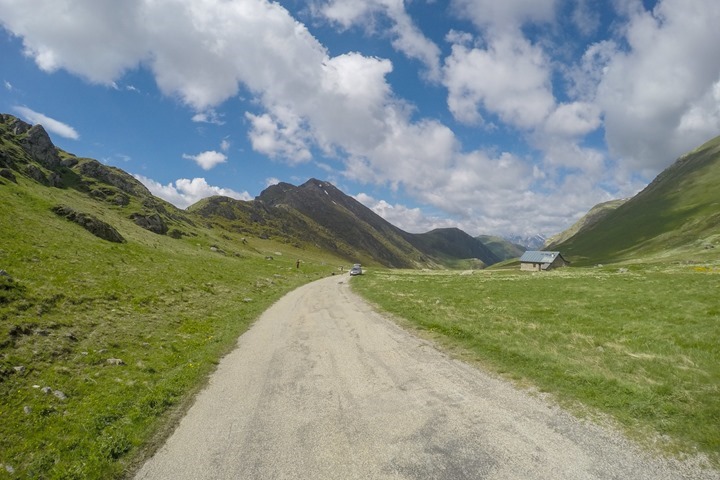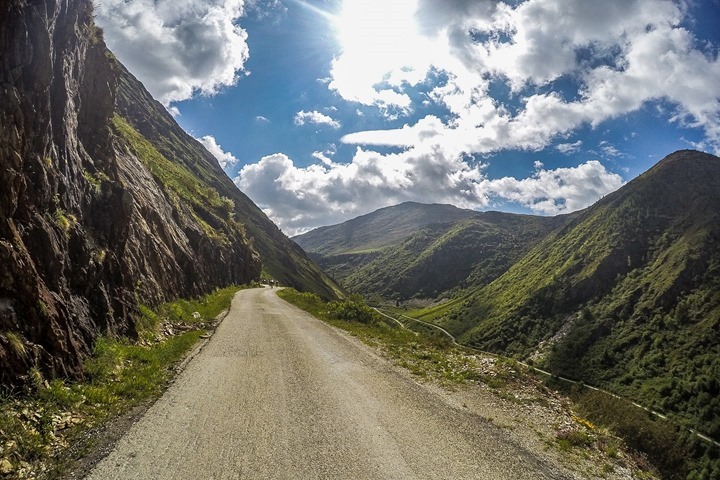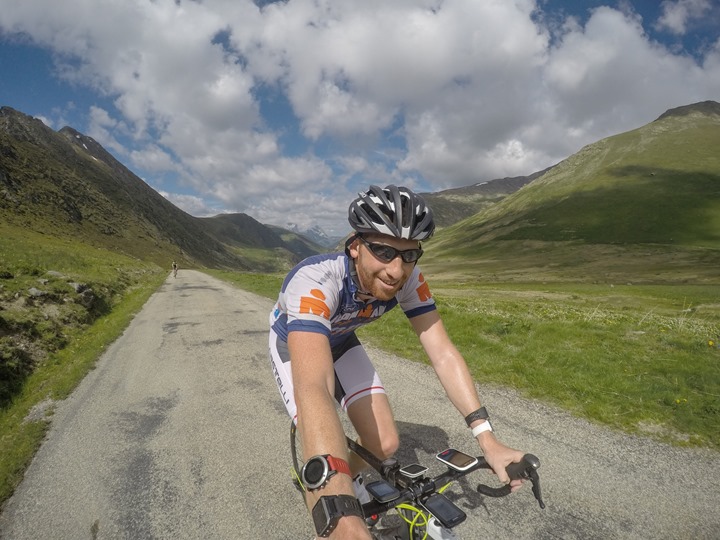 While there were a few short drops in elevation, it was mostly uphill – with us recollecting the large group at the top of Col de Sarenne: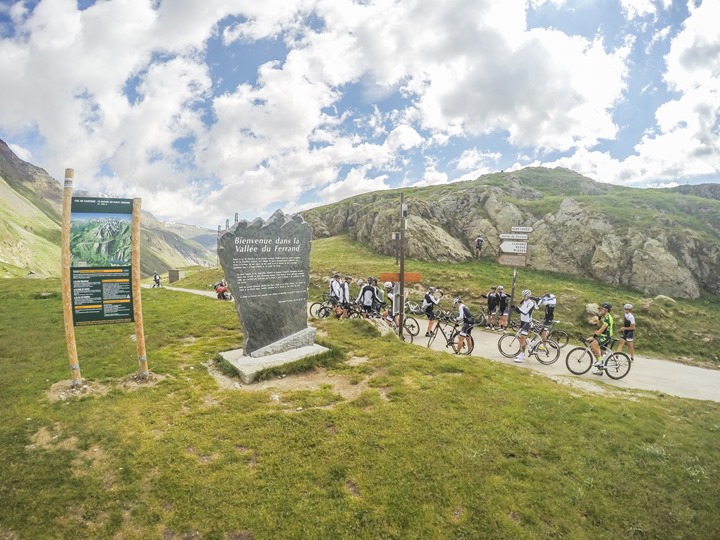 It's here that Polar had broken out a drone to catch various shots on the climb (fwiw, it was a reasonably impressive hexocopter, not consumer grade – but rather had a full DSLR+gimbal attached).
We meanwhile just re-grouped.  It's one of the slight challenges with riding in a large group on anything a Frenchman describes as 'all downhill' – having to wait for all the cyclists to finish climbing uphill.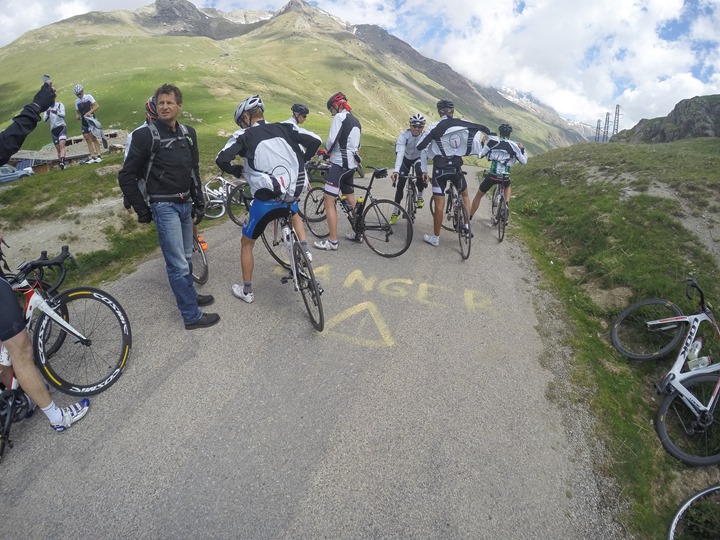 Of course, with the views as they were – nobody was complaining.
Going Down the Back Way:
With that initial climb completed, it was time to actually go downhill.  This particular pass just opened three days prior, and as such our guide noted the road was a bit rough still.  There wasn't any snow to worry about, and the rain from the night before had largely dried.
This particular route down was used two years ago during the famous dual Alpe d'Huez climb day, when the riders descended the backside of the mountain down roads that the teams had protested a bit about, due to said road conditions.
After having now ridden these roads – I wouldn't disagree with them.  I was more than happy to be going at my turtle-pace.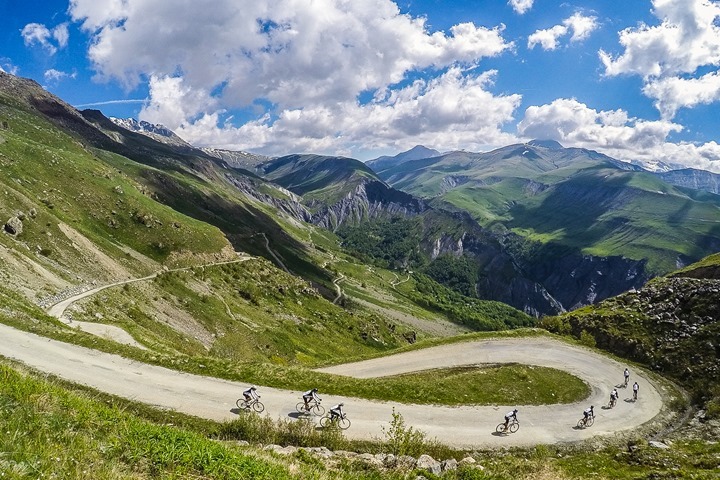 The switchbacks were sharp and the roads mostly lacking any substantial barrier.  It would have been cause for a reasonably bad day had you mishandled your bike.  But still…so cool!
Eventually the rocky ledges gave way to green forests, meadows, and occasional rivers running through.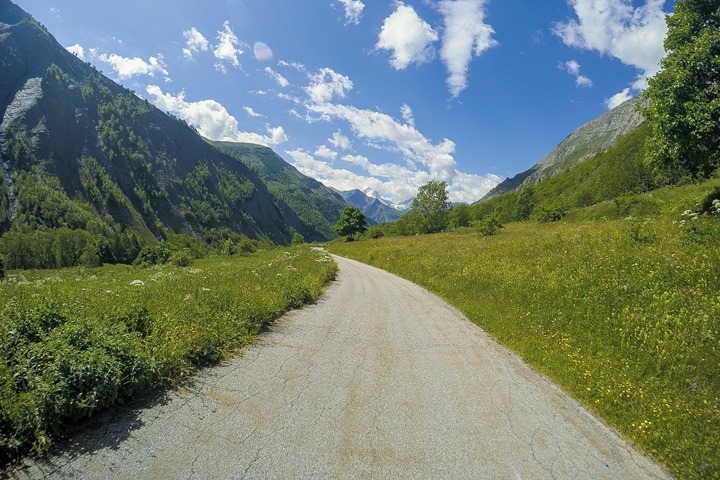 There were also numerous little cabins just barely out of sight along the route – sweet little hideaways where you could enjoy the area's numerous summer and winter activities…and probably for incredibly cheap given these were on the 'wrong side' of the mountain to the famed resort.
Riding Around It:
We re-grouped again towards the base of the decent.  With this time truly being all downhill it didn't take too long for everyone to catch up.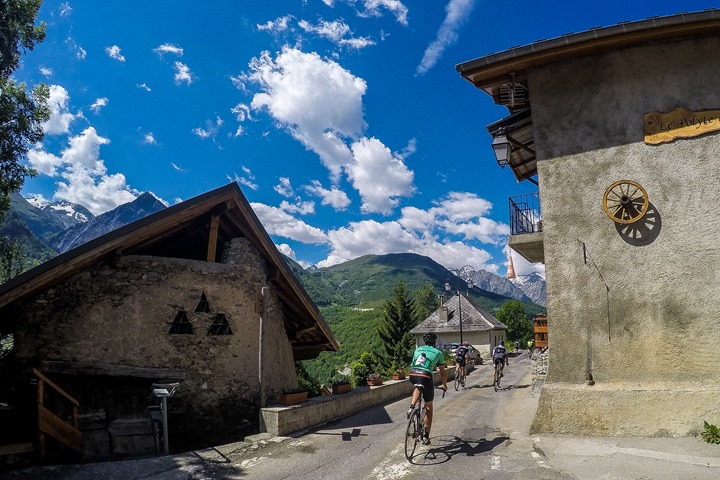 Once that was done we started a gradual but fast moving descent around the mountain, sorta wrapping from behind the mountain back around to the front of it.  We'd cross over a massive dam along the way: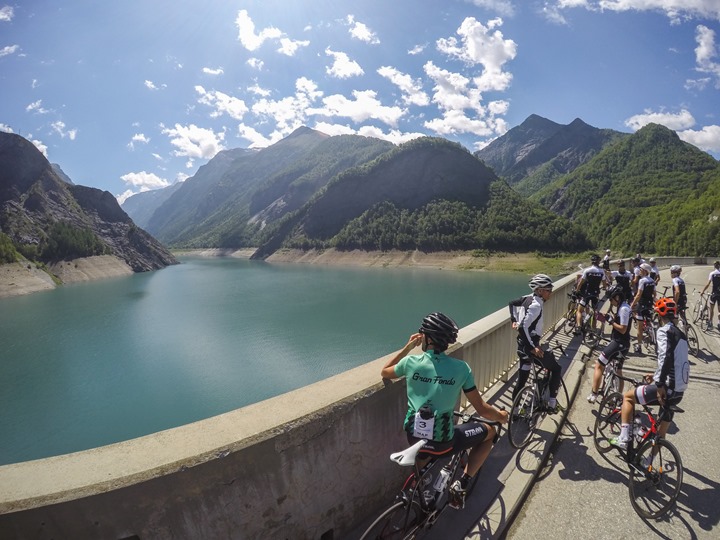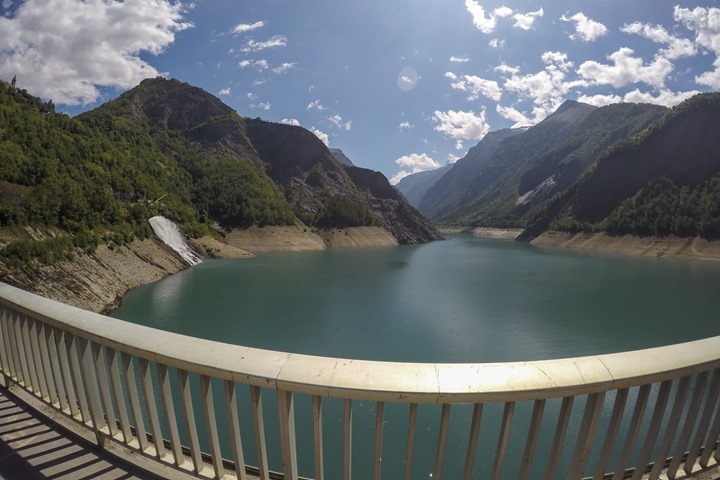 Much of the riding was in the forest, and often on beautiful new roads and tarmac.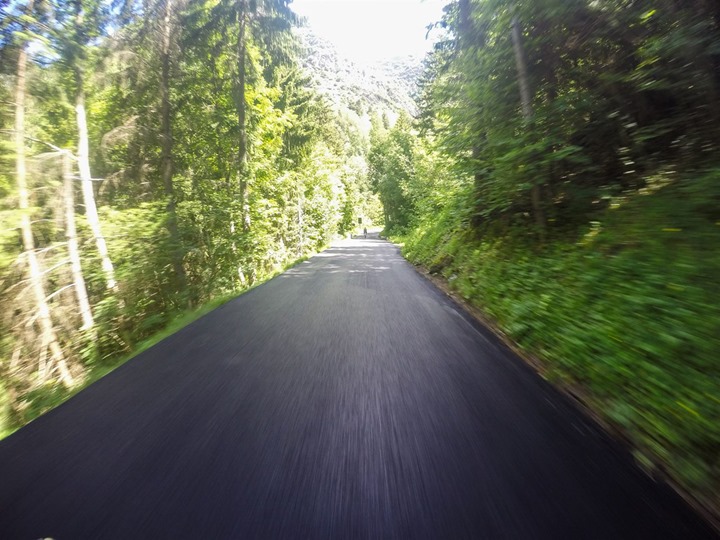 Eventually the all-downhill theme continued uphill, because that's how all-downhill works.  This would have me climbing for probably 20-30 minutes up occasionally steep grades as we stuck to the side of small village roads.
And of course, your normal 'Avalanche Crossing' signs:
From there though we slithered out onto the front of the mountain and along the edge of massive cliff walls that drop what I presume to be thousands of feet to the valley floor (and seemingly just as high upwards).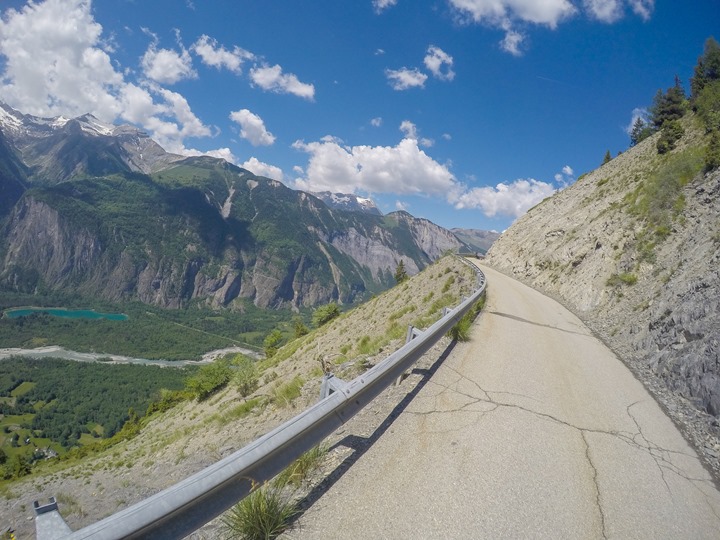 Probably one of the cooler roads that I've ridden, even if I suspect that one ill-placed rock could put me out of my misery.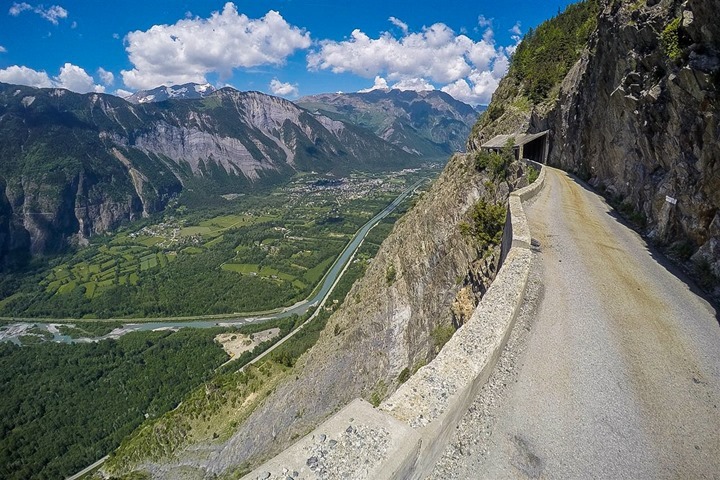 Before we knew it though we merged into the official Alpe d'Huez climb road.  Of course, we were around the mid-way point in the climb, so it was time to head down to the base to get things started for real (no cheating here!).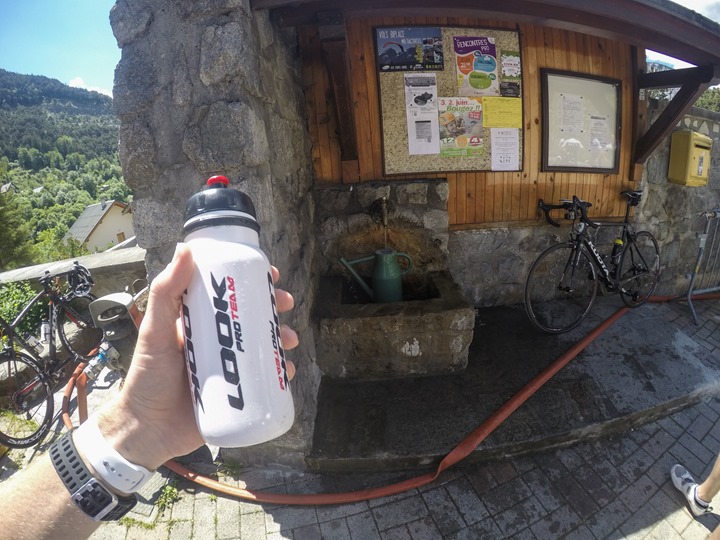 This was a good spot though to re-fill water bottles (also notable if you need water going back up the climb, there's at least 2-3 of these that I saw semi-evenly placed).
Riding Up the Famed Climb:
For the most part I was on my own at this point.  I did a loop out to the famous town roundabout, and then it was a quick 1-2 minute ride back to the base of the climb.  There's a handful of signs that indicate various start points – but there's only one official 'Depart' sign – so that's what I basically consider the official start.  Not that it honestly matters too much, pain commences instantly.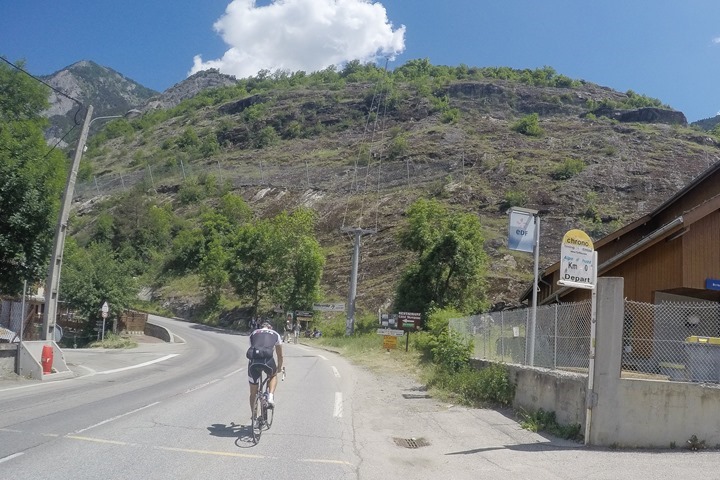 Unlike other climbs, there is no gradual build.  The ground instantly goes from pancake flat to 10%+ grades, faster than you can adjust the incline on a treadmill.  You can pretty much see it in the picture there as it turns to the left.
From there you slowly tick off each of the 21 switchbacks that make up the 1,071m climb (3,514ft).  This process takes ~14.5KM.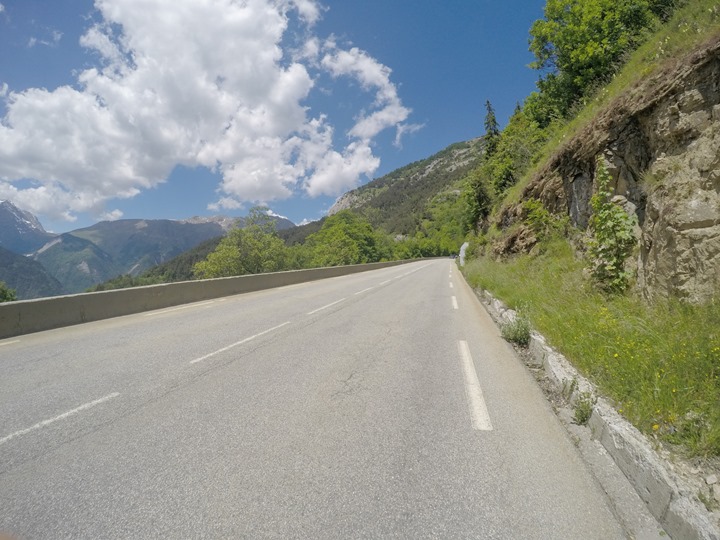 These switchbacks are marked by past Tour de France winners – though some of them have been scratched/blanked out, presumably due to various doping related post-win revelations.
It's also worth noting that not every switchback gets an official marker.  Somehow certain switchbacks don't qualify for the magical marker.  There's likely a 'Department of Switchbacks' somewhere that has specific rules on this.  They may be closely related to the 'It's all downhill from here' department.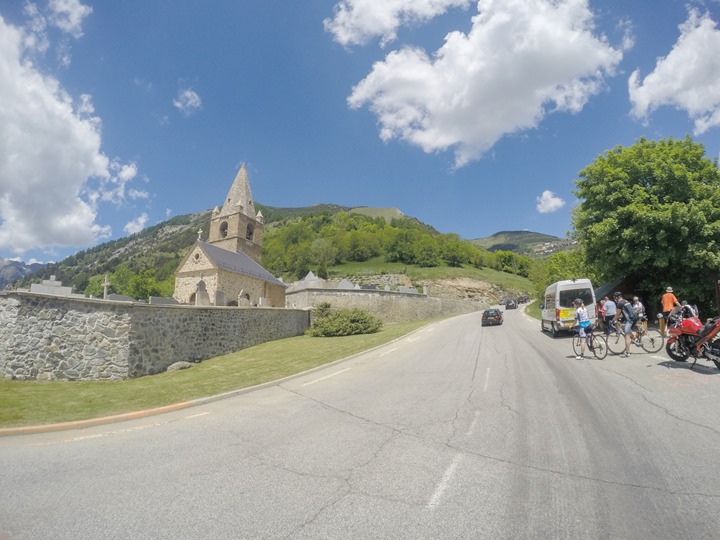 Because of the large Dutch race that was occurring the next day, there was substantial fan support along the route – far more than would normally be present on a random Tuesday.
Over the course of the climb, there are slight variations in the grade of the road.  But it generally stays between 8-11%, though does occasionally burst higher or slightly lower.  Ultimately though, it's relentless.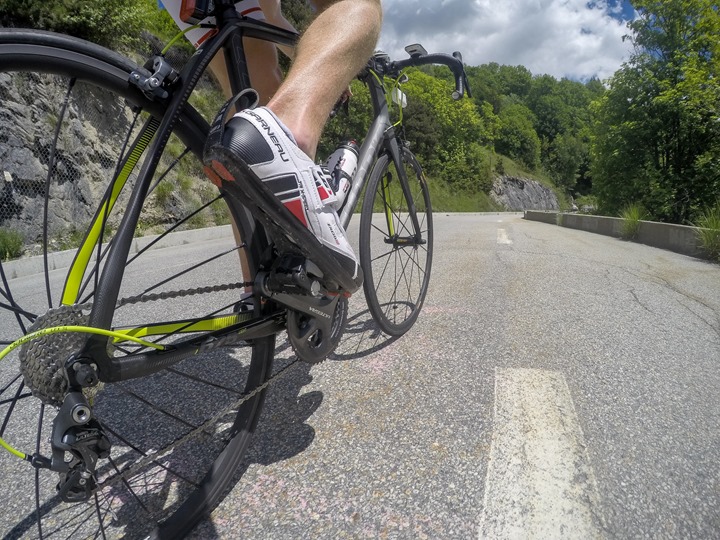 As you near the top you start heading through small villages of sorts.  Sometimes just clusters of private cabins, other times more official.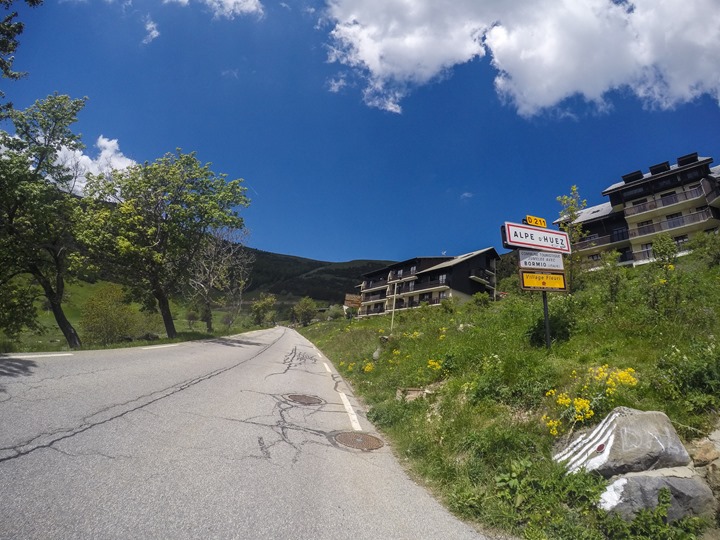 As you near what you think is the finish, you'll see a number of restaurants and plenty of people outside enjoying life.  Note: This is not the finish.  Despite having seen the final switchback sign, you still have more turns and climbing to do.  Get back to work.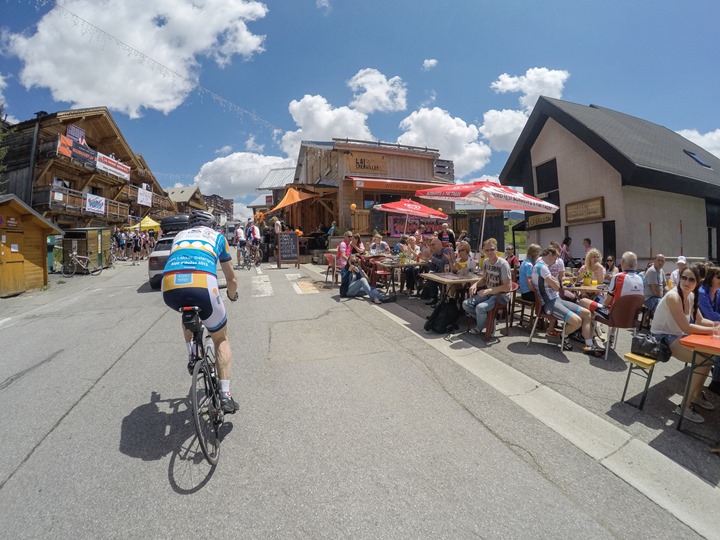 These next 2-3 climbs do not qualify per the covenants of the Department of Switchbacks, hence the fake-you-out.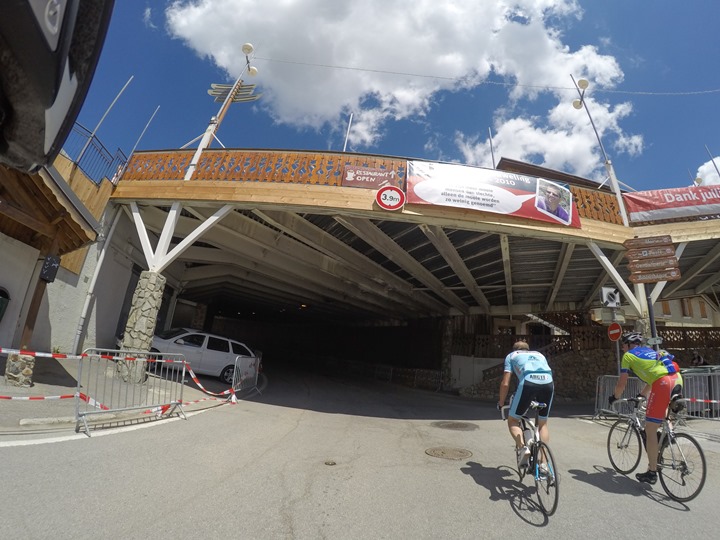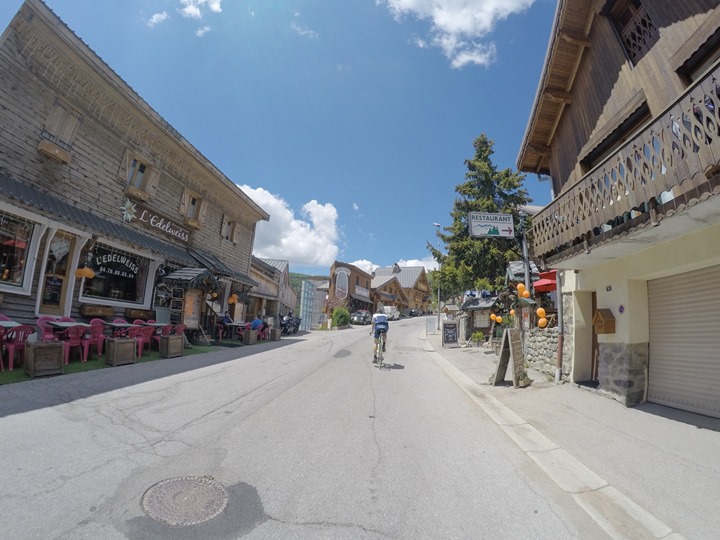 On the bright side, the grade is pretty relaxed here, probably only in the 4-6% range most of the time.  Heck, there's even a very slight downhill section for perhaps 100m.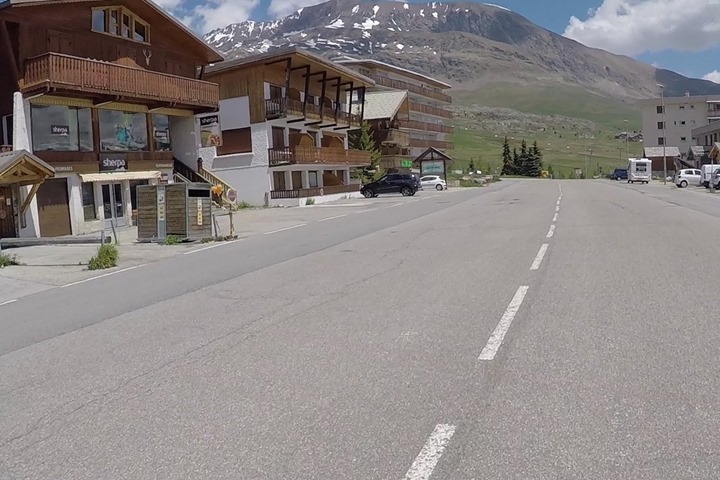 Finally, it's time to make one last turn uphill for about a 300m straight shot to the official finish of the Tour de France stage.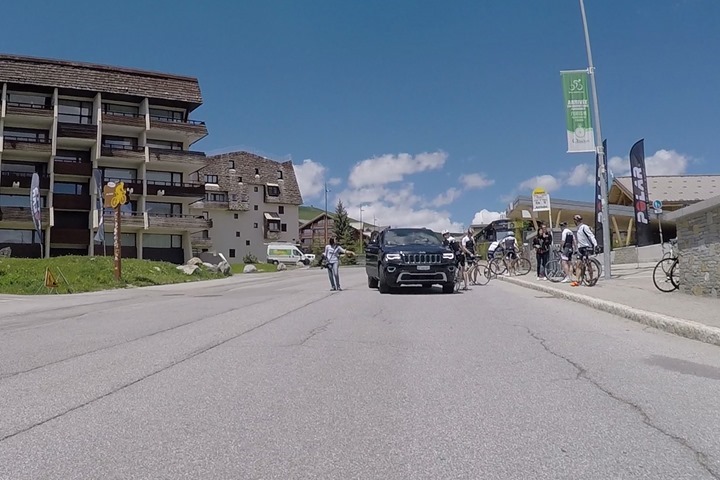 There's even a marker designating this as the finish.  Be careful of course to ensure that you actually follow the proper route signs in the village as to ensure a true TdF climb.  And certainly don't be stopping back at the bar half a kilometer earlier thinking that was the finish!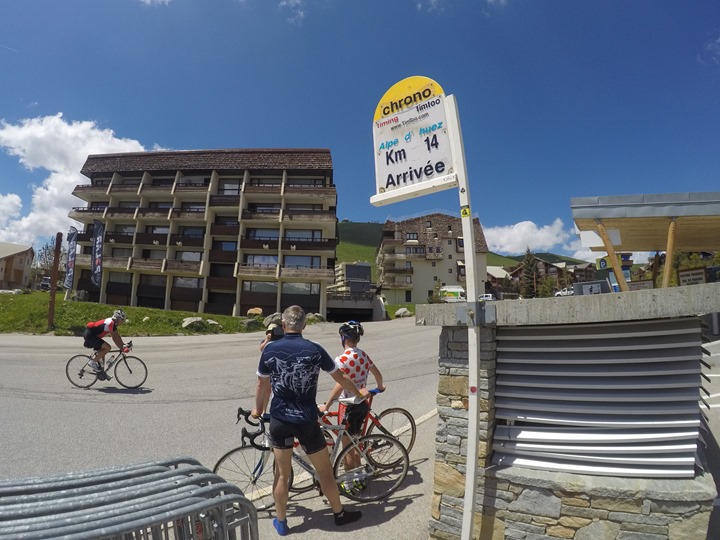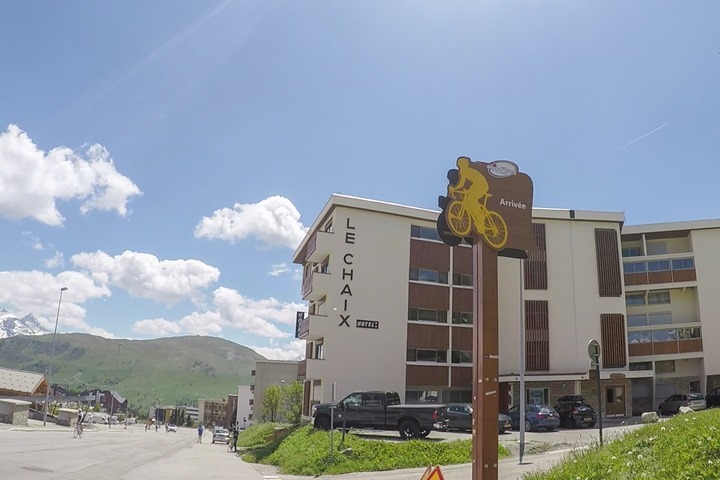 From here I turned back around and headed the kilometer or so downhill, around and up back to the hotel – and ultimately the starting point for my journey – making for a perfect loop!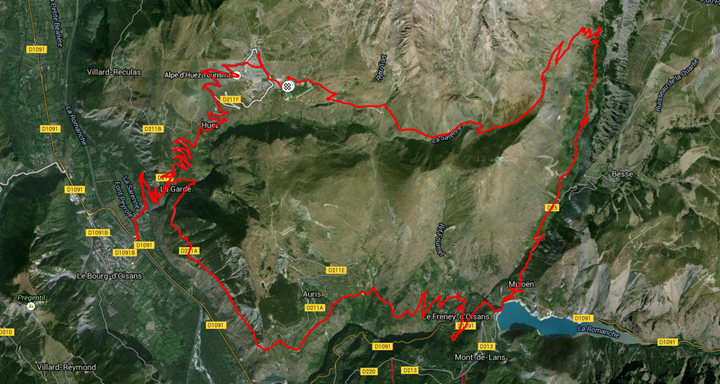 With that – my day was complete!  Well, minus a few final photos, temporarily losing my rental car keys in the process, forgetting my running shoes in the rental car at the train station (post-finding car keys)…and then a 3+ hour train ride back to Paris.  But hey…I did just barely make that train – 3 minutes to spare!
—
For those curious about the route, you can view it all here on Strava.  Additionally, the various files from my units are available at this link (you can click on any given product to download the file from that unit).  Those files can then be used to ride the route as you see fit.  I was pretty 'clean' in that there should be no wrong turns in there for folks to ponder – just a really crisp line to follow.  At the base of Alpe d'Huez, we did a quick loop out to the traffic circle and back, adding perhaps 1KM on flat ground.  It's a good way to get yourself all situated ahead of the climb  – plus it gives you the same feeling as when the Tour de France comes through town.
I'd recommend staying in the village (Alpe d'Huez) – it's trivial easy and cheap to find spots to say up there in the summer since there's a massive empty glut of accommodations given it's primarily a winter skiing destination.  I typically use Booking.com in Europe to find last minute deals, but have also had good luck with Hotels.com for European locations.
Enjoy (and be safe)!
Side note: Looking to burn a bit more time? Here's a few related posts:
– An Epic Weekend of Cycling in the Pyrenees
– Alpe d'Huez Triathlon 2014 Race Report
– A day spectating on Alpe d'Huez at the Tour de France
Have a good weekend!