After touring our way down the western coast of France, I arrived Thursday night into the Pyrenees region along the south of France – ready to begin three days of riding.  Much of what I was doing was aimed at testing out various units for reviews coming up this week, with a particular focus on altitude testing (how accurately a device reports elevation).
Day 1: The Famous Col du Tourmalet
I figured for my first day I'd simply aim one of the most well known climbs in the Pyrenees.  It's been featured in Le Tour a total of 82 times to date, and will again be in the route this year in Stage 18, on one of the final days of the tour.
I was staying down in Campan and so after about 5K of gentle ascending I hit the turnoff town and started the main marked portion of the climb.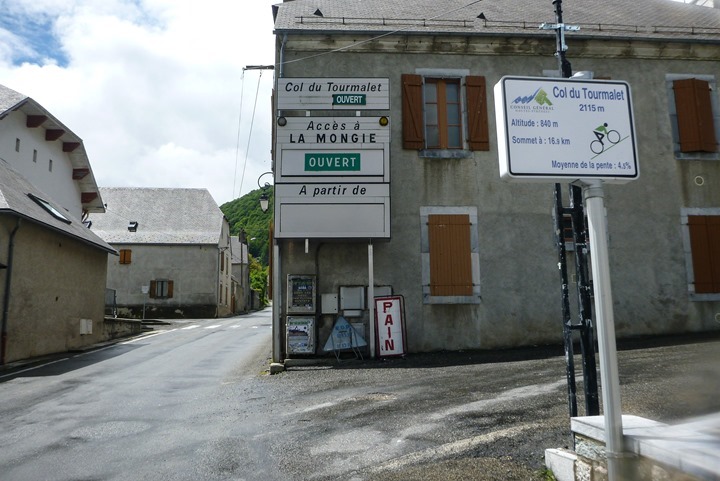 Like many climbs in France, this was well marked with signs indicating your current altitude (1215m), the finish altitude (2115m), how many kilometers were left (10KM), and then the average grade for the next kilometer (8.5% in this case).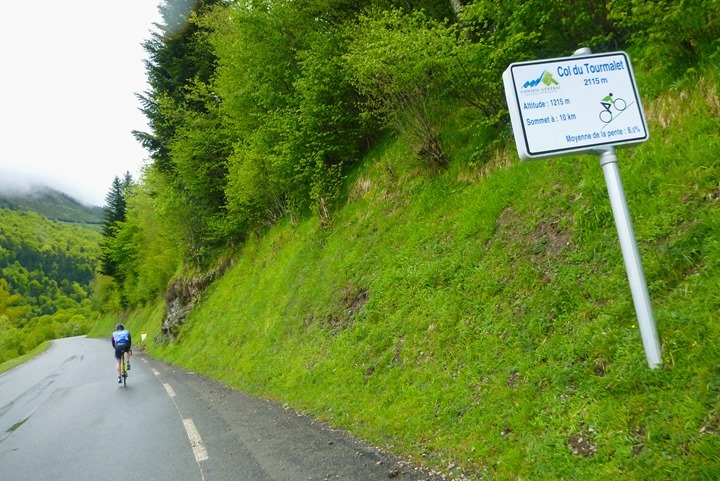 Now, as you can see the weather was generally crap.  Rain, wind, and simply cold.  And for the most part, the lower portion of the climb looked like the above photo.  It wasn't until I finally broke out of the forested area that things started to change view-wise.  I'm sure on any other day the view would have been epic all the way up.  But for me, I was basically just riding in the fog and trees.
Below, a slight change of scenery as I pass through the base of the ski area.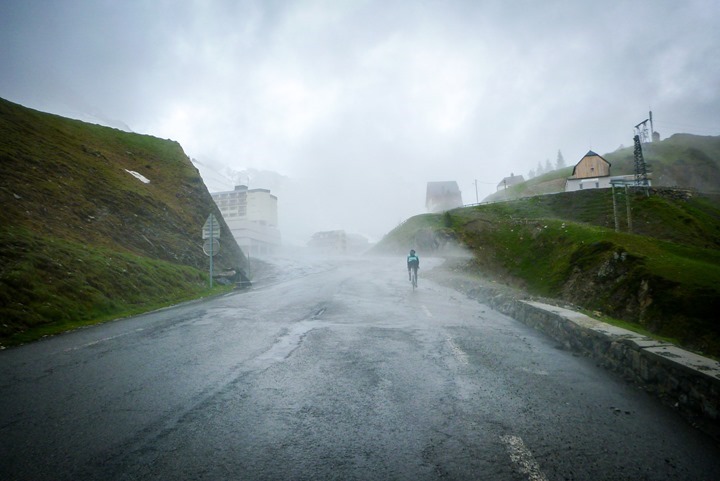 Once I got through the base of the ski area, things sorta opened up, as I was in between two layers of clouds.  The summit is up ahead in the clouds.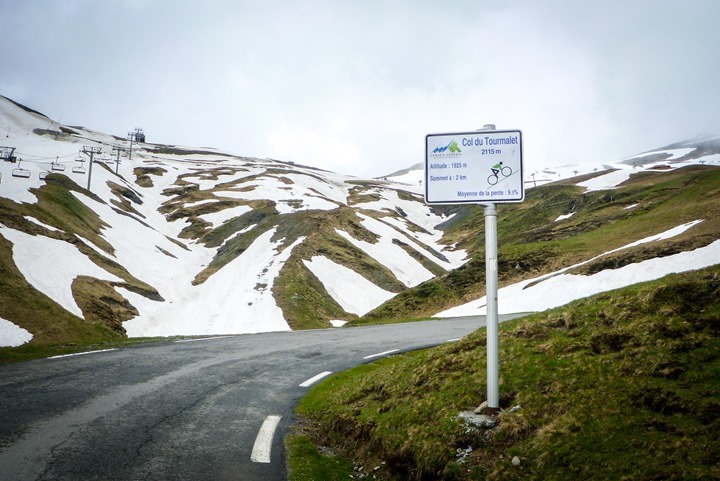 The road twists and turns through the snow banks on a small road leading up to the roadway summit (the actual summit is a bit higher and is served by a ski lift).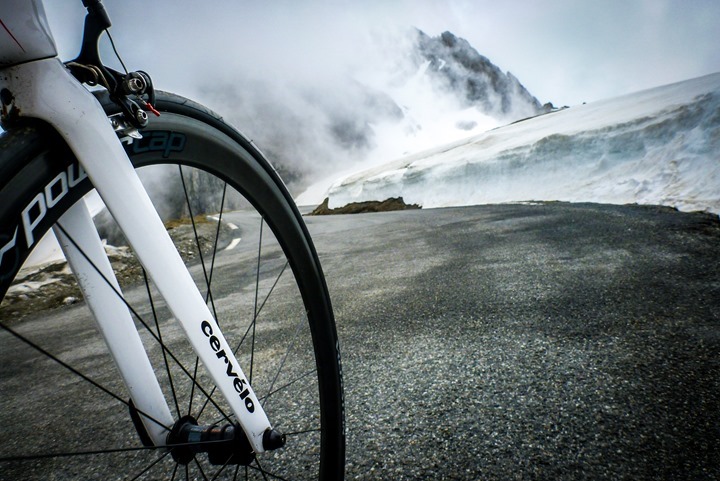 You can see the route ahead of me for the final 2KM as it swings back and forth under the chair lift.  Off to the far left is the actual peak.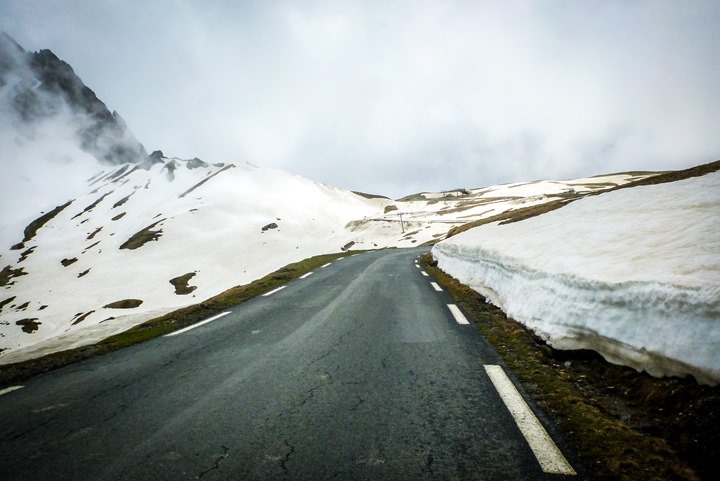 I believe that the below switchback was probably the worst of the turns of the entire route.  It was already in the 9-10% range when it made this tight little twist upwards briefly spiking the grade.

Here's a look back down to the base of the ski resort (right about where the clouds start again).

Upon reaching the top there's a small restaurant/bar that was closed, as well as a sign indicating the top altitude – 2,115m (6,939ft).  There's also normally a big cycling statue there too, but it's removed for the winter.  I actually saw it down in the town near where I was staying.  My understanding is that it's installed next weekend.

The route actually continues over the pass down the other side, but the road was closed still.  You can see the route below.  There were some cyclists heading down – but given that was a bit of an unknown for me (and I was just by myself), and I was already freezing, I decided against it.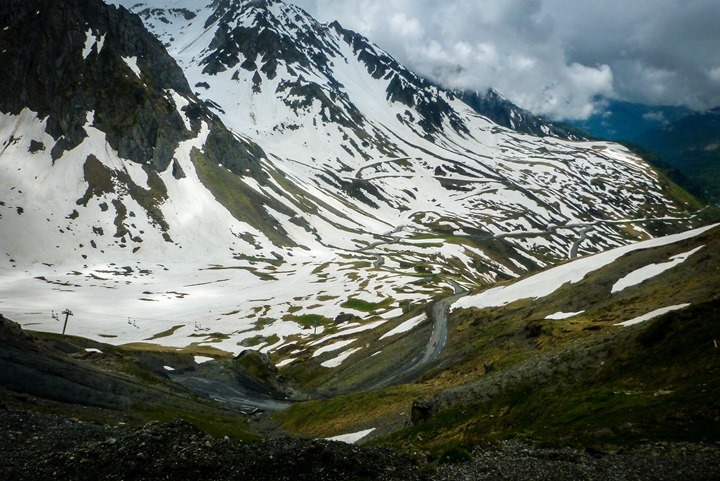 Instead, I slowly descended back down to the ski area.  With the roads wet (since it was alternating between light rain and pouring), as well as the steep grade – it was slow going.  I'm all for descending very quickly on roads I understand and know well (50MPH during Ironman Canada), I'm not so good at it on wet roads I don't know well that drop off hundreds or thousands of feet.
I stopped in the village to grab a bite to eat (actually, I was just miserably cold descending and wanted to warm-up and feel my fingers again for the bulk of the descent).

I sorta did lunch backwards.  I started with a crepe, then moved to hot chocolate, then the steak frites, and finally more hot chocolate (the Mickey Mouse bottle was provided for water).  As you can see above, the place was packed with cyclists doing the same.

Post-lunch I continued my way back down to my starting town (where I'd buy gloves and a rain jacket).  I don't usually ride with gloves (a lot of triathletes tend not too), and I was perfectly warm going up, but once you head down without any work effort for 30-40 minutes, things get cold quick.
Still, gloves or no gloves – if you're in the region definitely hit up the Tourmalet, and even though the weather wasn't so epic, the climb certainly was.  Here's the overall profile of my ride (the little elevation blip coming down was riding the few hundred meters to the food place):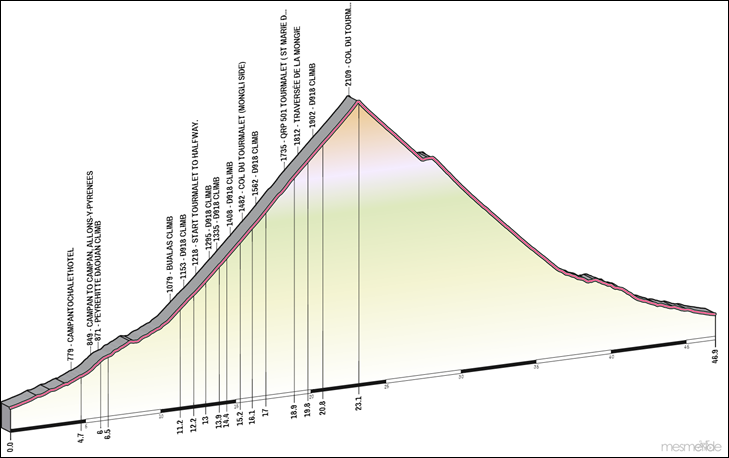 The above was created using Mesmeride from my Strava file.
Day 2: Col d'Aspin served up…twice.
Now that I had the hang of things, I was ready to go a bit further the next day.  Of course, it was still raining.  Actually, the weather was slightly worse this day than the previous – despite what appears to be a brief sun spot on the road.  That was the last I saw of it for many hours.
I headed back out from my hotel and started working my way along the valley floor towards Col d'Aspin.  While it certainly wasn't flat – it was in only about 3-6%, so it's a nice warm-up.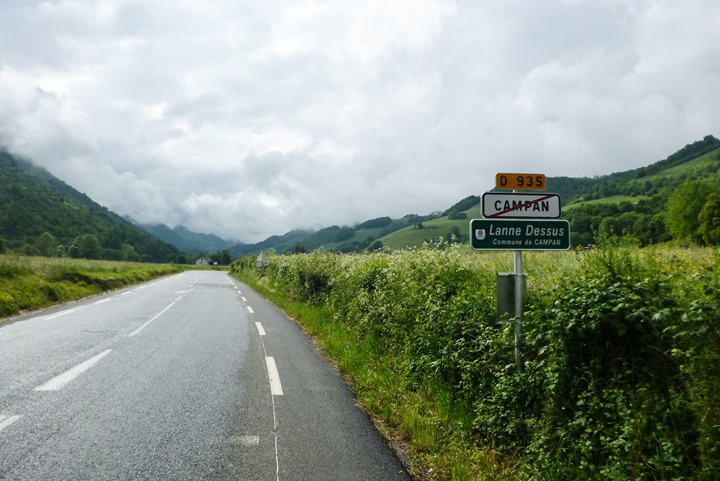 Well, at least until I ran into some cows.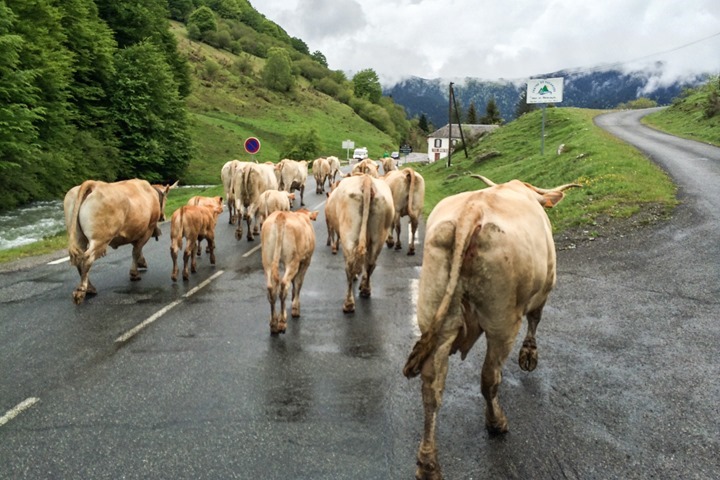 The farms in this area use the roads as a way to move herds.  And in this case, said road would be my route.  It was entertaining though.  Passing them was a bit tricky, because the cows had little care/respect for a cyclist (they barely cared about cars either).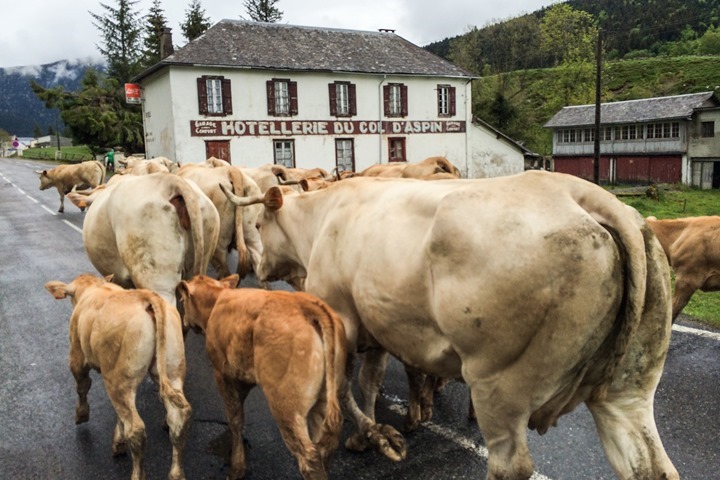 But eventually I found an opening and nudged my way through.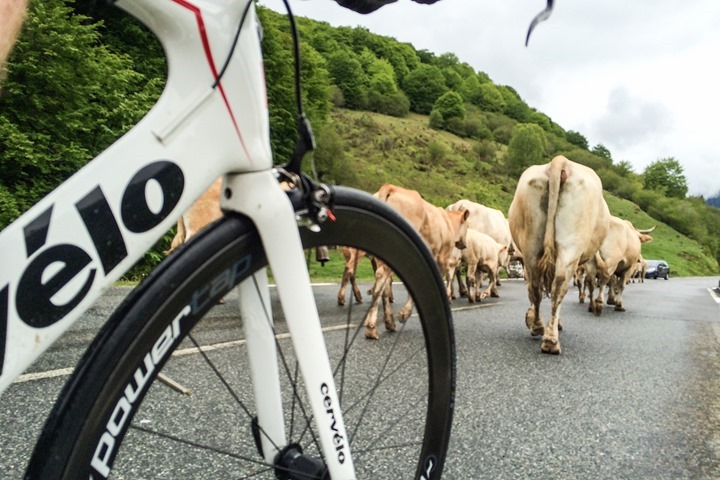 Shortly after I passed the cows the road turned upwards and the real climbing started (those 8-10% grades).  It was here on a small hill that folks were practicing parasailing.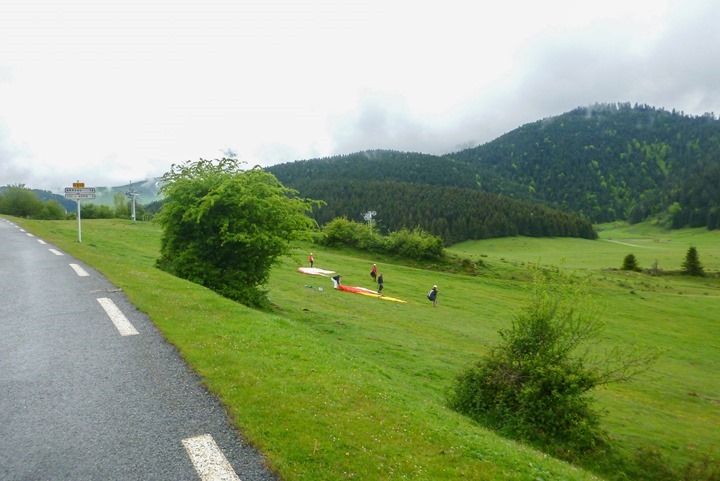 Now I'm not an expert on parasailing training.  However, if I was selecting a locale to jump into the air for the first time with limited/questionable experience in control of said aeronautical device, I'm not sure I'd select this one.
This is primarily because my landing choices would be dependent on precisely where Bessy the cow (and her friends) were munching at any point in time (no fences).  Assuming I missed Bessy though, I'd still have plenty of options for failure.  For example, there's the snow-fed river, or the power lines ringing the entire property.  Alternatively, I could go on-piste and hit the Poma ski lift or the restaurants with watching patrons.  And should all those not be appropriate there's still the line-up of parked cars or the moving ones on the road itself.
No worries, I'm sure it always works out.  It always does, right?
After leaving the scene behind I climbed up into the forest.  Bessy was here too.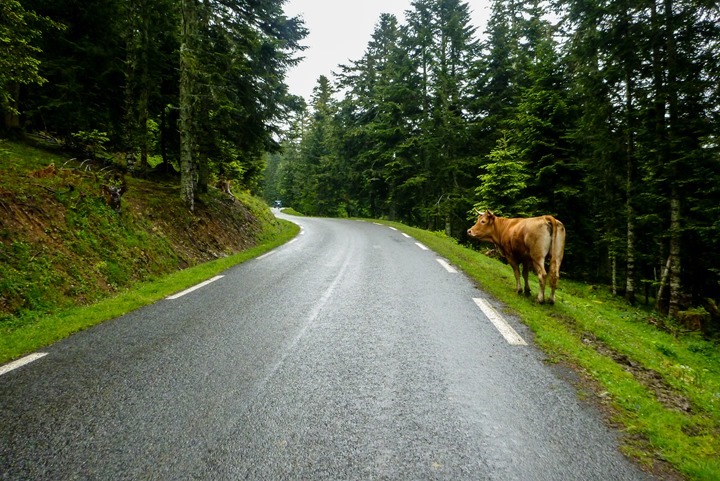 The route is covered with hand-written notes for various Tour de France riders.  Oh, and yes, more Bessy up ahead on the turn.  Three of them hanging out on the road to swerve around.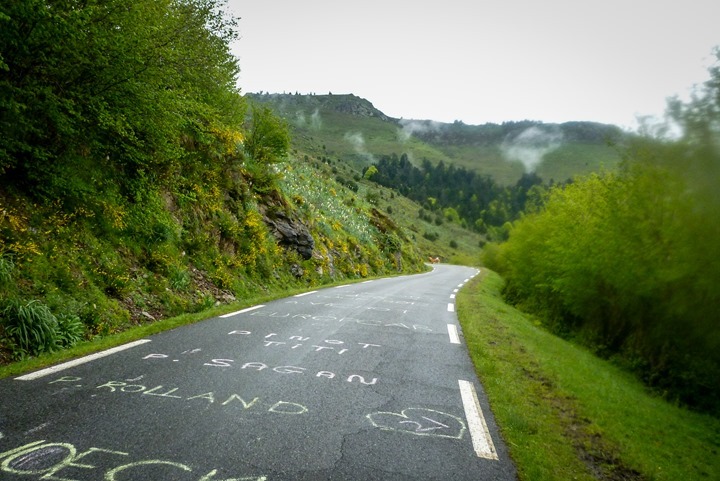 This particular climb isn't terribly scenic on this side. Or rather, again, due to the fog it wasn't for me.
I reached the top the first time, and this is what I found as I prepared to descend again: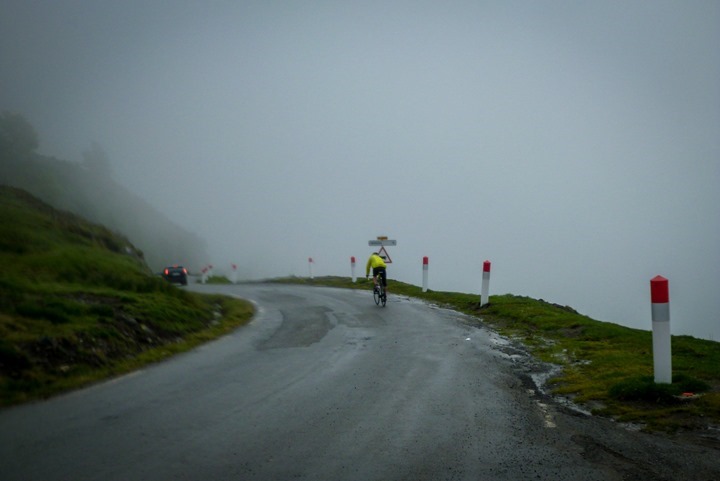 I oscillated between being happy and sad that I couldn't see over the edge as I began my descent.  Visibility was quite limited.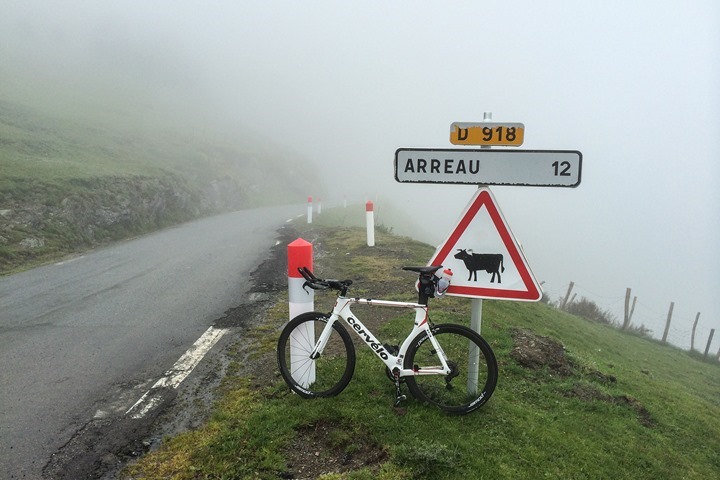 Unfortunately, I have approximately zero photos from the descent.  Mostly because I don't typically take photos while descending.  But also because there wasn't much to see.  Fog, lots of it.
Eventually though I got down to the bottom and below the fog/clouds to a small town, which would serve as my turnaround point.
From there, I started back up near immediately – only to ascend the same Col again.  Doing it once was clearly not enough.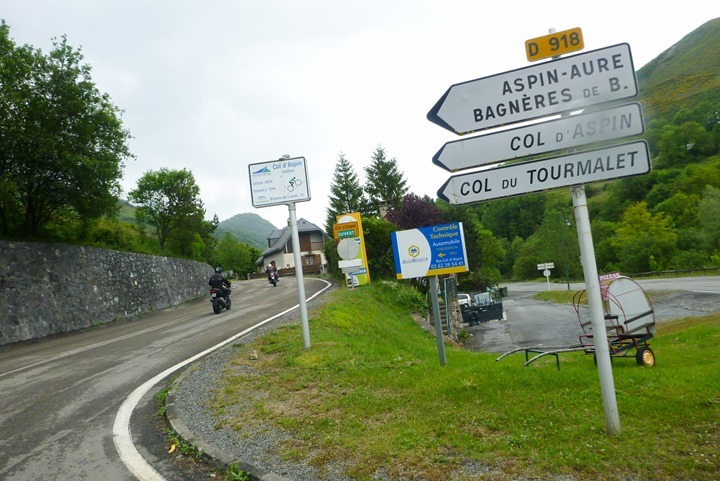 This time the fog parted a tiny bit, and I was able to get a few photos while going up.  Below looking back, you can just barely see the town way far away down there.  The roads you see are largely ones I'd ridden up.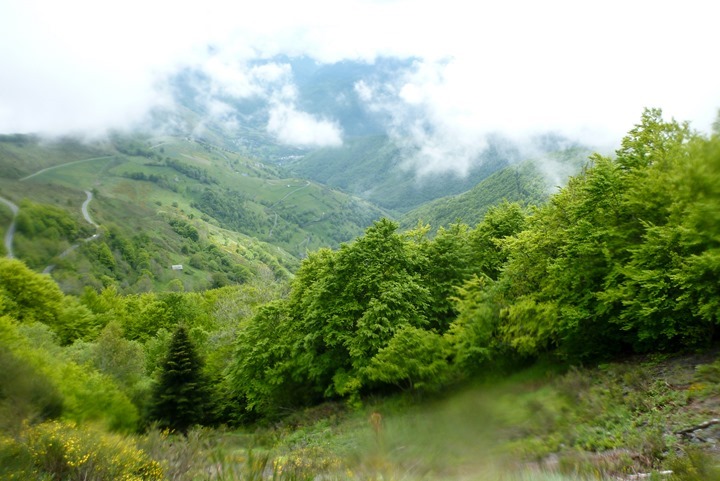 Finally, the top (again)!  I did meet a few other rather nice cyclists here.  Though, I mostly had to explain why exactly I had 9 GPS devices (barometric/GPS altimeter testing for an upcoming post).  I justified that it was simply too easy climbing these passes with just my own body/bike weight, so I'd add a bunch of extra metallic weight 'just cuz'.  They seemed to buy it.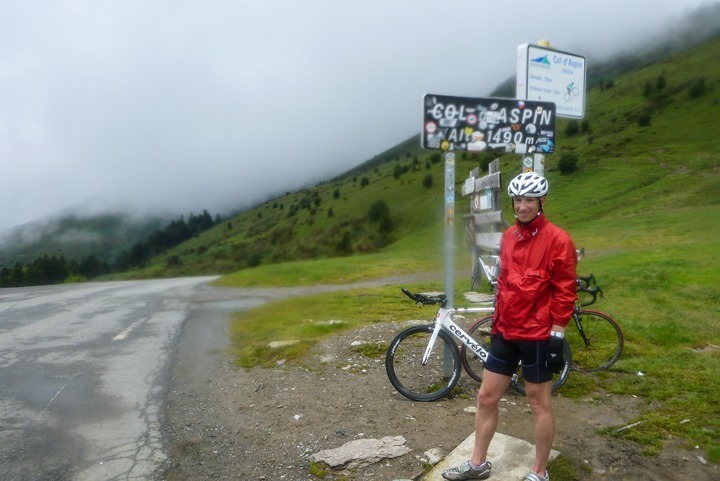 From there me and my rain jacket and non-cycling gloves zipped back down to town.  I passed the paragliders again, nobody seemed to be strung up in the power lines yet.  Unclear though if anyone had been lost in the raging river, the evidence would have been long gone.
Once I hit this building, I was almost home – just 5K to go!  This building is in a town where you choose which of a multitude of climbs you'll be doing.
Then, just as I hit the town limits for my town, the sun broke out.  Seriously.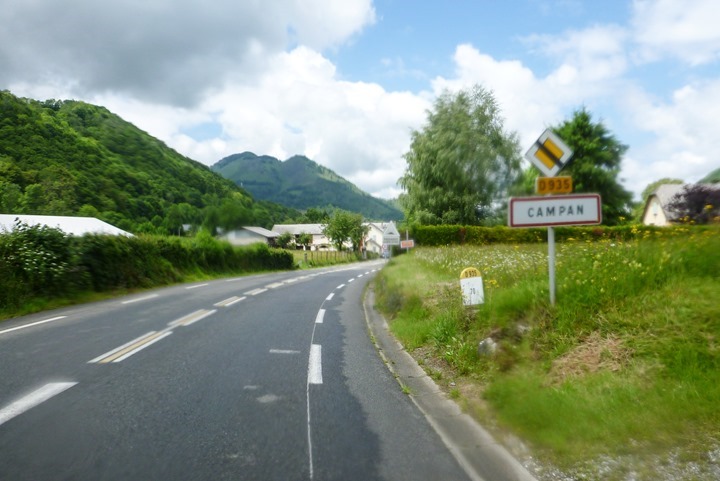 Oh, and more sun as I put my bike away at my 48€ per night hotel (including breakfast!).  The married couple that runs it only have three rooms, but they're nice and clean (and big!).  And while they speak not a word of English, they were unfailingly helpful and friendly.  Absolutely the perfect 'basecamp' option for climbing in this area.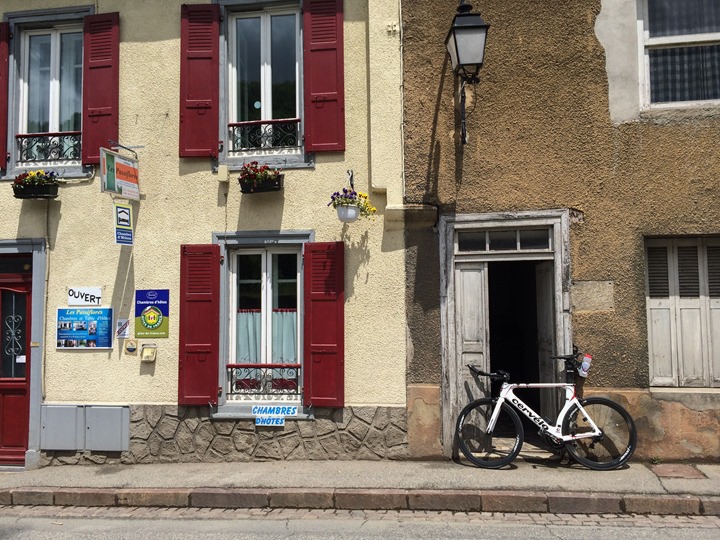 Here's what all that fun looked like, heights are in meters of course, distance along the bottom in kilometers: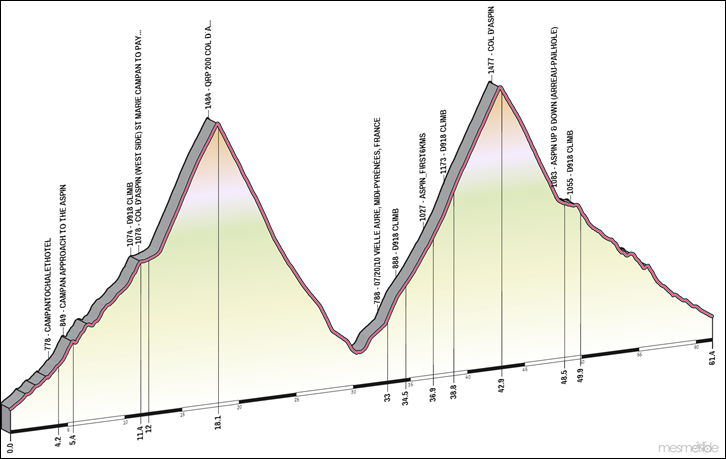 Like the first image, this too was done using Mesmeride from my Strava file.
Day 3: Climbing up to high alpine lakes
For my last trick, I'd drive about 45 minutes away to start my last climb.  I did this because I was simply super-tight on time before beginning my 8-9 hour drive back home to Paris.  Otherwise, you could actually do all this in one (very long) day trip from Campan.
Unlike my previous climbs, this route was much quieter and much less trafficked.  Also, since I parked directly at the turn-off for the route, there was no warm-up, it was straight into 8% grades (and then it got worse).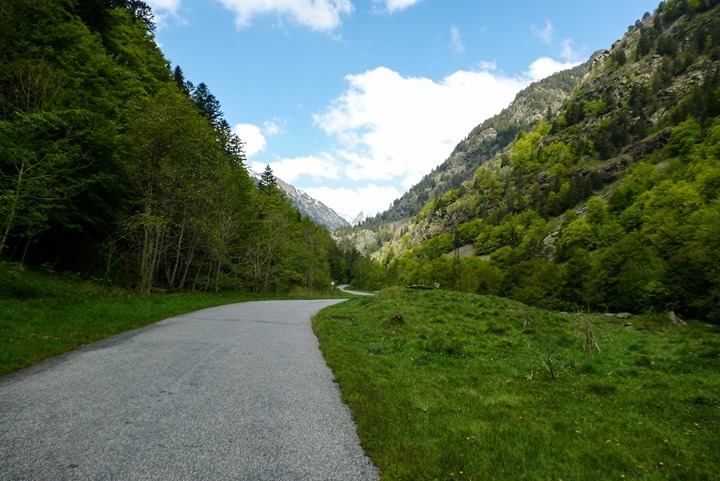 Oh…here's worse – a nice fun 11%: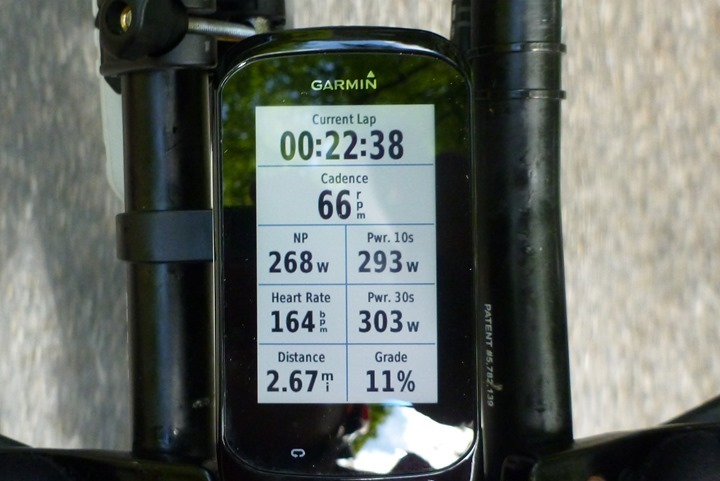 It's funny, after a while anything 8% and below was 'perfectly fine'.  8.5% was 'so-so', and 9% was 'less than ideal'.  But once I hit about 9.5-10%, things started to hurt a bit more.  Even on my compact crankset I was well past out of gears, thus my cadence dropped a fair bit.
In general, I was fairly content with my actual wattages on most of these climbs, especially for three solid days of cycling less than a week after finishing a marathon.
As I climbed, a river near the road was oscillating between quiet/peaceful and roaring.  They had signs explaining not to go swimming. Quite frankly, given how cold that water is – I have no idea why you'd want to do that anyway.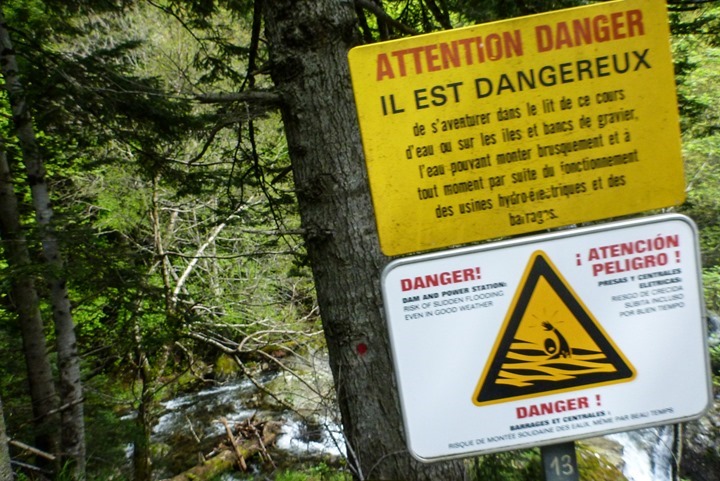 The road here was definitely not designed for speed.  If you look carefully, you can see it twisting back and forth in switchbacks up this mountain face (look for the flat retaining wall sections).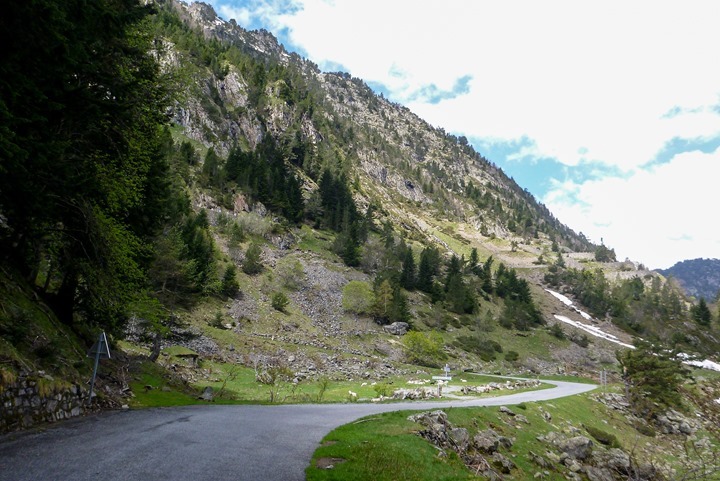 I sorta-appreciated that they put little barriers in a half-hearted attempt to keep cars from going over the edge.  At the same time, I realized they'd do absolutely zero good for a cyclist.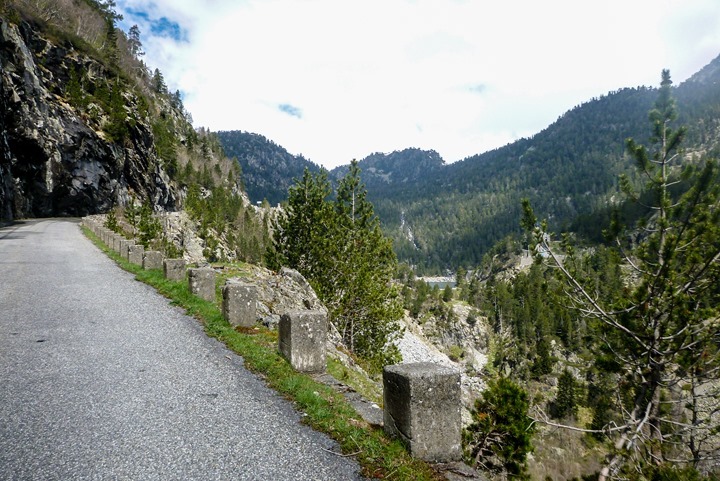 As you get closer to the summit you've got two different climbs/destinations you can choose. Both end in lakes and dams.  I initially went up to the left for a few hundred meters, but then turned back down and went to the right instead.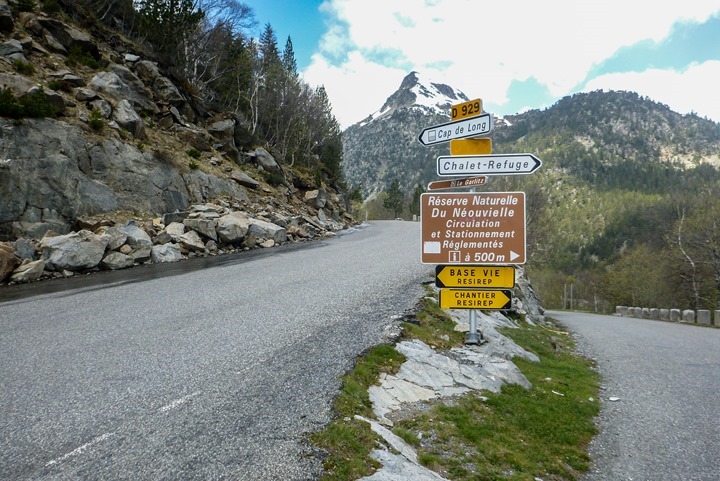 It was here that I reached what would be my final destination.  While I had planned and wanted to go all the way up to the dam seen in the background, I was simply running out of time and I wasn't quite sure how much longer it'd take me.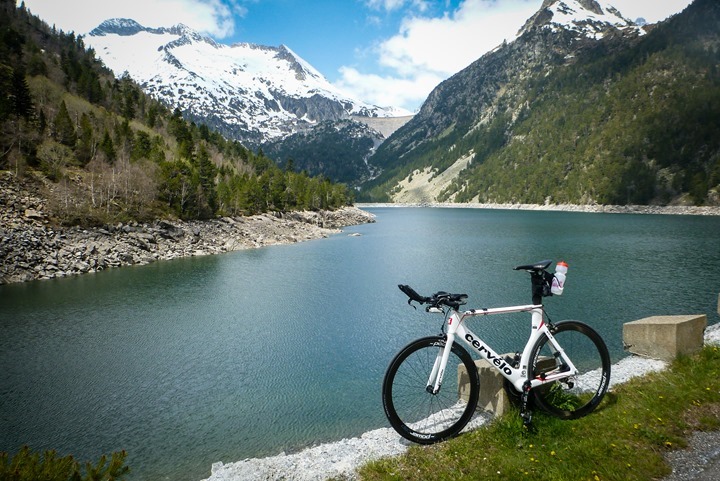 Ironically I had actually mapped out a route for doing both climbs and transferred it to my Garmin. But that was done the previous night post-pizza when I was apparently feeling more optimistic about my climbing speed.  I had neglected to account for the 10% grades being substantially slower than the 8.5% grades.  Still, not too shabby a place to end my weekend!  Here's the Strava file.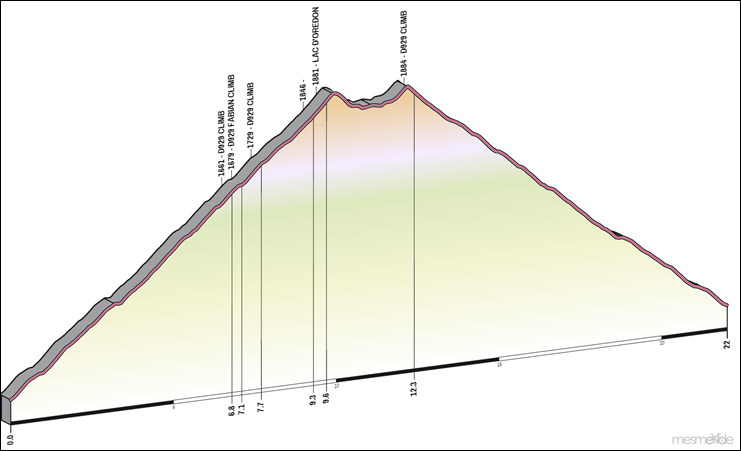 From there I zipped back down to the town I started in, where I grabbed my beast of a minivan rental.  Our second one actually, the first one died in Bordeaux of a flat tire and had to be swapped out by Hertz.  After that it was a 9hr drive back to Paris (lots of traffic).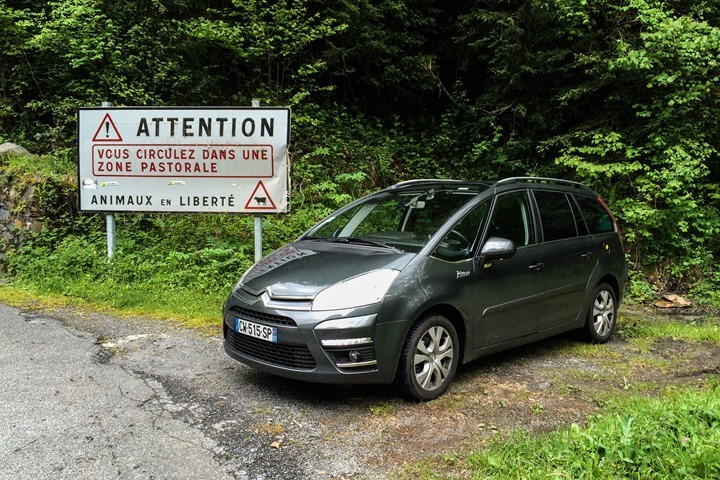 Hopefully I'll be able to get back to the mountains sometime this summer – love the climbing options and how easy it is to do multiple climbs from the same base area.  Oh, and all the routes I found were from this site.  Definitely the 'go-to' resource for anyone wanting to do any of the climbs in Europe.
Thanks for reading!