As I noted earlier this week, we took the week off to explore the western coast of France.  While you could spend weeks doing this with meticulous attention to every little town along the way, we decided to go for the sampler platter instead.  We'd skip around a bit making our way down over the course of five days, allowing us to figure out which towns we'd like to come back to and spend more time in down the road.
Given most of the places we visited are easy 3-4 hour train rides from Paris, it's relatively simple for us to get back again on a weekend.  Here's a rundown of our adventures!
Monday: Playing near the ocean…and eating it too.
Ahh yes, Monday…Monday was a slow moving day for me.  Not actually so much because of my legs from the marathon, but rather because of a well situated blister under one of my toenails that pressed on my shoes constantly.  Sometimes you just can't win there despite proper preparations.  No worries, it feels better now.  Plus, I didn't want that toenail anyway.
We drove west from Mont Saint-Michel and hit up the town of Roscoff on the north-western coast:

Like most French towns, it was fairly quiet, especially on a Monday.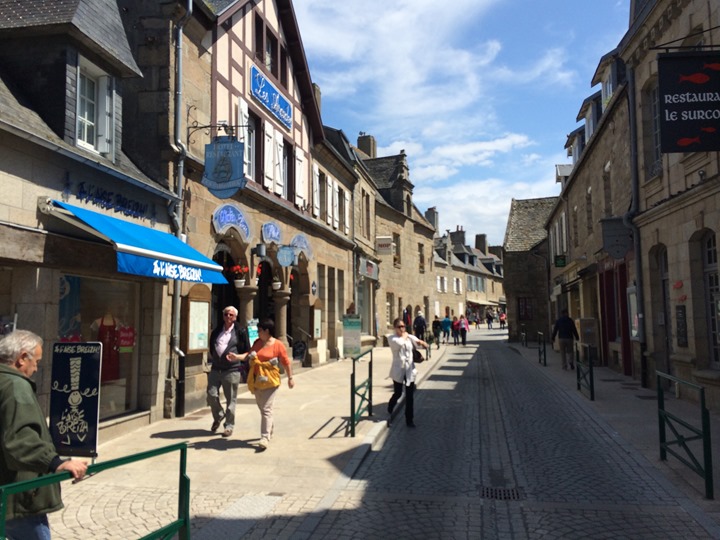 We definitely enjoyed the place though and imagine it's ideal for those stepping off a ferry from the UK.
We then headed south to Brest, for a late lunch there before continuing down to Concarneau, where we'd stay the night.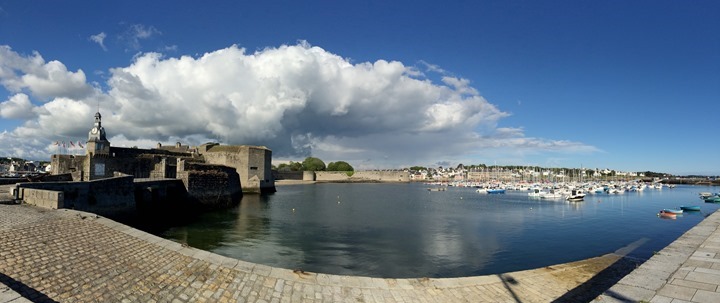 This town has a castle that's built such that as long as the water is not at low-tide, it's fully cut-off from the rest of the land.  The castle has a ton of shops and restaurants in it, though as we learned – almost all of them close at 7PM.
We then hit up a place for dinner that served mussels.  It would be my second meal of mussels in the previous 24 hours.  This time we got them with bacon and mushrooms.  Yes, it was awesome.  We actually ordered another dish of them afterwards.  They were that awesome.
Tuesday: Going inland for a big castle
Tuesday was mostly a driving day, trying to get a bit further south.  But we did make one detour inland to check out a larger chateau/castle in Josselin as well as the surrounding areas.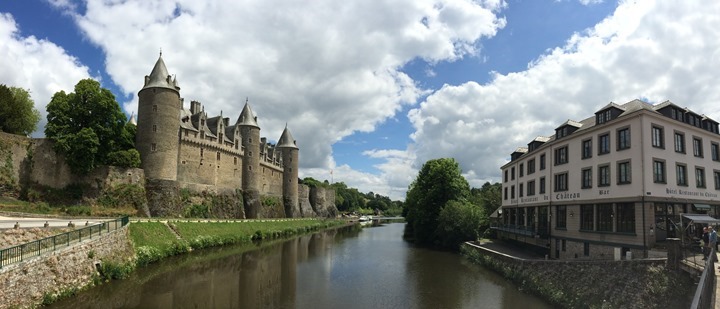 There was a slew of bike paths along the river in this area that were very tempting.  Unfortunately, it wasn't quite on the schedule time-wise.  We did notice though that folks did bring bikes with them via boat.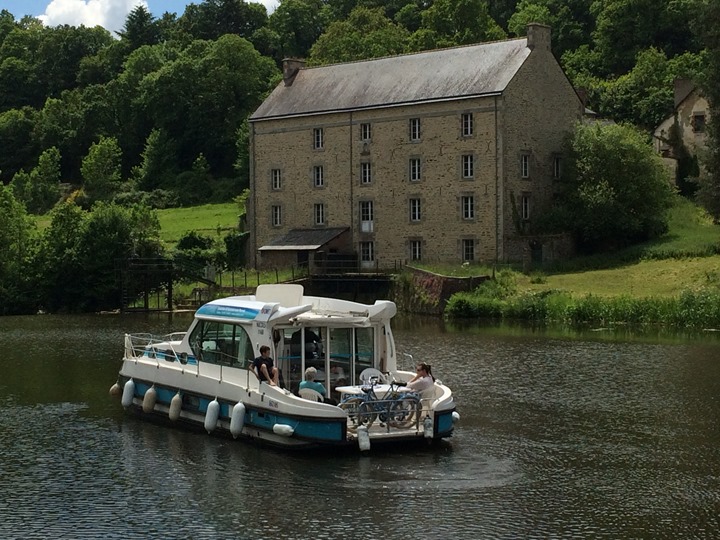 And in fact, these boats were actually rentals that you could get and wander down the river for what I presume would be days/weeks.  Just pull up wherever you'd like and sleep.  It'd be a blast with friends for a week, just stopping and going for rides alongside chateaux, and then heading back out again.
It was interesting in that there were locks here, but they were all manually opened/closed.  The woman seen at the left was the gatekeeper.  Opening and closing the giant doors manually by rotating the lever.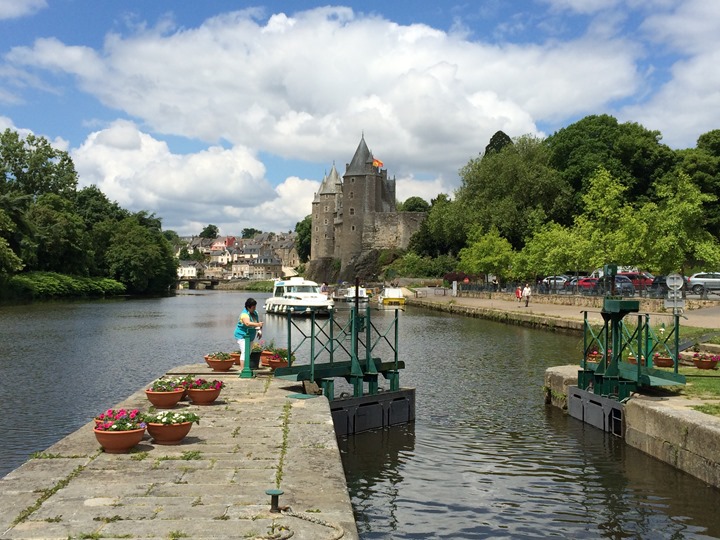 The whole process only took about 10 minutes, pretty quick and efficient.  And, she even let some bystanders open/close some of the gates.  Of course, she's obviously a smart duck – since that means less manual labor for her. 🙂
Finally, here's a quick map of all the possible bike routes from the castle, all of them roughly about 20K and on either the canal or various country roads and paths.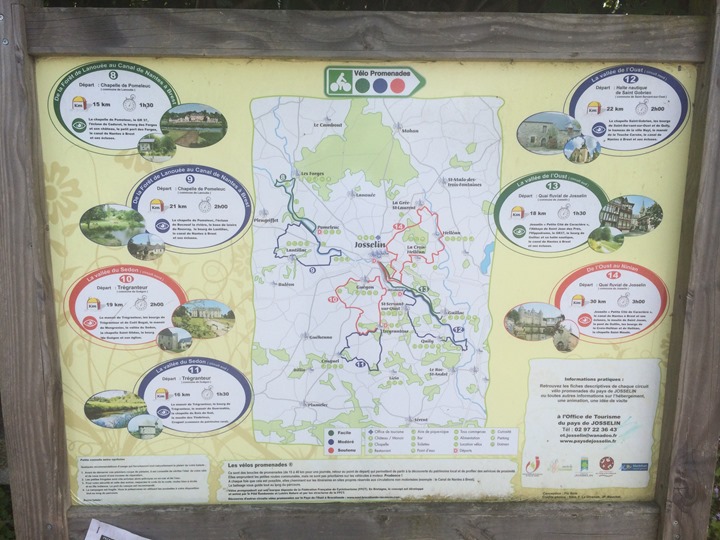 Wednesday: The Vineyards of Bordeaux
After a bit of a longer drive on Tuesday getting down into the city o Bordeaux, we booked a last minute wine tour of the region.  Unlike in some places (such as California, South Africa, or a few others I've been to), you are unable to simply drive up to most wineries in the region and taste their wines.  Rather, it's generally by appointment.  So, we picked one of the tour companies off of Trip Advisor and headed on out.
We left at midday and the tour consisted of visiting two wineries plus a world heritage town.  First  was a 'smaller' family run winery.  Of course, small still means producing 250,000 bottles a year and having a chateau.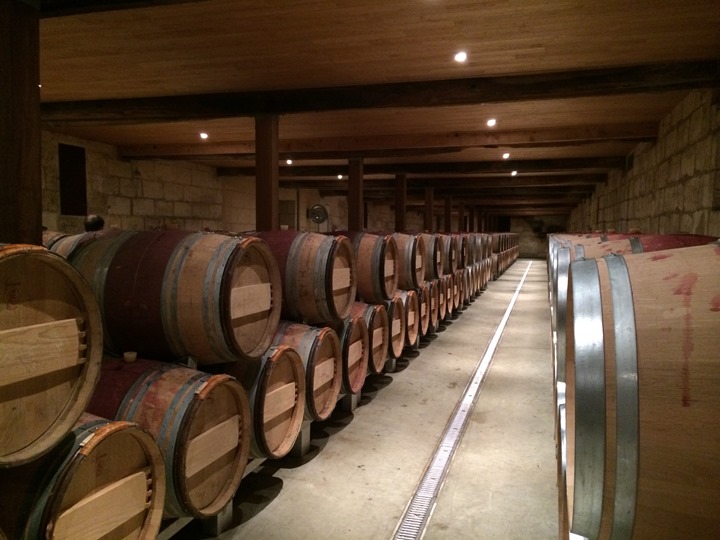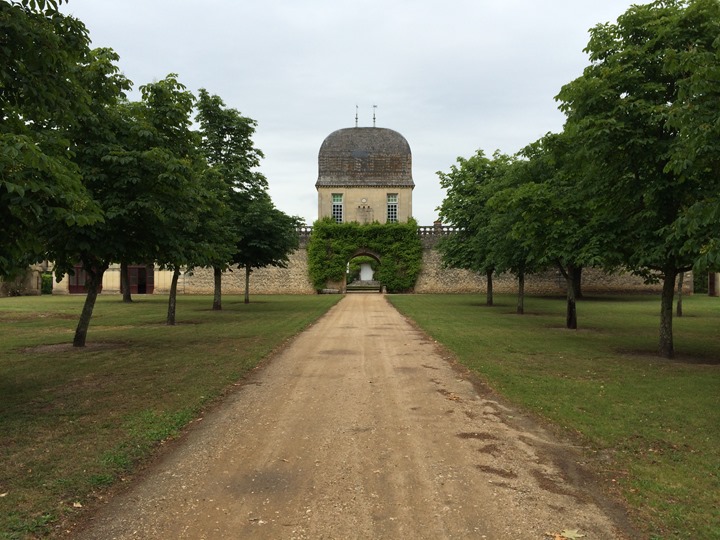 Next we drove to Saint-Émilion, which is a UNESCO world heritage town.  We did some wandering there, and some eating.  Cool little place, definitely worth a trip if you're in the region.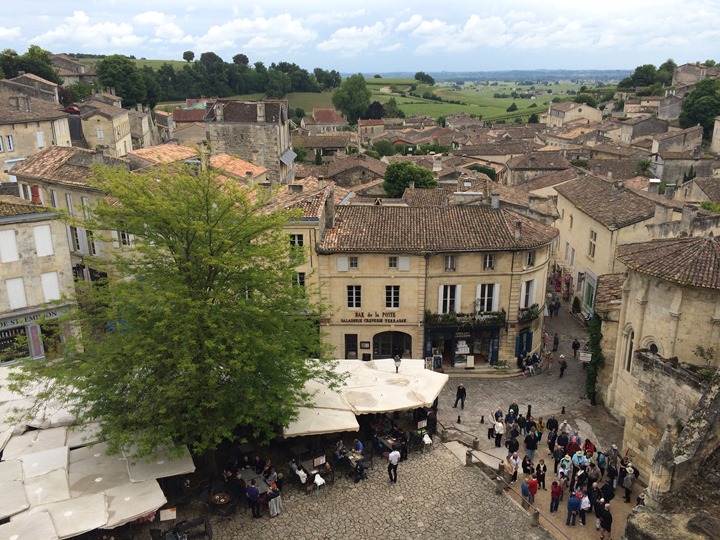 You could even buy little grape vines there.  Surprisingly cheap actually.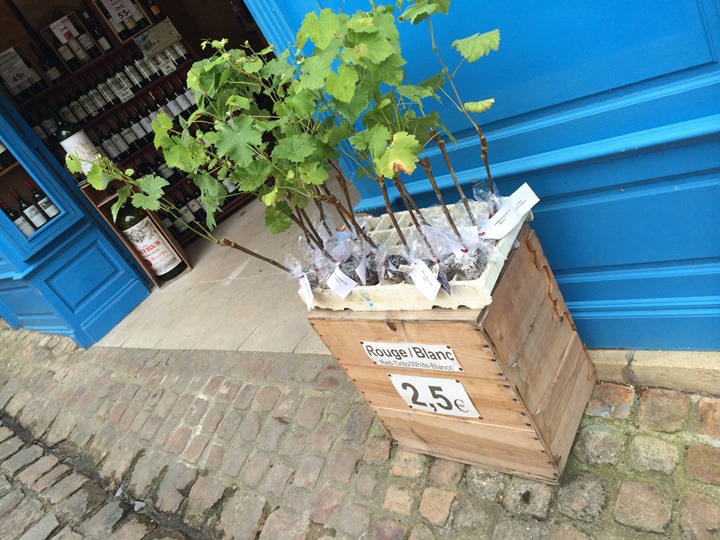 It's probably worth noting that Bordeaux is actually a city and not technically a region, even though all of the wines in the region (Aquitaine) are called Bordeaux's.  I'm reasonably sure there's probably no (or maybe only a couple backyard style ones) wineries technically in the city of Bordeaux.
Finally, we hit up a higher end winery (offering a contrast to the small family run estate).  This one is owned by French insurance giant AG2R, also owner of one of the pro cycling teams.  It was clear they had money: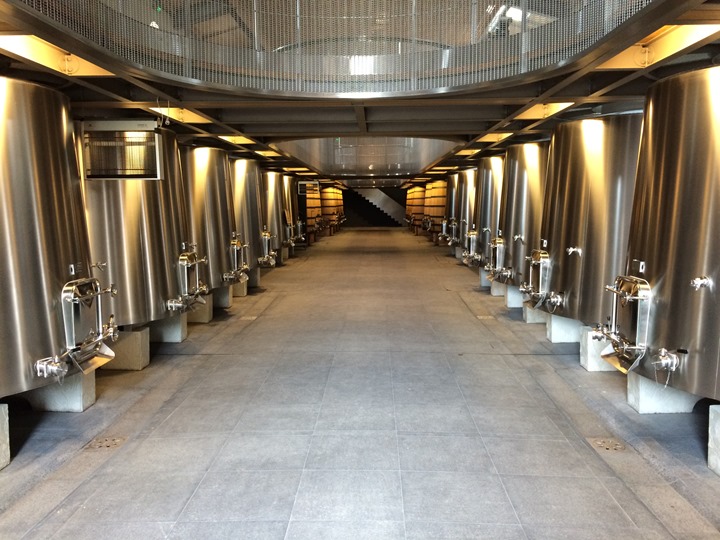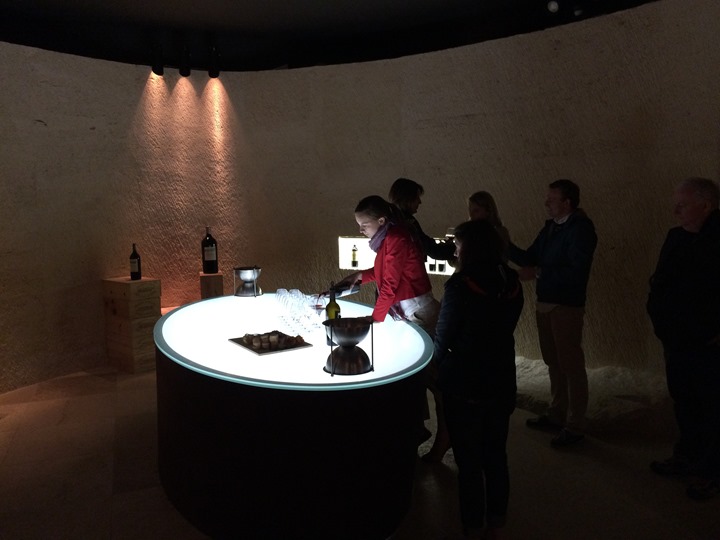 It's interesting in that the Bordeaux wineries generally only produce 1-2 different wines per year. And there's an incredible amount of complexity when it comes to rules, such as whether or not you can even put the word 'Chateau' on the bottle.  Also, unlike wine tours in California, there was pretty much no chance of you getting drunk on these.  You only got about 1/3rd of a glass of wine per winery, and only two wineries over the course of 6 hours.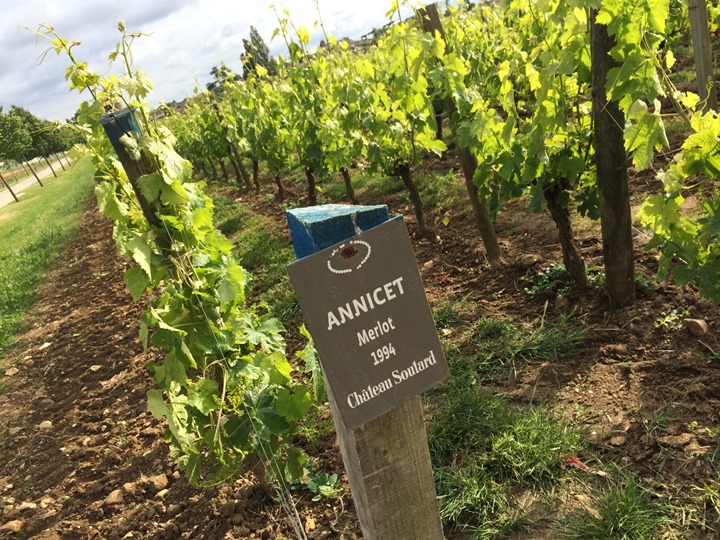 Post-wineries we headed out on the town in Bordeaux and found some good food.  We loved the city, as it's got tons of great trendy restaurants with well prepared food (and at very reasonable prices).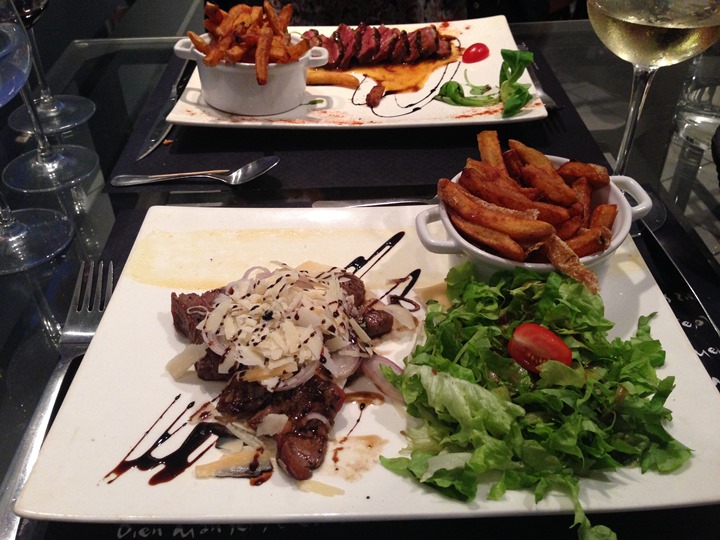 Oh, and yes, dessert: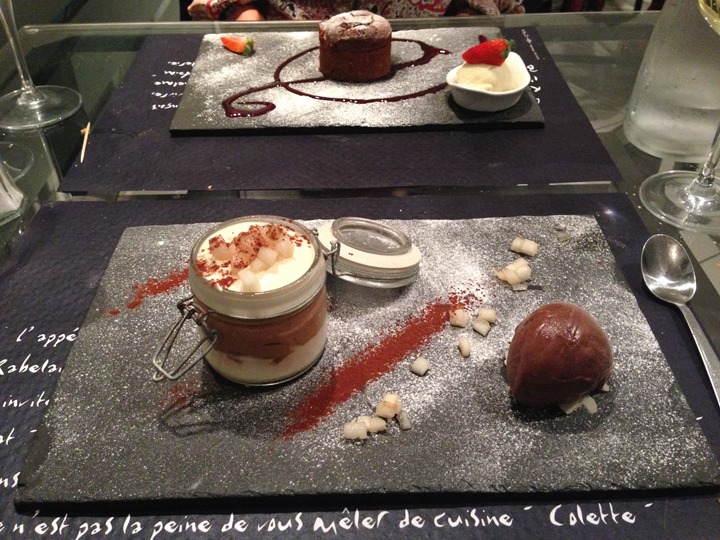 Thursday: The biggest sandbox you'll see in Europe
Thursday would be our last day together before The Girl had to head back home to tend to the shop.  So we headed directly west of Bordeaux about 45 minutes to a massive national park.  The park offers everything from cycling to camping to hiking to swimming.  It's awesome.
However, the biggest draw is clearly the massive sand dune called Dune du Pilat.  This massive sand dune is 110m high (about 330 feet), and 2.7KM long (1.68 miles).  And, it's about 500m wide.  Basically, it's like the size of a medium sized US airport.

After hiking to the top of it, we spent most of the afternoon on it just hanging out along with hundreds of other folks taking advantage of the French bank holiday.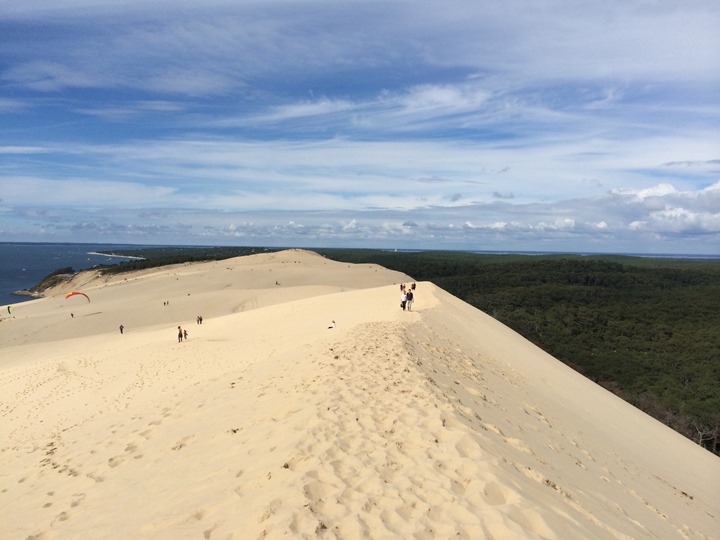 And, making a little picnic of course: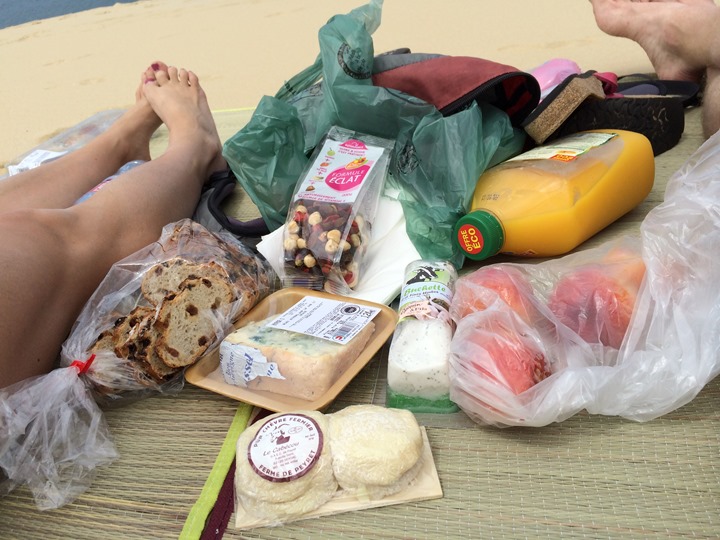 We watched some slide down, such as seen in this little video I shot:
As the afternoon wore on, there were many paragliders taking advantage of the constant winds.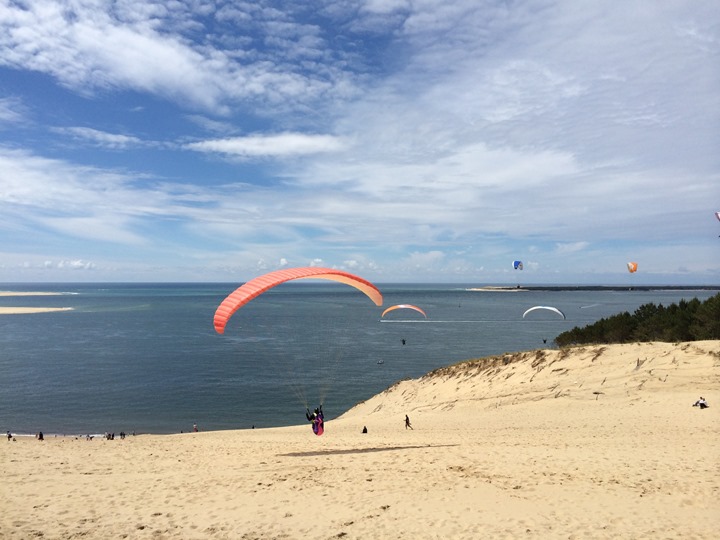 They just floated there, playing around for hours.  Both The Girl and I agreed that we'd LOVE to be able to do that.  Seemed like such a relaxing thing.  So…if any of you happen to be paragliding folks and in that region, we'd…uhh…love to come back down and learn. 🙂
Just to be clear about the photo below, all those little things you see in the distance are paragliders.  We counted at least 50-70 up in the air, plus many more.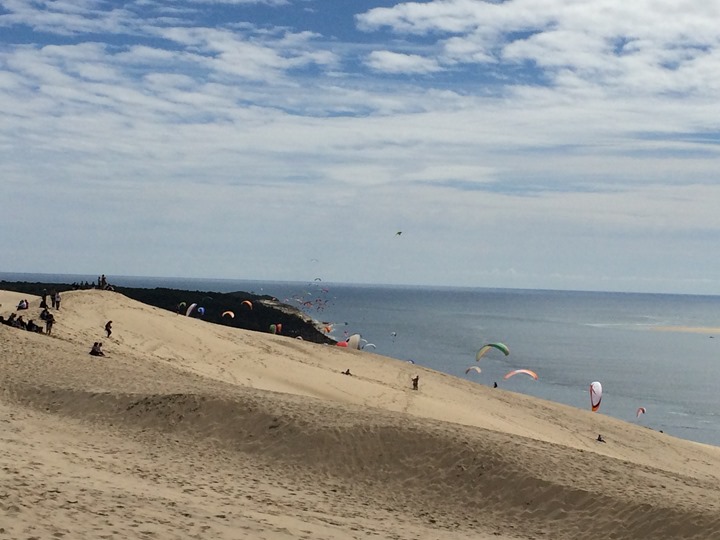 Finally, after a number of hours we made our way back across the sand dune and out to the exit.  It was a long walk, as we had walked almost all the way down to the far end.
Friday: Off to the Pyrenees!
Well, obviously, Friday is just starting here in France.  But after dropping off The Girl at the train station to catch her high-speed train back to Paris Thursday night, I continued on south another 2+ hours to the foothills of the Pyrenees.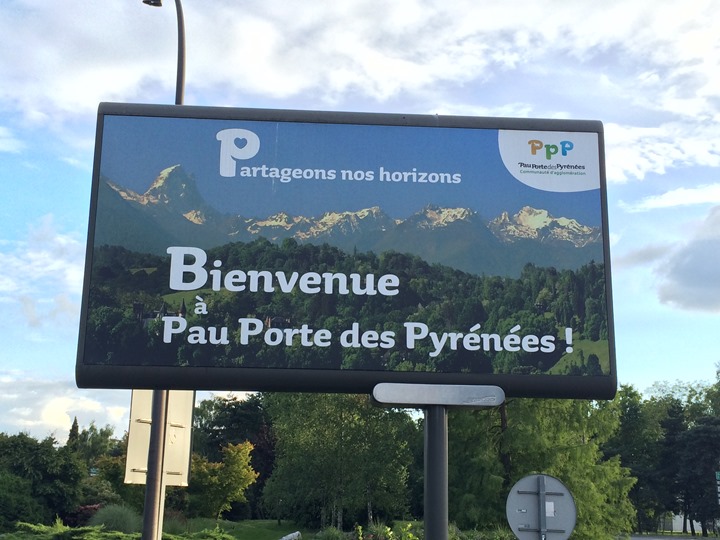 It's here I'll be spending the weekend doing a bunch of final tests on the Garmin Edge 1000, Polar V800, some action cams, and then the Mio Cyclo 505. Along with a bunch of other smaller things.  Sorta testing festivus.  Lots of up and downs of big climbs aiming to validate the barometric altimeters on many devices (I also have a ton of older devices to match up against).
Next week's gonna be a busy week for reviews!