I signed up for the Mont Saint-Michel Marathon a long…long…long time ago.  When I did so I didn't actually have any specific goal.  In fact, the only reason we really signed up for it was that we knew we had to deliver a wedding cake in the same general region.  So we figured we'd do it for fun.
The course is point to point.  You start off in a small town roughly 26.2 miles away (slightly less line of sight) and then you run directly to the famous Mont Saint-Michel.  Outside of the massive hill encompassing the first mile or so, it's largely a pancake flat course out in open fields.
So going into it even as recently as this week I didn't actually know whether it'd be more of a race, or a training run, or something in between.  But, what I did know many months ago was that if I did decide to race, I needed precisely two things to happen:
1) Not be a head-wind day
2) Not be a hot/sunny day
If I had a 26.2 mile head-wind, or a hot and sunny day, it was going to be rough going.  If not, it should be awesome.  Thus, why I really didn't decide until the start line what my plan was.  But first, a few pre-race notes.
Pre-Race: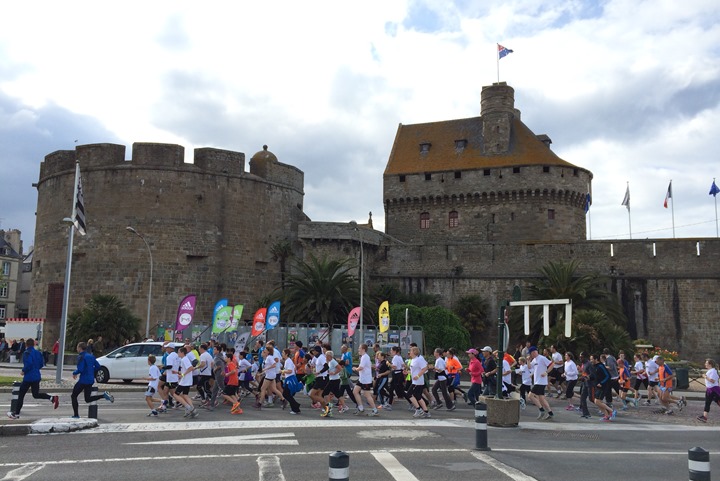 We arrived into Saint-Malo to complete packet pickup on Saturday evening.  As we did, it looked like the pace runners were having a bit of a warm-up run of sorts.  Kinda neat to see them go by.
Afterwards it was into a bit of a convention building on the water for the packet pickup.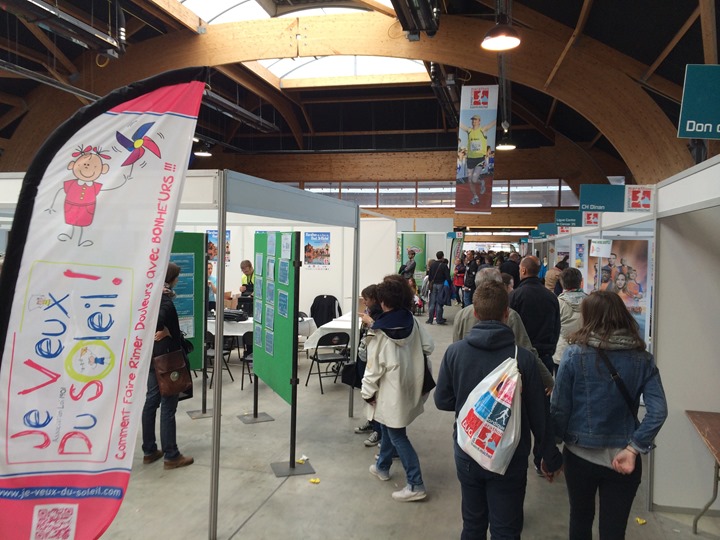 There were plenty of stands, though, a number of them had unfortunately already gone home (about 90 minutes before closing time).  Thankfully, the race packet people people hadn't gone home yet and we were able to very quickly pickup our packets.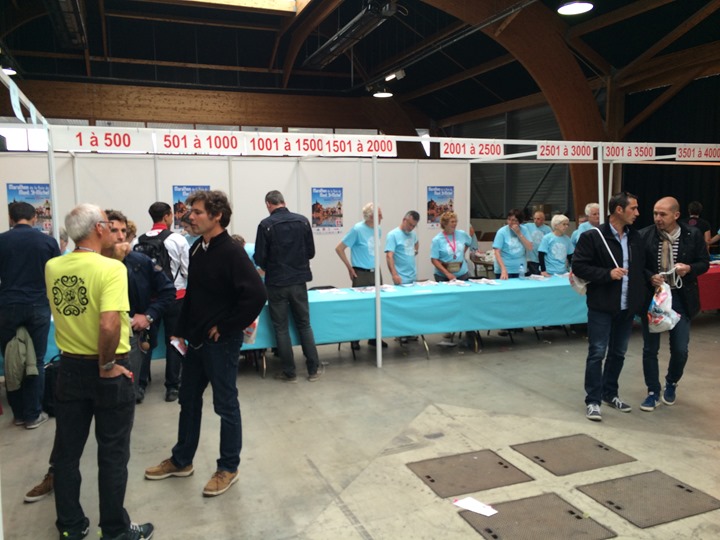 For those curious, here's a bit of a map of the course.  As you can see it's making a big sweeping loop around the bay from the start to the finish.  There's a bit of distance added in the last chunk wandering around some fields.  And looking at the elevation profile down at the bottom, you can see that once you get over the big initial hill you're good to go.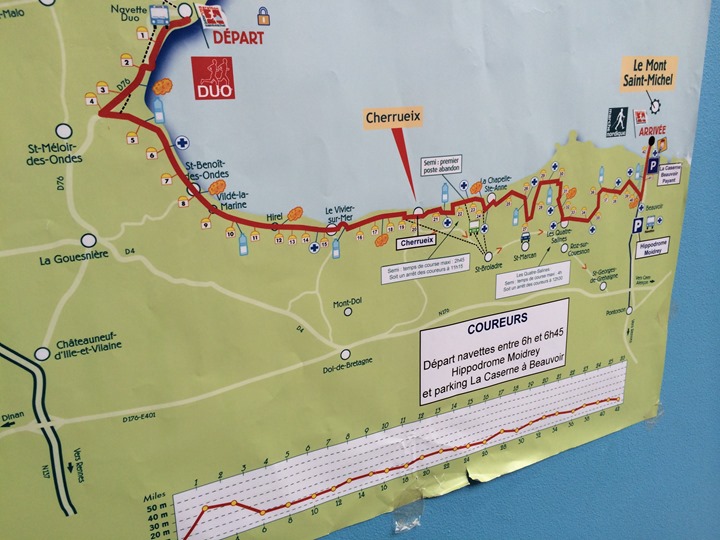 After heading out we grabbed some dinner and then headed off to the hotel.  We stayed right near the finish line, to minimize hobbling post-race.
Here's the stuffs that came inside the race bag: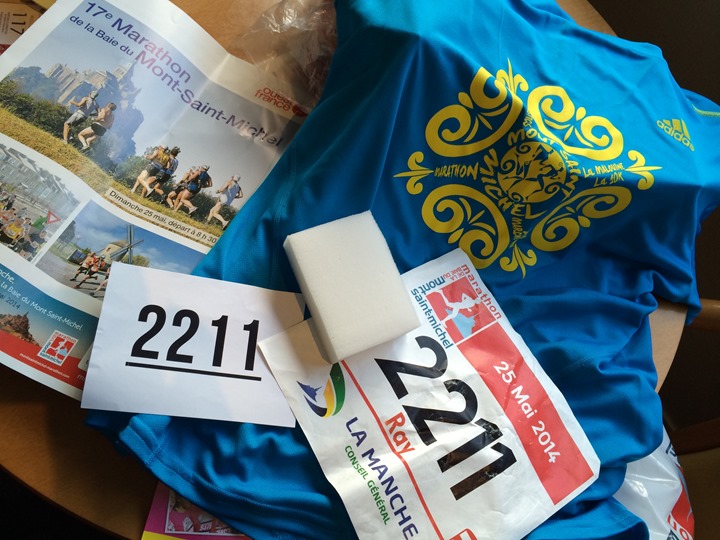 Speaking of the race bag contents, this seems like a good time to have a brief discussion about national treasures.  Yes, treasures.  See, all countries have something culturally that they place a high value on.  It could be something as simple as great wines or cheeses from a specific region, or something more global like gold or silver (precious metals).  In the case of France however, it appears that the most precious of all metals is actually the safety pin.
Yes, really, the safety pin.
See, in none of the races that we've completed in France has said method to attach the provided race number to one's shirt ever been provided.  In fact, the mere question of asking for safety pins seems to strike surprise and aghast confusion into the look of any race volunteer.
Looking around at the start line the next morning, one starts to realize that perhaps the safety pins are passed down from generation to generation like a family heirloom.  After all, no one person's race number seems to have all four pins from the same origin.  It's usually a blend of small pins and large pins, gold colored ones and silver colored ones.  And in fact, having four pins at all is even somewhat rare.  I saw the one-pin option and the two pin option in play.  Three pin was clearly the most common.
Maybe my native French readers can help bridge the gap in understanding why exactly there is so much value placed on ensuring the only safety pins one uses are from their own private reserve collection.
Race Morning:
On race morning I headed a short distance away to board a bus that would take me to the starting line (from where I was located near the finish line).  There were also busses that did the inverse of that post-race if you wanted.
I lucked out and got nobody sitting next to me for the approximately 1-hour drive to the start line (it wasn't really a direct shot on roads a bus could drive).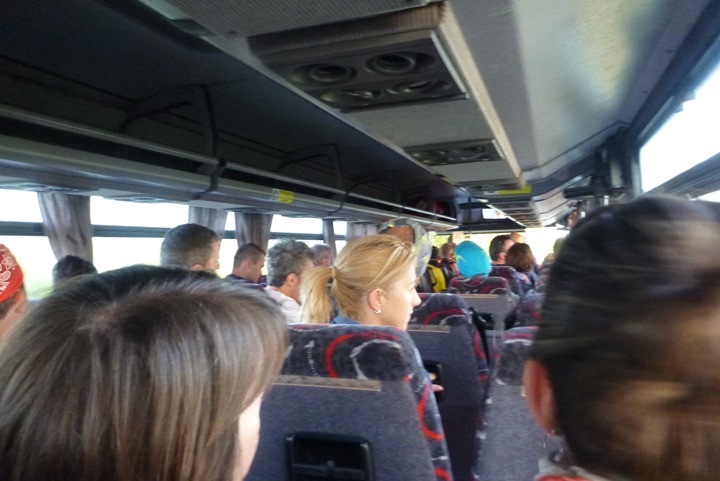 After arriving in the correct town, I joined many others for the walk down to the start area.  I'm guessing it was half a mile or so walk.  All downhill, nice and easy.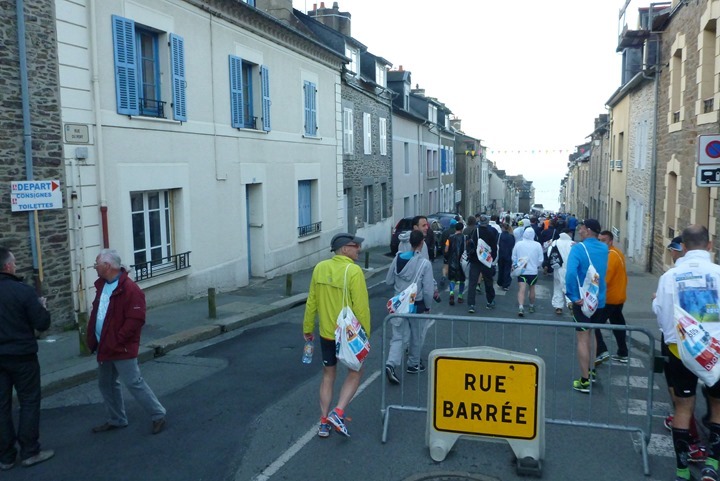 Ultimately you'd end up down along the bay and the waterfront street lined with picturesque buildings.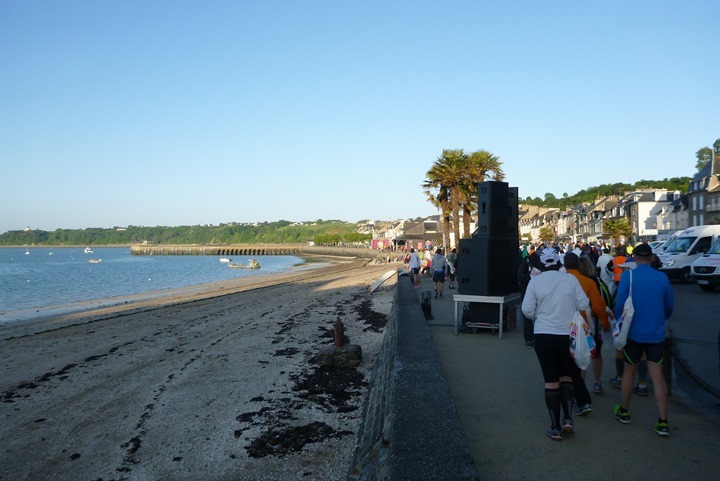 Here runners were scattered about, burning time until the start – about an hour remaining.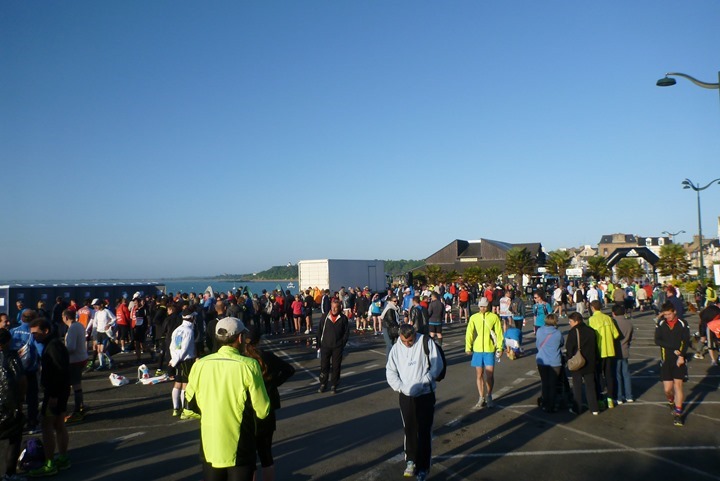 Many were doing warm-ups on the pier seen below, or the beach which had the tide out.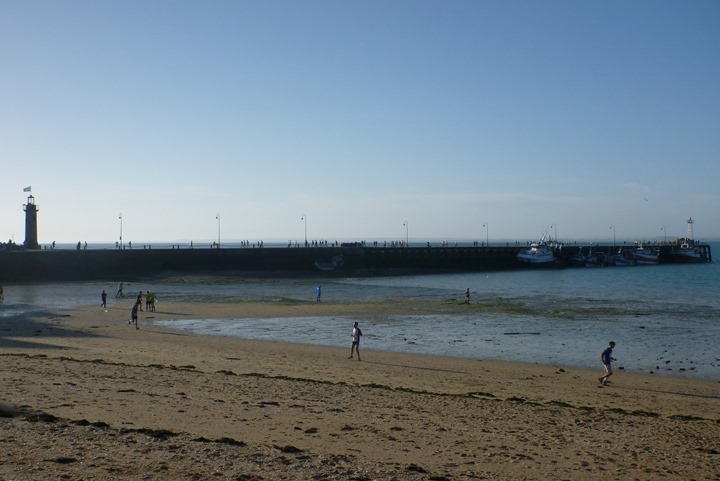 While folks did that, I went off in search of safety pins for my race number.  I made many stops in my quest, but eventually was able to find one of the bag drop truck drivers that was willing to part with three pins (a massive loot!).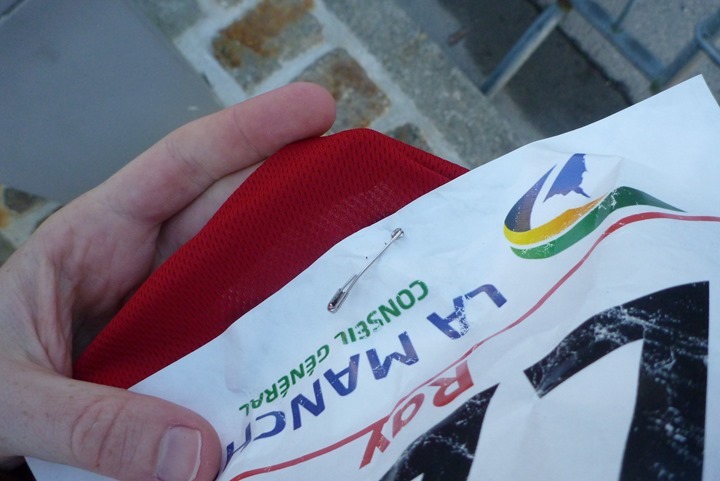 From there I went out for a 7-10 minute warm-up run, just nice and easy at first and then building up to a bit quicker pace.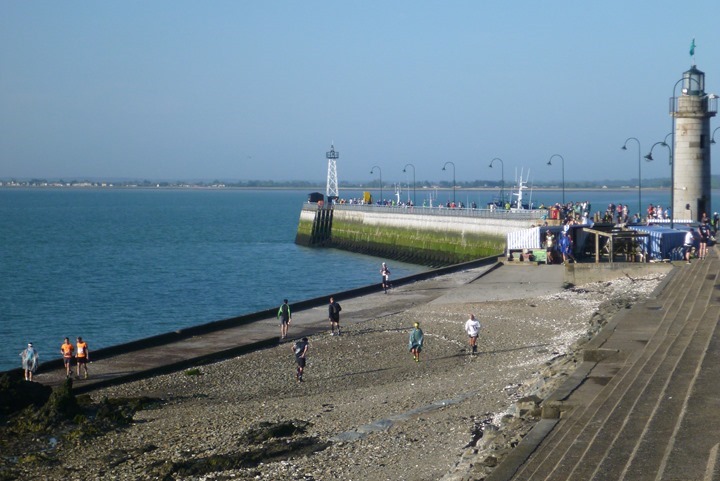 By time that and the pin-search was done, I headed on into the starting corrals and got ready to start.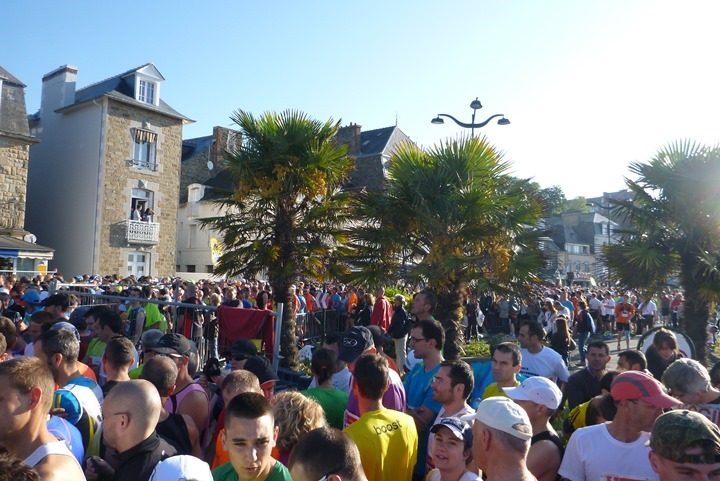 The Race:
The way the starting corrals worked there was an elite section, followed by a preferential section, followed by everyone else.  I would fall into the 'everyone else' category.  The only challenge with this was that there was a 3:00 pace group up in the preferential section, which I couldn't get near.  You'll see why that mattered a bit later.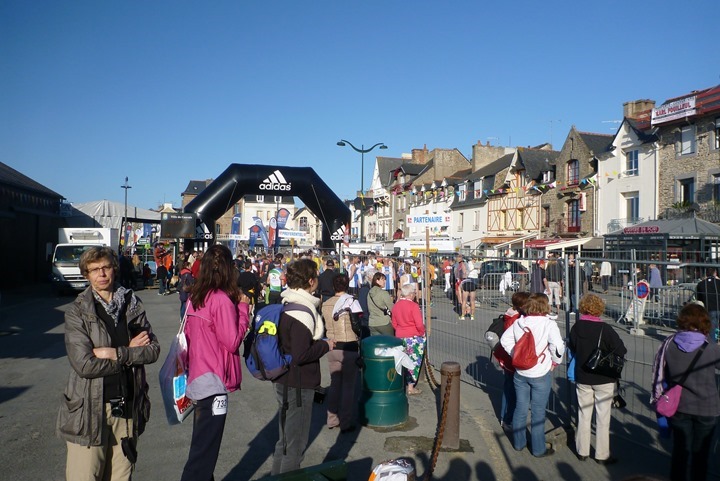 No worries though, I joined 4,000 or so of my newfound friends in the corrals.
At precisely 8:30AM, the starting gun fired and off we went.  Don't worry, just like every other race I've been in here in France, there was no fanfare.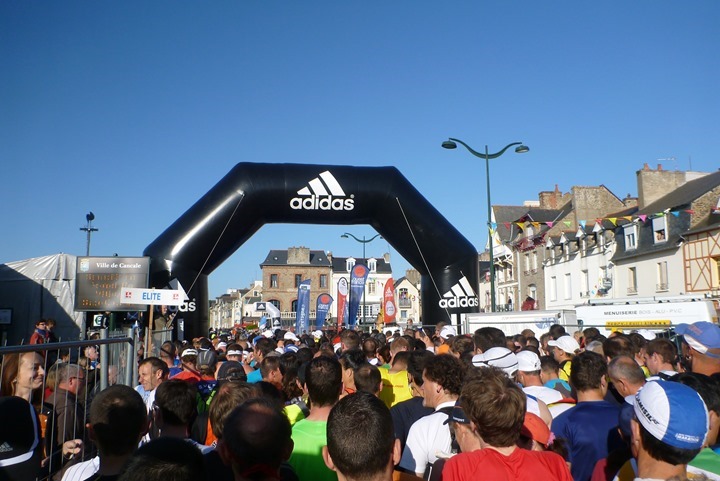 Here, me in the first few hundred meters.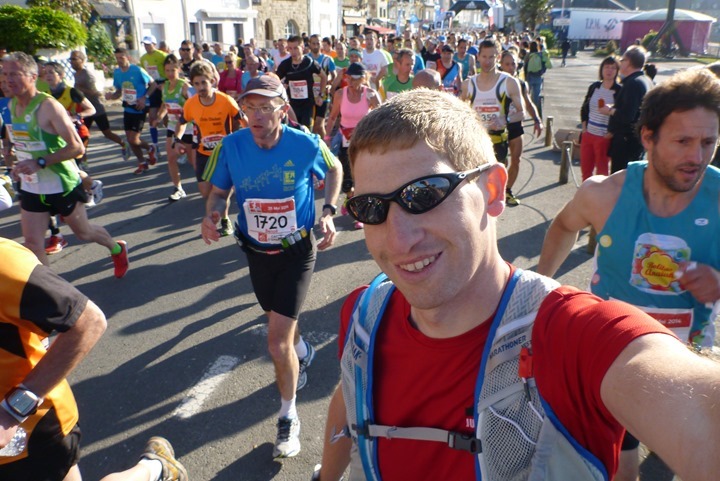 Now, as mentioned previously, when it comes to this race course there are really only two things to know: First is that it's point to point. And second is that the first mile or so is all uphill.  After coming back down that hill it's basically pancake flat the rest of the course.
So strategy wise you want to be aware of the hill, and simply not kill yourself on it.  I decided to just take it nice and easy.  Ultimately, I had no real decision in that matter since it was too crowded to go much faster than I was going to go anyway.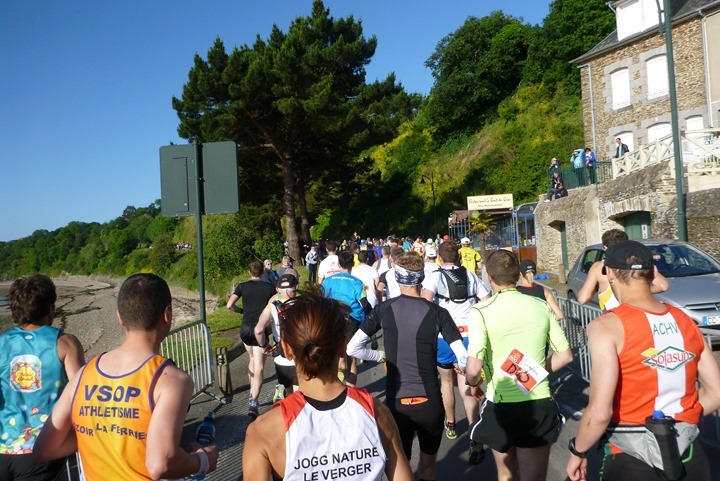 After clearing the hill things opened up a bit and I was good to go.  It's always interesting watching how people run courses, specifically the turns.  Note in this case that the straightest line is staying in the left lane and then gradually crossing to the right.  The only people that did that were the two runners that have the same singlet's on mid-photo (+ me).  Thus this serves as a general reminder that courses are indeed measured/certified on the shortest path between any two points.  I'd also point out that my total mileage per the GPS was only 26.3 miles – about as close as you're ever going to get.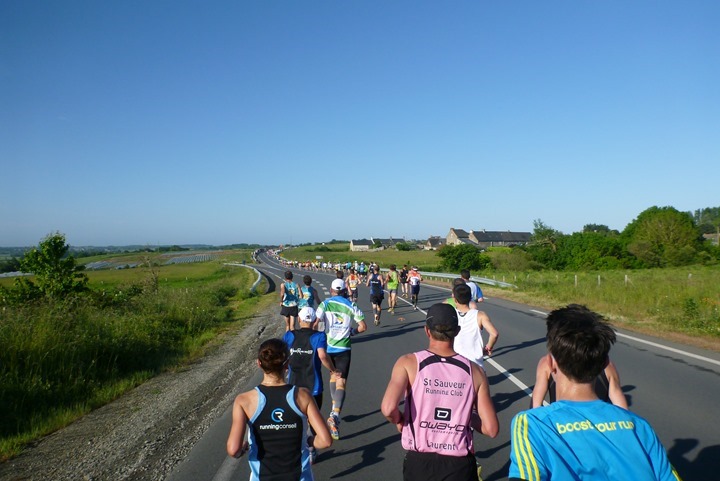 Oh, and I continue to be impressed with how many older Europeans are always riding their bikes.  It's especially cool when they have a bike with them that's almost just as old.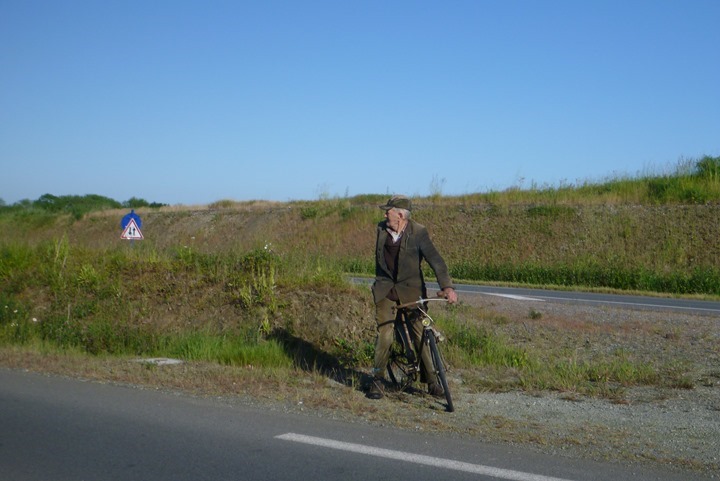 After coming down from the hill it was onto the flats along the coast for quite some time.
Now remember back to the beginning of the post where I said in order for me to have a fast time I needed a lack of headwind and a lack of sun.  Well, as you can see, I clearly lost out on the sun component.  While some people might like running in the heat, for me, my body just isn't good with it.  All of my most successful races and fastest PR's are on days where it's actually been snowing at the race.  Seriously – everything from 5K PR to marathon PR is on a snowy day.
Of course, what you can't see is that we did indeed have a head-wind.  Sigh.
But, I had a solution there.  While I could run behind individuals, most of the time it doesn't provide a massive savings.  Especially if they aren't good at pacing.  But, just ahead about 200-300 meters was the 3:00 pace group.  My pace was at/about a 3:00 marathon anyway.  So if I could bridge to that pace group then I'd be sheltered from the wind.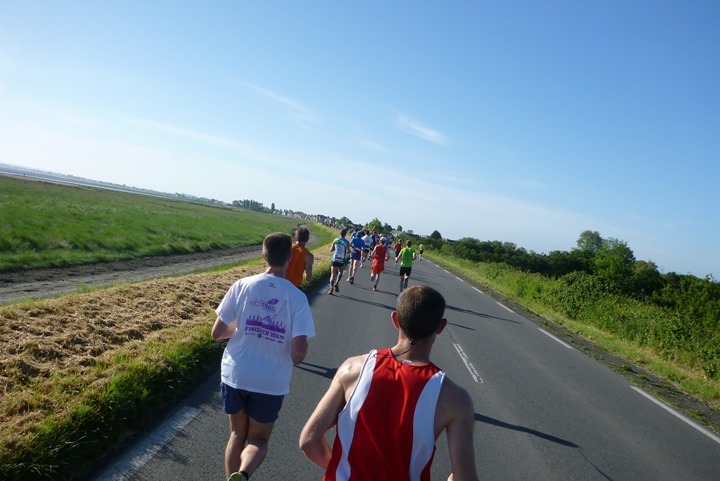 Of course, that's a bit of a tough race decision to make.  If I try and bridge that 200-300m, I'm going to have to substantially increase my pace (and thus effort) for a period of time.  If I were to only slightly increase my pace, then I'm still increasing effort but not getting rid of the wind factor.
So, I went for it.  A bit of a calculated decision that I could knock out the difference in about a mile.  200-300m sounds like a short distance, until you remember that the pace group is moving at 6:45/mile (4:12/KM), so that means I have to drop down into the 6:10-6:20/mile range (3:50-3:55/KM)to make up the ground within a mile or so.
Which, is what I did.  Here, you can see where I kicked up the pace and my HR spiked (an increase of about 12-15BPM):

About a mile later, I was successfully in that group.  The real question then is does my HR come back down to the pre-spike levels?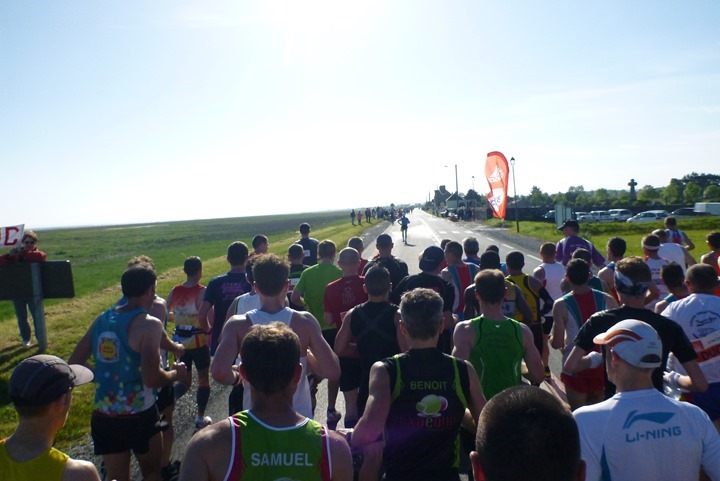 Thankfully, it did.  Within about 2-3 minutes I was back at the exact same heart rate levels and still at the same pace as before.  So my HR was floating between 162 and 166bpm (Z3), and my pace was at 6:45/mile (4:12/KM).
Now, I'd like to give serious props to this particular pace guy.  His pacing at 6:45/mile was scary perfect.  It wasn't that he hit every mile at that pace, it was that he was constantly at exactly that pace.  Had I thought to take a video of my watch's instant pace, it virtually never swayed off of 6:45/mile.  He was also definitely of the non-social variety.  I don't think he said a word to anyone, except calling out water/aide stations.
In any case, I kept with the group no problem at all.  The only slight downside was that it was actually much warmer in the group because the wind was blocked but the sun was still glaring down.  So every once in a while I'd scoot to the edge for a minute or two to get a bit of breeze and cool off.
Otherwise, we just kept a very even pace towards the bump in the distance that is Mont Saint-Michel (seen below):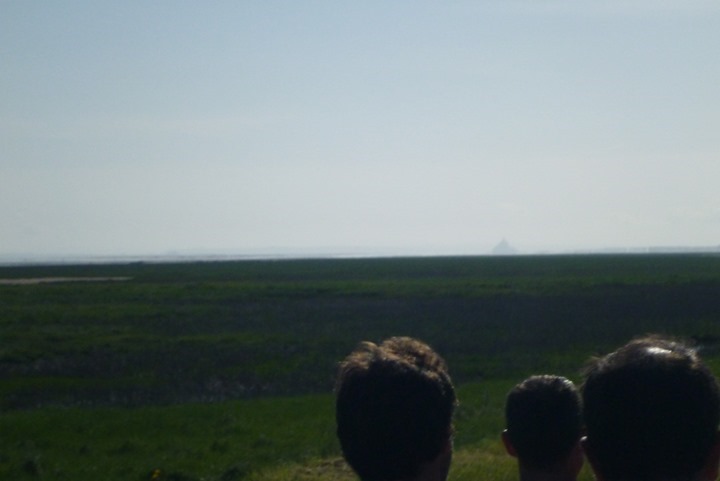 Just keep on truckin'….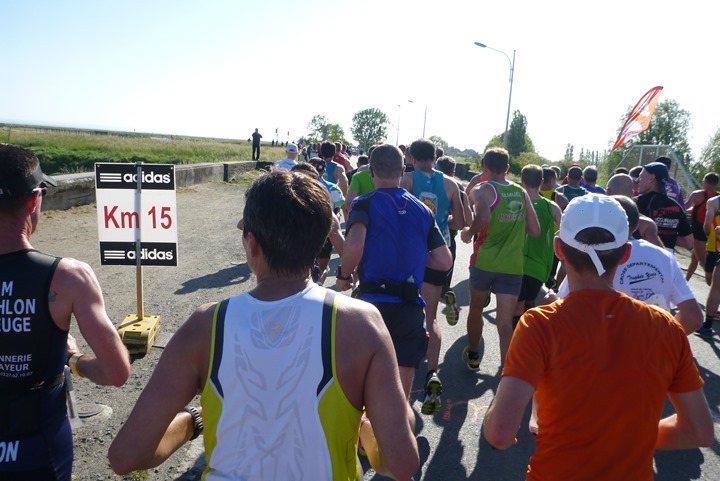 Around the half-way point things were all still good.  This was where if you were in a team-relay you would have ended your half and someone else started.  Though, it seemed like the first half runners actually ran only about 12.2 or so miles, and the second portion runners got a longer chunk.  Though, the first half runners had the hill.  Or, perhaps I was just confused at that point in the race.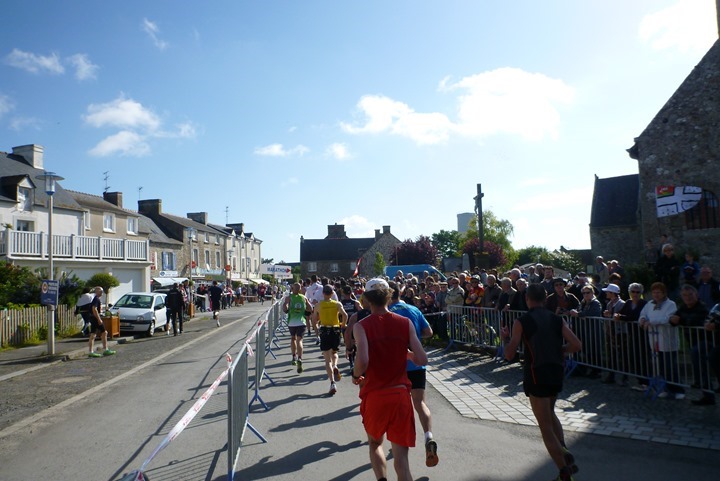 In any case, onwards I went.  No particular problems, though, it was getting warm out.  My half-marathon split was approx 1:29, so a very solid split.
You'll notice I'm wearing a CamelBak.  This was mostly for the practical purposes of having a place to hold onto a bunch of gels.  I wasn't even planning on putting water in it.  Then The Girl reminded me that given it was a hot day, perhaps I should add a bit of water in case I needed some between aide stations (every 5K/3.1 miles).  So I put about 20oz of water in there, which I was definitely glad I did given the heat.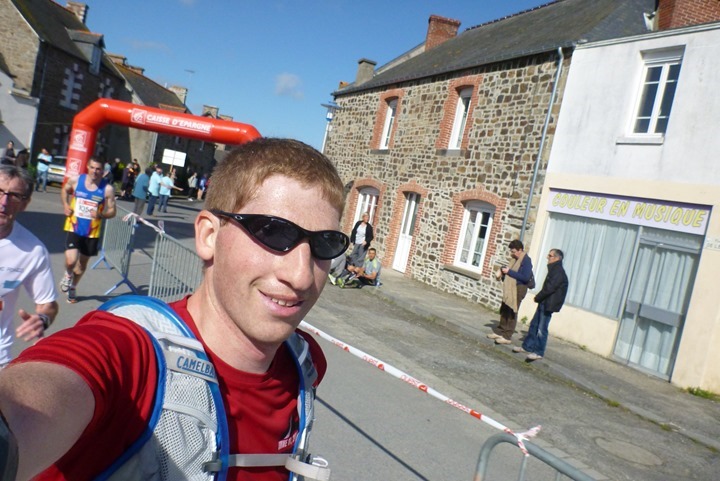 It was around the 14 mile marker or so though that things abruptly hit a wall.  For reasons somewhat unclear to me in the span of about 100m I went from feeling just fine to watching my heart rate plummet, and then my pace along with it.  I'm reasonably sure it was heat, given I was pretty warm at that point.
This had a significant suck-factor to it, as my pace went from 6:45/mile (4:12/KM) down to 7:45/mile (4:49/KM) in the span of about a mile.  I kept on chugging though, but at the next aide station I stopped to walk and try and get some more fluids in me (and water on my head).  I easily downed a full bottle of water, plus a cup of water with a sugar cube at the bottom, and then some orange slices.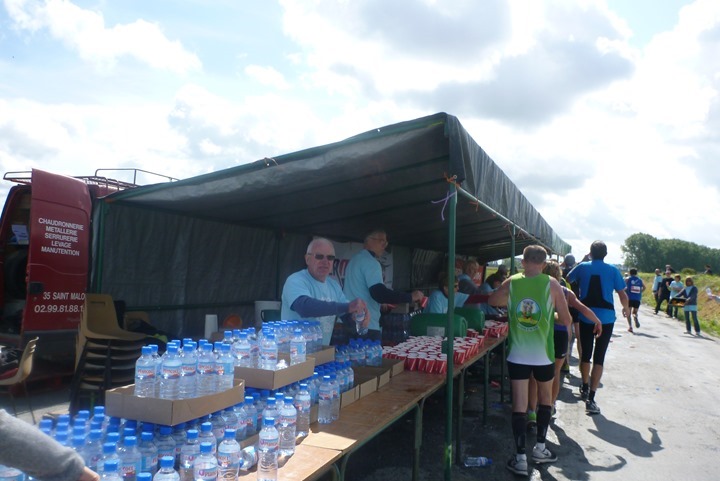 Of course, at this point it was basically just wide-open fields and hot sun: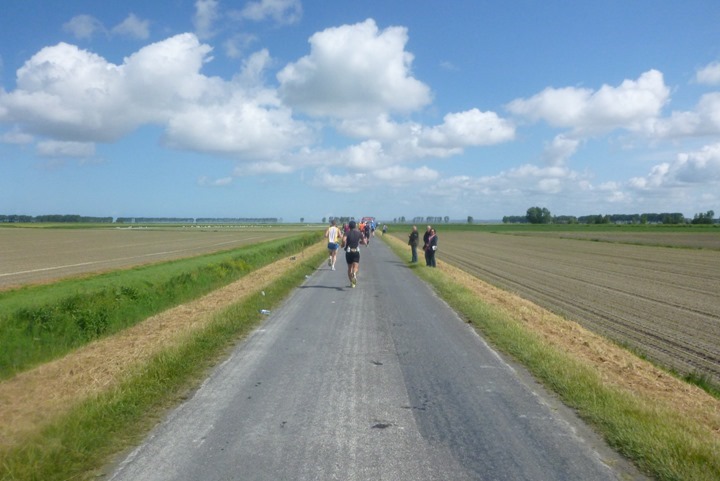 I don't actually have a lot of pictures of this portion of the race.  Mostly because while I was moving along at generally a 7:45-8:00/mile pace, there was also two prolonged aide station moments.  Further, it was really just a lot of fields.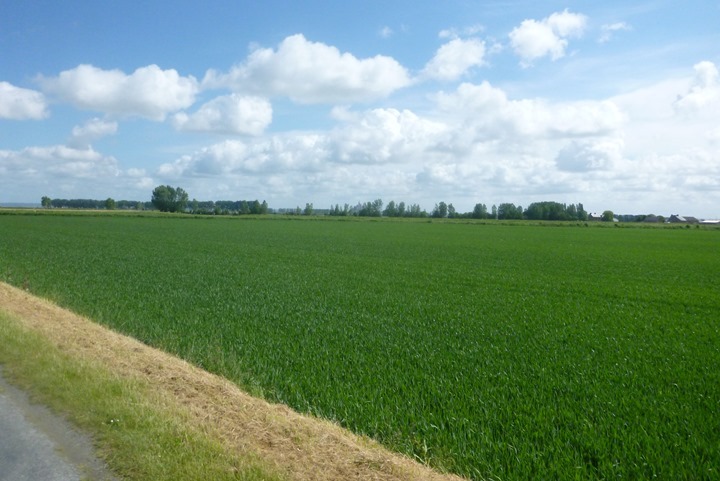 At around the 36KM marker, there was this giant inflated archway out in a field.  And, a horse of some sorts cheering people on.  I'm not quite sure why they chose the 36KM marker (6KM to go), instead of the 37KM marker (typical 5K to go).  But, they were very enthusiastic.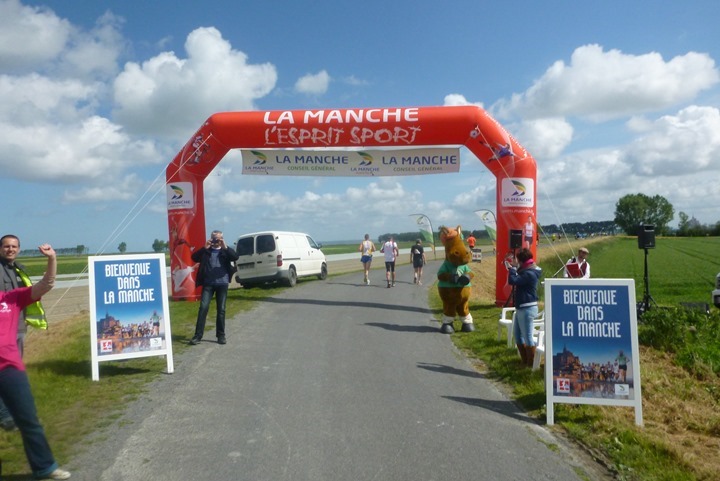 I will point out that I'm actually liking the kilometer system much better than the mile system, for marathons.  I do all the paces in my head, but I was actually counting down in kilometers since there were no mile markers on this course (actually uncommon for marathons in Europe, most have 5-Mile markers).  For some reason, it goes by faster.  Perhaps because I'm clicking off kilometer markers every 4ish minutes, rather than every 7ish minutes.
Speaking of which, I eventually found myself at the 40K marker, which was crossing one final bridge.  It's here that I found The Girl!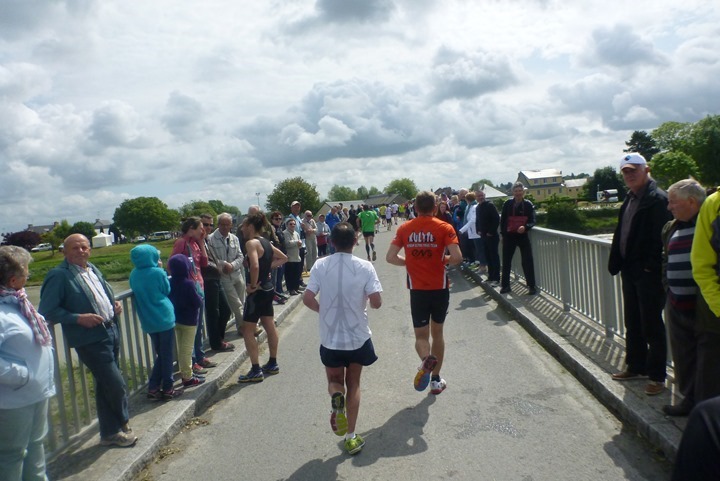 It's also here that I could sorta see the finish.  It's way at the end of the river to the left.  It's 2.2K away still, which made me realize it's still about 1.4 miles away.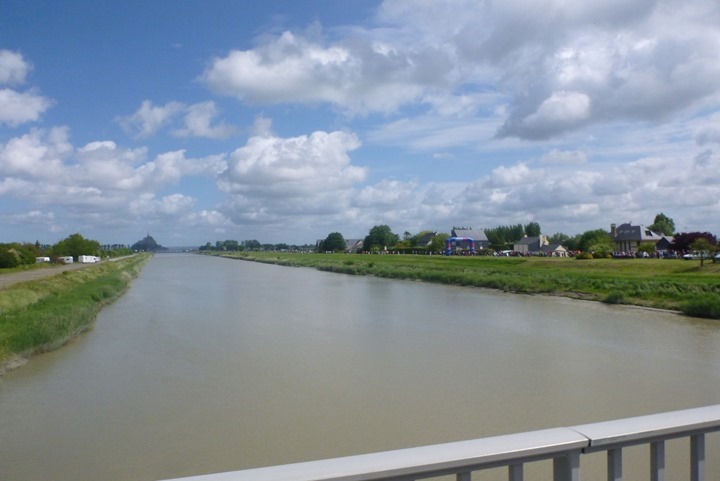 Oh, here's the photo The Girl took of me while she was cheering on that same little bridge: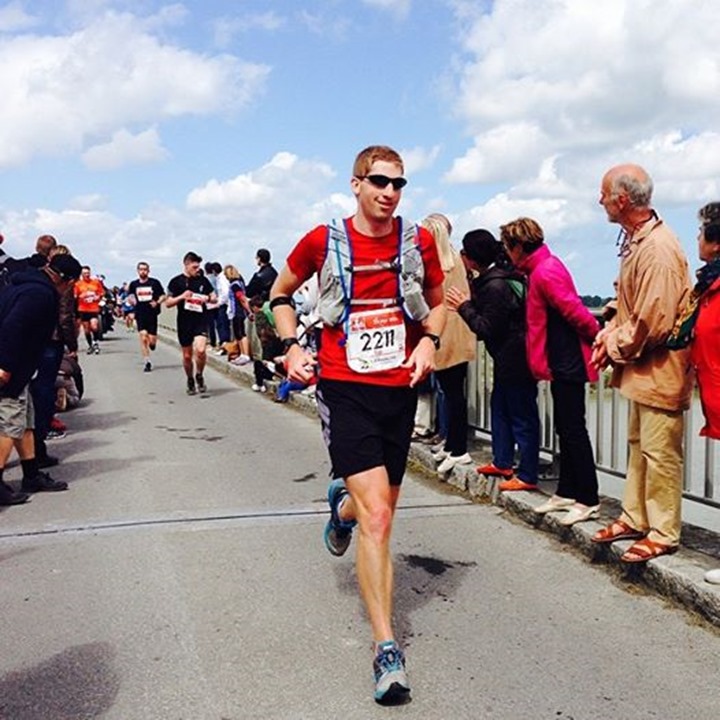 With that, I turned off the bridge and headed down a nice running path working my way towards the finish off in the distance: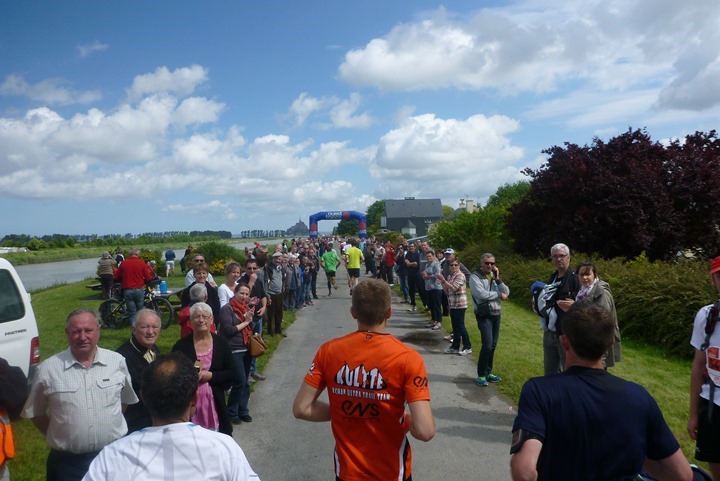 The blue thing above was not the finish.  Rather, I think the 1.5KM marker to go.  I was impressed with how many people there was though along the banks all the way to the finish.  Pretty cool to see.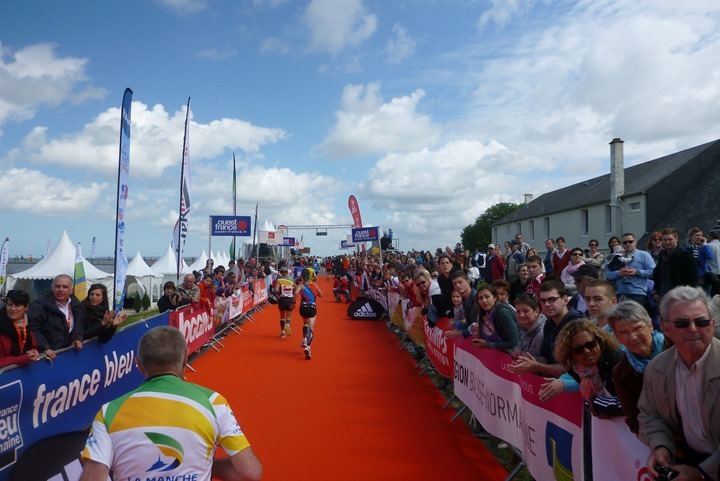 Which, I crossed in 3:19.  Definitely not my fastest, nor the very manageable pace I was on going into the first half.
The finish line overlooked Mont Saint-Michel off in the distance about a mile away.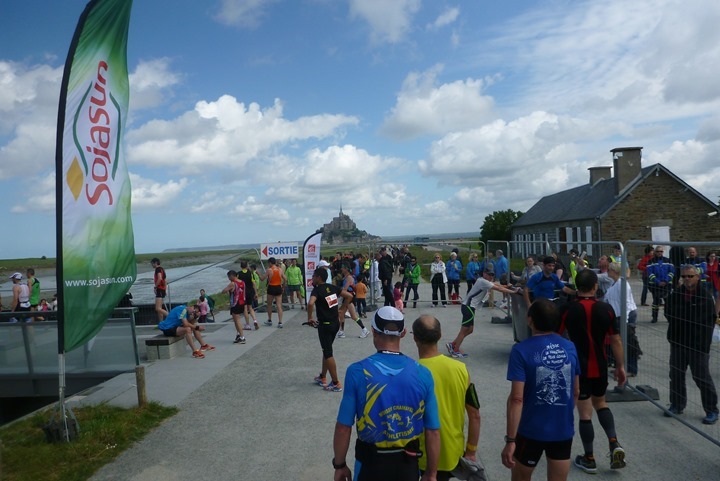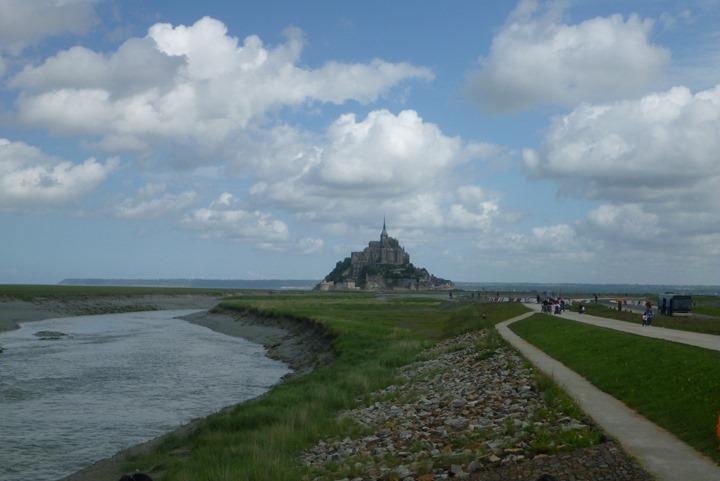 I think the clear lesson here for me is I need to simply only run marathons in the dead of winter (or in the arctic).  Historically that's just worked out for me.  And while you can acclimatize to a degree, the reality is that France isn't the US East Coast, so my hot-weather running days are somewhat limited, even in the summer.  For reasons that have been clearly spelled out to me race after race, I just don't do great on warm weather days.
Ironically, it rained and poured the day before and was much cooler (it also rained the day after).  I'm reasonably certain if I had that rain instead of sun, I would have kept up the pace no problems.  I'm also certain I didn't go out too fast.  My heart rates for the first 14 miles were quite spot-on for where they needed to be: Just above Zone 2, into low Zone 3.  And my perceived effort matched that.
In any case, it was still a fun race, and one where I decided on the goal/plan about the day before – so no complaints here.
Post-Race: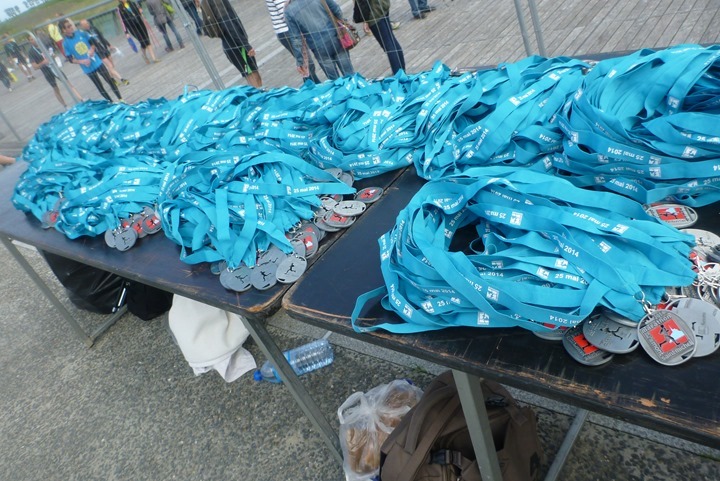 After walking from the finish line I continued down a corral to pickup my finisher's medal.
From there I hit up a tent for a bag of finisher's food.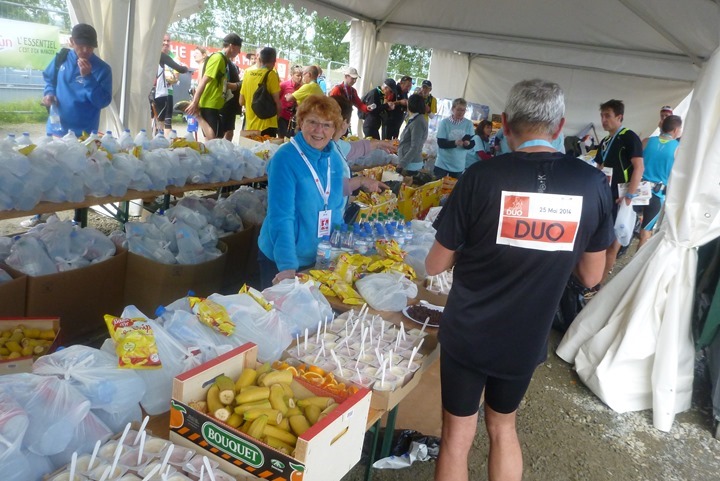 Its here they handed me the biggest bottle of water I've ever received after a race (awesome).  A full 2-liter sized bottle, plus a smaller secondary bottle.  Sweet!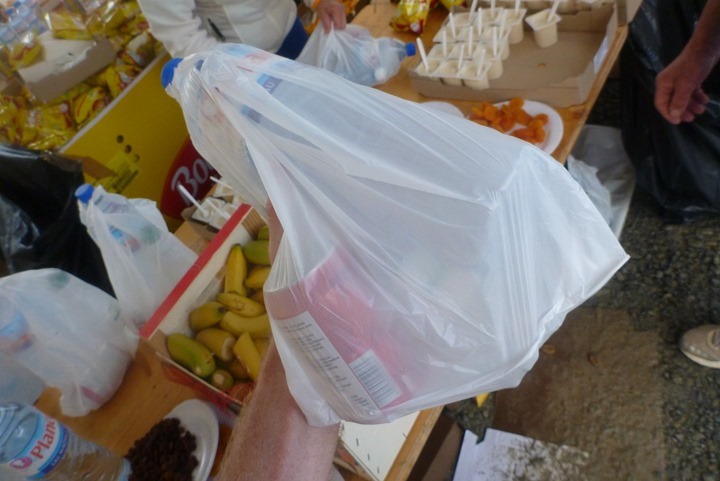 I then went over to pickup my bag with stuff from the start.  I was impressed that before I even got there they had seen me walking (err…waddling) towards them and by time I arrived at the fence my bag was in my hand.  Great volunteers!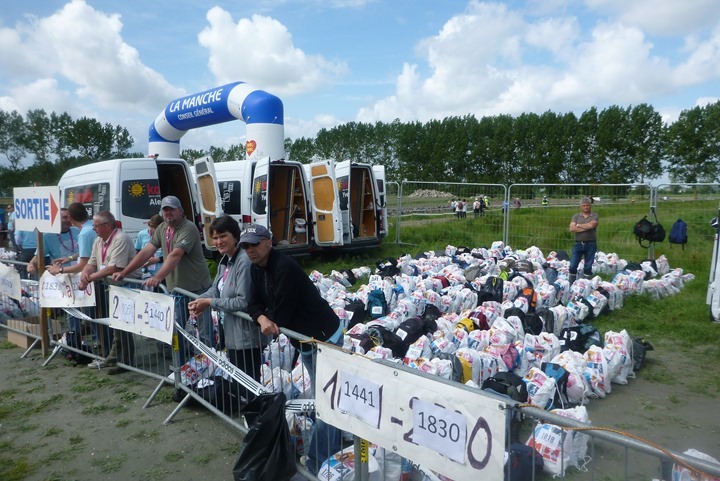 With that, I posed for a quick photo on the bridge before heading back to the hotel a hundred meters away (best post-marathon hotel walk ever!).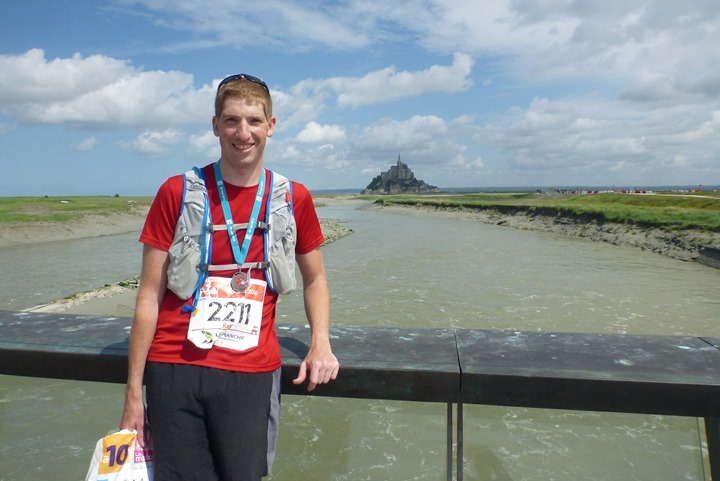 And afterwards, as noted in my previous post I headed out for a couple hour bike ride with The Girl to keep the legs moving.  Good stuff.
Thanks for reading!